Utah is known for rugged mountains, hot deserts, and abundant canyons. What you might not expect is that it is also a hotbed of swimming holes in Utah, from reservoirs to slot canyon falls to hot springs — best for non-summer adventures, obviously.
If you're in Utah, you're almost certainly looking for ways to cool down during summer. Luckily, despite how the desert landscape may appear, there are quite a few places across the state to get out, jump in, and cool off.
Remember that the water levels of reservoirs and rivers fluctuate quite a bit in the desert, so keep an eye out for unexpected rocks or debris before jumping in. Flash floods are also common in the desert, so if you're venturing down to slot canyons or semi-ephemeral rivers, check the forecast beforehand.
These swimming holes in Utah are phenomenal, but they're still out in nature and require a bit more preparation than heading to your local rec center hot tub.
Related Read: 6 Stunning Backpacking Routes in Canyonlands National Park, Utah
1. Toquerville Falls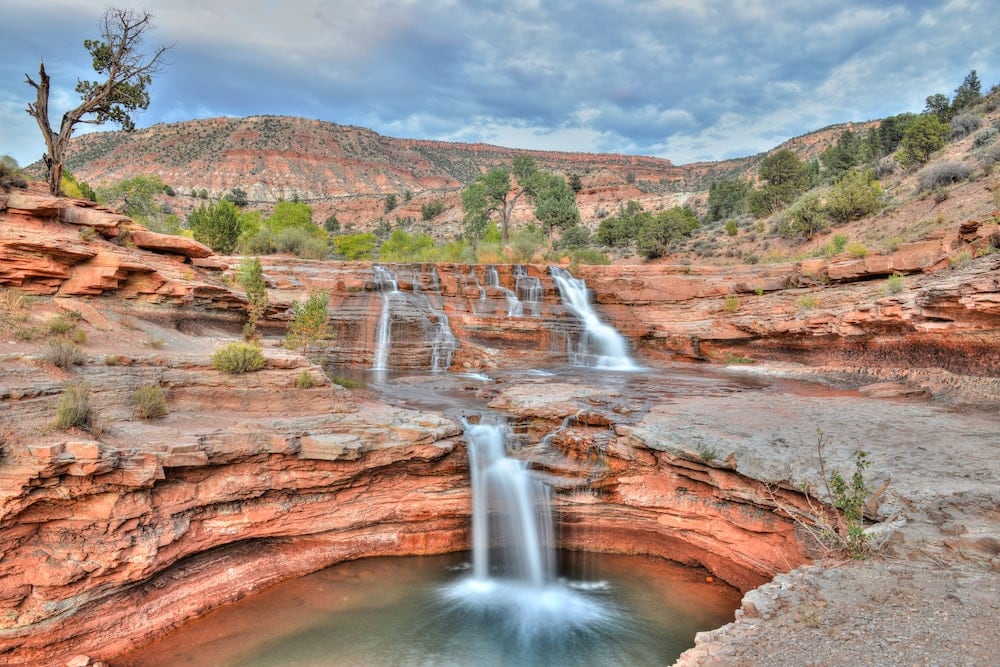 Nearest town: St. George
Hike to swimming hole: Near parking, if you have the right vehicle.
Toquerville Falls is truly an experience. The two-step waterfall on La Verkin Creek near St. George is an exceptional spot in the hot summer months.
The top falls are a beautifully interwoven cascade, though it will be slightly smaller if there hasn't been any rain recently. The second tier starts in a small cascade that ends in a plunge to a deep pool. Depending on the year, there may be a ladder up from the pool to the top base of the upper tier.
Careful with cliff jumping, though, as water levels vary throughout the seasons.
Getting to this swimming hole is going to require a little bit of effort. The trail is a rough 4×4 road for around 5.5 miles. You can walk it or drive it if you have the right vehicle, like a high-clearance truck or off-road vehicle, but it's still slow going.
You could also bring a mountain bike for the road if you want to work up a sweat. This is one of the more off-the-beaten-path swimming holes in Utah, but you"ll still see some traffic on hot weekends.
Related Read: White Rim Road: An Overland Adventure in Canyonlands, Utah
2. Mona Rope Swings
Nearest town: Provo
Hike to swimming hole: Near parking
Located at the fascinating Burraston Ponds near Mona, Mona Rope Swings is a popular swimming hole in Utah near the greater Salt Lake City area.
The ponds offer a few nice shade trees, a short walking path, and of course, the rope swings. There maybe be up to five ropes, but generally, there are at least two; a beginner swing and a big swing.
Some good things to consider before swinging away: make sure the ropes are in good condition, ensure the water is deep enough to jump and be ready to let go of that rope before you swing back into the tree!
Given the ease of access, this is a popular spot, so you'll have plenty of people to cheer you on as you take the leap.
Related Read: 6 Spookiest Ghost Towns in Utah for Exploring the Old West
3. Homestead Crater
Nearest town: Midway
Hike to swimming hole: Near parking
Feel like scuba diving in a warm spring? Well, look no further than Midway, Utah. The Homestead Crater is a fascinating geologic feature housing a warm, geothermically heated pool. The volcanic-shaped cone was formed by the deposition of minerals from upward percolating water.
Visitors love swimming, scuba diving, and soaking in the naturally warm water, which stays around 90–96 F degrees all year. You can also climb to the top of the dome and enjoy an aerial view of the pool.
The only drawback of this adventure is the price. You'll pay around $15 for a 40-minute soak.
Related Read: 10 Adventurous Campervan Rentals in Salt Lake City, Utah
4. Lower Calf Creek Falls
Nearest town: Escalante
Hike to swimming hole: 3 miles
Read more Take a Hike to a Swimming Hole
Tucked away in Grand Staircase-Escalante National Monument is the beautiful and captivating Calf Creek Falls. The 130-foot waterfall plunges into a large pool at its base. This cool and shady swimming hole in Utah is an amazing spot to spend an afternoon after a long hike.
The trail to the falls leaves from Calf Creek Campground and is about three miles, but it's level and fairly easy. However, it can be a bit sandy in places, so pay attention when the path gets a little faint.
Be sure to grab a brochure at the trailhead to learn more about the area's history, geology, and ecology, and make sure you take some time to spot the pictographs high up on the canyon wall about halfway along the trail.
Another slightly less-traveled option is to head to Upper Calf Creek Falls. This requires a bit more of a drive but is a shorter hike. The falls are shorter than the lower falls but still impressive at 88 feet tall. The waterfall plunges into a shady pool surrounded by lush vegetation.
Related Read: 11 of the Best Glamping Destinations in Utah
5. Meadow Hot Springs
Nearest town: Filmore
Hike to swimming hole: .5 miles
A cool swimming hole in Utah not (yet) overrun with visitors, Meadow Hot Springs is more of a winter or shoulder season trip. There's no tree cover for shade, and given the water temperature (about 100 degrees F), it's more pleasant to visit when the temps are a bit colder rather than in the heat of summer. It's in the middle of a meadow so you'll have unobstructed views of the snow-capped mountains while you soak.
Past the gate, a short half-mile walk will get you to the pools, and a path connects all three once you hit the first one. The warmest and clearest pools are to the south. The first pool to the west is also quite clear, but the third is a bit murky.
The hot spring is on private property, but the landowner allows public access. There's a main gate with a few signs outlining their rules, so please follow them and respect the property to ensure the space remains open for use.
Related Read: 12 Best Spots to See the Fall Colors in Utah
6. Red Reef Natural Water Slides
Nearest town: Hurricane
Hike to swimming hole: .75 miles
Just outside Hurricane is the unassuming Red Cliff Recreation Area. You'll need a sense of adventure to reach this Utah swimming hole as it requires a canyon hike and using moki steps to reach the natural rock water slides. But its worth it.
The swimming at the site can be difficult to predict as water levels depend on recent rains and water flow. Spring is generally your best bet for visiting, but the water will be a little colder than other times of the year.
The first pool and waterfall are the easiest to reach, but you'll need to climb even further up to reach the natural water slides. As you climb, you'll have to use the moki steps (rock footholds) and do a bit of rope climbing.
From the campground, take the Red Reef trail. There's a $5 parking fee, so bring cash.
Related Read: 11 Fun Family-Friendly Hikes Near St. George, Utah
7. Fifth Water Hot Spring
Nearest town: Hurricane
Hike to swimming hole: 2.25 (ish) miles
Getting to this hot spring requires a just-over-two-mile hike in (and back out, of course.) This is a popular spot year-round, but easy access and numerous hot pools make it a relaxing place to visit on a winter excursion.
The trail to the springs is vibrant and follows the babbling Fifth Water Creek. There are a few different options for where to sit and soak when you reach the pools, but if you'd like to explore the area first, stay on the trail to reach three waterfalls. The first you'll reach plunges into the top hot spring pool.
There are two more just a bit farther along the creek; the second one up is a multi-tiered cascade and the most photogenic. After exploring, try out all the different pools on your way back down.
Side note: even though it's technically illegal, you'll likely see a few bathers in their birthday suits here.
Related Read: 15 Refreshing Waterfall Hikes in Utah
8. Mill Creek Waterfall
Nearest town: Moab
Hike to swimming hole: .9 miles
Read more NH's 52 With a View (52 WAV) – Shorter Hikes With Stunning Views
Moab is rich with outdoor activities and is considered an adventurer's playground – which is saying a lot in a state full of amazing outdoor recreation. But every adventurer needs a little R&R here and there, especially when dealing with the desert heat.
So if you're looking for a place to cool off in Moab, head to the Mill Creek Waterfall. Crystal-clear water, plentiful pools, large trees, and even a natural rock slide make this one of the best  swimming holes in Utah to swing by on hot days in the area.
On top of that, it's less than a mile from the parking lot to the first pool. Given its proximity to the trailhead, this one can get a little busy sometimes, so be prepared to share the space.
9. Falls Park/Sheep Bridge
Nearest town: Virgin
Hike to swimming hole: Near parking
The town of Virgin is a rather unassuming destination on the Virgin River just outside Zion National Park. The park, officially called Falls Park but known locally as Sheep Bridge, runs for about a mile on a stretch of river offering a mix of steep rock walls for cliff jumping and sandy beaches for splashing or catching frogs.
Tubing this stretch of river is a popular pastime, and there are even a few light rapids to spice things up. Remember that the water flow here varies significantly, and the river might be shallower than you expect. Explore the water depths before jumping in.
10. Sand Hollow Reservoir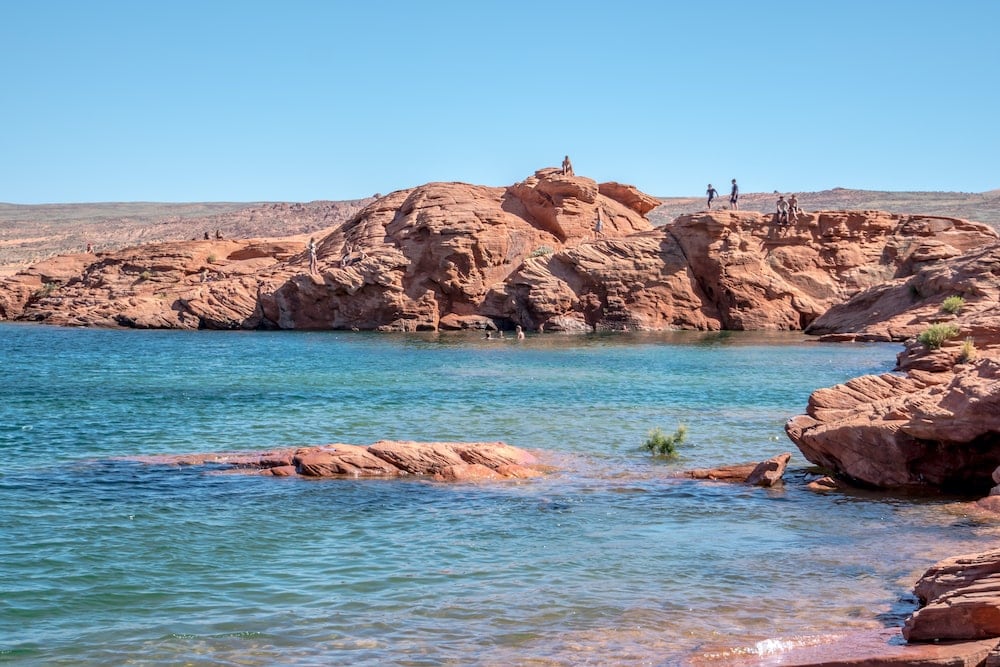 Nearest town: Virgin
Hike to swimming hole: Near parking
Sand Hollow State Park is a refreshing spot on the outskirts of St. George. Popular for camping, boating, and fishing, this is a great place to base yourself for a weekend. In addition to stunning landscapes, you'll have access to brilliantly blue water. that starkly contrasts the bright red sandstone. It's eye-catching and hard to resist popping in for a dip.
Go for a swim on those hot summer days or float around on a kayak or paddleboard to explore the reservoir. There's also the option to get a little adventurous and do some cliff jumping on the northwest shore. The water is open to boating and jet skiing, so keep an eye out if you're swimming or paddling around.
Find Your Next Utah Adventure
Sign up for Weekend Wanderer to join thousands of readers getting epic travel and gear ideas every week.
---
— Update: 13-03-2023 — cohaitungchi.com found an additional article Take a Hike to a Swimming Hole from the website www.pdxmonthly.com for the keyword swimming hole hikes.
There's a reason why we flock to swimming holes every summer. Taking a dip in the deep, sparkling pools of water set amongst forests, waterfalls, and rocky bluffs is a whole lot better (and more scenic) than sitting indoors next to an air conditioner. At a lot of spots, the water can be reached within a minute or two after leaving your car. But where's the adventure in that? Here are some splash zones that can be accessed only by hiking in, and that's honestly half the fun. Plus, there's a good chance they aren't nearly as crowded as the swim spots that are easier to access. 
Remember that you always swim (or jump) at your own risk, and in changing conditions—wildfires, fast currents after rainstorms, late season snow blocking the roads—not all the activities here are recommended. 
Closest town: Camas, Washington
Distance from downtown Portland: 22 miles
No need to travel far for a good swim session in a natural setting. The 312-acre Lacamas Regional Park in Camas, Washington, has more than 12 miles of trails and is a paradise for many: photographers (especially during spring when the camas lilies bloom), birders, hikers, and of course, daredevils who cliff-jump into the waters at Pothole Falls, the waterfall at Lacamas Creek. Named for the soft rock that over time eroded and formed numerous "potholes" ranging in width and depth, the falls come summer make a nice spot to cool off mid-hike. The easiest way to reach the swimming hole is to start at the Lacamas Park trailhead by Round Lake. The hike around the lake is around 1.2 miles, but if you prefer to cover more ground before taking a dip, take a left over the footbridge to cross the channel between Round Lake and neighboring Lacamas Lake, and walk on a paved trail beneath shady Douglas firs. A short side trail takes you to a viewing platform where you can try and spot great blue herons. Not long after, you'll pass an erratic boulder which per helpful trail signage is thought to have been carried over from the Missoula Floods more than 12,000 years ago. From here it's a quick jaunt to the swimming hole. Veer left onto a short side trail which takes you to an overlook of Pothole Falls, then take an unmarked trail to make your way down to the water. The water can be shallow in some places, so be sure to scope it out before attempting to jump from a rock. (Or, skip the jump altogether and just find a nice rock for sunbathing.) To complete the loop, make a left back onto the main trail, and you'll cross a narrow walkway over the dam, where you'll see some rusted spillway gears and also get a nice view across the lake. Continue on the trail, which now also parallels with Mill Pond, home to various wildlife, including waterfowl and turtles that can be seen basking atop logs. Return to the trailhead.  
Read more Recommended Winter Hiking Gear List: 2022-2023
Closest town: Estacada, Oregon
Distance from downtown Portland: 31 miles 
Six miles south of downtown Estacada, Metzler Park is isolated enough for a proper nature escape. The park sits on Clear Creek, a wide rushing waterway that turns into a tranquil swimming hole at the bend just a tenth of a mile from the trailhead. The short, family-friendly trail takes you on a suspension bridge across the creek. Right after crossing, you'll see another sign on your right pointing you toward the swimming hole. Follow the short leafy path through the woods to a small cobbled beach at the Clear Creek swimming hole. In the spring, the trail can be quite muddy, but that's less likely in the summer months. For a longer hike, the park has a 2.5-mile nature trail that weaves through a forest of Douglas fir, hemlock, and maple, with 20 stops along the way to identify various native plants. There's tent and RV camping May through September; otherwise, the day use parking fee is $8. —MH 
Mosier Creek Falls 
Closest town: Mosier, Oregon
Distance from downtown Portland: 69 miles 
This popular wildflower hike along the Mosier Plateau trail has yet another attraction: a "secret" swimming hole tucked between the upper and lower tiers at Mosier Creek Falls. Unnoticed by hikers who venture out in the springtime to gawk at balsamroot and lupine, the plunge-worthy swimming hole gives you an excuse to revisit Mosier in the summer. After parking at the lot just past the Totem Pole Plaza, cross the white bridge over Mosier Creek and, shortly after, pick up the trail to your right marked by a bench. From here, you'll pass the cemetery through Mosier Pocket Park where members of the Mosier family that founded the town are buried. The trail steadily climbs for about a mile, and you'll walk high above the scenic Mosier Creek, which cuts through a ravine and also has several enviable homes perched along the cliff. Take in the view at the Mosier Creek Falls overlook before making your way down to the swimming hole. Or if you really want to earn your stripes, hike the entire 3.5-mile loop and then return for a much-deserved dip. Just remember, hiking the mostly exposed trail is a whole different ballgame in the summer heat than it is in, say, April. So be sure to wear a hat, slather on sunscreen, and bring plenty of water.   
Closest town: Trout Lake, Washington
Distance from downtown Portland: 99 miles 
Part of the Indian Heaven Wilderness in Washington's Gifford Pinchot National Forest, shallow Lake Wapiki sits in the old crater of Lemei Rock. At 3.5 miles each way from the Lemei Trailhead, with a steep spur for the final section up to the lake (and views galore of Adams, Hood, and other peaks), it's is just enough of a trek to keep it from getting too crowded, though the area is popular and is just a couple of miles from the Pacific Crest Trail. It's best to go in late summer, after the snow has melted and the mosquitoes have died down a bit, and when the trailside huckleberries are ripe for snacking. There are a few campsites around the lake, and an overnight will offer some time to explore the smaller, rocky pools in between Wapiki and Lemei Rock. Wilderness permits (self-issued at trailhead) required. —MS

References