Leslie Griffin, Heal the Bay's chief water quality scientist and Beach Report Card manager, likes to kiss and tell. Here's her list of the cuddliest spots for couples along the California shoreline.
Wanna enjoy a long walk on the beach?
I know it sounds like a line, but this lovers' activity is a cliché for a reason. A seaside stroll proves both calming and romantic, with the vast ocean rippling along the shore while your toes sink into the cool sand. Or maybe your dream beach date consists of gazing at a gorgeous sunset while you enjoy a seaside picnic.
Either way, we are all about getting a little sandy, whether with a loved one, a friend, or for a little solo escape into the outdoors for some dedicated me time.
Here are 10 spots we love for love (and their great water quality too!):
Torrey Pines, San Diego
Source: Dan_H, flickr
What we love about it: Torrey Pines State Beach has picturesque views of the San Diego coastline and the adjacent Torrey Pines State Reserve is filled with little trails leading down to the shore. We recommend that you only take marked trails and watch your footing, but the views are worth the adventure.
What to do here: We love the Torrey Pines Trail to Black's Beach in the morning for a beautiful way to start your day. Fair warning: some nudists like to visit this beach as well.
Water Quality: The only sampling site at Torrey Pines is at the Los Penasquitos Lagoon outlet. That site received good grades in our most recent annual Beach Report Card.
---
La Jolla, San Diego
Source: Wikipedia Commons
What we love about it: This spot is great for lovers and families alike, with plenty of adventure to be had by all ages.
What to do here: This is the perfect spot for a SUP (stand up paddleboard) adventure, snorkeling, kayaking, or even just a picturesque walk along the beach. For stunning ocean views over dinner, check out the Marine Room at the La Jolla Beach and Tennis Club.
Water Quality: La Jolla shores received great grades in our annual report last year.
---
Victoria Beach, Orange County
Source: Daniel Peckham, flickr
What we love about it: Straight out of a fairy tale, this shoreline spot is guarded by La Tour, a 60-foot castle-inspired tower.  Built in 1926, the structure provided beach access for a home on the cliff above.
What to do here: Looking to be someone's knight in shining armor? Look no further. To get here, walk to the north end of Victoria Beach in Laguna Beach, around the bluff and past another sandy section of beach. (This is a privately owned structure, so while you can walk up to it, please do not try to go inside or climb on the structure.)
Water Quality: Victoria Beach received A+'s across the board in our last annual report.
---
Crystal Cove State Park, Orange County
Source: Wikipedia Commons
What we love about it: With such a long swath of open sandy shores, this is an ideal spot for a romantic seaside stroll, or perhaps for a love-inspired photoshoot.
What to do here: If you're looking for post-beach walk eats with an ocean view, the Beachcomber Café is a fun option.
Water Quality: Crystal Cove has great water quality in the summer or whenever the weather has been dry. Given the buckets of rain we have (thankfully) gotten this year, make sure to heed any beach posting signs you may see.
---
Palos Verdes Peninsula, Los Angeles
Source: Mark Esguerra, The Marke's World
What we love about it: We love the PV areas so much, we had to lump the whole peninsula together as one of our top locations. Palos Verdes wraps around from the base of the South Bay down to San Pedro, and features beautiful neighborhoods, coastal trails, clean beaches, and tidepool adventures.
What to do here: If you're looking for some marine biology-inspired adventure, time your visit for low tide to go tidepooling at Abalone Cove. For a short hike and a hidden rocky beach, check out Palos Verdes Bluff Cove.
Water Quality: The Palos Verdes area is home to multiple Honor Roll beaches, including Abalone Cove Shoreline Park.
---
El Matador State Beach, Malibu
Source: Elliot McGucken, 500px
What we love about it: This was easily the top rated romantic spot by Heal the Bay staff. Dramatic cliffs and coves (and even secret sea caves) make this beach feel like the backdrop of a steamy Hollywood romance scene. Whether it's energizing a new flame or a longtime squeeze, you can expect El Matador to light your fire.
What to do here: Explore the dramatic landscape, take Instagram-worthy photos, find little hideaway spots for you and your date to share secret kisses, and wrap up your evening with a gorgeous sunset view.
Water Quality: El Matador is an Honor Roll beach with awesome water quality.
---
Arroyo Burro, Santa Barbara
Source: Damian Gadal, flickr
What we love about it: Santa Barbara is the perfect little getaway for a weekend of romance. If you're looking for some time together to rest, rejuvenate, and rekindle the fire, Santa Barbara is the perfect place.
What to do here: We love Arroyo Burro for a sunset walk, and with plenty of parking and restroom access it's a stress-free beach walk experience.
Water Quality: Arroyo Burro has great water quality in the summer or whenever it has been dry enough that the creek hasn't breached. Make sure to heed any beach posting signs you may see if you're feeling like taking a dip. But if the creek is flowing, be sure to stick to the sand over the waves.
---
Big Sur Coastline, Monterey
Source: Wikipedia Commons
What we love about it: Another area that is just so beautiful, we can't limit it to just one beach. The shoreline in Big Sur is renowned for its rustic coastal beauty. A drive along the twisty coastline is certain to inspire awe. Pull off whenever your heart desires, and be sure to take photos so you can revisit the view whenever you like.
What to do here: McWay Falls is a stunning spot where you can watch a perfect little waterfall pouring directly to the beach. The Bixby Canyon Bridge is another cult favorite, and there's even a Death Cab for Cutie song to match. There are plenty of hiking trails, camping sites, and little cafes to warm up in.
Water Quality: Monterey water quality testing only extends as far south as Carmel, so while there aren't any sampling sites to rely on, the area is un-urbanized and thus less likely to have bacterial problems.
---
Baker Beach, San Francisco
Source: Wikipedia Commons
What we love about it: If you're in the Bay Area and looking for an ideal view of the Golden Gate Bridge, this is our favorite sandy spot.
What to do here: The dramatic backdrop makes this spot ideal for a photo shoot, or even just a quick selfie-sesh. We'd recommend cuddling up for a romantic picnic and enjoying the sunset together.
Water Quality: Just be sure to avoid swimming near the creek outlet if you're looking to take a penguin dip.
---
Point Reyes National Seashore, Marin County
Source: Wikipedia Commons
What we love about it: The farther north you go in California, often the more dramatic and rural the coastal landscape. This National Seashore is a prime example of that raw beauty, and it is sure to take your breath away.
What to do here: There a quite a few campgrounds and hiking trails within the area if you're looking to get back in touch with nature.
Water Quality: Marin County no longer samples within this area. The closest active sampling station is Bolinas Beach (another beautiful spot), just south of Point Reyes.
---
Heal the Bay's Beach Report Card is the only comprehensive analysis of coastline water quality in California. We monitor more than 500 beaches weekly from Oregon to the Mexico border, assigning an A to F grade based on the health risks of swimming or surfing at that location.
---
— Update: 15-02-2023 — cohaitungchi.com found an additional article 25 Best Beach Vacations for Couples from the website www.honeymoonalways.com for the keyword best beach for couples near me.
Ahhh, the beach. Just reading the word makes you feel happy! It's hard to beat a beach vacation for romance and relaxation, which is why so many couples prefer beach honeymoons and weekend getaways.
But there are so many breathtaking beaches and so many incredible beach resorts, from Caribbean beach resorts to romantic island getaways in the South Pacific to affordable beach vacation spots in the U.S.—and more!
 It can be difficult to choose the perfect beach vacation destination from all the amazing places around the world, so we've collected our picks for the 25 best beach vacation resorts for couples on some of the top beaches in the world.
Read on to see which one sounds like the best romantic beach getaway for you!
The Caribbean is what immediately comes to mind for many people when they think "beach vacation," with its white sand beaches, swaying palm trees, and turquoise waters. Here are some of the best beach vacations for couples in the Caribbean.
Ambergris Cay Resort, Turks & Caicos
Couples will be swept away by this uber-luxurious all-inclusive Turks & Caicos resort perfect for honeymoons and romantic rendezvous. Secluded on a thousand-acre private island surrounded by shallow turquoise water and coral reefs, Ambergris Cay Resort (not related to Ambergris Caye in Belize) is a true tropical paradise.
Lounge on the pristine white sand beach, which stretches for miles and is lined with palm trees. Enjoy complimentary watersports in the crystal clear Caribbean. Explore the island by bike or golf cart, or take an excursion by boat. Indulge at the spa. Swim in the lovely pool—or in your own pool (see below).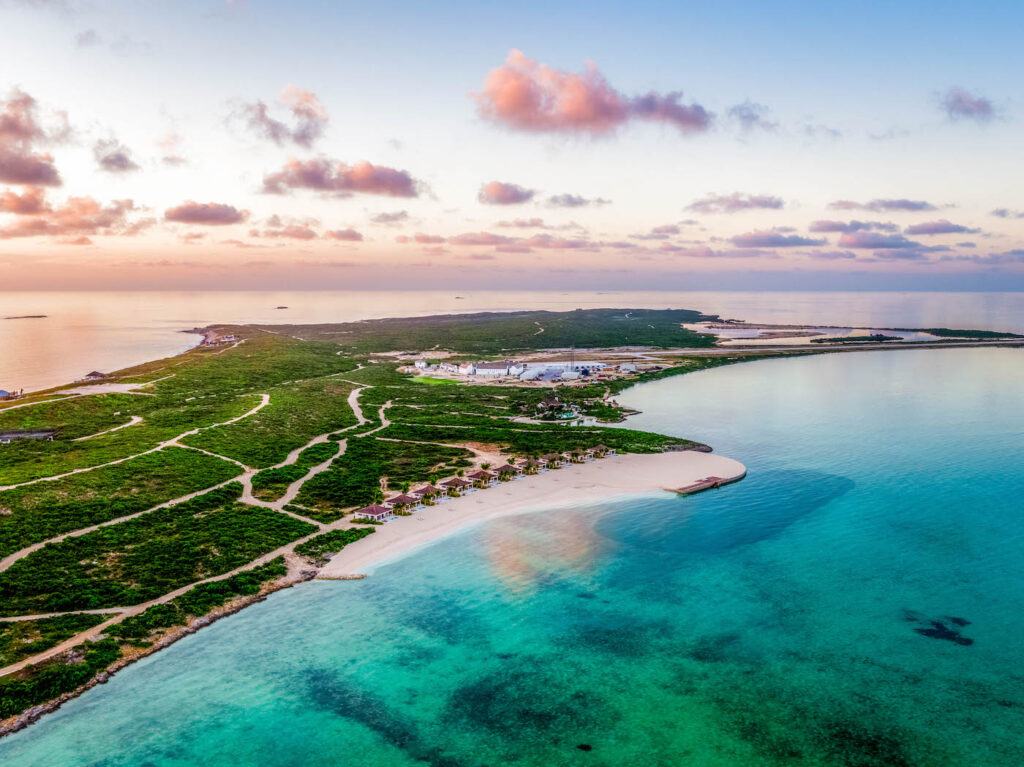 Accommodations at Ambergris Cay Resort are either suites or villas, with chic décor that's light and bright. There are just 10 Beachfront Pool Suites; each offers beach and ocean views, a wraparound veranda with seating, a private plunge pool, and an outdoor shower (plus two rain showers in the spacious bathroom). The 20 villas are dotted around the island for privacy.
Rates at Ambergris Cay are steep, but the inclusions are spectacular—your transfer from Providenciales airport comes via private plane. Also included is all dining at 2 restaurants; unlimited beverages; stocked minifridge; 24-hour room service; non-motorized water sports; bonefishing from the shore; boat excursions; tennis and pickleball; use of the resort's bicycles and golf carts; one 60-minute spa treatment per adult per stay; guided nature walks, bike tours, and kayak/paddleboard excursions; WiFi; and a catered lunch experience on a deserted island.
Google Rating: 5
TripAdvisor Rating: 5
Serenity at Coconut Bay, St. Lucia
For couples, it's always a honeymoon at St. Lucia's Serenity at Coconut Bay, the all-inclusive, adults-only winner of the 2019 Brides Honeymoon Award. Luxurious accommodations here include private plunge pools and decks where outdoor showers, coconut palms, and hammocks-for-two add to the relaxed island feel.
The gorgeous white sand beach is lined with private thatched-roof cabanas where you can sink into comfortable loungers and completely surrender to the peaceful vibe. No need to get up; a butler will deliver drinks and snacks so you don't have to move an inch.
Read more 73 Date Ideas in Milwaukee: Romantic Things To Do in Milwaukee
The Serenity experience is customized to every guest's preferences before they arrive, dining is tailored to accommodate special diets and allergies, and the fully-stocked, in-suite bar is personalized with premium liquors. Enjoy dining any time with 24-hour room service, casual fare at the Pool Bar, and farm-to-table gourmet dining at the Greathouse Restaurant. Butlers provide pampering from arrival to departure for a truly stress-free honeymoon or romantic escape.
Google Rating: 4.9
TripAdvisor Rating: 5
Small Hope Bay Lodge, The Bahamas
Beautifully located along a serene beach amid lovely palm trees, Small Hope Bay Lodge is a chic and relaxed all-inclusive resort. Private beachfront cabins put you right by the water and offer hammocks and comfortable sun loungers to while away the day. 
Mouthwatering meals and tasty drinks, scuba diving lessons and water sports rentals, a library lounge and a game room, outdoor showers, as well as guided fishing excursions for an additional fee are some of the amenities that promise to enhance your stay at Small Hope Bay Lodge. Small Hope Bay Lodge is an affordable beach vacation option; the daily all-inclusive rates begin at $295. 
Google Rating: 4.7
TripAdvisor Rating: 5
Secrets Cap Cana, Punta Cana, Dominican Republic
Tucked away in an exclusive gated community on one of the most beautiful beaches in the Dominican Republic, Secrets Cap Cana is known for its warm staff, excellent service, and delicious food.
Rooms at Secrets Cap Cana feature modern Caribbean décor, and suites come with private balconies or terraces with soaking tubs plus marble bathrooms with two rain showers; you can also choose swim-out suites. Upgrading to the Preferred Club gives you access to additional room levels like an ocean-front swim-out bungalow suite. You also get special amenities including a private lounge, exclusive pool, enhanced concierge service, and afternoon hors d'ouevres.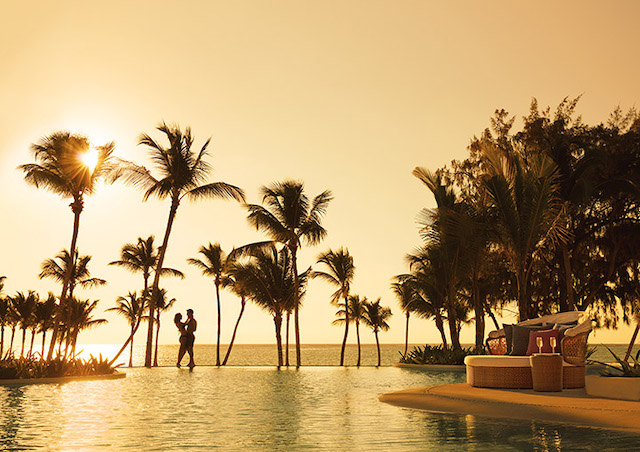 Relax on the sugar-white sands of Juanillo Beach, snorkel in the clear blue Caribbean, or enjoy an ocean view from the infinity pool. There are also two outdoor hot tubs. If you want to explore the area, there are plenty of excursions to choose from.
Feast on a variety of flavors from French and Italian to Mexican and fresh seafood to Pan Asian at 9 restaurants and a coffee shop and enjoy 6 bars including a beach bar, a swim-up bar, a theater bar, and a music lounge.
Google Rating: 4.7
TripAdvisor Rating: 5
Sandals Grenada Resort & Spa, Grenada
You'll have a stellar stay at any of Sandals' all-inclusive luxury beach resorts, but Sandals Grenada Resort & Spa may very well be the overall best Sandals Resort.
Sandals Grenada has a fantastic location, sprawling across 17 lush acres next to the picturesque backdrop of Pink Gin Beach. Firepits, gazebos, and swinging chairs adorn the various courtyards and hideaways for lovers to steal away for romantic moments. There is also a pier where guests can get the best view of the vibrant sunset hues over the shimmering Caribbean Sea.
For true indulgence, Love Nest Suites include personal butler service, expansive balconies with Tranquility Soaking Tubs™ for two, and a private infinity-edge plunge pool.
Sandals Grenada & Spa features 5 innovatively designed pools complete with waterfalls, lagoons, hideaways, swim-up bars, and one with a firepit placed smack dab in the middle. If you're more inclined for a dip in the ocean, the beach offers complimentary watersports such as windsurfing, paddleboarding, kayaking, jet skis, and more. In addition, the resort has a fitness center, spa, tennis courts, and 10 restaurants serving a wide variety of cuisines.
Google Rating: 4.6
TripAdvisor Rating: 4.5
Eden Rock St. Barths, St. Barts
An elegant, unique hotel, Eden Rock St. Barths has long been a celebrity favorite and is considered the best hotel in St. Barth (some would say the best hotel in the Caribbean). This iconic resort was the first hotel to open on the island and was fully renovated in 2019. Ultra-luxurious private villas include the Rockstar Villa, which features a recording studio! There are plenty of other options for honeymooners who aren't famous musicians, from oceanview guest rooms to cottages, all with private verandas and stylish furnishings.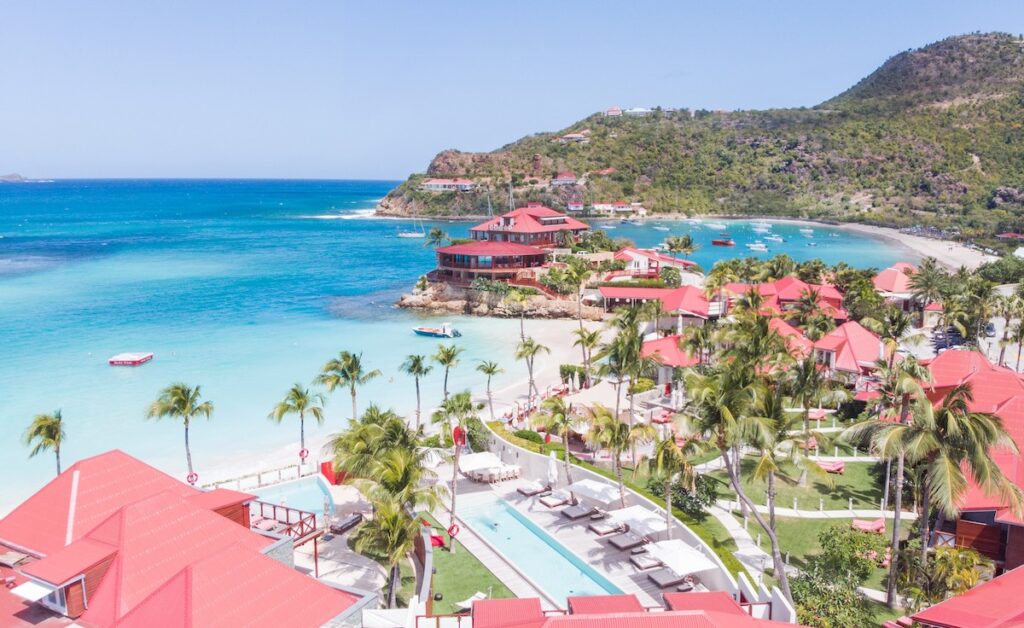 Eden Rock is set along one of the best beaches in St. Barts, St. Jean Beach, with its pristine white sand and gorgeous calm waters. Complimentary equipment is provided for kayaking and paddleboarding. There's a fabulous spa onsite as well as a fitness center, and guests here get complimentary VIP airport or port transfers.
Honeymooners will love leisurely breakfasts, lunches, and dinners at the resort's restaurant, Sand Bar. Don't let the open-air beachfront setting fool you—this is no seafood shack. The chef here is the world-famous Jean-Georges Vongerichten. The resort also offers several bars, as well as 24-hour room service.
Google Rating: 4.6
TripAdvisor Rating: 5
Couples Sans Souci, Ocho Rios, Jamaica
Set amid lush landscaping on a gorgeous beach fringed with palm trees, Couples Sans Souci is unique in that it features a mineral grotto and mineral springs pool for rejuvenating soaks. This adults-only luxury all-inclusive beach resort in Jamaica features 5 restaurants, 7 bars, 4 pools, 3 hot tubs, a fitness center, a full-service spa, and nightly entertainment.
At Couples Sans Souci, room décor is sleek tropical. The most luxurious suite here is the Prime Minister's Penthouse, with more than 1200 feet of living space, a large furnished veranda with ocean views, a powder room, a walk-in shower, and a Jacuzzi for two. Another luxury option is Hibiscus Cottage, a secluded cottage featuring a private balcony with ocean views, a walk-in shower and Jacuzzi for two, and an outdoor Jacuzzi.
Google Rating: 4.6
TripAdvisor Rating: 4.5
Sandals Negril, Jamaica
Sandals Negril is one of six Sandals resorts in Jamaica and provides a laid-back experience perfect for a honeymoon or romantic retreat. Located on the longest and best stretch of Seven Mile Beach, Sandals Negril offers all sorts of ways to relax, spend quality time together, and have fun.
An adults-only all-inclusive resort featuring an incredible beachfront setting, tons of complimentary amenities, gourmet cuisine, unlimited premium liquor, amazing service, spacious and luxurious rooms, and lush landscaping, Sandals Negril is a perfect choice for your Jamaican honeymoon or romantic escape.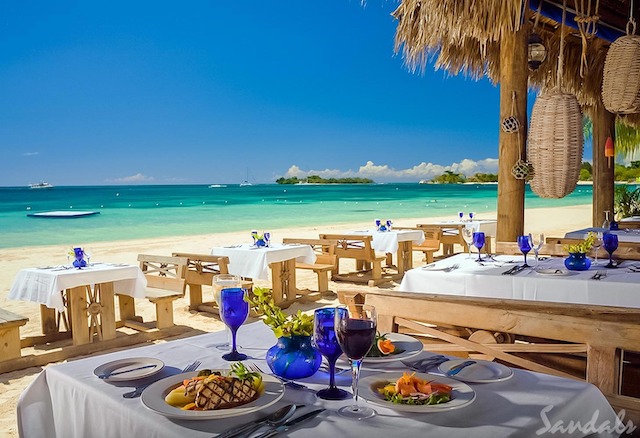 Sandals Negril is located on Jamaica's famous Seven Mile Beach, a beautiful stretch of powder-soft white sand along with the vivid colors of the Caribbean. The water here is calm and crystal clear, perfect for swimming and watersports like wakeboarding, kayaking, and stand-up paddleboarding. You can snorkel right off the beach at Sandals Negril and see colorful reefs and abundant marine life. You can also enjoy 3 pools (one with a swim-up bar) and 3 whirlpools.
Since it's a Sandals Resort, your stay includes unlimited fine dining, including breakfast, lunch, dinner, and snacks, with seven restaurants to choose from. Several of the restaurants at Sandals Negril are beachfront, including the open-air Cucina Romana, Bayside, the Beach Bistro, and Barefoot by the Sea.
Google Rating: 4.5
TripAdvisor Rating: 4.5
Jumby Bay Resort, Antigua
There is nothing you need that you won't be offered on Jumby Bay Island at the resort that received the 2020 Five-Star Award by Forbes Travel Guide. Intimate private dinners served on the beach, romantic sunsets, sumptuous rooms, and lavish restaurants, a spa, and of course, flawless services, are some of the things you will enjoy at Oetker Collection's Jumby Bay Island. 
This all-inclusive retreat, set on a 300-acre private island just off the coast of Antigua, mixes seclusion and sophistication for the perfect honeymoon or romantic beach getaway. With just 40 suites (each with private pool), guests here can find plenty of privacy amid the resort's lush tropical grounds. Stroll the seemingly endless stretches of pristine white beach, snorkel or swim in the crystal clear water, go sailing, relax at the spa, take a nature walk, or bike around the island.
All meals and drinks are included in your stay; sip champagne at the elegant 1830 bar set in an historic plantation house, enjoy a tropical cocktail at the beach bar, savor gourmet cuisine at the fine dining restaurant, or relax by the water at the casually chic beachside restaurant.
Google Rating: 4.7
TripAdvisor Rating: 4.5
For a more exotic couples'  beach vacation or honeymoon, how about the breathtaking islands of the South Pacific or Indian Ocean?
Kandolhu Maldives, Indian Ocean
Kandolhu Maldives is an idyllic resort set on a lush emerald green island with wide sandy beaches and a colorful and vibrant coral reef. Located southwest of Male in the North Atoll, this exclusive adults-only island resort can be reached in 25 minutes by seaplane.
Kandolhu blends modern architecture with the natural elements of the Maldives for comfort and an unforgettable experience. Enjoy the colorful sunset each day from the private deck of your spacious overwater or beachfront villa. The all-inclusive package here includes meals at 5 intimate, à la carte gourmet restaurants; unlimited premium beverages; a private snorkeling tour or sunset cruise; and complimentary watersports.
Google Rating: 4.9
TripAdvisor Rating: 5
Four Seasons Resort Bora Bora, French Polynesia, South Pacific
The Four Seasons Resort Bora Bora has long had a reputation for providing service of the highest standard with the comforts you expect in a 5-star luxury hotel, mixed with Polynesian hospitality, making it a top honeymoon resort.
Adventures on water and land welcome you at this sand-fringed idyll in the shadow of Bora Bora's Mount Otemanu. Toast sunsets from your private plunge pool, stretch out on the white sand beach, marvel at the Tahitian night sky, or lose yourself in the lagoon, where the waters teem with exotic reef fish and colorful corals. The Four Seasons can create unparalleled luxury experiences for the ultimate in romance.
Recently enhanced, Four Seasons Bora Bora offers magical thatched-roof overwater bungalows so you can truly feel like you're away from it all. Choose a Specialty Overwater Bungalow with Plunge Pool or an Overwater Bungalow Suite, each featuring traditional teak furnishings, high ceilings, oversized tubs, and a private deck with lounge chairs and direct access to the calm, clear waters of the lagoon.
Four restaurants offer a vast selection of creative culinary experiences, while the full-service spa has breathtaking views of both the lagoon and the Pacific Ocean.
Google Rating: 4.8
TripAdvisor Rating: 5
Australia is home to some of the world's best beaches, including those of the famous Whitsunday Islands, which are worth the long flight. Here is one of the best beach vacations for couples in Australia.
Hamilton Island Beach Club, Whitsunday Islands, Australia
Indulge yourselves at the luxurious and romantic adults-only Hamilton Island Beach Club, located near the Great Barrier Reef on one of the 74 Whitsunday Islands.
Offering breathtakingly beautiful views of the Coral Sea, this boutique beachfront resort is known for impeccable service including 24-hour room service and exclusive airport transfers. There are just 57 gorgeous rooms, all beachfront and offering a private furnished balcony or patio.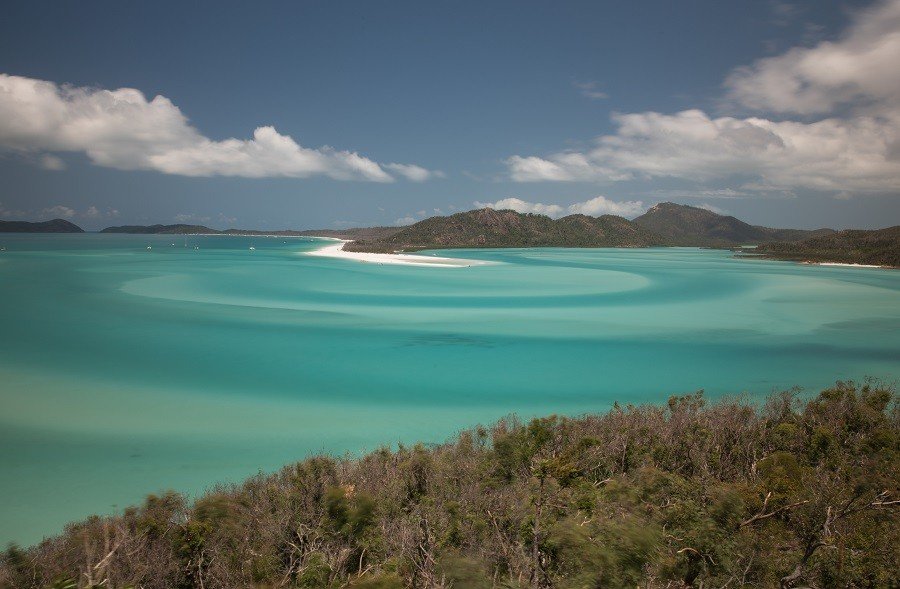 Lounge by the infinity edge pool or on the beautiful beach or enjoy complimentary watersports such as paddleboarding, snorkeling, windsurfing, or catamaran sailing. You can also play tennis or go walking in the bush. For an extra fee, you can go scuba diving along the Great Barrier Reef, go fishing, go parasailing, take local tours, and more. Golfers will love the opportunity to play at Australia's only golf course on its own island, the adjacent Hamilton Island Golf Course, a championship which features incredible views.
The Beach Club Restaurant is situated by the pool for glorious views and offers al fresco dining under the sun or stars.
Google Rating: 4.8
TripAdvisor Rating: 4.5
Hawaii is a dream honeymoon destination for many couples, offering some of the most jawdropping scenery in the world and an amazing array of beautiful beach vacation destinations. Here are some of our favorite romantic beach resorts in Hawaii.
Four Seasons Maui at Wailea Resort, Maui
Four Seasons Maui is one of the most luxe beachfront resorts in Maui, set along the glorious golden sands of Wailea Beach. Four Seasons resorts are known for their amazing service, and here your every need will be attended to. As you lounge on the beach, drinks, food, and cold towels will be delivered to you. You can go snorkeling right from the shore and will usually encounter some of the sea turtles that live nearby.
There's a beautiful salt-water infinity-edge pool for just adults, two other swimming pools, a full-service spa, a choice of fine-dining and beachside restaurants, tennis courts, a games room, and a range of free daily activities.
You can arrange exceptional tailor-made trips and experiences to make your stay truly special. Romantic activities include couples' massages, training in massage techniques to learn how to pamper each other at home, romantic private picnics on the beach, and candle-lit dinners without another soul in sight.
Elegant and spacious rooms and suites come with large private balconies or lanais (Hawaiian patios), deep soaking tubs, and glorious views of the gardens, mountains, or ocean. There are 5 different restaurants onsite.
Read more 11 Fun Things to Do on Prince Edward Island with Kids
Google Rating: 4.7
TripAdvisor Rating: 4.8
Ko'a Kea Hotel & Resort at Poipu Beach, Kauai, Hawaii
For an intimate beachfront vacation on the natural paradise of Kauai, Ko'a Kea Hotel & Resort is a fabulous choice. The only resort on Kauai in the Travel + Leisure World's Best Awards Hall of Fame and named one of the most romantic hotels in the U.S., it is nestled on the golden sand of Poipu Beach.
You can't get closer to the ocean than this on Kauai. Couples will appreciate the small size (just 121 rooms), beautiful setting, and award-winning service. Newly renovated rooms offer ocean views from private balconies or lanais.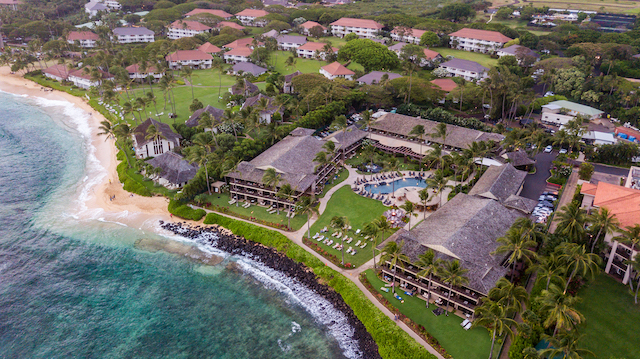 Indulge in spa services either at the spa or by the ocean, lounge by the oceanview pool and tiki bar, take advantage of onsite watersports like paddleboarding and outrigger canoeing, take a yoga class by the water, learn to hula dance, or explore the fascinating island. Feast on modern Hawaiian cuisine at the award-winning Red Salt restaurant.
Google Rating: 4.6
TripAdvisor Rating: 4.5
Perhaps you dream of an escape to sunny Mexico for a weekend beach getaway a little closer to home? Here are some of our top beach vacation destinations for couples in Mexico.
Secrets Akumal Riviera Maya, Mexico
Secrets Akumal Riviera Maya is set on the stunning white sands of Akumal Beach (which has been voted one of the top ten beaches in Mexico). The calm Caribbean waters and a native sea turtle population make this a snorkelers' paradise. The grounds are spectacular as well, featuring paths that wind through tropical landscaping.
Suites here are spacious, and most offer sea views from their private balconies or terraces. They also come with whirlpool tubs for two. You can book a swim-out suite here as well.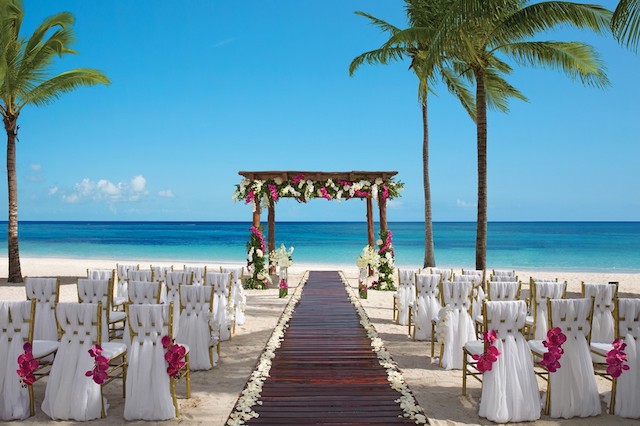 Guests enjoy delicious dining at 8 restaurants and can choose from 5 bars including a swim-up bar, a beach bar, and a music lounge. There are plenty of activities such as non-motorized water sports, tennis, archery, bike tours, dance classes, and Spanish lessons, Onsite facilities include 3 pools, 2 hot tubs, a fitness center, and the full-service spa. Golfers get complimentary greens fees at the Riviera Maya Golf Club.
Google Rating: 4.6
TripAdvisor Rating: 5
Excellence Playa Mujeres, Cancun, Mexico
If you want to spend your honeymoon or romantic vacation in a relaxing environment on a sandy beach in front of the ocean, look no further. Excellence Playa Mujeres is one of the best adults-only all-inclusive resorts in Mexico. It offers great service, a variety of culinary experiences, and beautiful spacious rooms and suites with ocean views, swim-up access, and rooftop terraces with plunge pools. Guests enjoy the soft white sand beach and winding pools with gorgeous views.
Romantic extras here include couples' massages and treatments at the world-class Miilé Spa, private dinners on the beach, and even an indulgent champagne breakfast in bed.
Google Rating: 4.9
TripAdvisor Rating: 5
Chileno Bay Resort & Residences, Auberge Resorts Collection, Cabo San Lucas, Mexico
Chileno Bay Resort & Residences is situated on the most coveted swimming beach in Cabo, making it perfect for active couples. The resort offers spacious rooms and villas with breathtaking ocean or lush garden views, three open-air culinary concepts, a full-service spa, a watersports activity center, and a spectacular three-tiered zero-edge pool descending to the sandy beach.
Let Chileno Bay set the stage for romance with an unforgettable dinner atop the dramatic cascading infinity pool. The floating platform can be left open air to enjoy a 360 view of the resort and ocean on the horizon or embellished with light curtains or vivid floral displays for a more discreet dining experience.
Google Rating: 4.8
TripAdvisor Rating: 5
Just south of Mexico, the charming Central American country of Belize is a wonderful romantic beach vacation destination that is especially popular with couples who like to scuba dive and snorkel.
Cayo Espanto, Belize
Cayo Espanto is a private island resort just off the coast of San Pedro, Belize. This hidden tropical resort, with its lush natural setting and just a handful of accommodations, is an ideal beach escape for couples—one that allows you to feel as though you have the whole island to yourselves.
For the ultimate privacy, book the exclusive over-the-water bungalow, Casa Ventanas. The 1000-square-foot one-bedroom villa is the most intimate accommodation on the island, with nothing but beautiful views from all around. Lounge on your private deck or slip into the warm Caribbean waters; you'll feel like you're the only couple for miles around.
Located at the end of a private dock, this incredibly romantic overwater bungalow comes with a butler, personalized meals, concierge services, and more. A glass insert in the floor gives you the unique experience of glimpsing sea life below, and a light lets you see what the fish are up to at night!
At Cayo Espanto, your activities and meals are personalized based on your preferences. The world's second-largest barrier reef system is nearby if you like to dive or snorkel. You can also enjoy fishing, non-motorized water sports, or tours of Mayan ruins on the mainland. Or, try exclusive experiences like a day on the resort's private yacht with an afternoon picnic on a deserted beach or a helicopter tour over the Great Blue Hole.
Google Rating: 4.8
TripAdvisor Rating: 5
For another weekend beach getaway alternative, Bermuda offers a romantic island vacation that's just a couple of hours from the East Coast of the United States.
Cambridge Beaches Resort & Spa, Bermuda
Cambridge Beaches Resort is the only adults-only resort in Bermuda. Set on a peninsula on the far west end of the island, couples here will enjoy 4 private beaches (with that famous pink sand!) and 30 acres of peaceful tropical paradise.
First opened in 1923 and popular with celebrities, the resort has just been completely renovated. Choose from a water-view room, suite, or cottage, all with private furnished patios or balconies. The cottages are dotted around the property and feature classic Bermudian décor with luxe modern touches. Some have private swim-up plunge pools.
If you can tear yourself away from your room or the beach, you can enjoy an infinity edge pool overlooking the water, a full-service spa, tennis and pickleball courts, croquet fields, putting greens, and a range of watersports. Go scuba diving, deep sea fishing, jetskiing, or sailing; golf; or explore the island on a scooter.
Sip a Swizzle, the classic Bermudian cocktail, and watch the sun set at your choice of three waterfront restaurants and bars, then enjoy innovative gourmet cuisine under the stars. You can also book a private beach dinner in a secluded cove for maximum romance.
Google Rating: 4.5
TripAdvisor Rating: 4.5
If you want an affordable beach vacation closer to home, need a beach vacation destination you can drive to, or only have time for a weekend beach getaway, here are some of the best beach vacations for couples in the U.S.
Tranquility Bay Resort, Marathon, Florida Keys
Tranquility Bay Beachfront Hotel and Resort in Marathon lives up to its name with a stunning setting on the water. Stay in a beautifully decorated room or private beach house and enjoy watersports and 3 pools onsite, then explore the fun and funky Florida Keys.
The resort's white sand beach is wide and peaceful, lined with swaying palm trees and dotted with lounge chairs. There's plenty of space to spread out and feel like you're on your own private island.
All accommodations at Tranquility Bay have a cheerful, airy décor and come with plush bedding and upscale amenities. Choose from spacious rooms that look out onto lush tropical gardens or separate 2- or 3-bedroom villas that are beachfront, waterfront, or waterview. The 2-story beach houses are just steps from the sand and have gorgeous views from double balconies.
Savor world-class cuisine and Florida Keys specialties at the Butterfly Café, which offers seating indoors or outdoors on the deep porch. The Tiki Bar 's beachfront setting is the perfect spot for an alfresco lunch or a tropical cocktail while watching the glorious sunset.
Google Rating: 4.7
TripAdvisor Rating: 4.5
Ritz Carlton Amelia Island, Florida
Revel in the luxury of a Ritz Carlton hotel combined with the natural splendor of Amelia Island at this romantic beach vacation destination, winner of a multitude of travel awards. A secluded barrier island off the northeastern coast of Florida, Amelia Island is unspoiled and serene.
The Ritz Carlton Amelia Island sits on 13 miles of beachfront, so you'll have room to wander. You can also explore the island with the resort's naturalist, go biking, or kayak in the Intracoastal Waterway, as well as enjoy indoor and outdoor pools and whirlpools.
Golfers will love the 18-hole championship golf course. There's also tennis and a fitness center. When you're ready to relax, sway in a hammock or indulge at the full-service spa. If you can tear yourself away from this incredible beach resort, there are historic sites, museums, and a charming historic downtown to visit.
Rooms and suites all have private balconies, ocean views, and luxurious touches like Frette linens. You can choose from 6 restaurants offering gourmet farm-to-table cuisine in elegant settings, including several with views of the dunes and ocean beyond, one with an outdoor terrace, and one on the water. There are 5 cocktail lounges and a coffee shop as well.
Google Rating: 4.7
TripAdvisor Rating: 4.5
San Diego, Hotel del Coronado
Couples on the West Coast looking for a romantic weekend getaway will love the iconic Hotel del Coronado, located on Coronado Island off the coast of San Diego. Founded in 1888 and featured in the classic movie "Some Like It Hot," this Victorian-style beach resort is a true grande dame that has recently been refurbished.
Once you get here (by ferry from San Diego) you can walk, look for shells, or relax on the wide shimmering sands of one of the best beaches in the San Diego area; go surfing or paddleboarding (and take lessons if you need them); browse the resort's boutiques; ride bikes around the island; indulge at the full-service spa; or book a private beach bonfire with s'mores.
Enjoy beautiful water views and delicious food at multiple beachfront restaurants before retiring to your room. Accommodations are spread among 5 distinct areas, including elegant rooms in the historic main building, modern beachfront rooms with patios and firepits, sleek poolside rooms with shaded terraces, and private beachfront cottages.
Google Rating: 4.5
TripAdvisor Rating: 3.5
Little Palm Island Resort & Spa, Florida
The only private island resort in the United States, Little Palm Island delivers barefoot luxury in a breathtaking setting. Just off the coast of the Florida Keys, Little Palm Island features thatched roof bungalows, lush tropical landscaping, and an indoor-outdoor Balinese-inspired spa.
Your island beach vacation begins at the Shore Station, where you enjoy a cocktail, then board the classic speedboat for a short ride over sparkling water. Each romantic bungalow is furnished in British West Indies décor and features ocean views, private furnished deck, separate living area, soaking tub, and indoor and outdoor showers. Island Romance Suites also offer outdoor soaking tubs and an exclusive sand beach with fire pit, for the ultimate privacy.
Savor water views along with delicious fresh cuisine at the beautiful restaurant, then head to one of the waterfront lounge areas to enjoy a peaceful evening by a fire and under the stars. You won't be surprised that Little Palm Island was named one of the best new hotels in the world and one of the top ten resort hotels in Florida.
Google Rating: 4.5
TripAdvisor Rating: 4.5
Henderson Park Inn, Destin, Florida
Delight in privacy and luxury at this gorgeous adults-only all-inclusive resort tucked away next to pristine Henderson Beach State Park on the stunning sugar-white sands of the Gulf of Mexico. This uber-romantic, sophisticated sanctuary is the only all-inclusive resort in Destin and is only open to guests 25 and older. Charming rooms and suites in the intimate inn feature ocean views, balconies, whirlpool tubs, and plush furnishings.
The award-winning fine dining restaurant has gorgeous Gulf views from tables inside or on the veranda—or reserve the VIP Toes in the Sand candlelight dinner on the beach. There's also a beachfront grill that serves lunch and cocktails.
Your stay at Henderson Park Inn includes breakfast and lunch, snacks and nonalcoholic beverages, daily happy hour, beach cruiser bicycles, beach chairs and umbrella, and access to the amenities at neighboring Henderson Beach Resort including an adults-only pool, a fitness center, and a spa. You can also add extras with the Romance or Celebrate by the Sea Package.
Google Rating: 4.7
TripAdvisor Rating: 5
The Breakers, Palm Beach, Florida
A storied beach resort with an impressive history. The Breakers was founded in 1896 by Henry Flagler and is the epitome of elegance. Set on 140 acres on Palm Beach island off the Atlantic coast of Florida, The Breakers features a gorgeous private beach and a truly stunning array of amenities—including a complimentary chauffeured house car.
Read more 12 Best Florida Beaches For Couples
Luxurious rooms offer ocean or resort views, private balconies, plush furnishings, and marble bathrooms with soaking tubs. Sizeable suites come with personal concierge service.
You'll be spoiled for choice at The Breakers, with plenty of watersports options, 4 pools with poolside bungalows, 6 whirlpools, 2 golf courses, 10 tennis courts, a full-service spa, and indoor-outdoor fitness center, and an alfresco shopping plaza. Sip a classic cocktail in a sophisticated lounge or at the Beach Club, then savor a variety of cuisines at 10 restaurants.
Google Rating 4.8
TripAdvisor Rating 4.5
Well, now that you've seen the list of our 25 best beach vacations for couples, which one would you choose? Do you have any personal favorites to add? Let us know in the comments!
---
— Update: 16-02-2023 — cohaitungchi.com found an additional article 12 Best Florida Beaches For Couples from the website floridatrippers.com for the keyword best beach for couples near me.
Are you looking for the best Florida beaches for couples? You are in the right place. In this article, we will walk you through romantic beaches in Florida, honeymoon beaches in Florida, and secluded beaches in Florida. Whether you are after somewhere for a romantic getaway, a place to celebrate, or just somewhere to get away from it all we have you covered.
We will give you all the information you need to make a decision about which beach is best for you.
Beaches for us are just romantic wherever they are and nothing beats a secluded Floridian beach in our opinion. We have white sugary sand, crystal clear waters, some of the best sunsets, and a beach for every occasion. And the weather here is nearly always on your side.
Floridan beaches all have something different to offer too. Perhaps you want something luxurious and special, or maybe something out of the way, perhaps you want a more party-style atmosphere or just want to enjoy nature. Whatever you want Florida can supply it.
With names like Lovers Key and Honeymoon Island you know Florida has you covered when it comes to romance. So let's get going as we walk you through our pick of the best Florida beaches for couples.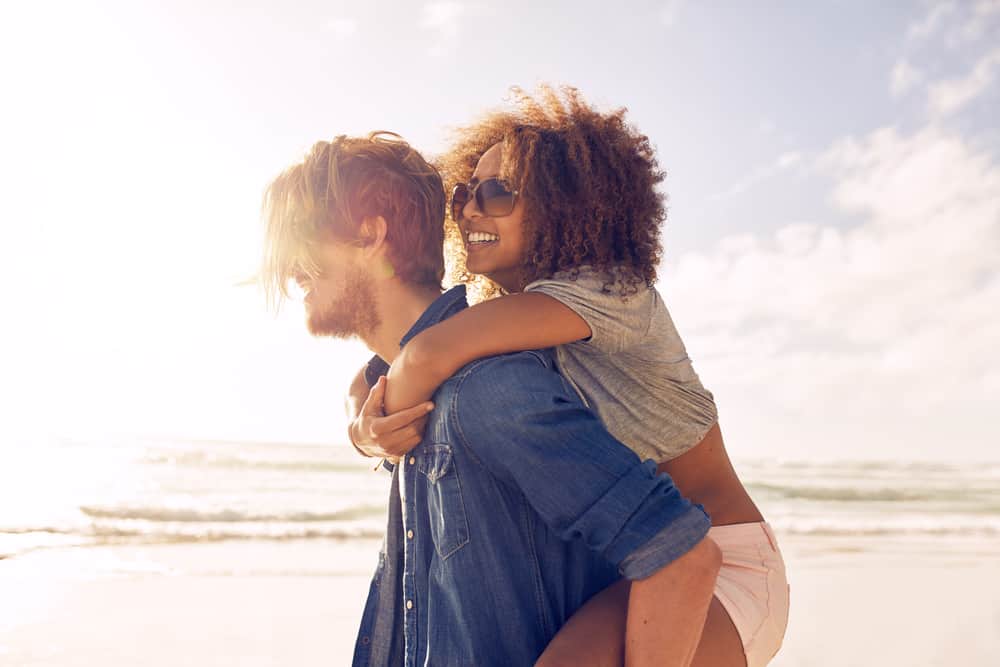 12 Best Florida Beaches For Couples
Beer Can Island
We honestly love this spot and can't get enough of it. Whatever you do though don't get this mixed up the party Island Beer Can Island, this is not that.
This Beer Can island is stunning and is also known as Greer Island and is near Sarasota. And it's a beach for those that like seclusion, it's not easily marked and a little bit challenging to get to but is so so worth it. If you are after some alone time don't go at weekends as it tends to get busier then.
When Terrance and I first saw this beach it took our breath away as it unusual, unlike other Florida beaches. It's somehow magical and looks like a scene from a movie.
At sunset it's extra special and would make the perfect surprise date night.
Check out our tips on visiting Beer Can island one of the best Florida beaches for couples. Tips For Visiting Beer Can Island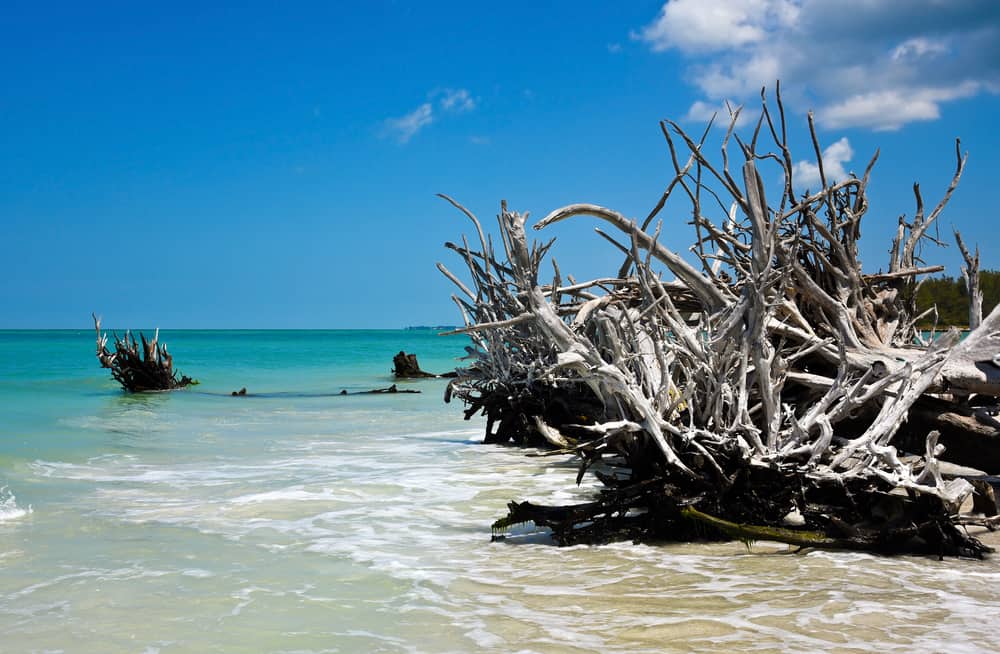 Fort Desoto
If a romantic getaway to you has to be a little more active and you prefer to do things as well as sunbathe then Fort Desoto might be for you. It's a state park full of beaches, trails, and a lot of history.
Southwest of St Petersberg the park is made up of five offshore islands and is the largest park in the Pinellas County Parks system.
The park has 7 miles of coastline. East beach tends to be a little less busy as most people go to North Beach.
If you want to make a night of it you can camp here too, it's a beautiful location with lots to keep you busy.
Before you go check out our tips Tips For Fort De Soto: A Coastal Florida Playground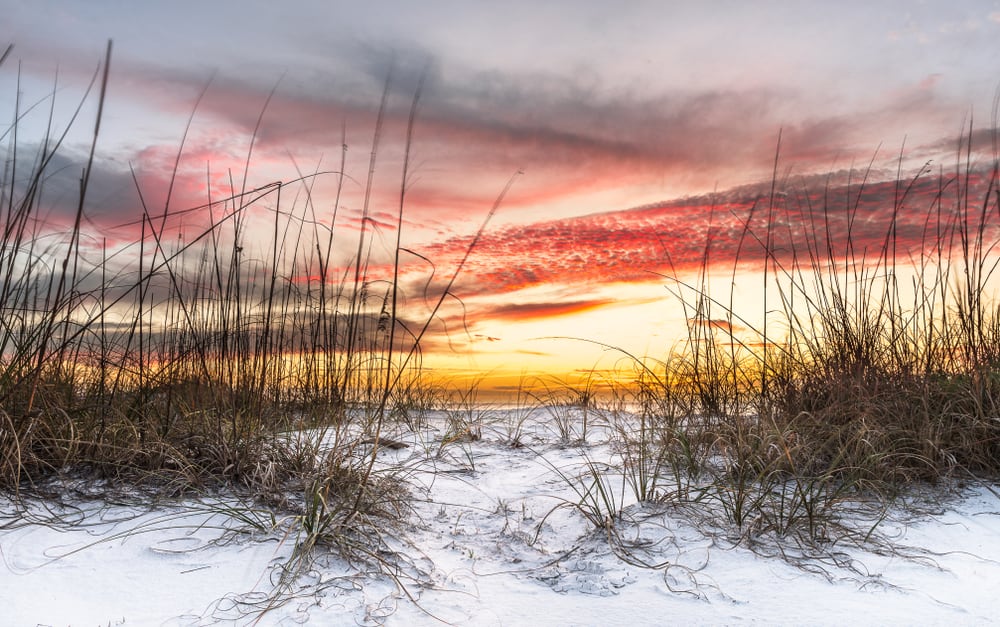 Honeymoon Island
Honeymoon Island is as beautiful as it sounds, with over 4 miles of beaches there is lots of space to spend some quality time with your certain someone.
This barrier island sits west of Tampa really is a delight. You also have three miles of trails to explore which go through one of the last remaining slash pine forests in Florida.
It's a state park and you will pay $8 to get in but it really is worth it. It's open from 8 am until sundown so you can't stay there but there are lots of places to stay nearby.
Main beach is the beach to go to for relaxing and North Beach for those that like something a little more natural.
It's an incredible natural environment to spend some time with your partner and you can get a boat from here to Caladesi Island State Park so you can get two beaches for the price of one.
Before you go check out our Tips For Honeymoon Island State Park: A Florida Gem
Lover's Key
With a name like Lovers Key, there was no way we could leave this beach off a list of the best couple beaches in Florida. And with miles of beach, miles of sandy beach and crystal clear water it really is paradise.
In the southwest corner of Florida on a barrier island Lovers Key is a state park and has two miles of perfect undeveloped beach. Since it's a state park you can only spend the day there but nearby Fort Myers makes a great location for the evening with lots to see and do.
Sunset cruises, Dolphin cruises, and Kayak tours are all popular here but the real draw is the beautiful island and the beautiful beach.
Why not take your lover for a day at lovers key, oh and they do weddings on the beach.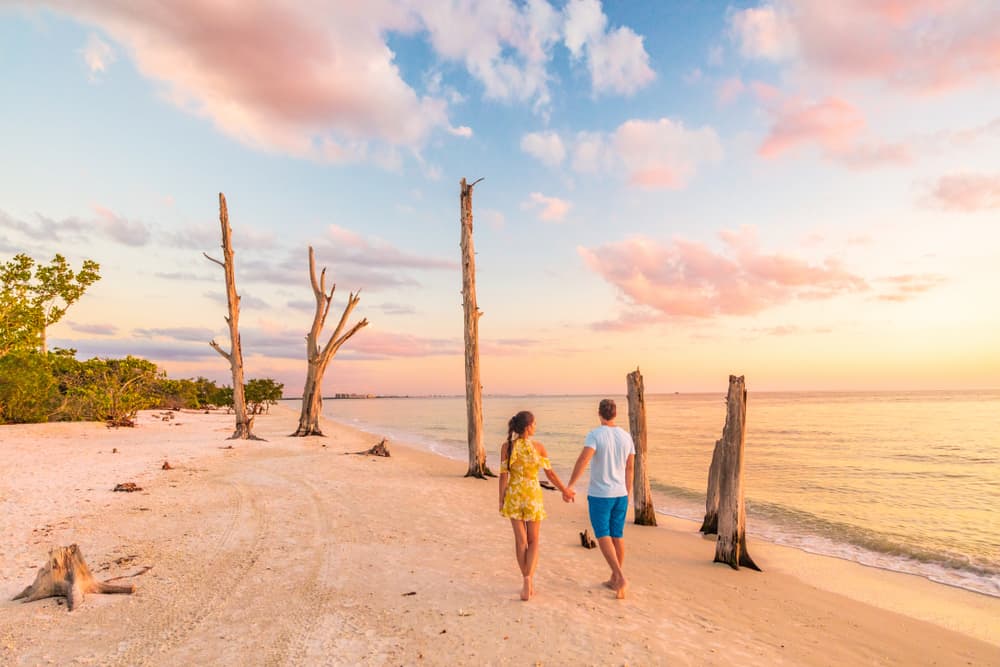 Key Biscayne
While Key West may get all the attention we think Key Biscayne has a lot to offer those seeking a romantic getaway. Firstly it is just minutes from Miami and the white sand beaches and turquoise water are just as beautiful as any at Key West.
It's a great little getaway if you haven't got much time to spare. And there is so much to see literally, The view from the top of the lighthouse, the sunset, and perhaps a seaplane tour over Miami.
The beaches here are laid back with a Miami vibe and decidedly fewer people. Crandon Park Beach is two miles of bliss and used to be a coconut plantation.  Bill Baggs Cape Florida State Park is quiet and quaint and home to the lighthouse.
It's the perfect spot to find some alone time with your partner.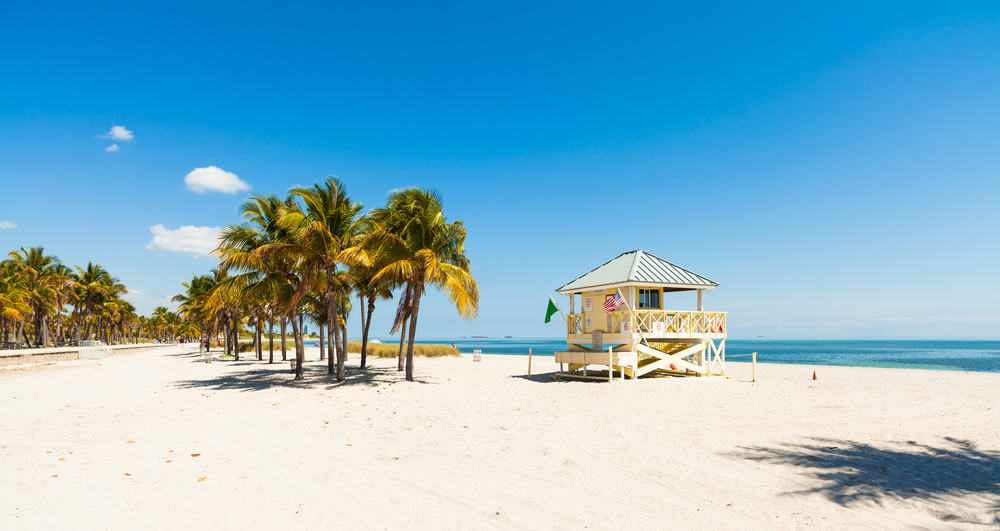 St. Petersburg Beach
We couldn't do a list of the best beaches for couples in Florida without including one near Tampa. In 2020 the TripAdvisor Travelers Choice Awards named St. Pete Beach the #2 beach in the United States. So when we say we love this beach we are not alone.
It's a popular place with fun nightlife and an art scene, it's a happening place. There is so much to do in this area and we are sure it will steal your heart.
Now onto the beach, what can we say it's immaculately clean, has soft sand and crystal clear water. Along with Clearwater, these beaches sit on the longest undeveloped stretches of public beach in Florida.
And if you really want to make a romantic stay of it St Petes is also the home to the famous Don Ceaser pink hotel.
If you don't mind things a little busier then this area is beautiful and has everything you will need for a romantic getaway.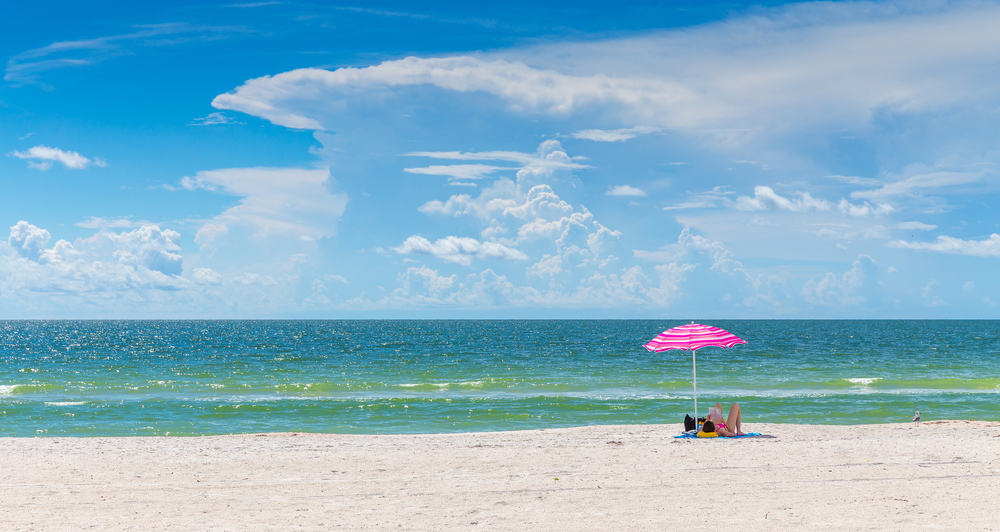 Vero Beach  
If you want to experience a little of the old Florida then this is the place to go. Located on the beautiful "Treasure Coast" Vero Beach is definitely one of the best beaches for couples in Florida.
Go on an airboat tour and explore the marshes, visit McKee Botanical Gardens or take a trip to Round Island Beach State Park and see manatees.
There is also plenty to do in the evenings with lots of intimate restaurants and riverside theatre.
Vero Beach has it all a beautiful beach, a historic downtown, great shops, and some arts and culture.
It's really easy to get to and makes a perfect getaway if you don't want to go too far.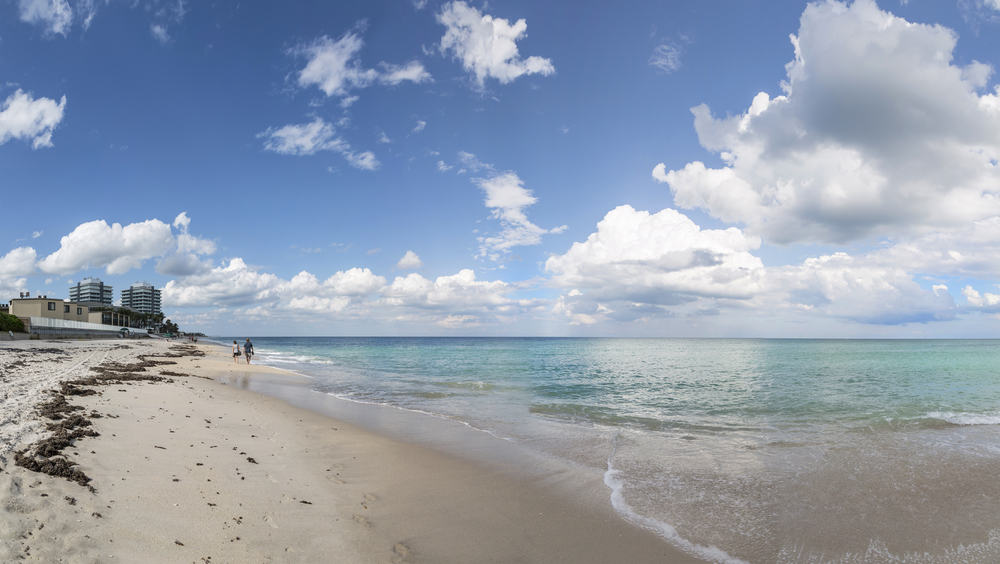 Gasparilla Island
Home to Gasparilla Island State Park and the restored Port Boca Grande Lighthouse Gasparilla Island is a gem. It's reminiscent of New England with colorful beach houses, beautiful estates, and luxury shops.
For all the glamour there is a laid-back feel. It's like everyone here knows they have a secret hideaway and just enjoy it.
If you love fishing then you will love the island but it's also great for swimming, snorkeling, and shelling.
The island has all you need if you and your partner love nature and understated glamour.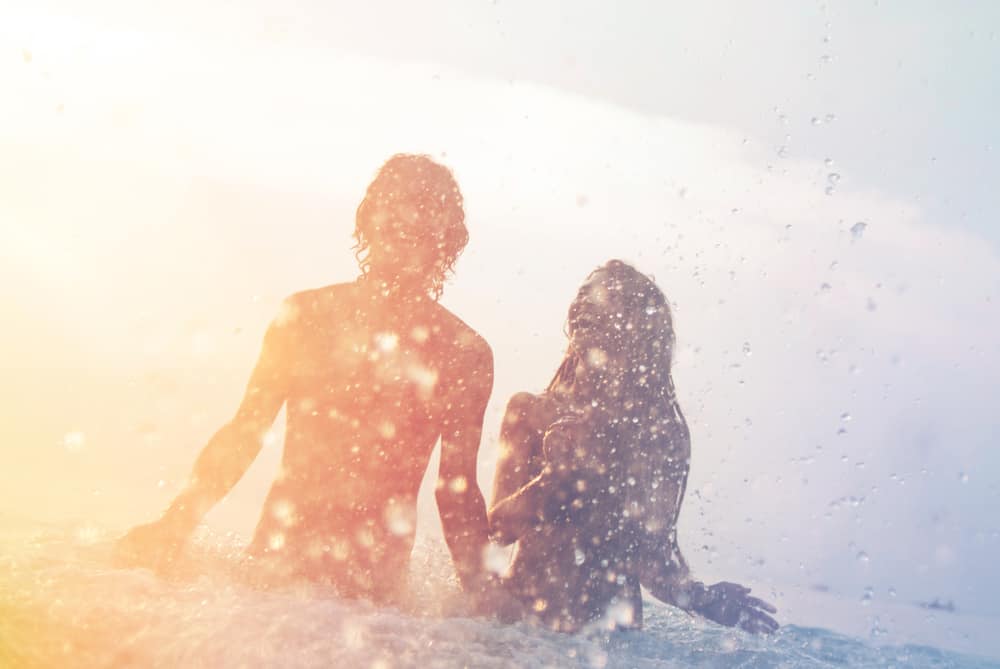 St George Island
Romantic and tranquil are two words we would use to describe St George Island. The beaches are some of the best in the States and the island is pretty unspoiled.
On the island, you with find nine miles of beaches along with marshes and sand dunes.
If you like the idea of beach houses, walks along the beach and a laid-back atmosphere this might be the place for you. They also have some incredible seafood restaurants here, it's the perfect place for a romantic getaway.
And if you really want the ultimate romantic evening head out to  Dr. Julian G. Bruce St. George Island State Park. The park has low light pollution and is a great place to spend the evening stargazing.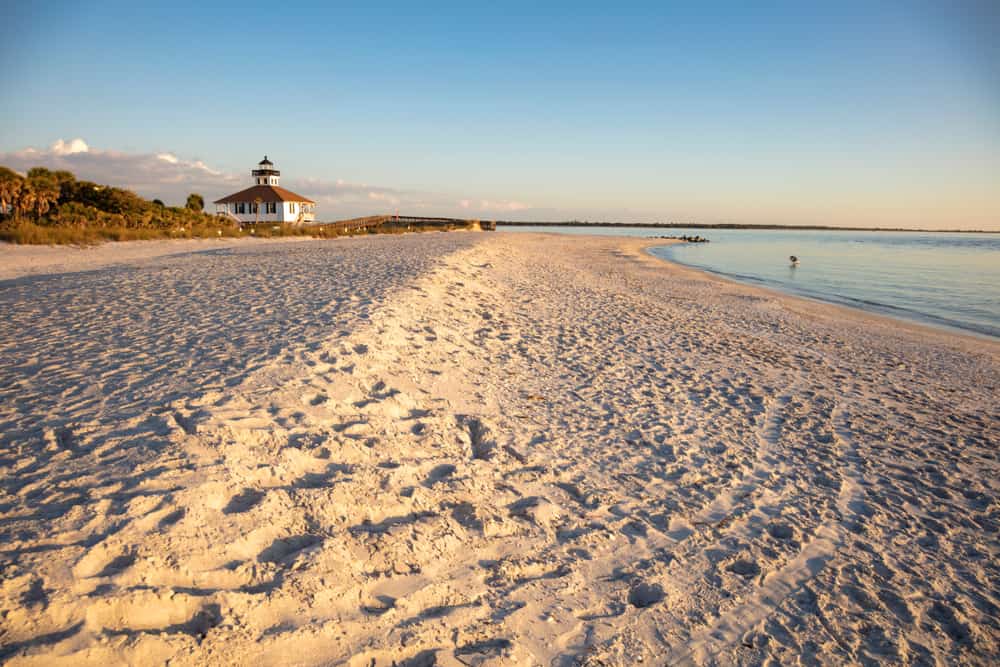 Caladesi Island State Park
If you are looking to get away from it all then the three miles of untouched beaches on Caladesi Island State Park might be just what you are looking for. The park is only accessible by boat but honestly believe us it is well worth the effect.
The beach is perfect and you might find yourself one of only a few people there. And since it's a state park there is so much more to see and do. You will find plenty of nature paths, trails that lead through mangroves, and the historic Scharrer Homestead.
This place truly is an experience.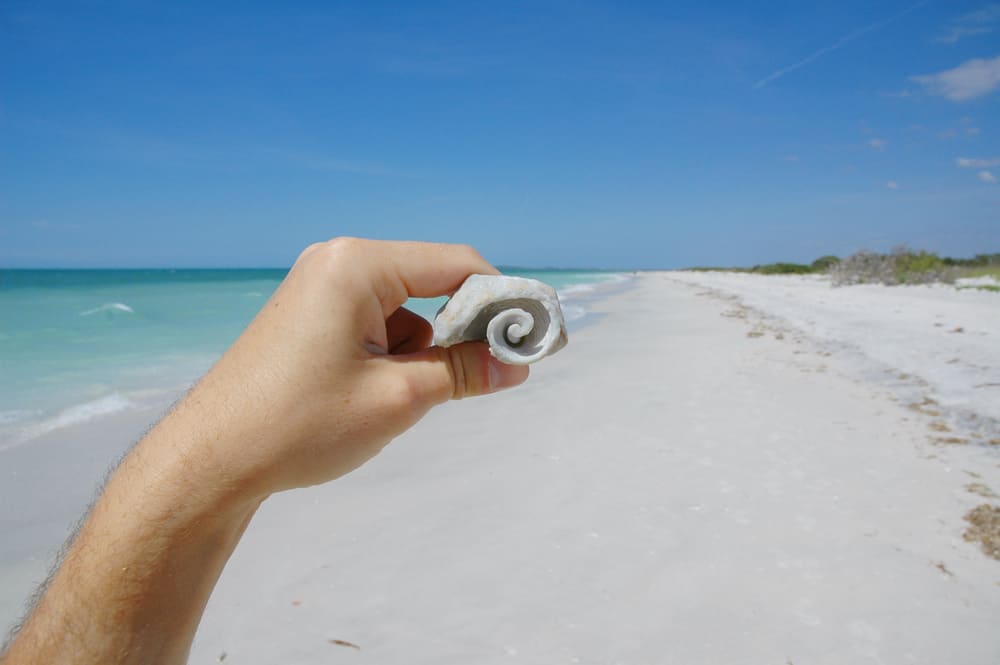 Santa Rosa Beach
If you like your beaches to have turquoise waters and sugar-fine white-sand then look no further than Santa Rosa Beach. Situated on the 26-mile stretch of Florida's Emerald Coach this beach is truly gorgeous. The area on the panhandle of Florida is just picture perfect.
The area around the beach is also beautiful with luxury beach houses, incredible dining establishments, and a thriving art scene. This place a romantic charm all of its own.
And if the beach gets a bit too much for you it's just a few minute's drive away from Point Washington State Forest where you can explore 15,000 acres of cypress swamps and wetlands.
An added bonus here is that the sunsets are incredible and you can get a great view from the beach.
Dry Tortugas
If you are a little more adventurous and are up for some primitive beach camping under the stars then take a look at Dry Tortugas.
A seriously underrated and beautiful national park that has a fort and a lot to see and a truly magnificent beach. This park is 70 miles off Key West and you can only reach it by ferry or seaplane and you will need to book in advance.
There are no facilities other than a bathroom on the island not even drinking water so you will have to bring your own supplies. But we think it's well worth the effort as the night sky is great for stargazing and the primitive nature of the place adds to the romance.
If you bring your own kayaks/canoes you can also explore the surrounding island too.
If you are not up for the primitive experience maybe hire a boat and explore at your own leisure.
Before you go check out Tips For Exploring Dry Tortugas National Park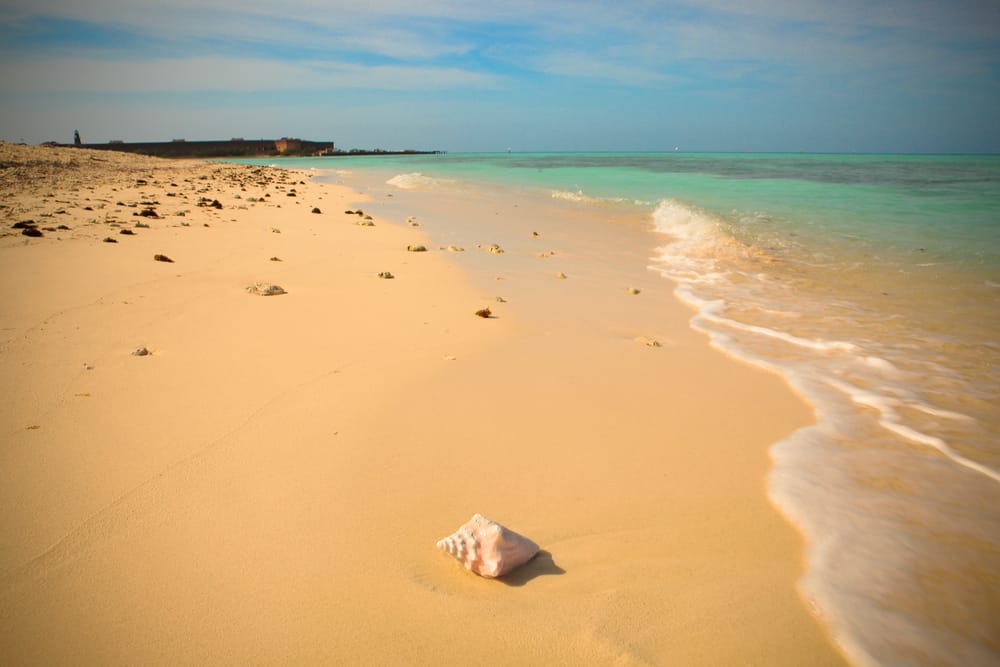 We hope you find what you looking for in this article about best Florida beaches for couples. Florida beaches are the best and really do make for a great romantic getaway. Some of these beaches are close together so I encourage you to explore a few if you can.  
We hope you have the best time and we can't wait to hear all about it. Please let us know how your trip goes.
References