Having graduated from Southern Illinois University Carbondale I can attest the hiking trails in this part of the Midwest are second to none. Oh, and the nearby wineries are well worth a visit if you're into that too!
Rolling hills, huge rock formations, and beautiful overlooks are all things you can expect to find. So let's take a look at some of the best hikes in Southern Illinois and uncover the uniqueness that each scenic trail has to offer.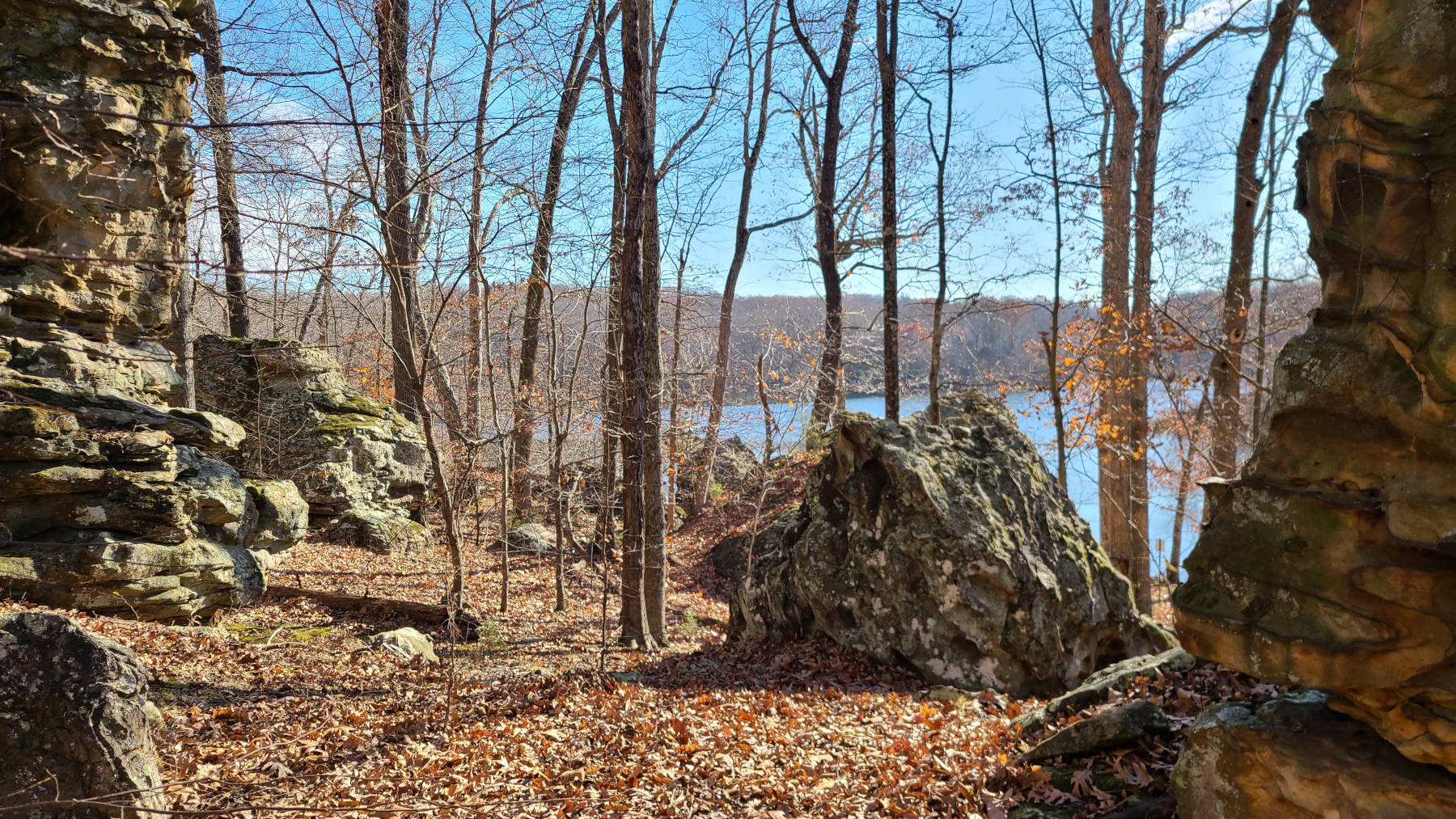 Best Hikes in Southern Illinois
1. Garden of the Gods Observation Trail
Garden of the Gods Observation Trail is considered one of the best short hikes and most photographed locations in Southern Illinois. Sure, the observation trail in Harod isn't going to help you log many miles, but it will reward you with panoramic views within the Shawnee National Forest.
There is no shortage of signs explaining the geological history, and numerous benches line the path if you are looking for the perfect spot for a picnic. You won't be disappointed with all the unique sandstone rock formations.
There are additional Southern Illinois hiking trails nearby if you want to make a day of it at the Garden of the Gods Wilderness.
Read more 7 Best Hikes To Experience In Southern Illinois
2. Heron Pond Trail
Heron Pond Trail in Cache River State Natural Area offers a unique ecosystem that most hikers wouldn't even know existed in Southern Illinois.
You would almost believe you are in a Louisiana bayou or the Florida Everglades. The tree-lined path within Shawnee Forest eventually leads you to a floating boardwalk that gets you up close to the Cache River wetlands.
Hiking an extra .25 mile will bring you to a massive Cherrybark Oak Tree with a trunk over 22 feet in diameter.
3. Salt Lick Trail
The Salt Lick Trail is located on an old quarry site in Valmeyer, Illinois within the Salt Lick Point Land and Water Reserve. The initial climb up a bluff will get your legs burning, but beautiful views of Southern Illinois farm fields and even the St. Louis skyline will make it all better.
If you plan to combine trails to make a longer loop, we recommend using the Newman Trail to connect to the Johnson Trail.
4. Red Cedar Trail
Red Cedar Trail is one of the more rugged Giant City hiking trails with plenty of elevation gain. Red Cedar Trail is best suited for the avid hiker looking for a challenge and who wants to be rewarded with all things the Midwest has to offer.
Rock formations, small waterfalls, creek crossings and dense forest are all things you can expect along this moderate trail. Giant City State Park has a campground available if you would rather take your time and break up the mileage into two days.
Read more 14 Hudson Valley Hikes With Fire Towers for Jaw-Dropping Views
5. Pomona Natural Bridge Trail
Pomona Natural Bridge is a short, awesome trail on our best hikes in Southern Illinois list, and it is a must-see when visiting Shawnee National Forest.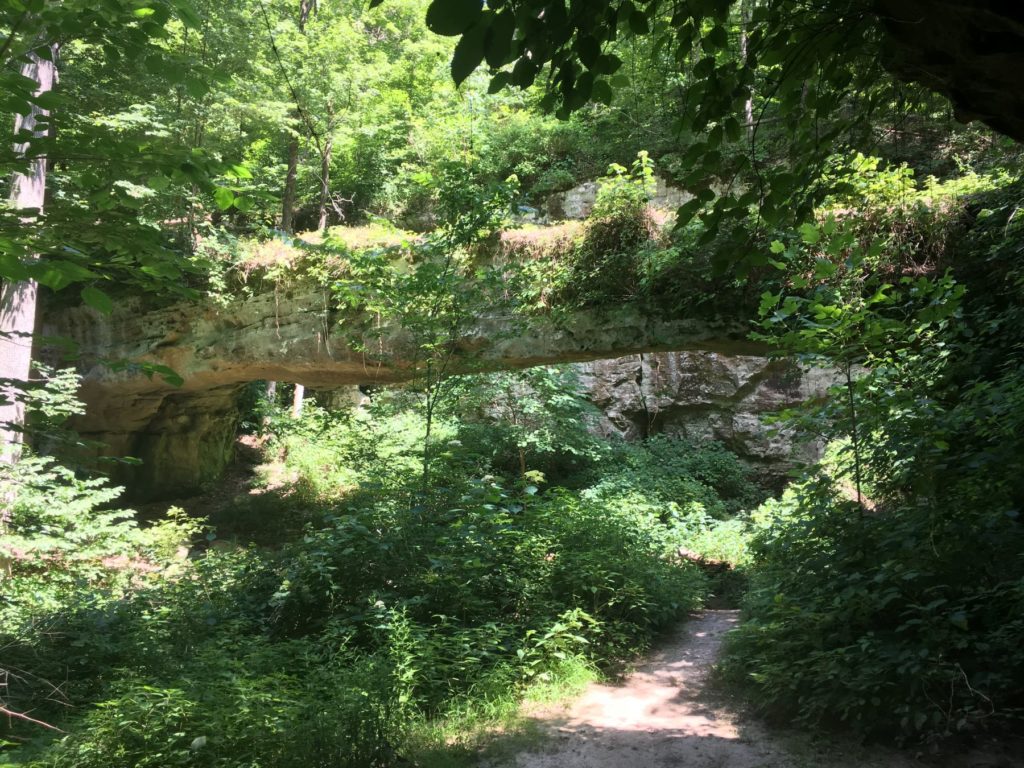 The natural rock bridge spans 90 feet long, resulting from millions of years of erosion. Be sure to explore the small canyons and shallow caves nearby. Keep in mind that the bridge can be slippery after it rains, so wear proper hiking shoes for the best traction.
6. Deer Trail Loop
Deer Trail is a 3 mile loop nestled in Olin Nature Preserve just outside Alton, Illinois. You can expect many ups and downs as you travel on the well-marked path. The Deer Loop is the longest and most difficult trail in the nature preserve.
While you are hiking, you'll see varying ecosystems, from prairie land to forests and you'll even catch a glimpse of the Mississippi River. Don't forget to take a quick detour on Beaver Trail to check out Beaver Falls.
A few things to take note of – no dogs are allowed in John M. Olin Nature Preserve and hiking trails can be closed during the winter months.
7. Pere Marquette Outer Loop
The Outer Loop Trail combines numerous hiking trails throughout Illinois' largest state park – Pere Marquette. With nearly 8,000 acres of land and natural beauty, Pere Marquette State Park will give you a glimpse of the awesome scenery you will see in Southern Illinois.
River views, huge bluffs, dense forests, and an abundance of wildlife are only a few natural wonders you can look forward to. Elevation gains will be your best friend on this moderate hike (or maybe not), and if you plan your trip in the fall, colorful trees will be in abundance!
Read more 11 Epic Waterfall Hikes for Your Bucket List
Other Notable Southern Illinois Hiking Trails
8. Ferne Clyffe Waterfall Trail
A Southern Illinois waterfall destination, Ferne Clyffe State Park offers a .75 mile out-and-back trail to get your waterfall hike fix in.
Where to Start: Ferne Clyffe State Park (37.54309, -88.97966)
9. Panther Den Loop
If you want to go hiking near Carbondale, IL check out Panther Den Loop outside Makanda. The Panther Den Loop is a popular trail (3 miles) that might be better suited for experienced hikers that have knowledge in following a trail even when markings are limited.
Where to Start: Panther Den Wilderness (37.58124, -89.08839)
10. Giant City Nature Trail
Giant City Nature Trail is a 1-mile loop within the Giant City State Park that is considered one of the most scenic trails to many Southern Illinois hikers. A beautiful forest setting and ten thousand year old sandstone bluffs are only a few cool features you'll see.
Where to Start: Giant City State Park (37.59552, -89.18943)
Wrapping It Up…
It goes without saying, Southern Illinois provides beautiful trails to hikers of all skill levels. So, go ahead, pick your favorite hike and get out and enjoy the great outdoors.