Whether you call this stunningly gorgeous community home or are just passing through Carbondale, you happen to be in close proximity to some of the most scenic, challenging, and memorable hikes in the country. From easy nature walks to grueling alpine treks, this area has it all.
This town of 7,000 is surrounded by nature and offers something for everyone. If you're not sure which trail nearby Carbondale is right for you, check out the recommendations on this list:
Smuggler Mountain Trail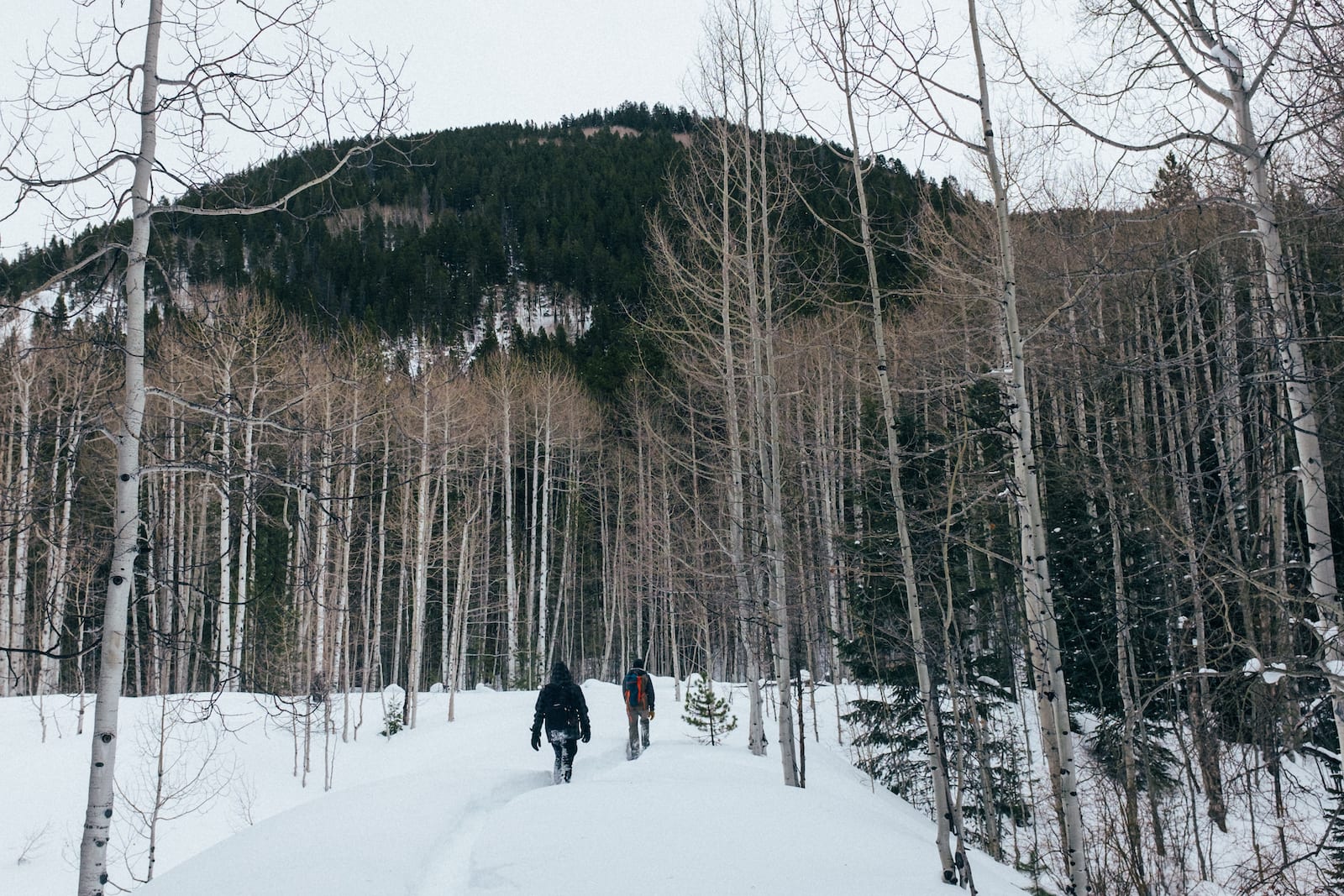 This challenging 14-mile hike has become one of the most popular trails in the area and beloved for its arresting views and access to bursts of golden foliage in the fall. You'll encounter steep inclines, rocky terrain, and one of the best views of the city of Aspen and the surrounding wilderness that the area has to offer. It takes 40 minutes in the car to reach the trailhead, but it's an experience you won't want to miss if you're an experienced hiker looking for a rewarding challenge.
Mushroom Rock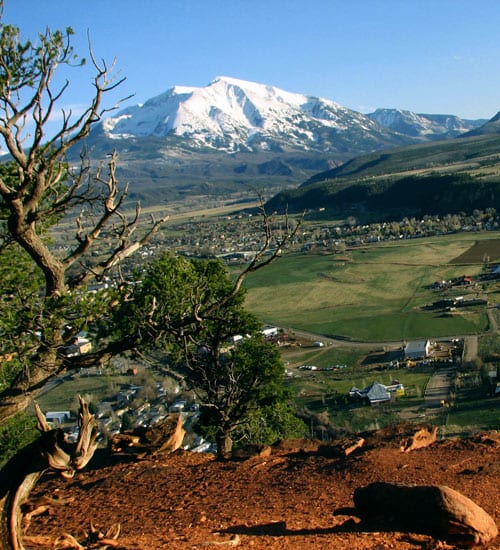 A two-mile hike that's considered to be moderately difficult, hiking to Mushroom Rock is a solid option for getting a bit of exercise and a lot of great views in a short amount of time. Located just north of the main part of town, this trail leads to a red outcrop of rocks that opens up to a vast open valley below with mountains standing tall far in the distance. This trail manages to not be too crowded despite being so close to town.
Thomas Lakes Trail

Tucked away in the vast White River National Forest, the Thomas Lakes Trail offers almost eight miles of serene alpine splendor. A hike along this moderately difficult high-elevation trail delivers stellar views of the surrounding mountains, lush evergreen forests, and the pristine Thomas Lakes that sit at the base of Mt. Sopris. The trail continues another five miles to the peak of that mountain, but is far more difficult. But for those who complete the hike, the views at the top of the 13,000 foot mountain are said to be sublime.
Grizzly Creek Trail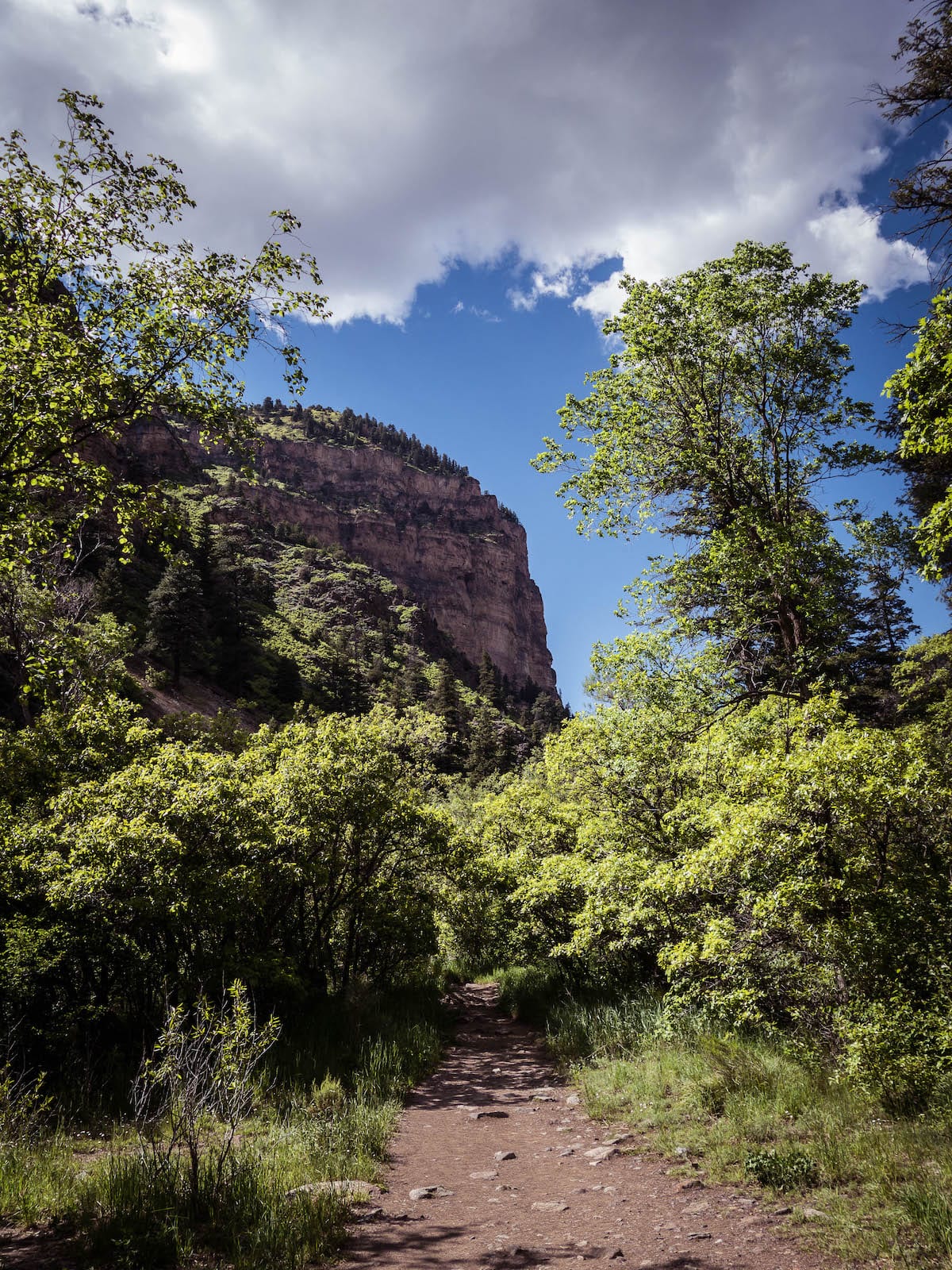 With its trailhead located along 1-70 a 30-minute drive away from Carbondale, the Grizzly Creek Trail offers amazing views of the towering Glenwood Canyon. This notoriously tough, eight-mile hike features rocky terrain and a nearly 2,000-foot incline. You'll trek along a serene creek as you venture further and further up along the canyon walls, and if you make it all the way to the end, you'll be handsomely rewarded with stellar views.
But take note, as of fall of 2020, this trail has been temporarily closed.
Read more Devils Thumb Trail to Diamond Lake, Hessie Trailhead, Indian Peaks Wilderness Area, Colorado
Jess Weaver Trail
Over the course of this nine-mile hike, you'll ascend over 2,500 feet of elevation through the stellar beauty of the Glenwood Canyon. Because this moderately challenging trail is located so close to Glenwood Springs, it's quite a popular spot in the summer, and its parking lot fills up quickly. But if you want to experience this fun and scenic hike, don't let the crowds stop you. It's a place brimming with wildflowers, butterflies, and all manner of fascinating animals.
Sunnyside Trail
Perfect for advanced hikers or those looking for a serious challenge, the Sunnyside Trail is located 40 minutes south of Carbondale. An out and back trail spanning under just 11 mile, this hike offers intense inclines, stunning vistas, serene mountain forests, and arresting mountain views. As with any trail this challenging, it gets less crowded the further you hike in. Large swaths of this trail are tree-less, so come prepared to hike in the sun.
Lorax Trail
Located just west of town, the Lorax Trail is a three-mile loop. Like the name implies, this trail is all about the surrounding forest, and hikers report loving being immersed in evergreen trees on this trail. The Lorax isn't a challenging hike, but the trail is often unmaintained and it's not rare for it to be muddy, dusty, and rocky here.
North Hunter Creek Trail
Offering nine miles of pristine mountain terrain, the North Hunter Creek Trail is a moderately difficult and often uncrowded hike. During the fall months when the aspen trees put on their dazzling golden displays is when this trail sees the most traffic, but its gets less crowded just a mile or two in.
Red Mountain/Jeanne Golay Trail
Located right in Glenwood Springs, this seven-mile trail begins as a paved path before quickly moving into a dirt road esigned to accommodate multiple hikers and bikers. Steep and often rocky, this moderately challenging hike delivers excellent panoramic mountain views and captivating scenes of the Roaring Fork and Colorado Rivers and the Elk Range far off into the distance.
Glassier Open Space
Located southeast of Carbondale, Glassier Open Space is comprised of almost 300 acres of agricultural lease parcels, historical outbuildings, and hiking trails. It provides access to the 42-mile Rio Grande Trail and a plethora of BLM trails as well. This vast, unpopular area is a good option for hikers wanting to trek alone.
Four Pass Loop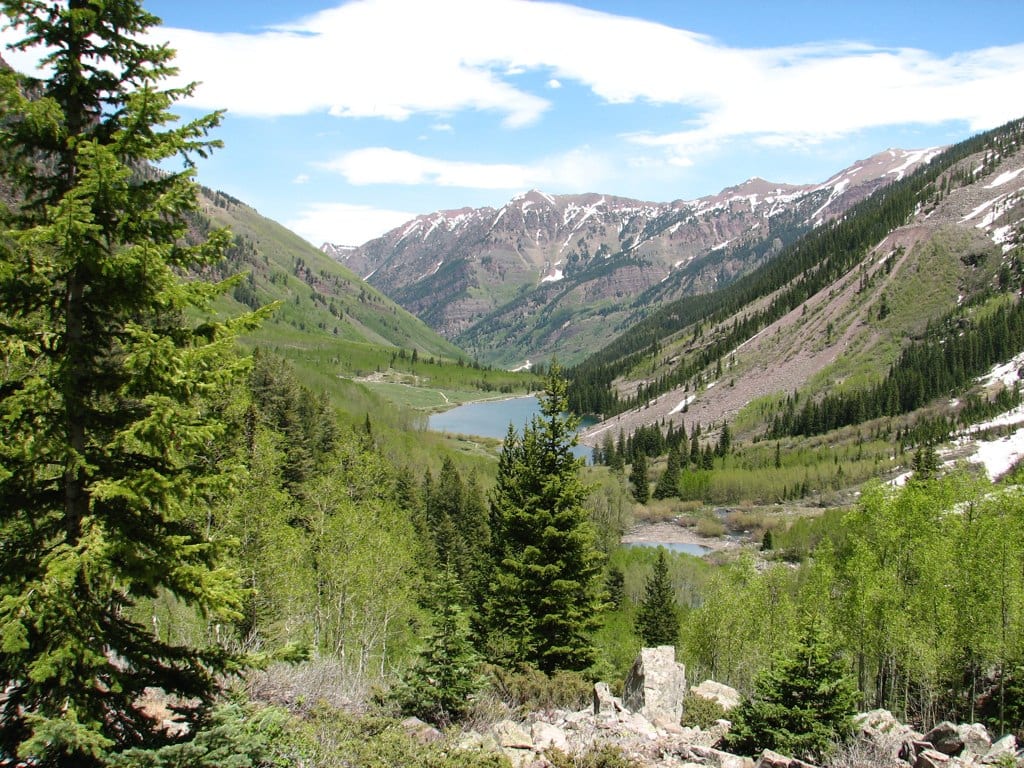 On of the most beloved hikes in the area, the Four Pass Loop is an intensely beautiful and grueling trail that is used for hiking, fishing, backpacking, and wildlife-viewing. At almost 30 miles long, this loop ventures through four 12,000-foot mountain passes and delivers views of the Maroon Bells-Snowmass Wilderness that are so beautiful and vast that after seeing them you'll probably emerge as a different person.
This hike obviously isn't for novices and is reserved only for those with the proper experience, equipment, and physical fitness. The loop begins on the Maroon-Snowmass Trail an hour south of Carbondale.
Read more Hikes of the Week: Sauvie Island Still Has Plenty to See in the off-Season, From Birds to Trees to a Wrecked UFO. Wait, What?
---
— Update: 13-02-2023 — cohaitungchi.com found an additional article The 4 Best Adventures in Carbondale, CO from the website www.theoutbound.com for the keyword hikes near carbondale co.
It's a great breath of fresh air after the hoity-toity crowd; if Aspen is a stuck-up wealthy old lady who's had too much work done, Carbondale is her cool, outdoorsy, still-cultured niece. A lot of athletes call this corner of Western Colorado home (Rock and Ice and Trail Runner magazines are headquartered here for a reason). Here are the best places to camp, hike, bike, and relax.
1. Camping at Prince Creek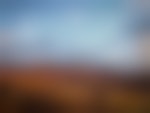 Just six miles from Main Street Carbondale, the Prince Creek area is your best bet for a weekend base camp. Sitting on National Forest and BLM land, the area has plenty of pull outs to camp in, limited only by a fourteen-day stay limit. Nestled in scrub oak and eventually pine forests, it's easy to feel like you are in the middle of nowhere. Come in the summer while it's lush and green or even better, in the fall when the hillsides turn red, orange, and gold. While the proximity to town is nice, the best reason to camp at Prince Creek is the access to adventure, which leads us conveniently to our next item below. Learn more.
2. Mountain Biking Prince Creek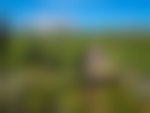 Shocking, right?! While the camping in Prince Creek is great, this recreation area is known by the locals for its singletrack trails. The Crown, the main foothill that rises above Carbondale to the East, is absolutely laced with trails; mixing up a great mix of fun and flowy singletrack and nice graded roads, all with dynamite views of the Crystal River Valley's crown jewel, Mount Sopris. Do a breakfast burrito run in the morning to Dos Gringos, and pop in next door to Aloha Mountain Cyclery while you're at it to get the latest trail conditions and some guidance on what trails are best for you. Make sure to ask about Monte Carlo, the trail that will take you up and over the trail's abandoned namesake car. Learn more.
3. Hiking Hay Park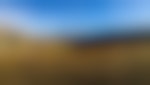 If mountain biking isn't your thing, no worries, your stay in Prince Creek is not for naught. If hiking is more your game, head further up Prince Creek Road past Dinkle Divide to the Thomas Lakes Trailhead. Heading up this trail, you can't go wrong. If it is a hot summer day and you fancy a swim, at the trail junction about 1.5 miles in, bear right to go up to Thomas Lakes (and if you are really feeling ambitious, maybe tackle Mount Sopris). But, if you want the best-view for-your-effort ratio in the Valley, at the junction turn left and head up to Hay Park. The views are to-die-for. In the summer you'll be surrounded by wildflowers at every turn and in the fall the changing aspens will leave you speechless. Views to the West show off the massive size of Mount Sopris; to the East, Capitol Peak, one of Colorado's most dramatic fourteeners rises up; to the North, you can see over the entire Roaring Fork Valley out to the Flattops and Sawatch Range beyond. You can't go wrong with hikes in this area! (P.S. If mountain biking is your thing and you aren't biked out from Prince Creek, the Hay Park trail is open to mountain biking as well!) Learn more.
Read more Hike Boulder: The Ultimate Bear Peak Guide
4. Trail Running Red Hill's Mushroom Rock Loop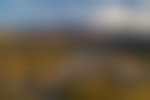 This is a controversial choice as there is no shortage of incredible trail runs around Carbondale (including those Prince Creek trails…). But, for a first time visitor, there is no better send-off than a Sunday morning trip up to Mush Rock. Link up the Three Gulch, Blue Ribbon and Mushroom Rock Trails for a heart pumping loop, including a stop at Mushroom Rock for the iconic Sopris-over-Carbondale-view. Looking for a more mellow (or at least shorter) hike to end your weekend? Stop by Hanging Lake on your way back to Denver heading through Glenwood Canyon. Learn more.
Where to Eat
For such a tiny town (6,000 people!), Carbondale has plenty of food options. After hiking, Fat Belly Burgers hits the spot, complete with locally-sourced beef. If you don't eat meat, Bonfire Coffee (also on Main) has good salads and a couple good vegetarian sandwiches, plus smoothies, pastries and coffee. The aforementioned Dos Gringos is a town favorite for burritos and sandwiches as well as coffee and pastries. (Seriously, their breakfast burritos are rocket fuel; I've snowboarded a half-day, ran a 10 miler on snow, and shoveled our sidewalk all on a single bacon, egg, and potato with salsa verde). If you want to carbo load Friday night to get ready for the big weekend, deep dish pizza or pasta at White House Pizza is the way to go. White House is the best pizza in the state— yes, better than BeauJo's, and I grew up on BeauJo's. On top of it all, if you show up to any of these places in lycra or polypro, no worries, you will blend right in. Especially if you have Sunday brunch with all the locals at The Village Smithy, a Carbondale classic with just about every breakfast item you can imagine and all top-notch.
A few extra tips
If you can, schedule your visit for the first weekend of the month. First Friday is when people come out of the woodwork to support their local businesses and the bar scene is extra-fun.If it's summer or fall and you have some extra time (or you're headed south), drive the West Elk Loop scenic byway over to Crested Butte for more jaw-dropping views (why else would you visit Colorado, after all) and another adorable, fun mountain town. Along the way, maybe tag on a quick trip to the Crystal Mill.
If you do want to indulge your "civilized side" both The Goat and Town are fantastic, higher-end dining options. Both menus are incredible.
References