Bourbon, the Derby, and the bluest of bluegrass are just a few things Kentucky is known for. What you may not know is that Kentucky is also an incredibly underrated hiking destination. It's easy to forget that the South has epic hiking within vast forests of rhododendrons, natural rock bridge formations, sweeping scenic views, and over 700 waterfalls in Kentucky alone! While you're checking off your Kentucky summer bucket list, here are some of the best summer hikes in Kentucky!
---
Rock Bridge Trail
Tucked away in the Red River Gorge & Clifty Wilderness region of Daniel Boone National Forest is a Kentucky hiker's favorite trail: Rock Bridge Trail. While most would assume the major sightseeing on this trail is the Rock Bridge itself – one of the best parts of this hike is the scenic Creation Falls (the first photo of this post!).
Hiking in Kentucky means you'll most likely see one of a few things: arches, waterfalls, rhododendrons, and lush foliage. This paved 1.4-mile trail is a great way to see a little of everything beautiful that Kentucky has to offer in its mountainous region! With one of the clearest pools at the base of creation falls and plenty of shallow sandy areas – it's one of the best hikes in Kentucky for a leisurely day!
The Rock Bridge: You'll know the Rock Bridge when you see it. A 300 million-year-old bridge handles hundreds of hikers scampering over the top to grab a picture with their friends and many playing in the water below when it gets hot!
TRAILHEAD ADDRESS: Rock Bridge Trailhead – Latitude 37.77089711 + Longitude -83.56678467
US Forest Service Map Here
Difficulty: 4/10 (Many stairs and potentially slippery after heavy rains – but this is also the best time to see the falls!)
Popularity: 8/10 (AKA – get there earlier! In the summer it will be swarming with people.)
Dogs Allowed: Yes
---
copperas Falls
While this used to be a more secret hike, in the dead of the summer when Kentuckians are looking to escape that summer heat – they'll scamper out to the woods as much as possible. If you want to really enjoy this 3.6-mile trail in Clifty Wilderness – go before noon!! Of the 700+ Kentucky waterfalls, many of them have this serene blue at their base because of limestone and sediment runoff. The 42-foot Copperas Falls is no exception with a gorgeously sparkling turquoise pool and a perfectly shady cave behind it for cooling off.
PROS: The hike to Copperas Falls is stunning. You'll see massive boulders, follow Copperas Creek, and feel like you're truly in the wilderness. (It's a nice break from paved trails or the well-traveled trails everyone hikes all the time!)
CONS: The hike to Copperas Falls is unmarked and very challenging. Since it's not an official hiking trail – there isn't anyone really maintaining it. This means you need to hike at your own risk and be prepared to get a little wet. Highly recommend downloading your maps before you go or using a GPS system.
If you're really up for the challenge: Box Falls and Hopewell Arch can also be found on this hike!
GPS Coordinates Box Falls: 37.842824, -83.575024
GPS Coordinates Hopewell Arch: 37.827139, -83.577722
Copperas Creek Canoe Launch – The trailhead will be right across from this Canoe Launch. It's always fun to head out for a little canoeing after hiking in the heat!!
TRAILHEAD ADDRESS: KY-715, Wellington, KY 40387 (If you type in Copperas Creek Unofficial Trailhead – you'll find it!)
Difficulty: 6/10
Popularity: 5/10 (Go early!)
Dogs Allowed: Yes
---
Pine Island Double Falls
In the lesser-traveled central region of Kentucky's Daniel Boone National Forest is Pine Island Double Falls. Both of these falls are about 44-feet tall and 8-feet wide!
This 1.4-mile trail is fairly difficult with rocky uphill sections! Not to mention the numerous creek crossings – so make sure you bring your waterproof hiking boots! If you're following the trail – you should see yellow ribbon trail markers helping you along your route. Make sure to follow them so you don't waste any time in your waterfall chasing!
The best time to enjoy this trail is right after a summer storm!
After the rain is when they'll be flowing the most, and you'll get to experience the rare double waterfall effect! This rare phenomenon puts it at the top of our list for one of the best Kentucky waterfalls and one of the best hikes in Kentucky!
TRAILHEAD ADDRESS: 37°04'31.4″N 84°17'20.0″W, London, Kentucky
Difficulty: 5/10
Popularity: 4/10 – You'll probably have this trail to yourself! We haven't seen many people on it and enjoyed it every time!
Dogs Allowed: Yes
---
Floyds Fork Promenade
An easier hike/walk – that you can turn into a much longer hike along Floyds Fork creek. If you're looking for something more low-key and close to the city – we love this area. Not only can our dog go for a serious swim (necessary in the heavy summer heat), but it's also incredibly beautiful at dusk.
The trails here are out in the open and not in the forest the way many of Kentucky's trails are, so you can walk in the evening without the fear of getting lost in the forest. If you've ever night hiked or forced your partner to get up at 5 AM for a sunrise hike, you know how tough they can be!
Louisville Best Public Parks: Find all of our favorite walking paths in Louisville's public parks!
For more information on other trails in Beckley Creek Park, see their website here!
TRAILHEAD ADDRESS: The Parklands of Floyds Fork, Beckley Creek Pkwy, Louisville, KY 40245
Difficulty: 3/10
Popularity: 5/10 (As pretty as it is – you would think it would be more heavily trafficked in the evenings!)
Dogs Allowed: Yes
---
Fairmount Falls
One of our favorite Louisville hikes – Fairmount Falls is a private nature preserve that only allows three cars a day! The best part about Fairmount Falls is that it's so peaceful. You can either hike the 0.9-mile round trip to the top of the falls – or hike upstream from the base of the falls for a more close-up experience.
The best time to visit Fairmount Falls is in the spring after the rains come. This way you'll see a ton of flowers and natural foliage blooming. Fairmount Falls is about 3 stories high making it one of the tallest Kentucky waterfalls near Louisville!
Trailhead Address: See our post here for all relevant information about visiting Fairmount Falls.
Difficulty: 4/10
Popularity: 1/10
Dogs Allowed: Yes
---
Tioga Falls
Tioga Falls is a 130-foot waterfall tucked away near the legendary Fort Knox. We consider it one of the best hikes in Kentucky because these falls are considered the second tallest waterfall in the state!
Trail Info: You'll walk a paved trail for about 0.3 miles and then split towards the true trail past a train trestle. This spot near the train tracks is incredibly picturesque at sunset! From the train trestle, you'll start to ascend a more steep hike for about 0.4 miles and then a slight descent will take you to the falls. (That middle section where you're ascending uphill isn't very long but it's no joke!)
This Kentucky waterfall is a cascading series of 5 drops starting with a mini double falls at the very top. If you can get there earlier or when other people aren't as likely to go (weekdays), you'll have an incredible time exploring the creek that drops even further away from the main falls. The best time to visit would be after Kentucky has had some rain to ensure that it's flowing nice and pretty!
P.S. You can also hike down the creek and get your feet wet to cool off in the summer. We used water shoes for this!
Get Our Guide on How To Spend 3 Days Hiking Around Tioga Falls
Trailhead Address: 2112 Railroad Trestle Road, West Point, Kentucky
Difficulty: 6/10
Popularity: 8/10 (There will be a TON of people there if you go during the weekends. Go on a weekday for the best experience!)
Dogs Allowed: Yes
---
Princess Falls
Any trip to find the best hiking in Kentucky wouldn't be complete without hiking to Princess Falls. This 2.9-mile trail is located near Whitley City, Kentucky, and follows part of the Sheltowee Trace Trail. Sheltowee Trace is the massive 319-mile trail that snakes through the entirety of Daniel Boone National Forest!
Princess Falls is one of Kentucky's most unique waterfalls because of how it's shaped. Only 13 feet high – it's over 80 feet wide! The shale rocky outcropping the waterfall pours over is easily walked and makes for a perfect place to relax on a hot summer day! It's also considered an easy trail so just about anyone can make it to the falls!
With plenty of bridges and small waterfalls along Lick Creek – it's also one of the prettiest trails on this list!
Read more 12 Scenic Trails for Hiking in Kentucky
For more waterfalls and fun hikes in the Big South Fork region, see our full guide here!
Trailhead Address: Sheltowee Trace Rd, Stearns, KY 42647 (Unlikely to have cell service in the area!)
Difficulty: 3/10
Popularity: 6/10
Dogs Allowed: Yes
---
Yahoo Falls
Considered Kentucky's tallest waterfall at 113 feet – Yahoo Falls is accessible by hiking the 4.2-mile out and back trail in Whitley City. What many people don't know is there is also a separate viewing area that's only a 0.5 mile round trip from Yahoo Falls Road, and a much easier hike.
The main trail to see Yahoo Falls is considered fairly difficult and in the heat of the summer – you'll want to make sure you've brought plenty of water. The humidity can reach up to 80%, and you'll feel like you're swimming in your own sweat.
If you're planning on doing some of the best hikes in Kentucky, you're typically looking for arches and waterfalls. The best part about these tails is that you get a little of it all! Two arches and the tallest continuous waterfall in the state make it a perfect addition to your Big South Fork itinerary.
If you have time – consider taking the short 0.3-mile roundtrip spur trail to see Markers Arch! There are signs posted and it's well worth your trip. You can also see the 100 for long Yahoo Arch from this trail, but it adds an extra 1.6 miles to your trip.
Trailhead Address: Yahoo Falls Rd, Whitley City, KY 42653
Difficulty: 7/10
Popularity: 3/10
Dogs Allowed: Yes
---
Eagle Falls Trail #9
Named the best hiking trail in Kentucky, follow this 1.9-mile trail for stunning views of Cumberland Falls and Eagle Creek Falls. Cumberland Falls, known as the Niagara of the South, is a major tourist destination in Kentucky. Eagle Falls Trail #9 isn't the only way to see Cumberland Falls, but by taking this trail – you'll get to see both falls in the region!
This trail shouldn't be undertaken lightly – there are a ton of stairs and some rock climbing necessary to get to Eagle Falls.
Being named the top trail in Kentucky, and being one of our personal favorite hiking trails in Kentucky, it's a must-do this summer! Following the Cumberland River, you'll hike at a steep/steady incline for about 0.5 miles before you take a right down to Eagle Falls. This split is followed by one of the most challenging portions of the trail with over 100 steps to the bottom.
Get our Guide To Waterfall Hiking Gear Here
The best part about this trail is that you can swim at Eagle Falls! Jump off rocks near the freely flowing 44-foot falls to cool off before your hike back!
Trailhead Address: Old Cumberland Falls Rd, Parkers Lake, KY 42634
Difficulty: 8/10
Popularity: 8/10 (Highly recommend going early or on weekdays.)
Dogs Allowed: No
---
Bark Camp Trail
Where Daniel Boone Forest Road 193 meets Bark Camp Creek, you'll find the trailhead for Bark Camp Creek Trail. While not necessarily a Kentucky waterfall hike, by following Bark Camp Creek – you'll come to a series of tranquil pools ideal for cooling off this summer.
About 1 mile in – you'll notice a small waterfall trickling from a cliffs ledge!
Stocked with Rainbow trout, hiking past rock shelters and jagged cliffs, this hike is all about the journey. Everywhere you look there is something to see making this the perfect hike to distract us all from daily life.
Bark Camp Trail also fairly easy to navigate and well marked so no need for navigating with any electronic devices. (Easy navigation always makes a trail a winner for us. We love the thrill of finding epic spots- but by being able to truly relax, you get to take in all that Bark Camp Trail has to offer.)
Get printable trail map for Bark Camp Creek Trail here, from USDA Forest Service.
Trailhead Address: 36.904322, -84.281087
Difficulty: 8/10
Popularity: 3/10
Dogs Allowed: Yes
---
Mammoth Cave National Park
Beyond being the longest underground cave system in the world – Mammoth Cave National Park is an incredible destination for anyone looking to hike this summer. During normal operations, there are underground hiking trail tours lasting anywhere from half an hour to six hours depending on your comfort zone!
The most popular Mammoth Cave tours are 'The Historic Tour,' the 'Grand Avenue Tour,' and the 'Wild Cave Tour.' The Historic Tour is a great way to be introduced to the cave and learn a little history over the two-hour tour. The Grand Avenue Tour is good for the more able-bodied adventurer looking for a full scope of the history behind Mammoth Cave while hiking through the sparkling gypsum tunnels. Although it's below ground, we consider the Grand Avenue Tour to be one of the top 10 best hikes in Kentucky!
The 'Wild Cave Tour' is a 6-hour extreme adventure that should only be taken on by the most daredevil and physically fit adventurers! This tour guides visitors through extremely tight spaces and dips into underground rock climbing. Hiking boots are required!
After you emerge from the caves back into the sunlight – plan to do a few short hikes in Mammoth Cave National Park's 60 miles of hiking trails! The most popular trails are the 7.2 miles of trails near the Visitors Center through ridgelines overlooking Green River, cave-fed springs, and historic train displays.
Green River Bluff Trail – Take you to a scenic view of Green River from a high elevation, a massive sinkhole, and parts of Heritage Trail.
Duration: 4.5 miles
Difficulty: 6/10
Cedar Sink Trail – Pretty walk through the lush green foliage of Kentucky's national forests.
Duration: 1.8 miles
Difficulty: 4/10
Dixon Cave Trail – Stunning riverside hike over bridges to Dixon Cave. **You can't enter the cave to protect the bats from white-nose syndrome!
Duration: 1.5 miles
Difficulty: 3/10
Trailhead Address: Mammoth Cave, KY 42259
Difficulty: 4/10
Popularity: 6/10
Dogs Allowed: Yes
---
John Holder Memorial Trail
A hidden oasis tucked away in Lower Harrod's Creek – this nature preserve is one of the most surprising and relaxing spots we'd hiked in a while. Starting from Hall's Restaurant on the River – this is one of the best hikes in Kentucky! 2.5 miles total – this trail will take you around the ruins of Colonel John Holder's plantation home from the 1700s!
Creek crossings are required to see this rail entirely! Make sure you've invested in a decent pair of waterproof hiking boots!
This trail was closed to the public's unrestricted access in 2020 because so many were destroying it with spray paint, trash, and cigarette buts. You can still visit by booking a guided hike for $5. While this new regulation has impeded many from enjoying the area as they once did – the preservation of these areas is much more important than having unfettered access.
Trailhead Address: 1225 Athens Boonesboro Rd, Winchester, KY 40391
Difficulty: 4/10
Popularity: 2/10 (But you'll most likely be in a group of around 10 for your guided hike!)
Dogs Allowed: No
---
With all of the beautiful regions of mountains and lakes that call Kentucky home, we're breaking up our favorite hikes across the state by season! Red River Gorge is one of the premier rock climbing destinations in the United States. Daniel Boone National Forest stretches the entire length of Eastern Kentucky in the stunning Cumberland Plateau and the Land Between the Lakes is a stunning region known for lush forests and pristine waters.
The best way to hike these incredible Kentucky trails this summer is by separating them into regions. if you type in 'best hikes near me' – it may not bring them up in an orderly fashion!
Red River Gorge
If you're near Slade or Campton, there are a ton of great falls in Daniel Boone National Forest's Red River Gorge. This area is particularly fun in the summer when you can swim and find waterfalls amongst the rhododendrons!!!
Copperas Creek
Rock Bridge Trail (Creation Falls)
Big South Fork Region
In Southern Daniel Boone National Forest – Big South Fork is an incredible region of the forest located near Whitley City.
Pine Island Double Falls Trail
Bark Camp Creek Trailhead
Eagle Falls Trail
Yahoo Falls
Princess Falls
Louisville Area
If you're looking for the best hikes in Kentucky near Louisville, try these three incredible spots!
Fairmount Falls
Beckley Creek Park's Festival Promenade
Tioga Falls
Read more Climbing Mount Fuji: Duration, Cost, When To Go And What To Wear
Lexington Area
If you're traveling to lexington, try and schedule a guided hike at John Holder Trail!
Mammoth Cave National Park
Underground Cave Tours: The Historic Tour, Grand Avenue Tour, the Wild Cave Tour
Hiking Trails: Green River Bluff Trail, Cedar Sink Trail, Dixon Cave Trail
---
Save this post for later!
Make sure to subscribe to our blog, snag all of your road trip basics (below), get your travel insurance, and have fun jamming to a new playlist!
Until next time friends,
Thanks for sharing!
---
— Update: 16-02-2023 — cohaitungchi.com found an additional article 12 Scenic Trails for Hiking in Kentucky from the website southerntrippers.com for the keyword best hikes in kentucky.
Looking for scenic places to go hiking in Kentucky? We've got you covered! Kentucky may not be well-known as a hiker's paradise, but this state has an incredible amount of incredible natural scenery waiting to be discovered!
Mountains, waterfalls, ancient rock formations, and fascinating underground caverns are just some of the natural wonders that are found along the many hiking trails in Kentucky. This southern state is full of rich history and an abundance of natural beauty that can rival some of the best outdoor destinations in the country!
Whether you're an avid hiker or a beginner, there are trails for hiking in Kentucky for every adventure level! From leisurely strolls on paved pathways to challenging climbs in the wilderness and everything in between, there is truly an adventure waiting for everyone in the beautiful state of Kentucky!
Discover the beauty of the bluegrass state and see why you should consider Kentucky for your next outdoor adventure in the South! Keep reading as we explore the most scenic places for hiking in Kentucky!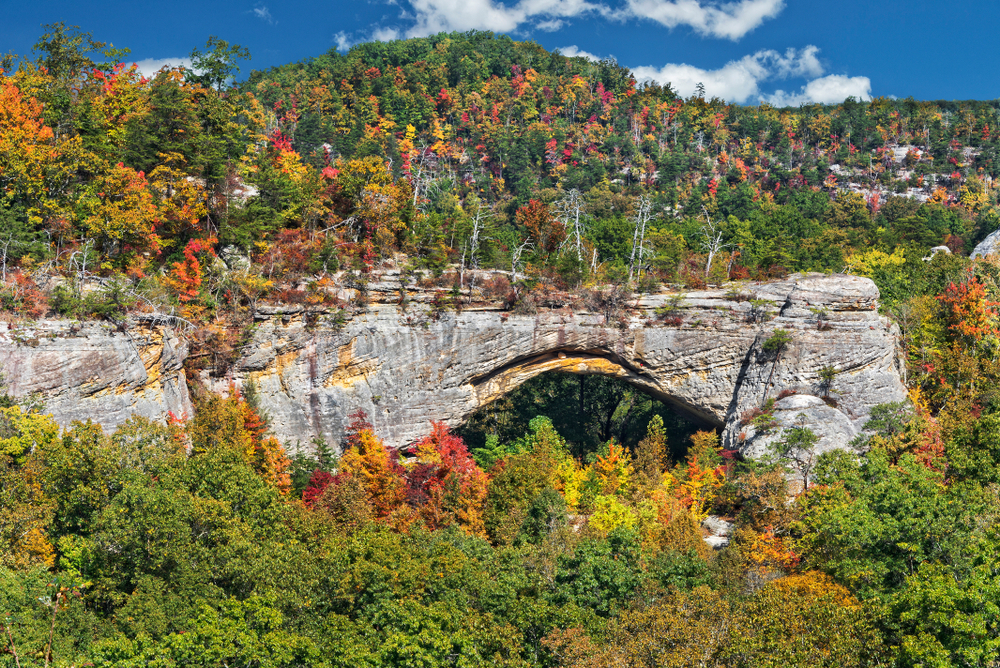 12 Scenic Trails for Hiking in Kentucky
Eagle Falls
Located within Cumberland Falls State Resort Park in southern Kentucky is Eagle Falls Trail. This 3-mile round-trip trail features two beautiful waterfalls and has been voted the best Kentucky hiking trail!
This trail not only leads to its namesake Eagle Falls, but also to an alternate viewpoint of the extremely popular Cumberland Falls which is often known as the Niagra of the South. This hike is a great way to enjoy spectacular views of Cumberland Falls without the crowds and enjoy a lesser-known bonus waterfall as well!
The trail follows the Cumberland River alongside cliffs and under rock overhangs offering stunning viewpoints along the way. After reaching Eagle Falls, hikers can stop to soak up the peaceful surroundings and even walk behind the falls for a unique perspective. Be sure to save some energy for the steep uphill climb back to the parking area! It is truly one of the prettiest waterfalls in Kentucky!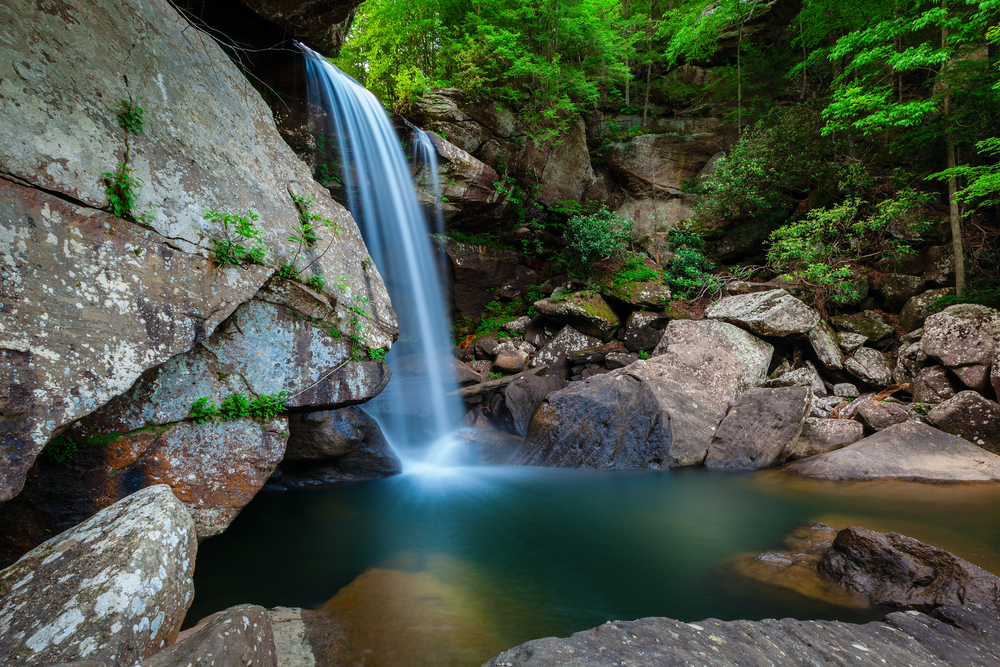 Double Arch Trail at Red River Gorge
Did you know that Kentucky is home to one of the highest concentrations of natural arches in the United States, behind only Utah and Arizona? The Red River Gorge alone is home to over 100 natural arches and boasts some of the most fascinating hiking trails in Kentucky!
The Double Arch Trail is one of the most popular trails in the park. The hike starts out on a flat gravel road with not much to see, but the view at the end is worth it! After descending down a few stone steps, you will reach the trail's namesake, Double Arch, along with an expansive view across the Red River Gorge.
From the overlook underneath the arch, visitors can take in the views over the treetops and catch a glimpse of other rock features such as Courthouse Rock and Haystack Rock. This viewpoint is especially beautiful when fall foliage turns the landscape into a sea of red and gold, however, this hike is accessible any time of year!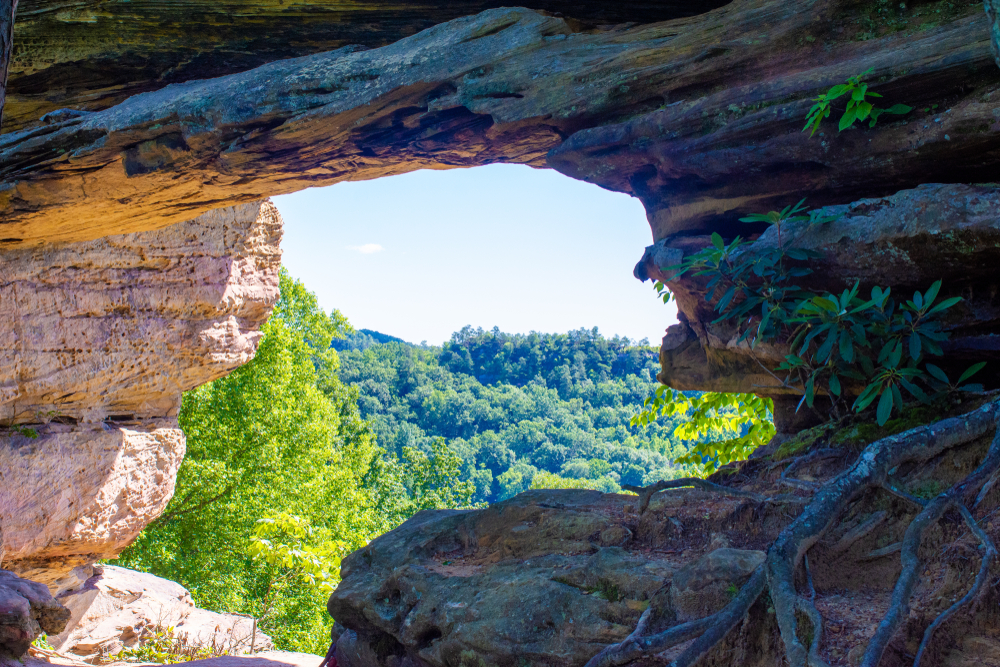 Tri State Peak Trail
Cumberland Gap National Historical Park sits on the border of Kentucky, Tennessee, and Virginia. This park is comprised of stunning scenery, rich history, fascinating geological formations, and some of the best trails for hiking in Kentucky!
There are over 80-miles of hiking trails to choose from within Cumberland Gap National Historical Park. One of the most popular trails within the park is Tri-State Peak Trail. As the name suggests, the highlight of this 2-mile trail is the point at the top where Kentucky, Virginia, and Tennessee meet!
The Tri-State Peak Trail trail takes hikers through a beautiful forested area and past remnants of civil war history on the way up to the peak. This is one of the best places to hike in Kentucky for history lovers as there is quite a lot of Native American and Civil War history in the area! Be sure to stop at the visitor center to learn more about the park's history!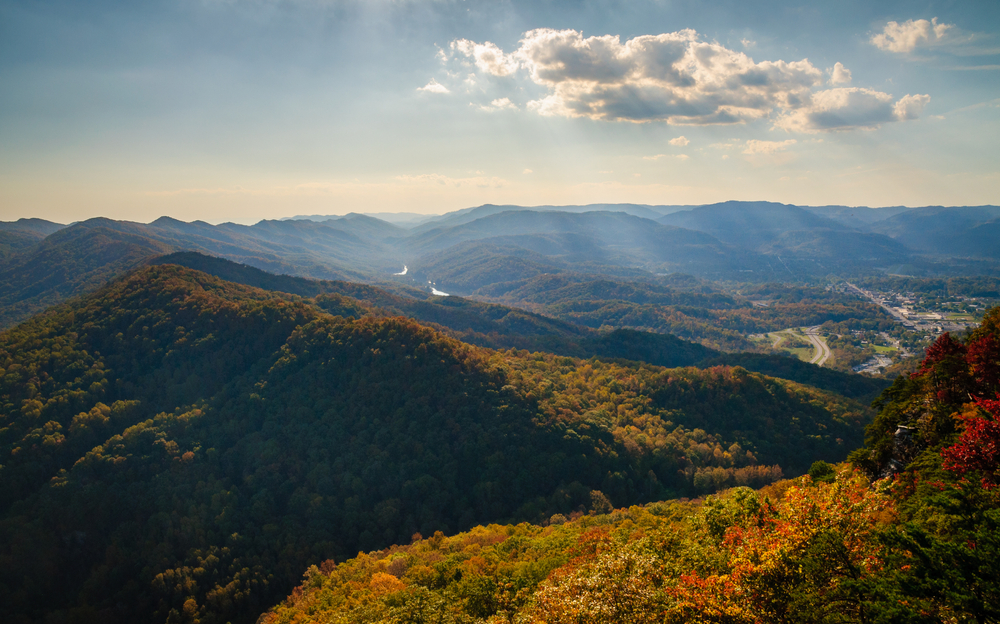 Van Hook Falls Trail
This trail located within the Danial Boone National Forest is one of the best hiking trails with waterfalls in Kentucky! Van Hook Falls Trail is a moderate trail with incredible natural scenery that makes it one of the most beautiful hikes in the state!
This 5-mile round-trip trail winds its way through pristine woodlands as it passes several waterfalls, streams, and interesting rock formations. The highlight is the trail's namesake, the spectacular 30 foot Van Hook Falls. This waterfall as well as the others on the trail are best seen after heavy rainfall.
Enjoy a picnic next to the falls or continue hiking to explore more of the Daniel Boone National Forest. There are many other trails waiting to be discovered nearby. Van Hook Falls Trail is a small portion of the 300-mile Sheltowee Trace Trail that is known for being home to some of the best hiking in Kentucky.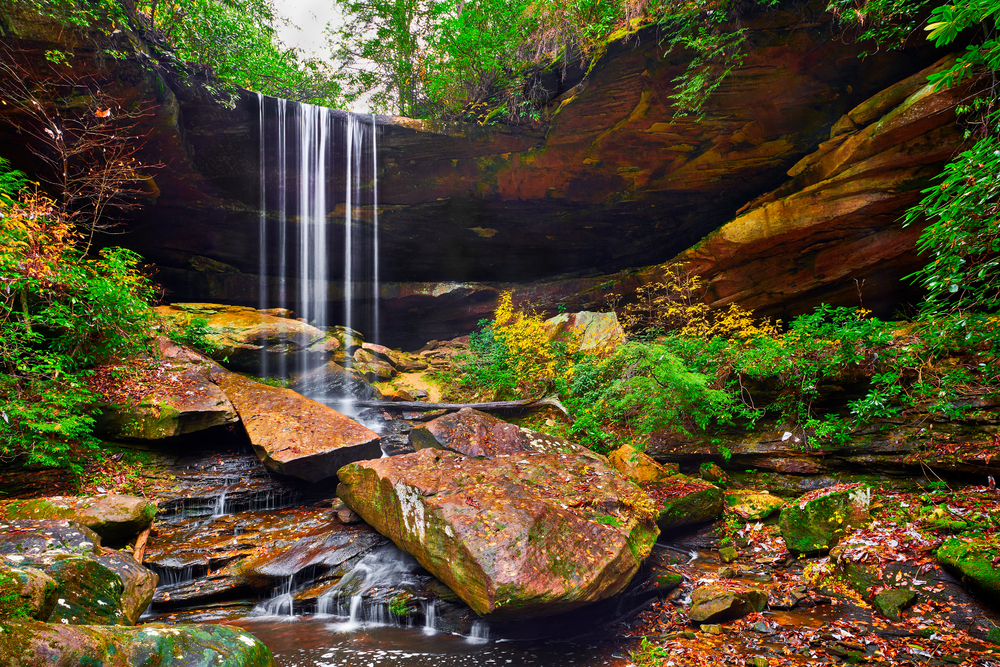 Rock Bridge Trail
Rock Bridge Trail is one of the most diverse trails for hiking in Kentucky! This trail is located inside the Daniel Boone National Forest within Red River Gorge and features both a natural rock arch and a waterfall!
This 1.3-mile loop trail is mostly paved or gravel and winds through dense hemlock forest before descending down stone steps into a ravine. Along the way, hikers will pass a cave formation known as "rock house" before arriving at Creation Falls, a beautiful 12-foot cascade that flows into a small pool.
After the waterfall, hikers can continue to the highlight of the trail, Rock Bridge, a fascinating natural sandstone bridge that spans Swift Camp Creek. Though Red River Gorge is home to many arches, Rock Bridge the only one that crosses a body of water. Enjoy a picnic under one of the shady trees next to the bridge before making the short trek back to the parking area.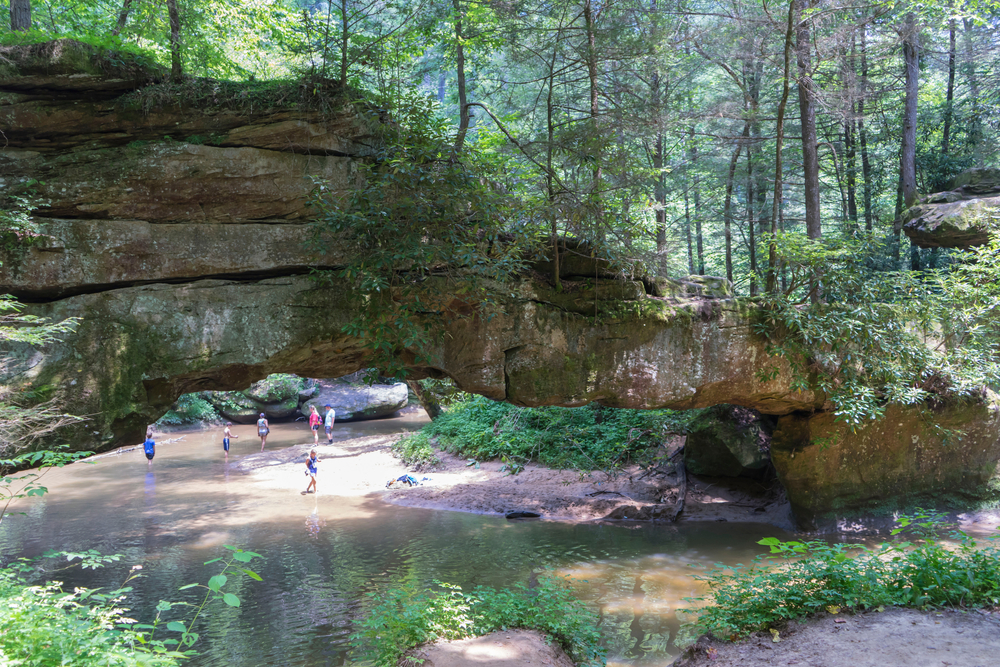 Chain Rock Trail at Pine Mountain
Located in the very south of the state is Pine Mountain State Resort Park, Kentucky's oldest state park! This park is a hiker's dream with over 12 miles of trails to explore and is one of the best places for hiking in Kentucky! One of the most popular trails at Pine Mountain is Chain Rock Trail.
Chain Rock Trail, which is aptly named for the rock with a chain on it at the top of the mountain. The rock actually isn't a rock at all, it's just a natural feature of the mountain. The chain was put there in 1933 to appease the worried citizens of the town below, Pineville, who thought the rock would one day roll off the mountain into town.
The trail is only one-mile round-trip and is a fairly easy downhill walk on the way down to the rock. However, the climb back up becomes much more strenuous and there are benches along the way to rest. The panoramic view from the top of Pineville and the surrounding landscape is well worth the hike.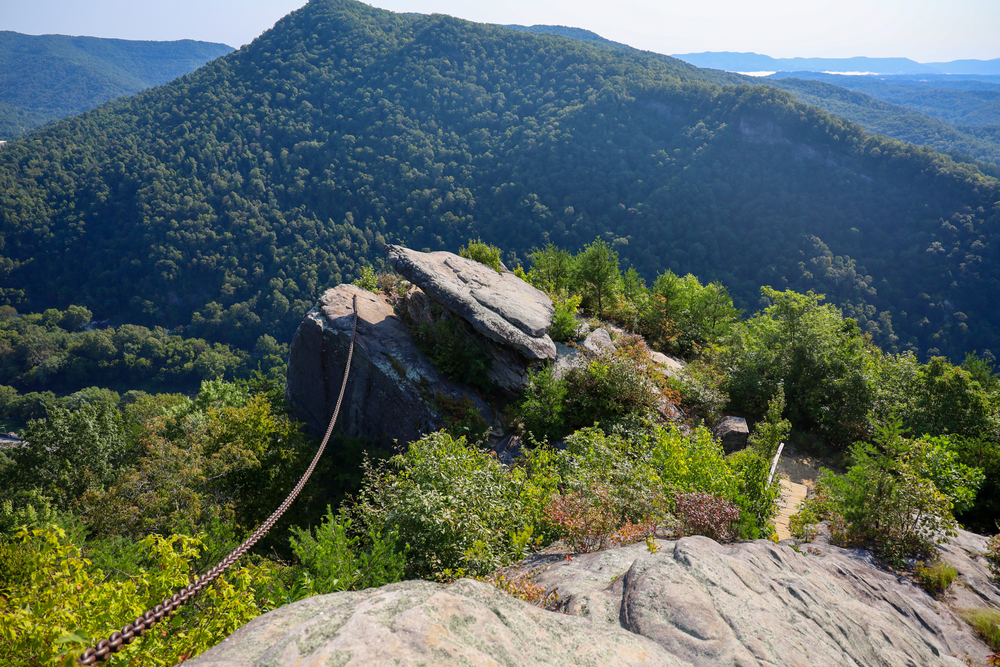 Green River Bluffs Trail
Mammoth Cave National Park is one of the best places for hiking in Kentucky! After exploring the fascinating caves underground, spend some time above ground hiking the park's many trails to experience the unique natural scenery of the area!
One of the best hikes within Mammoth Caves National Park, the Green River Bluffs Route is actually a combination of a few different trails and many of the individual trails are fairly short. A popular route is the combination of Green River Bluffs Trail, Echo River Springs Trail, Sinkhole Trail, and Heritage Trail.
This trail loop is a total of 4 miles long a features many different interesting geological features and stunning views. Some of the interesting things along the way include Dixon Cave, natural sinkholes, and a bright blue bubbling river that emerges from the cave below! This trail is a perfect addition to a guided tour inside of Mammoth Cave!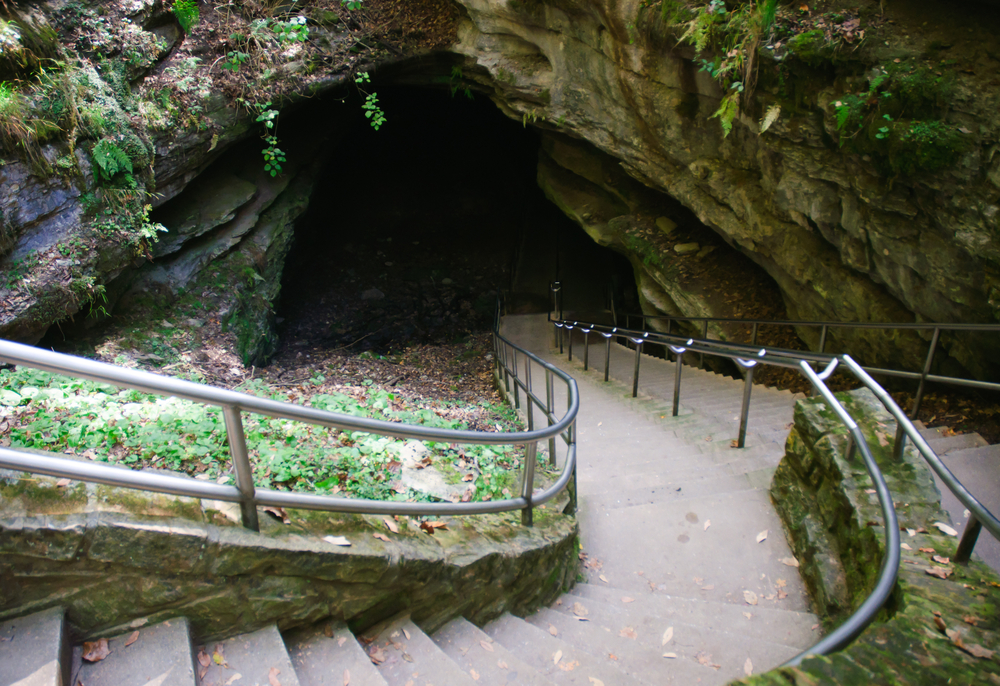 Breaks Interstate Loop
Located within both Kentucky and Virginia, Breaks Interstate Park is a hiker's paradise! This area is known as the Grand Canyon of the South and features a spectacular 5-mile gorge. The Breaks Interstate Loop Trail is one of the most unique trails for hiking in Kentucky!
Breaks Interstate Loop Trail is actually an unofficial trail that combines a few of the official trails within the park in order to experience the best of what the park has to offer. This trail is 4 miles in length and combines the Prospector's Trail, Geological Trail, Overlook Trail, and Loop Trail.
This moderate trail features numerous overlooks to take in views of the gorge, caves to explore, and fascinating rock formations as it winds its way through the dense forest. Before leaving Breaks Interstate Park, visitors can learn about the history and geological features at the visitor center or soar over the trees on a zipline!
Read more 10 Best Red Rock Canyon Hikes | Red Rock Canyon Trail Map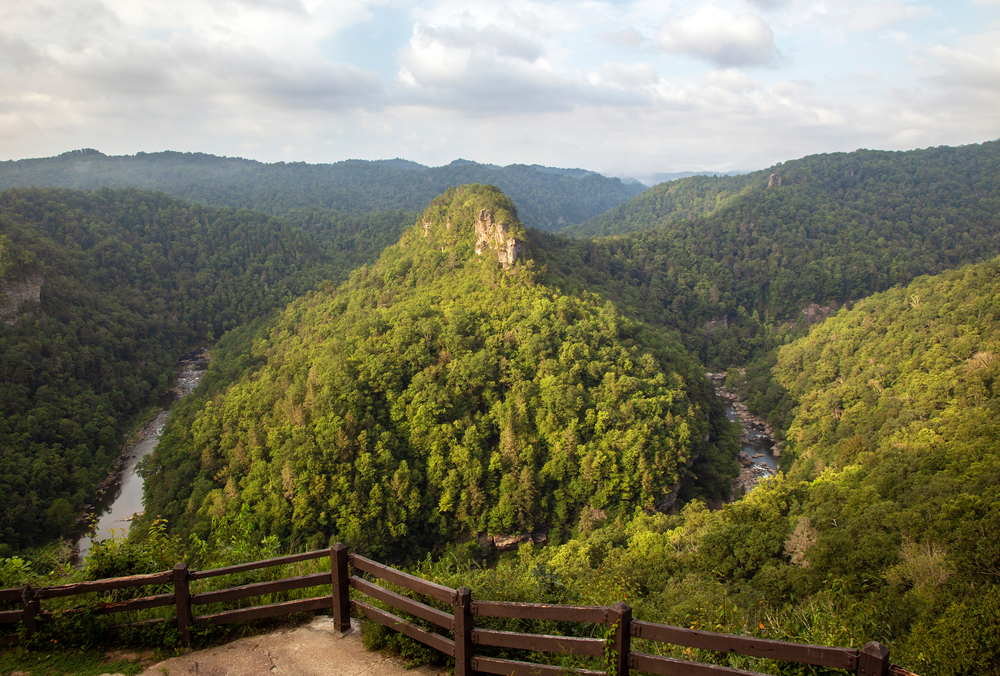 Three Bridges Trail at Carter Caves State Resort Park
Carter Caves State Resort Park is one of the best destinations for hiking in Northern Kentucky! This park is popular for exploring the numerous underground caves it is home to, however, there are plenty of fascinating things waiting to be discovered above ground as well!
Three Bridges Trail is one of the most popular trails in the park and features, as the name suggests, 3 different natural stone bridges along the way! The trail winds through lush green forests past Smoky Bridge, Raven Bridge, Fern Bridge, as well as viewpoints overlooking Smoky Valley Lake.
The trail is 3 miles long and is considered moderate with uneven rocky terrain and stone stairs to traverse. Be sure to stop at the visitor center to learn about the geology and history of the park before heading out for this hike. For more adventures within the park, head underground on a cave tour or continue one of the many nearby trails.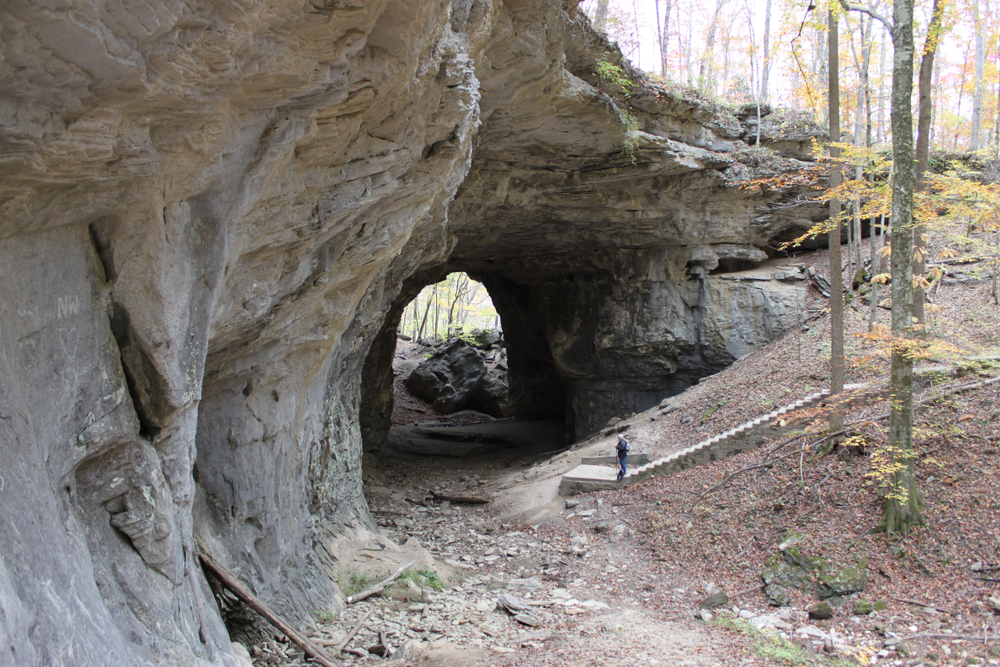 Raven Run Sanctuary
Raven Run Sanctuary is home to the best hiking trails near Lexington, Kentucky! This 734-acre nature sanctuary is located just 30 minutes from downtown and is completely free to enter, making it a perfect escape from the city!
With over 10 miles of trails to explore, Raven Run Sanctuary contains some of the most interesting Kentucky hiking trails! Each trail features unique highlights such as stunning views over the Kentucky River, historic ruins of early settlers, rivers, waterfalls, and an abundance of different wildlife and plant life. Choose to hike a single trail or combine multiple trails for a complete day of adventures.
Hike the Evan's Mill Trail with highlights that include a waterfall and the ruins of an 1830s mill, explore the Moore Homestead Trail which features a river crossing and the remnants of a historic homestead, or take in the stunning views from the Kentucky River Overlook trail. There are plenty of trails to choose from for all ages and skill levels!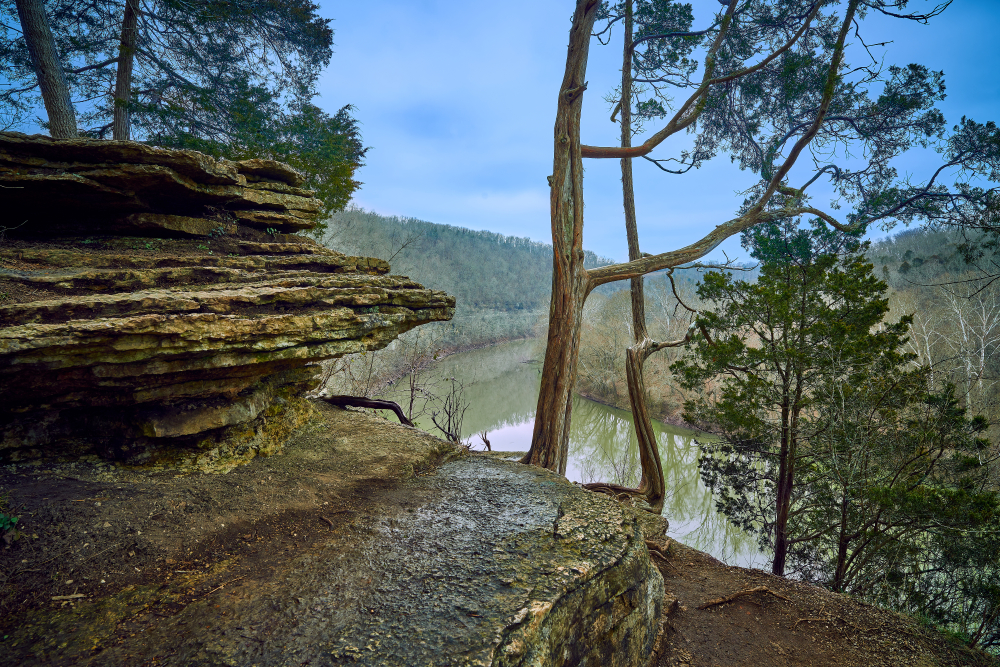 Original Trail at Natural Bridge State Resort Park
Natural Bridge State Resort Park is one of the best places to go hiking in Kentucky! With 22,000 acres of protected wilderness and over 20 miles of trails, there is plenty to explore!
One of the best trails to hike at Natural Bridge State Resort Park is called the Original Trail. This historic trail dates back to the 1890s when it was built by the Lexington and Eastern Railroad. The highlight of this trail is the park's namesake, the incredible natural Natural Bridge rock formation.
The Original Trail is an easy 1-mile round-trip hike. Many hikers choose to combine The Original Trail with the Battleship Rock trail which features more unique rock formations along the way and extends the hike to 4 miles. After hiking, get a bird's eye view of the area on the Natural Bridge Skylift!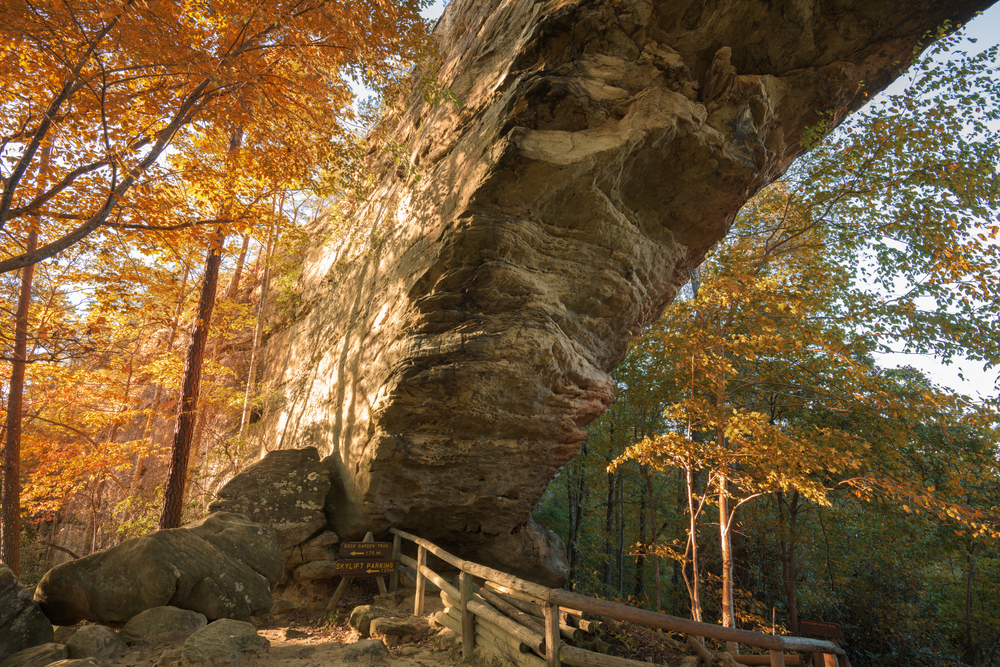 Tioga Falls Trail
The Tioga Falls Trail is one of the most beautiful hiking trails near Louisville Kentucky! This beautiful trail features one of the only waterfalls in this part of the state and is located just 34 minutes from Louisville, making for a perfect day trip from the city!
Tioga Falls plunges a staggering 130 feet down several drops and is one of the tallest waterfalls in Kentucky! The trail to reach the waterfall is only 2 miles round trip and features beautiful natural scenery as well as railroad trusses and the remnants of a historic spring house along the way.
The trail is steep and rocky in some parts but levels out before reaching the falls. After enjoying the waterfall, stop for a picnic to relax and enjoy the sounds of nature before making the trek back to the parking area. The Tioga Falls Trail is one of the best trails for hiking in Kentucky if you're looking for a quick escape from the city and an interesting hike!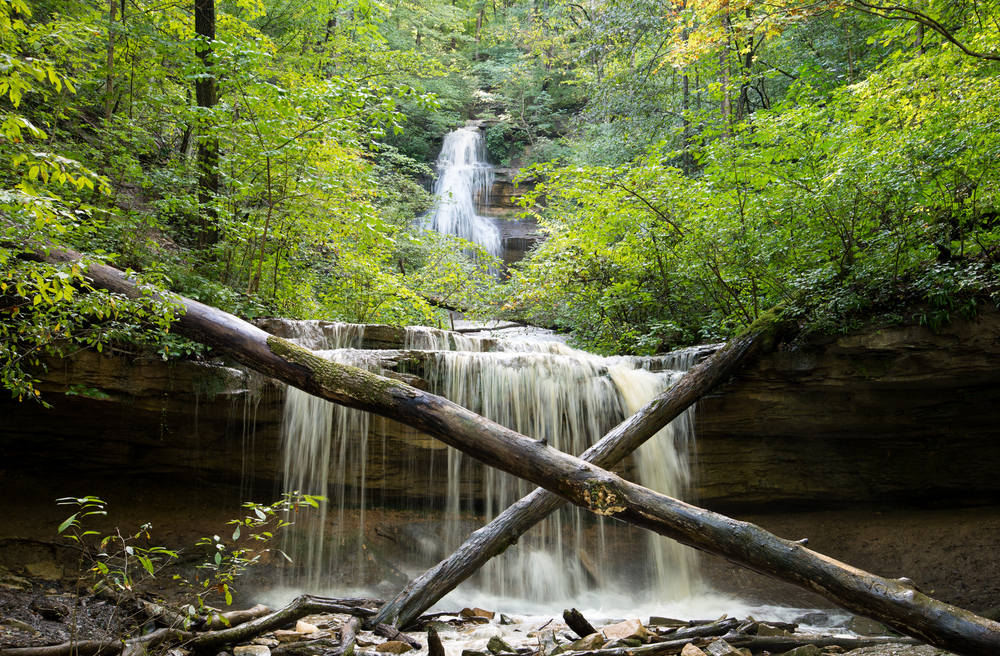 As you can see, there is no shortage of incredible places to go hiking in Kentucky! We hope this article inspired you to get out and explore all the bluegrass state has to offer! For more Kentucky travel inspiration, check out our article on the best beaches in Kentucky!
---
— Update: 16-02-2023 — cohaitungchi.com found an additional article 7 Kentucky Hikes With Amazing Views from the website www.kentuckytourism.com for the keyword best hikes in kentucky.
For a hiker in Kentucky, the state's unique landscape—varying from rocky Appalachian Mountain terrain to rolling meadows—includes plenty of national forests and hundreds of miles of trails that don't disappoint. While the Bluegrass State is known for cavernous hikes that explore its depths, Kentucky has plenty of above-ground vistas, too.
From gorgeous gorge views and breathtaking waterfalls, here's some of the best hikes with a view you'll find in Kentucky.
This 0.75-mile long trail snakes below towering cliffs and beneath a luscious mixed mesophytic forest canopy as it ascends to Natural Bridge, one of the most iconic landmarks in Kentucky. The trail, named for one of the razor thin ridges that overshadow it, provides hikers the opportunity for additional adventure in the form of two rugged staircases, Devil's Gulch and Needles Eye, that spur between Battleship Rock Trail and Laurel Ridge Trail. If you choose to ignore the spurs, you can follow Battleship Rock Trail all the way to Natural Bridge, where you can access the top of the arch as well as the breathtaking views that accompany it by climbing a staircase that goes through a narrow crack known as "the squeeze".
2. DOUBLE ARCH TRAIL IN DANIEL BOONE NATIONAL FOREST
A hiking-only trail, this beauty is open year round. Double Arch Trail clocks in at just under 4.5 miles as it weaves through hemlock forests below a sandstone cliff, ultimately leading to a killer overlook of Courthouse Rock. The trail begins at the Auxier Ridge Trailhead, which you can get to from the Auxier Ridge parking area at the end of Tunnel Ridge Road, just off of State Highway 15. Double Arch is a great day hike, but if you want to camp, staying overnight is an option too—just don't forget to grab a permit beforehand.
3. RAVEN RUN NATURE SANCTUARY TRAIL
This 4.1-mile beauty is heavily trafficked, but when you see the views this loop trail has to offer, you'll understand why. Raven Run climbs 515 feet as it makes its way to Palisades Overlook above the Kentucky River. The views are great anytime of the year, but fall is especially stunning. Shorter trails named after various colors make it possible to take shorter and easier hikes if you like. Raven Run is kid friendly, but you've got to leave your pooch at home.
4. BREAKS INTERSTATE PARK LOOP
Breaks Interstate Park encompasses parts of both Kentucky and Virginia. The Loop is a 4.7 miler considered a moderate trek. Open from April to December, you can bring your pup with you as long as it's on a leash, and together you can enjoy the 1,335-foot climb to see stunning rock formations and vistas that stretch out over a five-mile-wide gorge, referred to by locals as "the Grand Canyon of the south," some 1,650 feet below you.
5. INDIAN STAIRCASE AND INDIAN ARCH LOOP IN RED RIVER GORGE
This hike is not for the faint of heart and isn't intended to be undertaken alone. The staircase is steep and there are a couple places along the way that can spell danger if you're not paying attention. That said, for experienced hikers there are few other choices in the state that boast the kinds of views that this hike delivers. Once you get to the top of the staircase, expect to spend some time soaking up the views. It's best to allow four to six hours to hike Indian Staircase and Indian Arch Loop, even though the trip is only about 3.5 miles in length.
The Eagle Falls Trail is the only way to get to Eagle Falls, so sometimes it can be a bit congested with fellow hikers. It's a short jaunt though, just 1.5 miles in length, which makes it an ideal hike if you've got a group of varying ages and skill levels. (There are a steps along the way, however.) A lovely view of Cumberland Falls is in store for those who undertake it, and the trail is open year round.
7. PINNACLE TRAIL IN CUMBERLAND GAP NATIONAL HISTORIC PARK
Cumberland Gap offers over 85 miles of trails that vary in length and difficulty. But the one with the best view is undoubtedly the Pinnacle Trail that leads to Pinnacle Overlook. It's an out-and-back trail that stretches for 7.8 miles and climbs about 1,500 feet before reaching the overlook peering out over Cumberland Gap. The trail is accessible from April through October and lights up with fiery colors when fall rolls in.
Originally written by RootsRated for Kentucky Tourism
References