Looking for some helpful, motivating books on stroke recovery? This list contains inspiration for both survivors and caregivers alike. We update this list yearly to add the latest while keeping the past greatest stroke recovery books in the roundup.
Whether you're looking for technical advice on stroke recovery or motivational guidance to manage life after stroke, there's a book on this list for everyone.
The Best Stroke Recovery Books
Every stroke is different, and every recovery is different. This means that recovery goals also fluctuate among survivors. Some may desire help with physical effects like walking, while others desire help with staying motivated. This is where books on stroke recovery can help; they leave no stone unturned.
The following books can help educate you and your loved ones through evidence and advice from brain scientists, therapists, and other stroke survivors. We included both technical guides and memoirs to provide you with a robust reading experience.
Here are some of the best books on stroke recovery:
1. "My Stroke of Insight" by Jill Bolte Taylor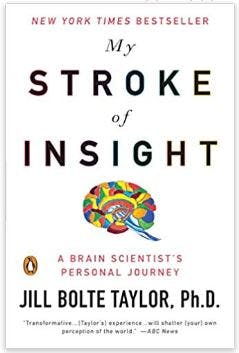 Year after year, My Stroke of Insight takes the #1 spot on our list of the best stroke recovery books. The author, Jill Bolte Taylor, delivered one of the most-watched TedTalks of all time about her life-changing experience surviving a massive stroke — as a brain scientist no less!
It was My Stroke of Insight that inspired our post called 13 things every stroke survivor wished you knew. This stroke recovery book is full of compassion, and we hope it helps survivors and caregivers alike find grace on the road to recovery.
See My Stroke of Insight on Amazon »
2. "Stronger After Stroke" by Peter Levine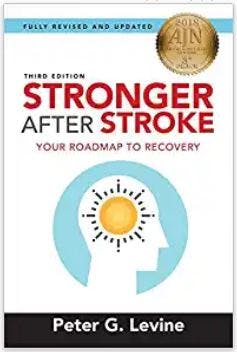 Stronger After Stroke is arguably one of the best technical guides on stroke recovery. It's a dense and heavy read, but every survivor and caregiver should have a copy. It will answer questions that you didn't even know you had about stroke rehabilitation.
See Stronger After Stroke on Amazon »
3. "Healing & Happiness After Stroke" by Kari Dahlgren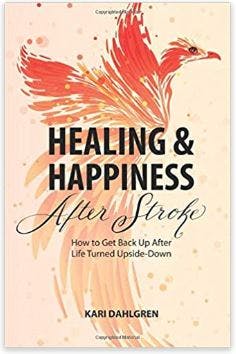 While the previous book focuses on the technical side of stroke recovery, Healing & Happiness After Stroke focuses on the emotional side of recovery, which is just as important.
If you feel stuck or struggle to find motivation, this stroke recovery book will help you rewire your brain for happiness. It focuses on rarely-talked-about topics like shame and loss of self-esteem to help you find healing and happiness, just like the title suggests.
See Healing and Happiness After Stroke on Amazon »
4. "The Brain that Changes Itself" by Norman Doidge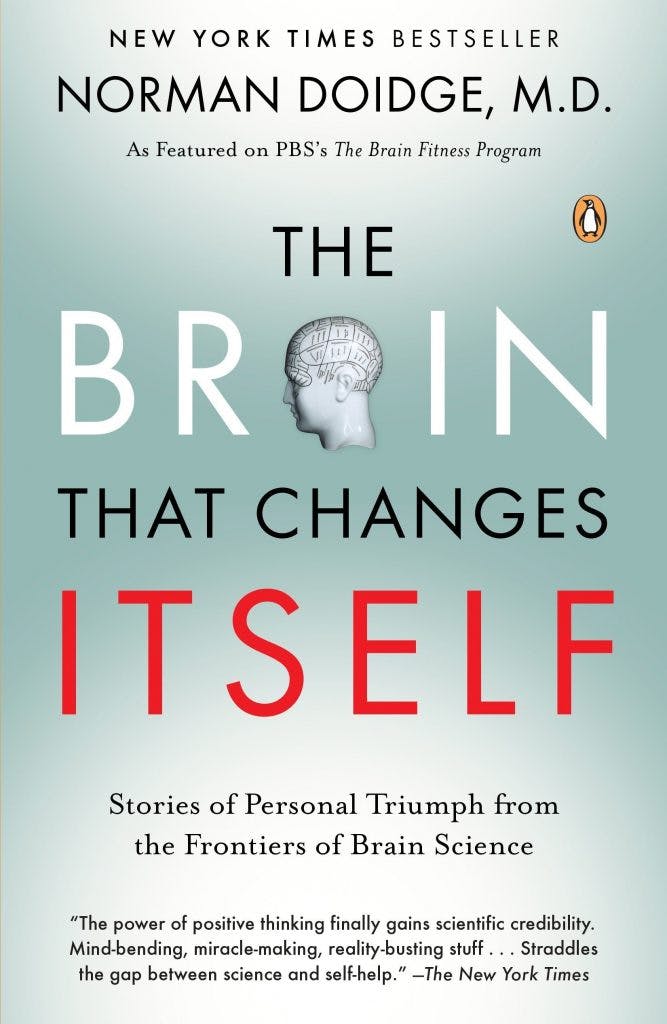 Neuroplasticity after stroke is arguably the most important mechanism for recovery. It's the process that the brain uses to rewire itself and bounce back from injury through repetition.
Recovering physical effects, such as weakness on one side of the body, requires rehabilitative therapy — which is designed to optimize neuroplasticity. In fact, almost all therapies available for stroke recovery are designed to activate neuroplasticity, so it's helpful for survivors to have a deep understanding of how it works.
This is why we chose The Brain That Changes Itself as one of the best books for stroke recovery. Not only will you learn about neuroplasticity in depth, but you'll also be inspired by real life examples, such as the woman who was born with half a brain and how it rewired itself to work as a whole!
See The Brain that Changes Itself on Amazon »
5. "Whole Brain Living" by Jill Bolte Taylor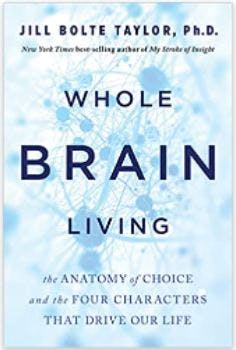 Last year, Jill published another book called Whole Brain Living. It challenges the traditional school of thought that labels the left brain as logical and the right brain as emotional.
Read more The Elusive Forward Stroke - Canoeing
Although this book is less stroke-specific than her first book, it contains tools that can help improve your thoughts and feelings. This can be a powerful journey during stroke recovery, where daily motivation is a critical resource for recovery.
See Whole Brain Living on Amazon »
6. "The Diving Bell and the Butterfly" by Jean-Dominique Bauby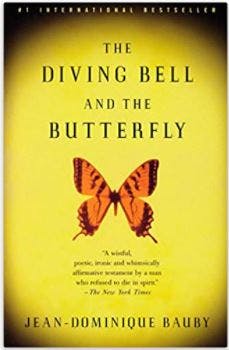 What would life be like if you had locked-in syndrome, a rare condition (most often caused by a brain stem stroke) where the entire body becomes paralyzed except for the eyes? This captivating memoir answers that question.
Stroke survivor Jean-Dominique Bauby wrote this memoir through his ability to blink just his left eye to select each letter as the alphabet was recited to him slowly, over and over again. That in itself is inspiring, and the content in his memoir is even more so.
In these pages, Bauby will astonish you with his appreciation for life, even as he lives with locked-in syndrome, fully paralyzed and fed only intravenously. This book easily remains in our roundup year after year because Bauby is an inspiration to us all.
See The Diving Bell and the Butterfly on Amazon »
7. "Healing the Broken Brain" by Dr. Mike Dow and David Dow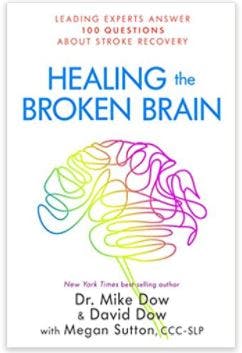 This stroke recovery book was co-authored by a psychotherapist and a stroke survivor, and it also contains contributions from a Speech-Language Pathologist. Needless to say, it's a robust, holistic approach to recovery.
Healing the Broken Brain contains a powerful intersection between hope and science. This stroke recovery book is a great read for survivors and caregivers alike; but if you struggle with language difficulties after stroke, this book is an even better fit.
See Healing the Broken Brain on Amazon »
8. "Identity Theft: Rediscovering Ourselves After Stroke" by Debra Meyerson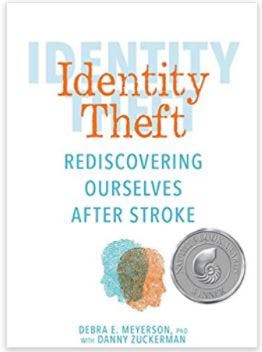 As previously mentioned, a stroke can challenge a survivor's sense of identity, especially if it causes a sudden shift in career, relationships, and hobbies. For example, if a talented musician loses her fine motor skills after a stroke, causing her to stop making music altogether, it can challenge her sense of identity.
Identity Theft is a stroke recovery book that dives deep into the process of rediscovering yourself after stroke. The author, Debra, provides personal wisdom from her own journey after transitioning from a Stanford professor deeply identified with her career to completely unable to speak after her stroke.
See Identify Theft on Amazon »
9. "Tell Me Everything You Don't Remember" by Christine Lee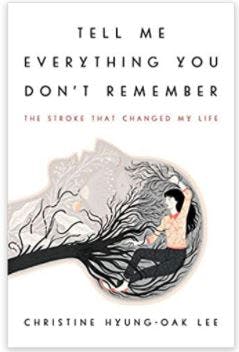 At the age of 33, Christine suffered a left thalamic stroke which severely damaged her memory. Doctors told her to notate everything she did with timestamps in her journal, which would soon become Christine's working memory.
Christine struggled with true invisible illness. Because she did not show any physical effects of her stroke, many of her friends made unkind comments (without realizing they were unkind) such as, "but you look normal!" or "I wish I had a stroke as an excuse for my short-term memory issues!"
Only other stroke survivors can truly relate to the sting of these comments, which is just one of many reasons why Tell Me Everything You Don't Remember easily makes our list of the best stroke recovery books.
See Tell Me Everything You Don't Remember on Amazon »
10. "Hope After Stroke" by Tsgoyna Tanzman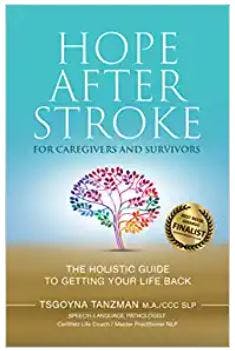 Written by a Speech-Language Pathologist and life coach with more than 25 years of experience working with stroke survivors, Hope After Stroke provides a holistic overview of the entire stroke recovery process. It covers everything from speech recovery to nutrition to candid answers on awkward topics, such as sexual issues post-stroke. If you're interested in a holistic approach to recovery, give this one a read.
See Hope After Stroke on Amazon »
11. "Yoga Therapy for Stroke" by Arlene Schmid and Marieke Puymbroeck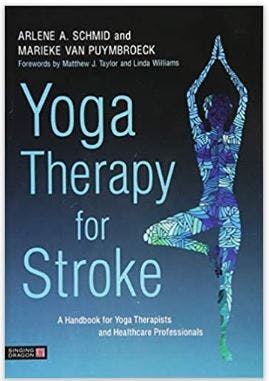 Yoga can be a helpful stroke recovery treatment that improves balance and posture and helps manage stress. As a stroke survivor, it's important to practice with a yoga teacher that has experience working with other stroke survivors, because modifications are essential based on your ability level.
This book is intended to assist other yoga teachers and therapists, but it can also be a great read for survivors that want to learn how to adapt their own yoga practice to meet their needs. It covers everything from adaptations to breath work to meditation. Always check with your therapist before beginning any new at-home regimen to reduce the risk of injury.
See Yoga Therapy for Stroke on Amazon »
12. "The PTSD Workbook" by Mary Williams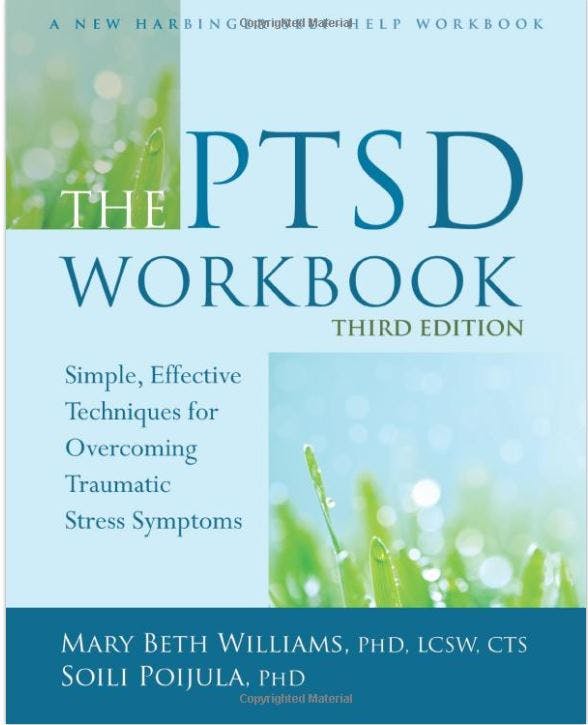 Did you know that survivors can experience PTSD after stroke? Some of the hallmark symptoms of a stroke include facial drooping and loss of control over one side of the body. Losing control over your body can be a traumatic experience, especially knowing that a stroke is a potentially life-threatening condition if treatment is not administered swiftly.
PTSD can interfere with motivation to consistently participate in rehabilitation. If you have any of the symptoms of PTSD, such as extreme anxiety about having another stroke, it is highly recommended to attend psychotherapy to work through the trauma. This workbook, which was written by two psychologists and trauma experts, can be a great first step if you're hesitant about attending therapy.
Read more 10 Outstanding Leg Exercises for Stroke Patients
See The PTSD Workbook on Amazon »
13. "Stroke Recovery Activity Book" by Guara Press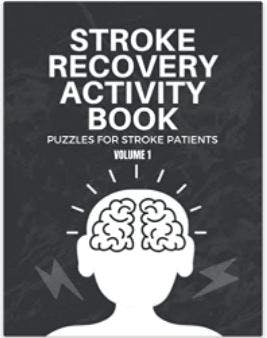 Sometimes a stroke can cause cognitive difficulties, such as poor memory and difficulty with problem solving. Just like the brain can regain movement through physical therapy exercises, it can also improve cognitive skills through cognitive rehab exercises.
Stroke Recovery Activity Book is chock-full of anagrams, word searches, visual discrimination activities, mazes, and much more to help stimulate the brain and encourage improved cognitive function. It's user-friendly with extra large print, too.
See Stroke Recovery Activity Book on Amazon »
14. "Brain Maker" by David Perlmutter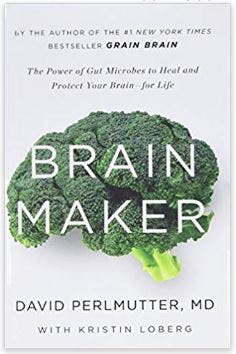 Nutrition is a hot topic, and the quest for the best diet for stroke recovery is no different. What foods are the best for stroke recovery? Which vitamins should I be taking? These are just two of the dozens of questions both survivors and caregivers are asking.
Brain Maker holds some of the answers. In this book, Dr. Perlmutter explores the intimate connection between gut health and brain health, and how improving the microbiome (the beneficial bacteria in our gut) can have a positive effect on overall health.
Perlmutter also offers simple dietary recommendations that you can try, such as eating more fermented foods. Be sure to check with your doctor before making any significant dietary changes to make sure it does not exacerbate any preexisting medical conditions.
15. "Retrain Your Brain: Cognitive Behavioral Therapy in 7 Weeks" by Seth Gillihan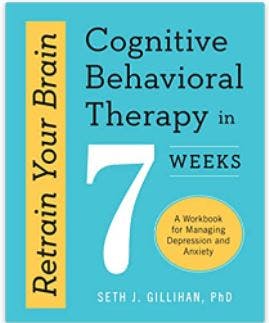 Aside from PTSD, other potential emotional complications of a stroke can include anxiety and depression, which can both be addressed through cognitive behavioral therapy, a type of psychotherapy.
In this book, Seth outlines a 7 week program to help you apply the proven principles of cognitive behavioral therapy. It leans upon the power of neuroplasticity to rewire the brain and improve thought patterns.
See Retrain Your Brain on Amazon »
Bonus: "To Roots & To Rise" by Carole J. Starr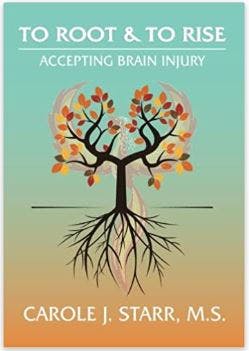 This book is specific to brain injury, but much of it can apply to stroke recovery as well. Many of the effects of a brain injury overlap with the effects of a stroke, and we think you'll resonate with Carole's story. It's a hybrid book/workbook combination where Carole aims to help you navigate the grief and loss that can occur after an injury to the brain.
See To Roots & To Rise on Amazon »
Building Your Library with Stroke Recovery Books
On the road to recovery, it helps to empower yourself with as much information as possible, because recovery is in your hands. Memoirs offer powerful ways to feel understood by other survivors, and there are many stroke recovery books that touch on the emotional side of recovery too.
We hope you get a chance to explore these stroke recovery books and gain better insight into what you can do to empower your own recovery.
If you're wondering where to start, check out the free ebook below. It contains our best stroke recovery tips in a beautifully illustrated PDF. Enjoy!
---
— Update: 15-02-2023 — cohaitungchi.com found an additional article The Best Books for Caregivers of Family Members Receiving Home Health Care or Hospice from the website phoenixhomehc.com for the keyword books end-of-life caregiver for people with stroke.
Caring for a loved one at home is exhausting and often thankless work, even with help from home health care aides and nurses. It's easy to lose your energy, get confused about navigating the healthcare system, and feel like you have to deprioritize your needs.
Thankfully, thoughtful authors with expertise in caregiving and psychology have written highly recommended books to help you adapt to your new lifestyle, at least for while your loved one relies on your help.
Consider buying or borrowing from the library one of these caregiver books to learn more about how to embrace your responsibilities, refresh your mindset, and provide the best possible care to your loved one, in conjunction with your home health care agency or hospice care provider.
The Conscious Caregiver: A Mindful Approach to Caring for Your Loved One Without Losing Yourself by Linda Abbit
A caregiving veteran, Linda Abbit's book shares her expertise on caring for an older parent with the necessary patience, selflessness, and tenderness, while still prioritizing your own self care and self love and avoiding burnout and exhaustion.
This book for caregivers provides advice on caring for your loved one, regardless of whether it's a full-time role for you, or if you're also receiving support from home health or hospice. You'll learn how to talk to your family, overcome stress, protect your finances, and more. The bottom line: taking care of a loved one requires that you take care of yourself, too.
Living with Dying: A Complete Guide for Caregivers by Jahnna Beecham and Katie Ortlip
Co-authored by a National Geographic writer and a registered nurse and licensed clinical social worker, this book on caregiving focuses on caregivers with loved ones receiving hospice care. In pursuit of a "good death," Beecham and Ortlip address how to handle a loved one's health emergencies, legal matters, and imminent passing while in hospice.
Considered an "easy-to-use guide," the book helps caregivers navigate their journey, collaborate with hospice nurses and home health care, while caring for yourself and getting your loved one's affairs in order.
Read more The Four Basic Table Tennis Strokes
Things I Wish I'd Known: Cancer Caregivers Speak Out by Deborah J. Cornwall
Based on more than 100 formal interviews with non-professional caregivers of cancer patients, this book for caregivers captures their thoughts and insights. Readers can draw on the practical lessons from others' experiences through this narrative that helps them to understand and cope as they fight cancer together, make important treatment decisions, and plan for what the future may bring.
Topics covered include pursuit of an accurate cancer diagnosis, choosing treatment options and palliative care, communicating with doctors, accessing clinical trials, managing finances and legal issues, talking to children about cancer diagnoses, and more. Interviews even contain insights on how a diagnosis affects a caregiver for the long-term – valuable information for someone whose loved one needs their help.
Making Tough Decisions about End-of-Life Care in Dementia by Anne Kenny
Families of dementia patients must make end-of-life decisions about medical treatment, legal matters, money, and even living situations for people who no longer can. As a caregiver, you may feel intensely sad, guilty, confused, angry, or exhausted. If that sounds familiar, then this book about caregiving is for you.
Dr. Anne Kenny, a palliative care physician, describes navigating late-stage dementia "with sensitivity, compassion, and common sense." Based on her personal experiences caring for her own mother and with her medical expertise, Dr. Kenny's advice helps readers like you prepare for a loved one's death while acknowledging their own mental health and emotional needs.
Like so many other books on caregiving, this one delves into making life-altering decisions while preparing for the inevitable death of a loved one; having difficult conversations with other family members; handling legal and financial matters; and considerations for medical care, insomnia, medication, and daily living.
Multicultural Guide to Caregiving: Essential Resources to Help You Balance Traditions Without Losing Your Mind or Money by Angelica Herrera Venson
Gerontologist Dr. Angelica P. Herrera Vinson shares personal stories and field experiences with communities of color and first-generation Americans in this important caregiver book. Not only does this book cover important social programs and aging services you may need to access, but it also addresses the cultural traditions and demographic changes that may affect how you approach your role as a caregiver to your loved one.
This book helps you understand how to manage elder care, especially in minority and immigrant families, as you make vital decisions about housing, finances, and medical crises. The biggest takeaway here is that you are not alone.
Daily Comforts for Caregivers by Pat Samples
With 366 daily meditations, this special book for caregivers helps to bring peace of mind to those struggling with their responsibilities of caring for someone with health issues. Here, caregivers get compassionate encouragement in easy-to-read language.
Not a how-to manual, Daily Comforts for Caregivers will validate your feelings and give you strength. It's also a great gift for the caregiver in your life.
The Art and Science of Caregiving: Stories of Inspiring Elders with an End-of-Life Guidebook by Annelise Schinzinger
Written by a 25-year veteran of caregiving, this book's poignant stories and guides help people just like you navigate caring for an elder approaching the end of their life. You'll learn foundational tools to giving comfort to the dying as you find joy in your own life; discover how to become a better listener and communicator; find out the best ways to communicate with someone with dementia or Alzheimer's; how to prepare for the end of life; therapies that can be helpful, including pets, essential oils, and music; and ways to deal with stress.
As a caregiver, your soothing presence calms those who are frightened as they near death. Schinzinger's book will help you prepare for these important moments in your own caregiving responsibilities.
The Caregiver's Encyclopedia: A Compassionate Guide to Caring for Older Adults by Muriel R. Gillick
Written by a geriatrician with more than 30 years of experience caring for the elderly, this book for caregivers offers everything you need to know as you take care of your loved one.
Whether you need to make major medical decisions, prevent burnout, navigate Medicare, and weigh the benefits of home health care, hospice, or nursing homes, Dr. Gillick addresses it in this guide meant to help you "think like a doctor." You'll even discover a list of medical supplies to have on hand, learn about preventative care, and understand geriatic syndromes, including delirium and falls.
Books on Caregiving Aren't Enough. Get Skilled Help with Home Health Care and Hospice.
When you need respite from caregiving, or when your loved one needs skilled care from nurses and home health aides, it's time to turn to Phoenix Home Health Care, serving Missouri, Illinois, and Kansas.
Our commitment is to improve the quality of life for the people we serve – both our patients and their families. We understand how important compassion is and strive to deliver it every time we interact with you.
To learn more about qualifying for home health care or hospice, contact us online, or speak to your loved one's physician.
References