Situated in the Northeast corner of Indiana, the City of Angola includes Steuben County as part of its jurisdiction.
Two men named Cornelius Gilmore and Thomas Gale founded the town in 1838.
One of the largest universities on its territory is Trine University.
The Monument, or "The Mound," or as locals say, "The Circle," is the most famous landmark in Angola.
One way to get around downtown is on foot or by bike.
However, you might need to drive to reach large business chains, especially while traveling along the I-69 highway.
Check out the best things to do in Angola, IN.
See the Steuben County Soldiers Monument
This monument in Steuben County commemorates the 240 men who never returned home from fighting in the Civil War.
Today, it remains one of the most iconic symbols of the county.
The approximately 1,000-pound 17-foot bronze figure of Columbia symbolizes the hard-won peace from the bloody war.
Laying atop the monument are four bronze soldiers representing the artillery, navy, cavalry, and infantry divisions at the 50-foot granite base.
Built in 1917, the monument weighed around 300,000 pounds.
Building the memorial cost approximately $16,000, which today amounts to more than two million dollars.
Enjoy Outdoor Activities at Pokagon State Park
Just off I-69 near Angola, Indiana, you'll find Pokagon State Park.
The park aims to celebrate the rich Native American heritage of Indiana and the region.
Pokagon State Park used to go by the name Lake James State Park.
However, one proposition to make it the fifth Indiana State Park passed.
In 1925, park organizers honored the last two Native American leaders living in their original homeland, Leopold Pokagon and his son Simon Pokagon.
Snow Lake and Lake James frame Pokagon State Park and make it ideal for viewing scenic sunsets, kayaking, fishing, swimming, and boating.
The park also offers excellent paved biking, walking, hiking, and jogging trails and provides areas perfect for camping.
In the winter, Pokagon State Park becomes Indiana State Parks' wonderland.
You can try sledding, cross-country skiing, twin-track toboggan running, and ice fishing.
See a Blockbuster at Brokaw Movie House
The Brokaw Movie House preserves the dignity and splendor of a picturesque bygone era without sacrificing modern amenities.
It offers two beautifully appointed screens with state-of-the-art digital projectors and full surround sound systems.
The theatre's darling decor comprises classic 1930s Art Deco-styled accents, genuinely old-world charm, and high-backed leather seats nestled within the cushioned armrests.
Coffee tables also provide guests with a place to enjoy their snacks freely.
Satisfy your appetites with mouthwatering pizza, tasty hot dogs, and a variety of breadsticks, and assorted nachos.
This movie theater also has plenty of treats, such as popcorn, sweet treats, and fountain sodas for all to enjoy before the film begins.
You can also see various movies ranging from the newest releases to everyone's personal favorites.
Challenge Your Putting Prowess at Glendarin Hills Golf Club
Glendarin Hills is a resort-style course that offers everything a discerning golfer could want.
Enjoy undulating terrain, sturdy trees, meandering streams, expansive views, and a driving range.
This exciting golf course caters to players who want to enjoy the finer things in life while they conquer the course of their dreams.
It's a golfing getaway where nature lovers can explore their inner champion.
Glendarin Hills seamlessly melds into 450 beautiful acres of land featuring 18 breathtaking holes.
These holes offer a unique experience as golfers rise and fall with the spectacular scenery alongside them.
The 18 unique holes come with five tee boxes that stretch from 5,000 yards to 7,100 yards.
However, both beginner and experienced golfers alike will undoubtedly enjoy this challenging terrain.
Check Out a Show at T. Furth Center for the Performing Arts
The T. Furth Center for Performing Arts and Ryan Concert Hall is a prominent place for live performances in the county and surrounding community.
Read more 99 Best Things to Do in the Florida Keys – The Ultimate Bucket List
Over the years, it has created a world of opportunity for people interested in music and other performing arts.
This Angola attraction blends with a forward-thinking view to create a vibrant cultural identity for Northeast Indiana both today and for future generations.
The $7.8 million facility preserves the Angola Christian Church.
At the same time, it creates an education center like no other that includes the latest technology for students studying music and theatre arts alike.
With its resemblance to the Wiener Musikverein concert hall in Vienna, the Ryan Concert Hall gives the appearance of glamour with its marble statuary, gold detailing, paintings, and chandeliers.
Catch a Ball Game at Fred Zollner Athletic Stadium
Initially constructed in 2010, the modern features of Fred Zollner Athletic Stadium make its sporting facilities one of a kind.
Enjoy its four suites, media boxes, and a luxurious hospitality suite.
Its grandstand provides the best views during football, lacrosse, or soccer matches.
With room for more than 5,000 fans for day or night games and practices, this stadium keeps fans close to their love of game-day excitement.
Sports fans will not only lose themselves in the fast-paced game at this stunning venue.
They can also spend time socializing and enjoying the game with other passionate fans.
Fred Zollner Athletic Stadium also features a weight room, football offices, an enormous scoreboard, and a sports medicine area.
Browse Real Antiques at Then & Now Antique Mall
Angola offers many unique shopping experiences for anyone of any age.
Located one block west of town circle in Angola, Indiana, Then & Now Antique Mall is one of the best.
This 120-year-old, historic 30,000-square-foot building comes with endless opportunities to shop for tons of treasures and never-ending rooms.
This 3-floors-of-curiosities contains 50+ stalls selling antiques, home decor, vintage clothing, and collectibles.
Spend Your Day at Commons Park
Commons Park is the largest in Angola and lands on over 100 acres of grounds.
With help from federal grants through the Land and Water Conservation Funds Act, the city bought the property.
The amenities you'll find here include five pavilions, a soccer field, a basketball court, a bandstand, horseshoe pits, volleyball courts, and three ball fields.
There's also an office/maintenance building, three handicapped-accessible restrooms, and an expansive, 15-year-old wooden playground.
Along with these facilities, Commons Park also has some permanent grills and picnic areas, including tables and benches.
The park hosts several programs and events throughout the year.
Commons Park possesses a 1/2 mile paved pathway, which belongs to the newly built portion of the Steuben County Trail System.
This linear park also possesses some grassy trails, an archery range, and a small wetland with abundant wildlife sightings.
If you arrive here on the Fourth of July, you can enjoy some fantastic fireworks shows.
Have a Good Time Bowling at Angola Bowl
The phrase "ball don't lie" hasn't convinced many people to take up bowling as a profession.
However, if you enjoy getting down the lanes, it has undoubtedly enhanced the sport.
The ambiance at Angola Bowl is incredible.
Its upbeat music, dim lighting, tasty meals, and numerous choices of drinks and cocktails show everyone a good time.
You can even rent the bowling alley by the hour for work retreats, private parties, or special Christmas parties.
Angola Bowl is a nice bowling alley in North Wayne Street.
Check Out the Hippie Festival at Buck Lake Ranch
Nestled about two miles west of Angola in Indiana's Land of 101 Lakes, Buck Lake Ranch offers the best tent and RV camping.
In 1947, Buck Lake Ranch started as a legendary family entertainment complex.
Since then, it has offered fun camping opportunities for families with children.
Whether you're looking for picturesque views of the area or are interested in other recreational activities, Buck Lake Ranch is a fantastic place.
The campground also hosts concert events such as the Festival of Summer Love, where music fans flock for LIVE tribute bands.
As summer winds down and camping season draws to a close, don't go away without attending the Buck Lake Music Festival in late August.
Campfire Fest prides itself on bringing together camp-setting old-timey music with contemporary new country artists for three days of fun.
If you can't make it to this special occasion, you'll have a chance to see something equally interesting on the following month.
This event is an annual car show.
Every September, the campground transforms into a tiny town where people come from miles around to buy classic cars or look at them.
Unwind at Steuben County Park
In the charming and picturesque region of Northeast Indiana, you can discover Steuben County Park's lakeside charms.
The seemingly endless nature preserve is on a serene 802-acre body of water.
Your palette and senses will thank you as you unwind to the peaceful sounds of nature and exhilarating sights.
Enjoy this wondrous 74-acre tract with its newly constructed 10,000 square-foot multi-purpose Event Center.
Read more Romantic St. Augustine- Our Favourite Romantic Things to Do in St. Augustine
Additionally, there are 156 campsites at Steuben County Park that make it easy to explore the great outdoors.
You can camp out in a beautiful open area, even during the colder months.
This space boasts many amenities like RV and camper hookups, public restrooms, boat docking, and beach facilities.
Have an Indiana Corn Country Party at Ridenour Acres
Ridenour Acres is a farm in Angola that has become an established vacation destination for many years.
The business focuses on providing a one-of-a-kind family experience that embodies the spirit of autumn.
The farm spans 11 acres, featuring a corn maze and other activities such as a Pumpkin Patch, Hay Rides, Barrel Train, Slide Deck, playgrounds, Corn Hole, and Corn Pits.
The corn maze changes each year which makes it rather thrilling.
They even added an outdoor music stage which enhances the experience.
Ridenour Acres also sells a fantastic array of pumpkins, mums, and snacks from their shop.
Admission starts at $10 for kids four and up, while kiddos three years old and under can explore for free.
Enjoy Recreational Activities at the Firemen's Park
The six-acre Firemen's Park is a lovely place to go for open-air recreation.
This park offers the public a wide range of recreational activities, like baseball/softball, volleyball, shuffleboard, a separate play area, and a modern playground.
In addition to the pavilion, there are restrooms with ADA-compliant options.
You can also find two acres of open space with a basketball court across Williams Street.
There's one heavily-used pavilion here that provides for picnicking and other park activities.
Near the park, you'll find a bike trail that many people take advantage of daily.
Enjoy Nature Walks at Marion's Woods Nature Preserve
Located in Calvary Lane, Angola, Indiana, Marion's Woods Nature Preserve is a woodland composed of towering oaks, white and black hickories, and plenty of cherry trees.
With a mature wooded area that's open for easy access, you can expect one of the best places in town for hiking or enjoying nature walks.
Since you don't see this pine-dominated forest often within city limits, you will learn more about many native plants and animals in their natural habitat.
Anyone looking for a unique weekend escape with their significant other would also love walking through this scenic woodland together.
Begin Your Journey of Self-improvement at CrossFit Angola
If you want to improve your physical fitness in Angola, you should check out Crossfit Angola.
Located on North Elizabeth Street, CrossFit Angola is the ideal place to begin your journey of self-improvement.
Whether you're a complete beginner or an established sports enthusiast, you'll receive high-quality fitness training from highly trained and encouraging coaches.
They will show you many variations on movements suitable for your fitness level.
This fitness center treats every individual as unique.
They'll help you find ways to make each workout challenging and rewarding no matter what shape or size you are.
Final Thoughts
Angola is the perfect destination for residents, visitors, and those looking to relocate.
The City of Angola offers an exciting array of recreational activities such as fishing, golfing, tobogganing, and more.
Make sure you're checking out this comprehensive article for tips on enjoying yourself in Angola.
---
— Update: 12-03-2023 — cohaitungchi.com found an additional article Angola / Hogback Lake KOA Holiday Blog from the website koa.com for the keyword things to do in angola indiana today.
9 Kid-Friendly Things to Do in Angola, IN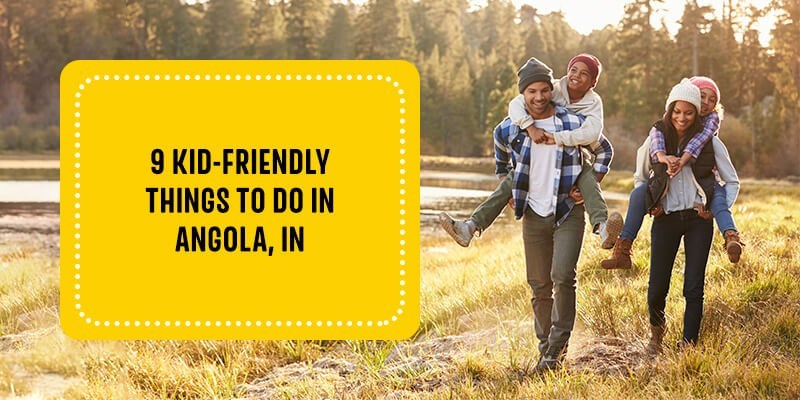 If you're bringing the kids on vacation to Angola, you might expect the brewing company and golf courses would be more fun for you than them. The good news is you can find several kid-friendly places to explore while you're visiting the area that will be especially meaningful for your kids and entertaining to you. If you ever run out of places to play in Angola, you can always go exploring in the surrounding cities, too. 
Take your family to some of the nearby kid-oriented venues for a memorable adventure everyone will love.
1. Pokagon State Park
Located near Lake James, this park is a beautiful place to bring outdoorsy kids who enjoy everything the natural world has to offer. If you visit during the summer, go hiking on the scenic trails and head to one of the designated swimming beaches to cool off.
Pokagon State Park is also famous for its fresh winter fun, with a sledding track called the Refrigerated Toboggan Run that makes about a 90-foot drop through a cleared swath of forest. The experience is comparable to being on a roller coaster.
2. Lake James
If you and your adventurous young ones are in the mood for a trip out on the water, the James Lake Chain is popular for such recreational activities. Plus, it's easy to access from Pokagon State Park. Depart from the shore to go kayaking or gather everyone into a motorboat. Try pier fishing for freshwater specimens like crappie, bass and walleye, and hold a fish fry on a grill in the open air or keep score of your largest catches before throwing them back.
Read more 15 Unique Things To Do In Porto: History, Wine, Fun And Unparalleled Beauty!
3. Commons Park
As the largest town park in the county, Commons Park boasts a little something of everything, which is most known for its community-built wooden playground in the shape of a castle. The kids will love pretending to explore a real castle as they climb the towers and run between the turrets.
If you want to help coach your kid in shooting hoops or perfecting their passes, there's a basketball court, soccer field and a volleyball court. The park is equipped with games like horseshoe pits and an archery range where adults can mingle as they supervise their children.
The nature trails take visitors to peaceful nooks away from the crowd, such as a wildlife overlook station near a wetland and a deck bordering a natural spring. Here, you'll find an abundant array of local wildlife that will truly wow you and your kids.
Commons Park also has several shady pavilions with barbeque grills, a bandstand and many accessible restrooms.
4. Trine State Recreation Area
This park in Fremont is only about an 11-minute drive from Angola and is located directly across from Pokagon State Park. Trine State offers a lot to take in, with over 200 acres of woods, blooming meadows and wetlands teeming with little critters.
Rent a paddleboat or motorboat for a trip out on the lake, or you can bring your own equipment. The park also has a pier where you can bring poles and tackle after getting permission to fish at the welcome center.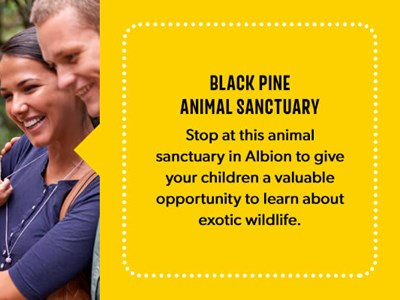 5. Black Pine Animal Sanctuary
Stop at this animal sanctuary in Albion to give your children a valuable opportunity to learn about exotic wildlife. It's less than an hour away from Angola and well worth the trip. There are over 60 species of animals from around the globe here, many of which are endangered — waiting in the enclosers are lions, tigers, bears and numerous other animals. 
The Black Pine Animal Sanctuary offers different kinds of tours. If you have very young children, we suggest checking out the Toddlers & Tots tour, specially designed to entertain the youngest visitors.
6. Science Central
If your kids are curious about biology, math and technology, here's a great place to stop in Fort Wayne. Science Central features a large-scale display of the earth and the intact skeleton of a mastodon that was unearthed here in Allen County, among several other activities. Any eager learner will love looking at the interactive exhibits and listening to information about the planet and its many curiosities. There's something for everyone — the young ones can make friends in the active play areas, and older kids tend to find the displays interesting.
7. Fort Wayne Children's Zoo
Fort Wayne Children's Zoo has free parking, and all kids ages 18 or younger can enter for a discount. With 38 acres of over 1,000 exotic animals and several educational displays to read, you'll have a hard time running out of sights and things to do at this zoo.
The facility is divided into themed sections based on the national origins of the animal inhabitants. Sections include the Australian Adventure block and the Indonesian Rain Forest. If your family gets hungry, you can stop for a snack or meal at the food stands. Remember to check out the Wild Things Gift Shop for kids who love browsing for toys.
8. Botanical Conservatory
For a sight-seeing adventure in Fort Wayne, visit the Botanical Conservatory and check out the four Showcase Gardens. There are endless displays of carefully tended gardens with various flora, including rare flowers and exotic trees. The fauna is also something to behold, with exhibits to showcase butterflies and more.
Each garden is themed and has unique features running along its shady pathways, including information about the various plants. As a result, kids can learn about a variety of surprising topics from the displays, including the agricultural practices of Ancient Egyptians.
9. Hall of Heroes Superhero Museum
After you've engaged in all the best recreational activities in the area, head to Elkhart to tour a must-see superhero museum. With life-sized statues of the kids' favorite characters and colorful displays that showcase the history of superheroes in film, TV, animation, comics and more, little ones who love all things about this action-packed genre will delight in coming here. The building itself is a replica of the Hall of Justice, and a replica of the Bat Cave is featured inside.
Take pictures with the characters in their epic poses, and visit the Hall of Heroes Superhero Museum arcade room to try your luck at the superhero-themed games. There's so much to explore and see here that you just might have to make a day out of it.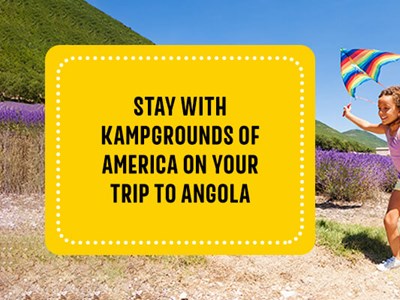 References