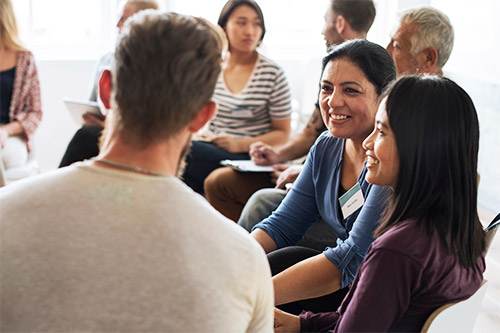 Updated 8-31-22. "How can I make money as a Notary?" That's one of the most common questions I hear from Notaries.
Whether you're a new Notary or a seasoned signing agent, here is a list of things you can do right now to boost your brand, make yourself known to more customers and earn more money as a Notary:
1. Tell people that you are a Notary.
This sounds so simple, but if you were to survey half the people you encounter each day, many of them do not know that you are a Notary who can help them.
2. Hand out promotional pens. 
Make promotional pens with your business logo and and hand them out to bank tellers, post office clerks, insurance agents, financial advisors, FedEx/UPS personnel, restaurant staff, grocery cashiers and everywhere else you visit that sees a large group of people during the day that can use your service.
You will be surprised at how much business you will receive by doing this.
3. Attend networking meetings in your area.
Business and trade events are excellent opportunities to promote your Notary commission with other professionals.
4. Join your local Chamber of Commerce.
Attending Chamber of Commerce meetings regularly adds credibility to your business and your branding strategy. I would highly recommend volunteering for the Membership Committee and attending Ribbon Cutting Events for new businesses opening in your area. This will allow you to welcome the new business owners to the area and gives you yet another opportunity to share your services.
5. Provide free notarizations for local schools.
It keeps your business in the minds of your community and affects the civic-minded parents in your area.
6. Offer free notarizations for veterans. 
Offering free services to veterans, such as members of the American Legion and Veterans of Foreign Wars, is a great way to give back to veterans and local leadership.
Read more 11 overlooked social media benefits for business
7. Organize a community shred day.
I am currently organizing one of these, and I'm surprised at how many people have expressed an interest in participating. (National Shred Days raise awareness of identity fraud.) 
8. Co-sponsor financial literacy seminars.
This is a lot easier than you might think. Simply contact a business professional in these areas from a bank, real estate agency or other local financial service to host the event. You do all the (social media) marketing and they provide the expertise. This will be a win-win for all that involved.
9. Offer seminars about identity theft.
As Notaries, we are experts in our local area when it comes to identity, and this allows you to build an "expert" reputation in your community.
10. Advertise your holiday schedule.
Whether it's Columbus Day, Labor Day, President's Day or others, and all the banks and credit unions are closed. Usually on holidays, I receive the largest volume of calls for notarizations because people simply can't find anyone else.
11. Network with local mail delivery services.
At this time, FedEx stores are not offering Notary services, and many UPS stores only offer limited service. Connecting with UPS and FedEx store managers is a good way to find assignments. After receiving referrals, I have conducted Notary assignments for each.
12. Have logo shirts made and wear them to local events.
This is a great way to advertise that you are in the Notary business.
13. Join a Notary professional organization.
Joining an organization like the NNA offers opportunities to stay in touch with the latest changes in the industry and new marketing prospects.
14. Network with other Notaries in your area.
This is one of the most important things you can do to build your business. Professional Notaries network with other Notaries in surrounding towns in order to build their clientele.
15. Post a profile on Notary websites.
Doing this is like broadcasting your business with a megaphone to clients who use Notaries on a regular basis. Signingagent.com is an excellent example of a website where professional Notaries who have completed the NNA's certification course can post their profile. Make sure to include a professional picture in your profile when possible. 
16. Find a mentor.
Having a business mentor will not only help you make more money as a Notary, but will also help keep you from making major business mistakes.
17. Become a mentor to another Notary.
I have personally grown as a professional after becoming a mentor, and this role has helped me build a more holistic, well-integrated business.
18. Develop a business page on social media.
Creating a business page on Facebook, Twitter or LinkedIn and inviting people to your page is extremely important to your business. It will build your professional network and can drive your business into increased profits and success. Feel free to invite me to your pages.
19. Follow up with your existing customers.
This is an often overlooked must-do, but maintaining and managing relationships with your existing customers is one key to your success.
Read more Top Benefits of Vitamin B9 (Folate) and Folic Acid
20. Attend professional conferences and workshops.
I attended my first National Notary Association Conference several years ago in Las Vegas, and have attended every one since. I cannot stress how important it is to be in attendance each and every year to learn from the very best in the industry. It has helped me to grow my business and partner with some of the best in the field. What you will learn at these events will eliminate years of struggling as a notary entrepreneur.
21. Start accepting credit cards as payment.
Accepting all forms of payment opens more doors and revenue streams for your Notary business.
22. Place a large sign or Notary business logo on your car.
Notaries around the country frequently do this and report great successes.   
Implementing just a few of these techniques is well worth the effort and will help you strategically grow your business.   
Daniel Lewis of Carmel, Indiana, is the founder of Lewis Notary Services, Inc., a nationwide scheduling service. He is the 2010 NNA Notary of the Year and also the co-author of the Notary business guide book, "Make Your Business Our Business." 
​Related Articles:
Creating a Successful Mobile Notary Business
Notary Business: Nine Ways To Earn Extra Money
---
— Update: 10-02-2023 — cohaitungchi.com found an additional article 5 Reasons You Should Become a Notary Public from the website www.nationalnotary.org for the keyword benefits of being a notary.
Millions of Americans serve as Notaries Public to protect consumers from fraud and identity theft. In fact, they are in such high demand by businesses, industries and private individuals that there is one Notary for every 72 people in the country.
While being a Notary might seem mundane, they witness and authenticate the signing of our most important transactions: mortgage documents, powers of attorney, contracts, adoption papers, advance medical directives and other dealings central to our lives and the economy. It's also a great way to earn extra income working from home or improve your resume and career.
Here are the top five reasons why you should consider becoming a Notary Public.
Make Additional Income
While Notaries are appointed by their states and serve as public officials, they charge their clients directly and the revenue is theirs to keep. That's why tens of thousands of people hit the streets as "mobile Notaries" in their communities. Most states regulate how much a Notary can charge for an individual notarization (for example, $15 in California and $10 in Florida), but many clients often need more than one signature notarized. You're also allowed to charge additional fees for items such as travel, supplies and other expenses.
Additional Resources: 22 Ways To Make Money As A Notary
 Become a Notary Signing Agent
If you like the idea of being a Notary to make additional income, becoming a Notary Signing Agent is right up your alley. An NSA is a trained and certified professional that handles the notarization of loan documents in real estate closings. For the mortgage finance industry, NSAs serve as the critical final link between the banks and the borrower to complete the loan. They are hired directly by title companies and signing services as independent contractors to ensure that real estate loan documents are signed by the borrower, notarized, and returned for processing. Notaries make a considerable amount of extra income from this line of mortgage finance work, in addition to their work as a mobile Notary.
Read more Drinking Milk Before Bed: Benefits vs. Drawbacks
Additional Resources: By Fluke And Design: How 3 Notaries Built Thriving Businesses
 Improve Your Resume/Skillset
Notaries are in high demand in a variety of industries, including banking, finance, medical, legal, government, insurance, technology … the list goes on. In fact, just about every industry uses the services of Notaries, so becoming one will add to your marketable skill sets, improve your resume and increase your value as an employee. In the workplace, Notaries serve two general functions: Notarizing documents in the back office for co-workers and bosses or notarizing for customers in a bank or their local photocopy and shipping shop. Many employers value employees with Notary skills to handle their document authentication needs and provide customers with top-notch service.
Additional Resources: Notarizing On The Job: What You And Your Boss Need To Know
Enjoy a Flexible Schedule
If you choose the mobile Notary/Notary Signing Agent route, you will have the flexibility to set your own hours. It's a perfect line of work for home-based entrepreneurs, moonlighters, stay-at-home parents (who can do mobile notarizations in the evening) or anyone looking to make some additional income. Many people who need notarizations request them after normal business hours, so you can make the most of your evenings, or arrange a time that's right for you.
Additional Resources: Alternate Income Opportunities
Help Your Community
America's Notaries Public are known for their spirit of helping those in need. If you are the type of person who enjoys giving back to your community, being a Notary is a great way to support that passion. Many types of people need notarization services but cannot afford them, like the elderly, homeless, disabled and college students. These groups typically need notarizations for powers of attorney, residency affidavits, advance medical directives, college transcripts and enrollment verifications. Notaries often hold events at community centers, retirement homes and campuses to provide free or low-cost notarizations. It's also a great way to network and market yourself for paying clients.
Additional Resources: Serving Others One Notarization At A Time
If any of the above scenarios sound intriguing to you, you're definitely the kind of person who should become a Notary Public. Get familiar with the qualifications and requirements and get started with your application today!
References