Top Things to Do in New Orleans
Where to Stay in New Orleans
Some Additional Tips for Visiting New Orleans
FAQ on Things to Do in New Orleans
Conclusion
Top Things to Do in New Orleans
The Big Easy is a hub of entertainment, fun attractions, and iconic sites. To fully immerse yourself in the fantastic energy and vibe, we've listed our top picks for things to do in New Orleans.
You'll find our top list below, split into different categories. The rest is coming up right after!
1. Experience the Uniqueness of the French Quarter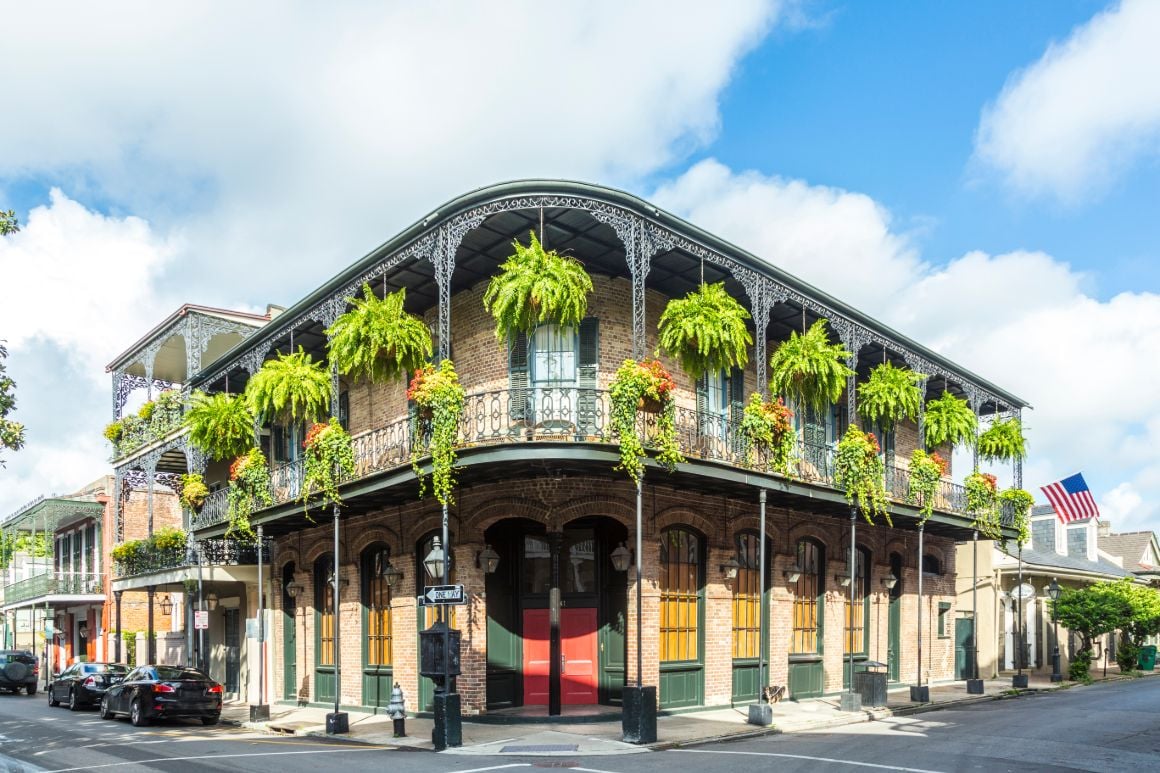 The French Quarter is the heart and soul of the city. It's a hotspot for New Orleans jazz clubs, Cajun eateries, a vibrant nightlife, and much more!
It's New Orleans's oldest neighborhood, filled with many of the city's most iconic attractions. The St. Louis Cathedral, Jackson Square, French Market, and the Mississippi River can all be found within the area.
You'll also find plenty of hidden gems tucked away in the quieter streets of the French Quarter. These lead to gourmet restaurants, local stores, and quirky cafes.
It's wildly popular amongst travelers, so expect to bump into a few people here. But you can't visit the Big Easy without soaking in the culture, history, and architecture of the French Quarter!
Food tours in New Orleans can show you all the best places to eat around the French Quarter. Walking food tours will give you the chance to explore all the hidden gems while munching down on the local delicacies.
2. Take it Easy in the "Big Easy"
Louis Armstrong Park pays tribute to native New Orleans trumpeter, vocalist, and jazz legend, Louis Armstrong. The park is clean and well landscaped, complete with statues and water features. You can find it within walking distance from the French Quarter.
Within the park's confines is the historic Congo Square, an area where slaves would gather on Sundays to sing, beat drums, and socialize with one another, back in the day. The park is free to enter and open every day.
Entrance: Free
Hours: 08:00-18:00
Address: 701 N Rampart St, New Orleans, LA 70116, United States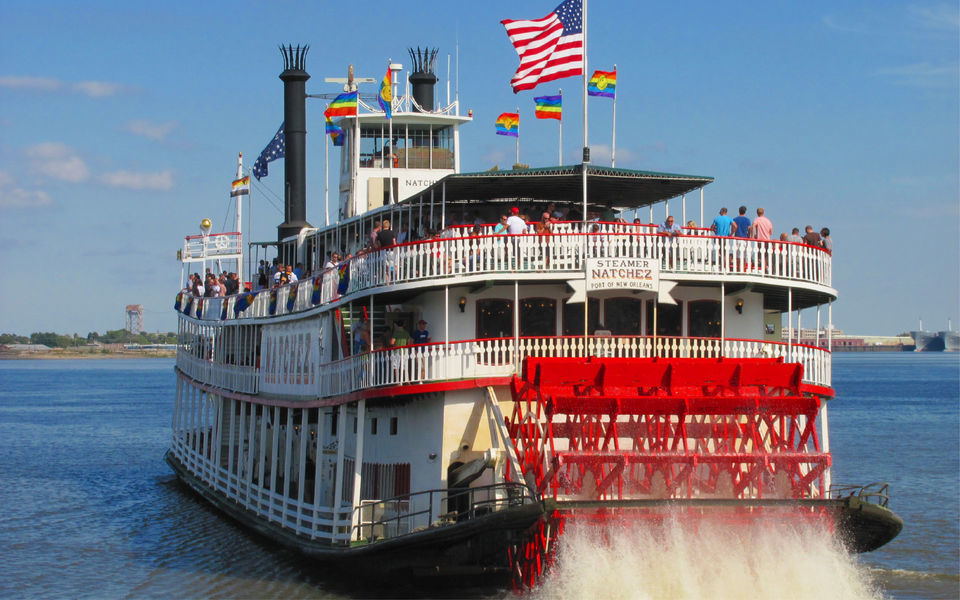 Journey back in time aboard the Steamboat Natchez, the only authentic steamboat in New Orleans. You'll get to cruise down the mighty Mississippi River as you relax, while a live band plays classic New Orleans Jazz.
This is how you savor the tastes, sounds, and sights of New Orleans.!
Visit the preserved steam engine room and learn how steam powers the boat, or stand on the ship's top deck and admire the spectacular views that surround you. You'll also be able to enjoy an authentic Creole lunch, prepared fresh onboard.
Reserve Your Spot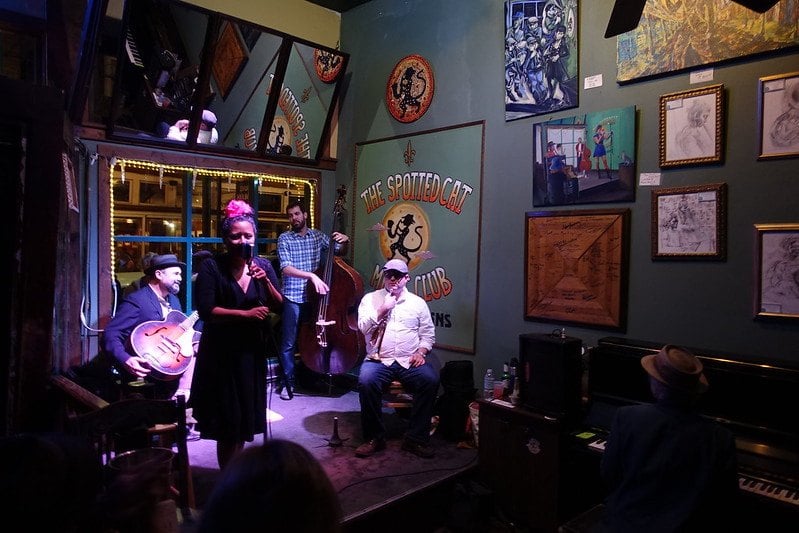 Listening to jazz music should be high up on your list of things to do in New Orleans. From swing to blues to fusion to bebop to funk, here are the best places to scope out NOLA's jazz scene.
Preservation Hall in the French Quarter is a New Orleans Jazz club with an old-timey atmosphere and high-quality jazz music. For old-time jazz music in a historic setting, this is the place you want to be.
The Spotted Cat Music Club is another quintessential New Orleans jazz club. It's an intimate venue with a lot of different styles: from traditional jazz to funk. It's located in the Faubourg Marigny District on Frenchmen Street, a few steps from the hustle and bustle of the French Quarter.
Keep an ear to the ground for talk of any local big band funk gig, such as Grammy-nominated Hot 8 Brass Band. The style's huge in NOLA and it's always a great vibe!
View on Get Your Guide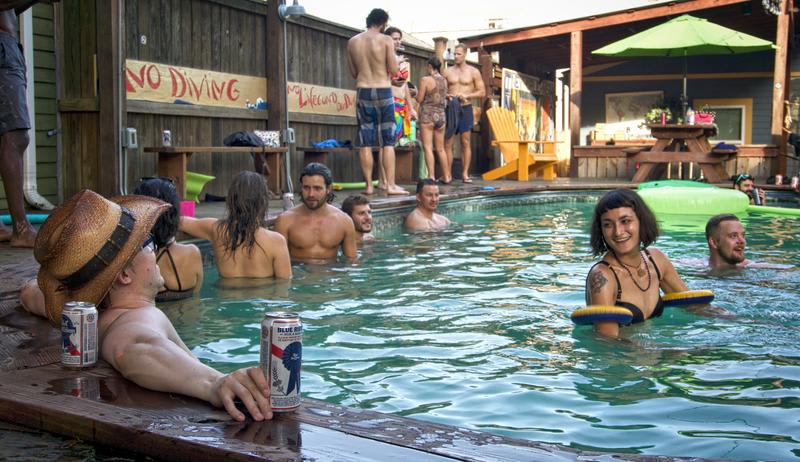 Searching for epic hostels in New Orleans? Then you should dive straight into India House Backpackers — the only hostel in the city with a swimming pool!
The hostel is surrounded by awesome local pubs and they offer both mixed and single-sex dorms with air con. Oh, and a stage for live music! Because what's a trip to the world's jazz capital without a little jam session?
Do check out the open-air kitchen where they serve breakfast and low-priced evening meals. There's even another kitchen indoors that you can cook in if you're on a tight budget.
Hostels in New Orleans don't really get any more lively than this.
View on Hostelworld
6. Go Behind the Scenes of Mardi Gras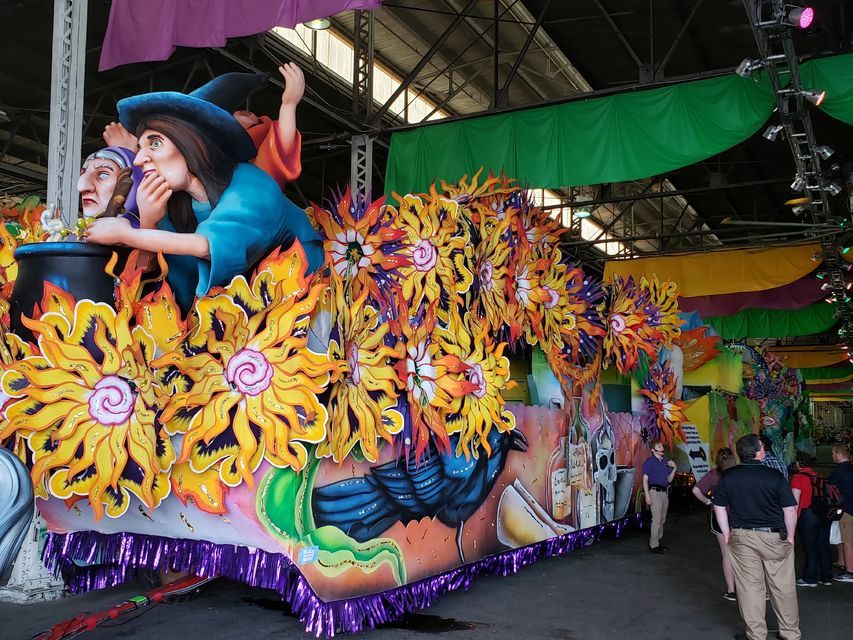 Mardi Gras World is a place that provides guests with a behind-the-scenes look at the city's most celebrated event! If you're a fan of Mardi Gras, this is your chance to see where the floats are made and how everything in the parades comes together.
Read more Here Are 5 Free Things to Do in Gainesville, FL
One of the top cultural festivals in the US, Mardi Gras represents all the best of New Orleans! If you're wanting to gain more insight into this cheerful celebration, or you're not able to travel to the Big Easy when it's happening, be sure to stop by this place!
Entrance: $14-22
Hours: 09:00-17:30
Address: 1380 Port of New Orleans Pl, New Orleans, LA 70130, United States
7. Discover the Real History of Voodoo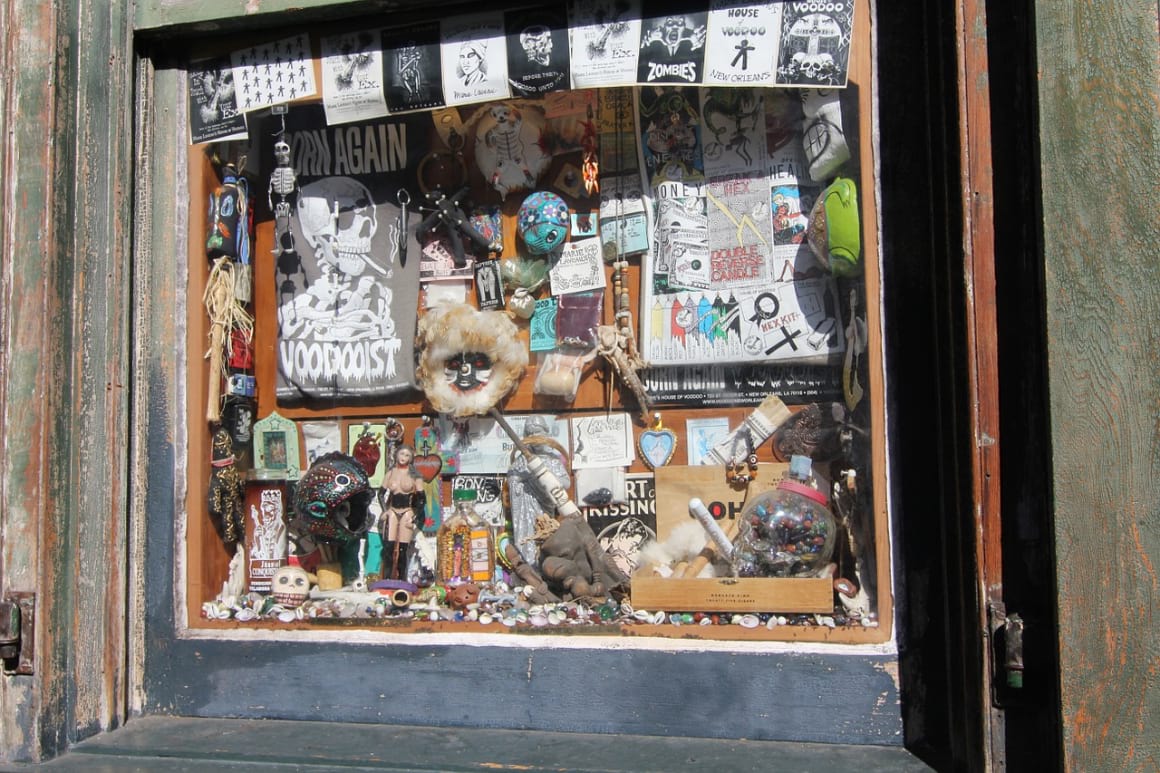 New Orleans voodoo isn't just a marketing ploy — this tradition is embedded in the city's culture and heritage.
The history and ideology behind this faith are set in ancient African tribal religions, and there are a couple of places in the city that are strongly associated with this culture.
Marie Laveau's House of Voodoo is one of them. This shop is packed full of just about anything you could possibly think of when you think of voodoo. Swing by and purchase a "magic" potion, or simply stop in to admire the selection of unique items.
The St. Louis Cemetery No. 1 is another popular spot connected to voodoo. Here you can find the tomb of Marie Laveau, history's most esteemed voodoo queen. Visitors and locals leave offerings year-round in the hope of gaining her favor.
Entrance: Free (Marie Laveau's House of Voodoo)
Hours: 10:00-23:30 (Sunday-Thursday), 10:00-01:30 (Friday-Saturday)
Address: 739 Bourbon St, New Orleans, LA 70116, United States
New Orleans' cuisine is one of a kind. It infuses French, Spanish, African, Cajun, and Creole flavors and creates a unique taste you won't find anywhere else in the world!
The city has a large range of food staples you don't want to leave town without having a taste for yourself.
If you eat meat, be sure to try boudin. This is a type of sausage with a mix of meat, rice, vegetables, and plenty of cajun spice inside a casing.
For something sweet, go for a beignet. This deep-fried pastry is sprinkled with powdered sugar and goes great with coffee, especially if you can squeeze your way into the illustrious Cafe du Monde.
For seafood lovers, we highly recommend you indulge in a nice seafood gumbo, made with a strong-flavored stock and what Louisianians call the "Holy Trinity" of vegetables, which is celery, bell peppers, and onions.
Reserve Your Spot
9. Visit the Bayous of the Louisiana Wetlands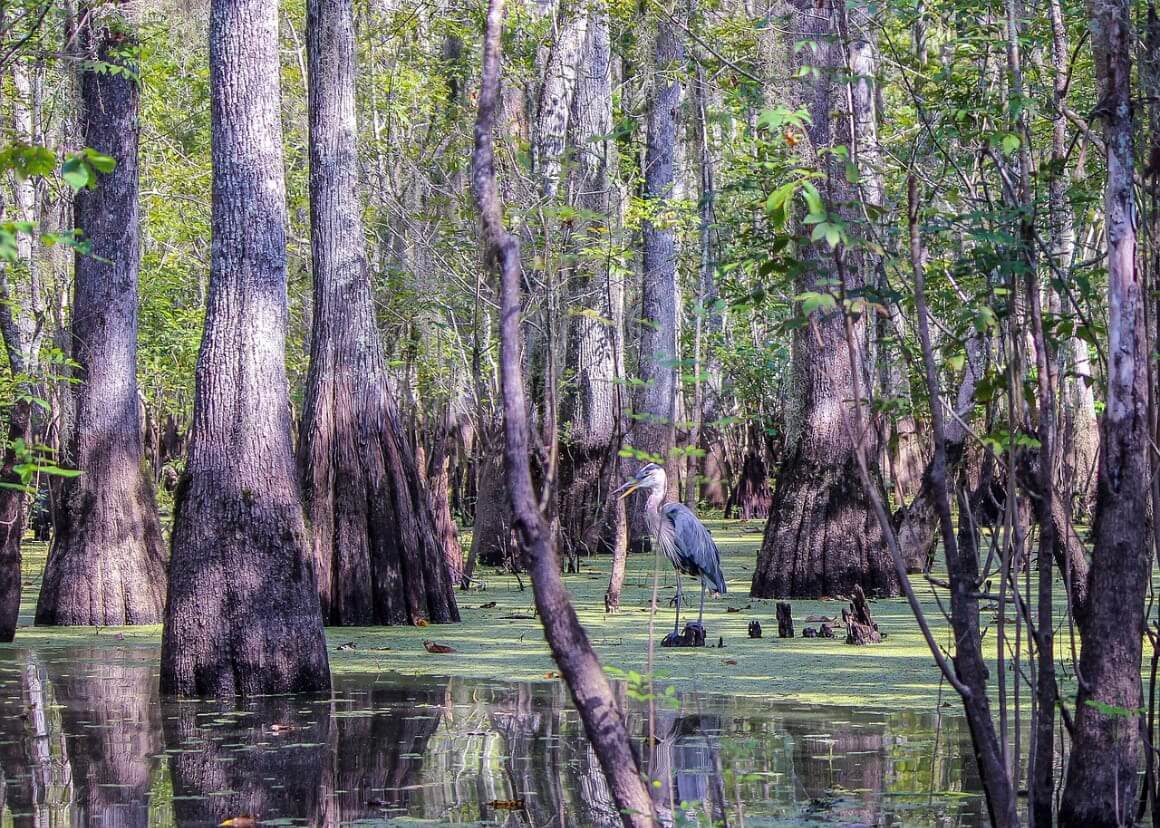 Travel just outside the city center of New Orleans and drift on a guided swamp boat through the bayous of the enchanting Louisiana wetlands.
See moss-draped trees and Louisiana's abundant wildlife. You'll encounter a wide range of local birds, fauna, fish, and possibly even an alligator!
This is your chance to hop aboard a typical swamp boat and explore the wonders of the southern swamps up close — be sure to pack your best camera.
10. Visit the Birthplace of New Orleans Jazz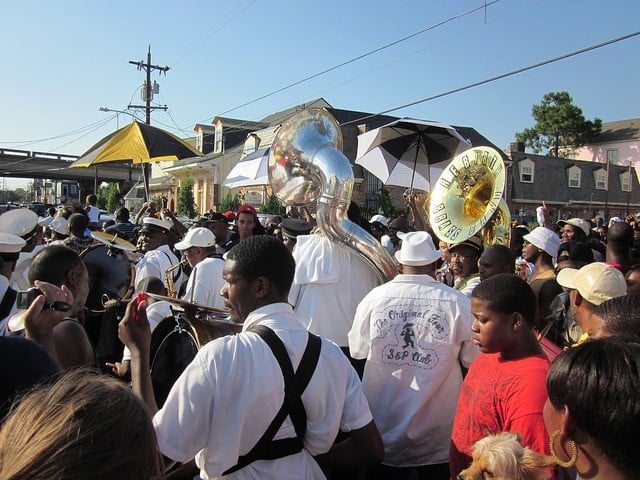 The Tremé neighborhood is bursting with authentic Americana, popping colors, and classic architecture. It's also the birthplace of New Orleans jazz and the center of the city's Creole culture!
Storyville was the red-light district of New Orleans, from 1897 to 1917. This is where jazz music flourished and where all the jazz greats came to play. Although this area was bulldozed, it will forever carry a tie to the city's jazz culture, and several sites are still visible in the Tremé neighborhood.
Today, the neighborhood houses the St. Augustine Church, The Tomb of the Unknown Slave, and the only laundromat that made its way into the Rock and Roll Hall of Fame!
This fascinating neighborhood is a great place to explore and discover the center of New Orleans jazz and Creole culture.
11. Learn More About Jazz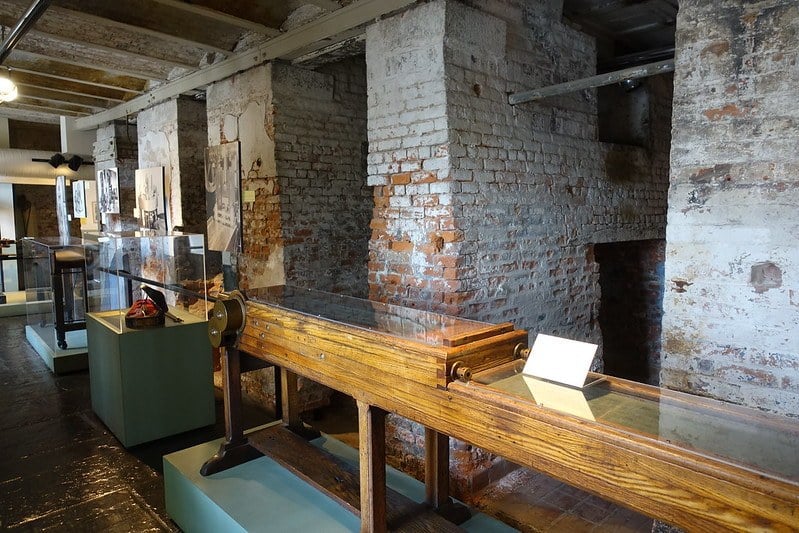 Casting an influence all the way to contemporary hip-hop and funk, you'll be hard-pressed to avoid the killer live music scene in this city full of virtuosos. If you want to learn more about jazz, you should visit the New Orleans Jazz Museum!
Learn about the music that defines the city. See the largest collection of jazz artifacts in the world, including instruments played by jazz greats like Louis Armstrong's first cornet, and a 1917 disc of the first jazz recording ever made.
There are also photographs from the early days of jazz, recorded interviews from prominent jazz figures, and interactive exhibits! The museum is open every day except Mondays and admission is $8.
Entrance: $6–8
Hours: 09:00-16:00 (Tuesday-Sunday)
Address: 400 Esplanade Ave, New Orleans, LA 70116, United States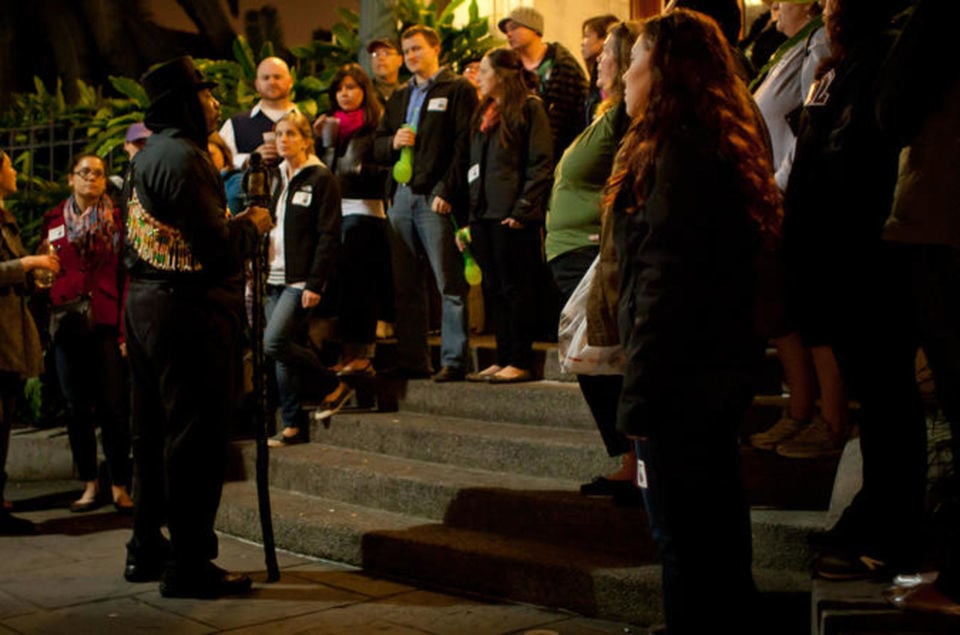 If you're interested in the macabre, New Orleans' is the city for you. NOLA has a ghastly and gruesome past that will make the hair on the back of your neck stand up.
Here's what you should do if you're into this kind of stuff:
Visit the New Orleans Pharmacy Museum, known for its questionable medical practices in the 19th century; See the St. Germain House, the former residence of rumored vampire Jacques Saint Germain; Wander past the LaLaurie House, the home of the wicked mistress Madame LaLaurie.
A visit to these creepy sites will allow you to all there is to discover the darker side of the city!
Entrance: $10/person
Hours: 12:00-17:00 (Wednesday-Saturday)
Address: 514 Chartres St, New Orleans, LA 70130, United States
Reserve Your Spot
13. Visit a Vampire Shop
New Orleans is an unusual city full of strange and spectacular sites. Among these sites is the Boutique du Vampyre, a store selling gothic curiosities ranging from jewellery and apparel to voodoo dolls and incense.
It's a wonderful little gem of a store with truly unique products you won't find anywhere else. Stop in to pick up some spooky souvenirs, or window shop and admire the unique vampire oddities.
The store also offers tarot, tea, and palm readings!
Read more How to Get Cheap Broadway Tickets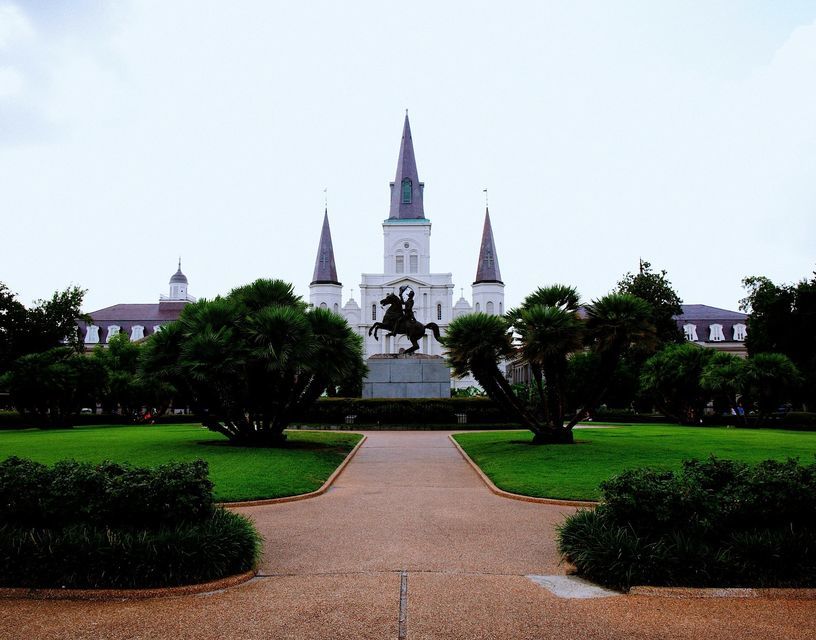 Learn about the history of New Orleans in a unique way as you pedal past the city's most iconic sites. Forget walking — biking can take you further and it's way more fun!
New Orleans is a very bike-friendly city, and there are plenty of parks and paths to ride through. Moreover, the fact that there are barely any hills in the city makes it a breeze for pretty much anyone who's down to ride.
Cruise along the Mississippi River and the seven different districts of the city as you enjoy the fresh open air and a bit of exercise, NOLA sightseeing on a cycle ride is a great way to see it from a different perspective!
Reserve Your Spot
15. Have a Drink at One of the Oldest Bars in the US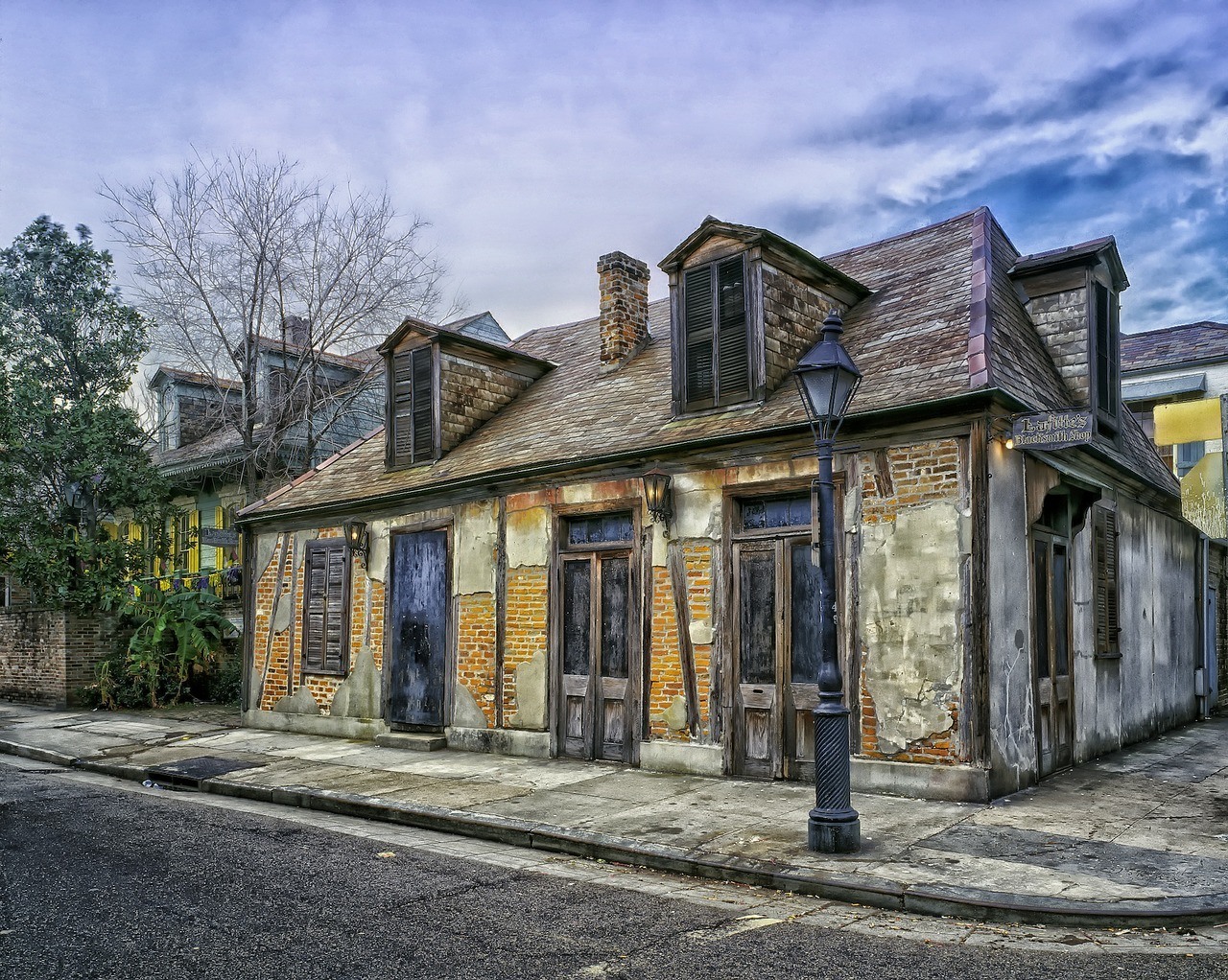 Lafitte's Blacksmith Shop is one of the oldest bars in the US. It was established as a bar in 1772, however, it's housed inside a building dating all the way to 1720.
The bar sits at the far end of Bourbon Street in the French Quarter. The brick masonry is exposed, the floorboards creak, the windows shutters lay askew, and candles light up the building after dark.
Oh, and yeah, the building is supposedly haunted by residents of the French Quarter — at least that's what they say. This quaint and historic bar is a piece of history that perfectly personifies NOLA's unique quality.
Entrance: Free
Hours: 10:00-03:00
Address: 941 Bourbon St, New Orleans, LA 70116, United States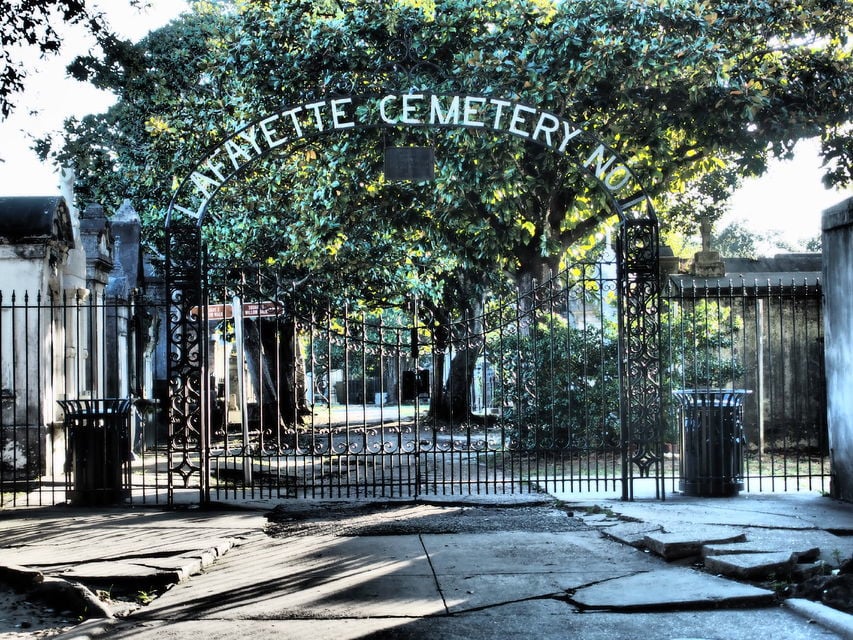 The New Orleans Garden District is the city's lovely, quiet neighborhood. From oak-shaded streets and magnificent crepe myrtles to lavish mansions with sweeping front porches, this area represents quintessential up-scale southern living.
Many prominent authors, poets, movie stars, artists, and sports legends have all put down roots in the Garden District. You'll find it to be a shopping mecca, too, with high-end boutiques, antique shops, and local stores sitting alongside fine-dining restaurants, cozy cafes, and local eateries.
You should really visit the city's oldest municipal cemetery, Lafayette #1! It's a historic graveyard that has been used to shoot several movies and TV shows, and it's god damn beautiful on the inside.
View on Get Your Guide
17. Go See a Midnight Movie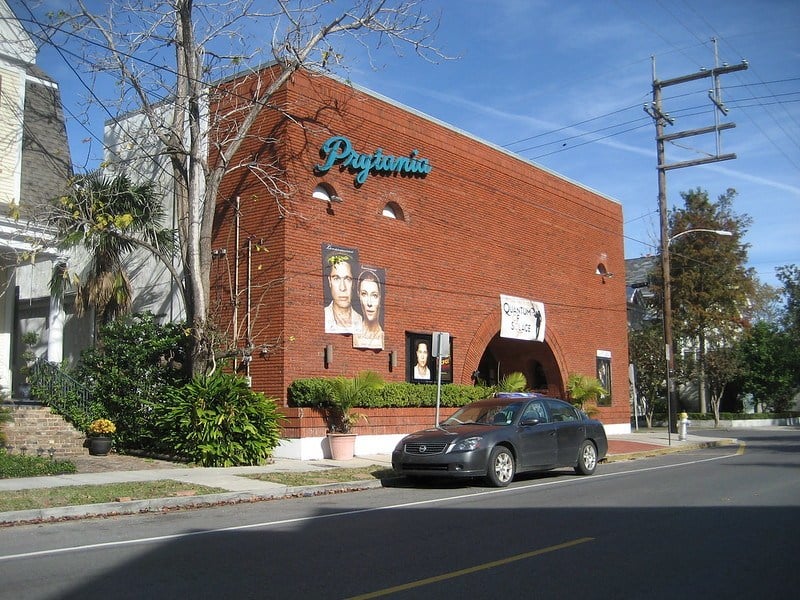 Built in 1914, The Prytania Theater is the oldest movie theatre in New Orleans. This single-screen movie theatre shows everything, from Hollywood hits and great classics to kids' films and indie flicks.
Most of them are shown throughout the day, but they host regular late-night screenings with popular cult classics, too — night owls, unite!
This quaint movie theatre is decorated with old classic decor. On the stage, you can still see the organ that was used in silent films.
Entrance: $5-7
Hours: 11:00-23:00
Address: 5339 Prytania St, New Orleans, LA 70115, United States
18. Explore New Orleans' Most Enchanting Park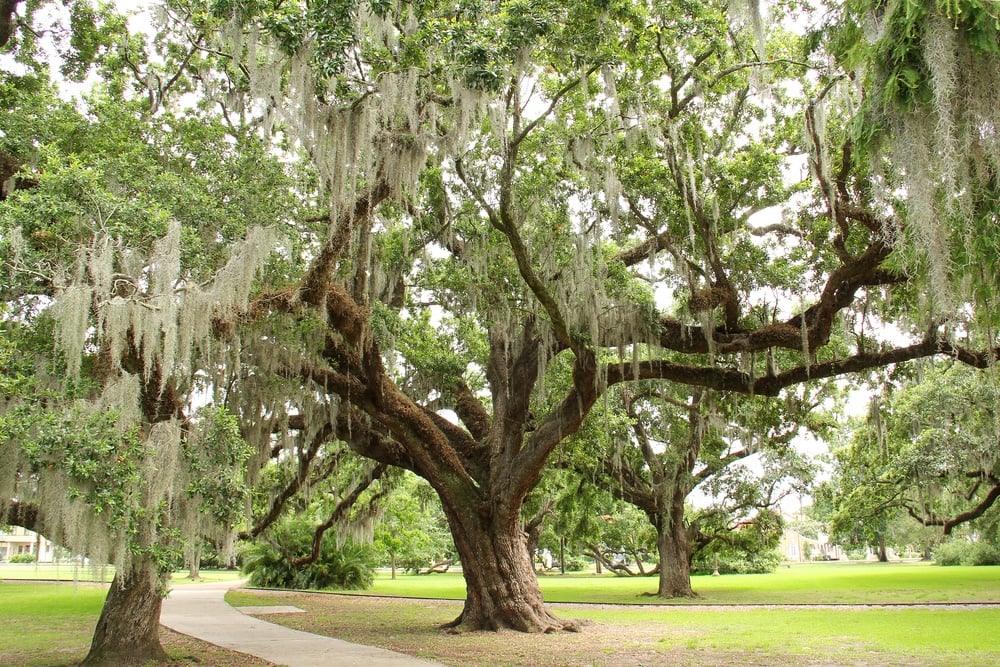 City Park is a 1,300-acre urban area in the middle of the city. There are plenty of activities that can be enjoyed here: miles of walking and bike paths, picturesque lagoons, and lakes where you can paddleboard on.
Moreover, if you're looking for New Orleans activities to enjoy with children, the park also has a playground and plenty of green space to run around in.
It includes the largest collection of live oak trees in the world, with some of them dating back 600 years! It's a great place to enjoy a break from the hustle and bustle of the city, and it's open every day of the year.
Entrance: varies
Hours: 08:00-17:00
Address: 1 Palm Dr, New Orleans, LA 70124, United States
19. Rub Shoulders With the Locals at the French Market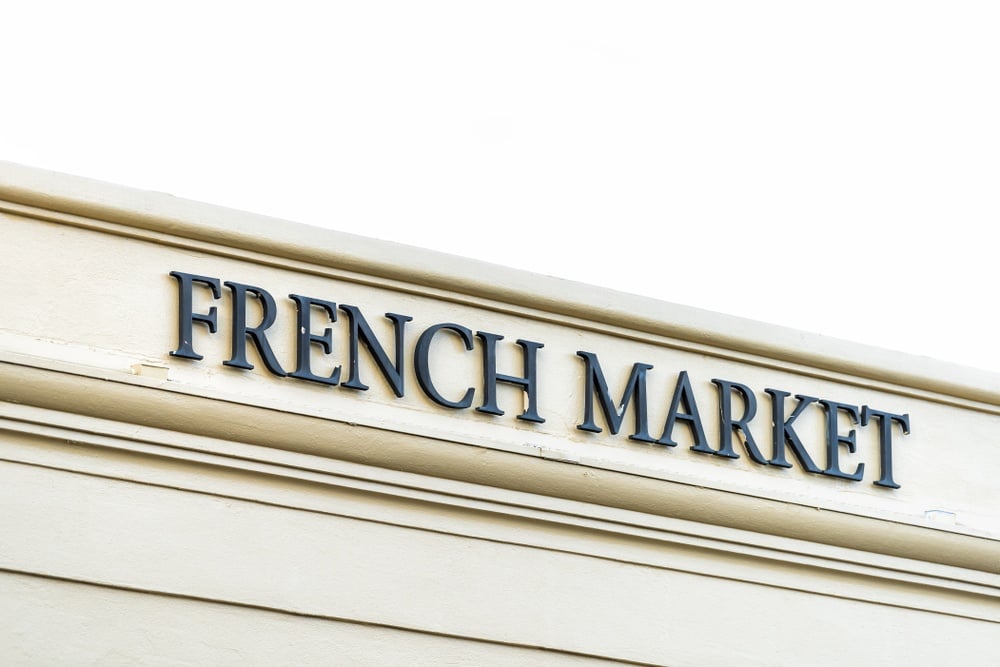 The French Market spans six blocks in the French Quarter of New Orleans. This open-air and charismatic market is free to visit and full of New Orleans souvenirs and food vendors.
If you're hungry, sit counter-side at a restaurant and enjoy the lively atmosphere from the market. Or, pick something to go from a food stall and just wander around. From vegan options to weird shit like an alligator on a stick, you've got everything you may be into.
There are plenty of stalls offering local handicrafts and clothing, too!
Entrance: Free
Hours: 08:00-17:00 (Thursday-Monday)
Address: 700-1010 Decatur St, New Orleans, LA 70116, United States
20. Relax in a Peaceful Sanctuary
St Louis Cathedral is the oldest catholic cathedral in continual use in the US. It dates back to the 1700s and is nestled within the chaotic Jackson Square. And no need to be religious to appreciate the history and beauty housed within these walls!
The church represents an impressive blend of Old World architecture, including Renaissance, Gothic Revival, and Spanish Colonial. Travel inside and view the elaborate woodwork, stained glass windows, and imposing sculptures.
Stop in for a peaceful reprieve on your trip to New Orleans. The entrance is free!
Entrance: $1 donation
Hours: 08:30-16:00 (Monday-Friday), 17:00-18:00 (Saturday), 09:00-12:00 (Sunday)
Address: 615 Pere Antoine Alley, New Orleans, LA 70116, United States
21. Travel Around. The Old Fashioned Way!
New Orleans streetcars have been around since 1835. And even though the city's bus system has kind of replaced these old routes, you can still hop aboard and enjoy a historic NOLA experience.
And they'll get you through a lot of New Orleans attractions, too.
There are 5 operating lines, and a one-way ticket will come out at just $1.25 — a total bargain! Be sure to have exact change when purchasing a ticket, because the drivers won't give you any change.
22. Immerse Yourself in the History of WWII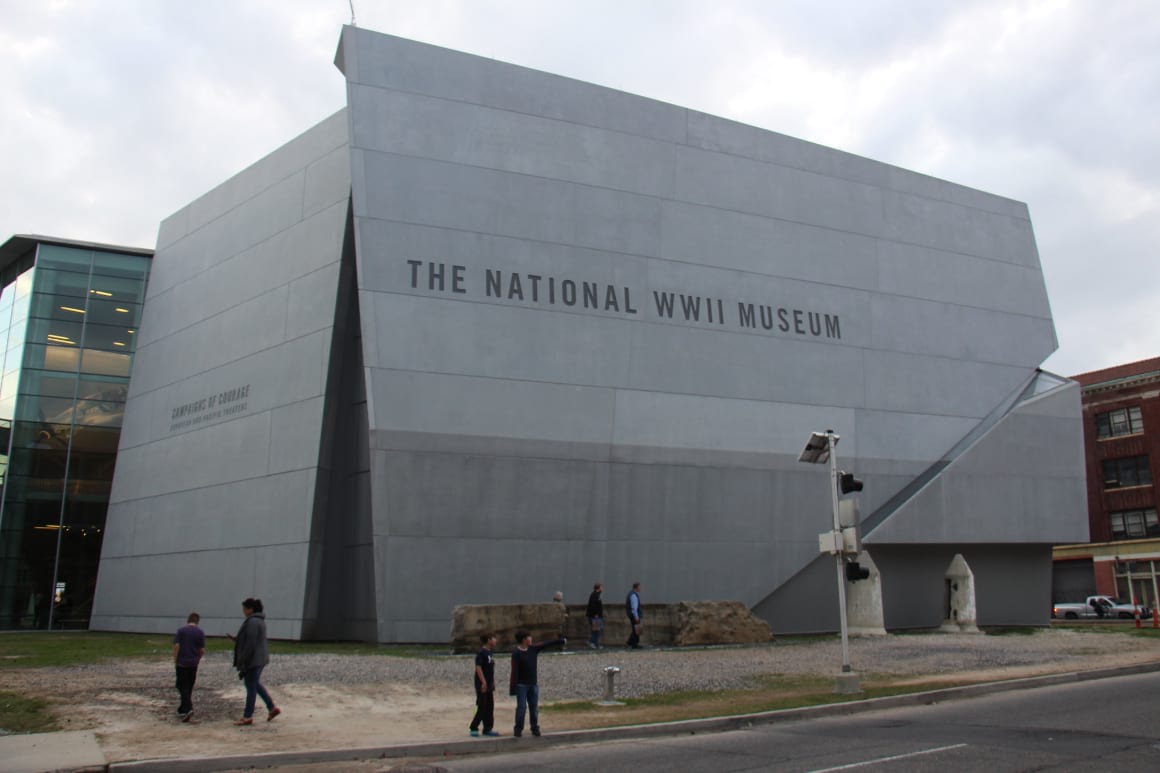 Learn about WWII through a large collection of WWII artifacts, including boats, documents, uniforms, weapons, and fully restored aircraft.
Don't miss the climactic 4D theater experience, narrated by Tom Hanks and complete with simulated gunfire, moving seats, and artillery explosions. It's absolutely insane, that much I can tell you!
The museum is massive and housed in 4 buildings. Each room is thoughtfully organized around a different central theme, so you can really spend some time exploring around.
Entrance: $7-28.50
Hours: 09:00-17:00
Address: 945 Magazine St, New Orleans, LA 70130, United States
Read more Best Things To Do In Hanoi In A Week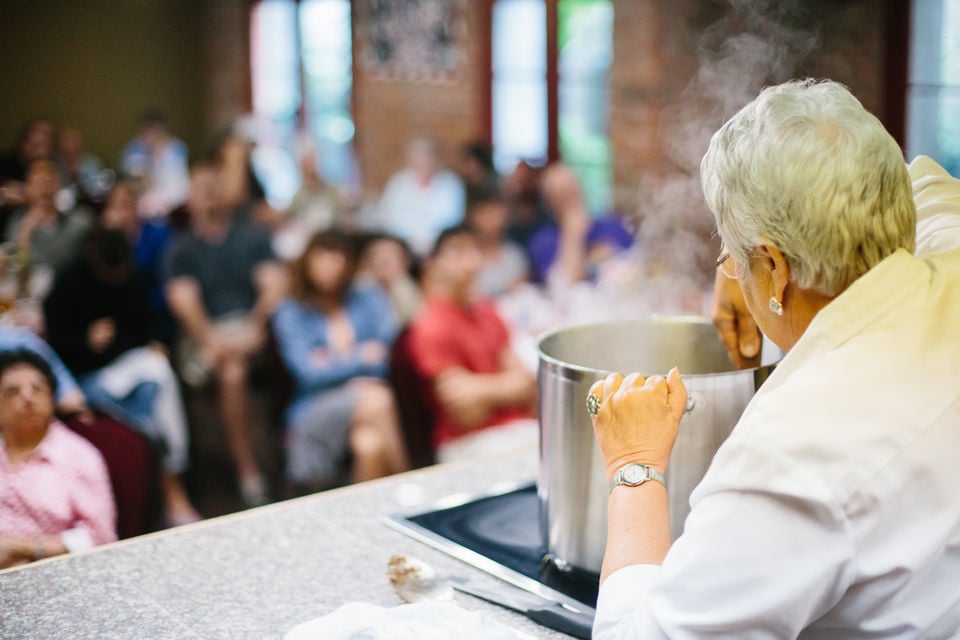 Discover the true essence of southern cuisine as you sit back, relax and learn the basics of cajun and creole cooking. Watch a chef prepare NOLA's food staples right in front of you, and learn the fascinating history of how the culture and cuisine of New Orleans came to be.
After the trip, you'll get to go home a master of all the secret techniques behind cooking creole specialties like gumbo, jambalaya, and pralines.
Reserve Your Spot
24. Visit an Old Time Attraction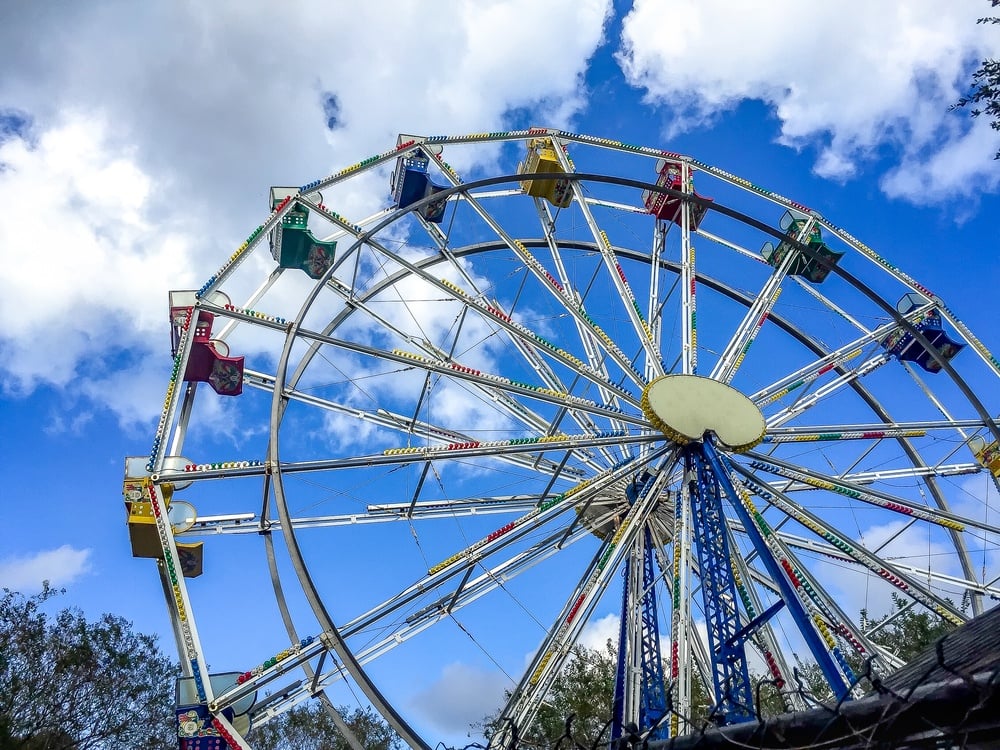 The Carousel Gardens Amusement Park is a seasonal amusement park open from June to November. It's located inside New Orleans' City Park and features old fashioned rides including a Ferris wheel and carousel.
Since 1906 this historic park has been charming visitors with its fun attractions, including bumper cars, the scrambler, tilt-a-whirl, a 40-foot fun slide, and more! Admission is $5, each ride is about $4, or you can buy an unlimited wristband ride ticket for 18 bucks.
Entrance: $5
Hours: currently closed
Address: 7 Victory Ave, New Orleans, LA 70124, United States
25. People Watch in Jackson Square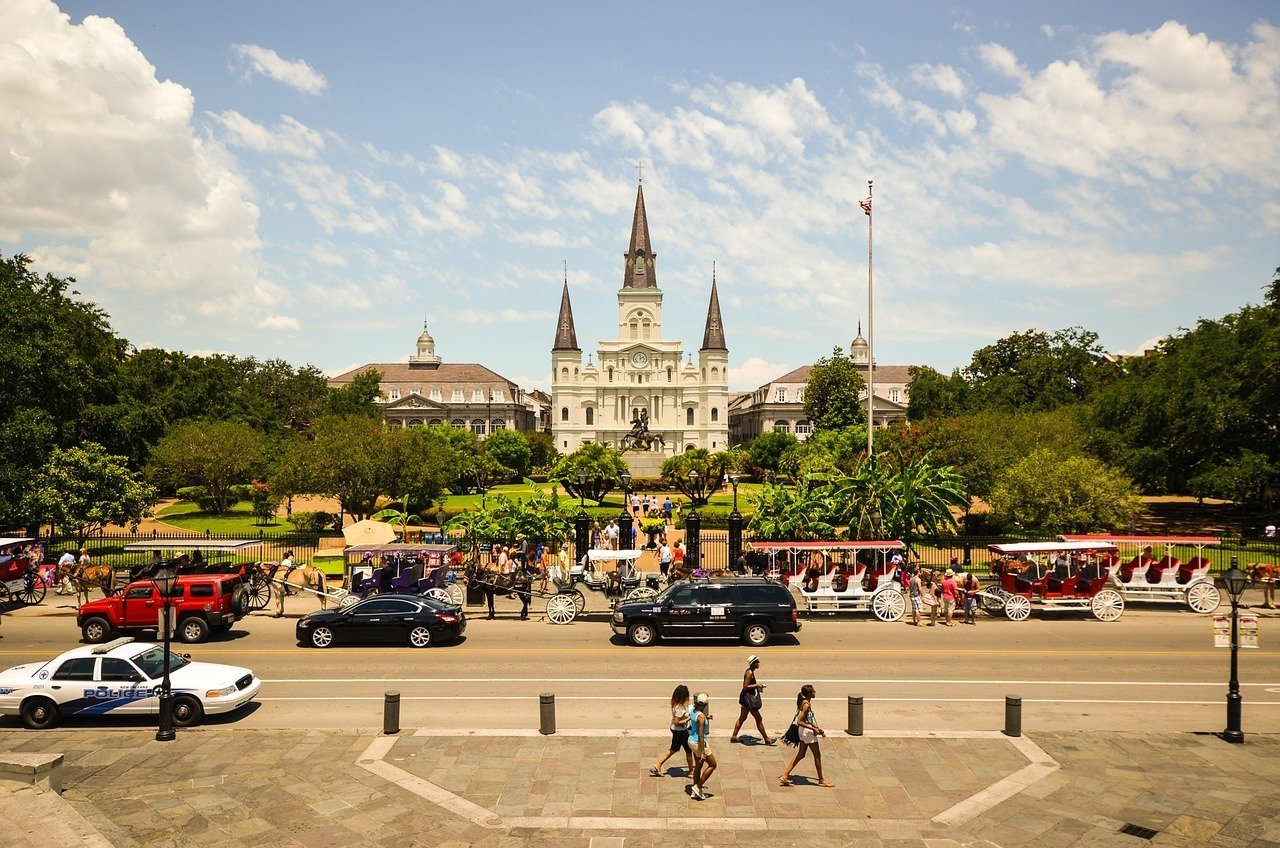 Jackson Square is one of New Orleans' most recognizable landmarks. Located right in the center of the French Quarter, this lively hub has a lot going on! And sometimes you might just feel like watching it all unfold.
An open-air artist community thrives in the square, who utilize it as their studio. Wander the square and see the artists at work for yourself, sit down for a moment, or simply admire the work they have on display.
Street performers love to entertain in the square. From dancing to jazz music and magic shows, this square is prime for people watching!
Entrance: Free
Hours: 08:00-18:00
Address: 701 Decatur St, New Orleans, LA 70116, United States
Where to Stay in New Orleans
Looking for a specific place to stay? These are our highest recommendations for places to stay in New Orleans.
We've prepared a summary of our highest recommendations for the best hostel, best Airbnb, and best hotel in town. If you're looking for a unique or luxury vacation rental in New Orleans, check out our separate guide on this.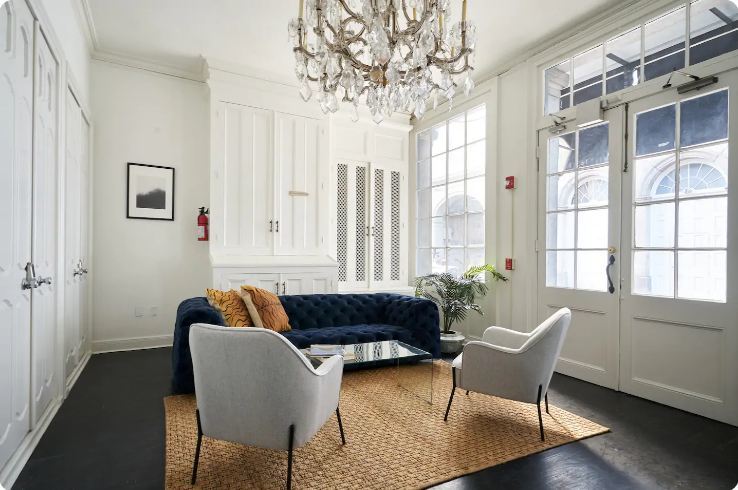 Smack dab in the middle of the French Quarter; you can find this hidden gem apartment with a pool and many other amenities. It's in an authentic historic Lousiana building that really gives you that feeling you expect when visiting a timeless city. You can everywhere from here, which is great for getting to know the city!
View on Airbnb
The Auberge NOLA Hostel is centrally located in New Orleans. It is close to cafes, shops, eateries, and more. It has private and dorm-style accommodations, large common rooms, and a shared kitchen and bar. All of this combines to make this our recommendation for the best hostel in New Orleans.
View on Hostelworld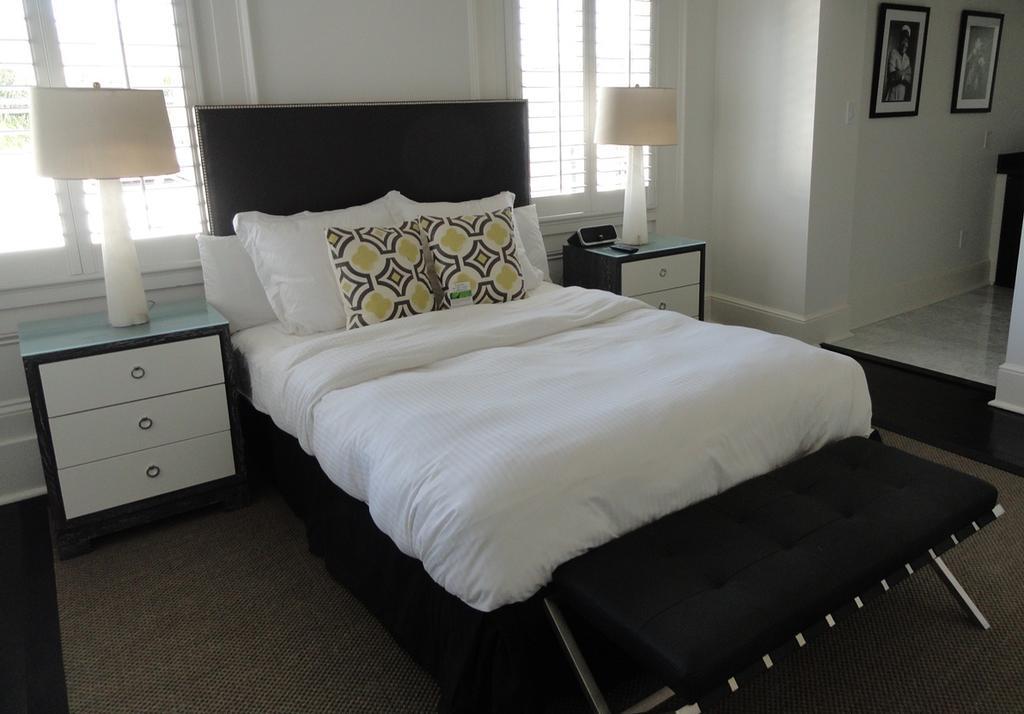 The Melrose Mansion is bursting with charm, elegance and class. This great three-star hotel is centrally located and it's only a short walk to the lively Bourbon Street. It has a fitness center, outdoor pool, and great art deco décor. Everything you could expect from a nice hotel, and a great bang for your buck.
View on Booking.com
Some Additional Tips for Visiting New Orleans
There you go! By now, you've probably got quite the list of things to do in New Orleans. Before you set off on your journey, though, we have just a few extra tips that might come in handy while planning:
Unsure about the weather? Plan your New Orleans itinerary and find out the best time to visit this wonderful city.
From the budget bed and breakfasts in town to the top luxury lodges, there is not a shortage of excellent places to stay in New Orleans.
Bring a good water bottle with you and avoid buying single-use plastic ones!
Wondering if New Orleans is safe? The short answer is, it depends on where you go and how you carry yourself. Read our safety guide so you can ease your mind during your trip!
Feeling extra fancy? Take your trip to the next level and book a stunning hotel in the heart of New Orleans.
Invest in travel insurance! You never know what may happen on the road.
Find cheap flights. Every once in a while, a killer deal pops up.
FAQ on Things to Do in New Orleans
Here are some quick answers to common questions about what to do and see in New Orleans.
Don't forget your travel insurance for New Orleans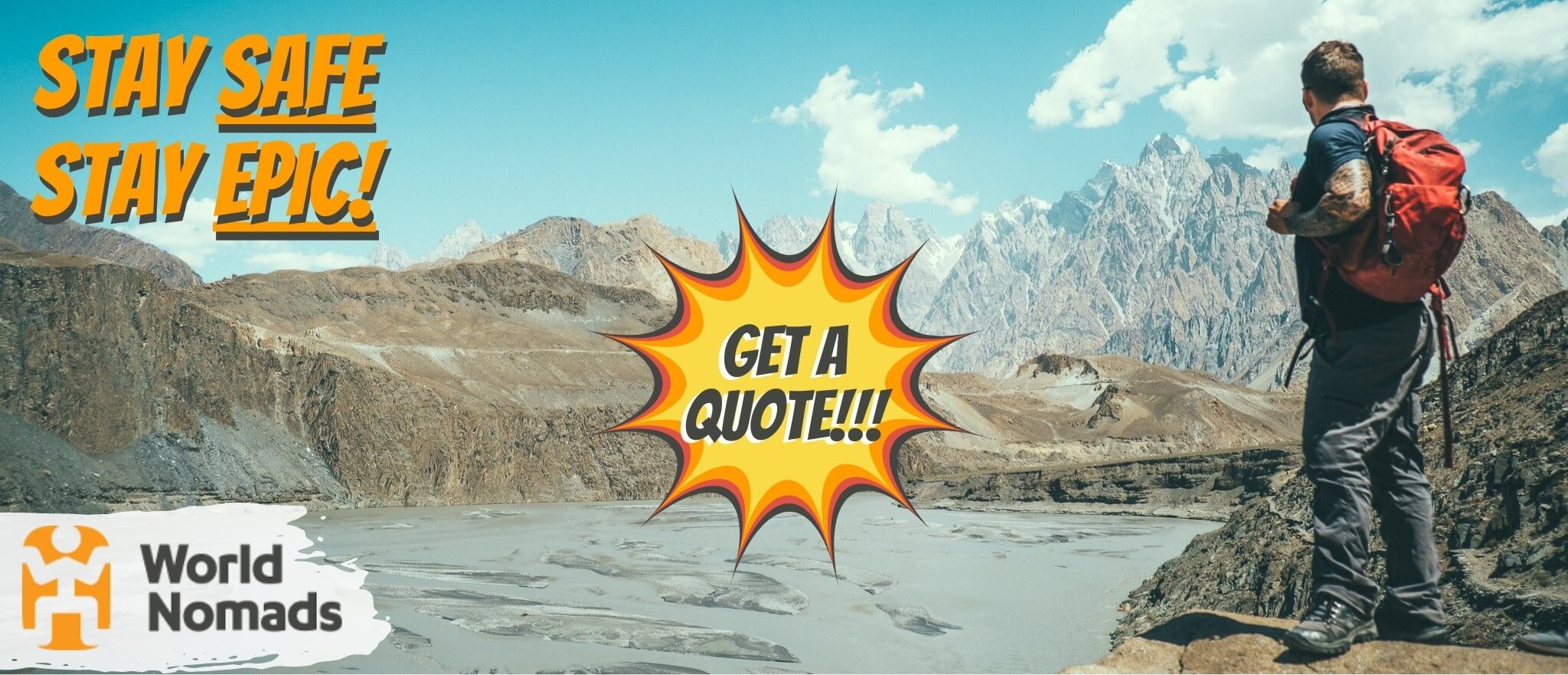 World Nomads' mission is to support and encourage travellers to explore their boundaries. They offer simple & flexible travel insurance, and safety advice to help you travel confidently.
They've been doing it since 2002 – protecting, connecting, and inspiring independent travellers just like you.
Get a quote below or read our in-depth review!
Get a Quote
Or Read Our Review!
Conclusion
We hope you enjoyed our guide to the absolute best things to do in New Orleans. We've made sure to include all of the city's most famed attractions, as well as to add some hidden gems and a few weird ones to the mix.
Each of them will allow you to take in the city's exuberant atmosphere in a different way, so you can get to know all of its intricacies.
New Orleans has so much to offer to travelers. From lively jazz music to haunted attractions, and everything in between, this fun-loving city just knows how to please!
---
And for transparency's sake, please know that some of the links in our content are affiliate links. That means that if you book your accommodation, buy your gear, or sort your insurance through our link, we earn a small commission (at no extra cost to you). That said, we only link to the gear we trust and never recommend services we don't believe are up to scratch. Again, thank you!