Last week my wife and I rented a cabin in the Sierra Nevada foothills for our vacation. Of course, we brought with us our adventure dog, Nova.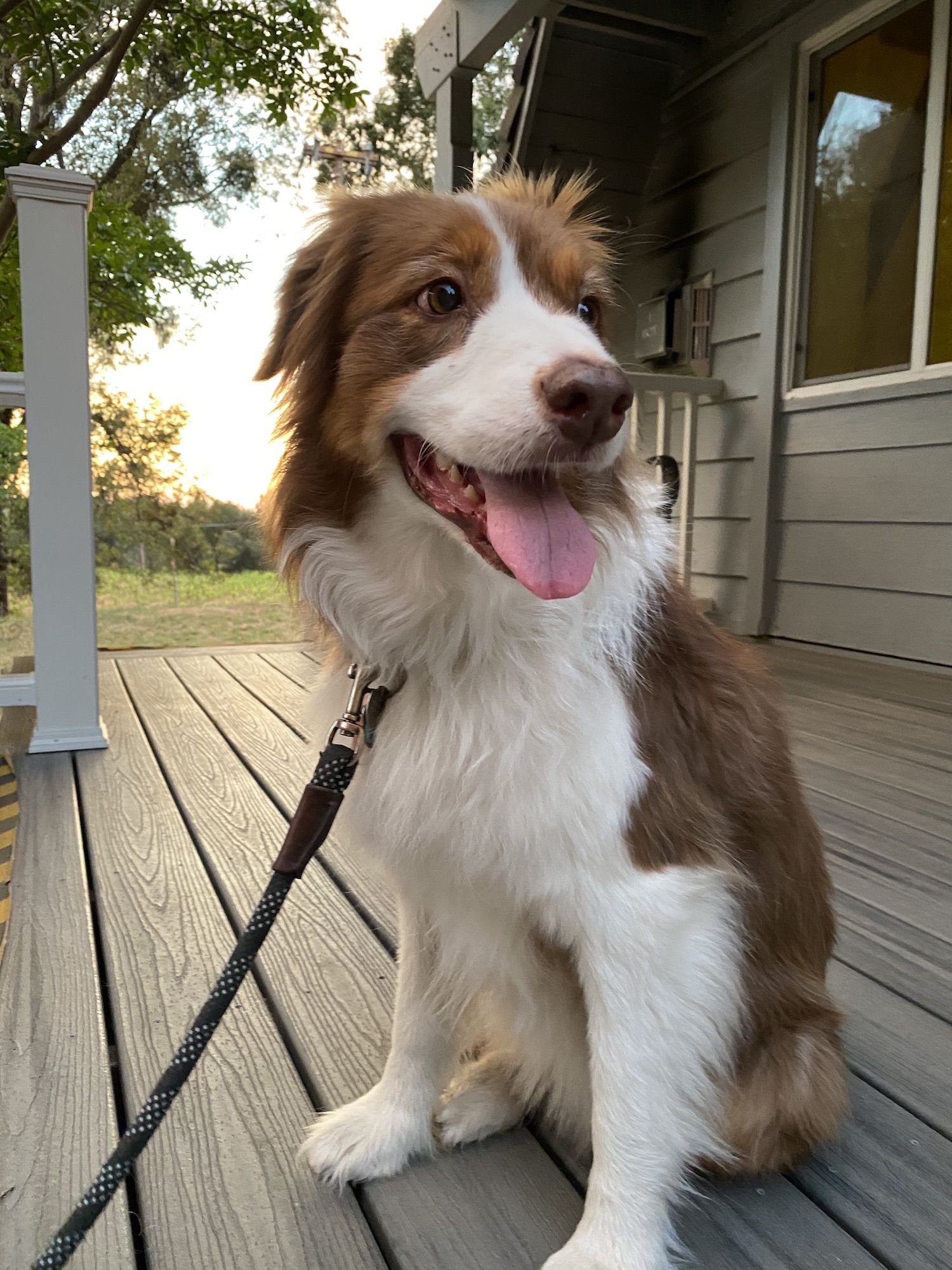 One of the activities we looked forward to the most was hiking up in the Sierras around Lake Tahoe. I've hiked there a good deal, both the Tahoe Rim Trail and Desolation Wilderness, but I didn't know any shorter hikes suitable for dogs.
Here are four excellent dog-friendly hikes, complete with stats and maps.
1. Lake Margaret
Length: 4.7 miles
Elevation gain: 760 ft
Type: Out and back
Difficulty: Easy
Trailhead: Lake Margaret Trailhead
The trailhead fills up fast, so get there early. There are no restrooms at the trailhead.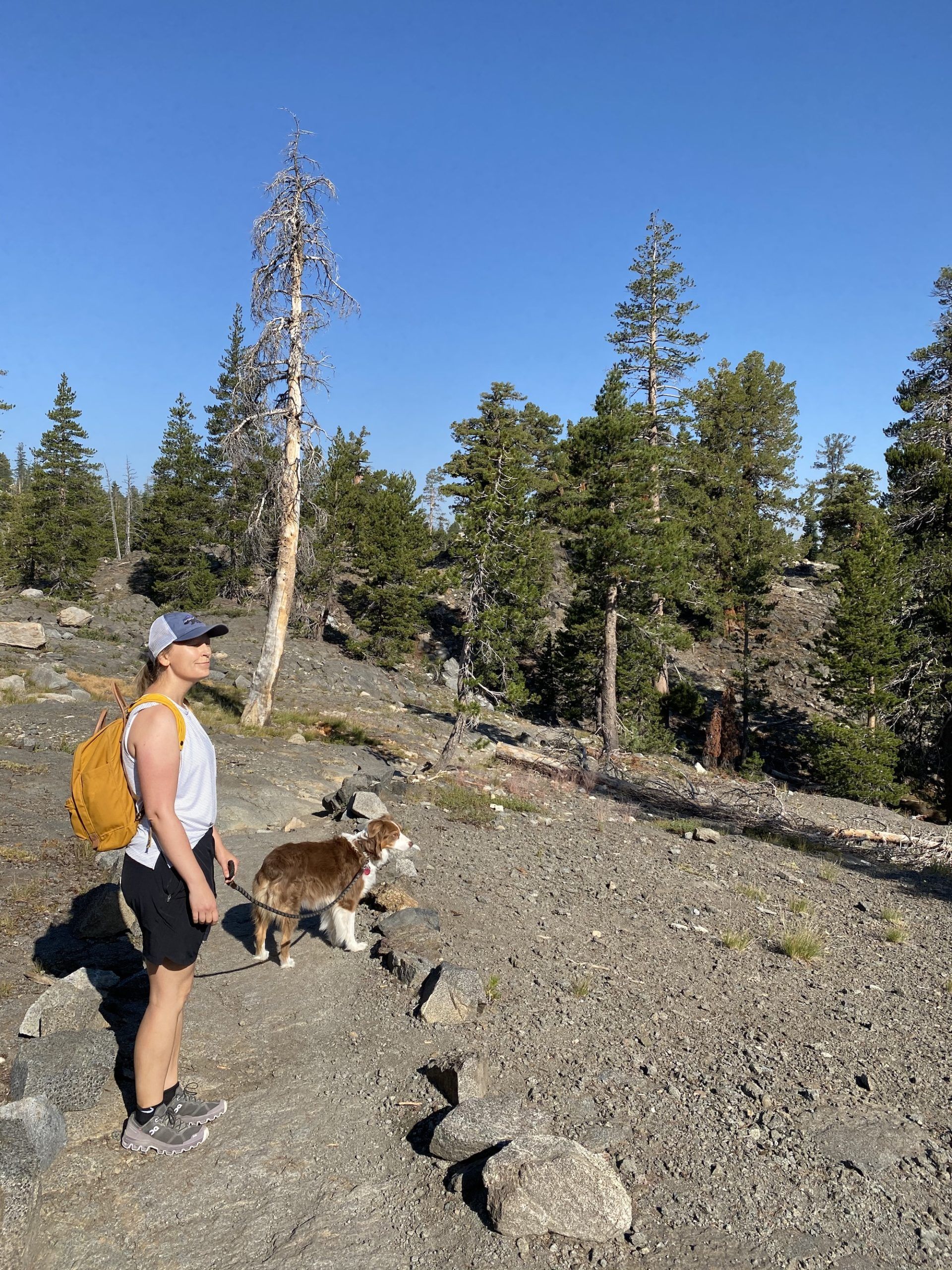 The trail descends over a rocky surface down to a beautiful meadow along Capels Creek. We stopped to fish for a while and caught a couple small brookies. There were mosquitoes, but they weren't bad.
The trail climbs over a rocky ridge from the meadow and then drops back down to a small pond. From there, it follows a creek with thick vegetation until the last scramble up to the lake.
The last climb is the only slightly tricky climb of the trail. Our Aussie was able to do it on her own, but you may need to help smaller dogs in some sections.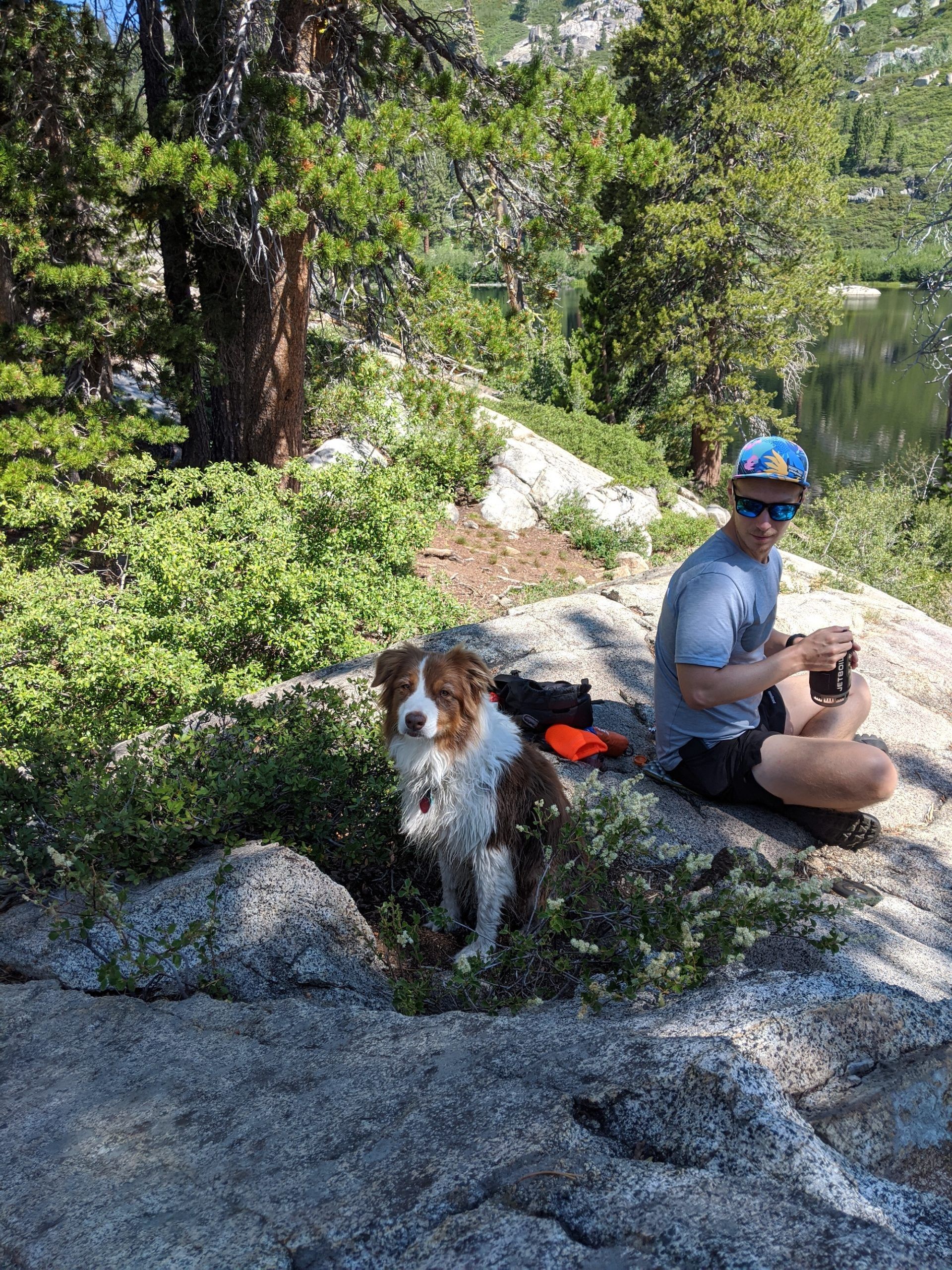 Lake Margaret has a rocky shore to the east and offers several sweet spots for lunch. People were jumping off the cliffs to go swimming. Nova also went swimming.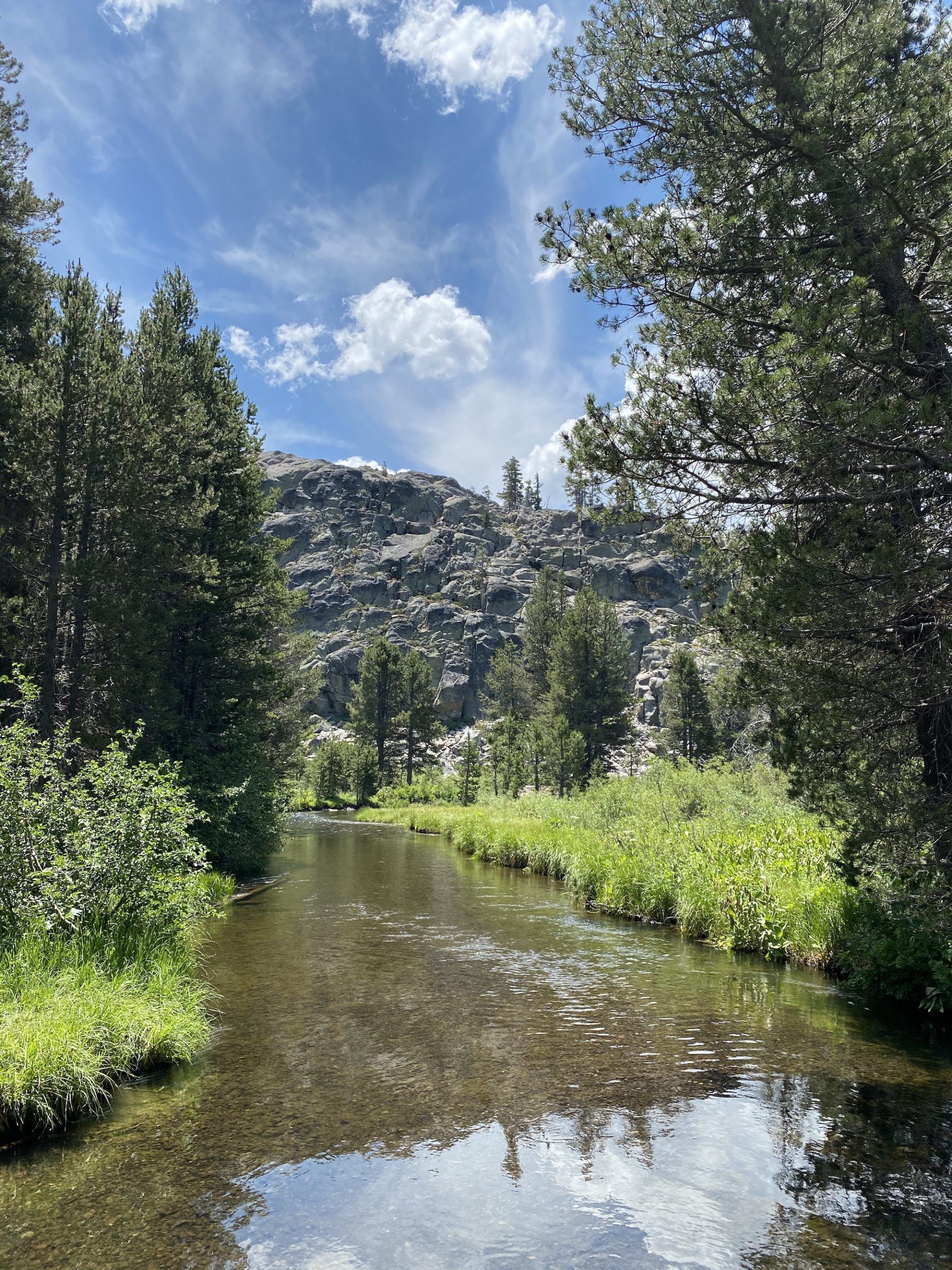 The Lake Margaret trail was busy on a weekday, but not crazy. We were able to find a private, secluded spot for lunch.
2. Winnemucca Lake from Carson Pass
Length: 4.7 miles
Elevation gain: 790 ft
Type: Out and back
Difficulty: Easy
Trailhead:  Carson Pass PCT Trailhead
There are two PCT trailheads at Carson Pass. The trail starts at the southern trailhead. Parking is $5, and there are restrooms.
The trail starts out in a pleasant forest, passing a small pond. It's a constant slight incline all the way to the lake, but it never gets too steep.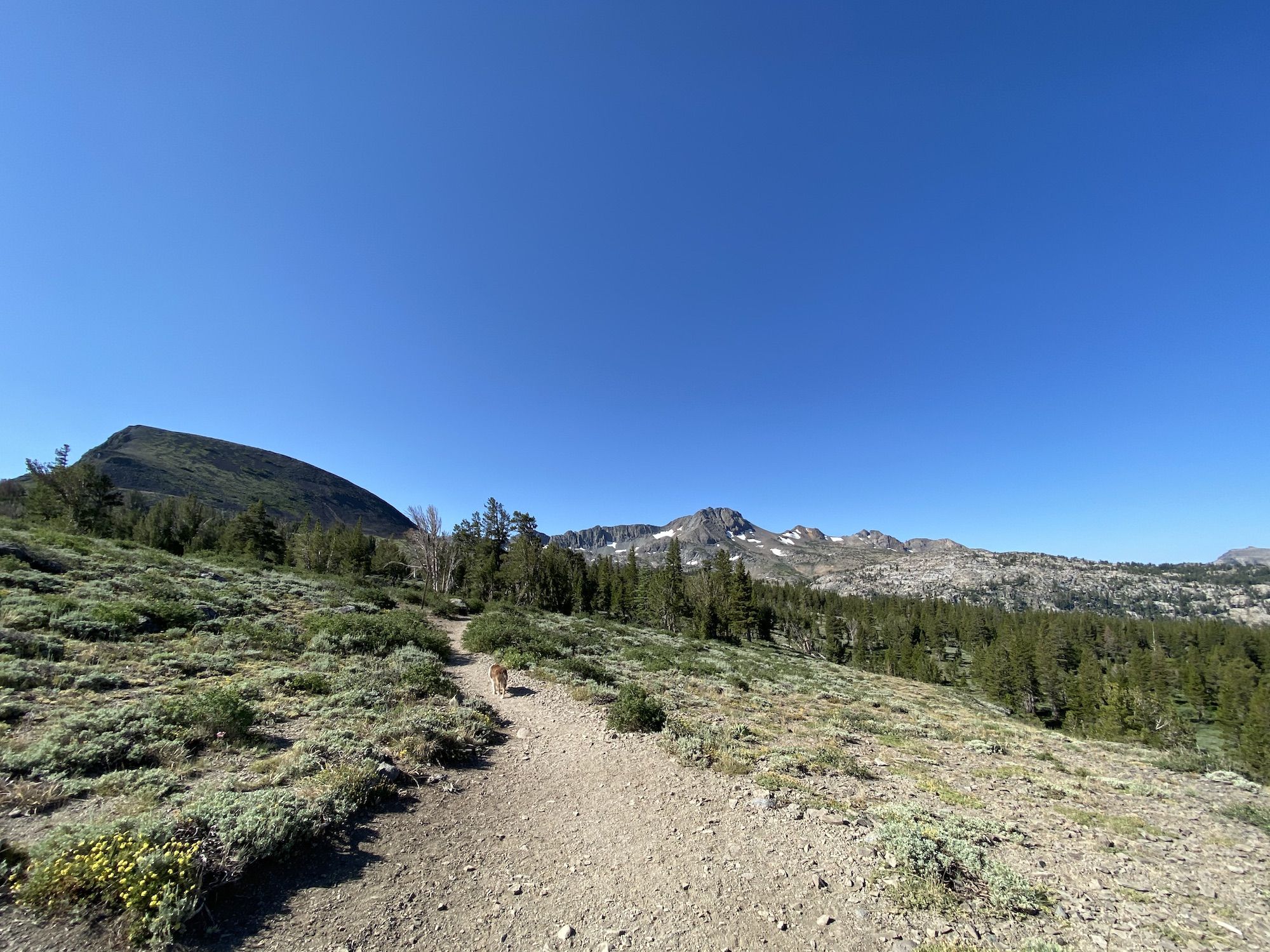 After a while, the trail breaks through the trees into low shrubs. There are beautiful wildflowers if you do the hike in June or July. The level vegetation lets you take in the full view to the west, with Caples Lake in the distance.
The trail passes Frog Lake (you might miss it on the way out as it's behind you), then forks from the PCT towards Winnemucca Lake.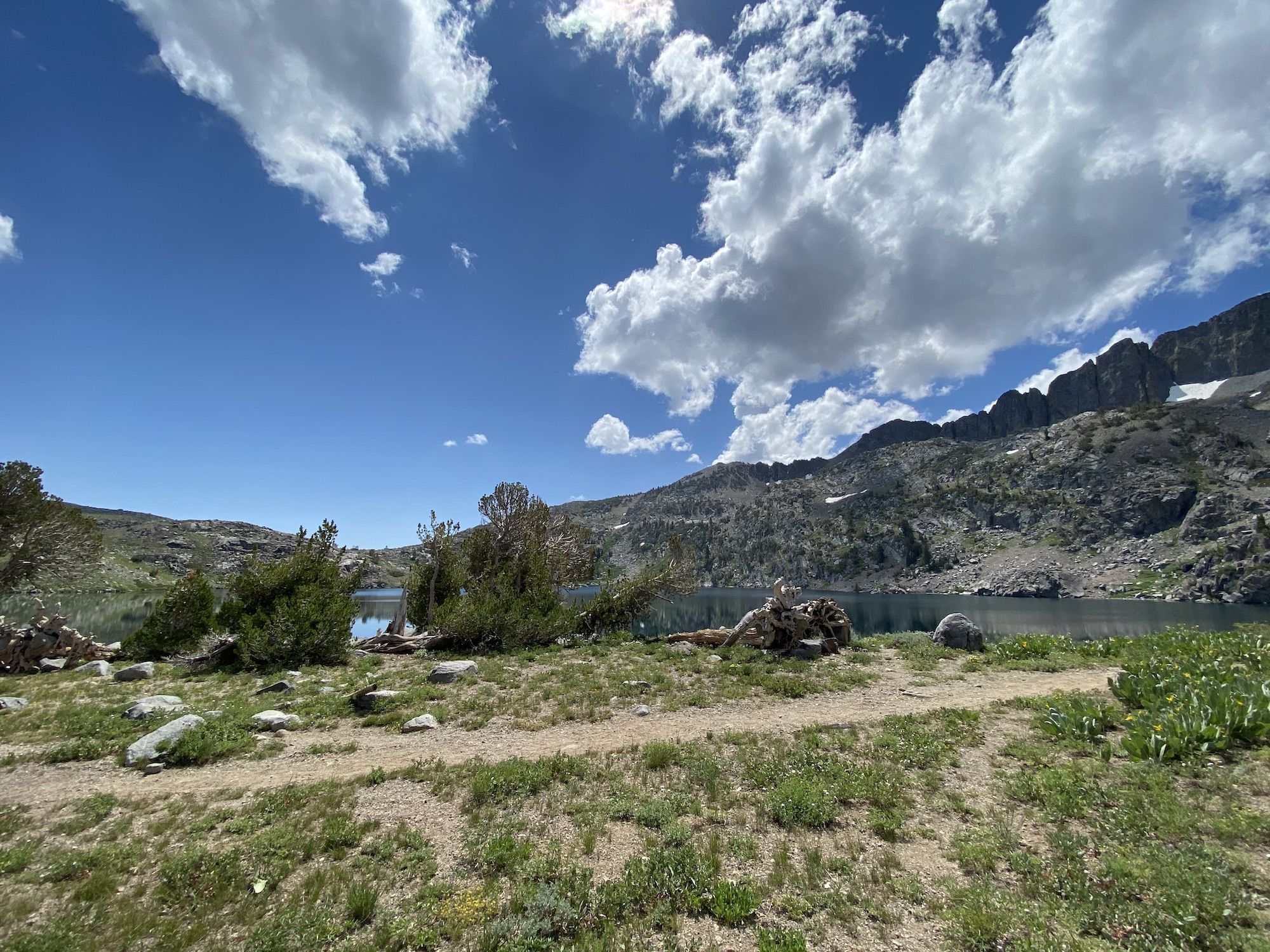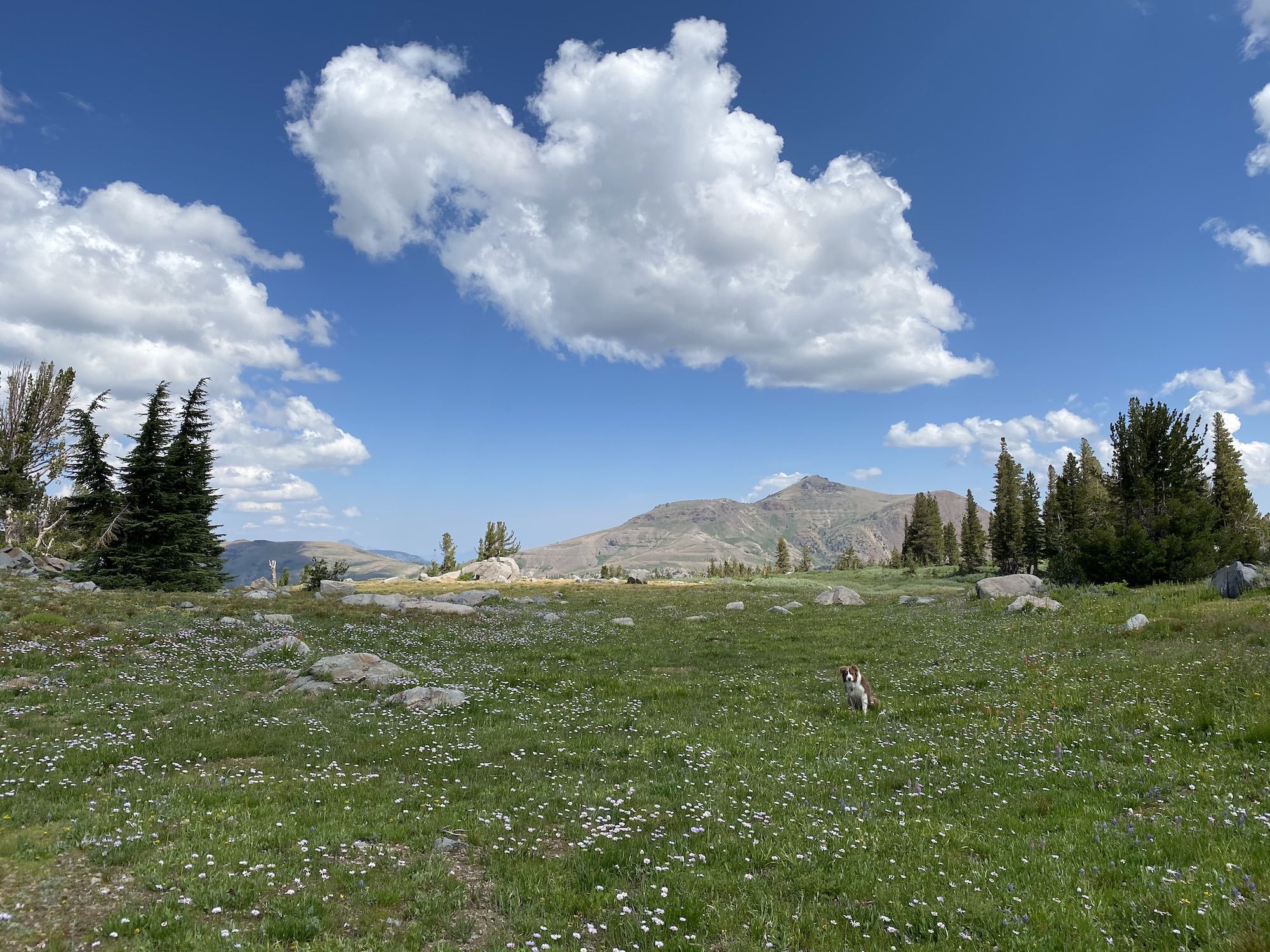 There are several good spots for swimming and lunch along the lake. The lake has small brook trout as well if you're into fishing.
This is a very popular hike, so expect a lot of traffic and not a lot of solitude. Get there early as the parking lot fills up quickly.
3. Twin Lakes and Island Lake from Wrights Lake
Length: 6 miles
Elevation gain: 1,300 ft
Type: Out and back
Difficulty: Moderate
Trailhead: Twin Lakes Trailhead
Turn off Hwy 50 to Wrights Road and follow it for 9 miles to the trailhead. The road is narrow and rutted, but ok with a standard car as long as you keep your eyes open and avoid a few bigger ruts.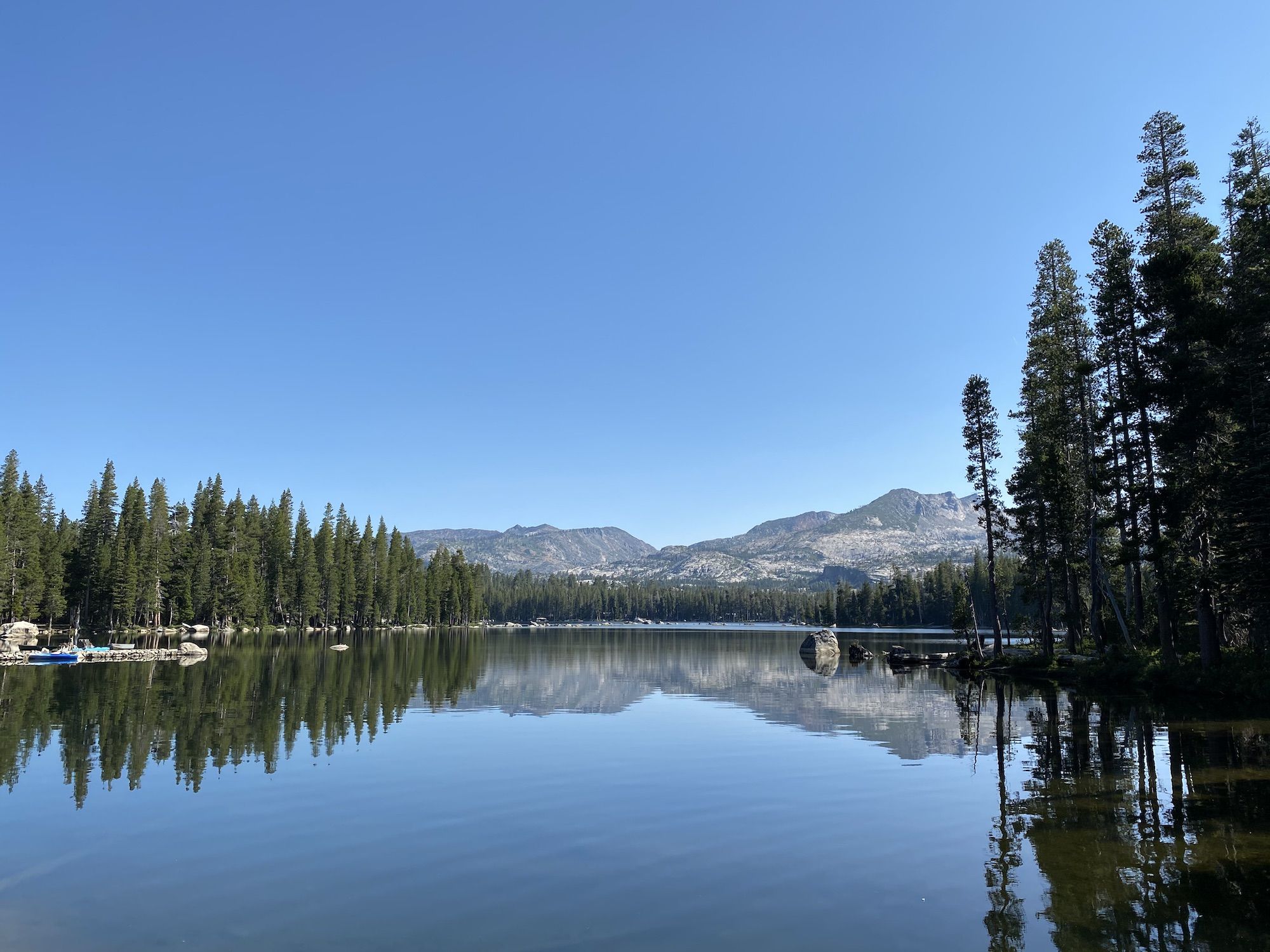 The trailhead parking lot fills up quickly. We were greeted by a sign telling us to park at the overflow lot and hike in. It's a one-mile flat hike from the overflow lot to the trailhead. Parking is free at the overflow lot, $8 at the actual trailhead. There are restrooms at the start of the hike.
The trail starts out along the edge of the marsh surrounding Wrights Lake. After about a third of a mile, it starts climbing up toward the lakes over large granite rocks.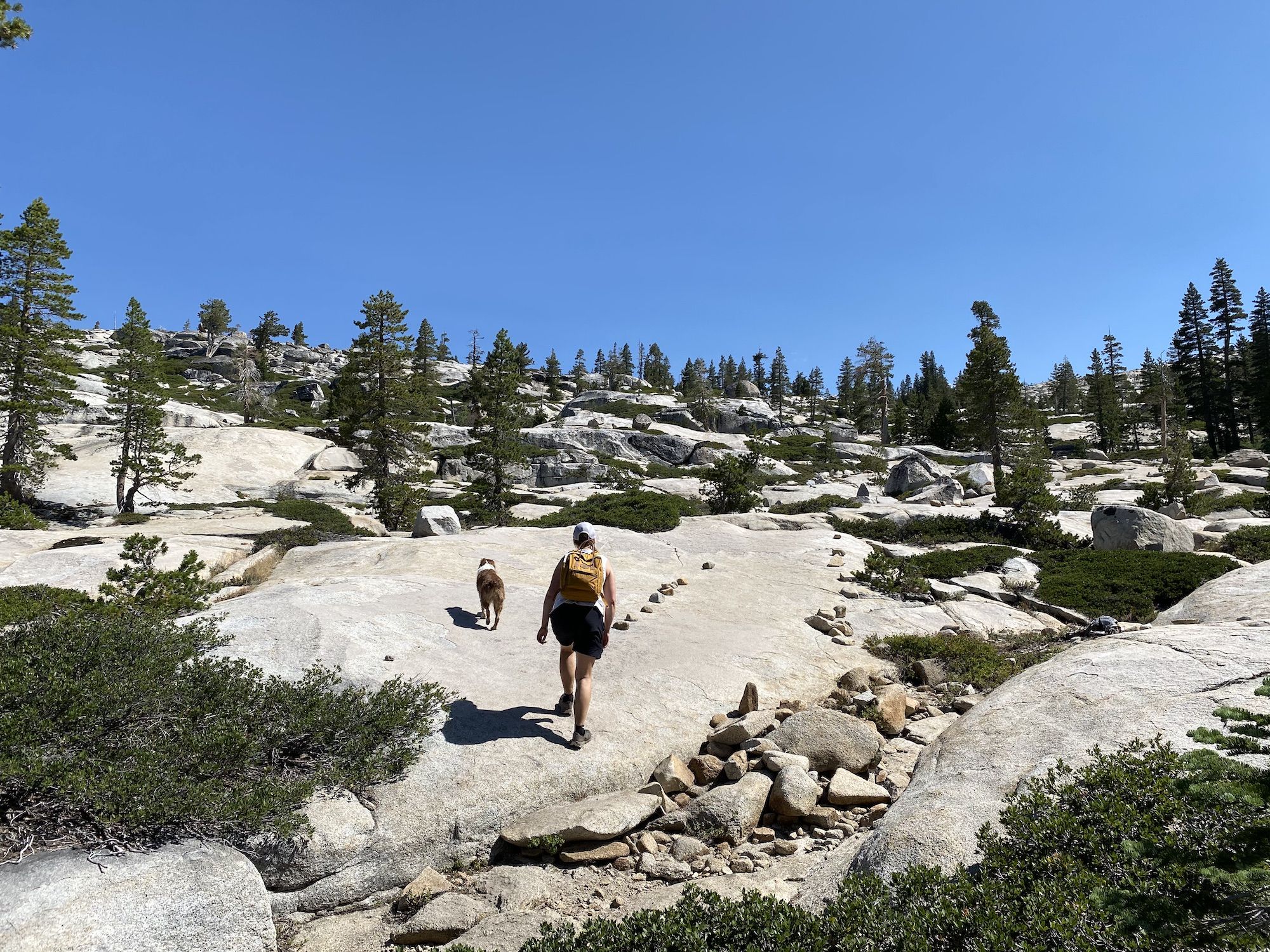 The climb offers beautiful views but can be hot as there's very little shade on the way up. About halfway, the trail crosses a small creek where you can fill up on water if needed.
Be sure to keep your eyes open for cairns and marker rocks on the granite, the trail can be easy to lose at times.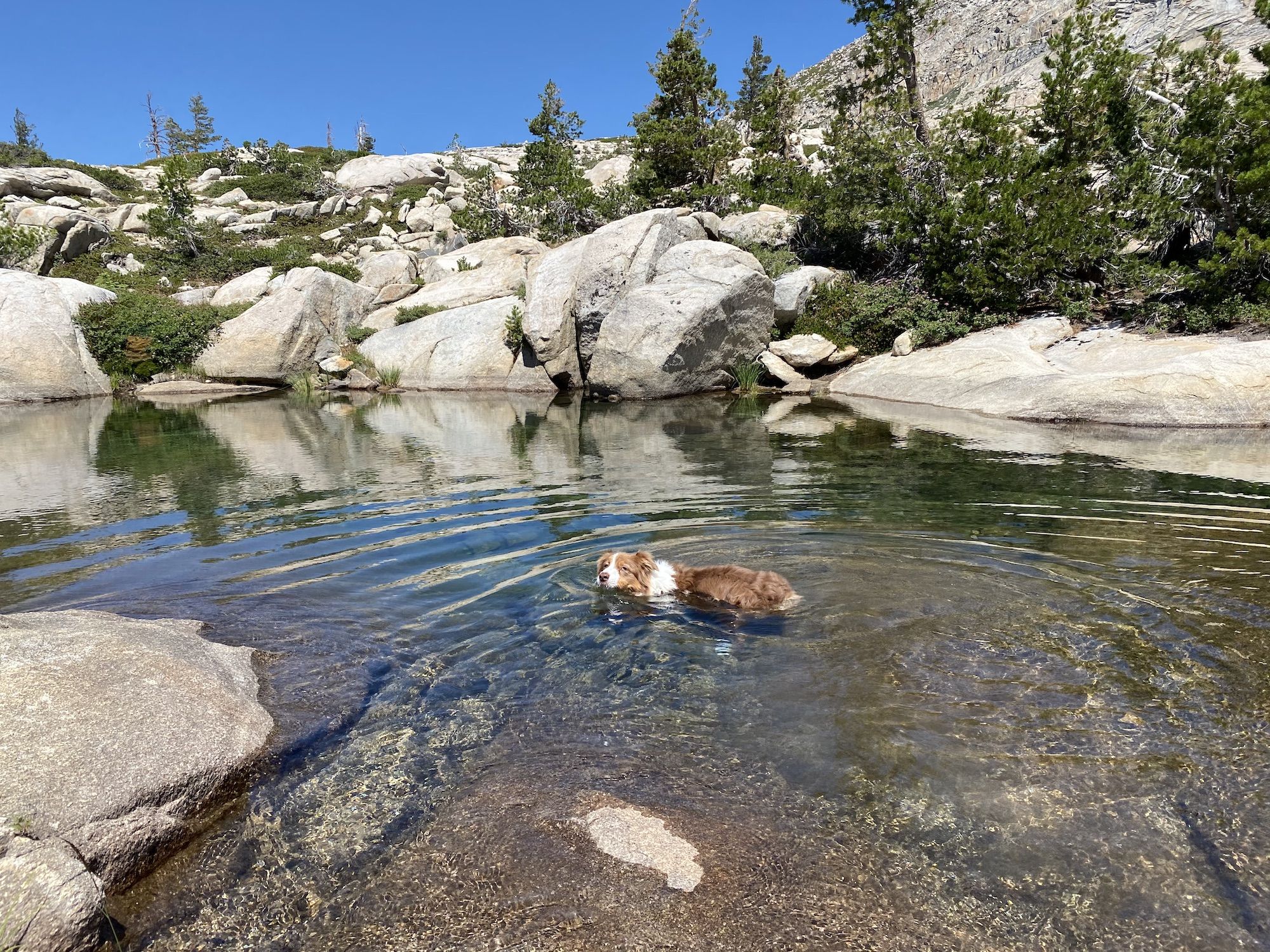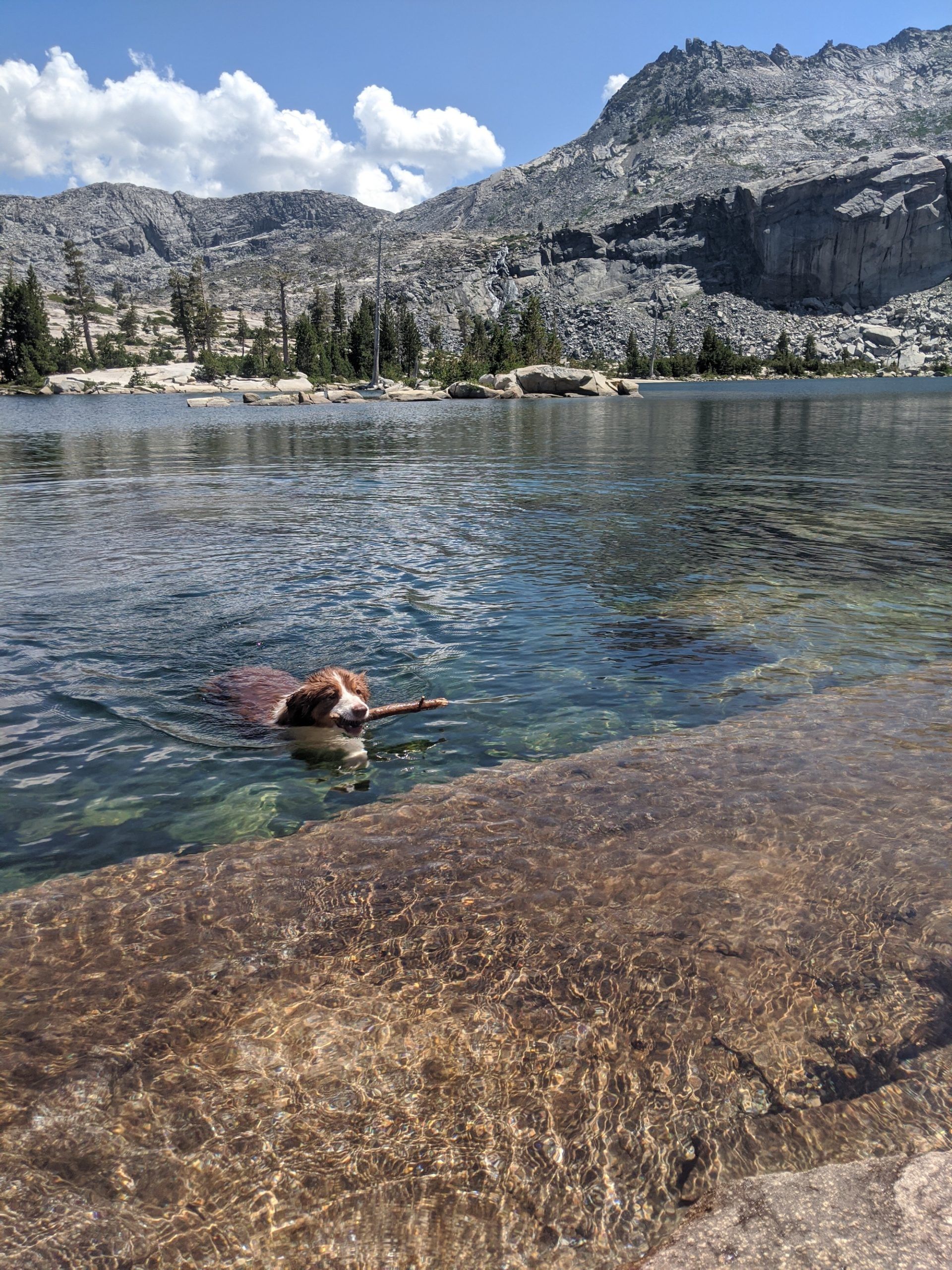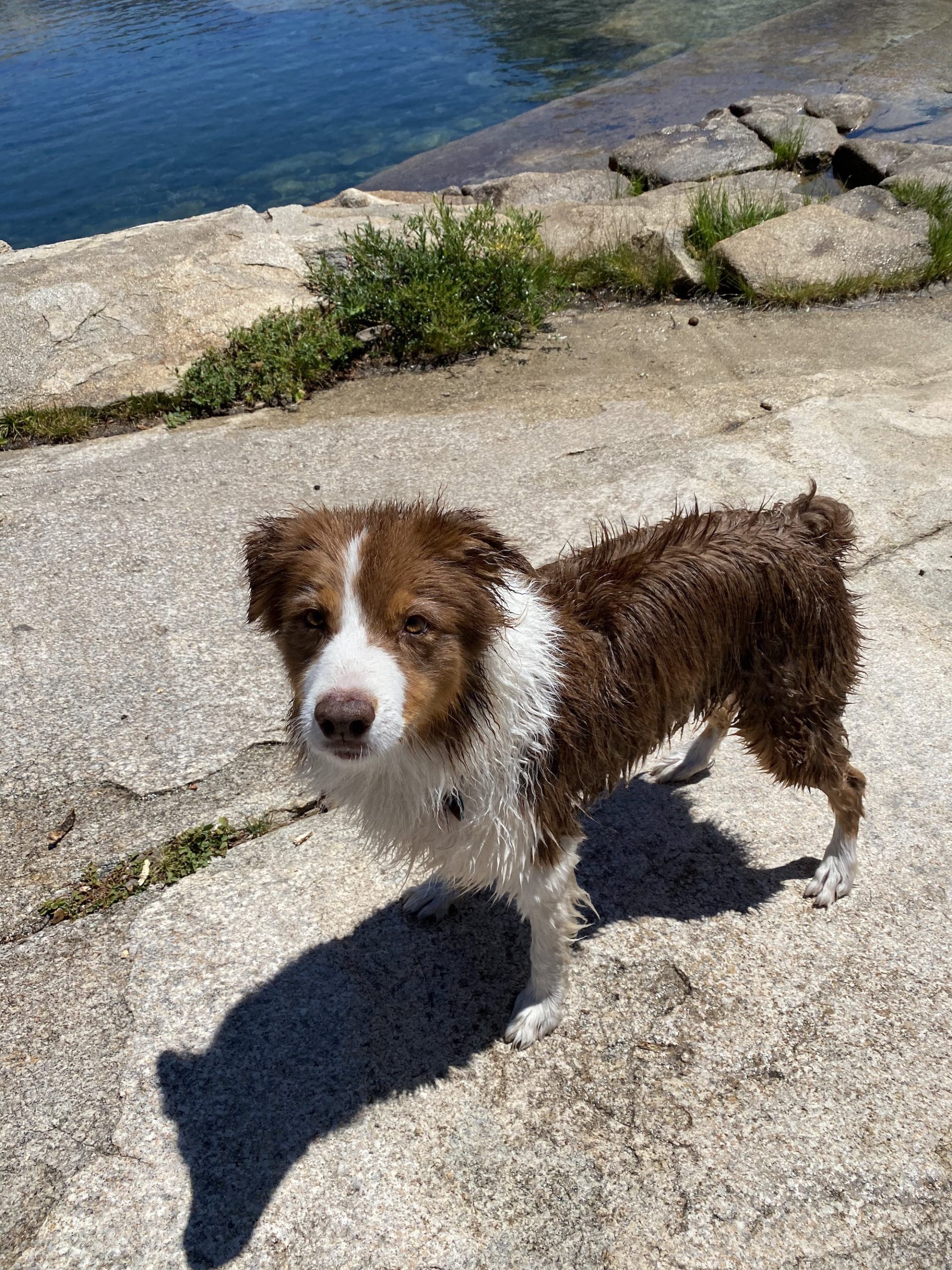 There are several great spots for swimming and fishing along the lake. The trail to Island Lake crosses the lake outlet and becomes rockier as it ascends the last 200 feet to Island Lake, passing several small ponds.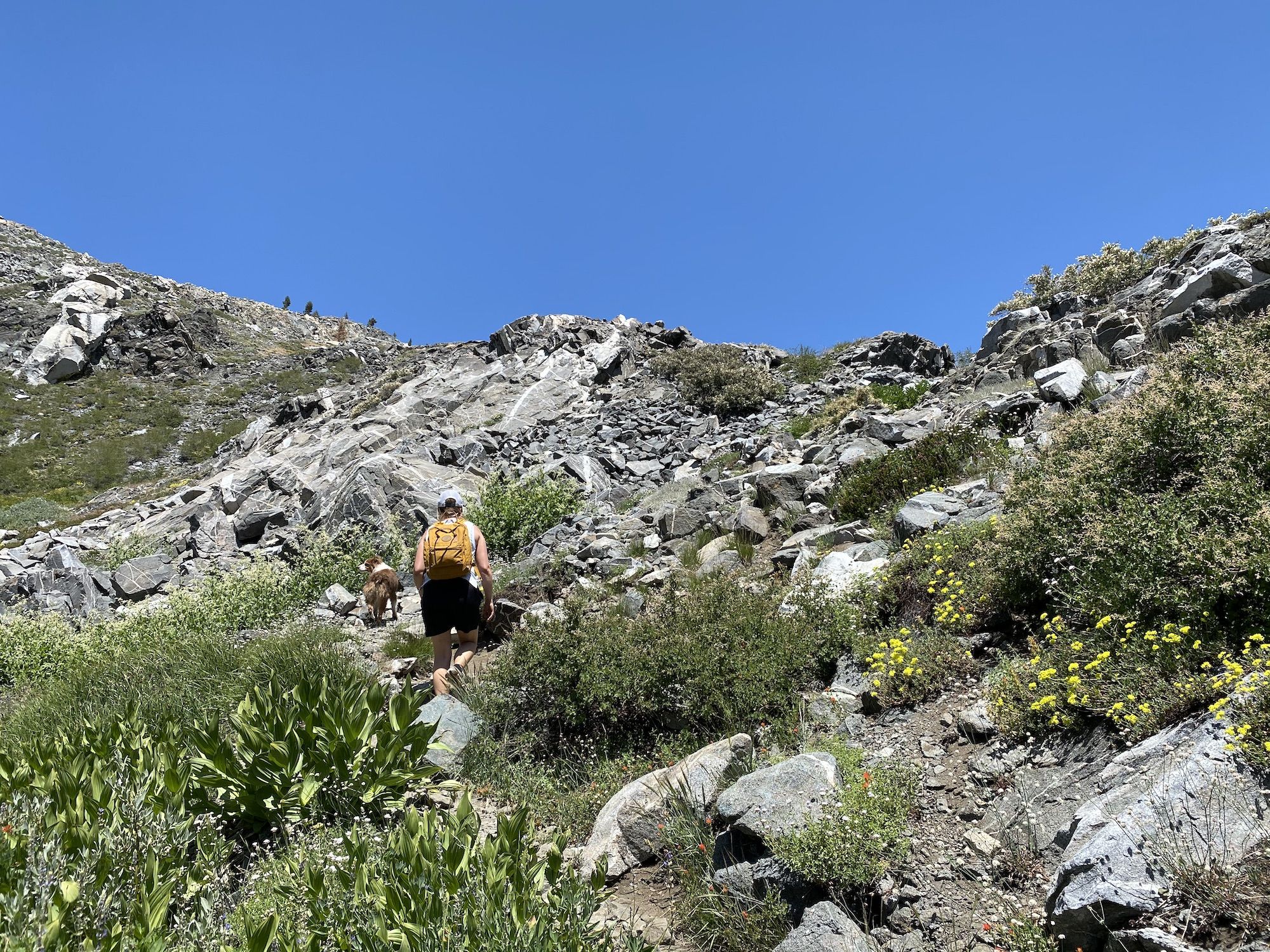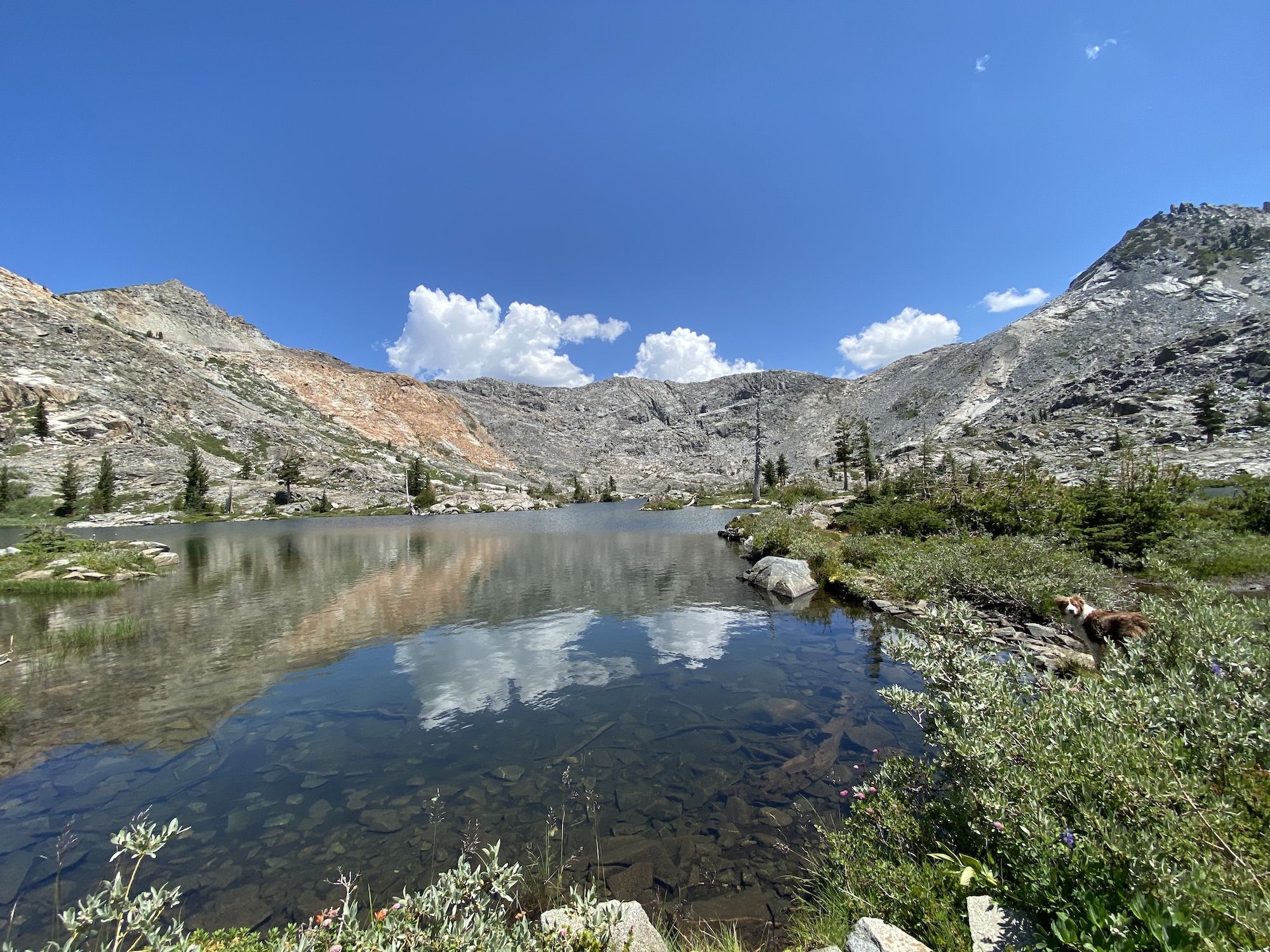 Island Lake is different than Twin Lakes, with a more vegetated shoreline. When we were there, the rangers had put out gillnets in the lake to remove all fish to save an endangered frog species.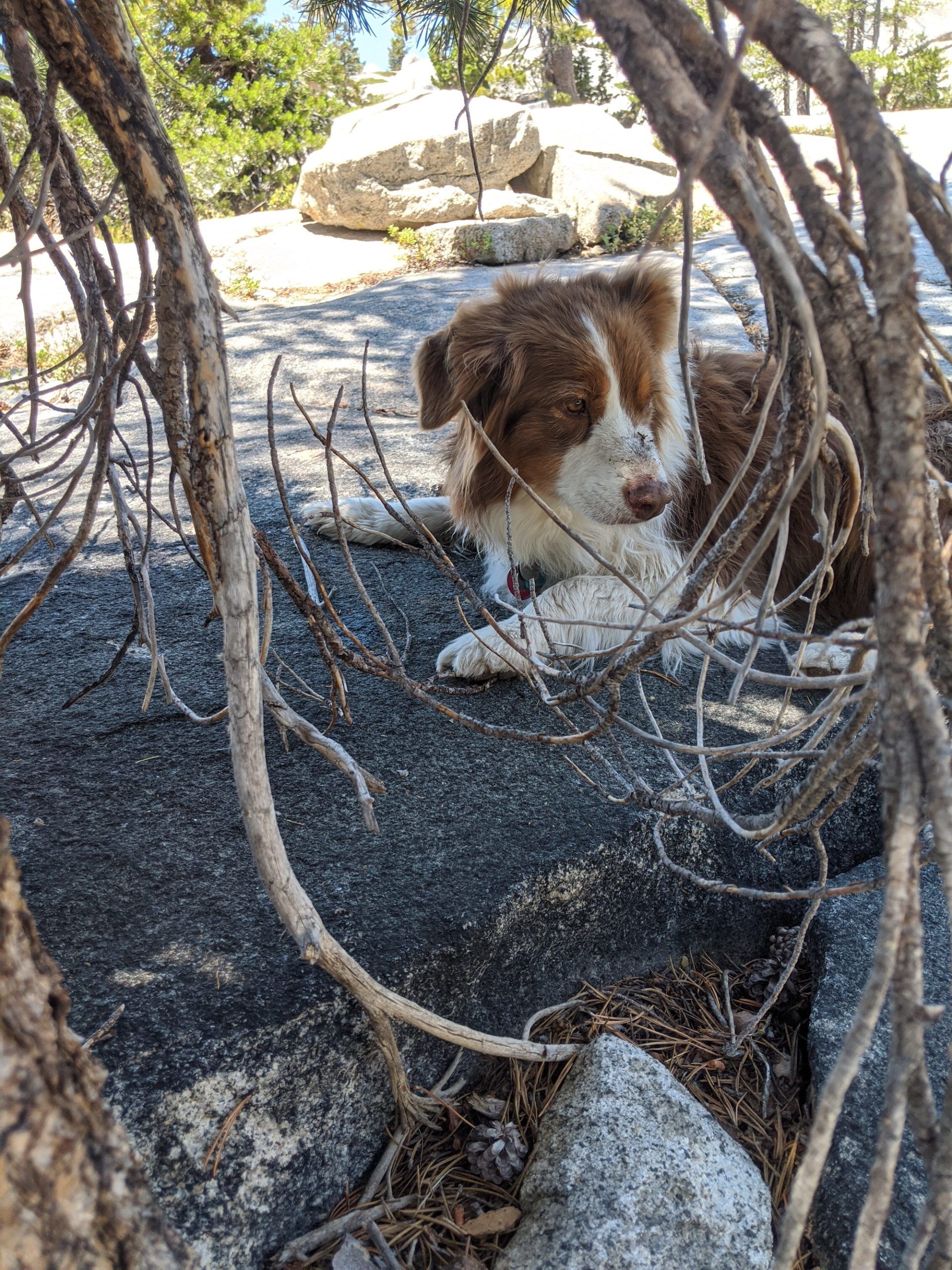 The Twin Lakes trail was our favorite of the hikes. Although it was reasonably popular, we could still find solitude and enjoy the lake in peace.
4. Winnemucca Lake and Round Top Lake from Woods Lake
Length: 5.3 miles
Elevation gain: 1,410 ft
Type: Loop
Difficulty: Moderate
Trailhead: Woods Creek Trailhead
This is an alternate to the Winnemucca trail from Carson Pass. It's less crowded and visits two lakes. I definitely recommend it over the alternative if you're up for the extra climbing.
The parking is $8, but you can park for free a bit farther, on the other side of the bridge. There are restrooms at the trailhead.
Going clockwise, the trail starts through an open forest, crossing a few tiny streams. After a while, the forest gives way to lower brush and views. If you do the hike in June or July, there are lots of wildflowers.
Read more Yosemite in April: Gushing Waterfalls and a Peaceful Valley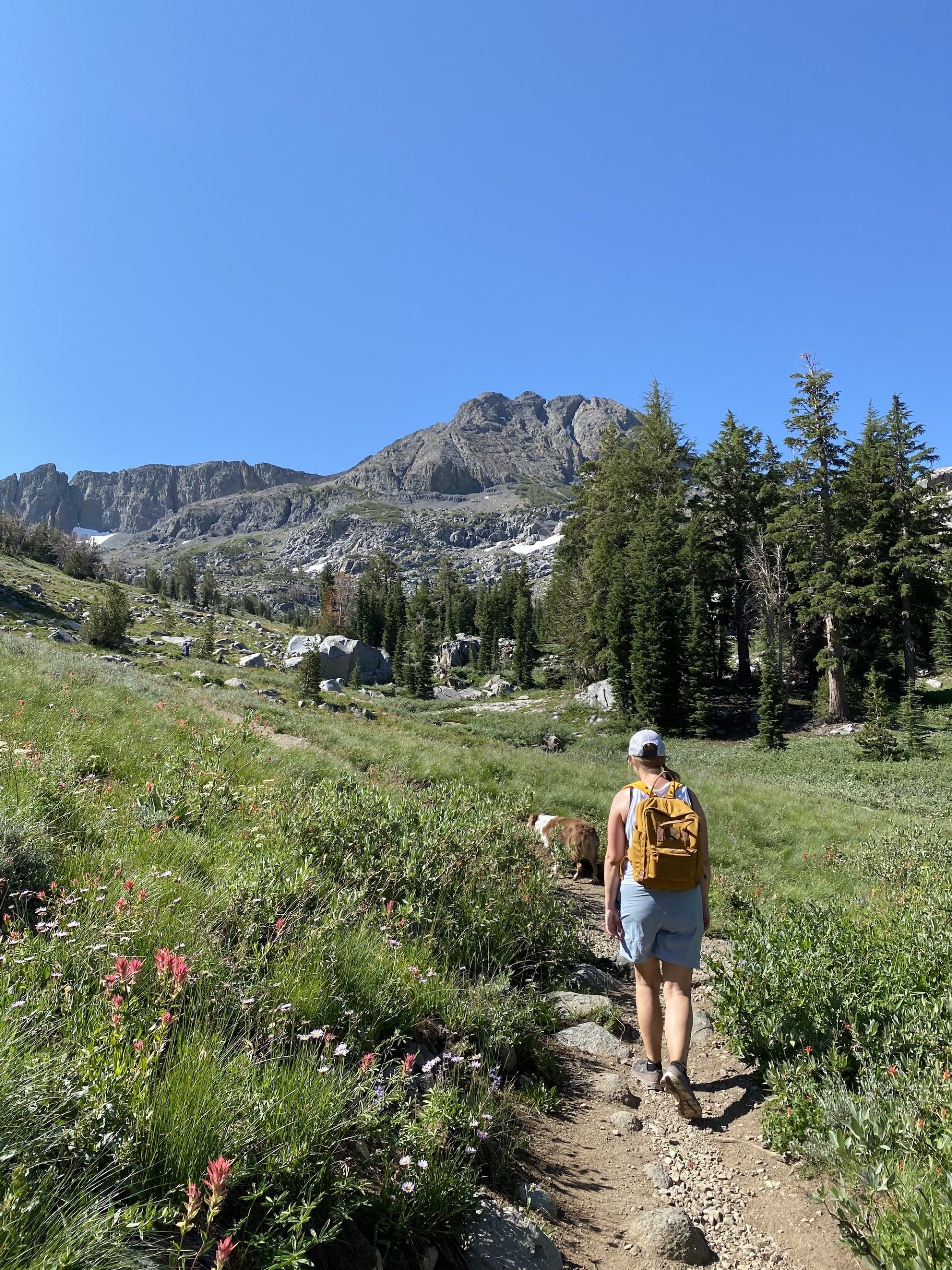 We stopped for lunch at Winnemucca lake, letting Nova swim. The lunch allowed us to break up the climb into two parts, making it more manageable.
The trail climbs another 500 ft to a small pass from Winnemucca Lake before descending to Round Top Lake. The second lake is shallow and has thick willow along much of the shoreline, making it a bit more challenging to reach for swimming or getting water.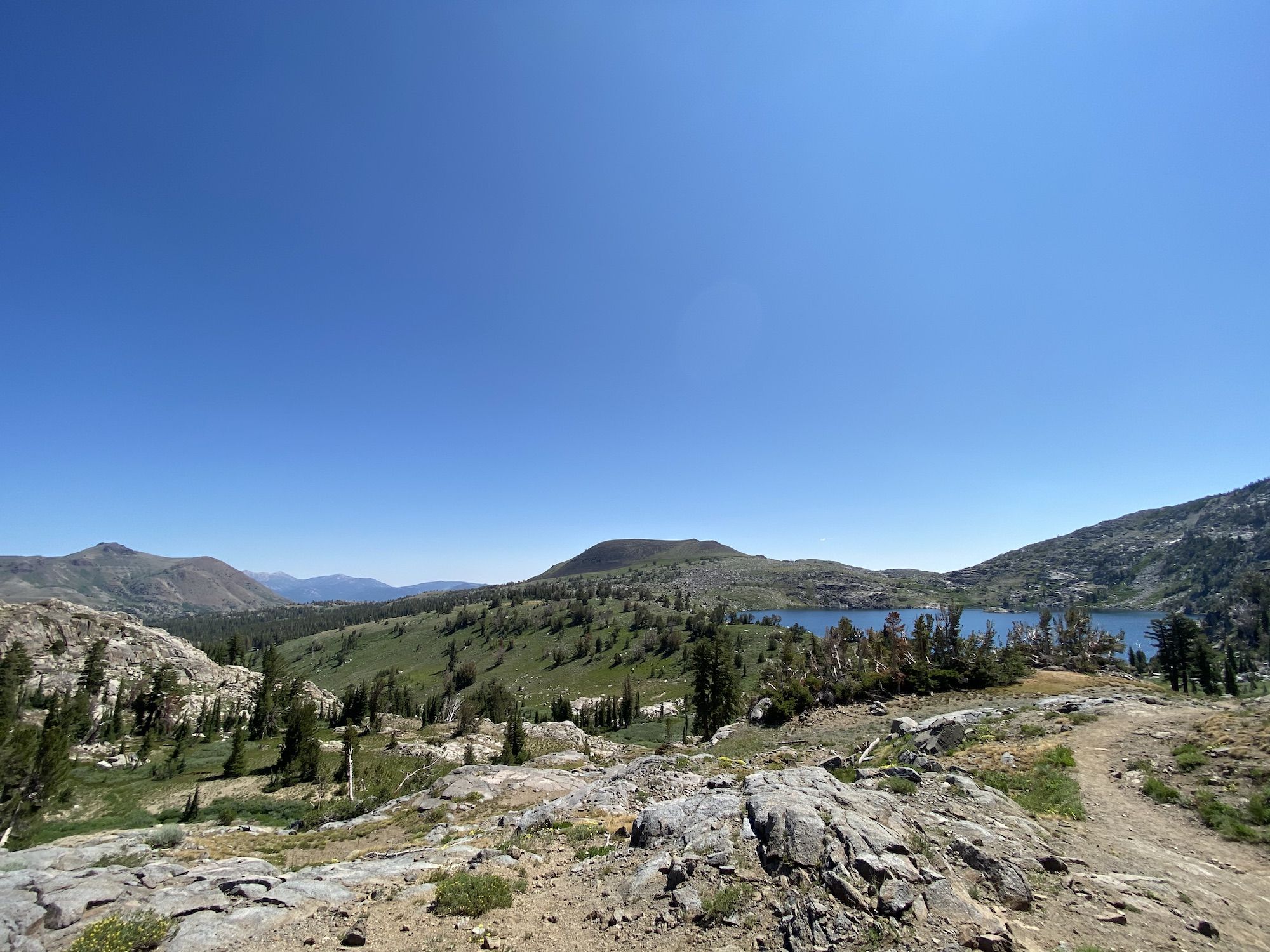 Round Top Lake was absolutely packed with people. We found a small grove of pines along the lake that gave us a bit of solitude for a coffee break.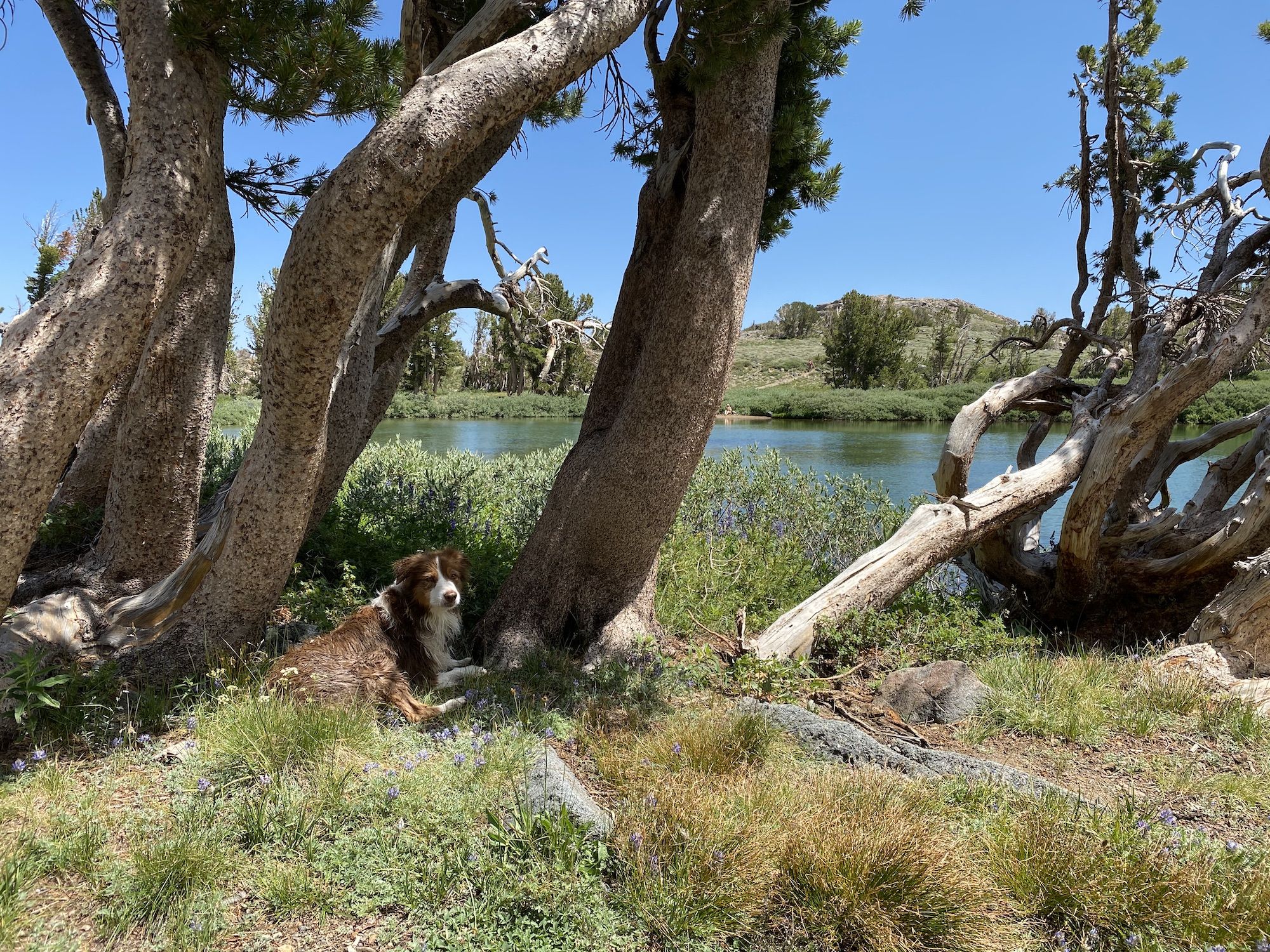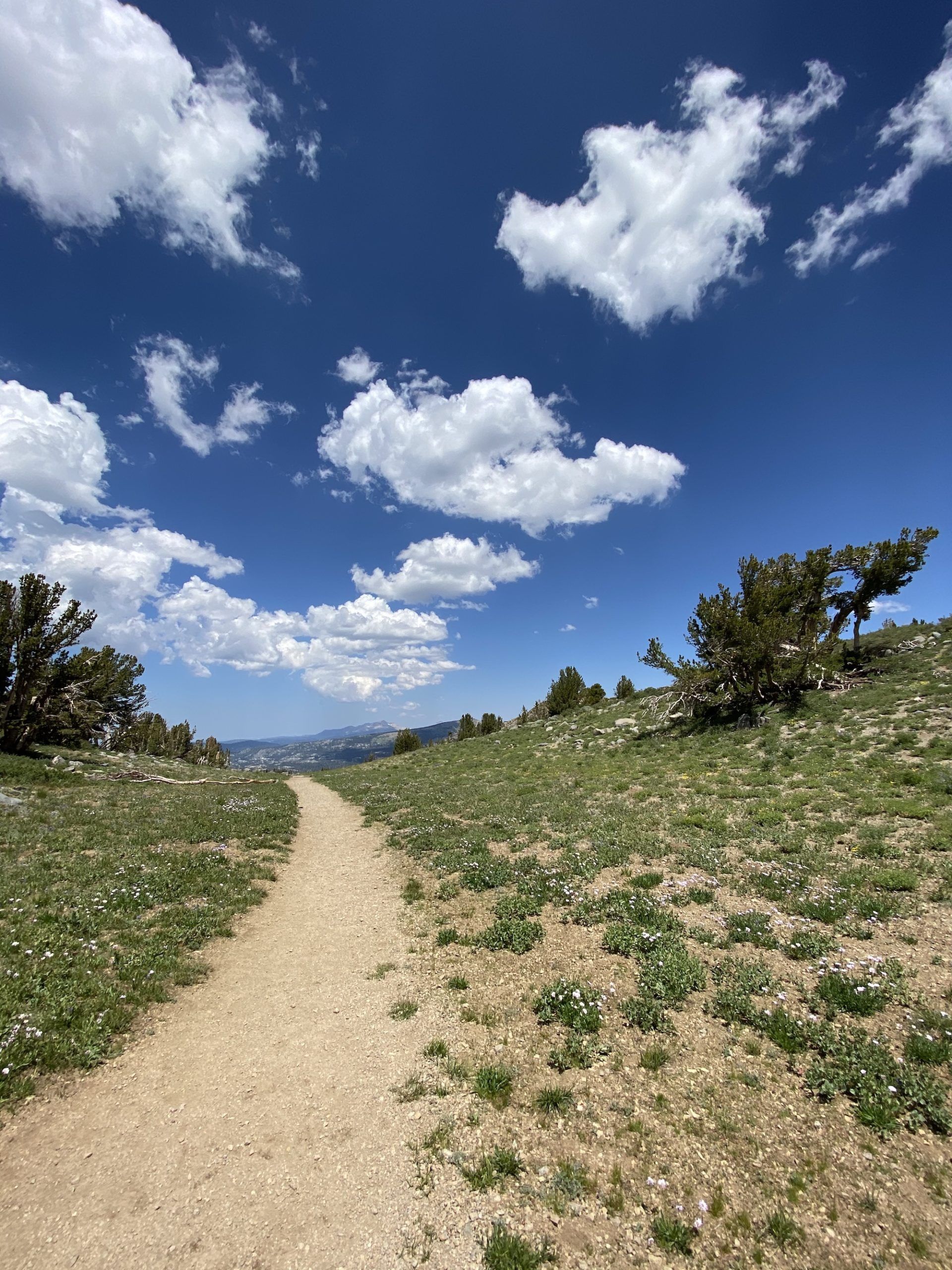 From the lake, the trail descends through meadows, then forest back toward Woods Lake. About halfway down, you pass an old mine and the remnants of an old truck.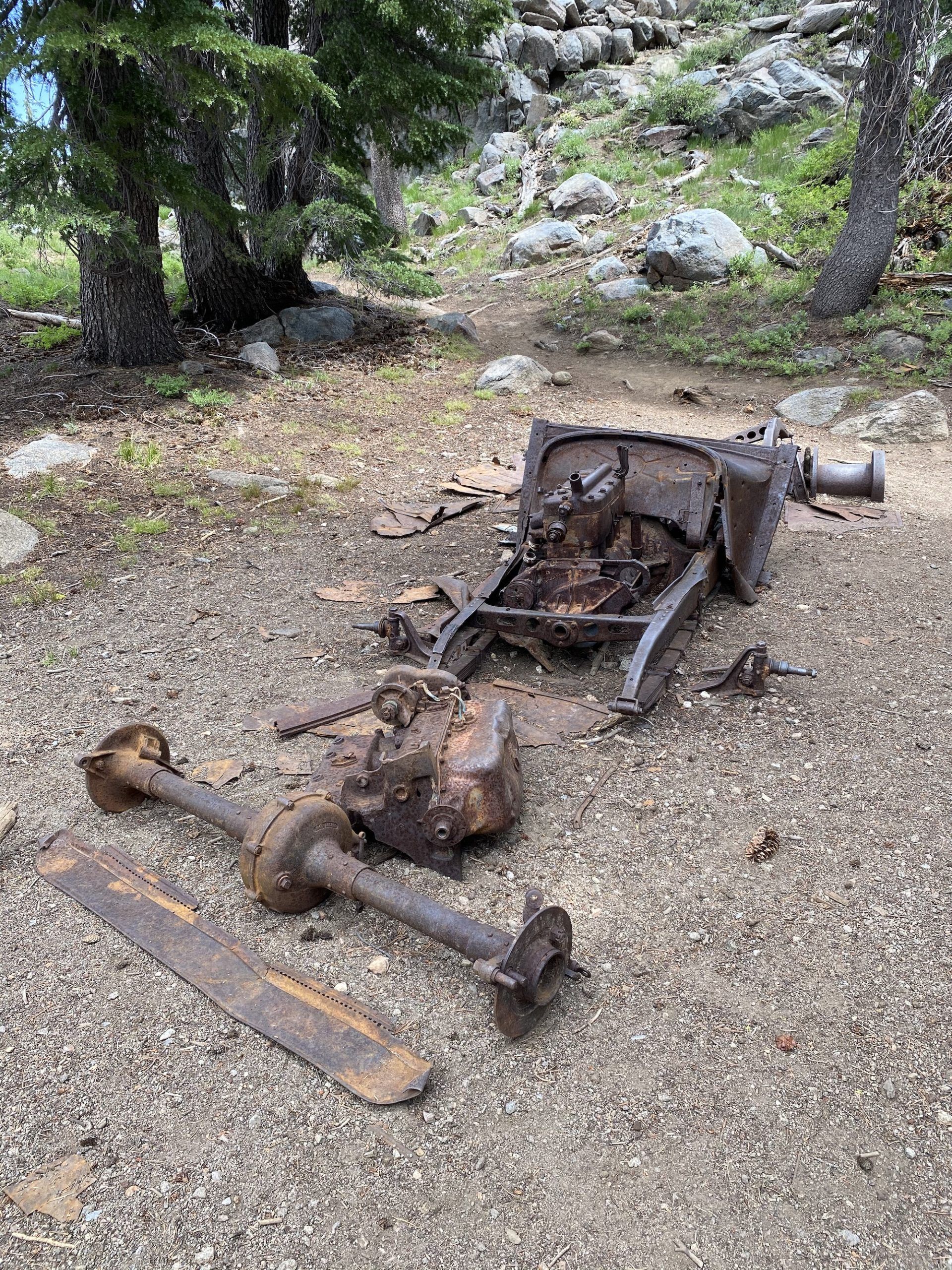 You'll see Woods Lake below you as you descend, but the trail doesn't pass by it unless you take the spur trail to the campground.
---
— Update: 20-03-2023 — cohaitungchi.com found an additional article A Dog Friendly Guide to Lake Tahoe from the website longhaultrekkers.com for the keyword dog friendly hikes south lake tahoe.
Lake Tahoe is the most-visited national forest in California and one of the most popular tourist destinations in the Sierra Nevada. This dog-friendly guide to Lake Tahoe will reveal the best hikes, places to stay, and outdoor activities to enjoy with your pup.
Between the 180s and the 1930s, conservationists made many attempts to designate Lake Tahoe as a National Park, however, it never achieved the status due to suspicions of foul play and fear of heavy federal control.
That is good news for dogs owners, however, because it means that, unlike National Parks, dogs have more liberty to join their humans as they explore the region.
From hiking to paddle boarding, cross country skiing and snowshoeing, Lake Tahoe offers year round outdoor activities to enjoy with your pup.
I partnered with Hotels.com to bring you this dog-friendly guide Lake Tahoe.
Dogs and Lake Tahoe
Lake Tahoe sits at 6,224 feet above sea level, so if you are coming from sea level, make sure to take a day or two to acclimate both yourself and your dog to the altitude. Yes, dogs can experience altitude sickness!
Dogs are not allowed on any of the designated swimming beaches at Lake Tahoe, however, they are permitted in a number of areas along the lake (see below under 'beaches' for a few spots)
In the winter, the several groomed cross country trails allow dogs and there are plenty of snowshoeing options to enjoy with your pup.
If you do choose to bring your pet to Lake Tahoe, they must be on a 6ft leash at all times and always pick up their poop.
Dog-Friendly Hotels in Lake Tahoe
The majority of accommodations are located in South Lake Tahoe, just over the state line in California. Here is where all the amenities like tours, rentals, and grocery stores will be.
If you prefer a little less activity, there are plenty of hotels located all around the lake. on the itself loves and welcomes dogs.
Since travel today looks a bit different from normal, I encourage you to keep your safety and the safety of others in mind. Please travel responsibly.
If you do decide to travel during the pandemic, here is how I recommend doing so safely:
Wear a face mask. 
Bring hand sanitizer and wash your hands regularly
Check official websites before your trip for the latest updates on policies, closures, and status of local businesses.
Fill up with gas before you leave
Bring your own food and limit trips to local shops
Book a hotel with free cancellation in case you need to change your plans
Pet-friendly Hotel Chains in Lake Tahoe
Independent Dog-Friendly Hotels in Lake Tahoe
Dog-Friendly Camping in Lake Tahoe
Visitors can find camping all along the shore of Lake Tahoe. Depending on the season, these campgrounds are likely to be very busy. If you don't mind staying a bit further away from the lake, you can easily find some quieter spots.
Here are a few suggestions:
The Best Dog-Friendly Hikes in Lake Tahoe
The majority of the area surrounding Lake Tahoe is managed by the National Forest system, which means that dogs are welcome just about anywhere within the basin. Dogs must remain on leash within the Lake Tahoe Basin.
Alpine lake lover are in luck, as Lake Tahoe isn't the only lake around. The region is littered with gorgeous high alpine lakes throughout the basin.
Gilmore Lake
The moderate mileage and elevation gain to Gilmore Lake makes for a lovely day hike or overnight backpacking trip. With plenty of streams along the way, this is a great option for dogs in warmer weather.
Bears do frequent the area, so do be sure to pack your food in a bear-proof container if you plan to stay the night. And don't forget the bug spray! The mosquitoes are reportedly ruthless!
Lake Aloha Trail
This is one of the classic hikes in Lake Tahoe. Because of its popularity, plan to visit early in the morning, on a weekday, or in the off season.
The 13-mile hike is mostly flat, with only two sections of notable elevation change. If you'd like to stay overnight, contact the Placerville Ranger Station to obtain a permit.
The lake is drained in the fall, so plan accordingly!
Mount Tallac Trail
A challenging, but rewarding hike takes you to the top of 9,735-foot Mount Tallac, offering an exquisite view of Lake Tahoe and the surrounding mountains.
The route to the top follows a well-marked trail lined with stunning wildflowers at the right time of year. Be sure to bring along an offline map, as the summit can be confusing thanks to the lose rocks.
A wilderness permit is required to hike this trail, which must be purchased prior to arriving at the trail head.
Read more The 11 Best Hikes In Shenandoah National Park
Glen Alpine Loop
This 13.5-mile loop traverses along some of the more iconic spots like Lake Aloha, Heather Lake, and Susie Lake, but with fewer crowds.
Aside from the initial 3-mile ascent, the elevation isn't overwhelming and doable for most, despite the longer distance. Bring an offline map and check frequently to ensure you're on the right path.
Dog-Friendly Beaches in Lake Tahoe
Designated swimming beaches do not allow dogs at Lake Tahoe. These beaches include:
Nevada
Pope
Baldwin
Meeks Bay
William Kent
While these are some of the most popular recreation spots at Lake Tahoe, fear not, there are still plenty of dog-friendly water access points around the lake, such as:
Tallac Historic Site (from Valhalla PIer to Tallac Point)
North Beach at Zephyr Cove Resort (South Lake Tahoe)
Hidden and Chimney beaches (east shore)
Coon Street Beach
Ski Beach (October to April only)
Echo Lakes
Alternatively, the lakes and streams in the nearby Desolation Wilderness are also options.
Have you visited Lake Tahoe with your dog?
What are some of your favorite trails or places to visit?
---
— Update: 20-03-2023 — cohaitungchi.com found an additional article A Pet-Friendly Guide To South Lake Tahoe from the website epiclaketahoe.com for the keyword dog friendly hikes south lake tahoe.
Look, we don't have to tell your friends & family. But since it's just you and me here, we can be honest—your pet's happiness is more important than anyone else's. So, when it comes time to planning a pet-friendly South Lake Tahoe trip, you're gonna need an itinerary that puts Fido's needs first. 
It's true, Fido would be happy just to tag along. But we want Fido to thrive. We want him to feel like it's his damn birthday. Because honestly, it's not fair that he only gets one birthday a year when he's actually aging in dog years. He should get seven birthdays, every year. 
Don't worry. This pet-friendly South Lake Tahoe guide is so exceedingly pet-friendly that you'll be able to make up for all those missed birthdays in just a few hours. 
Pet-friendly Stays in South Lake Tahoe 
It's a simple fact that not all pet-friendly hotels are created equal. And while there's tons of pet-friendly hotels in South Lake Tahoe that we love, the two we're featuring here deliver on one major perk: location. With these spots, you'll be minutes from the open spaces & activities that welcome lil' Fido too. 
It's hard, we know, to pull away from South Lake's bustling stateline area. The casinos have some unexplained magnetic pull. But you know what a 15-minute drive to stateline gets you? Pet-friendly trails and beaches right outside your door. 
Take for example, Hotel Azure. It's two miles away from the Heavenly Village, but two steps away from the lake. Large steps. No but actually, Hotel Azure is in the heart of South Lake Tahoe, surrounded by restaurants, bars and pet-friendly spaces. 
Tastefully updated with a woodsy chic feel, Hotel Azure welcomes pets of any size for a $25 per night fee. In non-COVID times (may we be back in them soon), they offer dog beds, bowls and welcome bags; but there's still a lot to love in the meantime. Like the complimentary parking, wifi, pool area and spacious, grassy relief zone nearby. 
A stay at Hotel Azure also leaves you a short walk away from Thomas Reagan Park, where you'll find one of South Lake Tahoe's easiest to access dog-friendly beaches. The part where Fido can hang is admittedly small—but we have a feeling he'll love it all the same.
If you're willing to edge a little further from the center of town, you'll be rewarded with the most pet-friendly stay in. the. world. Well, we can't verify that but we can say that it's easily the most pet-friendly hotel in South Lake Tahoe.
Neighboring the national forest and the bike path that runs through it, the Fireside Lodge is the rustic home-away-from-home Fido's been dreaming of. He can curl up by the fireplace—there's one in every room. He can join you for the complimentary breakfast, or daily wine and cheese hour. There's free bicycle rentals and s'mores, a firepit and sauna. 
Yet in spite of—and because of?—all of this, the greatest pet perk is that the owners genuinely understand that your stay is as much about you as it is about Fido. Oh, and cats are welcome too. 
Dog-Friendly Beaches & Trails in South Lake Tahoe
Once you've locked in a pet-friendly stay, the rest is easy. The mountains are kind of like a dog park for humans. You can roam and play freely, and your dog can too. Especially when it comes to these dog-friendly beaches and trails. 
Kiva Beach 
For a lake with 72-miles of shoreline, shockingly little of that welcomes your pet. Kiva Beach, however, is a dog-friendly beach in the northeastern corner of South Lake Tahoe. (Hint: it's just a few beaches over from Fireside Lodge.) 
There's a golden pocket of sand, shallow entry to the lake and miles of trails winding around the beachfront. All of it, dog-friendly. Swimming pups aren't required to wear a leash, but land pups are. Although, you'll notice that not many people follow the rules on that one. 
In any case, this spot is a major pup favorite and is literally swarming with happy, wet dogs in the summer. There's plenty of parking, but only one lot is close to the beach. To access it, make an immediate left after turning onto Heritage Way. 
Fallen Leaf Lake 
Just across the road from Kiva Beach is Fallen Leaf Lake. There's a (pet-friendly!) campground and miles of trails around a deep blue, alpine lake. It's an easy hike with big rewards; including plenty of rocky shoreline where your pup can take a dip. 
In the fall, the aspen groves that hug the lake explode in color. Follow the trails to the east for even more leaf peepin' opportunities. In the spring, head to the south end for a visit to Glen Alpine Falls. It may not be tall, but it's pretty impressive nonetheless. 
Read more A Dog Friendly Guide to Lake Tahoe
In the summer, yowza. The beaches and trails swell with happy people and pups! It's still worth it, but don't expect much peace and quiet. 
Bijou Dog Park 
Big dogs! Small dogs! Fast dogs! Digging dogs! Meet dogs of every size, shape and flavor in the Bijou Dog Park. An off-leash, fully fenced dog park tucked away in the Bijou Community Park, this is the spot for Fido to meet a friend or five. 
There's a small dog enclosure, large dog enclosure plus a trick dog enclosure complete with an agility course. There's not much else—typically dirt in the summer and snow in the winter. But your pet doesn't care! There's so many friendly doggos to sniff and chase that he won't know the difference.
Public Lands 
Your well behaved, leashed dog is welcome on just about all public lands around Lake Tahoe. Yessss. Feel free to bring him along when visiting Desolation Wilderness, Lake Tahoe Basin Management Unit lands, El Dorado National Forest or Lake Tahoe National Forest. Just brush up on your pet wilderness etiquette. 
Look up the specific land use policies before you head out.
Bring a six-foot leash, waste bags and proper tags for your pet. 
Consider the altitude—even pets need time to adjust! 
Don't let your pet disturb or chase the flora and fauna.
Pack food and water for your pet on long hikes. 
Be mindful of other hikers, campers and dogs. 
Dog-Friendly Restaurants In South Lake Tahoe 
I know your dog is hungry. And after running wild in the woods, chances you are too. Even in the winter, there's tons of dog-friendly restaurants and patios in South Lake Tahoe where you can enjoy a meal and Fido can eagerly wait for scraps beneath the table. 
Just a block or two from the lake is Revive Coffee + Wine, a local staple for imaginative coffees, simple breakfast and lunch fare, and the chillest chilling vibes imaginable. There's a massive outdoor space both in front and back of the shop, but if you're visiting with Fido, you'll have to stay out front. 
Not to worry though—this spacious, grassy nook under the pines is the perfect place to relax with a hot tea or cold beer. You can get a little wild with your order here, with crowd favorites like the Lavender Vanilla Latte or Blackberry Mocha. Or, stop by for a midday charcuterie board and glass of wine. 
One more thing to love? Revive is a convenient pitstop on your walk from Hotel Azure to Thomas Reagan Beach so you can grab a to-go coffee before hitting that dog-friendly beach. 
Next to Revive, you'll find Sprouts Natural Foods Café. People froth out for the extensive menu of healthy, well, everything. Smoothies and juices, bagels and burritos, burgers, salads, soups and sandwiches—we're pretty sure you can find every vegetable under the sun in their kitchen. 
The Real Tahoe Turkey sandwich, with Ortega chile, avocado and sprouts is somewhat of a sandwich legend around here. It's delicious. And massive. Pair it with a Flu Fighter juice for the ultimate feel-good lunch. Not sure about turmeric or sprouted wheat? With classics like Ugly, Gooey, Excellent Nachos and a Turkey Melt on the menu, you don't have to be. There's genuinely something for everyone. 
A few blocks in the other direction is the ever-loveable, Sidellis Brewery. They've got a shaded, dog-friendly back patio, plus tasty, locally brewed beers and the kind of food menu that you want to see at a brewery. 
For a small spot, their beer selection is pretty hefty. You can grab a sour or porter, seasonal or barrel-aged beer, then pair it with hearty menu items like a bavarian pretzel, french dip or pastrami sandwich. And while beer and bites lovers we may be, the best part about Sidellis is that the staff is incredibly dog (and human!) friendly. You're sure to have a great experience here. 
Lake Tahoe Aleworx & Tahoe Cocktail Corner 
On the other side of town, near the Fireside Lodge, is a segment of town called "the Y." Here lives the twin brother of a stateline favorite, Lake Tahoe Aleworx. They've got thin, crispy wood-fired pizzas, big salads, sandwiches and of course, an epic lineup of self-serve beers. 
All of this is good and great. Really good and great, in fact. But the hallmark of the Y location is their infinitely dog-friendly patio, complete with massive fire pits, a live music stage and forested backdrop. 
Sharing the epic patio is the Tahoe Cocktail Corner. A modern spot for hand-crafted cocktails, a mature wine list and elevated comfort food, you'll also be able to access your Aleworx tab here. Looks like you're not the only one who believes in pregaming your pizza and beer with an Aperol Spritz.
While we're still waiting on the technology that allows us to talk to dogs, you'll have to take our word for it. South Lake Brewing is going to be your dog's favorite bar on this side of the lake. An infinitely dog-friendly brewery, Fido is welcome to sip beer with you outside, inside or in the fenced back patio.
That's right—inside. They can cuddle up next to you while you shelter from the elements and slurp down wittily named IPA's like it's your job. There are dog treats and water bowls here, photos of dogs on the walls, dog-friendly events and even branded dog bandanas in their merch collection. 
The fact that there's no kitchen here makes this all possible. But that doesn't mean there isn't food. Check South Lake Brewing's website or social media pages to see what food truck is around to serve up the goods. 
—– 
We'll be the first to concede that bringing your pet along can sometimes be a stressful travel addition—but not when that vacation is South Lake Tahoe. This place is so dog-friendly, it's almost guaranteed that you'll both be pleased you did it. 
References