People all over America love waterfalls. The fascination that comes with the rushing water never ceases to delight visitors. Gatlinburg is home to some of the most beloved waterfalls in this country. While waterfalls make the perfect setting for lovers, anyone who prizes a pristine view of nature will enjoy a trip to these four Gatlinburg waterfalls.
Baskins Creek Falls​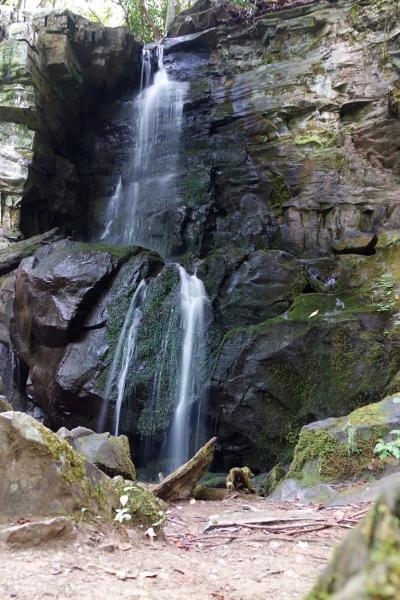 Pack a lunch and bring the family along the Roaring Fork Motor Nature Trail to Baskins Creek Falls, a hidden gem of sorts in the Great Smoky Mountains. A bit off the path well-traveled, this relatively easy trail is perfect for those who want to chase some waterfalls without a strenuous hike. While there are a couple inclines and a few rough spots to get there, Baskins Creek Falls, standing 40 feet tall with a two-tiered cascade, is the well worth the travel.
Hen Wallow Falls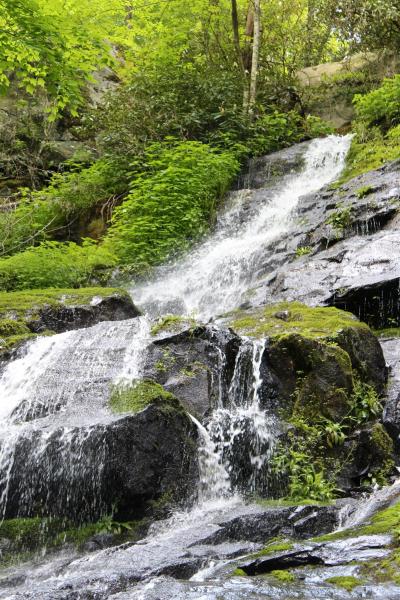 Look for salamanders and even a black bear or two near this waterfall in the Smokies. Found along a quiet side trail located along the Gabes Mountain Trail, this 90-foot-high waterfall is teeming with as much beauty as wildlife. The falls begin only 2 feet in length but transcend to a 20-foot cascade at the base, creating a beautiful sight for hikers at the halfway point of their 4.4-mile roundtrip hike to the waterfall.
Bring your hiking boots, though, as this trail can be steep and slippery at certain spots due to the rugged terrain and algae found on rocks close to the falls.
Rainbow Falls
If you want to see a wonder of nature, Rainbow Falls is for you. The destination lives up to its name if you catch it on a sunny day as a rainbow-colored mist can be seen emitting from the waterfall.

As beautiful as Rainbow Falls is, be warned, it can be somewhat of a strenuous journey. So, make sure to bring your hiking shoes as well as drinking water for the trip. The 5.4-mile roundtrip hike is full of intense incline as well as rocky terrain. When you make it to the falls, make sure to watch out for slippery rocks as algae grow near the wet climate.
While the Rainbow Falls Trail may be a bit difficult, the waterfall at the end of the rainbow is a pretty awesome reward.
Cataract Falls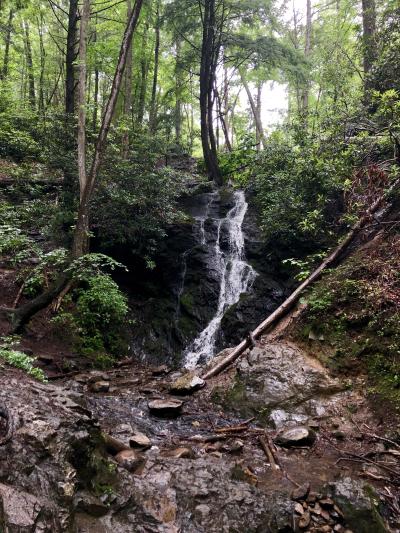 Perfect for kids and families alike, the Cataract Falls trail is perfect for those who want to venture out into nature while staying closer to the city. Only 10 minutes from Gatlinburg, the Cataract Falls trail will lead you to the falls and back in only .75 miles.
The short, easy hike is a draw for many as well as the 25-foot waterfall, comprised of two flowing streams that meet at the base. While the hike is always beautiful, it is recommended you visit the waterfall after a period of rain, as the water flow may be a bit more impressive.
As always, refrain from climbing on rocks around the falls as they could be slick.
Download your free Gatlinburg vacation guide now.
Tell us about your waterfall hike adventures! Share your experiences with us in the comments, on Facebook, on Twitter @travelgburg, or on Instagram!
---
— Update: 13-03-2023 — cohaitungchi.com found an additional article 14 Best Waterfall Hikes in Gatlinburg – Smokey Mountain Hiking from the website www.justapack.com for the keyword gatlinburg waterfall hikes.
At the entrance of the Great Smoky Mountains National Park lies the little town of Gatlinburg, Tennessee. This quaint settlement offers a healthy measure of merriment, comfort food and cheerful small town charm.
For the nature loving fan Gatlinburg also holds another treasure. The town is blessed with some truly excellent hiking opportunities nearby.
Even better, there are a plethora of waterfalls near Gatlinburg. So, if you're like us and you love yourself a good hike that includes water falling off of rocks, you're in luck. 
The best hikes are detailed below, ranging from the easygoing to the unforgiving!  The trails discussed below are pretty much cascading with them (waterfall pun!). Read on for our list of the most beautiful, and wet, waterfall routes in Tennessee. 
Best Waterfall Hikes in Gatlinburg – Easy Hikes
Let's start with some of the easiest hikes you will find. These are ideal for those of you looking for a hour or two of easy walking.
Cataract Falls
A ten minute walk from the town's center, Cataract Falls is an idyllic ramble and ideal for families taking a walk with little ones. The waterfall itself is 25 feet high and sure to impress. Tip: it looks especially awesome after a burst of rain!
Hike Length: 0.75 miles
The Place of a Thousand Drips
The Place of a Thousand Drips is interestingly named so as it is classified as a 'series' of waterfalls near Gatlinburg.
Instead of one gushing torrent, many tumbling paths of water intertwine to compose this pretty view. They can be viewed from the car as you drive past, or it's a short walk from the carpark.
A simple path, and a definite must see.
Hike Length: 0.3 miles
Gatlinburg Trail
If you fancy a laid back stroll along the Little Pigeon River take the Gatlinburg Trail. Enjoy the pleasantly flowing water beside you and stop to dip your toes in on a hot day. Manageable for most adults and children this trail makes for a delightful family walk.
Hike Length: 3.8 miles
Twin Creeks Trail
A little longer but considered very manageable is the Twin Creeks Trail. A dense forest path with creek crossings, and it's here you'll find the House of the Fairies! This route can be popular so head out early to avoid the crowds.
Hike Length: 4.5 miles
Best Waterfall Hikes in Gatlinburg – Moderate Hikes
So those trails were pretty mellow! Let's up the pace for those wanting a more strenuous track when hiking near Gatlinburg.
Rainbow Falls
Rainbow Falls is prettily named from the colors seen through the water's mist on sunny afternoons. At 80ft fall, it's an impressive sight and the Rainbow Falls Trail itself is through forest grounds. Tranquil and peaceful.
Hike Length: 5.4 miles
Grotto Falls
Grotto Falls is an amicable route that takes you right behind the waterfall itself!
It's a short path but considered moderate due to the uphill stretch to reach the falls. When taken slowly, it's accessible for almost everyone.
Hike Length: 2.6 miles
Laurel Falls
When checking out the falls in the Great Smokies, Laurel Falls will come up time and time again. Lined with a paved walkway means it's an easy route in any weather, and there is a bridge right opposite to take the perfect picture – even during busier periods you'll get a good snap.
Hike Length: 2.6 miles
Hen Wallow
For an impressive 90ft high waterfall in Gatlinburg, head to Hen Wallow. This trail through lush forest is filled with rhododendrons, and ends with a beautiful fall which fans out at it's base, it's quite something. Noted for being just as striking in winter, where the water clings to the rock to create a shimmering icy display.
Hike Length: 4.4 miles
Baskin Creek Falls
In order to reach Baskin Creek Falls, follow the Baskins Creek Trail and anticipate an uphill journey. Also be prepared to scramble over a few rocks! Secluded and quieter than most paths. This expedition is worth it to have the falls all to yourself.
Hike Length: 3.2
Abrams Falls
Abrams Falls is no doubt gorgeous, but swimming in the pool at its base is prohibited. This short waterfall at 20 feet is actually the most powerful, with gallons crashing into the pool each second making swimming very dangerous and therefore banned. What a sight though!
Read more Hiking Mount Moosilauke – 4,802 Feet | NH 4000 Footer
Hike Length: 5 miles
Best Waterfall Hikes in Gatlinburg – Challenging Hikes
The easygoing footpaths have been walked, the moderate explored, so time for a more challenging hike in Gatlinburg.
Indian Flats Falls
A longer loop with a wonderful view of the river, the uphill path to the Indian Flats Falls are rocky and can be slippery at times in wet weather. The trip is worthwhile however and the four waterfalls themselves are a fine reward!
Keep an eye out for the trail markings, previous visitors have noted that they can be easy to miss.
Hike Length: 8 miles
The Ramsey Cascade
The Ramsey Cascade is a 85 foot drop of flowing water reached by a steep elevation climb. The rush of the water at the top has been described as incredibly intense, and to add to the mix there are warning signs posted of bears, so keep those eyes peeled!
The scenery here is gorgeous however. Pack yourself something tasty to have at the falls, enjoy the view and recharge.
Hike Length: 8.1 miles
Clingmans Dome
For the best 360 breathtaking view climb up Clingmans Dome. Short and steep (less than a mile) it's rated as challenging due to the fact that you'll be in the very highest point of Great Smoky Mountains National Park, over 6,400ft high in fact.
The views here are simply insane, so muster up that courage and have a go!
Gregory Ridge Trail
A proper strenuous, calf screaming slog takes us to the end.
The Gregory Ridge Trail is recommended for experienced hikers. The majority of the trail is uphill, but you'll be rewarded with the beautiful blooming azaleas and views of the park's wildlife at the top.
Take a lot of water for this one, the progressive elevation will make you thirsty!
Hike Length: 11.6 miles
Accommodation in Gatlinburg
Please note – Our selections contain affiliate links. These allow us to earn a small percentage every time you make a booking. Using our links enables us to keep writing more travel stuff!
First and foremost however, where to stay in a tiny town of 4,000 people? Due to its size, the homey feel is effortlessly genuine here and most places you'll stay will reflect that. Here are some favorite hotels in Gatlinburg to help you choose:
The Sidney James Mountain Lodge: The Sidney James Mountain Lodge is a great choice. The accommodations are in the form of rooms and lodges, they have three pools on site and also several balconies overlooking a little stream. Previous guests have even said that they've seen families of bears outside the window!
Margaritaville Resort Gatlinburg: If exceptional ratings for cleanliness and comfort is important for you in a hotel, as well as having a large flip flop statue out front, then Margaritaville Resort Gatlinburg is for you. Decked out with a pool and fitness center, it's perfect for relaxing in after a long traipse or to gently exercise aching muscles.
Baymont by Wyndham Gatlinburg on the River: Another rated spot to stay the night is the Baymont by Wyndham Gatlinburg on the River. The rooms are also complete with a gorgeous riverside balcony, and although a little further out from the center, the main tourist attractions are still easily within walking distance.
Essentials for Hiking in Gatlinburg
The most important part on a hike, your feet. Look after them with a solid pair of hiking boots! Ankle support is a must, and a waterproof boot doesn't go amiss either.
Water, water, water! Invest in a decent reusable bottle, the market is saturated with them during this plastic free age, and ensure you take enough to keep you well hydrated.
If the sun is out, keep that face youthful from the rays with sunscreen and a hat that covers it. Future you will thank you.
Clothing. You want to be comfortable, the right temperature and perhaps need something with a little more give if you plan to be scrambling over rocks.
Always check the weather before you head out. Layering up with breathable material is always a safe bet.
Also, along the lines of comfort when hiking in Nashville, take a bug repellent. Worth taking, because if you don't have it those itchy marks will drive you bananas as a lasting, and less than treasured, memory of that wonderful hike.
Trekking poles are recommended for some paths, it's up to you if you think you'd be more comfortable with them. Many are foldable so don't take up much space in your bag.
A portable first aid kit is a good idea. You want to look after yourself and a little portable pack with the essentials ensures you are covered for any situation.
Something to carry this all in, a neat lightweight pack. Take a look at our hiking backpack round up to help you choose the right one!
So, there you have it. The best waterfall hikes in Gatlinburg laid out and ordered from start to finish. Lace up those boots, have yourself a hearty Tennessee breakfast and let's get going!
---
— Update: 20-03-2023 — cohaitungchi.com found an additional article 17 Beautiful Gatlinburg Waterfalls to Explore + Stunning Hiking Trails from the website www.dominicanabroad.com for the keyword gatlinburg waterfall hikes.
Whether you're searching for Gatlinburg waterfalls, whiskey, or epic hiking trails, the eastern Tennessee mountain town of Gatlinburg is a gateway to adventure. Start your journey by choosing a cozy place to stay, finding cool local spots to dine in, and planning your romp through the surrounding mountains. Be sure to include these wondrous Gatlinburg waterfalls and hikes in your bucket list. This Tennessee region (along with the Smoky Mountains) is home to some of the most beautiful waterfalls in the United States!
Heading to Nashville next? Don't forget to check out these cool waterfalls + hiking trails near Nashville as well. Or take a look at the rest of the state's most beautiful waterfalls in Tennessee to explore.
Best Time to Visit the Gatlinburg Outdoors
Hiking in Gatlinburg is possible year-round. However, the two peak seasons are summertime (June to August) and the peak foliage month of October. However, if you want to avoid the summer heat, the cold winter weather, and the tourist crowds, we recommend late spring (May) and early fall (September). Here's a quick breakdown of what to expect per season:
FALL: The fall brings several visitors seeking the sights of the colorful foliage and cooler weather. This is also the best season to go camping with warm days and comfortably cool nights. Foodies! Don't miss the Annual Taste of Autumn where you can try local signature dishes from some of Gatlinburg's best restaurants.
SPRING: The peak springtime welcomes travelers looking for blossoming trees and blooming flowers. Plant lovers, don't miss the Wild Flower Pilgrimage event in May. This is also a great time to go camping as it's not yet too hot nor humid.
SUMMER: The summertime is the most popular season. You'll find an endless amount of outdoor activities to explore. This is also the perfect time to chase some of Gatlinburg's best waterfalls and/or go for a dip in the many swimming holes near Gatlinburg.
WINTER: This is of course the best time for winter sports such as skiing and iceskating. And while this is the low-travel season, accommodation rates can still spike during weekends and holidays. During the winter months, there are also fun events such as the New Year's Eve Ball Drop and Fireworks Show.
Best Neighborhoods to Stay in Gatlinburg + Where to Stay
Gatlinburg, Tennessee is a small mountain town famed for being at the heart of the Great Smoky Mountains National Park. Every year the Great Smoky Mountains welcome around 12 million visitors looking to explore the outdoors and experience a plethora of adventure activities such as fishing, rafting, horseback riding, and hiking.
The three most popular neighborhoods to stay in Gatlinburg are:
The Parkway District (downtown Gatlinburg). The downtown area offers a variety of restaurants and shops (pictured above) within walking distance. Perfect for first-time visitors
Ober Gatlinburg – A serene neighborhood located outside of the busy center with easy access to the Great Smoky Mountains. The perfect neighborhood to rent a cabin with your family.
Great Smoky Mountains National Park
Gatlinburg is also known for its tourist-friendly charm and hospitality. As such, there are a number of unique places to stay, such as homestays, a treehouse, a rustic mountain cabin, glamping, and/or a luxury resort with access to natural hot springs. So, make Gatlinburg your basecamp for all of your Gatlinburg waterfall adventures. 
The Best Gatlinburg Waterfalls to Explore
Smoky Mountains National Park
Most notably, the grand Smoky Mountains National Park sits just south of the town of Gatlinburg. This National Park has over 800 miles of hiking trails and countless waterfalls. 
Gatlinburg is home to approximately half of the main entrances to the Smoky Mountains National Park. Thus, the park offers the best hiking near Gatlinburg. Trails Via Sugarlands Visitor Center are closest to town, while the Oconaluftee and Swain County Visitor Center areas are on the south end of the park. Cades Cove and Townsend areas are to the west; and the Appalachian Trail cuts the park in half. 
Read more 34 Beautiful Long Island Hiking Trails to Explore From East to West
Below are waterfall hiking trails near Gatlinburg in the Smoky Mountains National Park.
Gatlinburg Trail and Cataract Falls
First, the popular Gatlinburg trail connects the Sugarlands Visitor Center, park headquarters, to the town of Gatlinburg. Starting your trek in town, follow the Gatlinburg bypass road. You will cross Cove Mountain Trail before reaching the visitors center. Along your 3.8-mile round trip hike, you'll walk at a mostly gentle slope, cross a picturesque footbridge, and follow the West Prong of the Little Pigeon River. When you reach Cataract Falls, you'll be able to view the 25-foot cascade into a small pond below. 
Please Note: Gatlinburg Trail is one of two Gatlinburg hikes in the park that allows dogs. So, if you wish to explore further, make sure to have care arrangements for your pup. 
Laurel Falls Trail
Follow along the Cove Mountain Trail or nearby Little River Road to reach Laurel Falls Trail. This family-friendly, 2.6-mile walk leads to one of the most photographed spots in the entire park. The path is paved and leads to a viewing bridge where you can see both the upper and lower sections of the falls. Go early in the morning to avoid crowds, but keep an eye out for bears!
Grotto Falls
With the look and feel of a tropical waterfall, Grotto Falls is one of the most popular Gatlinburg waterfalls. Hikers do not have to stay on trail here, so you'll be able to get up close- even behind the falls. Additionally, gorgeous wildflowers bloom all around this pleasant grotto. 
Follow Roaring Fork Motor Nature Trail or Trillium Gap Trail to reach this destination.  Should you choose the latter, consider continuing up to Brushy Mountain, just a few miles past Grotto Falls.
Twin Creeks Trail to Baskin's Creek Falls
Twin Creeks Trail begins along the Gatlinburg Trail. After about two miles, the path connects with Baskins Creek Trail to Baskins Creek Falls. 
First, Twin Creeks Trail is perfect for all abilities and not too remote. Enjoy the area's serene streams as you walk, then continue on your quest to find Baskin Creek Falls. The falls are 40 feet tall, and the beautiful area makes for a perfect picnic spot. Finally, we recommend continuing your loop home via the Roaring Fork Motor Nature Trail.
Rainbow Falls
Continue South on Twin Creeks Trail, or follow the popular Old Sugarlands Trail to reach Rainbow Falls Trail. This is a long hike at 5.4 miles roundtrip, but well worth the effort. As you work through this strenuous hike, you'll be rewarded with an 80-foot tall waterfall. As the tallest single-drop waterfall in the Smoky Mountains, you'll want to take pictures. Pictures here look best when taken in the early morning, due to the angle of the sun at that time. So, start your hike out early to get the perfect shot- and use the rest of the day to hike 7 more miles to Mt. LeConte.
Ramsey Cascades (Greenbrier Cove)
Hiking near Gatlinburg certainly offers much variety in choice of trails. For instance, northeast of Mount LeConte, Ramsey Cascades Trail  breaks off from the Greenbrier Cove Trail. Begin your 8 mile trek here, and  discover a few original buildings from an early settler community. 
Continuing on, you'll gain almost 2,200 feet in elevation through a dense, old forest. You may want to bring hiking sticks, as the route becomes quite rugged towards the end. However, you'll love the reward – a 100 foot waterfall. As the tallest waterfall in the park, Ramsey Cascades will take your breath away. But, take caution. Do not attempt to climb the waterfall, as it is very dangerous. 
Abram's Falls 
Head to the western side of the Smoky Mountains and you'll find an area known as Cades Cove. Here you'll be able to view Gregory Bald and Rocky Top, two spots that offer majestic views of the surrounding mountains. 
Abrams Falls hides about 5.2 miles to the northwest of Cades Cove Visitor Center. The trail loosely follows Abrams Creek, reaches ridgetops, and takes you through dense forest. There is a scenic beach at the falls, but swimming is discouraged. The falls cause a dangerous undertow. Instead, enjoy the beauty around you by taking pictures, enjoying a snack, and keeping an eye out for river otters. 
Middle Prong Trail
Middle Prong Trail might be the ultimate Gatlinburg waterfalls area. This trail passes three major waterfalls and countless other small cascades. In addition, the path was once a railroad bed, making for a smooth hike today. While you explore, keep an eye out for a hidden Cadillac left behind by the Civilian Conservation Corps, a group that built many of our nation's trails in the 1930s. The car is over 100 years old.
Big Creek/Mouse Creek Falls
On the eastern edge of Great Smoky Mountains National Park, you'll find another of our best Gatlinburg hikes. Big Creek Trail follows Big Creek itself, leading to Mouse Creek Falls. The hike is only 4 miles long, and is absolutely gorgeous in the autumn. 
Along the way, you'll catch a few minor waterfalls and a deep pool under a six foot cascade. Eventually, you'll reach Mouse Creek Falls, which towers at 45 feet tall. Should you wish to stay awhile, camp at nearby Walnut Bottom. 
Chasteen Creek Cascade
A few miles north of Oconaluftee Visitor Center, Chasteen Creek Trail leads hikers to the Chasteen Creek Cascade. This roaring whitewater waterfall area is most impressive after a rainfall, so keep it in mind if you've experienced some weather. 
In addition, this area provides an escape from more crowded spots in the park. So, enjoy the solitude. But also make sure to pack essentials for a more remote trip. Our day pack includes at least a gallon of water, trail mix, a protein-heavy snack, and basic first aid supplies in case of emergency. We also like to bring along an extra pair of socks, trekking poles, and a small towel on waterfall hikes. 
Juney Whank Falls Trail
Juney Whank Falls Trail is short and steep.  It leads to the 80-foot drop waterfall, and a footbridge perfect for picture-taking. Juney Whank Falls flows into the Deep Creek area of Smoky Mountain National Park, just north of the Swain County Visitor Center. If you wish to hike further into Deep Creek, you'll see  a number of unique features like:
Stone Pile Gap Trail
Indian Creek Trail and Falls
Deep Creek Horse Trail
Spruce Flat Falls
This hike is relatively short but starts with a steep and strenuous incline. It takes about 40 minutes each way (2 miles round trip) and offers beautiful views along the way. Spruce Flats Fall is located behind the Smoky Mountains Institute (featured further below). Hikers can see about five cascades and Spruce Falls is the second.
Located in Tremont, Tennessee (one hour from Gatlinburg) this can be a refreshing day trip to one of the many waterfalls near Gatlinburg.
Meigs Falls (No hiking needed)
Meigs Falls is one of those waterfalls in Gatlinburg that can be for people who do not want to hike AND also those who love adventure and want to literally get their feet wet. That's because you can either drive up to see it from afar and take a snapshot of it and go. Or you can park your car, and walk across the Little River about 50 yards downstream to get up and close to the waterfall (pictured above). If you choose the latter, please note that the water level can be about thigh-high so be careful with tides, currents, and slippery rocks. To be safer, consider crossing with a rope or a long pole. Once you're there you'll see a rope swing for some fun by the waterfall!
Don't Miss: The Appalachian National Scenic Trail
The legendary Appalachian Trail (A.T.) cuts through Smoky Mountain National Park, encompassing 71 miles of the classic through-hike. While most hikers don't get to experience all 2,193.1 miles of the A.T., many do get to traverse certain sections. 
You'll know you're on the trail when you notice cairns and white blazes painted on objects along the path. Should you choose to follow, you'll see unique features like Rocky Top, Cosby Knob, Icewater Spring, and the Fontana Dam. When hiking near Gatlinburg, the A.T. is a must-see.
Bonus: Great Smoky Mountains Institute at Tremont
Did you know there is a school in the Great Smoky Mountains? Great Smoky Mountains Institute at Tremont sits just above Middle Prong Trail. The institute works to connect people to nature through experiential learning. Learners of any age can visit for a few hours, or stay a few days in GSMIT dormitories, and extend their learning into real-life experiences. Some available classes are:
Read more An Easy Date Hike with Great Views at Will Rogers State Park
Southern Appalachian Naturalist Certification Program
Springtime Photography Workshops
Discovery Camp
Wilderness Trek
Girls in Science Camp
Women's Fall Backpack
Once you partake in one of these unique experiences, you'll be forever connected to the Gatlinburg and Great Smoky Mountain Area.
Visiting Gatlinburg: Safe Travel Practices
While traveling through Gatlinburg, remember to follow healthy travel practices like washing your hands regularly, wearing a mask, and keeping a safe distance from others. Due to Covid-19, some activities or businesses may be closed so be sure to call ahead before arriving. Official websites will provide the latest updates on local policies and the status of local businesses.
Please keep your safety and the safety of others in mind at all times. When you are comfortable traveling, please do so mindfully and respect the local regulations. And finally, consider booking a hotel with free cancellation options in the case that you may need to change your travel plans at the last minute.
---
As you can see, outdoor adventures are easy to find along these Gatlinburg hiking trails. So if you're an outdoor lover, be sure to add this unique area and enjoy all that eastern Tennessee has to offer to your bucket list!
Pin Me For Later!
Sharing is caring!
---
— Update: 21-03-2023 — cohaitungchi.com found an additional article 5 Best Waterfall Hikes in Gatlinburg, TN from the website www.cabinsusagatlinburg.com for the keyword gatlinburg waterfall hikes.
Gatlinburg and the Great Smoky Mountains National Park are known for having some of the most beautiful waterfalls in the South.
Don't miss out on seeing the top waterfalls in this incredible part of the country. Start planning a great day of seeing gorgeous waterfalls in Gatlinburg and the Smokies!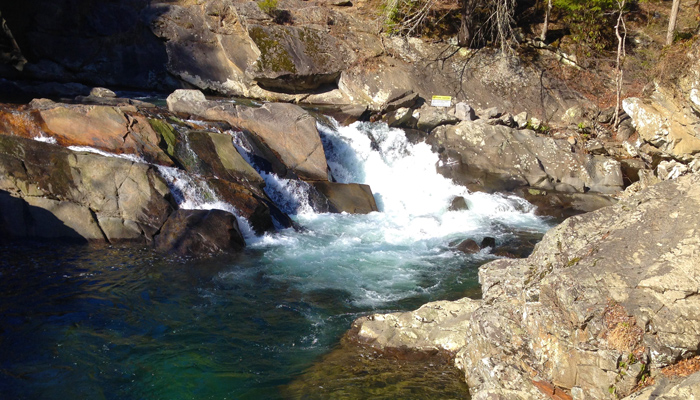 1. The Sinks
The Sinks is one of the only waterfalls in Gatlinburg that you can drive to. Since this sight is easy to access, the falls can often be crowded, so it's best to visit the Sinks early to get the best views of the waterfall.
The Sinks is one of the most unusual waterfalls in the park. When the Smoky Mountains were logged before the formation of the national park, the riverbed below the sinks was dynamited to break up a log jam.
Not only did this alter the course of the river and create a uniquely shaped waterfall, but it also created a deep pool that's ideal for swimming. If you plan on swimming at the Sinks, be very cautious as this area has strong currents that have drowned swimmers that strayed too close to the falls.
There's no hiking to enjoy this waterfall, though the Meigs Creek Trail does begin at the Sinks if you'd like a peaceful walk in the woods. This pleasant hike takes visitors to the 18 Ft tall Meigs Creek Cascades, another lovely waterfall in the park.
Directions: From Gatlinburg, drive the Little River Gorge Road towards Cades Cove for 13.5 miles. The parking area for the waterfall will be on the left.
2. Rainbow Falls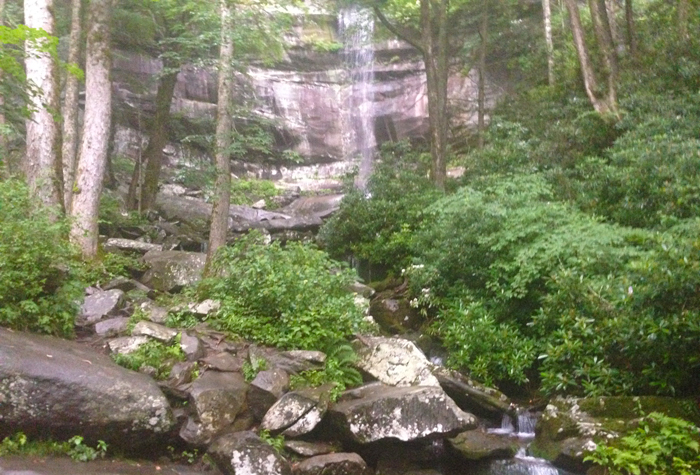 The aptly named Rainbow Falls is known for the beautiful colors created by the light passing through this waterfall's mist. This 80 Ft waterfall tumbles down a steep rock-face and is even more spectacular after periods of rain.
Of all the Gatlinburg falls, this one is particularly lovely and is located on the picturesque slopes of Mt. LeConte.
Directions: To reach the falls, drive to the parking area at Cherokee Orchard, one of the first stops on the Roaring Fork Motor Trail. The hike to Rainbow Falls is 2.6 miles on the Rainbow Falls Trail. If you have more time and energy, you can continue another 4.2 miles to reach the summit of Mt. LeConte.
3. Grotto Falls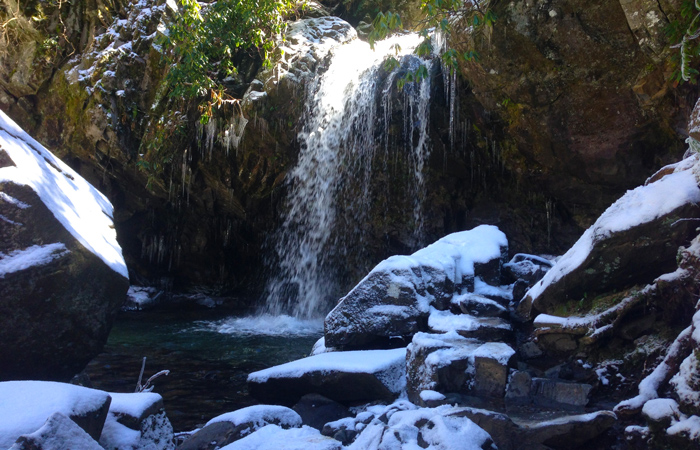 This famous sight offers visitors the chance to walk underneath a waterfall. The trail to the falls goes through a small grotto that's been carved out by years or erosion and rock falls.
In the warm summer months, Grotto Falls is a nice place to cool off, since the mist from the falls creates a natural air-conditioning effect. The hiking trail to this Gatlinburg waterfall is the Trillium Gap Trail.
Directions: Drive 6 miles on Historic Nature Trail into the national park. The Trillium Gap Trailhead begins at Cherokee Orchard, but motorists can turn right onto the Roaring Fork Motor Trail and drive further to shorten their hike. From here, Grotto Falls is only a 1.3 mile walk through a beautiful section of forest filled with old-growth Hemlocks.
4. Laurel Falls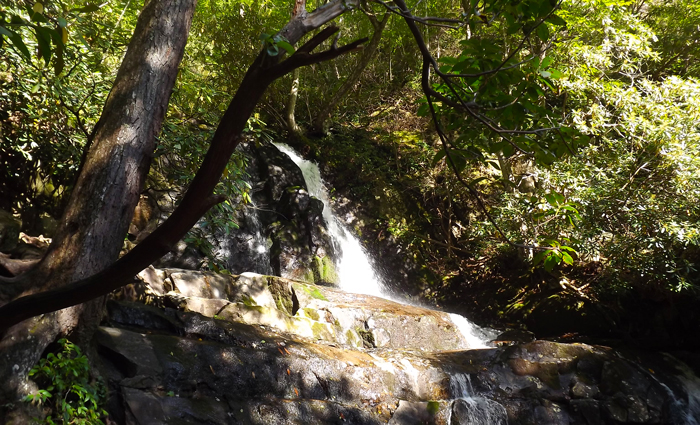 This accessible waterfall hike near Gatlinburg is easily one of the most popular waterfalls in the national park.
And for good reason: this lovely waterfall hike features beautiful areas of hardwood forest, stunning mountain views, and a multi-tiered waterfall. This waterfall hike in Gatlinburg gets its name for the abundance of mountain laurel that grows by the trailside. These mountain shrubs bloom in the late spring creating a beautiful setting.
Because the hike to Laurel Falls was so popular, the park service decided to pave this trail to limit damaging erosion. However, the path is rather steep and uneven in places, so it is not suitable for persons in wheelchairs.
This hiking trail is well-traveled, so be prepared to deal with large crowds when visiting in the afternoon or during busy times of year such as fall, summer, and the winter holidays. To enjoy some solitude on this hike, its best to arrive early in the day to beat the crowds.
Directions: From Gatlinburg, drive 6 miles on the Little River Gorge Road towards Cades Cove. The parking area for the Laurel Falls Trail is on the right. The Hike to Laurel Falls is short (1.3 miles one-way) and is relatively easy compared to other hikes in the Smokies.
5. Ramsey Cascades
At 100 Ft tall, Ramsey Cascades is the tallest waterfall in the park and perhaps one of the most stunning.
This remote hike requires an 8 mile round-trip to reach the falls and is quite strenuous. Ramsey Cascades is located in the Greenbrier area of the Great Smoky Mountains National Park, a great place for seeing large, old-growth Hemlocks and Poplars.
Directions: From Gatlinburg, drive 8 miles on Gatlinburg's East Parkway, then turn right into the Greenbrier Park Entrance on Greenbrier Rd. Follow signs to the Ramsey Cascades Trail.
The hike to Ramsey Cascades is rocky and climbs some 2,500 feet up the drainage of Mt. Goyot, so be prepared for a long, challenging hike if you'd like to see this waterfall. However, rest assured that the work is well worth the reward of seeing the tallest waterfall in the Smokies.
Bonus Waterfall: Abrams Falls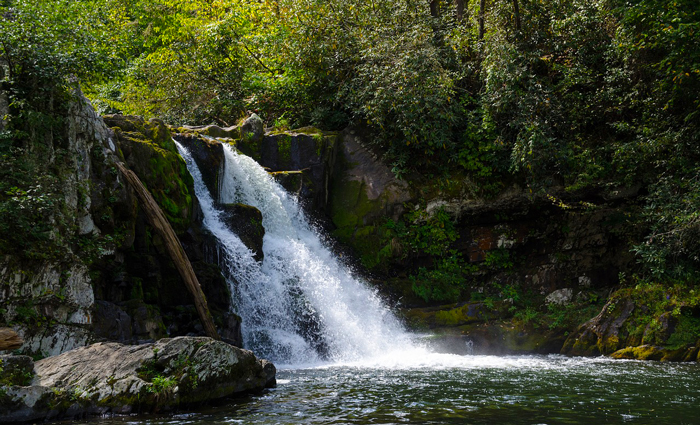 Abrams Falls is located in the popular Cades Cove region of the Great Smoky Mountains National Park. Located along Abrams Creek, this waterfall is the largest volume waterfall in the Smokies. Although there is a large pool at the base of the falls and lots of rocks to climb around on, this area is notoriously dangerous.
The large volume of water at this waterfall creates strong currents which are dangerous for swimmers and the rocks are slippery with moss and water from the falls.
This beautiful waterfall is best enjoyed from the safety of the designated hiking trail. To reach this waterfall, drive on the Cades Cove Loop Road. Near the half-way point, you'll see a sign for the Abrams Falls Trail. The hike to the falls is just under a 5-mile round-trip.
Directions: From Gatlinburg, drive 33 miles along the Little River Road in the national park to the 11-mile Cades Cove Loop Road. Near the half-way point on the one-way loop road, you'll see a sign for the Abrams Falls Trail. The hike to the falls is just under a 5-mile round-trip.
Map of the Best Waterfalls in Gatlinburg
Closing Thoughts
Cades Cove and Tremont are some other places to find beautiful waterfall hikes.
Tremont is home to the Middle Prong Trail, a hike that passes by several waterfalls. Spruce Flats Falls, located just behind the Institute at Tremont, delivers a spectacular reward for being such a short hike.
Abrams Falls in Cades Cove is another popular waterfall in the park. This is known as the highest volume waterfall in the park, so it's always spectacular to visit.
We also recommend trying some easy hikes close to Gatlinburg that are perfect for beginners or families with children.
Planning a multi-day vacation in the Great Smoky Mountains and Gatlinburg? Why not book a log cabin that's close to the national park?
Cabins USA Gatlinburg is offering its cabins with a special 15% discount to make your stay even more affordable! Simply find the right cabin for your trip and see how much you can save!
Written by Hayden Brown
References