Sharing is caring!
One of the most fundamental things when it comes to your natural hair is moisture.  Needless to say, I talk a lot about moisture for this very reason.
You have to be constantly trying to find new ways and things that will help to keep your hair moisturised and dry hair away.
One of the things that can help you if you struggle with dry hair is doing a hot oil treatment.
I've looked into hot oil treatments quite a bit and there are definitely a  few benefits of doing a hot oil treatment for hair that you should know about.
There are many theories out there that say you should do it this way or that way. We are going to look at the best way to effectively do a hot oil treatment that will give you the best benefit for your hair step by step.
***Please note that this site uses affiliate links if you would like to read the legal stuff you can find it here
What Is A Hot Oil Treatment And Is It Good For You?
A hot oil treatment works by coating the strands of your hair with warm (not hot) oil. The oils used in a hot oil treatment are usually plant-based oils such as sweet almond oil and olive oil.
Hot oil treatments are great for those who suffer from dry hair.
Hot oil treatments can be done on all hair types but they are particularly beneficial for those of us with kinky or curly hair.
Our hair tends to get dry quite easily because of the nature of our curls. It makes it hard for the natural oils from our scalp to travel down the hair shaft and to keep us moisturised.
You should especially consider doing a hot oil treatment if you have chemically damaged hair too.
Doing a hot oil treatment can help to combat that but there are also other benefits to doing a hot oil treatment that will seriously make you consider doing one this weekend.
5 Benefits of A Hot Oil Treatment For Hair
1. Strengthens Hair and Adds Shine
When you do a hot oil treatment on your hair you will notice straight away that your hair will have lots more shine.
You will also notice that your hair will have more elasticity too which makes your hair stronger.
When hair is properly moisturised it gets lots more elasticity which is the complete opposite of dry hair.
Dry hair is prone to breakage because there is no room for the hair to stretch without snapping.
This is another reason your hair shrinks after being washed.
Shrinkage is a good thing.
2. Great For Dry Hair and Scalp
No one wants to have dry hair because dry hair is often dull in appearance and brittle to the touch.
Adding lost moisture back into your hair is the perfect way to tackle dryness.
Unfortunately, the elements that surround us can cause our hair to become particularly dry.
Adding a hot oil treatment to your hair routine will do wonders for your hair.
3. Reduces Frizz
Frizzy hair can happen when the cuticles of our hair are damaged.  If you have high porosity hair the cuticles of your hair are lifted quite a lot making it difficult to retain moisture and making your hair appear frizzy.
Applying a hot oil treatment can help to seal in the moisture by absorbing the oil and then sealing it in by rinsing with lukewarm water to close the cuticles and making them lay flat.
This will make the strands of hair appear much more smooth and less frizzy.
4. Less Split Ends
Well moistured hair will suffer less split ends so be sure to coat the strands of your hair from root to tip.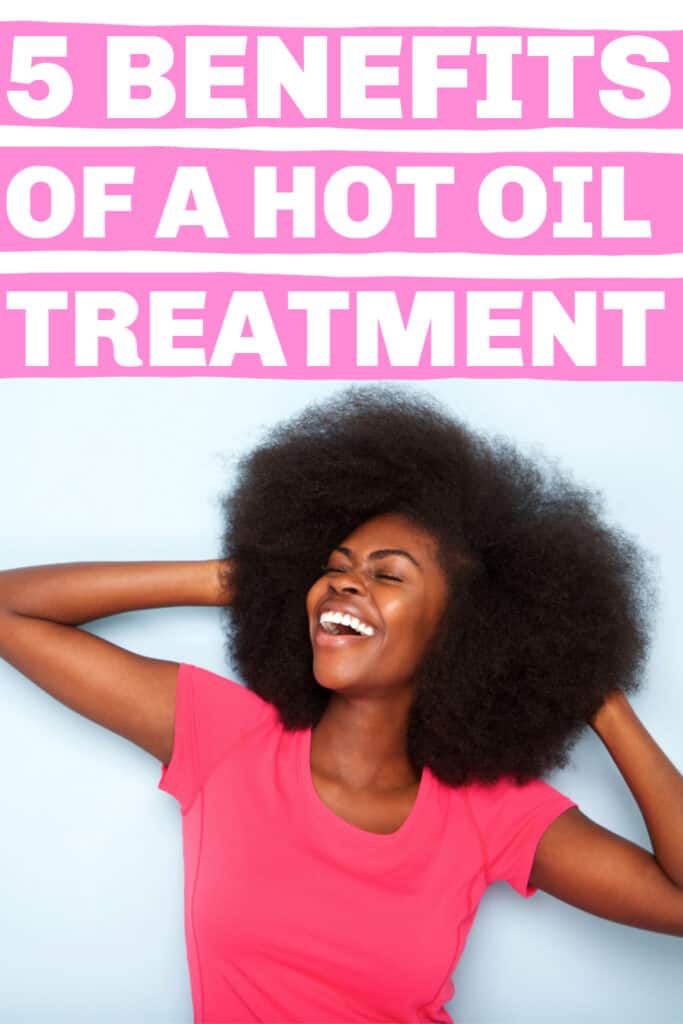 5. Increases Blood Flow To The Scalp and Promotes Growth
Once you have coated your hair with hot oil its a good idea to massage your scalp with it too.
This will increase blood flow encouraging more growth.
I don't really need to say it but head massages feel really good too which an added benefit!
How Often Should You Do A Hot Oil Treatment?
Hot oil treatments can be added to your hair regimen every 2 weeks or every month depending on the needs of your hair.
I know some people like to leave hot oil treatments on their hair overnight but this is not really necessary.
Some people will see a lot of benefit from doing hot oil treatments more often and some will not see much difference in upping the frequency.
It would be hard to say exactly how many times you should do it, you will have to test it out and see what works for you.
How To Do A Hot Oil Treatment Step By Step
The first thing you need to do when deciding to do a hot oil treatment is to decide which oil you want to use.
Some popular choices are sweet almond oil, olive oil, jojoba oil and coconut oil.
Some people even like to mix different oils according to what their hair needs.
If you are not sure which oils to use you can always buy the oils straight off the shelf here.
There are different ways to apply hot oil to your hair.  Some people like to do it on freshly washed hair and some do it as a pre-poo on dirty hair first.
Personally I would do it on freshly washed hair to make sure that I can keep as much of the benefits as possible without washing it out.
Doing a hot oil treatment on dirty hair means that you will essentially be washing the oils away afterwards by shampooing or co-washing.
Hot Oil Treatment vs Deep Conditioner
Hot oil treatment and deep conditioning are both things that your hair needs.
I don't think it would be a good idea to change one thing for the other.  They both serve specific purposes and therefore should be used individually and not in replacement of.
Deep conditioning is meant to help penetrate your hair strands right down to the cortex and to prevent and repair hair damage.
Hot oil treatments don't penetrate the strands of hair as well as deep conditioners are made to do.
Hot oil treatments are great for adding shine and reducing frizz.
The best thing you can do if you want is to add oil to your deep conditioner.  Never replace one in favour of the other.
Final Thoughts On The Benefits of A Hot Oil Treatment For Hair
Hot oil treatments are a great addition to any hair regimen if you use it in the right way.
Read more How Hot Oil Treatments For Hair Restore Strength and Shine
Always be cautious when heating oil for your hot oil treatment.
Related posts:
The Cherry Lola treatment for natural hair
11 Benefits of trimming your hair
The pros and cons of a braid out vs twist out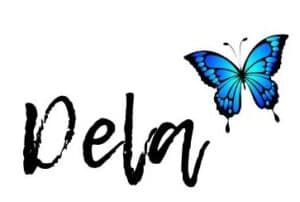 ---
— Update: 04-02-2023 — cohaitungchi.com found an additional article How Hot Oil Treatments For Hair Restore Strength and Shine from the website www.byrdie.com for the keyword benefits of hot oil treatment.
Have you ever wanted to take defibrillator paddles to your hair and yell, "Clear!" Sometimes our strands enter a dire code blue, and the resuscitation process is a bit more taxing than we expected. Enter hot oil treatments. Yep, we're talking about those little plastic tubes of amber liquid—probably branded Vo5—that you've seen stashed in your grandma's or mother's medicine cabinet. But don't be so quick to dismiss it as an outdated treatment—there's a reason it's been around for several decades, and that's because it works. Just ask dermatologists Dendy Engelman and Rina Allawh, who gave us the DL on everything there is to know about repairing hair with hot oil. So whether your locks are kinky-curly or straight and fine, a hot oil treatment is the answer to your 911 call.
Keep scrolling to learn the simplest way to DIY a hot oil treatment for hair—plus, get our picks for next-generation products.
The Benefits of Hot Oil Treatments for Hair
Hot oil treatments seem to be the answer when it comes to reviving dry, damaged tresses. According to Engelman, "Hot oil treatments work by sealing the hair cuticle and protecting your hair from damage. These treatments moisturize and nourish your hair to make it stronger and protect against breakage. Additional benefits include reducing frizz and boosting shine, helping get rid of dandruff, and even potentially aiding with hair growth by tending to the scalp." Allawh agrees: "Hot oil treatments are helpful for dry, thin, and/or frizzy hair. If you are looking to seal in moisture and find you have dry hair, hot oil treatments may be beneficial to help hold onto the moisture and strengthen the integrity of the hair shaft." 

Are Hot Oil Treatments Suitable for All Hair Types?

Since hot oil treatments work by restoring moisture to the hair, it makes sense that it would most benefit those whose strands are lacking in that department. "Hot oil hair treatments are especially beneficial if your hair is weak, dry, chemically damaged, or frizzy. This is because these hair types are most in need of moisture and damage prevention," explains Engelman. 
How to DIY a Hot Oil Treatment
We recommend coconut oil for the best hot oil treatment, as it is super nourishing and has been shown to prevent protein loss in the hair shaft. Both virgin and refined coconut oils work just fine. "Jojoba and almond oil are also good for hot oil treatments because they are usually absorbed quickly and are also very moisturizing," adds Engelman. "Regardless of where your oil is derived, make sure that whatever you're using is free of any potentially harmful or irritating additives," she emphasizes. Also worth noting: "Not all hot oil treatments are hair and/or scalp safe," warns Allawh. "As a dermatologist, I am always wary of numerous botanical ingredients as these may be irritating to the scalp and trigger allergic skin reactions, and may even cause hair loss and increased shedding. It is important to look for hair oils that contain gentle, hydrating ingredients such as jojoba oil, coconut oil, and shea butter."
Feel free to add lavender or rosemary essential oil, too. Due to their soothing abilities, experts believe these EOs can help stimulate hair growth. Either way, the aromatherapy will make this experience even more luxurious and relaxing. Before getting started, Engelman offers up some advice: "Hot oil works best on clean hair, so you should wash it before beginning your treatment. This allows the treatment to fully penetrate your scalp and hair, instead of just sitting on top of other oils. After letting the oil sit in your hair, rinse it out and finish with your conditioner." 
Instructions
Create a double boiler situation by adding about an inch of water to a small pot or saucepan, then placing a heat-safe bowl over it.
Add one tablespoon to a quarter-cup of coconut oil to the bowl (depending on how long your hair is). Heat until melted and warm to the touch. The oil should not be scalding hot, as this could burn your scalp—test a small amount on your wrist first to make sure it's safe.
Apply generously to clean, and dry or damp hair. Work the oil into your scalp and down to your ends.
Cover your hair with a shower cap and/or a warm towel. Leave the oil in for at least 30 minutes—even better, overnight.
Rinse out, then shampoo your hair twice.
Condition your hair as usual.
Note: You can do this treatment once a week or as many as three times a week.
The Best Ready-Made Hot Oil Treatments
This serum by Shea Moisture can be used as either a leave-in treatment before styling (no rinsing necessary) or as a hot oil treatment worn on the scalp and hair for five to 15 minutes prior to shampooing. Either way, your hair will enjoy a sublimely hydrating, restorative treat.
While this isn't a hot oil treatment, it does get Engelman's praise for being a luxurious oil serum that works. The melange of oils—argan, camellia, and marula, to be exact—works to nourish and strengthen hair, improving its feel and look (read: soft, hydrated, glossy tresses).
If you've got medium to thick tresses, give them some love with this heated oil blend, which counts castor oil, sweet almond oil, and coconut oil, among its ingredients. Use weekly to condition tresses and restore moisture, resulting in silky smooth texture.

If you've got natural hair, chances are you've heard of Pattern Beauty. The brand is dedicated to creating products that nourish, strengthen, and protect your natural texture. Take this self-heating hair serum, for instance. Featuring safflower oil, jojoba oil, and rosehip oil, it will bring you one step closer to healthy, hydrated hair. Did we mention it smells amazing?

The Final Takeaway
Although it's true that any hair oil will hydrate and protect your strands and scalp, a hot oil will reap even more rewards. That's because the heat will help you to better absorb the oil, enhancing its effectiveness and ensuring the promise of strong and healthy hair.
---
— Update: 06-02-2023 — cohaitungchi.com found an additional article This Hot Oil Treatment for Hair Helps No Matter What Issue You're Dealing With from the website www.wellandgood.com for the keyword benefits of hot oil treatment.
What is a hot oil treatment for hair?
A hot oil treatment involves using heated oil to nourish your hair from root to tip. The heat helps to make it more effective than if you were simply slathering on the product at room temperature. "Hot oil treatments for hair work by allowing hot dry or wet heat to expand your hair," says celebrity hairstylist Malaika Frazier. "When you apply the hot oil from scalp to the ends, the strands are are able to absorb the oils and nutrients At least 30 to 40 percent more than they would with a normal, dry application without any heat."
And why is that? "The heat helps to refine the oil making the molecules finer to penetrate the hair strand," explains celebrity hair stylist Tippi Shorter.
Benefits of hot oil treatments for hair
Research has shown that oils, in general, "protect the hair from damage by penetrating the hair shaft, reducing the amount of water the hair can absorb, which prevents swelling at the hair shaft," says Debbi Burnes, founder of Sumbody.  Since your strands are able to better absorb the nutrients from hot oils than cold ones, there's an obvious pro to heating up your product before applying it. Any sort of oil will moisturize your hair and scalp, and since your body is able to absorb the nutrients from hot oils better than cold or room temperature ones, hot oil treatments add a serious boost of protection and hydration.
Beyond that, though, different oils offer different benefits for your hair, so it's about choosing the right one for your specific needs. Just be sure you're not using anything you're allergic to (you can patch test on your arm before applying to your hair), and cut harsher oils like peppermint and rosemary with something softer, like jojoba or avocado. A few stylist-favorite options:
Read more Spirulina: benefits for men and women
The best hot oils to treat different types of hair
1. Peppermint oil
If you've got an itchy scalp, or your hair tends to get overly greasy, reach for some peppermint oil, which has clarifying properties that will help do away with buildup and dead skin cells.
2. Argan oil
Often referred to as "liquid gold" in the hair-care world, argan oil is great for smoothing and moisturizing strands while also stimulating hair growth and helping to prevent future breakage.
3. Hemp seed oil
For overly dry strands, hemp seed oil is a great, moisturizing pick. It has one of the highest concentrations of polyunsaturated fatty acids of all naturally occurring oils, and will lock moisture into your hair follicle.
4. Avocado oil
Dealing with frizz? Avocado oil can help tame it. Since it's a light oil (which is one of the reasons it's so popular in healthy recipes), it will keep strands smooth without leaving behind any sort of slick residue.
5. Coconut oil
Coconut oil is among the most popular hair oil treatments out there, and for good reason. It moisturizes and smooths strands and may even help them grow, which explains why it's such a fan favorite among all hair types.
6. Olive oil
Your hair is able to absorb monosaturated oils, like olive oil, better than polysaturated ones, making this a great choice for keeping hair shiny, soft, and safe from damage.
7. Almond oil
Almond oil is packed with good-for-hair elements—including omega-3 fatty acids, phospholipids, vitamin E, and magnesium—which will help strengthen and nourish your strands while also keeping frizz at a minimum.
8. Rosemary oil
Looking for more hair on your head? Try some rosemary oil. Research has shown that when massaged into your scalp daily, it can protect against hair loss and help with hair growth—a double whammy for upping your strand count.
While you can certainly mix up these ingredients into a treatment of your own, there are plenty of products on the market that do the job for you and already include them. Shorter is a fan of Mizani 25 Miracle Oil ($22), which includes coconut, jojoba, and sunflower seed oils, which isn't technically a hot oil treatment but she heats up to make it more effective. Frazier exclusively uses Rejuvagrow Hair Oil ($20). "It's filled with nutrients that provide a pH balance for your scalp and hair strands," she says. "It's very lightweight so it won't weigh your hair down no matter how thick or thin it is."
Who should use a hot oil treatment?
Since there are so many different oil options that each have their own benefits, there's really something for all hair types and textures when it comes to hot oil treatments." Everyone can truly benefit from a hot oil because of the scalp benefits however, people with textured hair do benefit most," says Frazier. "Textured hair tends to be more porous and doesn't fully reap the benefits from the natural oils the scalp secretes, because oils don't easily slide down the hair shaft of textured hair as it does for straight hair." Shorter adds that anyone with extremely dry, damaged, or chemically treated hair can also benefit from dousing their strands in hot oil.
How to do a hot oil treatment
1. Prep your hair
Deciding whether you want to do a hot oil treatment on wet or dry hair depends on your hair type. If your hair is extremely thick or dry, Shorter recommends applying to dry hair, while medium or fine hair should be treated wet.
2. Heat your oil
If you purchase a pro-grade hot oil treatment, just follow the directions on the back of the bottle to get the product nice and warm. If you're doing it yourself, you can warm the bottle in your hands or put a few teaspoons in a bowl and nuke it in the microwave for 10-15 seconds.
3. Let the product sit
Depending on how much love your hair needs, you can either apply it immediately before you shampoo for 10 to 15 minutes, or let it sit overnight and wash it out in the morning. Frazier suggests parting your hair into four different sections and pulling the oil from your scalp down to the ends. Then, let it sit under a plastic shower cap, or if you've got them, a hair steamer or hood dryer.
6. Wash it out
After you've let the hot oil treatment sit (for however long you choose), rinse it out with water, then shampoo and condition normally.
7. Repeat as needed
Depending on how much love your hair needs, you can treat it to some hot oil once a week or once every two weeks.
---
— Update: 08-02-2023 — cohaitungchi.com found an additional article Why Using a Hot Oil Treatment for Hair Can Completely Change Your Strands from the website www.shape.com for the keyword benefits of hot oil treatment.
Even if you're versed in the unique benefits of every hair oil, from castor to coconut, you might not be so clear on the perks of using a hot oil treatment for hair. The theory is that by heating up an oil prior to application, you can take advantage of deeper moisturization than simply using hair oil at room temp.
If you're already dedicating time to treating your hair with masks, bond builders, deep conditioners, and unheated oils, you might be doubtful that hot oil treatments bring benefits to the table that make it worth the additional effort. Before you decide whether to add one of the treatments to your routine, learn more about their purpose and exactly how to use them. Below, Christopher Naselli, a celebrity hairstylist who's partnered with Biotera, shares what you need to know.
Q: Are hot oil treatments good for hair? I've just been using room temperature oil to moisturize my hair, and am wondering if heating up an oil is worth the effort.
The short answer: Yes, there is a purpose behind heating up a hair oil before applying it, according to Naselli. They may provide deeper moisturizing benefits compared to colder-temperature oil treatments, thanks to heat's effect on hair, he explains.
The Benefits of Using a Hot Oil Hair Treatment
To understand the benefits of using a hot oil treatment, it helps to understand the benefits of using oil on your hair in general. The main benefit of oils for hair is that they have emollient properties, meaning they can help fill gaps in your hair's cuticle (outermost layer), which can help prevent moisture loss and dryness, according to an article published in the International Journal of Trichology. Specific oils (argan oil and olive oil, for example) have been linked to various other benefits, such as contributing anti-inflammatory properties or promoting hair growth through scalp application, according to the research.
A hot hair oil treatment is intended to penetrate hair on a deeper level and provide the same benefits. "Any time you use hot oil or apply any sort of treatment to the hair, the heat will open the hair shaft," to allow the oil to penetrate, says Naselli. The heat prompts the cuticle to open, allowing the oil to sink in and moisturize hair rather than sitting on the surface of strands, he explains.
Whether or not you should add a hot hair oil treatment to your routine will depend on your individual needs and hair type. "Hot oil treatments are best used on hair that has been chemically treated, coarse hair, and grey hair," says Naselli. (Refresher: Chemical treatments can damage hair cuticles, resulting in dryness and dullness, and people with coarse hair tend to be more naturally prone to dryness.) "If you have light blonde hair or fine hair, I would avoid using a hot oil treatment as it will make your hair limp and appear oily."
How to Use Hot Oil Treatments
Naselli recommends buying a dedicated hot oil treatment rather than trying to DIY a hot oil treatment by heating up just any random oil, as he believes "it's best to purchase a product that is meant to be used as a treatment." Typically, brands recommend heating a packet of oil in warm water, applying the oil to wet hair, leaving it on for a minute or two, then washing your hair with shampoo and conditioner afterward as normal. For the best results, rinse with cold water after washing your hair, which will further help seal the cuticle to lock in moisture, says Naselli.
Read more Should You Include Ketone Drinks in Your Keto Diet?
If you decide to add a hot oil treatment to your routine, don't use it more frequently than once a week, advises Naselli. "Overuse of any treatment can do more harm than good," he says. "Hot oil treatments if used too frequently can clog the pores on the scalp." If the pores on your scalp become clogged it can contribute to issues such as scalp acne.
If your hair is dry, coarse, chemically treated, or all of the above, you may want to consider adding one of the treatments to the rotation to give your hair some TLC. While your go-to hair oil is no doubt benefiting your strands, your hair will thank you for taking the additional step involved in a hot oil treatment to add deep penetrating moisture to your strands.

---
— Update: 11-02-2023 — cohaitungchi.com found an additional article The Benefits of a Hot Oil Treatment for Hair—and How to Do It Yourself from the website www.realsimple.com for the keyword benefits of hot oil treatment.
With all the focus on hydrating skincare, your dry, damaged hair might have taken a backseat when it comes to getting some much-needed TLC this winter. Colder temperatures can not only do a number on your skin, but can also turn your locks from lovely to lackluster, too.
Enter: Hot oil treatments for hair, a hairstylist-recommended way to practice self-care and bring life back to your locks.
But before you go pouring a bottle of steaming oil over your head, give this a read. We asked hairstylists the burning questions about hot oil you'll need to know, plus how to execute the treatment safely.
How Hot Oil Helps Hair
Using hot oil hair treatments has many benefits for dry hair and a dry scalp. "The warm oil seals the cuticle by adding moisture to the hair follicle, which can help repair and prevent split ends," explains Jana Rago, a hairstylist and owner of Boston-based Jana Rago Studios. "A proper hot oil hair treatment, including a scalp massage and allotting enough time for the oil to seep into the hair and scalp, can result in shiny, smooth hair once washed and dried. I like to joke and say that a hot oil treatment is like Botox for the hair—it helps give hair its luster back and strengthens the cuticle from the root."
Can Hot Oils Help With Dandruff?
Yes, a hot oil hair treatment can help with dandruff, but only if the dandruff is being caused by having a dry scalp (as opposed to fungus-related dandruff). That's because applying a hot oil hair treatment to your scalp can help stimulate blood circulation and release flaky, dry skin sitting on top of the scalp, leaving your scalp moisturized and refreshed once it's washed out, says Rago.
"Keep in mind that there are other culprits that may cause dandruff-like product build-up or certain medical conditions like seborrheic dermatitis," adds Leigh Hardges, a hairstylist at Maxine Salon in Chicago. The latter typically requires more advanced dandruff treatments.
Hot Oil Hair Treatments for Frizzy, Curly, and/or Textured Hair
Those with frizzy or textured hair actually benefit the most from a hot oil hair treatment, since these hair types are naturally on the drier side. "As someone with textured hair, I'd recommend hot oil treatments, as they can be used for deep conditioning, especially during the winter dryness," explains Jessica Morrobel, a natural hair educator based in New York City. "One of the best perks of hot oil treatment for textured hair is that it protects the hair and makes it softer/more manageable."
Due to the high porosity of curly, textured hair, those hair types will find that their locks drink up the oils from a hot oil treatment faster than someone with straighter hair. "People who have frizzy, curly, and/or textured hair will see better results versus those with straight or thinning hair," explains Rago. "The oil can be overpowering for thin hair, so to use it well, you must apply a smaller amount to the scalp."
Is there anything you shouldn't do with a hot oil treatment?
First off, pay attention to the temperature of the oil—if you make it too hot, you could easily scald your scalp. Also, "don't apply [a hot oil hair treatment] to dry or dirty hair—when the hair is wet, the cuticle is slightly open, so it's the best time to accept oils and conditioners," says Hardges. "Shampooing the oil out of the hair is a must for best results when styling."
Before applying a new oil to your hair and scalp for the first time, make sure you do a patch test in the area close to your scalp, to see if your skin has any adverse reactions. "It's important to understand which oil is right for your hair type to ensure you don't have any unfavorable reactions to the oil, especially if you have sensitive skin," says Morrobel. "As a natural hair educator, I recommend that anyone new to hot oil treatment check with their doctor or dermatologist before applying hot oil all over their scalp."
How do you know if a hot oil treatment is right for you?
According to Rago, hot oil hair treatments are ideal for anyone with normal to dry, frizzy hair. "The only texture of hair it's not great for is thinning hair or damaged scalps," says Rago. And don't worry about the oils dragging your hair down or making it look greasy. Hot oil treatments are supposed to infuse oil into the hair—not sit on top of it—so that shouldn't happen as long as you're using the right type (and proportion) of oil.
The key is finding an oil with the right molecular weight. Finer hair should opt for coconut oil—in a study published in the International Journal Of Trichology, researchers compared the molecular weight of coconut, sunflower, and mineral oils. They found that coconut oil has a lower weight, which allows it to penetrate the hair shaft. However, certain oils, like sunflower and mineral oils, latch onto the surface of the cuticle, which could leave hair feeling more greasy.
How Do You Apply a Hot Oil Hair Treatment at Home?
Luckily, you don't need to head to the drugstore. As long as you've got a plant-based oil—like olive, almond, or coconut—on hand, you're already halfway there.
First, give yourself enough time to properly do the hot oil hair treatment. "Depending on how much oil is used, your hair may require two washes for the product to be fully removed from the hair and scalp," says Rago. "It's best to do an at-home oil treatment like this when you have downtime and are not going out right after. Hair always looks the best a few days after a treatment like this."
Next, you'll need to gather your supplies.
You'll need:
An oil blend (like grapeseed, hemp seed, avocado, olive, or coconut oil)
A heat-safe bowl or glass container
A larger bowl
Hot water
A plastic shower cap
Shampoo and conditioner
To give yourself a hot oil hair treatment, follow the steps below:
Scoop a small amount of oil into a heat-safe bowl or glass container.
Place the heat-safe bowl or glass container in a larger bowl with hot water, allowing the smaller one to be partially submerged for a few minutes.
Once the oil has reached the appropriate temperature, test the oil on your wrist before applying it to your hair.
Rub your hands together to spread the warm oil around to the ends of your fingers.
Apply the oil to the scalp, massaging the scalp in small circles with your fingers all over from your hairline to the back of your neck and down to your ears.
Once the oil is distributed throughout the scalp, take a wide-tooth comb and pull the product to the ends of your hair
Cover your hair with a plastic shower cap and leave the oil in your hair for 15 to 30 minutes.
To remove the oil, wash and shampoo your hair. Finish with conditioner if desired.
References