When most people think of chamomile, they usually associate it with a good cup of tea to help them unwind at the end of a long day. But this little white and yellow blossom is so much more than that.
For centuries, the chamomile plant has proven to have many great skincare benefits, including the ability to fight acne, reduce aging signs, and keep the skin hydrated. So, if you're looking for a natural way to improve your skin regime, chamomile might just be the answer!
In this article, we'll share the many incredible benefits of chamomile for your skin and, most importantly, how to use it to get the best results.
But first, do you know what chamomile actually is?
What Is Chamomile?
Chamomile is an ancient herb that has many great benefits. Matricaria recutita (commonly known as German chamomile) and Chamaemelum nobile (commonly known as Roman chamomile) are the two popular varieties of the plant.
Physically, the herb looks much like a daisy (yellow in the middle with white blossoms), and that's because it belongs to the same Asteraceae family, which includes daisies and sunflowers.
The more common variety is the German chamomile. This herb was first found in Europe and Western Asia but is now grown in many parts of the world.
In ancient times, the chamomile plant had many uses. For instance, the Egyptians used it as incense, while Europeans used it as an air freshener.
Despite using it for many different reasons, there's one that seems to have stuck through the ages: the use of the plant for medicinal purposes, including digestive problems, insomnia, and anxiety. Incredibly, chamomile can also help with PMS symptoms and headaches.
While the plant's medicinal benefits can't be denied, today, we'll be focusing on one particular area — the skin.
Everyone wants healthy-looking, well-nourished, and hydrated skin. The chamomile plant can offer us this and so much more!
5 Amazing Benefits Of Chamomile For Skin
1) Reduces Inflammation And Redness
If you've ever had sunburn (who hasn't?) or experienced a skin rash, then you know how irritating and sometimes painful these conditions can be.
Unfortunately, it can also be challenging to find the right product to treat your skin. This is where chamomile comes in.
Ancient Greeks crushed the chamomile plant and applied it directly to irritated skin. Why is that? Because chamomile contains apigenin (an antioxidant), which helps reduce inflammation on the skin.
It works both deeply and gently to get rid of inflammation and skin redness.
2) Helps Relieve Eczema And Acne Symptoms
Eczema is a skin condition that affects up to 20 percent of children worldwide and three percent of the adult population. In America specifically, over 30 million people have some signs of this skin condition.
Common symptoms of eczema include dry and itchy skin, red to brownish patches, and sometimes thickened and scaly skin.
There are many products that claim to help with eczema. But over the years, we've found that the most effective treatments are those that use natural ingredients over harsh chemical products.
This is why we're not surprised that chamomile can also help ease eczema symptoms!
For example, since the plant contains anti-inflammatory properties, it can relieve a lot of the discomfort that comes from the skin irritation mentioned above.
In addition, when applied directly to your skin, the anti-inflammatory and antioxidant properties of the chamomile plant can also help reduce the inflammation that often comes with acne-prone skin.
3) Soothes Sensitive Skin
If you have sensitive skin, you know how frustrating it can be to try new products or even come in contact with everyday household items. These things can cause itchiness, stinging, or redness to your skin.
Understandably, people with sensitive skin tend to avoid many products. But if you suffer from skin sensitivity, chamomile is one ingredient you don't have to avoid. That's because of its incredible healing properties.
The plant contains a combination of three natural compounds — chamazulene, bisoprolol, and apigenin. These compounds are found to help soothe sensitive skin.
It's these same compounds that also play a role in helping heal damaged skin.
4) Helps Heal Wounds
Another surprising and incredible benefit of the chamomile plant is that it helps with the healing of wounds.
This might be surprising to you. How can a little herb heal cuts, abrasions, and the like? The "magic" is in the antimicrobial properties of the plant.
These properties kill viruses and bacteria and slow down the spread of microorganisms. So, when you apply cream or ointment directly onto the affected area, the antimicrobial properties can speed up the healing process.
Read more The Skin Care Benefits of Chamomile (And the Best Products That Have It)
5) Minimizes The Signs Of Aging
We've saved the best point for last!
One of the benefits of chamomile (and our favorite!) is that it can reduce the appearance of fine lines, hyperpigmentation, wrinkles, and other common signs of aging.
There are two antioxidant properties of the plant that make this possible — polyphenols and phytochemicals. These protect the skin from free radical damage, which accelerates skin aging.
When applied to your skin, chamomile helps with cell and tissue renewal, giving you a youthful glow.
Now that you're aware of all these amazing benefits that chamomile has to offer, let's take a look at some natural products you can use today.
How To Use Chamomile
With the chamomile benefits we've listed above, it's no surprise that people have been using it for centuries to help them achieve a healthy glow.
Here are a few ways to add chamomile to your everyday routine so you can do the same:
Drink it. Consuming chamomile is common, especially for more medicinal purposes like aiding with digestion, anxiety, and insomnia. Chamomile teas are just what you need!
Crush the plant. Some people crush and apply the herb directly to affected areas.
While these options may be common, the challenge with choosing to consume the tea is that some varieties may leave you feeling drowsy. And crushing and applying the plant directly may be a time-consuming (and messy!) endeavor.
On the other hand, one of the easiest and most effective ways of incorporating chamomile into your skin regime is to use natural products that contain the ingredient.
As plant-based, all-natural skincare experts, we offer a few products that contain chamomile so you can reap its amazing benefits.
Calming Baby Lotion
Babo Botanicals Calming Baby Lotion is ideal to help your little one calm down, relax, and drift off to sleep. This lotion has a mixture of both chamomile and French lavender scents, as well as meadowsweet oil to help moisturize your baby's delicate skin.
But don't be fooled by the name. Our Calming Baby Lotion works wonders for adult skin, too!
Hydrating Wipes
Our 3-In-1 Face Hand And Body Cleansing Wipes contain chamomile and are perfect for daily use. They are both hydrating and soothing and can be used by the whole family to gently cleanse the face, hands, and body.
Sensitive Baby Lotion
If your little one suffers from dry, sensitive, irritated, or eczema-prone skin, then Babo Botanicals Sensitive Baby Daily Hydra Baby Lotion is the perfect solution.
In addition to the all-important chamomile, this lotion also contains shea butter, jojoba oil, and calendula, which will help give your baby's skin all the nutrients it needs.
Sensitive Baby Travel Kit
Just because you're on the road doesn't mean your baby's skin should be an afterthought. Our Sensitive Baby Travel Kit contains a shampoo and wash, daily hydra lotion, and diaper cream.
It's perfect for families on the go and comes in a lightweight, reusable zipper bag for added convenience.
Say Hello To Healthy Skin With Chamomile!
If you've been searching for a natural ingredient to help improve your skincare routine, chamomile is the answer!
This sweet-smelling member of the daisy family has many incredible benefits. Its anti-inflammatory, hydrating, and antibacterial properties are just some of the qualities that make it ideal for healthy skin.
Adding chamomile to your family's routine is easy!
You can drink chamomile tea, crush the plant and apply it directly to affected areas of your skin, or search for skincare products that contain the plant's ingredients, like our Calming Baby Lotion, 3-In-1 Face Hand And Body Cleansing Wipes, Sensitive Baby Daily Hydra Baby Lotion, or Sensitive Baby Travel Kit.
With regular use, you (and your whole family) will soon say hello to healthy, glowing skin!
---
— Update: 10-02-2023 — cohaitungchi.com found an additional article 6 Benefits of Chamomile Flower Extract for Your Skin from the website ebanel.com for the keyword skin benefits of chamomile.
In addition to the traditional medicinal uses of the Chamomile plant discussed earlier, Chamomile extract can be used to treat a variety of cosmetic and surface-level ailments like acne, skin discoloration, skin irritations, rashes, and many others. A few of Chamomile extract's topical uses include:
1. Helps in Faster Wound Healing
Chamomile extract's high content of α-bisabolol and apigenin will reduce inflammation, cleanse the wound, bring much needed moisture to the damaged tissues, and soothe any discomfort. This combination of effects will increase the rate of cell regeneration and accelerate the healing process.
2. Minimizes Skin Aging
Premature skin aging can be caused by various different sources. Among these causes are ionizing radiation, excessive physical or psychological stress, overconsumption of alcohol, poor nutrition, and UV radiation. These various sources of free radicals accelerate the aging process of the cells that compose our skin.
α-bisabolol has been shown to inhibit the production of new free radicals when present in concentrations of 7.7-31microg/mL. Due to α-bisabolol's high concentration in Chamomile extract, it may serve as a deterrent in the production of new free radicals that could cause premature signs of aging.
3. Fades Dark Spots and Hyperpigmentation
Hyperpigmentation is the technical term for the darkening of the skin. This darkening is usually caused by contact dermatitis, inflammatory skin conditions like acne and psoriasis, and contact with skin allergens. Similarly to the way that the sun causes our bodies to produce melanin, tanning our skin, these conditions can cause the body to produce excessive melanin at the location of the irritation. This is what is responsible for the darkening of the skin.
Read more Catfish Nutrition Facts, Health Benefits, Recipes, And More
α-bisabolol has been shown to be capable of inhibiting the melanogenesis, or our body's production of melanin, which causes unwanted and unsightly hyperpigmentation of the skin. This makes chamomile a great ingredient in topical treatments for dark spots on the skin.
4. Relieves Eczema and Dermatitis
Thanks to the anti-inflammatory properties of Chamomile extract, it can be used as a topical treatment for the symptoms of pronounced skin irritations like eczema and dermatitis. The terpenoids chamazulene and α-bisabolol are responsible for the reduction of inflammation. The topical application of the Chamomile extract is effective because it allows the 2 terpenoids to inhibit the signaling of an enzyme involved in the inflammation process.
One of the best methods for treating eczema or dermatitis is to dilute about 10-15 drops of the extract in a bathtub and soak the afflicted area for approximately 15-20 minutes. If you aren't a fan of baths, you can always create a warm compress instead.
5. Moisturizes Dry Scalp
With the winter quickly approaching, many people tend to suffer from a dry and itchy scalp. To avoid those embarrassing white flakes and the discomfort, try doing a hot oil treatment for your hair. Heat up a carrier oil like coconut oil or jojoba oil in a pot until it's warm to the touch. Once heated, add a few drops of Chamomile extract. The terpenoid α-bisabolol in Chamomile extract is known to assist in the binding of moisture and will help to soften and add suppleness to the scalp.
6. Enhances Skin Penetration
In addition to having its own benefits when applied topically, Chamomile extract is also a penetration enhancer, which can improve the absorption of other topical products into the skin. The increased penetration into the skin makes Chamomile extract a useful additive to moisturizing creams and lotions.
Although there are a few other substances that can penetrate the barriers of the skin, Chamomile extract is particularly well suited for the job. Chamomile extract's success as a skin permeating agent can be attributed to its high content of the terpenes chamazulene and α-bisabolol, as well as, its natural and non-toxic nature.
Warnings and Potential Side Effects
Due to the many medicinal and cosmetic uses of Chamomile extract, you may be anxious to get your hands on some. You should, however, always exercise caution when experimenting with new herbal remedies. Although allergic reactions to Chamomile and its extracts are rare, they are possible. Several studies have been conducted on the safety of the consumption of Chamomile and its extracts. The Cosmetic Ingredient Review deemed Matricaria Recutita and its extract as non-irritants and safe for use in cosmetics, whereas the FDA has classified the primary active constituent, α-bisabolol, as Generally Regarded as Safe (GRAS). People with known allergies to plants of the same family, such as daisies, ragweed, marigolds, and chrysanthemums should exercise caution before consuming Chamomile or its purified forms.
Ebanel Products with Chamomile Flower Extract
---
— Update: 13-02-2023 — cohaitungchi.com found an additional article Add Chamomile to Your Skin Care Routine to Soothe Redness, Fight Acne, and Reduce Signs of Aging from the website www.healthline.com for the keyword skin benefits of chamomile.
Studies on chamomile are limited, and many are in animals.
However, dermatologists say there's good reason to think this common flower has benefits for the skin — from wound healing to anti-aging.
"Chamomile's wonderful soothing, healing, anti-oxidant, and anti-inflammatory properties make it a popular ingredient in skin care," says Dendy Engelman, MD, FACMS, FAAD, a board certified cosmetic dermatologist and Mohs surgeon at Shafer Clinic in New York City.
Chamomile may provide benefits for:
wound healing
inflammation
redness
eczema
hyperpigmentation
acne
free radical damage
Wound healing
Essential oils extracted from chamomile reportedly have antimicrobial properties to protect against certain types of bacteria, fungi, and viruses.
A 2018 study in rats found that ointment with Roman chamomile extract significantly improved the healing and antibacterial activity in an infected wound compared with tetracycline ointment and placebo.
In fact, the German Commission E, a group of scientists, doctors, pharmacologists, and toxicologists who determine if drugs are safe for use in Germany, approved the use of chamomile for bacterial skin diseases.
Inflammation
Chamomile is often used to help tame skin inflammation from sunburn and rashes. The German Commission E also approved chamomile for treating skin inflammation.
"Chamomile contains the anti-oxidant apigenin, which aids in lowering inflammation by inhibiting the release of inflammation-causing chemicals," Engelman explains.
Redness
The ancient Greeks were on to something when they applied crushed chamomile to red, irritated skin. That's because chamomile seems to curb inflammation, an underlying cause for skin redness.
"Chamomile deeply but gently penetrates the skin to alleviate inflammation," Engelman explains.
Soothing sensitive skin
Chamomile's anti-inflammatory and healing properties appear to be especially soothing for sensitive skin types.
"Bisoprolol, chamazulene, and apigenin are three compounds found in chamomile that give it soothing and healing benefits that are [great] for sensitive skin," says Engelman.
Some research in animals suggests that skin creams containing chamomile may even be beneficial for those with skin conditions, like eczema. A 2010 study found that applying German chamomile oil to the skin of mice effectively lowered allergy markers.
Read more The Benefits Of Hanging Eucalyptus In Your Shower
Hyperpigmentation and skin lightening
Hyperpigmentation is when areas of skin are darker than surrounding skin due to overproduction of the hormone melanin. It's usually caused by injury or inflammation to the skin, and it's commonly linked to sun damage, acne, or hormonal changes during pregnancy.
Skin-lightening products with chamomile that treat hyperpigmentation may help.
"Chamomile has astringent and brightening properties that, in addition to tightening pores and softening the skin, can fade acne scars and hyperpigmentation when used regularly," Engelman says.
Acne
The same anti-inflammatory, antibacterial, and anti-oxidant properties that make chamomile an effective treatment for redness and inflammation may also address acne.
"It can be used as a mild astringent, which causes body tissue to contract," Engelman notes. "It gently kills bacteria, helps fade hyperpigmentation or red spots, and speeds up cell regeneration, which helps clear the skin."
Anti-aging
Anti-oxidants fight oxidative stress caused by free radicals, which are the natural result of everyday metabolic processes and inflammation. Oxidative stress is linked to fine lines, wrinkles, hyperpigmentation, and other signs of aging.
Chamomile contains powerful anti-oxidants including polyphenols and phytochemicals. When applied to the skin, it may help reduce signs of aging by protecting the skin from free radical damage.
"It accelerates cell and tissue renewal, reducing the appearance of fine lines and giving skin a youthful glow," Engelman says.
---
— Update: 14-02-2023 — cohaitungchi.com found an additional article The Skin Care Benefits of Chamomile (And the Best Products That Have It) from the website www.dermstore.com for the keyword skin benefits of chamomile.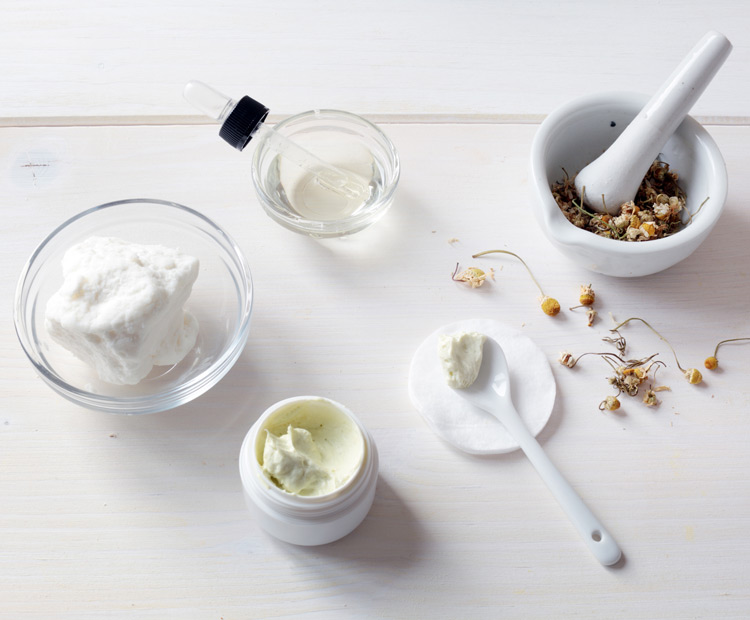 One of the most relaxing nighttime rituals is sipping a cup of chamomile tea. In case you didn't know, chamomile has a long history as an Ayurvedic treatment. A form of holistic medicine, Ayurveda was founded in India thousands of years ago on the principle that health depends on the right balance between the body and mind.
The Health and Skin Care Benefits of Chamomile
Coming from the Anthemis nobilis plant, chamomile is said to be able to treat everything from bloating to insomnia to headaches to PMS symptoms. "Chamomile has anti-inflammatory effects because it blocks the release of a potent chemical responsible for promoting inflammation in your body—called prostaglandin E2—and also decreases the release of histamine," explains Dr. Donna Hart, M.D., a dermatologist at Westlake Dermatology. Histamine is a chemical your immune system produces to help your body get rid of allergy symptoms, adds Hart.
Along with boasting some major health benefits, did you know that chamomile also provides skin care benefits? Because of chamomile's ability to inhibit inflammation, it can have some pretty cool effects on your skin. "When used topically in skin care products, it can help soothe, comfort and moisturize the skin," says cosmetic chemist Ron Robinson, of Beauty Stat. "It's particularly good for those with sensitive skin," he notes.
Chamomile and Sensitive Skin
According to a study published in Molecular Medicine Reports, one of the main compounds found in chamomile is called apigenin, which other studies have shown to be able to improve skin barrier function. Your skin barrier refers to the outermost layer of your skin. Though it works to keeps irritants out, things like environmental conditions or the use of harsh products can weaken it. When your skin barrier is weakened, irritants can make their way in and lead to irritation and sensitivity.
According to the Molecular Medicine Reports study, chamomile contains other compounds that have anti-inflammatory effects. These compounds include alpha-bisabolol, alpha-bisabolol oxides A & B and matricin. They're all flavonoids, which are a class of substances found in plants. One international study found that the flavonoids in chamomile have the ability to penetrate deep into the skin and inhibit the release of chemicals that cause inflammation. It makes sense then that the study highlights the fact that chamomile is used topically to treat diaper rash, chicken pox, poison ivy and the list goes on.
Chamomile and Acne- or Rosacea-Prone Skin
Dr. Hart adds that in addition to calming sensitive skin, chamomile also helps decrease inflammation in those with acne- or rosacea-prone skin. A study published in the Journal of Drugs in Dermatology found that the most useful herbs for treating the facial redness of rosacea includes chamomile, green tea and lavender, thanks to their ability to block the release of inflammatory chemicals in the body.
As for acne, a study published in the journal Evidence-Based Complementary and Alternative Medicine states that chamomile essential oil contains compounds called α-pinene and terpinen-4-ol that have antimicrobial effects, meaning they kill or stop the growth of certain germs. This study explains that these antimicrobial compounds help kill Staphylococcus aureus, a type of bacteria that causes acne.
Precaution to Note
As great as chamomile can be to sensitive and problematic skin, the one caveat is that chamomile is a relative to ragweed, a common weed that produces pollen and that many people are allergic to. So those with ragweed allergies may want to hold back on this ingredient to avoid a potential reaction to chamomile, notes Dr. Hart. If you're not sure whether you're allergic to this ingredient, always do a patch test before slathering a new product with chamomile on the rest of your skin.
Best Skin Care Products With Chamomile 
Ready to take advantage of all of the beauty benefits chamomile has to offer? Here are some products formulated with chamomile that you can add to your skin care routine.
Buy now with Dermstore

Buy now with Dermstore

Buy now with Dermstore

Buy now with Dermstore

Buy now with Dermstore
References