In this post, I'm talking about the benefits of biblical fasting, when to fast, kinds of fasts, and biblical fasting tips. Live yielded to God through spiritual fasting and see the breakthrough God has for you. And at the end, I'm going to show you the tools to help see your fast through to completion.
---
Benefits of Fasting and Prayer
Do you want to grow spiritually? Are you longing for a spiritual breakthrough? Give God your undivided attention through biblical fasting and see Him move on your behalf.
I don't know about you, but fasting is not my favorite subject! My fleshly nature tends to want it easy; I crave comfort. While spiritual fasting is not fun, it's necessary. It is an intentional positioning of your heart for breakthrough and spiritual growth.
After dodging God on this subject for awhile, I finally announced one day that I felt impressed to fast from my (previous) blog. I pulled out the sackcloth and ashes and mourned this fact to my readers. Although I was trying to be humorous, the truth is, following through with it wasn't easy! But obedience is key.
The first day of my blog fast I knew that God wanted me to pull back from social media, and what did I do? I opened a Google+ account! But God worked on me during that fast, anyway.
When Does the Bible Say to Fast?
Fasting is not a question of but . Jesus said, " you fast" not "if you fast" (Matthew 6:16-18). It is biblical; Jesus did it (Matthew 4:2).
Some people fast religiously, almost without direction. If that's the case, then check your motive. God may be calling you to fast. He certainly has a specific purpose in mind. More often than not, when I decide to fast, God has already laid it on my heart for a definite reason.
When does the Bible say to fast?
Regularly. Fasting is a spiritual discipline. The frequency is Spirit led. (See Luke 2:37, 2 Corinthians 11:27)
When the leadership calls a fast (i.e. your church or nation). Public national fasts were recorded in the Bible on occasions when the people were repenting of sin. (See 1 Samuel 7:5-6; Nehemiah 9:1-3)
When you need direction. Are you desperate to hear Him more clearly? When the noise of everything else is temporarily removed it is easier to receive clarification, especially when seeking direction. (See Acts 13:2)
Fasting is an intentional positioning of your heart for breakthrough and spiritual growth. #LiveYielded Click To Tweet

Kinds of Fasts
Total fast (only drinking water) – Jesus ate nothing when He fasted.
Daniel fast – more restrictions than a vegan diet. See link.
Juice fast (juicing and drinking water only) – only by the leading of the Lord. Take medical conditions into consideration.
Partial fast (food specific) – be Spirit led. Recommended if you have a medical condition. Can also be from sun up to sundown. 
Non-food related (e.g. entertainment) fast – my recommendation is to do these fill-in-the-blank types of fasts in addition to (and not in place of) one of the ones listed above.
Biblical Fasting Tips
Use wisdom. I've been underweight for the last several years so I cannot participate in fasts that involve the loss of vital calories for my body. My doctor even recommended that I not participate in a Daniel fast because he was concerned my body would burn muscle instead of the missing extra fat. Instead, I fast chocolate, sugar, or other specific treats I usually partake in daily. Occasionally, I fast some form of entertainment or something I would rather not give up. 😉 God always makes it clear which precious commodity I am to fast.
Take medications into consideration. If you are on medication and the directions say to eat food with it, then follow the instructions of your doctor or pharmacist. It's not using wisdom to tempt God by throwing your body into a danger zone. Find the principle of not putting God to the test in Matthew 4:5-7.
If you give into eating during your fast, don't get into condemnation. Simply ask God for strength and keep moving forward.
Remove or limit normal distractions such as watching television. It will help you to remain sensitive to the Spirit.
Resist temptation by running to God immediately. See the foolproof way to abandon temptation.
Beneficial Results of Spiritual Fasting
Let's look at some Bible verses that reveal some of the benefits of fasting and prayer:
Protection: Esther 4:16; Ezra 8:21-23; 2 Chronicles 20:1-25
Victory over temptation: Matthew 4:1-11
Commission into ministry: Acts 13:2-3; Acts 14:23
Reach the heart of God: Jonah 3:4-10
Deliverance: Mark 9:28-29; Isaiah 58:6
Preparation for new seasons of ministry: Matthew 4:1-17
Health: Isaiah 58:8
Fasting not only gives spiritual benefits but physical ones as well:
Remember, when you fast spiritually, the time you would usually spend eating is spent with the Lord instead. Write down your questions, any struggles you may be facing during the fast, and what God is showing you in your journal. Go back later in the fast and read what you wrote. Often you will gain more revelation or see the answers to your questions as God completes the work He is doing. I have a product below that can help you with all of this.
Whatever the purpose of your fast, it will strengthen your walk with God. Fasting will cause you to thrive spiritually.
---
Let the Biblical Fasting Kit Help You with All Your Fasts 
Learn how to hear from God to discover the specific purpose of your fast and implement a plan of action to follow.
You get the packet so you can apply fasting tips, create a strategy, and learn fasting purposes through Bible study.
You get the Scripture cards so you can yield to God and see your fast to completion.
You get wall art so you can stay inspired during your fast.
You get an electronically fillable kit if you don't have a printer.
---
Did you find this post helpful? Please share it with others!SaveSaveSaveSaveSaveSaveSaveSaveSaveSaveSaveSave
---
— Update: 01-04-2023 — cohaitungchi.com found an additional article What Are The Benefits of Fasting and Prayer? from the website hopejoyinchrist.com for the keyword benefits of fasting bible verses.
This season has been a series of one intense thing after another and I am struggling.  Well, I have been struggling.  Through this 40-day devotional series, I have felt the Lord pick me up, put me back together, and mend some of the broken places.  Is that what you need today?  As we began over 30days ago, we launched a simple Spiritual fast and I got some questions from you.  One was so specific that I thought I'd answer it here.  What are the benefits of fasting and prayer?
Read more What is early childhood education and why is it so important? Understanding it's impact
There are over 100 powerful benefits of fasting and prayer listed in Scripture!  The miracles through fasting and prayer that we see in God's Word really blow my mind. Click To Tweet
Did you find this mid-series? Go back here and read the intro and keep up with the series.
What Are The Benefits of Fasting and Prayer to Be Still?
I have shared about fasting and prayer before and the links are below.  Think of this first half as a quick reference for Spiritual fasting
5 Reasons to Fast with Hope
5 Simple Ways Most People Ruin a Time of Fasting
How to Fast and Pray in a Way that Pleases God (or how to properly fast for God)
3 Things to Expect in a Time of Fasting with God
A Story from my First Fast (and what is fasting and prayer)
The Bible speaks so often about the benefits of fasting and prayer that it would be foolish for us to ignore this powerful Spiritual discipline!
Okay, just to recap some of those things in case you are short on time.
Why Would a Modern-Day Christian Fast?
This is one of my favorite fasting scriptures for breakthrough
I don't know about you, but I desperately need God to guide me and keep me from dryness!  That alone is enough reason to begin adding fasting to prayer.  
The Benefits of Fasting and Prayer Scriptures
There are over 100 powerful benefits of fasting and prayer listed in Scripture!  The miracles through fasting and prayer that we see in God's Word really blow my mind. 
These are just a few of the benefits of fasting Bible verses that helped me take the leap to begin fasting regularly.
What is Fasting Biblically?
A fast is simply making a choice to give up something you seek for satisfaction in order to seek God for satisfaction.
The Biblical benefits of fasting and prayer are mainly about nearness.  Fasting brings you near God like nothing else.  When you deny yourself something for a time and draw near to God, He really does draw near to you.  Even if you start with 3 days fasting and prayer for breakthrough you will see change!
Related: 27 Fasting and Prayer Scriptures for Breakthrough
What Do You Give Up in a Fast/ Types of Spiritual Fasting?
Only you will know what makes sense to fast from but these are a few suggestions.
Food

If you are in good health, fasting from a meal is a very straightforward way to begin to fast. 

During the time you would have prepared and eaten the meal you spend time with God in Bible reading, prayer, and solitude.

If you are NOT in Good health, consider another form of fasting or talk with your doctor before you begin.

Media/Time

TV, the internet, social media, and the like are time-consuming. 

Most of us turn to entertainment from media for satisfaction.  For most of us, it would be very effective to give up one or all forms for part or all of a day.

Spending

This was a new way to fast that surprised me but it's true that shopping brings satisfaction. 

Can you go a day or a week without shopping?  This can be a great way to focus on God.

Other Things

The Bible gives examples of other things that we seek for satisfaction that can be part of a time of fasting
Related: 7 Different Types of Biblical Fasting
Things to Avoid When Fasting and Praying 
Let me offer a word of caution when asking, "Is fasting healthy?"
Fasting is a Spiritual discipline that is hard to cultivate.  I highly advise working up to bigger fasts by fasting part of a day for a while.  As you become accustomed to the effects of fasting you can fast a day, a few days, or more.  Don't worry about what to do when you are fasting.  Plan on praying and let God lead you.
Spiritual fasting is not about the body.  Yes, there are physical benefits of fasting and prayer over time, but there is also a danger.  It is easy to turn a time of fasting into a diet.  Resist the urge.
The more healthy benefits of fasting and prayer will be seen in Spiritual satisfaction and nearness to God rather than weight loss.  
What are the Spiritual Benefits of Fasting and Prayer?
Is there something you have been praying over for a long time?  Something urgent that you need God to answer now?
Fasting slows you down long enough to hear God's voice.  We saw that when we looked at the benefits of fasting and prayer in the Bible verses above.  When you fast in obedience to Jesus' Words you find:
Clarity
Direction from God.
Answers
Help from unexpected places
Protection
Breakthrough
Release from habitual sin
Redirection from God – that one always shocks me.
Fasting can cure Spiritual dryness.  It feels like wave after wave of God's grace raining down on you when it finally breaks.
What Does Fasting Look Like in Today's Busy Life? 
If you have been following along you know this has been a rough season for me.  I believe in living life without a mask.  When life is hard I talk about it.  When life is good I talk about it.  Nothing is hidden and God gets all the glory when things change.  It is a motto to live by and certainly, one benefit of a fast is learning that truth heart-deep!
Related: Adding Fasting and Prayer for Marriage Blessing
Why Did I Decide to Fast 40-Days?
Sickness

For a few years, my health has been deteriorating.  The  diagnosis is an Auto-Immune Disease called Hashimoto Thyroiditis

An identity crisis

The pain and fatigue have been more than I ever expected.  With the sickness has come a need to rest and step out of so much of what was my life.

Challenges in marriage

Being sick has opened up a whole new series of struggles with marriage

Difficult seasons of parenting

Being a mom is never easy but this has been a rough season.  Being sick and tired often and working through the beginning of tween years and a young child with special needs has pushed me past my limits.
Read more The Benefits of Investing in Land
I was empty, hurting, and in need of clear direction in a lot of areas.  As I prayed I was more confused by God's answer to be still.  So I began asking God to speak more clearly.  Fasting and spiritual awakening go hand and hand and I went to God fully expecting Him to answer.
The Spiritual Benefits of Fasting 40 Days
God clearly confirmed His will for this season.  These are some of the things I heard from God.
Continue resting. 
Let go of control. 
Choose hope even when you can't see the next step. 
Choose joy even when pain makes it hard to get through the day. 
Keep your eyes fixed on God for your identity. 

That identity is not based on what you can do but in Whose you are.

Trust God to fight the battles you are too weak to fight. 
Give Jesus your fears and rest in Him. 
Make every day a day to abide in Christ.
For 40-days I've given God more time, giving Him the first and best of each day. As we near the end of the 40-days I feel His grace flow like rain over the dryness that was in my spirit.
A Prayer to Know the Benefits of Fasting and Prayer
Lord,
I praise Your Name for speaking an answer to my deepest needs in this hard season of life.  When life is hard You are faithful.  Thank You.
Help this lesson stay fresh in my mind.  Continue to teach me how to abide in You.
Amen
Do You Need The Benefits of Fasting and Prayer Today?
The benefits of fasting and prayer are beyond number.  I Googled it just to see what people shared and found three articles with numbers that made me laugh:
10 Powerful benefits of fasting and prayer
20 Powerful benefits of fasting and prayer
100 Powerful benefits of fasting and prayer
The articles were well written, but they missed the point.  There is a benefit as different for you as for me for every human who commits to a time of fasting and prayer.  You can't number the benefits, you can only share what they were for you.  
The point of fasting and prayer is to draw near to God and allow Him to change you and your situation.  The Spiritual discipline of fasting is a challenging one to master, but well worth the effort.  
I don't have the benefits of fasting and prayer pdf that could answer all the questions you might have, but I have a short book that can start.
Want to go deeper?  Check out A Beginners Guide to Fast and Pray: Taking Spiritual Warfare to the Next Level.  This is a short read (about 1 hour) that will help answer all your questions.
In the meantime, I'd love to pray over you on this journey.  Drop a comment below to let me know how to pray.
in HIM,
More Posts Like This:
How to Fast and Pray in a Way that Pleases God
40 Days to Be Still and Know God More
---
— Update: 07-04-2023 — cohaitungchi.com found an additional article 13 Amazing Biblical Benefits Of Fasting And Prayers from the website faithvictorious.com for the keyword benefits of fasting bible verses.
In this post, we are going to be looking at some amazing benefits of fasting and prayers that you may never have taken the time to find out from the Bible.
As a believer, the Scripture is clear that you should fast, it is a part of your devotion to God.
If practiced purposefully and by the leading of the Spirit, fasting and prayers can enrich your spiritual and physical life immensely.
If that's true, then it will be well for you to know how fasting and prayers really benefit you, plus the many ways it does.
So hold tight and see the amazing benefits of fasting and prayers in relation to your spiritual life, mental and physical health.
Let's dive in!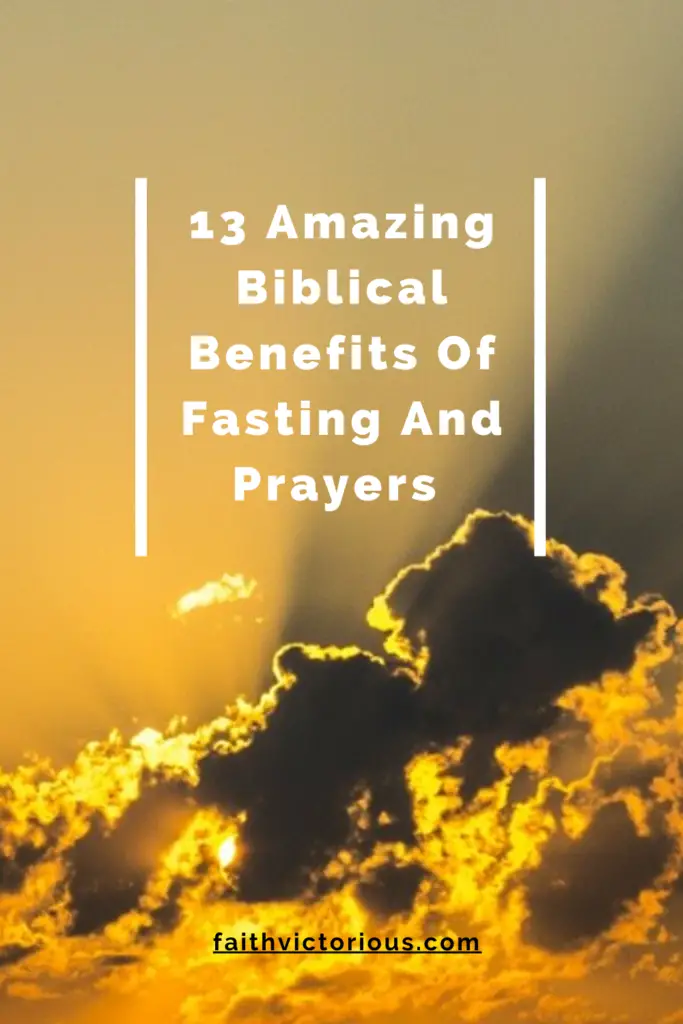 What Is Biblical Fasting And Prayers
Fasting and prayers in the Scripture is a deliberate abstinence from food, liquid (like water and drinks) and every other thing that offers you pleasure, for spiritual purposes (prayers, waiting on the Lord and more).
The most result oriented fasting and prayers are the ones informed by the Spirit of God- this is when the Holy Spirit calls and inspires you to a fast.
You can be sure that the Spirit has something in mind that makes Him call you to a fast.
Now note, fasting is not just abstinence from food and sometimes water for spiritual purposes, it is also a denial of pleasures for a time for the same spiritual purpose too.
That is to say, the Holy Spirit can have you fast sex (if you are married), TV, shows, internet …anything that gratifies the flesh.
(Ever heard of the Daniel fast?)
All these put together make up biblical fasting.
That said.
Now, let's look at the actual benefits of fasting and prayers as it were.
PEOPLE ALSO READ: Fasting And Prayer Scriptures
Spiritual Benefits Of Fasting And Prayers
The following are the spiritual benefits of fasting and prayers.
1. Spiritual Authority (Over Demons and Forces of Nature)
From the scriptures, you'd see that fasting and prayers confer on you spiritual authority.
Men and women in the Bible that weird spiritual authority and exercise supernatural influences got to such positions only after they had fasted and prayed as led by the Spirit.
Jesus Christ is a perfect example of this.
Before He went fasting as led by the Spirit for 40 days and nights, He did not demonstrate any form of spiritual power and authority.
But after the 40 days and nights of fasting and prayers, Scripture record says:
"Jesus returned to Galilee in the power of the Spirit, and news about him spread through the whole countryside." (Luke 4:14, NIV)    
Fasting and prayers conferred on Jesus spiritual authority.
In another place, Jesus told the disciples that a certain kind of demon will only go by prayer and fasting, implying that fasting and prayers will bring the disciples into positions of power and authority where they will be able to exercise control over such demons. (See Matthew 17:21, KJV)
PEOPLE ALSO READ: Psalms For Fasting And Prayer
2. Soul Emptying and Repositioning
King David knew about this. (See Psalm 35:13, KJV)
Fasting and prayer has the ability to humble the soul and bring it to a place where it can readily and freely be accessible to the Spirit of God.
The soul is the part of you that house your naughtiness, pride, ego and self.
But with the power of fasting, the soul can be humbled.
That is to say, the soul through fasting can lose grip of self, pride and all.
Fasting and prayers will stimulate denial of self in you.
So, if you are having to deal with arrogance and pride, fasting is the best recommendation for a cure.  
Read more 5 Pros and Cons of Selling Your Home for Cash
(See Psalm 69:10, AMPLIFIED)
3. Seeking And Hearing From God
One beautiful thing fasting and prayers does is that it helps you seek God in a new dimension and at the end you will hear God.
All through Scripture, you'd see people who sought God in fasting and at the end they heard God.
Cornelius did and God spoke to him through and angel. (See Acts 10)
Some disciples did in Acts chapter 13 and the Spirit of God spoke to them.
PEOPLE ALSO READ: Getting Closer To God
4. Intimacy with God
Fasting and prayer above all else foster deep intimacy with God.
If you want to constantly be in touch with heaven, then you must be a person who is given to fasting and to prayers all the time.
John the Baptist was the kind of person who walked in power and intimacy with God through fasting and prayers. (See Luke 1:80, KJV)
5. Preparation For Ministry
If God ever called you to ministry, He will call you time and again for fasting and prayers in order to prepare you for the assignment.
So among every other thing that adds up to your making as a minister of the Gospel, fasting and prayers is pivotal.
Jesus did fast and pray for 40 days and night in preparation for His 3 and half years of ministry on earth.
No wonder His ministry was a success from start to finish.
Apparently, fasting and prayers unlock the flow of the Holy Spirit's anointing in your life for a successful ministry.
PEOPLE ALSO READ: Covered By The Blood Of Jesus: Its Meaning And Significance
6. A Means Of Repentance and Penance
Fasting as practiced in Scripture was a means of repentance and penance.
Nehemiah and Daniel fasted and prayed for Israel seeking God's forgiveness and mercy for the children of Israel – repentance. (See Nehemiah 1: 4-11 and Daniel 9:1-19, KJV)
David too fasted and prayed doing penance having sinned against the Lord and against Uriah. (2 Samuel 12:15)
So biblical fasting is a sure way to show your remorse before the Lord, doing penance for your wrong doing with the goal to obtaining forgiveness from the Lord. (See also 1 Samuel 7:6 and 1 Kings 21:27, KJV)
7. Spiritual Healing
Among many other things that fasting and prayers do is that it makes for spiritual healing.
If you are wounded spiritually, fasting and prayers can restore and heal your spirit.
Spiritual wound can be sin, loss of an anointing, demonic attacks, prayerlessness and being lukewarm about the things of God.
Fasting and prayer can help restore the fire, heal the wounds and put you back on the path of faith and righteousness again.  
PEOPLE ALSO READ: Things To Do While Fasting And Praying
8. Deliverance From Death and Destruction
Fasting and prayers can help secure God's deliverance for you, your family, church and even a nation as a whole.
Fasting and prayer helped Esther secure the deliverance of the Jews from Haman's plot of a genocide against them.
Whether physical, spiritual or mental, fasting and prayer can secure your deliverance from death and destruction.   
PEOPLE ALSO READ: How To Fast And Pray For Beginners
9. Commissioning For Ministry
Through fasting and prayer, you or other persons can be commissioned for ministry.
This was a practice of the early church as seen all through the Acts of the Apostle (See Acts 13: 3 and 14:23)
You can be commissioned even by the Holy Spirit Himself for ministry through fasting and prayers.
10. Increase Revelation And Understanding Of The Word
Fasting and prayer brings increase in revelation and in understanding of the very word of God.
The Holy Spirit kind of breath on your mind for insights into the word when you fast.
(See Ephesians 1:17-19 and Isaiah 58:8 KJV)
11. Opens You Up To Seeing and Understanding The Spiritual Realm
Through fasting and prayers you can come to a place where God begins to open your spiritual eyes to see into the realm of the Spirit.
When your soul is completely subdued and your spirit takes the center stage of your life, seeing into the realm of the spirit will become a new normal for you.
PEOPLE ALSO READ: How To Fast And Pray For 3 Days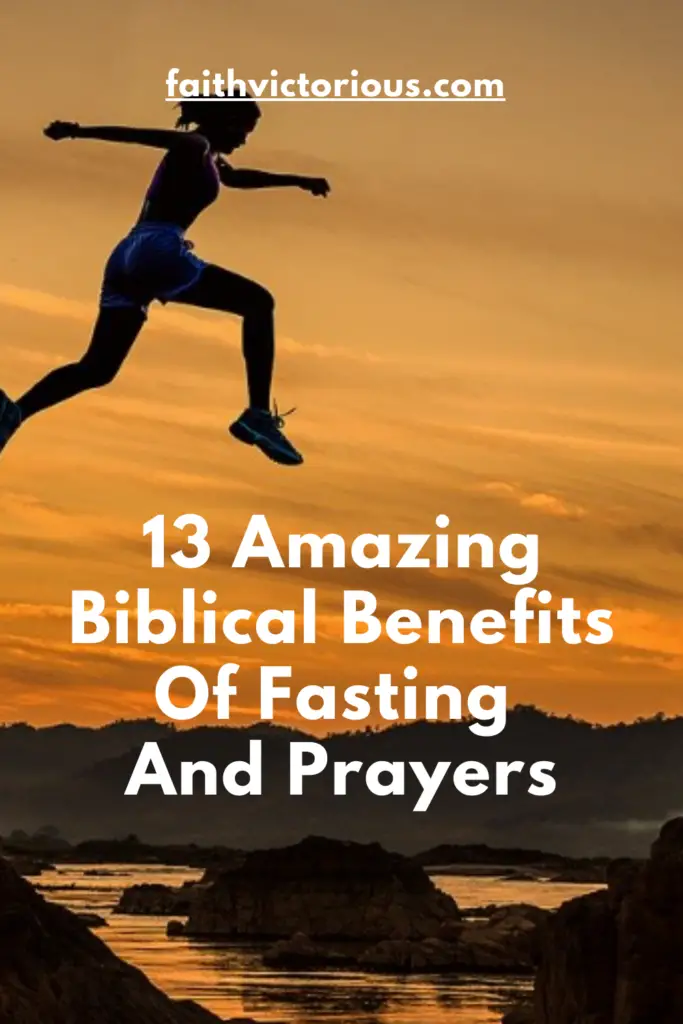 Health Benefits Of Fasting And Prayers
Apart from the spiritual benefits of fasting and prayers, there are physical and mental benefits as well:
12. Improved Physical Health
Fasting and prayer guarantees speedy recovery and health (See Isaiah 58:8, KJV).
This is so true that doctors recommend fasting as cure and management for certain ailments.
So if you are sick right now, fasting and prayer may just be your cure.
Caveat: Just only be sure that you are led of the Holy Spirit to do it.
13. Improved Mental Health
Fasting and prayer enhance and improve your mind and understanding.
It makes you of keener intellect and finer understanding in all things.
When fasting and prayer is practiced the right way and by the Spirit, you will soon discover that you are beginning to make accurate decisions and wise choices.
The breath and divine influence of the Spirit on your mind will make you think right and straight and act wise and well. (Isaiah 58:8, 11:2-3)
PEOPLE ALSO READ: How To Pray When Under Spiritual Attack
Types Of Biblical Fasting
To conclude this post on benefits of fasting and prayers, it will be well also for you to know something of the different types and kinds of fasting practiced in Scripture.
1. Absolute fast
Absolute fast is when you fast food, water and all other pleasure completely for a time or period of time.
Moses, Elijah and Paul practiced this kind of fast. (Exodus 34:28, 1 Kings 19:8, Acts 9:9)
PEOPLE ALSO READ: Benefit Of Fasting And Prayer Scriptures
2. Total fast
Total fast is when you fast only food for a time or period of time.
Jesus and Paul practiced this kind of fast. (Luke 4:1-2, 2 Corinthians 11:27)
3. Partial fast (and Denial)
Partial fast or denial is when you fast drink (not necessarily water), TV, internet or other things that gratify the flesh for a time or a period of time.
Daniel practiced this kind of fast in the Bible (otherwise known as Daniel fast)
PEOPLE ALSO ALSO: Covered By The Blood Of Jesus Scripture
Conclusion
There's so much to gain when you fast and pray, truly the benefits of fasting and prayers are amazing.
You stand to gain spiritually, mentally and physically.
You stand to gain spiritual power and authority, insights into the word and fresh new revelation of scriptures.
You also do your body and mind great good – health and sharper intellect.
These and much more are the benefits of fasting and prayers that you stand to gain in the short and long run.
Did you know you can actually shape history through fasting and prayers?
So much more my friend!
Take advantage of the power of fasting and prayer.
All the best!
Share