It is clear that in the business world, the right decisions make the difference between a successful company and one that is not. To make good decisions, you need the correct and timely information.
Your business data is one of the most valuable assets you can have. However, in the digital age, the amount of raw data is expanding exponentially. Hence the reason why so many organizations have turned to business intelligence (BI) solutions for their strategic decisions. Additionally , these represent a differentiating factor within CRMs that makes its adoption by organizations irresistible.
What is business intelligence?
Business intelligence is a technology-driven process used to analyze data, turn it into knowledge, and present detailed information. It helps executives, managers, and other business leaders make informed, fast, accurate, and successful business decisions. It uses a wide variety of tools, applications, and methods. This includes data mining, online analytical processing, inquiries, reports, as well as risk analysis. These allow you to get relevant and reliable information to the right people, at the right time, with the aim of achieving better and faster results.
But, how does business intelligence really work? It uses the big information stored in databases, cleans them, structures them, and then finally turns them into relevant and actionable information that helps you make smarter business decisions. These data sources can come from marketing analyses , sales, operations performance, a customer relationship management software system (for example, Salesforce), supply chain data, etc.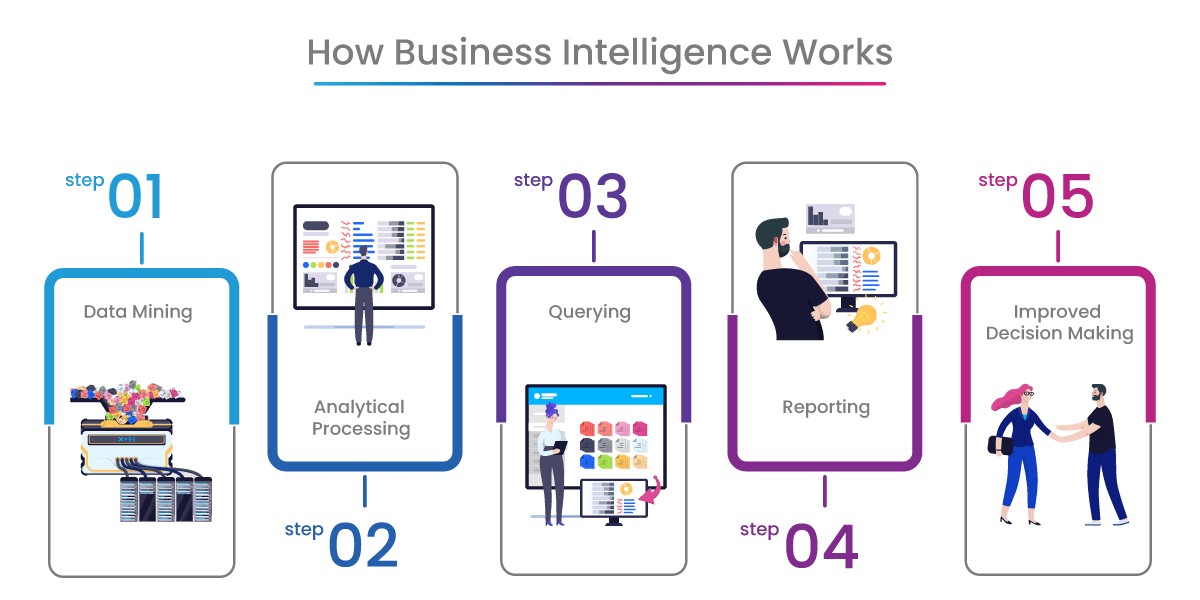 With business intelligence, you get information and visibility of your business processes to be able to identify incorrect or obsolete data, eliminate duplicates, and create reports of key performance indicators (KPI) that will help you make strategic business decisions. Increase profitability, productivity, and accelerate the efficient growth of your business through the process of extraction, transformation, and loading of your information (ETL).
So let's look at some of the main benefits of business intelligence.
Benefits of business intelligence
1- Right data at the right time.
In order to make quick and accurate decisions in the business world , it is essential to have the right data when it is needed. Business intelligence centralizes and structures all the data of your company. It helps you understand your business processes, streamline decision making, as well as improve your ability to identify key opportunities and/or threats. All of this will allow you to plan for a successful future.
2- View key information in a timely and accurate manner.
One of the key benefits of business intelligence is that it provides excellent data visualization capabilities. This allows you to create customizable, intuitive, and easy to interpret reports and dashboards which are adaptable to the needs of each of your business departments; those responsible for the different areas will have updated information in real time on the relevant data that interest them.
3- Improve your business decisions.
Implementing business intelligence will allow you to access detailed and updated information about your business, such as financial, production, customer data, etc. With all this information, you can make decisions based on evidence quickly and safely, which translates into better business decisions.
4- Increase customer and worker satisfaction.
You will be able to analyze the comments of your clients in real-time . All this information helps your staff and commercial managers to identify opportunities for improvement in your business, make the necessary changes, anticipate their needs, and provide them with an excellent service that satisfies them.
Business intelligence not only helps companies get to know your customers, but also helps them to better understand their employees. By having relevant information about your workers in real-time, you will be more aware of their needs and be able to address their concerns quickly and efficiently.
5- Improve organizational collaboration.
Custom reports facilitate communication, allowing you to share information with the rest of the company. Each department will have the data it needs, while management will be able to access this data as well. This can improve control over the functional areas of a company.
6- Increase business productivity.
Business intelligence tools can be used in the selection and analysis process when collecting data, resulting in these activities progressing much faster than in comparison to manual or unstructured tasks. By using business intelligence, processes become more agile and effective while costs are significantly reduced, obtaining high business efficiency.
Making decisions based on the current state of the company and market trends means acting with more guarantees and less risk. By improving productivity and the time spent developing truly effective, data-driven strategies, you can focus your company's efforts on improving sales and perfecting the business.
7- Identify new opportunities.
Identifying new opportunities and developing a strategy with supporting data can represent a competitive advantage and directly impact profitability in the medium and long term. Your employees can link external market data with internal data to spot new sales trends by analyzing customer data and market conditions, as well as spot business problems.
Remember that business intelligence consists of tools, technologies, applications, and practices that are used to collect, integrate, and analyze the present and past data of an organization. In AppExchange , there are countless business intelligence solutions available to you that will enable you to obtain valuable and actionable insights in real time, from custom reports to dashboards. Your management teams will now be able to make more informed and accurate decisions.
Our team is trained in the best business intelligence practices and has the experience you need. We can help you modernize and integrate your business intelligence tools, create dashboards and other data visualizations, and execute ETL processes with your information. Do not hesitate! Write to us at [email protected].
---
— Update: 08-02-2023 — cohaitungchi.com found an additional article 15 Key Benefits of Business Intelligence Software from the website www.selecthub.com for the keyword benefits of business intelligence.
You've probably heard the saying, "work smarter, not harder." That turn of phrase might as well have been invented for business intelligence tools. Business intelligence software (BI) comprises a range of data analytics tools that analyze and manage data related to your business operations. Some of the benefits of business intelligence software's rich visualization capabilities allow businesses to monitor sales, logistics and even productivity.
Get our BI Tools Requirements Template
It also provides extensive data analysis using rich, intuitive reports. By presenting your data in an easy-to-understand format, BI software helps you understand your business's strengths and weaknesses while providing actionable insights into KPIs and other important metrics. This visibility makes it a critical tool to ensure competitiveness and profitability.
This Article Covers:
How does Business Intelligence Work?
Benefits

Get Valuable Insights into Your Business
Visualize Important Information
Perform Data Mining
Establish Benchmarking
Leverage Performance Management
Access Sales Intelligence
Streamline and Trim Operations
Eliminate Guesswork
Improve Inventory Management
Get a Competitive Edge
Increase Operational Efficiency
Boost Customer Satisfaction
Streamline Competitive Analysis
Boost Access to Critical Information
Make Data-Driven Decisions
How Does Business Intelligence Work?
Most organizations store data in different formats and locations. They can't unify these data sources in a common, centralized format and use them for analysis. This is where BI tools come in handy. They combine data from multiple sources, including CRM, ERP and supply chain management solutions, while creating complex reports without IT team assistance.
Reports provide an in-depth view of business performance and support planning. Ad hoc reports give you valuable insights to boost decision-making, identify issues, gauge market trends and find new opportunities.
Benefits
There are numerous reasons why companies invest in BI solutions. Some organizations leverage BI tools to gain insights into consumer buying patterns, while others want to improve employee engagement and productivity.
Here are 15 key operational benefits of business intelligence:
1. Get Valuable Insights into Your Business
Business intelligence software constantly collects and analyzes data to deliver actionable insights. Professionals can generate reports on a variety of data sets like expenses, operations processes, staffing and customer service.
There are numerous types of reports you can create using BI tools. All BI platforms will offer pre-formatted reporting capabilities that collect data for common KPIs. Businesses can also generate customized or self-service BI reports, applying BI's excellent visuals to unique, organization-specific data sets.
Suppose neither of these options give you what you need. Instead, you can run an ad hoc report, which is put together entirely by users and usually focuses on a very specific KPI that other types of reports can't target.
Read more 15 Key Benefits of Business Intelligence Software
Another unique benefit of BI reports is information relevance. Because reports contain relevant data from your business operations, you can act with confidence. Plus, you don't have to be a data scientist to use BI tools — the data visualizations these tools generate are easy to understand and explain.
In SelectHub's survey of organizations in the market for BI software, 48% of buyers listed reporting as a desired feature.
Create reports in real time to monitor KPIs using different data sources, including customer, financial, operations and sales data. You can also access report templates that include easy-to-read visualizations like graphs, charts, tables and more. Interactive reports let you drill down deeper to fetch granular details and make informed decisions.
Eliminate the Risks of Selecting the Wrong Software with SelectHub
2. Visualize Important Information
Operational reports can be difficult to interpret, reducing an organization's ability to recognize and act on key metrics. One of the key advantages of business intelligence software is its excellent data visualization capabilities that let you create intuitive, easy-to-digest visuals.
SAS BI offers powerful data visualization capabilities.
Charts, graphs, videos, animations and infographics are more engaging ways to transmit information than blocks of numbers or spreadsheets. This is partly because the human brain is hardwired to process cognitive information — information that takes more than a glance to interpret and digest — much slower than visual information. Of those surveyed in SelectHub's survey, 81% of respondents expected visualization features from their BI platform.
3. Perform Data Mining
BI analytics tools are exceptionally well-suited for powerful data mining. Data mining is the process of seeking data patterns to identify trends and draw insights. It breaks down into five steps: collection, warehousing and storage, organization, analysis and presentation. Some BI platforms can perform all of these steps, although others require support from business analytics tools, big data analytics systems or data warehousing platforms.
BI analyzes, processes and renders vast amounts of data that are impossible to manage with weaker programs. It integrates with data warehousing solutions, in-house databases (e.g. SQL servers), as well as both structured and unstructured data. This strategy offers access to valuable information and enhanced decision-making processes that businesses might otherwise miss.
Because BI software can instantaneously analyze incoming data, it helps companies catch fleeting opportunities that they might otherwise miss. With the customizable reports produced by connecting BI to a data warehouse, companies can pick up on trends in company spending, staffing, operations, client development and more.
4. Establish Benchmarking
Fast thinking and effective decision-making are important in achieving success in a business endeavor. Often, those in charge of running a business don't have time to conduct a large-scale research project or product release. Using business intelligence software is like constantly having an in-depth research project in progress that's compiling information for groundbreaking decision-making.
Benchmarking is a valuable data analysis tool businesses use to gauge their productivity, revenue and overall success relative to their competitors. Organizations often struggle with benchmarking, but BI simplifies the process, providing actionable information and easy-to-understand reports. That's why benchmarking is one of the core BI requirements users look for in a BI platform.
Benchmarking reports offer accurate, timely data that allow businesses to evaluate their performance against individual KPIs or trends over time, providing valuable insight into the organization's current state. With predictive analytics capabilities, you can take these benchmarks and implement them proactively, getting ahead of the competition instead of chasing behind them.
5. Leverage Performance Management
BI tracks, manages and implements performance goals. With BI tools, businesses can input data-based goals such as sales goals or target delivery time, then track progress on a daily basis. This tracking mechanism is known as performance management, and it provides some of the most effective and easily implemented goal management available.
BI applications make information readily accessible that would ordinarily take hours or weeks to track down and organize. Business intelligence dashboards and real-time data allow you to organize important information and get moment-to-moment updates. It saves time and lets you deal with problems immediately.
With BI's intuitive visual analytics capabilities, professionals can track goal fulfillment and use that information to gauge overall organizational productivity. When properly implemented, BI tools can boost your performance significantly.
Compare Business Intelligence Software Leaders
6. Access Sales Intelligence
One of the most important BI benefits is that it enhances awareness. People who design business intelligence software know companies can't take advantage of opportunities they miss. Instead, they design software to make those fleeting opportunities noticeable and provide the details that allow companies to make the most of them.
A sales analytics dashboard from Domo BI.
Reports that business intelligence systems produce are viable when you need to back up your claims with hard data. They can also help make quick sales decisions with real-time data and mobile BI reports.
When it comes to sales, this type of software isn't only effective at supporting your arguments. It also helps you identify trends in customer preferences, so you'll be the first in your industry to know what to offer customers. Plus, nothing tops off a pitch like a beautiful data visualization — BI has your back.
7. Streamline and Trim Operations
A lesser-praised business intelligence benefit is its ability to cut down waste: this includes operational and administrative work that can be automated with a BI system. BI does the work that data entry employees or data analysts would typically get saddled with, like data organization, de-duplication and other repetitive tasks.
This has a number of benefits: first, employees can devote their time to more intensive tasks, increasing productivity. It can also save time and money while reducing human error. It also allows you to identify how well the organization is doing with the current staff so you can grow or downsize accordingly.
BI systems can identify waste in your operations by pinpointing pain points, bottlenecks and inefficiencies in manufacturing, operations and sales. With predictive analytics, BI will even offer suggestions to alleviate these problem areas.
8. Eliminate Guesswork
Without business intelligence software, companies have to gamble when making important decisions regarding management, finances and marketing efforts. With these tools in place, the decisions made by company leaders are more data-driven and often result in a competitive advantage for your organization.
BI implements a data structure to encourage data-driven decision-making and helps you know the best plan — not just guess at it. This business resource will not only lead to greater profitability, but it will take a great deal of the stress and uncertainty out of running a business.
9. Improve Inventory Management
Business intelligence tools can extend into purchasing, procurement and inventory management. You can generate reports detailing stockroom needs to determine when to purchase new inventory. BI also tracks outgoing inventory, so you can prepare for future buying trends and reduce inventory waste.
Streamline Software Selection with Services
10. Gain a Competitive Edge
The number of businesses utilizing BI is only increasing. According to MarketsandMarkets, the global business intelligence market is predicted to expand from $23.1 billion in 2020 to $33.3 billion by 2025, with a 7.6% CAGR. It's not unreasonable to predict that in the next 10 to 20 years BI adoption will be the norm. This thought is especially true as the BI market gains increasing pervasiveness and traction. The future is bright for BI.
Business intelligence gives organizations a tangible competitive edge in an increasingly competitive market. Making quick decisions in the business world is part of the job, but knowing those decisions are based soundly on data-driven insights offers another level of security and confidence.
Predictive modelling from SAS.
BI even offers fraud monitoring and risk management features. By tracking patterns and monitoring data behavior, BI can identify how likely it is that a transaction, person or network is fraudulent. The same data mining feature that gives sales teams insight into customer desires can make risk assessments and predictions, protecting your organization.
11. Increase Operational Efficiency
BI tools let you access and analyze data from multiple sources to gain a holistic view of business operations. This view makes it possible to identify areas for improvement and new business opportunities. When organizations spend a few hours analyzing, they can utilize their time to innovate and increase profits.
12. Boost Customer Satisfaction
BI tools empower you to gauge customer behaviors, buying preferences and trends that can directly impact customer experiences and satisfaction. Most organizations accumulate customer feedback in real time that helps retain existing customers and reach out to new ones.
13. Streamline Competitive Analysis
Track competitors' sales and marketing performance to learn how they differ from your business. Furthermore, leveraging BI tools for budgeting, forecasting and planning provides a competitive advantage.
14. Access to Critical Information
With the huge amount of information generated every second, accessing the right information at a particular time can be challenging. BI systems offer visualization capabilities to provide a better understanding of historical and present data, real-time updates, forecasts and trends.
It allows you to access key business metrics through dashboards and reports available on mobile devices and tablets. Extract crucial marketing and sales information rapidly, gauge trends and patterns, and decide on appropriate actions.
Read more Is Bottled or Tap Water Better for Your Health?
15. Make Data-Driven Decisions
Analyze data from business departments, including sales, marketing, operations, human resources and more to get actionable insights. Spend less time creating reports and dashboards and more time conducting analysis to drive effective business decisions.
Final Thoughts
There are a range of benefits of business intelligence software. It is a growing industry that has many proven advantages when properly implemented. It allows you to gain targeted insight into your organization's past, present and future to make informed business decisions. To accomplish this, BI software collects, organizes, mines and visualizes crucial KPIs.
It eliminates waste and guesswork, promotes efficient inventory management and improves sales intelligence. The powerful combination of features and benefits of BI software provides a competitive edge that can make all the difference.
What is the greatest advantage you've gained from utilizing the benefits of BI? Let us know in the comments!
---
— Update: 10-02-2023 — cohaitungchi.com found an additional article 6 Case Studies on The Benefits of Business Intelligence And Analytics from the website www.datapine.com for the keyword benefits of business intelligence.
Using business intelligence and analytics effectively is the crucial difference between companies that succeed and companies that fail in the modern environment. Why? Because things are changing and becoming more competitive in every sector of business, the benefits of business intelligence and proper use of data analytics are key to outperforming the competition.
For example, in regards to marketing, traditional advertising methods of spending large amounts of money on TV, radio, and print ads without measuring ROI aren't working like they used to. Consumers have grown more and more immune to ads that aren't targeted directly at them.
The companies that are most successful at marketing in both B2C and B2B are using data and online BI tools to craft hyper-specific campaigns that reach out to targeted prospects with a curated message. Everything is being tested, and then the campaigns that succeed get more money put into them, while the others aren't repeated.
Why Is Business Intelligence So Important?
The main use of business intelligence is to help business units, managers, top executives, and other operational workers make better-informed decisions backed up with accurate data. It will ultimately help them spot new business opportunities, cut costs, or identify inefficient processes that need reengineering.
BI software uses algorithms to extract actionable insights from a company's data and guide its strategic decisions. BI users analyze and present data in the form of dashboards and various types of reports to visualize complex information in an easier, more approachable way. Business intelligence can also be referred to as "descriptive analytics", as it only shows past and current state: it doesn't say what to do, but what is or was. The responsibility to take action still lies in the hands of the executives.
This methodology of "test, look at the data, adjust" is at the heart and soul of business intelligence. It's all about using data to get a clearer understanding of reality so that your company can make more strategically sound decisions (instead of relying only on gut instinct or corporate inertia).
Ultimately, business intelligence and analytics are about much more than the technology used to gather and analyze data. They're about having the mindset of an experimenter and being willing to let data guide a company's decision-making process.
What Are The Benefits of Business Intelligence?
The benefits of business intelligence and analytics are plentiful and varied, but they all have one thing in common: they bring power. The power of knowledge. Whichever unit they impact, they can transform your organization and way to do business deeply. Here is an overview of 6 main business intelligence benefits:
Make informed strategic decisions 
Identify trends and patterns 
Drive performance and revenue 
Improve operational efficiency 
Find improvement opportunities through predictions  
Smarter and faster reporting 
In this post, you're going to dive into 6 illustrations of the advantages of business intelligence, backed up with some real-world case studies along the way. By the end of this post, you'll feel the need to double down on creating a data-driven culture at your company, and you'll have some hard evidence you can use to persuade skeptical teammates.
Benefits of Business Intelligence: 6 Case-Studies
Here are six use-cases that illustrate different business intelligence benefits.
1) Informed strategic decisions 
As the first and most impactful of all benefits of analytics, we have the ability to make informed strategic decisions backed by factual information. Experts say that BI and data analytics makes the decision-making process 5x times faster for businesses. Let's look at our first use case.
Renowned author Bernard Marr wrote an insightful article about Shell's journey to become a fully data-driven company. Although the oil company has been producing massive amounts of data for a long time, with the rise of new cloud-based technologies and data becoming more and more relevant in business contexts, they needed a way to manage their information at an enterprise level and keep up with the new skills in the data industry. 
In order to do this, they first defined what data was the most relevant for the company. As Dan Jeavons Data Science Manager at Shell stated: "what we try to do is to think about minimal viable products that are going to have a significant business impact immediately and use that to inform the KPIs that really matter to the business". With this information in hand, the company started to think about how to invest in data quality, data standards, and the required technology to support it. 
Skills were a big challenge for Shell, however, the company developed tailored training programs for their employees so that they could learn to use data for their own problem-solving. Additionally, they invested in professionalizing the core work of data scientists for more complex operations. 
Shell's initiatives were successful because they implemented a data-driven culture in their entire organization. Empowering all levels of employees to use data for their decision-making process means extracting relevant insights at every level of the company. Without a doubt, one of the big benefits of data analytics and professional self-service BI tools is the democratization of data. 
2) Identify Trends and Patterns 
As mentioned above, one of the great benefits of business intelligence and analytics is the ability to make informed data-based decisions. This benefit goes directly in hand with the fact that analytics provide businesses with technologies to spot trends and patterns that will lead to the optimization of resources and processes. Business intelligence and analytics allow users to know their businesses on a deeper level. Let's see it with a real-world example. 
The famous Boston Celtics basketball club hopped on the analytics bandwagon too, so as to understand how their market evolves and also so as to evaluate their players.
Thanks to the data they had collected on their customers, they have been able to analyze who they are, where they sit, and how much they pay. That is precious insight for the sales team who can look into the data in real-time and understand what the leverages beneath it are. It helped them to quickly create promotions to sell more tickets, as well as to conduct revenue analyses based on these trends.
What's more, visualizing their data helped them see how much revenue a given seat is producing during a season, and compare the different areas of the stadium. Given that the Celtics have a very complex ticket pricing structure (over a hundred different prices depending on the package, section, individuals, students, competitive games, etc), it is all the more important to understand in a glance which seat brings what, so as to make decisions on the fly for promotions.
A simple example is: if there are many low-cost seats still available for an upcoming game, the sales team can send a customized email offer to local students.
The results?
Regular "five-figure" returns from promotions based on analytics, according to Morey, senior VP of operation at the Boston Celtics. But it is just the beginning: thanks to the analysis of the fans' sitting plan, the sales team can redraw the lines for price breaks for the next season.
The purpose is of course to make more money, but it is not just for money's sake. The finances they get from these analytics will be reinvested in the players and their training, which means that players will get better and so will the games.
3) Drive Performance And Revenue
Driving performance and revenue is one of the relevant benefits of business analytics. McKinsey realized a case study on a fast-food chain restaurant company with thousands of outlets around the world. That company wanted to focus on its personnel and analyze deeper any data concerning their staff, to understand what drives them and what they could do to improve business performance.
After exhausting most of their traditional methods, the company was looking for other ways to improve customer experience, while at the same time tackling their high annual employee turnover, whose figure was above the average of its competitors. The top management believed that tackling this turnover would be key in improving the customer experience and that this would lead to higher revenues.
Read more 16 benefits of using a rowing machine, from building strength to improving stamina
To do so, the company started by defining the goals, and finding a way to translate employees' behavior and experience into data, so as to model against actual outcomes. The goals were multiple: revenue growth, customer satisfaction, and speed of service. They then proceeded to analyze three areas: the employee selection and onboarding, the daily staff management, and finally the employees' behavior and interactions in the restaurants.
They used the data collected to build a logistic-regression and unsupervised learning models, so as to determine the potential relationship between drivers and outcomes. They then started to test over a hundred hypotheses, among which many had been championed by senior managers who strongly believed in these methods after their experience. That was a powerful experience as it confronted senior managers with evidence against what they believed was true and practiced for years.
The results?
All the insights they gleaned challenged their beliefs and experience, but the results after implementing new measures according to their findings were indisputable: customer satisfaction scores had increased by more than 100% in four months, the speed of service by 30 seconds, attrition of new hires had decreased considerably, and sales went up by 5%.
4) Improve Operational Efficiency
Technology giant Microsoft was looking for a way to improve productivity and collaboration in the workplace. For this purpose, a senior researcher from the company conducted a study to understand the common problems faced by remote work on Microsoft. The findings showed that the main challenges included "communication in planned meetings, ad-hoc conversations, awareness of teammates and their work, and building trust relationships between teammates".
These findings validated the theory that awareness of team members degrades with physical distance. The study even showed that employees that are situated on the same building but on different floors are less likely to collaborate. With this issue in mind, Microsoft came up with the idea of moving 1.200 people from 5 buildings to 4 in order to improve collaboration.
As a result of the relocation, the analytics team analyzed metadata attached to employee calendars and found a 46% decrease in meeting travel time which translated into estimated savings of $520,000 per year in employee time. As seen in the chart below, the team found out that "that minutes saved for each employee equates to hundreds of thousands of dollars in cost-savings for an organization over time."
**Source: hbr.org**
The analysis also showed that the number of weekly meetings per person increased from 14 to 18. Overall, the use of data analysis in this use case showed a significant increase in employee collaboration and increased operational efficiency for the company. Chantrelle Nielsen director of research and strategy for Workplace analytics said: "companies must take these metrics and direct them thoughtfully towards the design of office spaces that maximize face time over just screen time." A great way to illustrate the operational benefits of business intelligence.
5) Find improvement opportunities through predictions  
The fifth benefit of implementing business intelligence and data analytics into your company is the use of predictive analytics. A great use case of this benefit is Uber. This company was originally founded in 2009 as a black car-hailing service in San Francisco. Although the service costed more money than a regular taxi ride, customers were attracted to the experience of ordering a car from their smartphones. 
Now, you might be wondering, how did this small San Francisco start-up turn into the successful global company that it is today? The answer is data analytics and business intelligence.
Uber has an algorithm that takes valuable data from every driver and passenger and uses it to predict supply and demand. The gathered data includes everything from customers' waiting times, peak demand hours, traffic for each city, a driver's speed during a trip, and much more. All this data is then used to set pricing fees, meet demand, and ensure an excellent service for both their drivers and clients. For example, by using prediction models, they are able to generate a heatmap to tell drivers where they should place themselves to take advantage of the best demand areas. 
According to this case study, one of the most interesting uses of data from Uber is its surge pricing method. It is basically the algorithm that makes an Uber more expensive at peak traffic hours, holidays, rainy days, etc. Uber has made this system by using real-time predictions based on traffic patterns, supply, and demand. While this is a successful pricing system that is praised by other enterprises, the higher fares have brought the company a lot of backlash for trips that are twice as expensive. To avoid this issue, Uber has recently announced that they will use machine learning technologies to predict future demand and make sure that more drivers are redirected to the high-demand areas to avoid surge pricing and offer their clients a fair fee. 
This is a clear example of the advantages of business analytics and how the use of predictive analytics can help businesses spot improvement opportunities to optimize their processes and ensure higher customer satisfaction levels.
6) Smart and faster reporting 
The last in our rundown of the top benefits of business intelligence and analytics is related to data management and visualization. One of the powers of BI tools is they open the doors to a more efficient reporting process which also makes data analytics accessible for everyone, without the need for prior technical knowledge. Let's put this into perspective with a success story from datapine. 
Lieferando is a European online food-ordering service that was acquired by Just Eat Take Away in 2014. The brand which operates mainly in Germany, the UK, and Sweden, has a clear mission of providing a fast and easy way for its 98 million customers to get food from their favorite restaurants. With millions of consumers and more than 580 thousand partner restaurants within 25 countries, the company was facing issues related to data management and access to massive amounts of enterprise-level information. 
Their main challenges were to combine different sources of data in real-time in one central location, optimize their marketing campaigns with data-based insights, and get a comprehensive view of their entire customer lifecycle. Additionally, they needed a tool that allowed all employees in the company to deal with data without the need to involve the IT department. 
With the implementation of datapine's BI reporting tool into their system, the company was able to manage big amounts of data in real-time while significantly cutting the time they spent on report generation. This allowed for a faster decision-making process, streamlining of their marketing and sales activities, and the overall optimization of several processes at an internal and external level.
Team members at Lieferando said that "our new real-time dashboards allow us to monitor all major business operations through customized Key Performance Indicators. We can instantly act on changes and are now able to adapt better to new business challenges right when they occur and not weeks or even months later."
Business Intelligence And Analytics Lead To ROI
Business intelligence is key to monitoring business trends, detecting significant events, and getting the full picture of what is happening inside your organization thanks to data. It is important to optimize processes, increase operational efficiency, drive new revenue, and improve the decision-making of the company.
We're living in the most competitive business market in history. Technological advances and a global economy have combined to create a pressure cooker of competition, with weaker companies being swallowed up or broken down. Luckily, business intelligence tools have developed the necessary technology for companies to manage their data efficiently. BI dashboards like the one presented below provide a centralized view of the most important metrics businesses need to stay ahead of their competitors. And not just that, getting a visual overview of the performance of several areas also empowers employees to use data for their decision-making process.
**click to enlarge**
Given the current state of affairs, your company can't afford not to use BI tools. Especially after we examined 6 case studies that showed the incredible ROI that is possible from using them and the many benefits of business analytics. Such business intelligence ROI can come in many forms. You need to know what's going on in the minds of your customers, who your next best customers will be, and how to serve them in the most effective ways. All of these areas can be answered with data – which you need BI and analytics tools to process. However be aware of any faux-pas and remember: there are some business intelligence best practices to know – and some worst practices to stay away from!
When your company has to rely on internal or external IT staff to generate data reports, it creates a huge barrier to what is most needed: a data-driven corporate culture, where decisions are validated through seeing reality clearly.
If you'd like to take your first step towards using an intuitive self-service business analytics tool, you can try our 14-day free trial and test what datapine can do for you.
References