Most of us don't get enough vegetables. In fact, 90% of Americans don't get the recommended 2-3 servings a day. (For most vegetables, 1 cup is a serving. For raw, leafy vegetables like salad greens it's 2 cups). Vegetables are a great source of healthy nutrients like fiber, potassium, folate and vitamin A.
They also play a big role in helping people lose or maintain weight. Vegetables are rich in fiber, which helps fill you up. Plus, when you're eating more low-calorie vegetables, there's less space for eating higher-calorie, less-healthful foods.
You may think you don't like vegetables, but maybe you just haven't tried the right preparation. Broccoli may taste boring steamed, but when roasted and topped with parmesan cheese (like in this Balsamic & Parmesan Broccoli recipe), it takes on a sweet and nutty flavor.
Looking for more inspiration? Take our Eat More Vegetables Challenge.
Here are seven easy (and delicious ways) to eat more vegetables.
1. Add vegetables (and fruits) to breakfast.
The nutrients you get are a plus for your health, but eating produce in the morning can also help you maintain a healthy weight because the fiber in many fruits and vegetables will fill you up, leaving you satisfied for longer. So whip up a chock-full-of-veggies omelet, smoothie bowl bursting with fruit or a straight-up smoothie.
2. Eat more veggie soup.
Research has shown that when people eat soup they tend to eat fewer calories. Soup is also a great way to eat more vegetables because you can add a lot of produce to your soup pot. Make one of these chock-full-of-vegetables soups to help you get your fill this week.
3. Snack on vegetables.
We don't mean eat more potato chips or French fries. Your snacks should help you fill up in between meals so you don't feel starved later. They also can help you fill your vegetable quota. Try carrots or cucumbers dipped in hummus, celery with peanut butter or a small cup of vegetable soup. We even have this Lemon-Thyme Whipped Ricotta recipe that's delicious no matter the type of veg you're dipping into it.
4. Turn vegetables into noodles.
Flip pasta night on its head and make noodles out of vegetables. Use sweet potatoes, carrots, zucchini, turnips or beets to replace pasta and you'll be getting loads of nutrients for not a lot of calories. Make Shrimp Scampoi Zoodles or Sweet Potato Carbornara for dinner tonight, or try our other vegetable noodle recipes. If you don't have a spiralizer, you can use a vegetable peeler to create long "noodles" with your vegetables. See our picks for the best spiralizers here.
5. Make wraps with lettuce.
Cut down on calories and carbs by using lettuce to make a wrap. Butter lettuce leaves, cabbage leaves, lacinato kale and chard all make good stand-ins. It's a fun spin on lunch or dinner and an easy way to add more vegetables to your day. Wrap up your favorite sandwich fillings or get inspired by our healthy lettuce wrap recipes.
6. Use spaghetti squash for lasagna.
Think outside the box of traditional lasagna. Instead of noodles, use spaghetti squash. You get a satisfying portion and a full serving of vegetables in this Spaghetti Squash Lasagna with Broccolini recipe.
7. Turn your vegetables into chips.
Make eating vegetables fun. Whip up homemade chips with beets, sweet potatoes, Brussels sprouts or kale. Baking thin slices or leaves with a little salt gives you a crunchy snack or side. Even kids and picky eaters can't resist vegetables when they're served like chips!
Bottom line
Whether you want to learn how to eat more vegetables without eating salad or because you're on a budget or simply to learn to love a wider range of veggies, this list is a great place to start—from chips to wraps and noodle substitutes. Enjoy your veggie adventures, and remember, if you get stuck, we have plenty more healthy vegetable recipes.
Read more 7 Things I Wish I Knew Before Starting the Keto Diet
---
— Update: 29-04-2023 — cohaitungchi.com found an additional article 10 Ridiculously Easy Ways to Eat More Veggies from the website www.otamotfoods.com for the keyword how to get more veggies in your diet.
The health benefits of eating vegetables has been examined by more peer-reviewed studies and analysis than any other food. Eating a variety of vegetables each week has been linked to a significantly lowered risk of high blood pressure, heart disease and stroke, digestive problems, type 2 diabetes and elevated blood sugar, vision troubles, cognitive decline, and some types of cancer.
But even with that laundry list of improved health outcomes related to eating plenty of vegetables, less than 1 in 10 adults gets enough. In fact, according to the NPD Group, a market research company that tracks consumers' eating and drinking behaviors, vegetables appear at only 7% of all eating occasions (which is down from 10% in the 1980s). Why? It could be the taste, as some people don't like the sometimes bitter or earthy flavors in some vegetables. It could be the time it takes to prep and cook vegetables. Or it could be that some people just don't have a veggie habit. That is, they probably didn't grow up eating many vegetables, so they don't really do it now as an adult. 
If you're a little shy on getting your recommended 2 to 3 cups of vegetables, don't worry. There are some surprisingly simple and delicious ways to do so, and in many cases, you may not even know you're getting them! 
Ten easy ways to eat more vegetables 
Start creating a veggie habit by using one or more of these ideas to more nutrient-dense goodness in each day.
Use Otamot as your go-to pasta sauce, pizza sauce, and more. Most other sauce brands incorporate one, maybe two, vegetables (and those are often made from vegetable juice concentrate). But Otamot Essential sauce provides TEN organic vegetables in every jar, and every ½ cup of sauce counts as 1 cup of vegetables. 
Start your day with veggies by incorporating sauteed vegetables into an egg scramble or topping an avocado toast with shredded carrots or sauteed spinach.
Make plant-based meat by mixing 8 ounces of mushrooms and 1 cup of walnuts in a food processor until coarsely chopped. Add to a pan, saute with taco seasoning, and use to make tacos, burritos, power bowls, and more. 
Blend veggies, such as a large handful of spinach, frozen squash chunks, fresh cucumber, roasted carrots, or cooked beets into a smoothie. With all the other fruits, yogurt, and nut butters, you probably won't even taste the nutritious veggie addition. 
Eat like the French by serving meals in courses. Start each dinner by bringing a salad or other vegetable dish to the table first. People are most hungry at the start of a meal, and they'll be able to focus on the salad rather than pushing it to the side. After this course is eaten, remove it from the table and bring the next one. 
Try a veggie burger that's made with real vegetables instead of a bunch of processed ingredients. One of our favorite brands is chef-crafted Actual Veggies burgers. 
Make veggies your dipper (and your only dipper) whenever you serve dip. Set out guacamole, hummus, or any party dip with ONLY slices of sweet peppers, celery, cucumbers, carrots, blanched broccoli, and other cut-up veg. Since you can't eat dip without a dipper, these nutritious vegetables will disappear quick.
Pick vegetable-based snacks, such as vegetable medley chips, dehydrated kale and broccoli, and Moku mushroom jerky to replace your non-veggie snacks. 
Think veg whenever you make egg salad, tuna salad, chicken salad, burgers, meatloaf, and tacos by adding finely diced bell pepper, raw or cooked onions, carrots, cucumbers, celery, or tomatoes.
Eat veggies for dessert. That's right – veggies can be part of any course! When you make baked goods, get inventive with vegetables that lend themselves well to a sweet recipe, such as shredded carrots or zucchini, sweet peas and tomatoes, cauliflower, and corn. Have you ever made carrot cupcakes with tomato sauce? If not, you're in for a treat! 
Start by selecting the simple idea from this list that you like the most, and make it happen. Voila! You've just eaten more vegetables! Try to incorporate a few of these easy ways to eat more vegetables into every week. 
Share:
---
— Update: 30-04-2023 — cohaitungchi.com found an additional article Easy Ways to Eat More Vegetables from the website thehealthyepicurean.com for the keyword how to get more veggies in your diet.
Sometimes it's just difficult to get enough veggies in. That's why I'm here with a ton of easy ways to eat more vegetables!
So, do you feel like you get enough vegetables in your day?
You're likely aware that veggies are filled with nutrients like vitamins, minerals and dietary fiber, so they're super important to eat on a regular basis.
Whether you've run out of ideas, aren't sure how to cook them or just want to up your veggie game, we've got you covered.
Dill Veggie Dip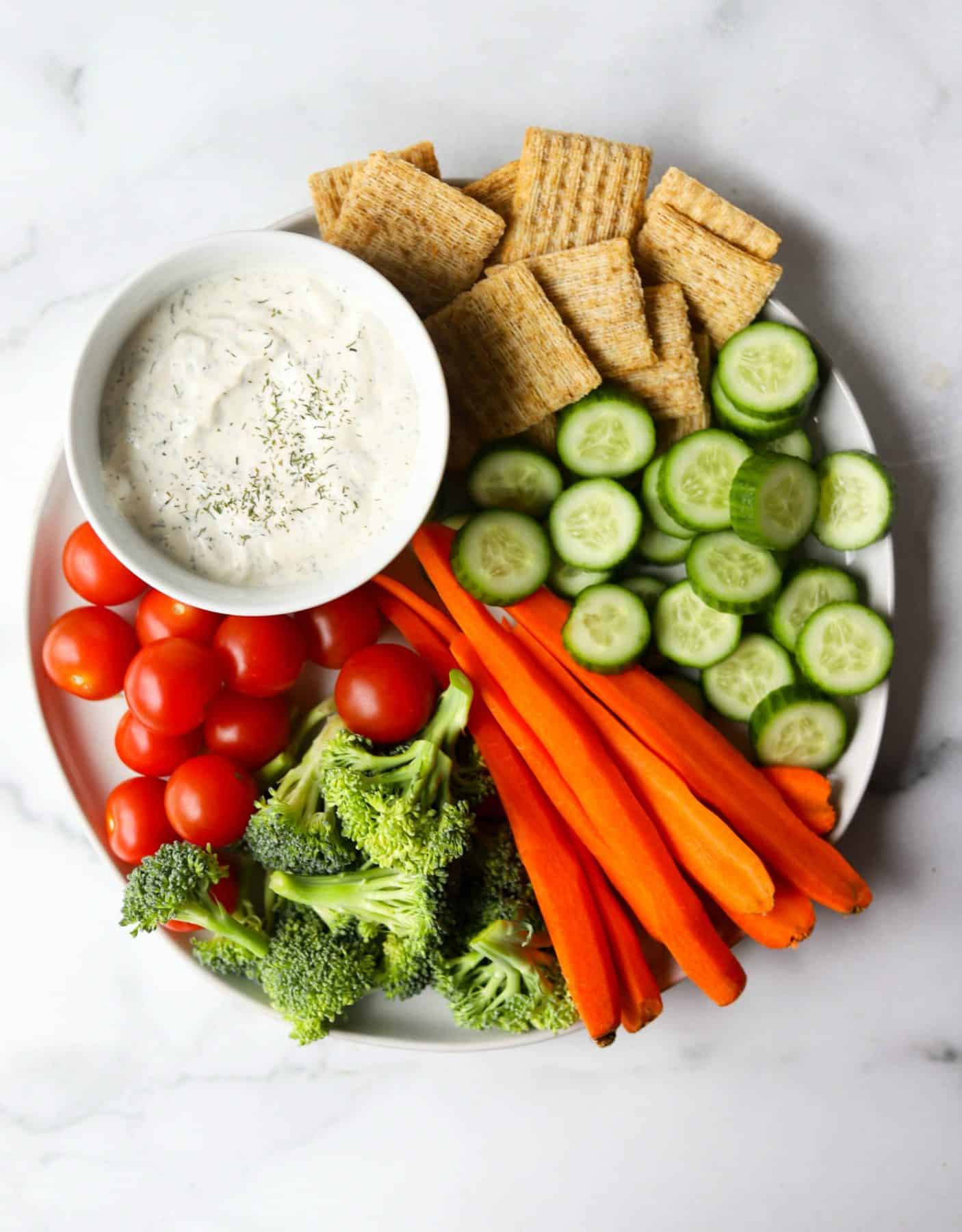 How to Eat More Vegetables
Tip #1: Focus on veggie-centered snacks
One of the easiest ways to add more vegetables into your day is to center your snacks and appetizers around them.
Read more 10 Easy Ways To Add More Veggies to Your Diet, According to a Dietician
If you normally go for crackers or pita chips for hummus, consider swapping for carrots, cucumbers, or sliced bell peppers.
Pair them with any dip — whether that's a bean dip, spinach and artichoke dip or other favorite. If nut butters are your jam, combine them with your favorite veggies for a great snack.
Pro Tip: Keep raw veggies easily accessible and in plain view. If they're front and center when you open up the fridge and even sliced ahead of time, you're more likely to grab them.
Tip #2: Drink your vegetables
When you think of drinking veggies, you may think green smoothies or juice.
While these are a great way to add in veggies, they don't always need to be green.
Have a favorite go-to smoothie for breakfast or post-workout?
Add a handful of spinach or frozen cauliflower. Both make a mild addition that won't overpower the taste. Carrots can also be a delicious add-in.
If you have a juicer, it can be a super easy way to make veggie-based drinks too.
However, make sure you still eat some of your veggies since some of the fiber is lost in the juicing process.
If you are a smoothie king or queen, throw in a handful of kale or spinach.
Tip #3: Add veggies to breakfast
If you prefer to eat your breakfast, there are plenty of options.
Greens, onions and peppers can be easily added to most egg-based breakfasts.
Love omelettes? Load them up!
Or level-up a basic breakfast sandwich with a few simple veggie additions like tomatoes, spinach, mushrooms or peppers.
If you're looking for something a little different, you may enjoy Breakfast Brussels Sprouts or Breakfast Tabbouleh.
For a make-ahead breakfast option for quick mornings, you can cook these Broccoli Cheese Egg Muffins or Chorizo Hash Brown Muffins, which are loaded with bell peppers.
Broccoli Cheese Egg Muffins
Tip #4: Meal prep for the week
One of the main barriers to eating more vegetables for many people is preparation time.
To avoid this, set aside some time on the weekend to do a little meal prep.
This can be as simple as cutting up veggies so they're ready to go for snacks and meals for the week.
If you need grab & go snacks, you can also portion them out into containers or bags. Taking just 5 minutes to prep a few veggies can be a HUGE time saver!
Tip #5: Capitalize on salads
This may be the most obvious way yet, but salads are such an easy way to eat more vegetables.
Whether you have a simple side salad with your lunch or dinner, or make a big salad meal, the options are endless.
Plus, you can customize them to your taste preferences all the way down to the dressing and really make them your own.
Greek Salad with Feta Vinaigrette
Tip #6: Load more veggies into soups
While many already include some veggies, you can always add more into the mix.
This can be almost any vegetable depending on the soup — spinach, tomatoes, carrots, kale, peas, peppers, and many more.
Frozen and canned vegetables work really well in soups, too, and are easy to have on hand.
A summertime veggie favorite is minestrone soup, while for winter, a roasted root vegetable soup makes for a healthy comforting meal.
Also, check out my soups ecookbook for 27 amazing soup recipes!
Tip #7: Use vegetables as wraps and buns
Leafy greens like lettuce and collard greens work well in place of wraps and buns.
Lettuce wraps are super versatile and can be filled with a variety of mixtures like cashew chicken, taco filling, firecracker shrimp, or cauliflower-walnut filling.
If you're a fan of burger patties (vegetarian or meat-based) or sandwich wraps, collard greens make the perfect option to provide a bit more stability and are easier to fold. Just love traditional sandwiches with bread?
Make a veggie-packed sandwich!
Cashew Chicken Lettuce Wraps
Tip #8: Roast into chips or fries
One favorite and easy way to cook vegetables is to roast them.
Almost any veggie tastes better when it's in the form of a chip or fry.
The most common ones are sweet potatoes (as chips, fries, or wedges), kale chips, carrot fries and regular baked potato fries.
Other ideas include beets, parsnips, turnips, jicama, butternut squash and plantains. Flavor them with spices and herbs or pair with your favorite dipping sauce!
Tip #9: Elevate pasta and sauces with vegetables
Some pasta dishes naturally include vegetables, while others just present a blank canvas for them to be added.
You have two main options – add them into your pasta sauce (think pesto, creamy sauce, tomato-based sauce or butternut squash sauce) or cook them into the pasta separate from the sauce.
Spinach, kale, tomatoes and broccoli make simple additions. This Italian Sausage, Bell Pepper & Spinach Pasta is a great example of adding veggies and protein to a pasta to make a delicious healthy meal.
Cauliflower Alfredo Sauce
Tip #10: Bake veggies into desserts
Last but not least, you can't forget about the tasty desserts and quick breads made with veggies.
Read more 10 High-Calorie, Low-Carb Foods for Easy Weight Gain
Think of these as just bonus opportunity rather than a main way to eat more vegetables. Zucchini bread is a classic summer example of this.
In the fall and winter, sweet potatoes are the star of the veggie dessert show.
Cinnamon Crunch Zucchini Banana Bread
Tip #11: Fresh, frozen or canned vegetables?
While it's generally great to eat in-season produce when possible, don't be afraid to utilize the help of frozen and canned vegetables, too.
These are great to stock up on for whenever you run out of fresh produce, need something quick, or just prefer the convenience.
If you're finding that your veggies are going bad before you're able to use them or you don't go to the grocery store often, canned and frozen vegetables are also a great way to reduce food waste and save money.
Now that you have 10 different ideas to eat more vegetables throughout your day, which ones will you choose?
Written by Anna Pashkova, MS, RDN, LD, ACSM-EP / Reviewed by Chef Julie Andrews, MS, RDN, CD, FAND
---
— Update: 30-04-2023 — cohaitungchi.com found an additional article 10 Easy Ways To Add More Veggies to Your Diet, According to a Dietician from the website camillestyles.com for the keyword how to get more veggies in your diet.
There once was a time when I thought a fantastic Sunday morning included bottomless mimosas,  something smothered in hollandaise, and me, in a shift-dress-and-sunglasses combo that made brunch feel like a fashion show with friends. But a few years back, I underwent a mindset shift and realized that the end of the weekend is the perfect opportunity to incorporate a few go-to, easy ways to eat more vegetables. Let me explain.
These days, my weekend daydream includes me in a figure-forgiving nap dress and a comfy pair of huaraches, weaving my way around a farmer's market, perusing the parsnips and browsing the butter lettuce. Then leaving with a tote bag filled with root veggies to liven up our fridge and enough leafy greens to make a week of salads. 
Yes, the older I get, the more my appetite has grown to include mainly veggies. And when I say veggies, I mean real veggies—not those sneaky snacks I convinced myself that, in my early parenting days, were healthy. (Chip aisle veggie sticks and snap peas, I'm looking at you.) Filling up my kitchen bowls with an abundance of colorful edibles keeps heart-healthy consumption top of mind. Plus, they're just plain pretty. 
Feature image by Michelle Nash.
I now know that, for my family, the keys to overall wellness are pretty basic: plenty of rest, an abundance of clean air, and lots of protein mixed with the occasional treat. Most important on my list, however, are tons of vegetables in our bellies each day. But I have to ask: With all the delicious produce to choose from, are all veggies created equal?
To help guide the way from farm to food on the table, I reached out to registered dietician Jenna Volpe, RDN, LD, CLT. Jenna gave me the scoop on her favorite vegetables to eat every single day, why we should all be eating more of these power foods, and how to seamlessly incorporate them into our diet.
How many vegetables should we be eating each day?
The "gold standard" for adults is to eat about five to nine servings of fruits and vegetables per day.  What most people don't realize is that a serving of vegetables isn't just a couple green beans on the side with dinner or a tablespoon of mushrooms in an omelet. One full serving is equivalent to two cups of leafy greens, one cup of fresh veggies (like carrots, cucumbers, or celery), 1/2 cup of cooked veggies (like green beans, peppers, onions, or mushrooms), or 1/3 cup of tomato sauce or salsa.  
According to the United States Department of Agriculture (USDA), the recommended amount of vegetables for most adults to consume each day translates to about two to four cups of veggies per day (raw or cooked isn't specified).
What are your favorite veggies to eat on a daily basis?
I love baby greens, which are nutritional powerhouses. They're packed with antioxidant carotenoids, chlorophyll, vitamin K, calcium, iron, and magnesium, and they're also very versatile and easy to prep!  I usually alternate between baby spinach, baby kale, arugula, and mixed "supergreens."   
I typically add sautéed baby greens to my meals at least once a day, usually in eggs, pasta, and stir-fries.  I also often throw baby greens in smoothies and sandwiches. 
It's too easy not to do these things, and in my opinion, incorporating baby greens into your daily routine is a habit that will go a long way to boost levels of vitamins, minerals, antioxidants, fiber, and energy in ways that supplements can't.
As we get older, our nutritional needs change. What does this look like for vegetables?
The amount of recommended veggie intake increases as calorie needs increase.  Since babies and children don't need as much food as adults, and they're growing exponentially, it makes sense that more of their calories should come from macronutrients (carbs, proteins, and fats) versus veggies. That said, babies and children don't need as many veggies compared to adolescents and adults. Men also need more vegetables than women, because they need more calories on average.
Below are USDA-recommended daily amounts of vegetables depending on age.
Why exactly is it important to eat the recommended amount of vegetables?
Veggies are packed with prebiotics (a natural food source for healthy "probiotic" bacteria in the gut), vitamins, minerals, antioxidants, vitality (life force energy), and more. 
It's not a complicated or complex concept, but I still find that most people don't hit the daily recommended veggie intake amount or even get close to it most days because our food system and diet industry are so far removed from these simple, supportive solutions.
What is the most nutritious bang-for-your-buck way to eat more vegetables?
The answer to this question will depend on what works best for people individually, but here's what works for me.
Cook Veggies to boost flavor
I'm not a fan of eating raw veggies, so cooking veggies (i.e., roasting or sautéing) is a great way to reduce the volume of veggies while enhancing flavor and palatability with some good quality oil and spices. I find that combining cooked veggies with other meals (like pasta or stir-fry) is relatively effortless (and tastes delicious!). I aim to make at least half my plate veggies at lunch and dinner, and it's easy when I'm cooking with veggies I love!
Find Sneaky Ways to get your veggies
Using spiralized zucchini noodles or spaghetti squash instead of pasta is a really easy way to meet a daily veggie requirement in just one meal. (Two cups of zucchini noodles provide four servings of veggies!) Plus, using red sauce adds an extra serving of veggies. After that, all that's left is to add some protein, which could be ground turkey, grass-fed beef, Beyond Meat, or some chicken or shrimp.
Drink Your Greens
During the spring and summer months, throwing a bunch of veggies into a green juice can be a refreshing way to extract the vitamins, minerals, antioxidants, and live enzymes from veggies (as long as people aren't adding too much fruit to their juice blend, which will increase the sugar content substantially). One thing to keep in mind with juicing is that most of the fiber is removed. As a result, I don't recommend solely relying on juicing to get all servings of veggies on a day-to-day basis.
Sip on a smoothie
Throwing frozen greens into smoothies is a great way to maximize your morning beverage/meal hybrid's nutritional offering. You can also crowd out the taste with something yummy like cacao powder and a natural sweetener.
Are all vegetables the same, or are some better than others?
All veggies have something to offer, but I don't think they're created equal from a nutrition perspective.  Either way, I generally don't put too much focus or emphasis on ranking veggies, since the most important thing from a big-picture standpoint is that people eat more veggies. 
For example, leafy greens are packed with the antioxidant chlorophyll, while sweet potatoes, butternut squash, and carrots are rich in beta-carotene (the orange carotenoid pigment which is a precursor to vitamin A). It's better to have multiple different color veggies per day and per week than to focus just on, say, orange veggies.
The Biggest Bang-For-Your-Buck Veggies
From a nutrition standpoint, a few of the most nutrient-dense and/or antioxidant-packed veggies are leafy greens (spinach, kale, arugula), broccoli, beets, cauliflower, sweet potatoes, carrots, bell peppers, butternut squash, and tomatoes.  
Nutritionally, the lowest-ranking veggies would definitely be corn and potatoes. I don't really count these as veggies in my clinical practice since they are primarily starch. Iceberg lettuce is also less nutritionally dense compared to its other leafy green counterparts.
While certain veggies like onions and mushrooms don't rank at the top in terms of their vitamin and mineral content, I still include them in my routine because of their special antioxidant potential. Antioxidants help combat oxidation (cell damage), which is a main underlying culprit of aging and many types of illness.
10 Easy Ways To Add More Veggies to Your Daily Diet
Replace pasta with spiralized zucchini noodles or spaghetti squash in a pasta.
Add 1/3 cup of salsa or pico de gallo to have with whole grain tortilla chips and some guacamole at a snack.
Incorporate veggies into a brownie recipe (this is a favorite—you'd never know!).
Throw fresh or frozen leafy greens into smoothies. I typically use organic greens. For fresh greens I like Olivia's brand, and for frozen, I usually get Cascadian Farm or the store brand if they have an organic option! (This Chocolate Green Smoothie is a go-to.)
Add cooked veggies to omelets and scrambled eggs—and frittata, of course.
Add cooked veggies like peppers and onions to fajitas and tacos.
Add veggies like peppers, onions, mushrooms, and/or leafy greens to pasta dishes. A lemon-tahini dressing makes any veggie taste better—as is the case in this veggie pasta salad.
Try swapping regular rice for cooked "riced cauliflower" in a stir-fry or other recipe that calls for rice.
Add some cauliflower into your mashed potatoes. They'll still be fluffy, indulgent, and totally delicious. Here's a great recipe to get you started.
Add veggies to soups (this gazpacho or this vegan minestrone are tasty summer options. And if you're really going for it, try doubling or tripling the amount of veggies a recipe calls for.