Related: Nicole Kidman & Kerry Washington Have More In Common Than Starring In "The Prom" — Their Moms Both Beat Breast Cancer
"When I was younger, I would sit in the hospital and wait for my mom to finish work, where I saw a lot of people battling for their lives with cancer and terrible injuries," Nicole tells Glamour. "As a child, I was like, 'This is awful.' But that's a really good thing as I've always been able to take a step through into other worlds and put myself into a position of gratitude and the desire to go and help."
This realization completely transformed the way Kidman viewed gratitude, and how powerful helping others can be. "I like the feeling of taking care of people, that's my joy and it's not about then receiving something back," Kidman continued. "I'm an eldest child, my mother had breast cancer when I was 17, and I had to take care of her. That's a place in which I feel confident and I feel good when I'm able to do it."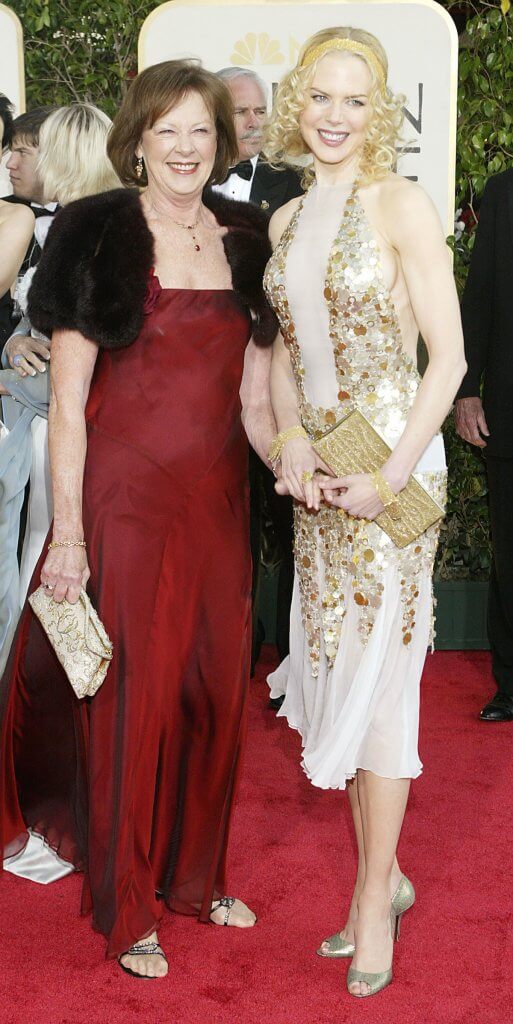 Chemotherapy for Breast Cancer
Chemotherapy is often considered a standard treatment for many different types of cancers. Over recent years, there's been a major shift in administrating chemo for those facing breast cancer — which will possibly save tens of thousands of women from having to undergo the treatment. The TAILORx trial is a total game-changer when it comes to diagnosing and treating breast cancer. The study found that thousands of women would actually not benefit from chemotherapy, and can have their cancer treated by hormone therapy alone.
Related: How to Deal With the Side Effects of Chemotherapy
To determine whether a woman could benefit from chemotherapy, doctors will use the Oncotype DX test to see if a woman has a good enough prognosis to avoid the risks and side effects associated with chemotherapy. Whether someone is given chemo will depend on their age and their Oncotype score. If a person's score is low enough, that means their prognosis will not improve at all with chemotherapy, and they are spared the treatment.
Read more Nicole Kidman, Keith Urban give generous donation for breast cancer clinical trials
Dr. Elizabeth Comen breaks down a major shift in chemotherapy treatment for breast cancer patients
The Power of Gratitude
Whether you've faced cancer yourself, or have watched a loved one battle the disease like Kidman, you may gain a whole new perspective about life after the experience. When it comes to battling cancer, or helping others during treatment, attitude and mindset can make a huge difference.
Related: 'Be Grateful For The Good Things' — Ovarian Cancer Survivor Donna Cleland's Story
"The patients who do well with cancer, they live life with gratitude in terms of everything," Dr. Zuri Murrell, a colorectal cancer surgeon and Director of the Cedars-Sinai Colorectal Cancer Center, told SurvivorNet in a previous interview. "They're grateful, not for cancer, but they're grateful for an opportunity to know that life is finite. They live life with [saying] 'I love you' to their husband, to their wife, to their kids. They can appreciate it for one of the first times ever because they know it may not be forever that they get to do this. Those are the patients that tend to do well with processing and also living a long, long life despite a diagnosis."
After a diagnosis, it's understandably extremely difficult to feel grateful for life. However, studies prove that patients who are able to stay in good spirits and remain positive often have better treatment outcomes.
Dr. Zuri Murrell explains how gratitude is connected to treatment outcomes
Learn more about SurvivorNet's rigorous medical review process.
---
— Update: 19-03-2023 — cohaitungchi.com found an additional article Nicole Kidman, Keith Urban give generous donation for breast cancer clinical trials from the website studyfinds.org for the keyword nicole kidman breast cancer.
NASHVILLE, Tenn. — Oscar-winning actress Nicole Kidman and Grammy-winning musician Keith Urban are providing a substantial donation towards breast cancer research. The star-studded couple are supporting clinical trials by the Vanderbilt-Ingram Cancer Center aimed at developing new and better therapies for breast cancer.
Read more The Differences Between Screening and Diagnostic Mammograms
Kidman and Urban are long-time supporters of cancer research efforts, and reside in Nashville, Tennessee – the home of Vanderbilt-Ingram. The center features a bevy of internationally recognized breast cancer researchers and clinicians. The couple's advocacy and philanthropy when it comes to cancer is deeply rooted in Kidman's experiences as a teenager caring for her mother, a breast cancer survivor. Both Kidman and Urban recently visited pediatric patients at the Seacrest Studio within Monroe Carell Jr. Children's Hospital at Vanderbilt.
"My experience of watching a parent or another loved one battle cancer is something that far too many people have had to endure," Kidman says in a statement. "I am fortunate to have had my mother with me all these years since. Keith and I are making this gift in the hope that more people will have more years to enjoy life with the people they love. We realize that clinical trials can have a global impact when knowledge about treatment advancements is shared."
Beyond cancer research, Kidman has been committed to supporting women's health and raising awareness of women's issues for a long time. In 2006 she was named, and continues to serve as, the Goodwill Ambassador of the United Nations Development Fund for Women. That role aims to empower women, promote gender equality and women's rights all over the world, and put an end to violence against women.
"This gift from Nicole and Keith is crucial to our mission at Vanderbilt-Ingram Cancer Center," comments Dr. Vandana Abramson, the Donna S. Hall Professor of Medicine and co-leader of the Breast Cancer Research Program at Vanderbilt-Ingram. "Gifts from individual donors are like seeds in a garden. They support emerging therapies that start out as ideas in a laboratory or an examination room. If we didn't have this kind of support, those ideas would never take root and become clinical trials and ultimately lead to better, less toxic treatments and more cures."
Read more Does Emergency Contraception Increase the Risk of Cancer?
Great strides in breast cancer research
A National Cancer Institute-designated Comprehensive Cancer Center, Vanderbilt-Ingram is world renowned for its breast cancer expertise and research efforts. It is one of only six cancer centers in the nation granted the prestigious Specialized Programs of Research Excellence funding from the National Cancer Institute.
Research from the laboratory of Vanderbilt-Ingram's former director, Dr. Jennifer Pietenpol, PhD, has helped produce vast improvements in modern medicine's understanding of triple-negative breast cancer. The current director, Dr. Ben Ho Park, the Benjamin F. Byrd Jr. Professor of Oncology, is also a leader in the breast cancer field and helped pioneer liquid biopsies for cancer evaluation and treatment.
"We are grateful for the support that Ms. Kidman and Mr. Urban have given to our breast cancer research program. Their actions help us in our mission to lessen the burden of this disease," adds Dr. Pietenpol.
Today, Abramson and Park are currently leading a multi-center national clinical trial aimed at evaluating changes in circulating tumor DNA levels in an attempt to help guide metastatic breast cancer therapies. They also just finished a national study evaluating immunotherapy in breast cancer. The donations from Kidman and Urban will help further support clinical trials stemming from this research.
"We are humbled and honored to be recipients of this gift, which will positively impact the lives of patients with breast cancer and their families," Dr. Park concludes.