Turkey is a country where East meets West and history meets adventure. We've put together a list of epic places to visit in Turkey for the ultimate Turkey bucketlist itinerary.
During our 3 weeks in Turkey, we posted lots of wanderlust-inducing pictures on our Instagram account of all the places to visit in Turkey and have been shocked by the amount of messages we've received from followers.
The basic gist is this:
Reader: "Where are you?! It looks so beautiful!"
Us: "Still in Turkey!"
Reader: "Really? I had no idea there was so many things to do in Turkey!"
You know what? Turkey has surprised us too. We didn't know much about this country before we booked our flight, but it has quickly become one of our favorites.
Turkey is a country where East meets West and history meets adventure. The people are welcoming, the cuisine is delightful, the culture has depth. Turkey is a country with some serious bucket list-worthy adventures and Instagrammable destinations. From sun-kissed beaches to pine-covered mountains, there are more than enough attractions to fully occupy a month's time. There are just so many reasons to visit Turkey.
We've put together a list of all of the things to do and places to visit in Turkey that are reason enough to start looking into flights to this surprising country. On top of that, we've included some extra info to help you plan your epic trip. 
Article Contents
Best time to visit Turkey
Map of highlights of Turkey
Places to visit in Turkey
Highlights of Turkey Itinerary
When is the best time to visit Turkey?
Turkey is best experienced during the northern hemisphere summertime. Though we would recommend visiting during the shoulder seasons, May or September to avoid overcrowding. Avoid traveling during Ramadan (in April) if possible and if you want a real adventure, stay for winter when the tourism dies down completely and prices are at their absolute lowest for tours and accommodation. 
Map of Turkey Highlights
Places to visit in Turkey
From the bazaars of Istanbul to the caves in Cappadocia to the pristine turquoise coastline… Here are all the best places to visit in Turkey you won't want to miss!
1. Take a dip in thermal hot springs in Pamukkale
The terraced pools filled with milky mineral waters look surreal in pictures and even more dreamlike in person. The white mineral deposits make it look as if you're stepping on a snow-covered hill, but the tepid water will tell you otherwise.
This is one of the most epic places to visit in Turkey. Spend an afternoon soaking, splashing and relaxing in these unique springs. And when your fingers have turned pruney, head to the top of the hill where you can explore the ancient ruins of Hierapolis.
How to get there: You can catch a bus from Istanbul to Denizli, which will take around 9-10 hours. Consider getting an overnight bus to catch up on time. From Denizli, you will need to get on a minibus to complete the 30 min drive to Pamukkale. Both Pamukkale Bus Company and Metro Bus Company offer regular routes between the two cities. Another option would be to rent a car in Istanbul and make the 6 hour drive. 
Where to stay in Pamukkale:
We found the best hotel prices on Agoda while staying in Pamukkale. The Pamukkale Melrose Viewpoint Suites and the Ayapam Hotel both have good reviews and are in a decent location in proximity to the center of town.
2. Take a hot air balloon ride over Cappadocia
Riding in a hot air balloon is the ultimate bucket list experience, and Cappadocia is one of the world's top destinations for this adventure!
Rising above unique rock formations in a sea of colorful balloons will certainly be a highlight of your time in Turkey and is one of the best things to do in Cappadocia. Everyone we talked to who had done a hot air balloon ride in Cappadocia was starry-eyed days later and swore the experience was worth every penny.
VIDEO: Watch our hot air balloon ride in Cappadocia!
How to get there: Depending on the season you can fly to into Cappadocia airport for less than $100 USD, round-trip from Istanbul. Another option would be to take a bus from Istanbul or from other cities on the coast for about 200 TL (around $20 USD).
3. Hike through the Valley of Love
Viewing the landscape of Cappadocia from a hot air balloon is mesmerizing, but so is getting up close and personal with the flowers and rock formations that dot the region's valleys.
And speaking of rock formations… the ones in Love Valley resemble… ummm… well, let's just say it's called "Love Valley" for a reason. Pack a picnic lunch and wear sturdy shoes for this little day trip, where you'll likely be amongst just a handful of other hikers. 
How to get there: If you're staying in Göreme in the Cappadocia region, Love Valley is a quick 15 min cab ride outside of the city. We go over exactly how to find the entrance (which is a bit trickier than you might think) and other great places to hike in our Cappadocia travel guide.
4. Sleep in a cave in Göreme
People from all over Turkey and the rest of the world flock to the Cappadocia region for two reasons:
Go on a hot air balloon ride (see above).
Sleep in a cave
Now, we're not talking about laying down your head in any old bat-ridden cave. The hotels in the town of Göreme are seriously luxurious (though there are a few options for budget travelers as well!).
We put together an entire article breaking down the best cave hotels in Cappadocia to help you plan the perfect stay.
5. Go underground in the city of Derinkuyu
The Cappadocia region of Turkey is known for its "fairy chimney" cave dwellings, making it one of the most unique places to visit in Turkey, but what lies beneath the surface is just as impressive. Cappadocia was one of the earliest Christian settlements, and to avoid persecution, many people lived underground. We're talking thousands.
Imagine doing some renovations to your house and finding a hidden doorway to lead to the largest underground city is Turkey. That is exactly how Derinkuyu was discovered in 1963. The underground city, which is large enough to have sheltered 20,000 people together with their livestock, has since been excavated. 
Read more 22 TOP Hidden Gems of Rome That Most Tourists Never See (+ Map & Tips)
Tourists can wander through the narrow tunnels and passageways and see the labyrinth of cave systems that include places for livestock, churches and wineries. They really did have everything they needed under the earth's surface! 
How to get there: The city of Derinkuyu is just a 45 min drive from Göreme (in the Cappadocia region). Buses and even taxis will take you there for a day of exploration.
6. Take a walking tour of Istanbul
The gateway between the East and the West, and the only city in the world that can claim residence on two separate continents, Istanbul is truly a one-of-a-kind city. With two major airports and direct flights to cities all over the world, it's likely to be your entry point into Turkey and we highly suggest you take advantage and stay a few days (or more if your schedule allows!). 
While it is a large city – it's spread out over two continents after all – most of the major highlights of Istanbul can be visited on a walking tour, combined with some public transportation. You'll learn about the progression of this historically significant city, visit landmarks like the famous Hagia Sophia, Blue Mosque and Topkapı Palace. Any good walking tour will show visitors the famous Grand Bazaar, Turkey's largest and oldest covered marketplace, and the Spice Market next door. 
Experience it for yourself: Unless you want to book a private tour guide, Free Istanbul Tours offers daily group tours of Old Istanbul. The tours begin at 10:30 a.m. and they usually last about 2.5 hours. 
They also offer a "Parts Unknown" tour for anyone who wants to get off the beaten path and see alternative sights from the usual. The Parts Unknown tours are on Tuesdays, Thursdays and Saturdays at 2:00 p.m. 
It is necessary to make a reservation in advance to take the walking tour. You can make your reservation on their website. Entrance fees to the sites are not included in the tour and you will be expected to tip your guide at the end. The minimum suggested contribution is 10 Euros, or 100 Turkish Lira per person. 
BONUS: Take a Turkish cooking class
While you can find these classes in many locations around Turkey, the one cooking class we did was in Istanbul and it was the best! In this class you'll not only learn, but you'll leave Turkey with a souvenir that keeps on giving – a recipe and the knowhow to recreate it at home!
7. Visit the ancient city of Ephesus
Once the trade center of the ancient world, today Ephesus is a UNESCO World Heritage site visited by tourists year-round and one of Turkey's best ancient ruins. The city has both Greek and Roman history dating back to the 10th century BC. You can stroll for hours down the streets viewing the ancient ruins of temples, libraries, theaters, houses and statues. 
Possibly the most famous building that once stood in this city is the Temple of Artemis, which is considered one of the Seven Wonders of the Ancient World. Other buildings include the  impressive Library of Celsus and the Temple of Hadrian.
Long story short: If you're looking to visit interesting historical places in Turkey, this should be on your itinerary. 
How to get there: The easiest way to visit Ephesus would be to take a bus from Izmir. The bus system in Turkey is very comfortable and reliable with busses running about every half hour and tickets costing you only about 20 TL for the hour-long trip to Ephesus. Renting a car is another option that would give you slightly more freedom.
8. Go paragliding over Ölüdeniz
Paragliding is perhaps the closest you can get to the feeling of flying without actually sprouting wings. Ölüdeniz gained fame when Daniel Craig ran off a cliff in the movie Skyfall. If James Bond can do it, so can we! Err… right?
Make like James Bond and give paragliding a try in this picturesque seaside town. If soaring above the lush cliffs that hug the Mediterranean isn't adventurous enough for you, you can ask your guide if you can pilot for an extra adrenaline rush! This was a first for both of us, and I think it's safe to say we were spoiled by the views.
How to get there: We took a bus from nearby Antalya, a resort town on the south coast. It was about a 3.5-hour trip and costs us about 20 TL (around $6 USD). You can book a paragliding tour with Get Your Guide which includes an experienced instructor, transportation and extreme sports insurance.
Another spot to go paragliding in Turkey is in Alanya, on the southern coast. There are plenty of things to do in Alanya and is worth a spot while traveling around Turkey. 
9. Sleep in a teepee in paradise
If you're like me and have a childhood dream of sleeping in a teepee, Farayla is the place to do it! To be honest, it's not much different than spending the night in a traditional tent, but the location is what really made our stay special.
Shiva Camp is perched high on a cliff and boasts panoramic views of the Mediterranean below. This million-dollar view isn't just for the rich. A night in a teepee at Shiva Camp costs just around $50 USD (very typical for the area) and includes a hearty breakfast and dinner for two people.
If you get tired of looking at the ocean, and really want to get your toes wet, hike down 20 minutes to the shore to one of the best beaches in Turkey! Though you'll find pebbles instead of powdery sand, this secluded strip on turquoise waters will steal your heart.
Kabak Beach is quite remote, but there are a couple restaurants and even a market that sells wine. Cheers to a perfect afternoon!
How to get there: There are several buses that go to Faralya from big cities and nearby towns. We took the bus from Ölüdeniz, a short and comfortable ride.
10. Explore magical Butterfly Valley
Wander amongst wildflowers, fruit trees and wild goats in this enchanted valley that will have you wondering if you've stepped into a storybook paradise that's been frozen in time.
Just a kilometer from the ocean, you'll find a tumbling waterfall framed by boulders and flowering trees. And if you get bored of wandering, relax on the pebble-strewn beach that is lapped by crystal blue waters. Have I sold you on this dreamy paradise yet?
How to get there: To enter Butterfly Valley, you must either climb down from the village above using ropes and a bit of rock climbing prowess. If you're no mountaineer, you can reach the valley via a 20-minute boat ride from Ölüdeniz.
The water taxi leaves the main beach in Ölüdeniz twice each day, at 11 a.m. and 2 p.m. and returns at 1 p.m. and 5 p.m. If you want to spend the night in Butterfly Valley, bring a tent, or stay in the very basic accommodation in the valley.
11. Kayak over the ruins of Kekova
Turkey has an incredible amount of ancient ruins, and is lest touristy than its popular neighbors, Italy and Greece. One of the areas with a high concentration of ruins is a region along the south coast that forms the Lycian Trail. 
Don't expect to look down and see a whole city with recognizable storefronts and homes. This isn't a movie, but it's impressive nonetheless. The clear water allows you to see remains of a town that was flooded after an earthquake. Ruins still stand on the shore as well, and are reminders of those who called the land home. 
The kayak trip will stop at the charming little town of Kalekoy, which can only be reached by boat. Spend a few hours in the sun enjoying a leisurely lunch, hiking to some hilltop ruins, snorkeling with turtles and devouring the town's famous goat milk ice cream.
Read more 15 Best Things to Do in Little Havana, Miami
Experience it for yourself: We booked our kayak tour in the town of Kaş where there were plenty of tour options to choose from. Just be sure to do your research the get the tour best suited to your needs!
12. Roast marshmallows over the eternal flame of the Chimera
The quiet seaside town of Olympos is known for its ruins, a laidback pebbly beach and the eternal flames called the Chimera. This groupings of flames burns naturally in the Cirali mountains and they are rumored to have been seen by ships at sea for hundreds of years.
The scientific explanation is that the flames are caused by methane gas oozing from the mountain's crevices. While they are constantly burning, the time of year and the barometric pressure can make them vary in size.  
How to get there: Once the sun has set, take a shuttle to the edge of the mountain, and once you get out of the vehicle you're on your own. Hike about 30 minutes up the steep and wooded mountainside, enjoying serenity and spectacular stars.
Eventually you'll reach a clearing where flames emerge from the rocky ground, and this is where you'll stop. Enjoy a peaceful night on your own in the moonlight, or make friends with others gathered around the flames by offering to share marshmallows!
The campfire vibes are strong on this mountain with endless flames, and you may be tempted to stay all night. Just don't miss your return ride to Olympos because it's a long walk back!
What to pack: Bringing a blanket would have made our time camped out in front of the flames even more comfortable. Also, wear sturdy shoes, as the hike is on uneven ground in the dark. Your driver should provide you with a flashlight, but it's never bad to be prepared. Mine didn't work, so I was glad I had my own headlamp.
13. Holiday like a local in Çeşme
Çeşme is a resort town west of Izmir on Turkey's Aegean coast surrounded by clear blue waters and accessible dive sites. The beauty of Çeşme is that it hasn't quite hit the international radar and is mostly frequented by Turkish vacationers giving it that untouched-by-tourists sort of charm. 
How to get there: You can fly into the international airport in Izmir, from which there are regular shuttles to Çeşme, just a 1 hour drive west. Another option would be to take the bus from Istanbul, which will set you back about 10 hours, however the buses in Turkey are quite comfortable and offer amenities like restrooms and snacks.
Where to stay in Çeşme:
We found some great boutique hotels in Çeşme on Booking.com for reasonable prices between $50 – $100 USD per night.
14. Party the night away in Bodrum
Dubbed the "St. Tropez of Turkey", the city of Bodrum is a summer hot spot and idyllic beach destination on the turquoise blue Aegean coast. Whether you prefer live music or a hopping club, there is no shortage of nightlife in this coastal paradise. Party the night away and then sleep it off while you soak up some rays on the beach or at one of the many infinity pools in the area. 
Bodrum is not just for partiers. There is plenty of culture and history to be soaked up as well. The city features side-by-side bays surrounding the Bodrum Castle, a medieval fortress completed in the 4th century B.C.  The castle was built from the stones of the Mausoleum at Halicarnassus, one of the Seven Wonders of the Ancient World. The ruins of which can still be viewed in the area as well. 
If history isn't your thing, you can get a taste of the local culture. The coastal location boasts plenty of restaurants with fresh seafood and local favorites such as traditional stuffed muscles. Check out the local market for fresh olive oils (created at the hundred-year-old factory in the old town) and watch local artisans weave beautiful Turkish carpets. 
How to get there: Bodrum has an international airport with direct flights from Istanbul and other European and Asian cities. You can also take a bus from other major cities in Turkey, rent a car and make the drive yourself, or arrive by sea! There are daily ferries from the Greek islands of Cos and Rhodes that make their way into Bodrum. 
Where to stay in Bodrum:
For a city that's centered around it's harbor, you'll want to stay close to the coast if you want to be in the center of the action.
If you're on a budget:
You cannot beat the prices at the Sah Hotel, starting at just $60 USD per night for a beachside hotel. Be sure to book well in advance as these deals get picked up fast!
The Su Hotel & Cottages will give you more of an apartment feel where you can book one and two bedroom places with small kitchenettes.
If you are willing to splurge:
The Bodrum Edition is part of the Edition boutique hotel collection. With stunning views of the Aegean Sea, you'll get the five-star treatment at this luxury establishment.
15. Sail up the coast of Turkey
The southeast coast of Turkey, with its turquoise blue waters, white sandy beaches and charming coastal towns, is known as the Turkish Riviera, or better as "The Turquoise Coast." Whatever you want to call it, Turkey's Mediterranean coast is truly a paradise that is best explored by boat. Whether you book a tour aboard a traditional gület (wooden yacht) or charter a boat yourself, sailing this glistening stretch of coastline is sure to be a highlight on anyone's Turkey itinerary. 
Places to visit on Turkey's Mediterranean Coast: 
Kaş: This charming beach town may be known as Turkey's premier scuba diving destination, but there is so much more to fall in love with here. This oceanside jem has ancient ruins, hip restaurants and stunning beaches, but hasn't quite caught the tourism boom and commercialization of some of the other well-known towns in the south.
Antalya: A resort city filled with yachts and fancy hotels surrounding the Old Harbor and beautiful white sand beaches. Antalya is considered the "Gateway to Turkey's Mediterranean Coast."
Fethiye: A port city known for the famous blue lagoon and white sand peninsula jutting out from the beach at Ölüdeniz (See #6). Aside from it's beautiful coastline, Fethiye's proximity to Butterfly Valley (See #8) makes it a coastal town not to be missed. 
Marmaris: Another resort town known for its hopping nightlife on Bar Street, pebble beaches and long seafront promenade. It's crystal clear waters makes Marmaris a popular diving destination. 
Turkey Itinerary
Trying to figure out how you can fit all these sights into one trip?? Unfortunately you could spend months in this beautiful country and not see everything there is to see. Luckily for you we've put together a 12-day itinerary with the highlights of Turkey. You can follow this itinerary exactly or make adjustments to it to fit your travel style. 
Overview
Istanbul: 4 days
Ephesus: 1 day
Pamukkale: 2 days
Fethiye / Ölüdeniz: 2 days
Cappadocia: 3 days
Day-by-day
---
If you're headed to Turkey, we've got some things you should see!
We have lots of resources on travel in Turkey and destinations throughout the country. Check out our Ultimate Turkey Travel Guide for all the answers to your travel questions, or read some of our favorite articles below.
Cheap & Fun Things to Do in Istanbul

Best Cooking Class in Istanbul: Cookistan

Fun & Unusual Things to Do in Cappadocia

Cappadocia Cave Hotels: Where to Stay for Every Budget
Save this article on Pinterest for later!
We want to hear from you!
Have you been to Turkey? What was your favorite place to visit?
Read more Top 25 Romantic Hotels in Northeast USA
Are you planning a trip and still have questions? Comment below and we'll do our best to get back to you!
---
— Update: 31-12-2022 — cohaitungchi.com found an additional article Top 8 Uniquely Exciting Things To Do in Turkey! from the website www.regencyholidays.com for the keyword adventurous things to do in turkey.
Turkey is a country blessed with stunning geography that furnishes its landscapes and paradisiac features. And above all its culture has aged like an old wine that is worth relishing. Full of  incredible destinations, sights, flavors, and experiences, Turkey is arguably one of the most beautiful countries in world. With some of the hypnotizing landscapes, a couple of heritage sites, Turkey caters to the needs of all the travelers who plan a visit to experience its grandeur. Here are a few things to do in Turkey through which you can literally delve into the marvelous beauty of the country.
8 Breathtaking Things To Do in Turkey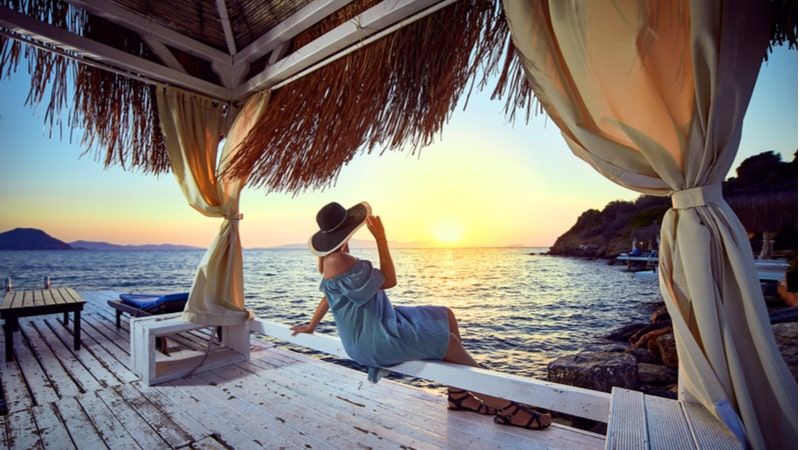 Let's take a dig into all the unique things to do in Turkey. A country that is known for cultural traditions and hospitality, Turkey is a destination that knows no boundaries in ensuring that their guests are having a great vacation. Here is the list that you must go through before planning a trip.
1. Discover Limestone Formations at Goreme National Park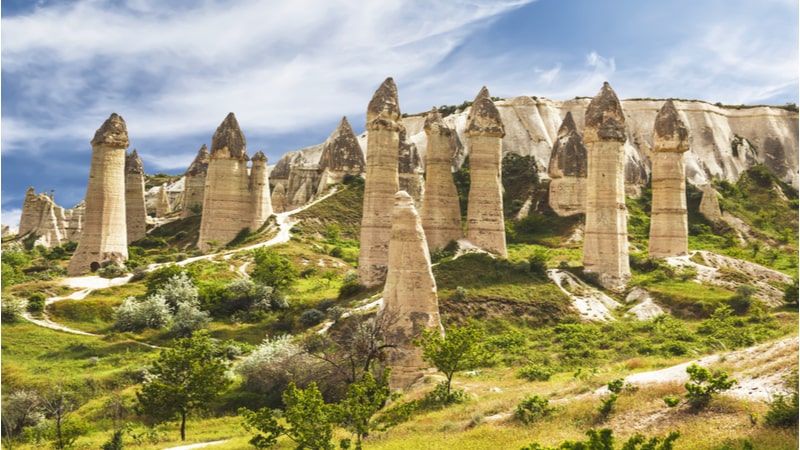 Goreme national park, a UNESCO World Heritage site, is a beautiful place is a gorgeous sedimentary rock formation. You can stroll through the national park, to experience every essence of this marvel. Visiting this beauty is one of the most happening things to do in Turkey. Formed from Cappadocia's volcanic deposits, Goreme National Park is one of the most adored places, given it's unique landscape. Cappadocia is a semi-Arid region in Turkey that offers beautiful architecture carved out of Sediment formation. Known as a place of fairy chimneys," due to its cone-shaped rock formations.
Location: Central Anatolia plateau, Cappadocia
Timing: Open 24 hours
2. Taste The Local Raki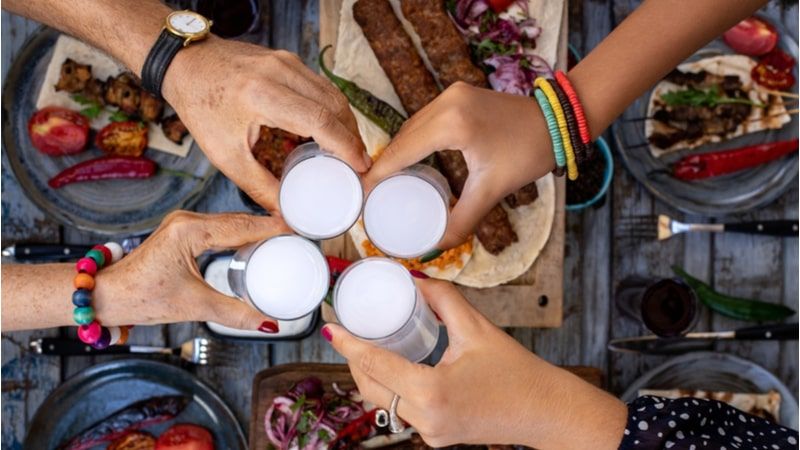 People are crazy about alcohol worldwide, but the charm of local alcohol can't be explained in words. If you are someone who loves locally concocted hard drinks then you must not miss out on Raki. The traditional alcohol of Turkey, Raki is served with water and ice but it is highly customizable, so you can think of any innovative way of drinking it. While you are on your vacation to the county, tasting Raki is one of the must try things to do in Istanbul, if you are into drinks. You are surely going to love the taste since it is concocted in the most authentic way.!
Location: Istanbul
Timing: 9:00 PM – Midnight
3. Learn About the Ancient Archaeological Site of Troy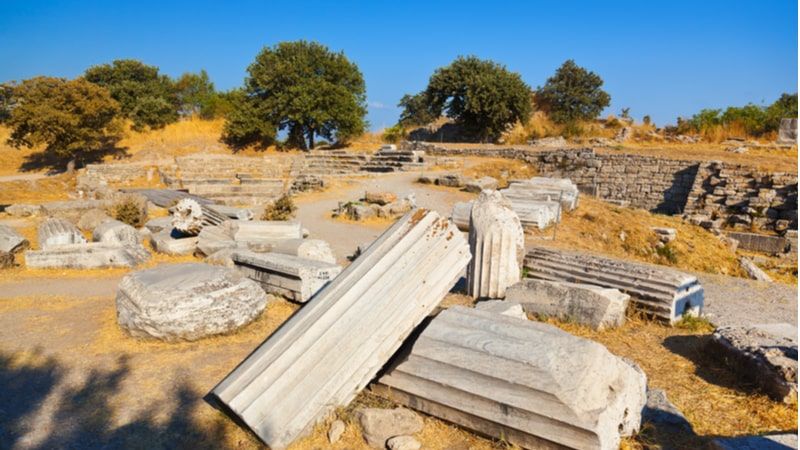 Just at the first glance of the beautiful city you will get a peek into the erstwhile era. Located in the Northwest Turkey, troy is an eyecatcher, although there are heaps of concrete and dust, it is one of the must-see places in Turkey. It will time machine you to the ancient Era of the land that raised brave heroes and bore courageous wars. With a significant political background, Troy has also been an inspiration for many literary dignitaries. For history buffs, it is amongst the most visited places in Turkey, where they can find ruins of temples, forts giving a glance of bygone periods.
Location: Northwest Turkey
Timing: NA
4. White Water Rafting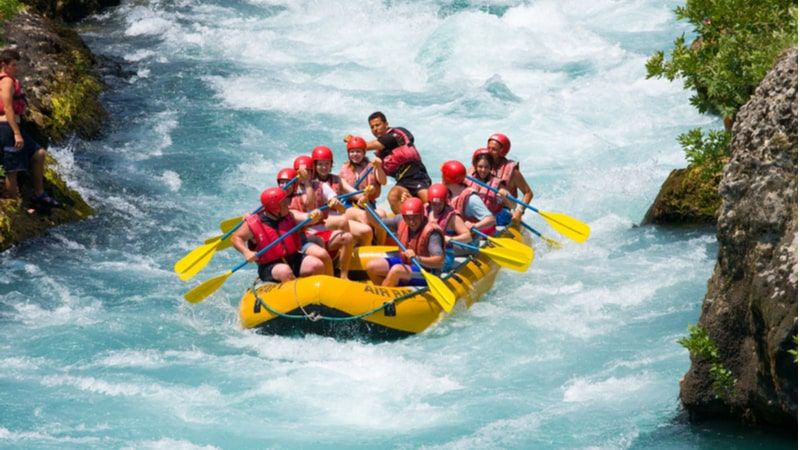 Antalya coast in Turkey is a very stunning place that offers splendid water adventures. White water rafting is one of the adventurous things to do in Turkey when it comes to taking an adrenaline push. The rafting session is an extreme adventure sport in Turkey, rendering a white-knuckle experience. There are certain levels from easier to highly thrilling, you can choose as per your expertise. The Koprulu and Dalaman river have spots for adventures that are specifically tailored for tourists while ensuring their safety. If you love thrilling sports then you must plan a day with your friends and have the most memorable times.
Location: Koprulu and Dalaman river
5. Tandem Paragliding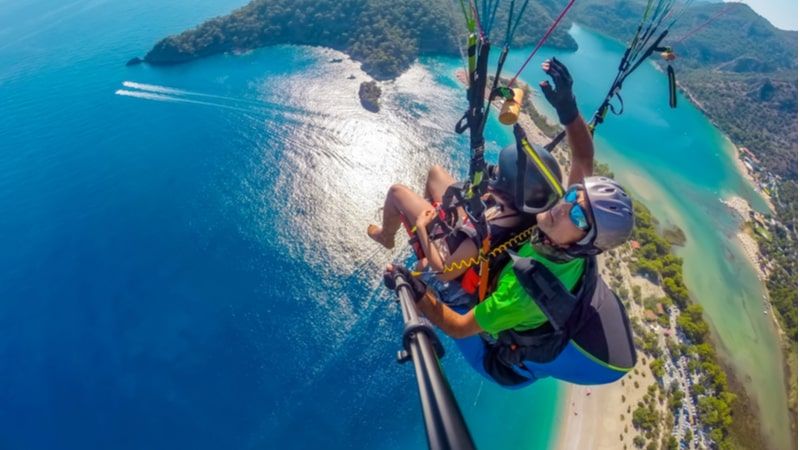 Looking for adventures in Turkey? Yet another exciting adventure sport is paragliding. Over the years Tandem paragliding has been a most loved sport in the region of Oludeniz Beach in Turkey. You can find a famous blue lagoon bedrock where paragliding is most often performed. People from around the world visit this place to experience the best adventure activities in Turkey. Take a journey through the beautiful mountains. There are many other fun activities in Turkey such as hot air balloon rides and strolling through the mountains.
Location: Oludeniz Beach in Turkey
6. Enjoy Bosphorus Ferry Ride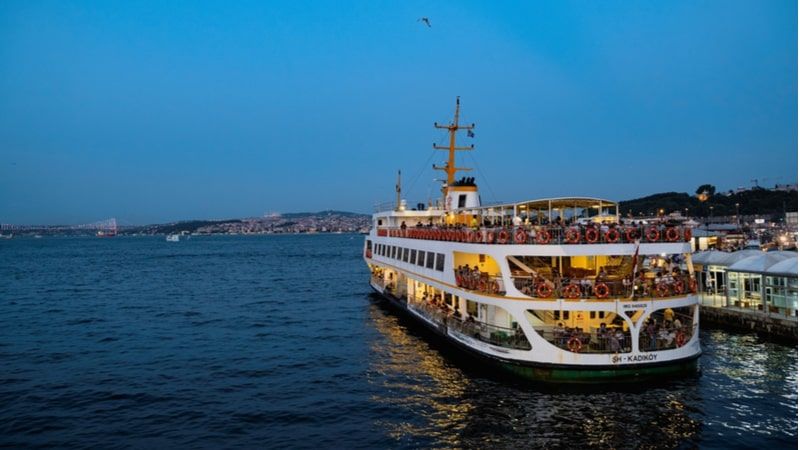 Want to enjoy the beautiful geographical locations of Turkey? Take a ride to the place where the Black Sea intertwines with the Mediterranean Sea. Explore the Rumeli fortress with Galata bridge offering stunning views of Bosphorus. Visit the ferry ride and relish the most beautiful experience. The surreal romantic sites attract many newly weds to plan their Honeymoon in Turkey. Climb on the pleasure boat and spend the luxurious, on the cruise along the Bosphorus strait. And sail through the greatest architectural achievements, while enjoying the traditional and cultural shows.
Location: South to North Turkey (Marmara And Black Sea)
Timing: 2:30 pm to 4:30 pm
7. Watch the Sacred Darvish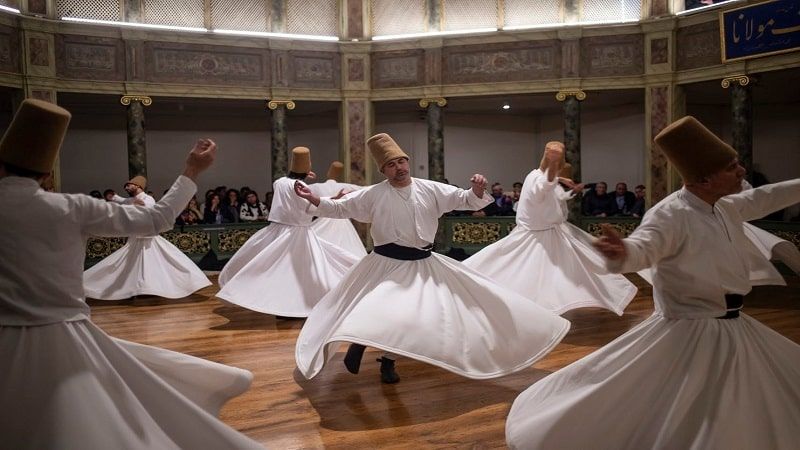 Have you heard about the Sufi spiritual ceremony of dancing saints called Darvish? Attending the ceremony is a very soul soothing and one of the best things to do in Turkey, involving practices such as Dhikr. Initiated in the 13th century by saying Rumi. Darvish in Turkey incorporates soulful music, music instruments, poetries etc, aiming to render an evening full of spiritual upliftment. If you have never attended any Darvish then you must, as the swirling moves, enchanting background, heartwarming music will take you to an otherworldly journey filling your heart with mixed emotions and elation.
Location: Galipdede Caddesi, Turkey
Timing: NA
8. Turkish Bath and Hammam Spas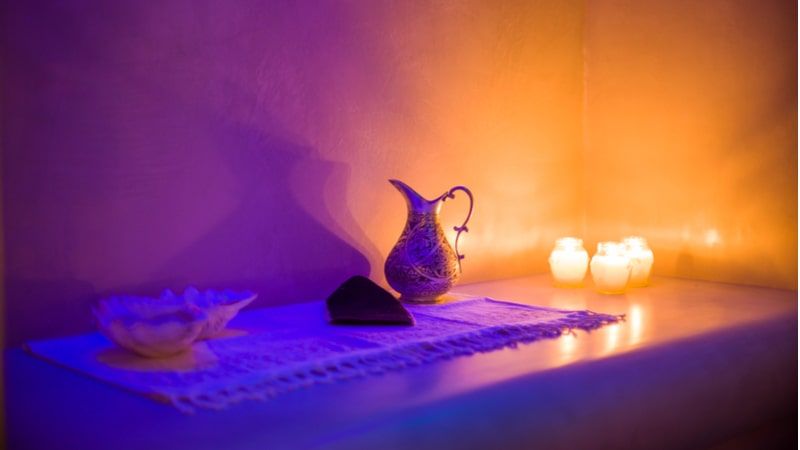 Have you ever heard of public hammams(bath)? It might sound a little weird to you but Hammams are still a significant and integral part of Turkish culture and is one of the coolest things to do in Turkey. It's not a normal bath ritual but an experience like never before. It's a Spa therapy that not only cleanses but relaxes the body too but you have to be Naked, during the process. There are many places in Istanbul, where you can find these centers but the most popular ones are Cagaloglu, Ayasofya Hurrem Sultan Bath and Suleymaniye.
Few of them are unisex and cater to all irrespective of their genders. If you visit a traditional Hamam you would find that male and female sections are separate without any change in the ritual. A Turkish hammam is a most adored thing to do in Turkey, that travelers plan on their trip to the country. Visit any popular Hammam and loosen yourself for the next 45 minutes. You will be given an attendant who will wash and scrub every inch of your body with a hand-woven cloth called kese followed by a foam wash and finally a relaxing massage.
Turkey is a melting pot of cultures and its traditions and cultures can be seen in every ounce of its existence. If you have never visited the country, you must plan at least once and take an opportunity to do all the fun things to do in Turkey. Plan a trip soon with your friends or with family and give them an escape into the Turkish delights and the stunning experiences that will never fade away from their memories.
Plan a trip soon and get your hand on amazing Turkey packages that aim to conclude your trip at a very cost-efficient level without digging a whole into your pockets.
FAQs
References