You may have noticed a growing number of alternative flours lining the baking aisle of your supermarket. But the question remains: Is it a good idea to eat these flours when you're managing diabetes? While all nut flours are a bit different, almond flour is a safe choice at the store.
Is Almond Flour Good for People with Diabetes?
Yes! Since almond flour is made from blanched, ground nuts, it contains all the same health benefits of almonds. Almond flour, for example, is high in blood stabilizing fiber, blood pressure-reducing magnesium, and inflammation fighters such as vitamin E and polyunsaturated fatty acids. That means that eating almond flour could help you manage your diabetes as well as protect you from heart disease!
When you compare it to white wheat all-purpose flour, almond flour contains less than one quarter the amount of carbohydrates. And, of the remaining carbs, more than half are fiber, a type of non-digestible carbohydrate that doesn't drive up glucose but helps dampen it down instead. This is one reason almond flour can be a particularly good option for folks with diabetes.
Since almond flour contains nothing but almonds, it is safe to assume that including more of it in your diet will allow you to enjoy the same benefits associated with eating almonds. For example, in one study, when people with type 2 diabetes increased their almond intake, it resulted in lower total cholesterol and LDL (bad) cholesterol, as well as lower insulin and blood glucose levels and improved their overall blood sugar control. In a second study, eating more almonds daily significantly lowered participants' Ha1C in the course of just 12 weeks—the typical amount of time between appointments to measure this important disease marker.
3 Ways to Eat Almond Flour If You Have Diabetes
Use When Baking
While some baking enthusiasts say that you can't swap in almond flour for the all-purpose kind in recipes, others are much more confident about its versatility. It depends on the type of texture you're going for and the overall amount of flour used in a recipe; however, you can find anything from pancakes to cakes to cookies to biscuits made with this unique ingredient.
If you're unsure about whether a one-to-one swap will work, create your own flour blend instead. Trade in almond flour for white flour in increments, starting by replacing one quarter of your regular flour with almond flour on the first try. If you're happy with the results, increase it to a half almond, half regular flour ratio, then up to three quarters, and so on. You can also find a recipe that calls for almond flour to begin with, such as this low-carb almond flour bread.
Editor's Tip: If you put almond flour into a traditional recipe (such as chocolate chip cookies) be sure to let everyone know it contains an allergen, which might not otherwise be obvious.
Create a 'Bread Crumb' Coating
You can use almond flour as a bread crumb substitute or in place of traditional flours. Make a nutty crust for chicken and fish (start with this Crispy Almond Tilapia), or coat chicken tenders and fish sticks if you're cooking for kids. Because almond flour has a mild, sweet and almost buttery flavor, the coating will contain extra nutrients and be extra delicious! And it's high in fat (the healthy kind) which means it can be tossed in an air fryer, along with these other air-fryer friendly foods.
Sprinkle It in Savory Recipes
The carbohydrate count of traditional recipes such as meatballs and meatloaf can be cut down, too, by sprinkling in almond flour as opposed to bread crumbs. (If the recipe calls for flavored breadcrumbs, be sure to mix in the additional herbs so you won't miss out on flavor.) You can also use it to thicken sauces such as gravy, though add a little at a time to avoid making it too thick too quickly and, if available, choose the finely ground version as it mixes more easily.
Editor's Tip: Regardless of how you're using almond flour, store it in the refrigerator or freezer. Since it has a higher fat content than regular flours, it can go rancid more quickly. The cold storage prevents that problem.
---
— Update: 25-12-2022 — We found an additional article Almond Flour Glycemic Index and Effect on Blood Sugar from the website www.milkandhoneynutrition.com for the keyword almond flour good for diabetes.
The almond flour glycemic index is what makes almond flour so blood sugar friendly!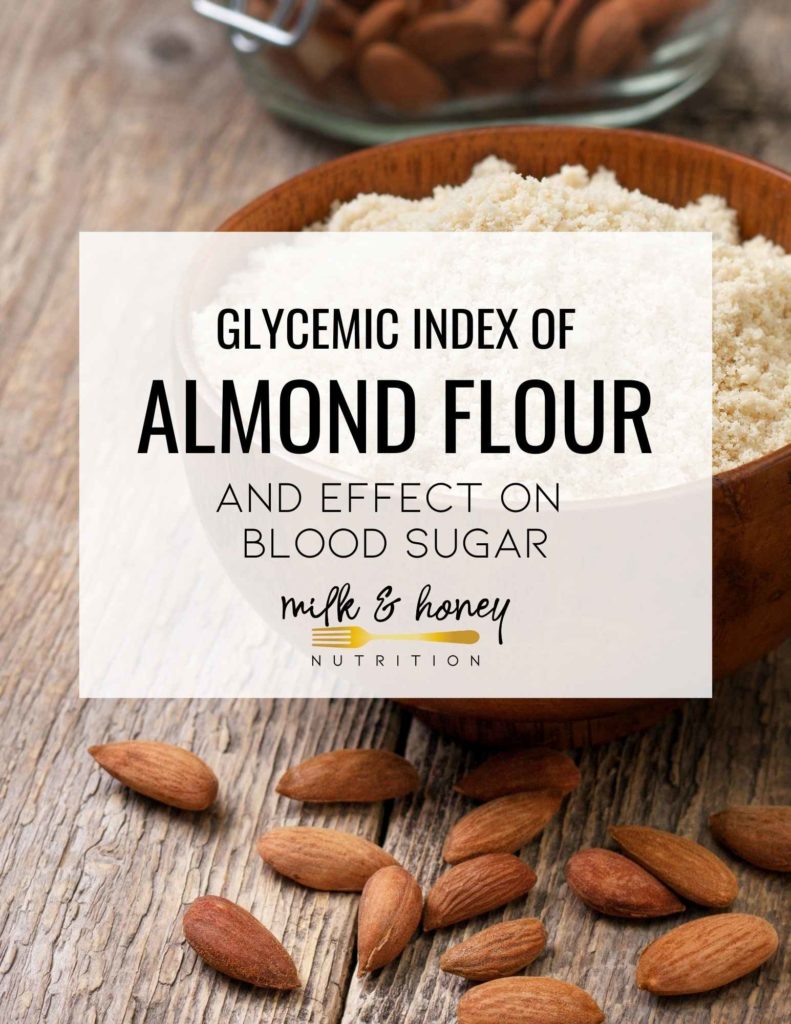 Almond flour is one of my favorite blood sugar friendly flours to work with! The combination of less carbs, and more protein and fat result in an almond flour glycemic index that's great for people looking to balance blood sugars. 
Is almond flour good for you? 
While there's never a black and white answer to something like this (I don't like to classify food as "good" or "bad"), almond flour can be a great option for people who need to pay attention to their blood sugar levels. Not only does it taste delicious, but it offers a nutrient profile that really helps promote stable blood sugars. 
Read more Is Almond Flour Good for Diabetes: Can It Lower Blood Sugar?
Almond flour glycemic index
Because of it's blood sugar friendly macronutrient profile, almond flour is a low glycemic ingredient. In fact, the glycemic index is so low, that it is difficult to measure accurately. Different sources vary on the exact number, but the general consensus is that almond flour is considered a low glycemic food. For more information on the glycemic index, check out this post.
Does almond flour have carbs?
Yes, almond flour does have some carbohydrate. 1/4 cup almond flour (24g) contains 6g carbohydrate. And, three of those six grams are fiber. 
For comparison, 1/4 cup of wheat flour contains 24g carbohydrate. Almond flour may increase glucose a modest amount compared to wheat flour.
Does almond flour raise blood sugar?
Because almond flour does contain a modest amount of carbohydrate, it can raise blood sugar for some people. 
The macronutrient profile of almond flour, though, means it most likely will not "spike" blood sugar levels but rather will support a slow and stable blood sugar response… which is exactly what we want for managing blood sugar levels!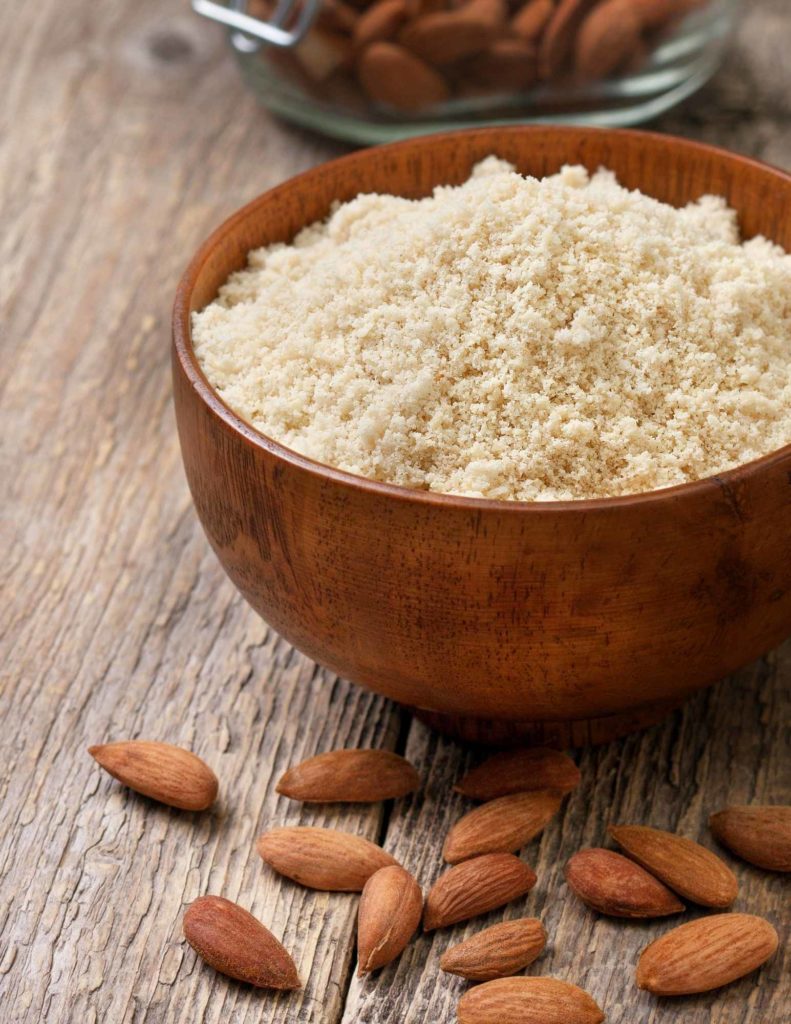 Is almond flour low carb?
Yes, because of the almond flour carbohydrate count and almond flour glycemic index, almond flour is considered a low carb food.
Almond flour carbs per cup
As I referenced above, one cup of almond flour contains roughly 25g carbohydrate. That is in stark contrast to the ~100g carbohydrate in a cup of wheat flour.
Almond flour fiber content
Half of the carbohydrate in almond flour is fiber. So, 1 cup of almond flour has roughly 12-13g carbohydrate. 
Does almond flour have protein?
Yes, because almond flour is made from almonds, it's actually a high protein flour. One cup of almond flour has 20g protein.
How much fat is in almond flour?
One cup of almond flour contains 48g fat. And, if you're tempted to be concerned about that high of a number for fat, don't be. Remember, almond flour comes from almonds. An extremely nutrient dense food. The fat in almond four is a plant based fat, and is very rich in monounsaturated fats. Only a very small portion of the fat is saturated fat.
Is almond flour blood sugar friendly?
By now, I'm sure you've gathered that almond flour is in fact one of the most blood sugar friendly flours out there! It's lower in carbohydrate, and higher in fat, fiber, and protein (my three favorite nutrients!) than most other flours. 
So, how can we use almond flour?
How do you use almond flour at home?
My favorite way to use almond flour is in baked goods! Some of my favorite recipes include:
Baked Homemade Cinnamon Sugar Donuts
Homemade Pumpkin Bread
Almond Butter Chocolate Chip Breakfast Bars
You can also use it in energy bite recipes and overnight oats recipes!
How long does almond flour last?
Almond flour should be stored in an airtight container in a cool and dark environment, like your pantry. You can also store almond flour in your freezer. Assuming it is stored properly, almond flour should stay good for about one year. 
What products are made with almond flour?
In addition to using it at home, almond flour is also being used more and more in packaged products and snacks. You'll find it as the star ingredient in everything from bars, to crackers, to cookies!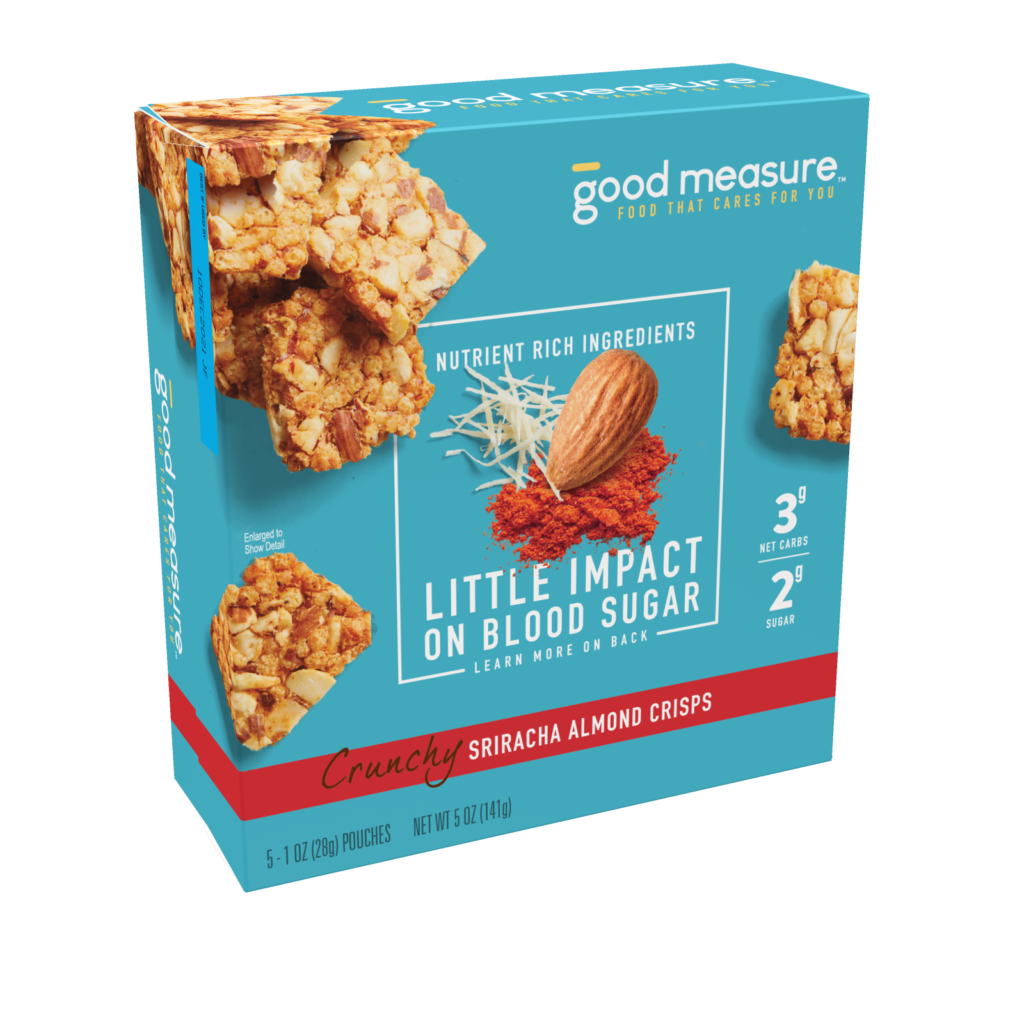 Almond cracker example
Good Measure (the same company that makes some of my favorite blood sugar friendly bars made with nutrient dense ingredients) just launched a brand new snack that is a perfect example to show how almonds and/or almond flour can help make a product more blood sugar friendly!
Their newest snack, Good Measure Almond Crisps, is some of the most delicious and crunchy crackers I've had. It comes in two flavors:
Cheddar Almond
Sriracha Almond
The Almond Crisps are  made primarily from diced almonds plus parmesan and cheddar cheese. And, are just the perfect crispy, crunchy blood sugar friendly snack. Just like Good Measure Nut Butter Bars, the Almond Crisps are made with nutrient-rich ingredients and are super tasty, too! Get 20% off your first box on allingoodmeasure.com using my code MARYELLEN20 at checkout.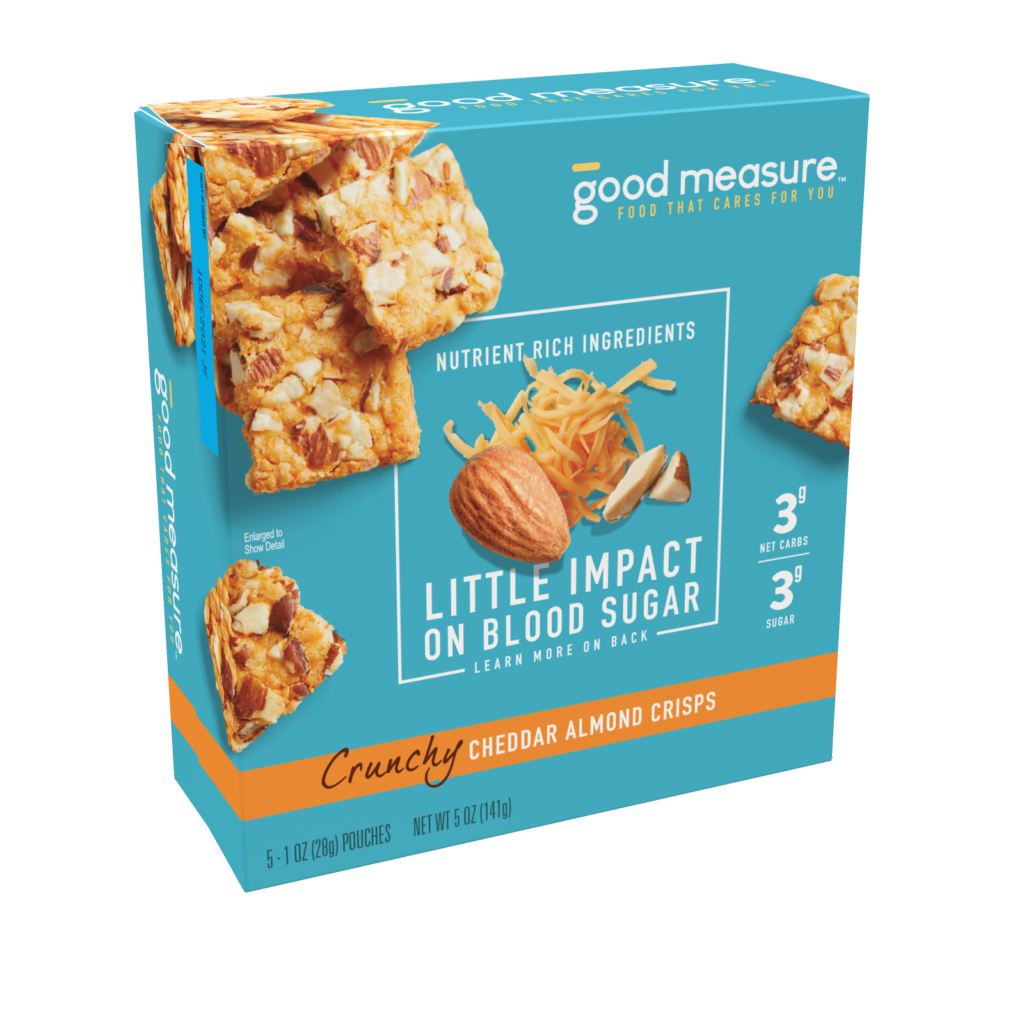 ---
— Update: 25-12-2022 — We found an additional article Is Almond Flour Good for Diabetes: Can It Lower Blood Sugar? from the website yourdiabetesdietitian.com for the keyword almond flour good for diabetes.
With the abundance of keto and gluten free products out there, almond flour has become more widely available. You've probably seen it in baking mixes and as a base for crackers, cookies, and pancakes. 
So you might be wondering, is almond flour better than all of the other flours used to make delicious baked goods? Is almond flour good for diabetes? Almond flour is more expensive than regular baking flour, so is it worth it? 
Let's take a look at whether almond flour is good for diabetes, along with its nutrition facts and health benefits.  Read on to also find out which flour is the best for diabetes!
DISCLAIMER: This post was written by Justine Chan MHSc, RD, CDE.  All content on this site is for informational purposes only and is not a substitute for professional medical or nutritional advice. Always seek medical and dietary advice from your doctor or dietitian. 
All nutrition information is sourced either through food labels or through the USDA Nutrient Database.
Nutrition
¼ cup (28g) of almond flour provides: 
165kcal
5 grams of carbohydrates
3 grams of fiber
7 grams of protein
14 grams of fat
66mg of calcium (5% Daily Value)
1mg of iron (5% Daily Value)
72mg of magnesium (17% Daily Value)
191mg of potassium (4% Daily Value)
0.85mg of zinc (7% Daily Value) 
0.2mg of vitamin B2 (15% Daily Value)
7.2mg of vitamin E (50% Daily Value)
As you can see, almond flour is mostly fat, which makes up 75% of the calories. It's also high in some key vitamins and minerals that play a role in managing blood sugars, healthy skin and immune health.
How is almond flour made? 
The only ingredient in almond flour is blanched almonds, which means the skin was removed as the almonds were boiled.  The flour is made by grinding the almonds to make the texture more fine and smooth. 
With a high speed blender or food processor, you can make them on your own using the same process.
You may have seen or heard about almond meal and wondered what's the difference. Almond meal is made from raw, unpeeled almonds so the texture is more coarse. 
Probably not as good as almond flour for cakes and cookies, right? 
Read more Quinoa and Diabetes | Is Quinoa a Good Grain for Diabetics to Eat?
Does almond flour increase blood sugar? 
Because almond flour is very low in carbs, it shouldn't affect your blood sugars.  A randomized controlled trial involving 32 people on a low carb diet found that when either almonds or peanuts were added, both were effective in improving fasting and after meal blood sugars (1).
However, another systematic review found no real difference on fasting and after meal blood sugars, but did find almonds were effective in lowering HbA1c and weight (2). HbA1c is your average blood sugar over the past 3 months, as measured by a blood test.
Almonds may also promote healthy gut bacteria (2), which has been linked to many benefits including improved blood sugars, weight management, lower cholesterol, and protecting your immune system (3).
Also, because almonds are highest in fiber compared to other nuts, this helps with slowing down the digestion and absorption of sugars and starches.  Slower digestion means less blood sugar spikes as shown in randomized controlled trials.   
For example, combining almonds with white bread lowered blood sugars afterwards by up to 14% compared to white bread alone, according to a 2021 comprehensive review (4).
Considering its minimal impact on blood sugars and a host of the other benefits, it is hard to argue against almond flour being a great choice for people with diabetes!
What is the lowest carb flour? 
Here is a list of commonly used flours from lowest to highest carb, per 100g:
| | | | | | |
| --- | --- | --- | --- | --- | --- |
| Flour (per 100g) | Calories (kcal) | Carbs (g) | Fiber (g) | Protein (g) | Fat (g) |
| Almond | 578 | 16 | 9 | 26 | 50 |
| Chickpea | 387 | 58 | 11 | 22 | 7 |
| Coconut | 429 | 64 | 36 | 21 | 11 |
| Oat | 389 | 70 | 10 | 13 | 6 |
| Whole Wheat | 370 | 71 | 11 | 15 | 3 |
| Spelt | 364 | 71 | 9 | 15 | 3 |
| All Purpose | 364 | 76 | 3 | 10 | 1 |
| Brown Rice | 363 | 77 | 5 | 7 | 3 |
As you can see, almond flour is by far the lowest carb option.   The second lowest carb option, chickpea flour, has around 3.5 times the carbs of almond flour!
Which flour is the best for diabetes?  
There is no definitive evidence to say any one flour is the best.  However, when looking for a flour that's good for diabetes, there are a few important things you want to look for.
You generally want a flour to be:
Low in calories 
High in fiber
High in protein
Whole grain 
Low in saturated fat
While no flour will necessarily check all the boxes, one that's whole grain is going to give you more fiber and vitamins compared to one that's refined.  
The benefits of whole grains are well established. They have been shown to reduce your risk of type 2 diabetes and lower post meal blood sugars more than refined grains (5).  Whole grains can also improve cholesterol, HbA1c, and inflammation, according to a 2020 systematic review and meta analysis (6).
Based on the above macronutrients for all the various flours and my professional experience, my top three would be almond flour, chickpea flour, and whole wheat flour.  These flours rank at the top for fiber and protein, both key factors that will determine your blood sugar response and how full you will feel.
Health Benefits
Since almond flour is made entirely of almonds, most of the health benefits below relate to almonds.  Compared to other nuts, a serving of almonds contains the most fiber, healthy monounsaturated and polyunsaturated fats, and antioxidants (4).
Cholesterol
Did you know almonds can lower your cholesterol, especially if it's high to begin with? So just how much is effective? A 45g portion, or roughly a half cup daily, was found to have the largest impact on total cholesterol and LDL, aka your "bad" cholesterol, based on a 2021 comprehensive review (4)
Blood pressure 
When we look at what randomized controlled trials are telling us, there is some evidence that almonds may reduce blood pressure (7, 8).  How? It's hard to tease out exactly, because almonds contain healthy fats, vitamins, minerals such as magnesium and potassium, fiber, plant sterols, polyphenols, and antioxidants, all of which may play a role (7).  
Also, the fiber in almonds helps to feed your good gut bacteria, and in doing so can help to regulate blood pressure (7). 
If you are looking for more ways to help lower your blood pressure, beets are another great food that can excel at this.
Gut health
While the research on almonds and gut health is still in its early stages, there is growing evidence to show that the fiber in almonds is prebiotic. This means they feed the good bacteria in your gut and decrease the bad ones.
Why is this important? Well, more specifically, the fiber in almonds helps feed short chain fatty acid producing bacteria.  An increase in this type of bacteria is known to play a role in managing your appetite, blood sugars and weight, among many other things (4). 
Weight 
You may be thinking almonds are high in calories so eating them can cause weight gain. Actually, it's been consistently shown that almonds can help reduce weight and percentage body fat (4, 9).  
Since low calorie diets are often low in fiber, which results in less food for your gut bacteria, it's been speculated that almonds can counteract this negative effect.  As noted above, this type of gut bacteria is beneficial for managing your appetite and weight. 
Side effects and indications 
Almond flour is gluten free. Great news if you have celiac disease! 
Since almonds are a tree nut, they are a common allergen that can cause a reaction. 
Because almond flour is higher in fat and calories, digestion is slowed.  You will feel more satisfied and full. As discussed above, your blood sugars may be more stable if eaten with a meal or as a snack.
Almond flour is considered to be a high potassium food at over 600 milligrams of potassium per 100g serving.  If you have kidney disease, you may need to limit your intake of almonds and nuts in general.  
Your kidneys act as filters, so when they aren't working well, too much potassium in your diet can easily build up in your body, which can lead to a heart attack. 
Almonds are also high in oxalates so if you're prone to kidney stones, you may need to limit or avoid them.
If you've had kidney stones before, it's best if you can confirm what type it is at the lab, but if not most kidney stones are made of calcium and oxalate crystals. 
One of the best ways to lower your risk of kidney stones is to drink at least 10 to 12 cups of fluids daily. This is because when your urine is concentrated, it's easier for crystals to form.
Read more 10 Reasons Why Pedicure Is Important If You Have Diabetes
How to store and use almond flour 
To keep almond flour from going bad, you can store it in the fridge for up to 12 months. In the pantry, you've got up to 4 months. 
Almond flour can be used for:
Breadcrumbs or as breading 
Baked goods such as muffins, scones, cookies 
Pancakes
Breads 
Waffles
Tortillas 
Pizza crust
Meatballs
Baking ratio
One cup of almond flour can be used to substitute one cup of flour. Keep in mind, the flavor may be sweeter than your regular baking flour. 
Key takeaways: Is almond flour good for diabetes
So far, this post has covered the nutritional profile of almond flour, how it stands compared to other common flours, and whether almond flour is good for diabetes.
Almond flour provides some great health benefits and is a versatile substitution for other flours in cooking and baking.  Incorporating almond flour or nuts into your diet on a regular basis may help you to feel more satisfied, have lower cholesterol and blood sugars overall. 
For more exclusive tips that I share with my email list only, be sure to sign up below!
---
— Update: 25-12-2022 — We found an additional article Is Almond Flour Good for Diabetes? Important Things to Know from the website healthreporter.com for the keyword almond flour good for diabetes.
If you are conscious about your health, trying to eat the best foods possible, and also happen to be living with diabetes, then you may feel like your options are slim to none. But there are plenty of surprising foods you may be able to eat as someone with diabetes.
Almond flour is largely considered to be the best healthy alternative to regular wheat flour, but will it affect your blood sugar? We've broken down all the facts to provide you with a definitive answer to this question. Read on for the full scoop.
Does Almond Flour Spike Blood Sugar?
Because almond flour content is made up almost entirely of crushed almonds, it is safe to include in your diet while also enjoying all of the benefits of eating regular almonds as it releases sugar slowly.
Almond flour does not negatively affect blood sugar levels and was even found to lower total cholesterol and LDL levels in people with type 2 diabetes.
People who eat almonds and flour made from them have lower insulin and blood glucose levels, showing improved blood sugar control, proving the many benefits of almonds for diabetes management.
Nutritional Value of Almond Flour
We've already mentioned a bit about how this unique flour is packed with nutrients, but let's take a closer look at what exactly those nutrients are.
In 100g of almond flour, you'll find an abundance of niacin, vitamin B6, thiamin, and other healthy nutrients your body needs to function at its best.
There is also plenty of magnesium, which, as we mentioned earlier, helps your body fight inflammation. It contains a healthy portion of calcium and potassium, as well as phosphorus and zinc – all healthy minerals that help fight infection and signs of aging and help keep your blood sugar under control.
| | |
| --- | --- |
| Nutrient (per 100g) | Amount |
| Water | 4.32g |
| Carbohydrates | 16.2g |
| Fiber | 9.3g |
| Calcium | 232mg |
| Iron | 3.22mg |
| Magnesium | 251mg |
| Sodium | 1mg |
| Thiamin | 0.112mg |
Glycemic Index of Almond Flour
The glycemic index of almond flour is less than 1. Sparing all of the complicated details, this essentially means that almond-based flour will have little to no effect in increasing blood glucose levels, making it suitable for anyone living with diabetes.
This low glycemic index is a stark contrast to the glycemic index of white flour, which comes in at a staggering 71. Likewise, rice flour has an even higher index of 98.
Some other good, healthy flours to eat with low glycemic indexes include coconut flour and chickpea flour.
How to Consume Almond Flour for Diabetes
The great thing about this flour alternative is that it works well in a variety of foods, from making tasty baked goods to diabetes-friendly dinners and more. It is also a great way to enjoy plant-based meals without spiking your sugar levels. Here are some great ways to use almond flour in your cooking:
#1 Batter
Almond flour makes for a fantastic bread crumb substitute or to use in place of traditional flours. It can be used to make a nutty crust for fish or chicken, and since it has an almost buttery flavor, the coating not only makes your food more nutritious but makes it taste better as well.
#2 Baking
Many people stand firmly by the fact that there's no substitute for regular baking flour, no matter how many health benefits the alternative may provide. In some cases, they are right, but it all depends on the texture you want to achieve and how much flour you use in a recipe.
Thankfully, there are hundreds of recipes that use almond flour instead of white flour as part of their ingredient list, and most of them happen to be gluten-free as well. So if you live a gluten-free life, you're in luck.
Why Almond Flour Might Be Harmful to Your Health
Unfortunately, nothing is perfect, and there are a few reasons why you may want to stay away from almond-based flours. One of the first reasons is that it is high in phytic acid. Phytic acid is known as an anti-nutrient and occurs naturally in all seeds, including beans, grains, legumes, and nuts.
While it is an important element in these seeds, it is not beneficial for humans. In fact, it can be quite hard on our bodies, causing tooth decay, gut issues, and nutrient deficiencies.
Furthermore, almond flour may cause constipation in some people. This also goes for nut milk, butter, energy bars containing nuts, granola containing nuts, and more.
Nuts, in general, can cause constipation, so if you have recently switched to this flour and are noticing that your bowel movements are more difficult, consider using another alternative.
Why Is Almond Flour Better Than Regular Flour for Diabetes?
Almonds are able to lower the amount of cholesterol in your body, especially if it's high, to begin with. A 45g portion of almonds – around one cup – is able to lower your LDL cholesterol levels significantly, based on a recent review.
What's more, while almonds are largely believed to be high in calories, they can actually help in reducing weight and body fat percentage. Since low-calorie diets are often low in fiber, which results in less food for your gut bacteria, almonds are able to counteract this imbalance.
Conclusion
Almond flour is an excellent substitute for traditional flour, and people with diabetes can use it in their cooking and baking.
It is high in nutrients, healthy, and boasts a range of gut benefits, ensuring you have enough prebiotic dietary fiber content. You can find almond flour at most local grocery stores, and we highly recommend using it if you struggle with blood sugar management.
References