Following a heart-healthy diet doesn't have to involve spending a ton of time cooking. In fact, sometimes the most simple meals are the healthiest! Starting your day with a healthy breakfast will help you feel energized and motivated for the day and will make it easier to make healthy food choices at lunch and dinner. Making healthy meal choices is important for managing high blood pressure (hypertension) and high cholesterol (hyperlipidemia), so give some of these a try. These simple and fast breakfast ideas are perfect for a heart-healthy diet!
Nutrition Goals for Breakfast
Sodium and saturated fat are big contributors to high cholesterol and high blood pressure, so you want to make sure your breakfast is low in these. Potassium, magnesium, and calcium are important nutrients for lowering your blood pressure and cholesterol levels, so your breakfast should contain foods that are high in these nutrients. Keep in mind that there is "good" HDL cholesterol and "bad" LDL cholesterol; ideally, your breakfast will lower your LDL cholesterol and raise your HDL cholesterol. Choosing low-calorie options is important too, since being overweight and obesity can contribute to high cholesterol and high blood pressure.
10 Quick and Healthy Breakfast Ideas
Egg white omelet with tomato and spinach – Eggs can be a scary food if you have high cholesterol. But, since the cholesterol in eggs is only in the yolk, egg whites are a healthy choice for adding protein and vitamins to your meal. Tomatoes are high in potassium and spinach is high in potassium, magnesium, and calcium. Add low-fat cheese to your omelet for even more calcium. 
Oatmeal – Oatmeal is an excellent food for lowering cholesterol. It is high in fiber and very filling. Top with raspberries and walnuts for more fiber, antioxidants, and healthy fats. Or, try oatmeal with fresh pear, ground ginger, and ground cinnamon for a different, but still super healthy, take.
Fruit and protein smoothie – Smoothies are an excellent way to add a few servings of fruit to your meal. For a quick and easy breakfast smoothie, blend together unsweetened almond milk, non-fat plain Greek yogurt, spinach, banana, pineapple, and chia seeds. These ingredients are packed with antioxidants and essential nutrients. Greek yogurt and chia seeds add protein to make this smoothie more filling. Or, try a high-protein blueberry kale smoothie made from banana, kale, blueberries, low-fat yogurt, protein powder, ground flaxseeds, and cinnamon.
Read more Warfarin side effects: Watch for interactions
Greek yogurt with fruits and nuts – A super simple breakfast, Greek yogurt is high in calcium and low in saturated fat. Blueberries are a great low-calorie, high-antioxidant fruit that pairs well with yogurt and nuts. Add almonds for magnesium and more health benefits, including lowering LDL cholesterol.
Whole grain toast with nut butter and orange juice – Look for toast made from whole grains that is high in fiber and low in sodium. Whole grains are great for lowering cholesterol. Nut butters, such as almond butter, are a good source of healthy fats and protein, so they'll help keep you full. Orange juice is good for vitamin C and lowering LDL cholesterol.
Cold cereal with yogurt and raspberries – Some breakfast cereals are high in sugar and refined carbohydrates, but there are many healthier options out there! Look for cereals with a high fiber content, whole grains, and low added sugars. Add non-fat yogurt for protein and calcium and raspberries for fiber and antioxidants.
Cereal with soymilk – Soymilk is a very heart-healthy food! It is high in isoflavones, which help lower blood pressure. Choose unsweetened and un-flavored varieties to avoid added sugar, fat, and sodium. Pair a glass of soymilk with a bowl of high-fiber cereal for a fast and healthy breakfast!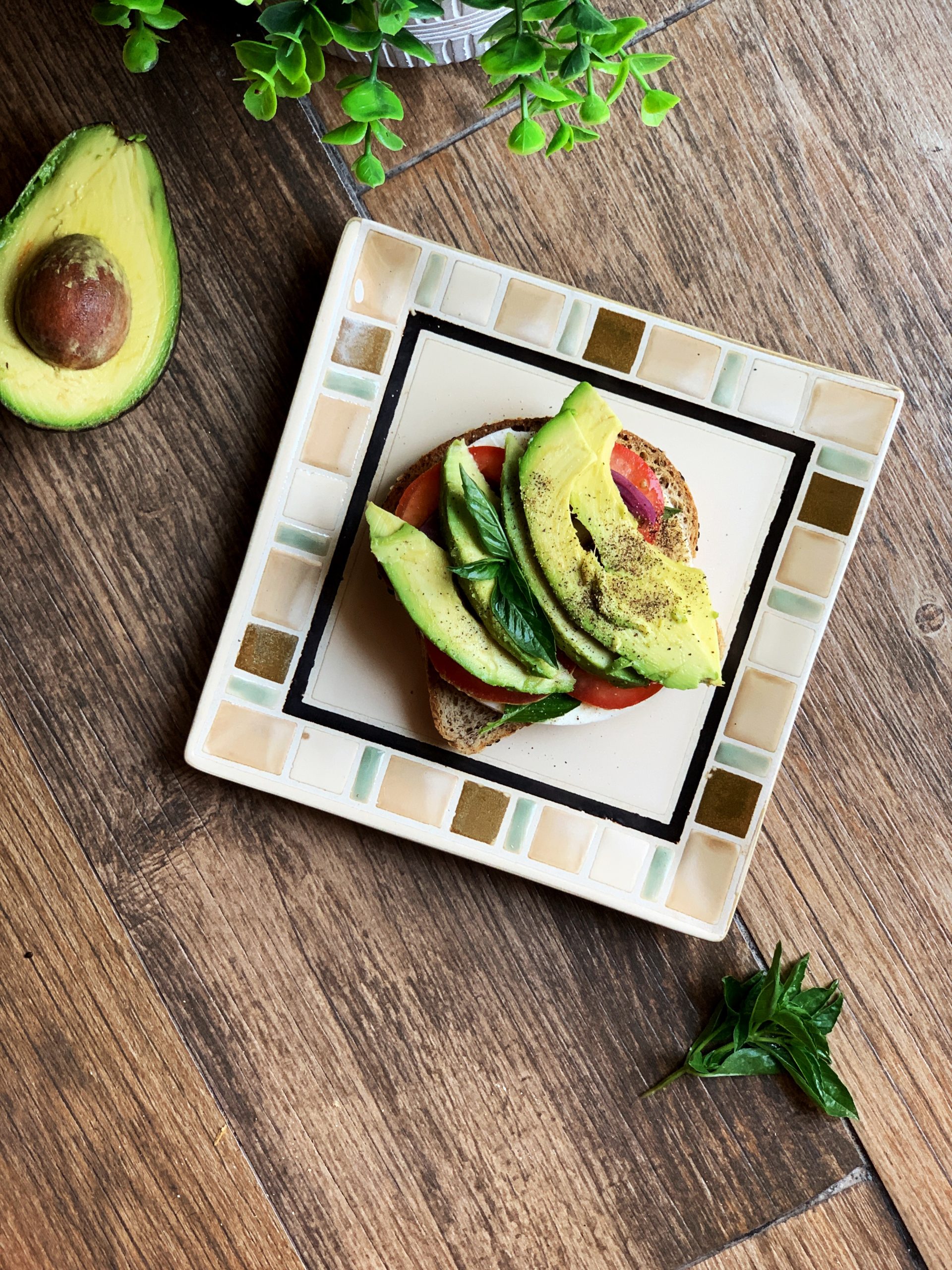 Avocado toast – Avocado is a great voice for adding healthy fats to your diet. It's great for heart health! Use whole-grain toast that is high in fiber and low in sodium. Add scrambled egg whites for protein and/or chili flakes for flavor.
Beans, egg, and grains bowl – This is a quick breakfast you can make with leftovers and pantry staples. Use cooked grains, such as barley, for the base, and add rinsed canned low-sodium black beans. Top with scrambled eggs, low-fat cheese, and avocado. Season with spices or salsa to keep the sodium level low.
Read more Pulmonary Hypertension in the Population with Down Syndrome
Whole-grain toast with cottage cheese and cucumbers – You probably have these ingredients in your fridge. A slice of whole-grain toast topped with low-fat cottage cheese, chopped cucumbers, and cilantro is a filling, refreshing, and healthy breakfast.
Summary
For a hypertension- and hyperlipidemia-friendly breakfast, choose foods that are low in sodium and saturated fat and high in potassium, fiber, and healthy fats. These breakfasts take only a few minutes to make, so give them a try!
---
— Update: 02-01-2023 — cohaitungchi.com found an additional article What To Eat For Breakfast If You Have Blood Pressure from the website healthmatch.io for the keyword breakfast for hypertension patient.
What is the best cereal for high blood pressure?
Eating cereals with low concentrations of sodium is one of the best ways to manage hypertension. Some of the healthy grains to contain HBP include:
Oats
One of the best-known whole grains, oats are among the healthiest grains for people who want to maintain normal blood pressure. They have a well-balanced nutrient composition that involves fibers, vitamins, energy, antioxidants, and minerals.
There are two varieties of oats:
Oats groats are whole-formed oats that take more time to cook.
Instant oats are crushed and highly processed to form a smooth texture that becomes mushy when cooked. Instant oats take less time to cook.
The fiber in oats, called beta-glucan, can help regulate cholesterol and blood pressure levels⁶.
The best way to enjoy oats in the morning is to make a bowl of oatmeal using water or milk and let it simmer for a couple of minutes. You can flavor it with spices such as cardamom, cinnamon, or nutmeg, or add some of your favorite fruits or berries.
Homemade granola
Granola comprises rolled oats, natural honey, and healthy dried fruits. Granola is a popular snack among athletes, professionals, and hikers because it is an excellent energy source.
Read more Best Foods to Lower Blood Pressure if You're Over 65
Homemade granola is much better than store-bought since the latter often contains added sugar, which is not suitable for those with HBP. It also tends to be much tastier and cheaper.
In addition to whole grain oats, some of the ingredients you could use when making granola include:
Green pumpkin seeds, sunflower seeds, or pepitas

Honey

Unrefined coconut oil

A little bit of fine-grain sea salt

Spice

Dried fruit such as sliced apricots, cherries, or raisins
Serve the granola with either gluten-free milk or yogurt.
Cauliflower oatmeal
Cauliflower oatmeal is a healthier version of oatmeal in which cauliflower is the basis of the dish.
The meal is made by processing cauliflower in a food processor until it resembles rice grains, then boiling it with milk and spices such as cinnamon. You can use any unsweetened milk: low-fat dairy, almond, coconut, macadamia, or soy, for example. You are also free to choose any toppings such as seeds or nuts.
Cauliflower oatmeal is packed with nutrients and is low in carbs and calories, making it a perfect way to start your day. Cauliflower contains sulforaphane, an active ingredient that helps in lowering blood pressure. Studies show⁷ the efficacy of sulforaphane in reducing cardiovascular diseases and hypertension.
Further, eating cauliflower oatmeal is an excellent way to sneak vegetables into your diet.
Muesli
Muesli cereal is made up of a mix of oats and nuts to form a meal rich in iron, proteins, and fiber. Even though muesli is similar to granola, it is more natural and contains less sugar.
The iron in muesli helps in regulating blood pressure. It also contains beta-glucan, which reduces cholesterol and keeps your heart healthy.
The whole grains in muesli help keep you full for longer. The oats also contain resistant starch, which is broken down in your gut to release digestive acids that suppress hunger.
Like other healthy cereals, there are several ways to prepare muesli. You can mix it with apple, berries, seeds, or toast it with coconut.
References