The Icicle Creek Canyon may be a tad far away to be Seattle's outdoor playground (five to six hours of drive time, round-trip) but for many Central Puget Sound hikers and rock climbers, it is anyway. Simply put, it's totally worth the drive.
There was a particular feeling I got the first time I hiked in this little valley that stretches like a bent finger westward into the North Cascades from Leavenworth. As aspen rustled in the wind and the sweet smell of ponderosa pine filled the air, I thought this feels like home. Or at least, the home I'd daydreamed about. I've been trying to figure out how to afford a little cabin in this area ever since. But for now, there are always camping trips. And fortunately, there are plenty of really nice campgrounds to choose from.
But more on camping in a minute. First I need to wax poetic for just a little while longer about the perfection of this narrow valley for outdoor lovers, particularly in late spring and early fall (summers are beautiful but a bit crowded and hot). First, there's the ease of access. The half dozen or so Icicle Creek Canyon trailheads that launch hikes into the "American Alps" (as this ultra scenic corner of the Cascades is affectionately known) are mere minutes from downtown Leavenworth, a bavarian-themed mountain town with plenty of nice inns and restaurants should you want a soft bed to return to after a day leaf-peeping on the trail. Many of the trailheads are directly off the lower paved portion of Icicle Creek Rd, reachable with no washboard road to traverse, no 4wd required. And the many hikes in this valley offer something for everybody and all abilities, as you will see in the hikes section below.
Whether you're looking for a quick burst of fall foliage or wish for a challenging, gorgeous hike to close out the season, the Icicle Creek Canyon is a pretty perfect place to spend a weekend.
Get there: Drive from Seattle to Leavenworth. At the far western edge of town, turn south onto Icicle Creek Road.
Best time to go: Spring through fall (April – October). Wildflowers peak early here, usually sometime in late May or early June. Autumn brings a plethora of fall foliage and active wildlife. Winter visitors can bring nordic skis or snowshoes to traverse the unplowed portion of the Icicle Creek Road.
Great for: Hikers, birdwatchers, rock climbers, leprechauns.
Why Camp Here: All of the forest service campgrounds along the Icicle Creek Road are nice, scenic, and mostly first-come, first served. If one of them is full for the night, just keep driving on to the next one to find your base camp. Any of the campgrounds will put you a stone's throw away from several great hiking trails.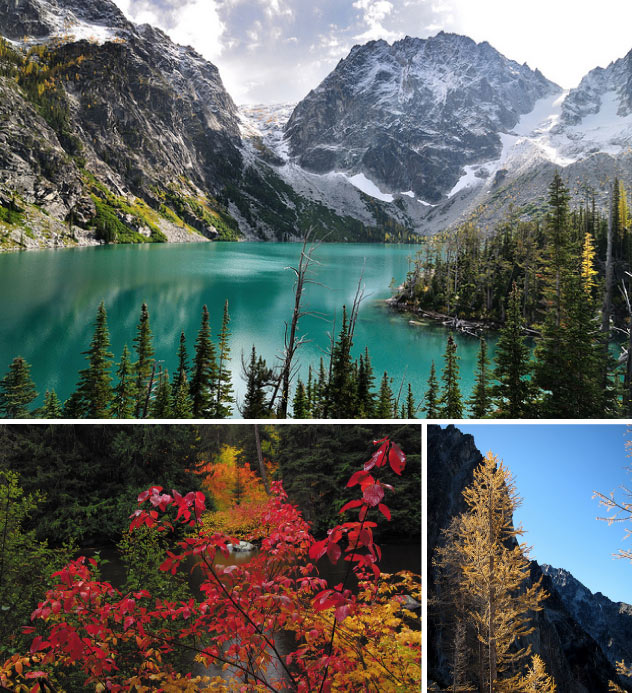 Read more Bears Den Overlook Hike in Bluemont Virginia: Routes and Tips
Icicle Creek Campgrounds 
Eightmile (41 sites for tents or RVs to 21 feet, open mid-Apr to Oct) The first campground you'll come to on Icicle Creek Road, Eightmile is actually about seven miles in. It's the earliest to open and sometimes the latest to close. Eightmile is often the first to fill up, as many folks stop here not knowing there are seven more campgrounds beyond. We usually pass by on busy weekends in favor of one of the smaller camps for more privacy. Note as of 2016, just over half the campsites are now reservable through recreation.gov; the rest are still first-come, first serve.
Bridge Creek (6 sites for tents only, open mid-Apr to Oct) This small, rustic campground is right on the banks of the Icicle, and is popular with climbers.
Johnny Creek (56 sites for tents or RVs to 30 feet, open May to Oct) It's the biggest and some say the nicest campground along the Icicle. It's also the last campground before pavement ends on Icicle Creek Road.
Ida Creek (10 sites for tents or RVs to 21 feet, open May to Oct) Set on the confluence of Ida and Icicle Creeks, this campground is such a pretty spot. And it's the perfect base camp–just up the road  is the Icicle Gorge Trail, a wonderful little jaunt for beginning hikers and families.
Chatter Creek (12 sites for tents only, open May to Oct) Sweet campground with nice private tent sites, close to several trailheads.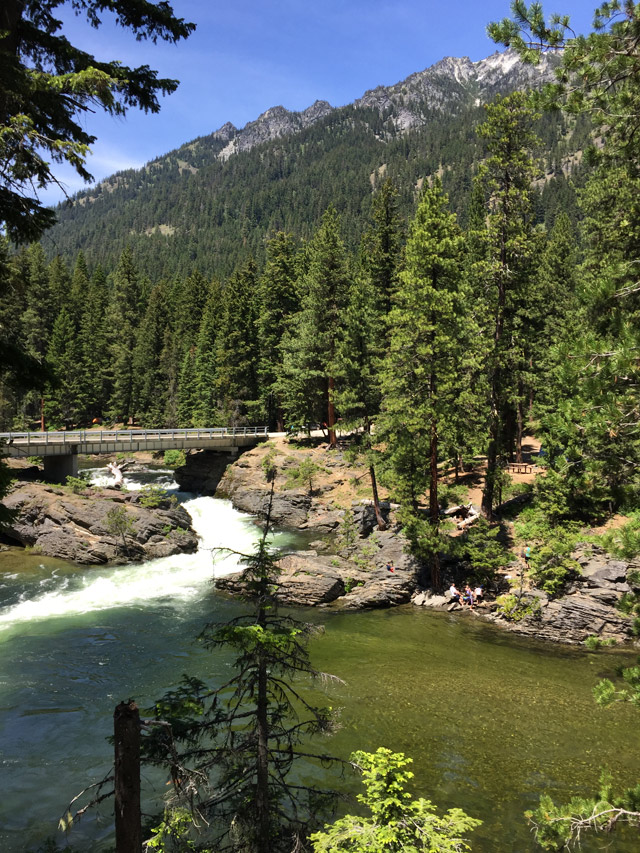 Rock Island (20 sites for tents or RVs to 21 feet, open May to Oct) It feels like an island because of the way the Icicle Creek runs through the campground. It's an especially scenic place to pitch a tent and best of all for hot summer days, there's a huge rock for sunbathing (see photo) that shelters a shallow swimming hole in the river.  
Blackpine Creek (10 sites for tents or RVs to 21 feet, open May to Oct) This campground is actually called "Blackpine Creek Horse Camp" and there are nice campsites here for pull-through horse trailers. There are often horses here so don't camp at this one if you don't like horses or certain horsey smells. It's also the last campground on the road and the start of several deep wilderness trails into Alpine Lakes Wilderness.
Icicle Canyon Hikes
Here are just a few of the awesome hikes in the Icicle Creek Canyon.
FLAT & EASY: Icicle Creek Nature Trail (1 mile round-trip, no elevation gain) Just outside the town of Leavenworth sits the Leavenworth National Fish Hatchery and its lush, habitat-rich interpretive nature loop. I love coming here in spring and early fall for the unique bird sightings–if you like colorful migrants like Yellow Warblers and Western Tanagers, you'll love this place. It's also a wonderful place to spot White-headed Woodpeckers. Black Bear sightings are not uncommon (usually from behind as they're running away from you) so make a little noise to alert them of your presence, and be extra vigilant if you see fresh bear scat. In winter, this is a wonderful loop to cross-country ski.
Read more Awesome Mitten's Guide to Explore Bond Falls in Michigan's Upper Peninsula
STEEP & SCENIC: Fourth of July Creek (12 miles round-trip, 4400 feet elevation gain) There's some pain and much to gain on this switchbacky trek up to the best sweeping view of Icicle Canyon there is. If you're in great shape, grin and bear the climb all the way up this sun-drenched south-facing slope to Icicle Ridge and be rewarded with a panorama that includes Mt. Stuart, the Chiwaukum Mountains and Cashmere Mountain. Lucky for the rest of us, the panorama actually begins to come into view halfway up, at which point we can just turn around and hike back down.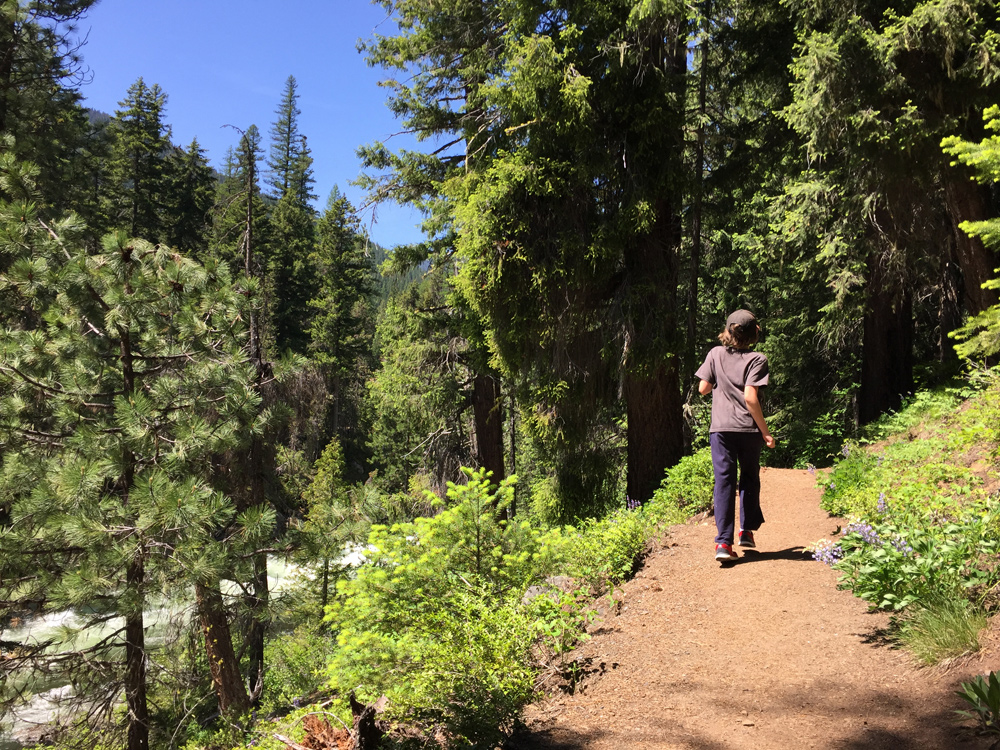 FAMILY JAUNT: Icicle Gorge Trail (3.9 miles round-trip, 150 feet elevation gain) Short and sweet, this is my favorite trail up the Icicle, especially in spring when the forest is lush with wildflowers and birdsong, and in autumn when golden and russet trees punctuate the evergreen forest. The trail hugs the creek for much of the first half, crossing over sturdy bridges here and there, and provides some nice views of where the water has beautifully and narrowly carved through granite creating an honest-to-goodness gorge. Keep an eye out for bird species that are unique to this ponderosa pine habitat including white-headed woodpeckers, lazuli buntings and Cassin's finches.
WORTH THE GAIN: The Enchantments (18 miles round-trip, 6000 feet elevation gain, overnight permits required) I've heard of people doing the Enchantment Lakes Basin as a day hike (usually trail runners) and I can't even imagine how much my knees would hurt after such an exertion. Plus, the point of hauling yourself all the way up to this alpine lake wonderland is to enjoy it, hopefully while sipping from a flask beside an emerald lakelet watching the sun set over Dragontail Peak. Allow at least 2 nights to cherish the granite beauty of this place. To camp in the backcountry here June-October you'll need a permit, usually obtained through a lottery that happens every March (see more info). A small number of permits are available on an unreserved walk-in basis.
TASTE OF THE ENCHANTMENTS: Colchuck Lake (9 miles round-trip, 2000 feet elevation gain) or Lake Stuart (10 miles round-trip, 1500 feet elevation gain) The first 2.5 miles of the trail to Colchuck Lake is shared with folks headed to Lake Stuart, a fine alternate destination that is a mile more than Colchuck but less elevation gain, so it is the better lake for families with young children and beginning hikers. For the granite wonder that is Colchuck Lake, head left at the trail fork. Expect a bit of scrambling across boulder fields to reach it, though it's nothing too extreme for the average hiker. Your reward is a large emerald pool across which looms a towering crag called Dragontail Peak, flanked with two small glaciers. Behind that peak is the Enchantments, reached via a climb over Aasgard Pass to the left of Dragontail. To camp at Colchuck overnight you'll need a permit.
All of these hikes and more can be found in the book Day Hiking: Central Cascades by Craig Romano, published by The Mountaineers Books. Before your hike, check recent Trip Reports at Washington Trails Association.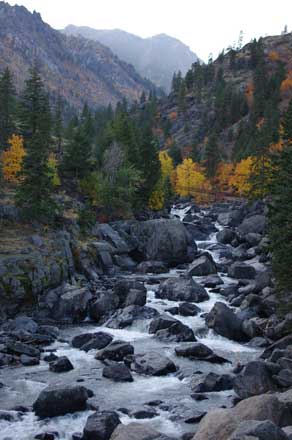 Post-hike Grub: If I had to name the perfect post-hike snack, it would probably be the Ortega Burger at Gustav's in Leavenworth, washed down with a hefeweizen. O'Grady's Pantry  (located at Sleeping Lady Resort) is another favorite of ours for fresh-baked muffins and espresso drinks, enjoyed beside a roaring fire.
Nearby Soft Bed: If camping isn't in the cards for you, book an eco-conscious room at Sleeping Lady Mountain Resort, sat on the banks of the Icicle near the Leavenworth Fish Hatchery. Come hungry – their organic, locally-sourced and healthy breakfasts and dinners (included with your stay) are absolutely delicious.
Don't Miss: Leavenworth hosts the Northwest's biggest OktoberFest the first three weekends in October. Come for great beer, live music, nosh on German food, and browse arts and crafts booths. Also, be aware that hotels book out on those weekends far in advance, and the campgrounds closest to Leavenworth will be more crowded than usual.  
 _ _ _ _ _ _ _ _ _ _ _ _ _ _ _ _ _ _ _ _ _ _ _ _ _ _ _ _ _ _ _ _ _ _ _ _ _ _ _ _
photos from Northwest TripFinder except:  Colchuck Lake with Dragontail Peak by Cocoa Dream, Larches by Sean Munson, fall color around Icicle Creek by US Forest Service.
This trip guide was originally published in 2016 and has been updated.