The canine parvovirus is what causes parvo in puppies. Direct contact with an infected dog or indirect contact with a contaminated object is both effective ways to transfer this virus, which is very contagious. When your puppy sniffs, licks, or eats contaminated droppings, they are at risk of contracting parvovirus. 
When a person who has recently come into contact with an infected dog touches your puppy, or when your puppy comes into contact with a contaminated object, it can cause an indirect transmission. The use of a parvo disinfectant is crucial for this reason. Given that the virus mainly affects the stomach and small intestines, the Merck Veterinary Manual categorizes the virus as a disease of these organs. 
The small intestine is where the virus prefers to invade. This is where it can destroy cells, hinder absorption, and damage the gut barrier. In addition to the lymphopoietic and bone marrow tissues, puppies with parvo may occasionally also experience heart problems. We know parvo affects puppies, but what about adult dogs? Can they get parvo? They can get parvo. Learn more about the symptoms and prevention you can take to protect your dog.
Parvo Is More Likely to Occur in Puppies
Puppies are more susceptible to parvovirus because they lack immunity compared to older dogs. If exposed to enough of the virus, adult dogs that have not received a vaccination, who have not built up a natural "street immunity" to the illness, or who have a weak immune systems can contract parvovirus.
One of the most dangerous viruses dogs can contract the canine parvovirus (CPV, also known as "parvo"). Thankfully, it can be significantly avoided with proper immunization. Since its discovery in 1967, this virus has become a severe health hazard to dogs. This is partly because the virus is difficult to eradicate. It has a long half-life in the environment and is widely shed by infected dogs.
Read more Cherry Eye Surgery for Dogs: All You Need to Know
Due to the virus's extreme contagiousness, the parvo vaccine is a crucial vaccination for canines and puppies. Although the risk for adequately immunized dogs has decreased due to the successful parvovirus vaccination, this illness is regrettably still prevalent, especially in pups and young dogs.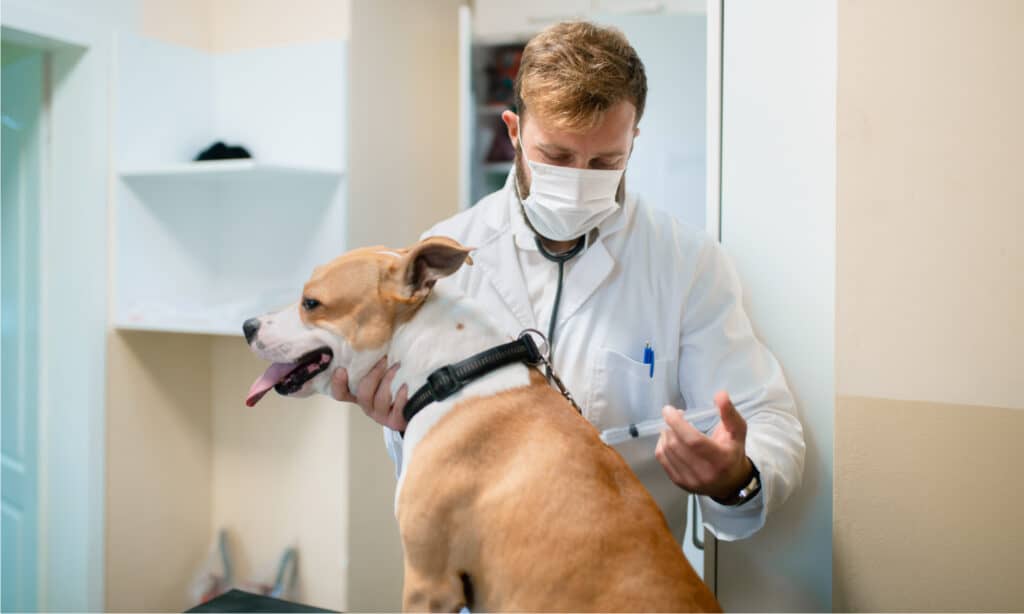 Cleaning to Prevent the Spread
You must sanitize the area even if a parvo dog spent only a short while there and did not urinate there. Keep in mind that a dog's paws and fur can harbor parvovirus and can spread it. Parvo dogs are quarantined at the veterinary clinic. The area is cleaned with a bleach solution or another disinfectant known as parvovirus-killing.
Most common household cleaners won't eliminate parvovirus, so talk to your veterinarian about effective home cleaning procedures. Although the parvovirus won't typically survive indoors for longer than a month, you should still make sure to clean the area thoroughly. Bedding that is soiled should be thrown away or cleaned with hot water and bleach. Puppies and unvaccinated dogs should be kept away from polluted interior areas for at least a month if they reside in the house.
Cleaning outside spaces is much more challenging. The parvovirus can survive outdoors at temperatures above freezing for five to seven months, depending on the environment. Your dog can only return to bleached areas once they are 100 percent dry. Unless you are sure the virus has died off, your best strategy is to keep pups and unvaccinated dogs away from the region.
Preventing Parvo 
Prevention is essential because parvo is such a dangerous and contagious illness. Inoculate your pets, including puppies and adults. Regular vet visits are crucial, as is timely reporting of any sickness symptoms. Before your puppy is 17 weeks old and wholly immunized, avoid bringing it into public spaces or around canines, it does not know. By 16 weeks, a puppy's immunity is unclear, and vaccination-induced immunity does not take effect entirely for five to ten days.
How Parvo Starts and Ends
Viral particles are transmitted through feces from an infected dog. These viral particles may originate from your mother or other infected individuals or objects. Infection can be brought on by minimal feces entering the puppy or dog's mouth.
Read more Dog Lump Removal Surgery Recovery: A Comprehensive Guide
The virus targets the body's fastest-diverging cells during this time; often, it begins by attacking the tonsils or lymph nodes in the throat. It can proliferate effectively and efficiently and infiltrate different regions of the dog's system by picking on these quickly dividing cells.
The virus targets the developing immune cells in the bone marrow, which causes a decrease in the production of protecting white blood cells. This makes the body unable to defend itself and makes it easier for the virus to enter the gastrointestinal (GI) tract. The worst damage takes place here. The virus damages the small intestine's lining, making the dog's GI tract incapable of performing several essential tasks.
Outlook for Dogs
While canine parvo is not always fatal, those who do not recover usually pass away from dehydration or shock, in addition to the harm brought on by the septic toxins released into the bloodstream by the gut bacteria. Parvovirus recovery varies from case to case. Depending on the disease's severity and the amount of damage it's caused, a full recovery may take time. Even healthy dogs experience illness for five to ten days following the onset of symptoms. Puppies with parvovirus must be adequately nourished for their intestines to recover. Dogs with parvo should be fed bland, readily absorbed food.
Signs of Parvo
Most parvovirus deaths happen 48 to 72 hours after the onset of clinical symptoms.  Most puppies that survive the first four days make a full recovery. The survival rate for canines treated by a veterinarian ranges from 68 to 92 percent. Some parvovirus symptoms include lethargy, loss of appetite, stomach pain or bloating fever or low body temperature, vomiting, and severe, frequently bloody diarrhea.
Intestinal and immune system damage can result in septic shock, and persistent vomiting and diarrhea can quickly dehydrate a dog. You should call a vet when your dog or puppy exhibits any of these symptoms. Some dogs are more at risk for parvo like:
Doberman Pinschers
German Shepherd Dogs
English Springer Spaniels
Labrador Retrievers
Rottweilers
American Staffordshire Terriers
Read more Homemade Dog Shampoo for Fleas and Ticks: A Natural Solution for your Pet
What Is the Treatment for Parvo?
Based on the dog's medical history, exam, and lab tests, parvovirus infection is frequently suspected. Fecal tests can verify the diagnosis. There isn't a specific medication that can kill the virus in dogs. The goal of treatment is to support the dog's body systems until its immune system can eradicate the viral infection.
The primary objectives of treatment, which should begin right once, are to counteract dehydration by replenishing electrolytes, protein, and fluid losses, managing vomiting and diarrhea, and avoiding subsequent infections. Dogs who are ill should be kept warm and given expert nursing care.
Even with rigorous treatment, a dog with parvo may not survive, and treatment for it can be expensive. Successful outcomes heavily depend on early detection and vigorous treatment. With proper care, survival rates can get close to 90%.
Conclusion 
While parvo is more common in puppies, it can also affect adult dogs. Until your dog is vaccinated and kept safe long enough for the vaccine to be helpful, you should limit your dog's exposure to other dogs. If you ever see the symptoms like blood in stools, then take action to get help immediately. It can be tough to get them through, which is why prevention is the best line of defense.
If your dog has it make sure to clean the infected areas well. A vet can recommend what to use to clean the infected areas. When handling a dog with parvo, wearing gloves, washing hands, and containing the spread are essential to prevent reinfection. Please share this article with other dog owners with puppies so they can protect their dogs from parvo by vaccinating them. 
Up Next:
6 Reasons Why Your Dog Keeps Coughing
This is How Dogs Get Rabies, and What to Do If They Catch it
What Is Kennel Cough: The 6 Ways Dogs Get It, Signs and Symptoms, and How to Treat It