Everything you need to know about climbing Pico de Orizaba. How to get there, a detailed route description, recommended gear, and sample 1-week climbing itinerary.
Rising to 5,636 meters (18,491 feet), Pico de Orizaba is Mexico's tallest peak, and North America's third tallest. If you're interested in learning how to climb Pico de Orizaba, you've come to the right place.
I made my attempt to climb Pico de Orizaba in late October of 2018 and had an amazing time. It's a beautiful mountain that offers great climbing and epic views – what more could a climber ask for!
This post will tell you everything you need to know to summit Pico de Orizaba. Let's get right into it!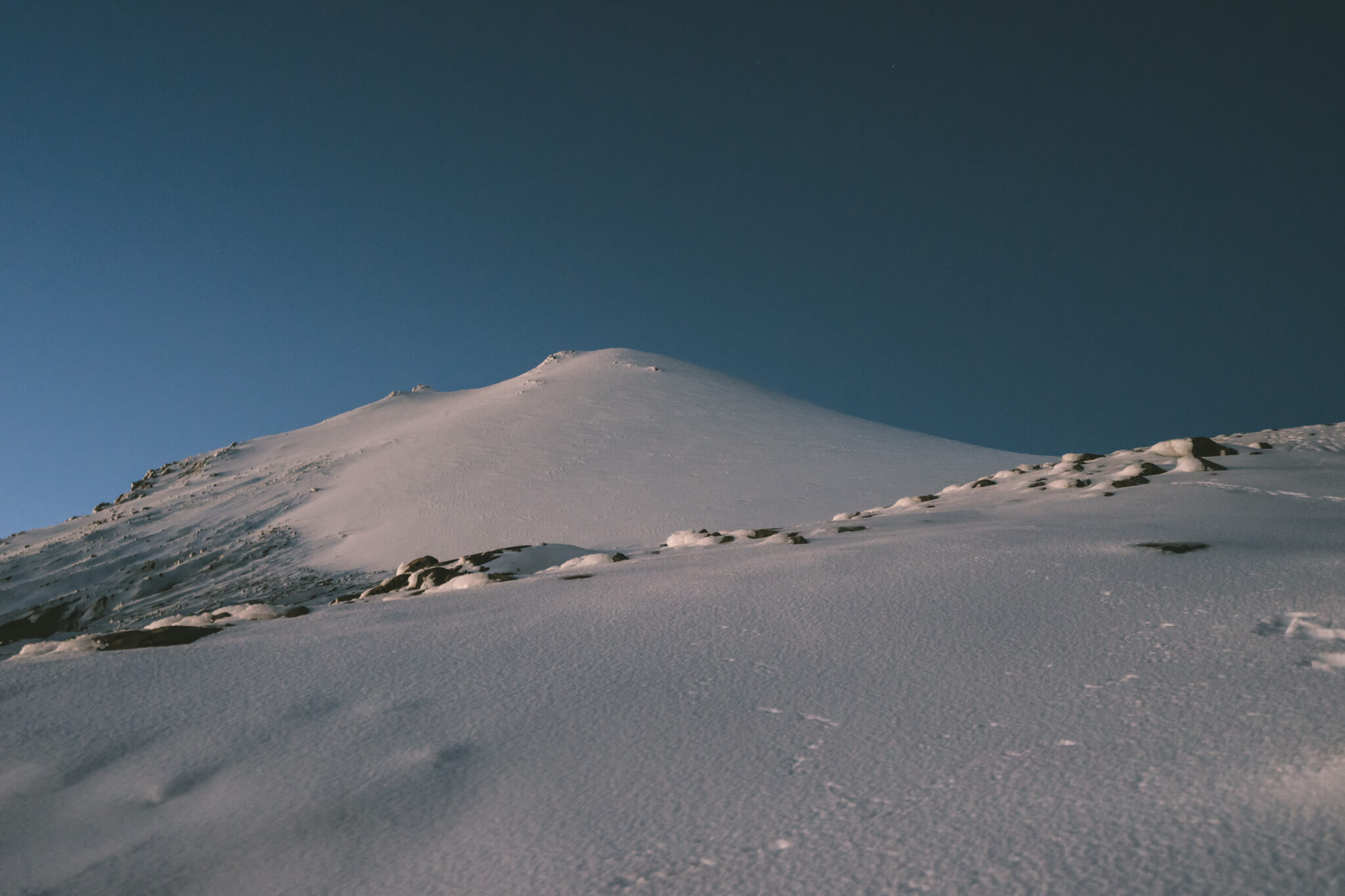 How Difficult Is Climbing Pico de Orizaba?
Pico de Orizaba is by no means an easy mountain. It's important to have at least some previous mountaineering experience before attempting this climb.
Altitude sickness on Orizaba is no joke  – at 5,636 meters, there is only 51% percent of the oxygen that you get to breathe at sea level. This climb requires that you properly acclimatize before making your summit attempt, which requires a new level of patience that you may not be used to if you've only climbed at lower elevations.
Weather on Orizaba can vary a lot, and staying up to date with the latest forecast is important. Things can change quickly in the mountains, and a bad storm can turn a simple climb into a deadly one.
Intro to the Pico de Orizaba Climb
Pico de Orizaba is a great mountain for people who are fairly new to mountaineering. It's a non-technical climb but requires the use of crampons and an ice axe.
At 5,636 meters, Pico de Orizaba is North America's third tallest mountain after Denali in Alaska and Mt. Logan in the Yukon. Due to its altitude, you'll need to get acclimatized before attempting a summit bid. The best way to get acclimatized before Orizaba is by climbing one or more of the other nearby volcanoes. I climbed La Malinche (4,461 meters) for my acclimatization, but another popular option is Iztaccihuatl (5,230 meters).
Any trip to climb Pico de Orizaba will begin in either Mexico City or the nearby city of Puebla. Typically, an ascent of the mountain will take two or three days (departing from the nearby town of Tlachichuca). The base camp of the mountain accessible by road (with a 4wd jeep), and is at an elevation of 4,230 meters.
There's a hut at base camp, so you don't need a tent unless you want to sleep alone or pitch a camp higher up on the mountain. The hut is called the  Piedra Grande Hut and has plenty of room for climbers to sleep.
If you've already acclimatized on another nearby mountain and are feeling good after arriving at base camp, it's possible to attempt the summit the next day. Most summit attempts will begin between 12 am and 3 am depending on climbing speed. You'll summit sometime in the morning, and can then descend back to base camp and get picked up for the drive back to Tlachichuca.
Here are a few facts about the Pico de Orizaba climb:
Elevation: 5,636 meters (18,491 feet)
Distance: 7 km (4.35 mi) round-trip
Elevation Gain: 1,406 meters (4,613 feet)
Hike Time: 8 to 15 hours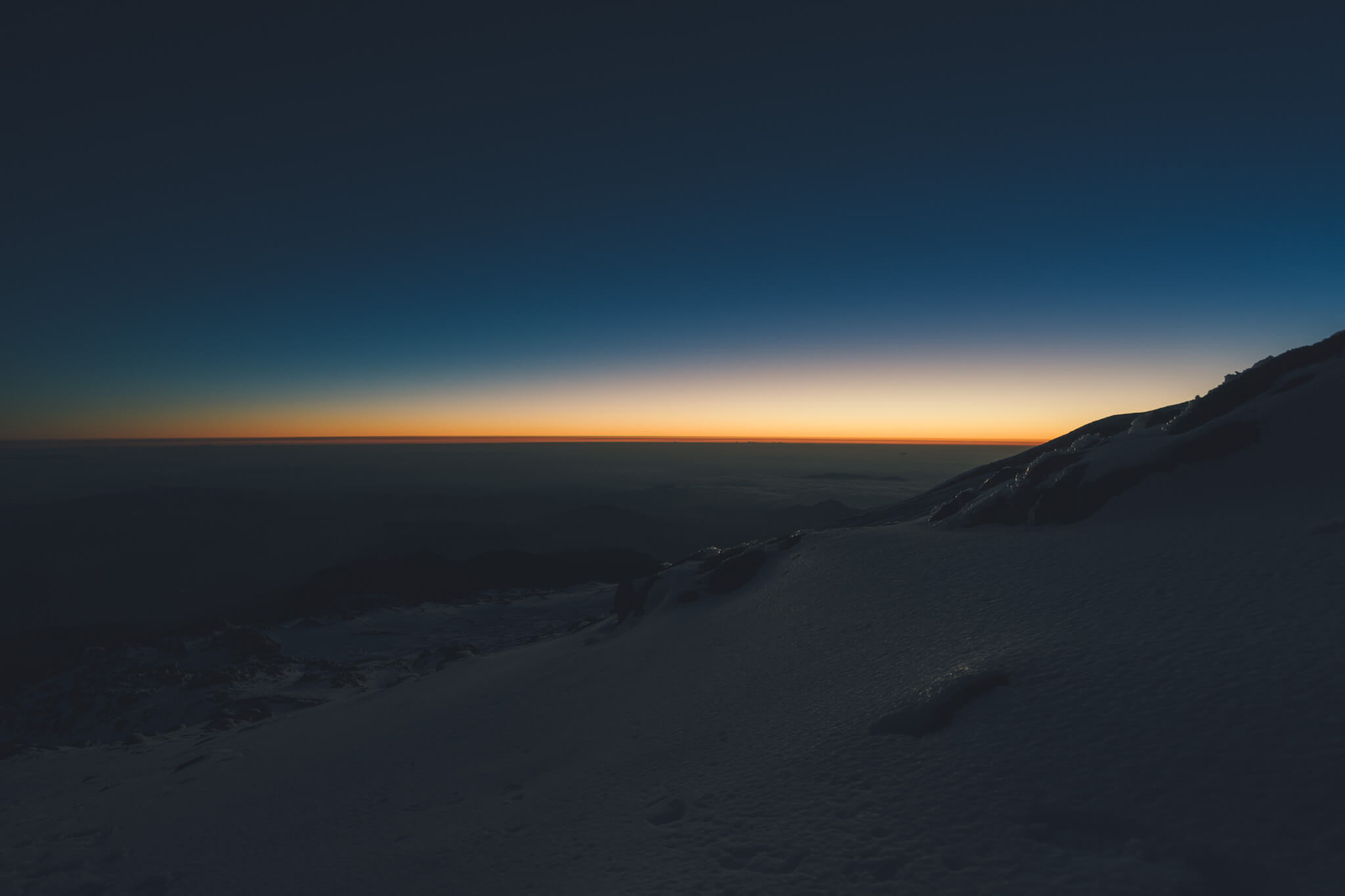 Getting to Pico de Orizaba
The closest city to Pico de Orizaba with an international airport is Puebla, but Mexico City is only about two hours further and has a lot more flight options.
Most climbers fly into Mexico City – it just makes the most sense in most cases. From Mexico City, you should head to Puebla.
There are buses running directly from the airport in Mexico City, or the TAPO bus station if you decide to stay in the city for a bit. The two-hour bus ride should cost 150 pesos one-way (around $8).
Getting to Tlachichuca
From Puebla, it's a two-hour bus ride to the small town of Tlachichuca. From Tlachichuca, you'll get your first good views of the peak as it looms over the town.
To Tlachichuca, buses leave from the Puebla CAPU station every hour, and the ride will take approximately two hours.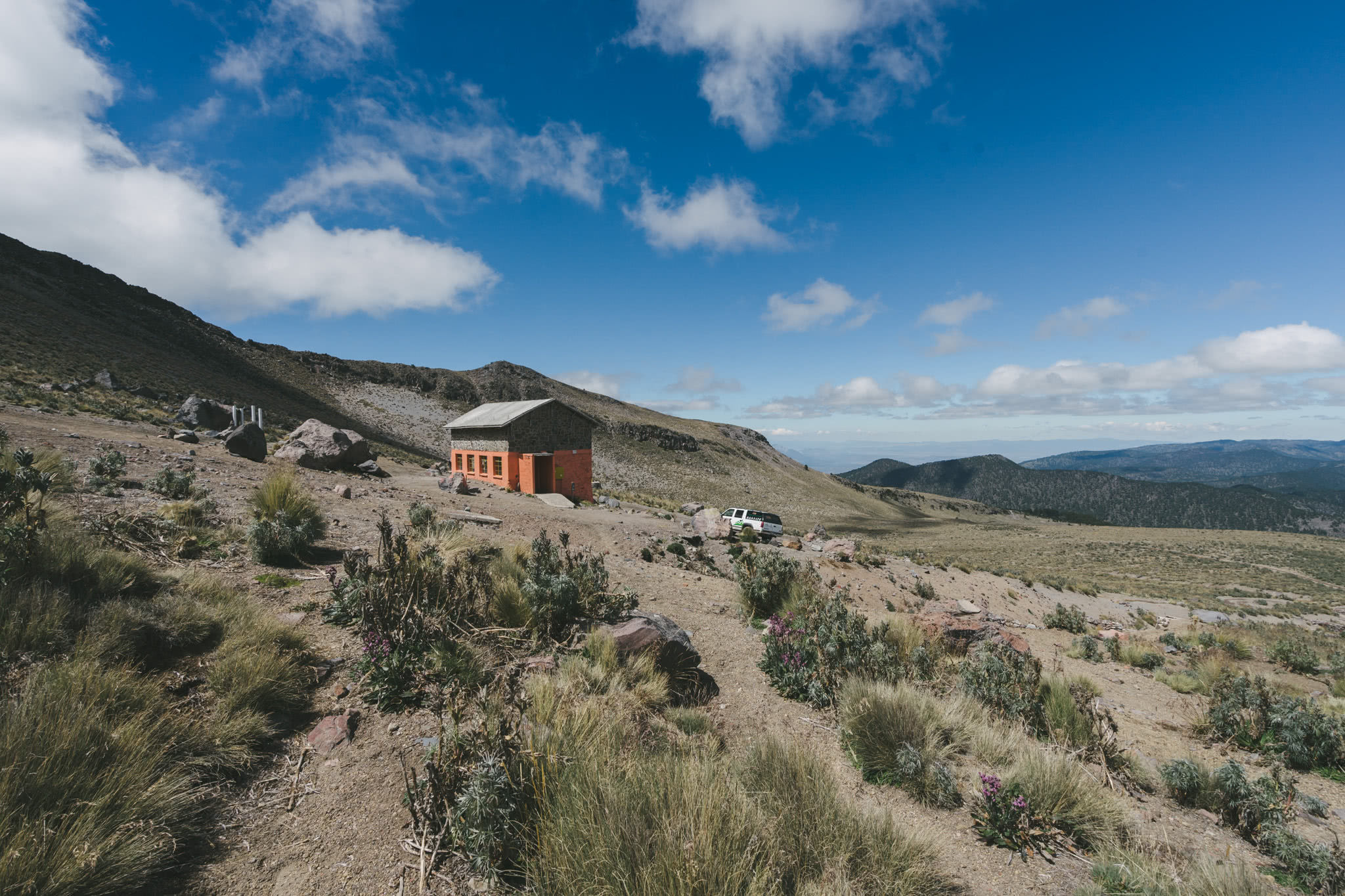 Where to stay in Tlachichuca
Tlachichuca has two well-established guest houses offering accommodation, gear rentals, and rides to the Orizaba base camp in 4wd vehicles.
I stayed with the Cancholas and had a great experience. They have a great guest house, and Mirabel cooks wonderful food. You can also consider going with Servimont.
Both of those options have a ton of good reviews, and they are very experienced with helping climbers summit Pico de Orizaba. You can't really go wrong with either one of them.
Getting to the Piedra Grande Hut
From Tlachichuca, the Piedra Grande Hut (base camp) is a two-hour drive on a very rough road. There isn't any public transit going up there, so you'll need to hire a vehicle. Make sure that you've done some acclimatization before heading up to the hut, as it's at an altitude of 4,230 meters.
The drive up to the hut takes a good two hours. Enjoy the gorgeous views as you ascend way up onto Orizaba. You should arrange the ride to the Piedra Grande Hut with your guesthouse in Tlachichuca.
Expect to pay around $200 USD for accommodation, food, and transport.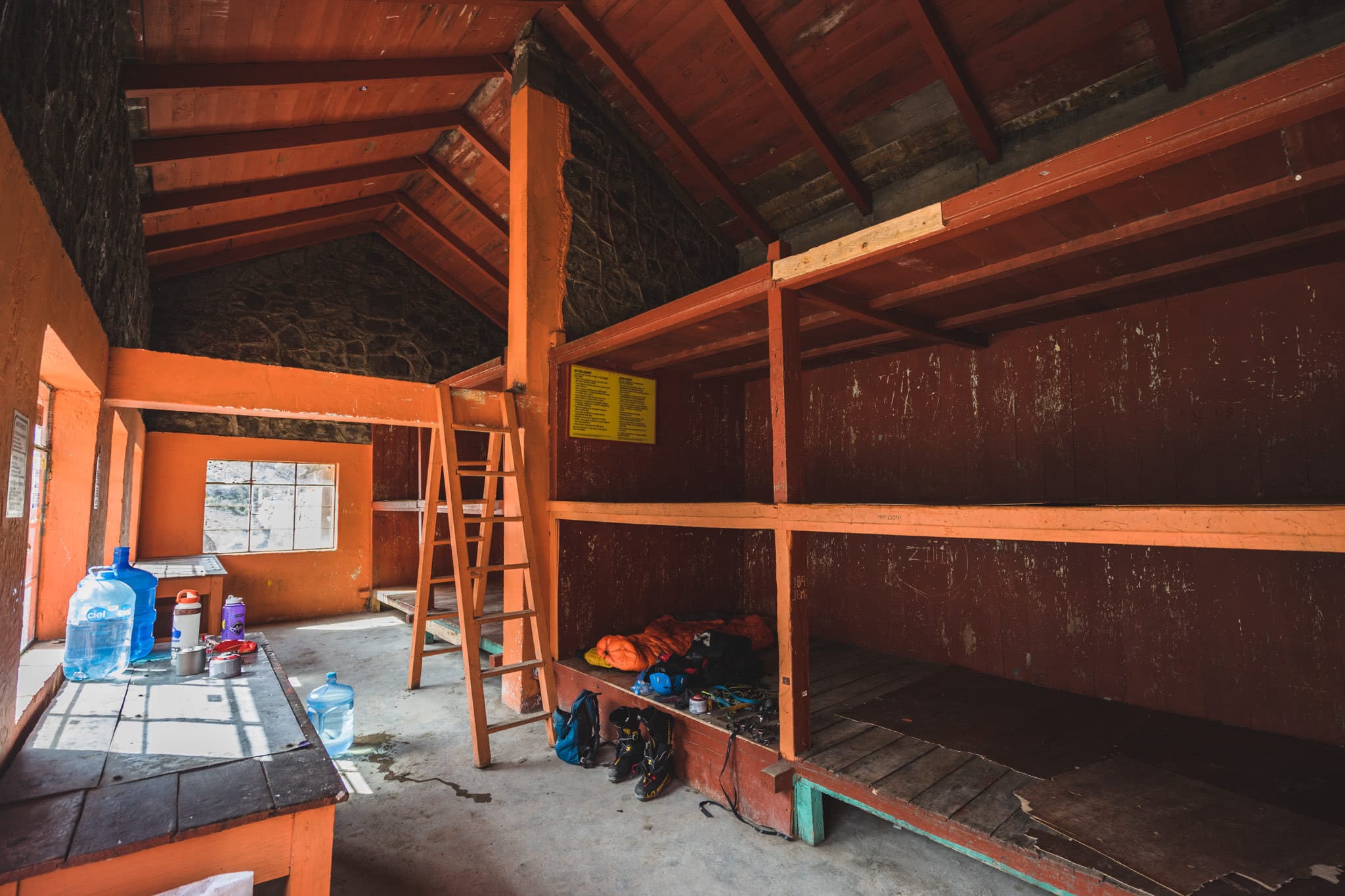 Pico de Orizaba Climbing Routes
There are currently four official climbing routes to the summit of Pico de Orizaba. The four official routes are the Jampa Glacier, the South Route, the Espolón de Oro, and the Direct Route.
Only the Jampa Glacier and South Route are commonly used, and the Jampa Glacier is by far the most common. The Jampa Glacier route is on ice for the upper portion of the route, whereas the South Route is on scree the entire way to the summit. Climbing on snow and ice is much more enjoyable than loose scree, which makes the Jampa Glacier route the most enjoyable climbing experience.
The Jampa Glacier Route
When I climbed Pico de Orizaba I used the Jampa Glacier route. Let's go over everything you need to know about the route.
The Jampa Glacier route begins from the Piedra Grande Hut, and involves a vertical elevation gain of about 1,400 meters. The route is typically climbed in one long, challenging day. A round-trip from the hut to the summit takes anywhere from 8 to 15 hours depending on fitness, weather, and acclimatization.
There are three main sections to the Jampa Glacier route – the scree, the Labyrinth, and the Jampa Glacier.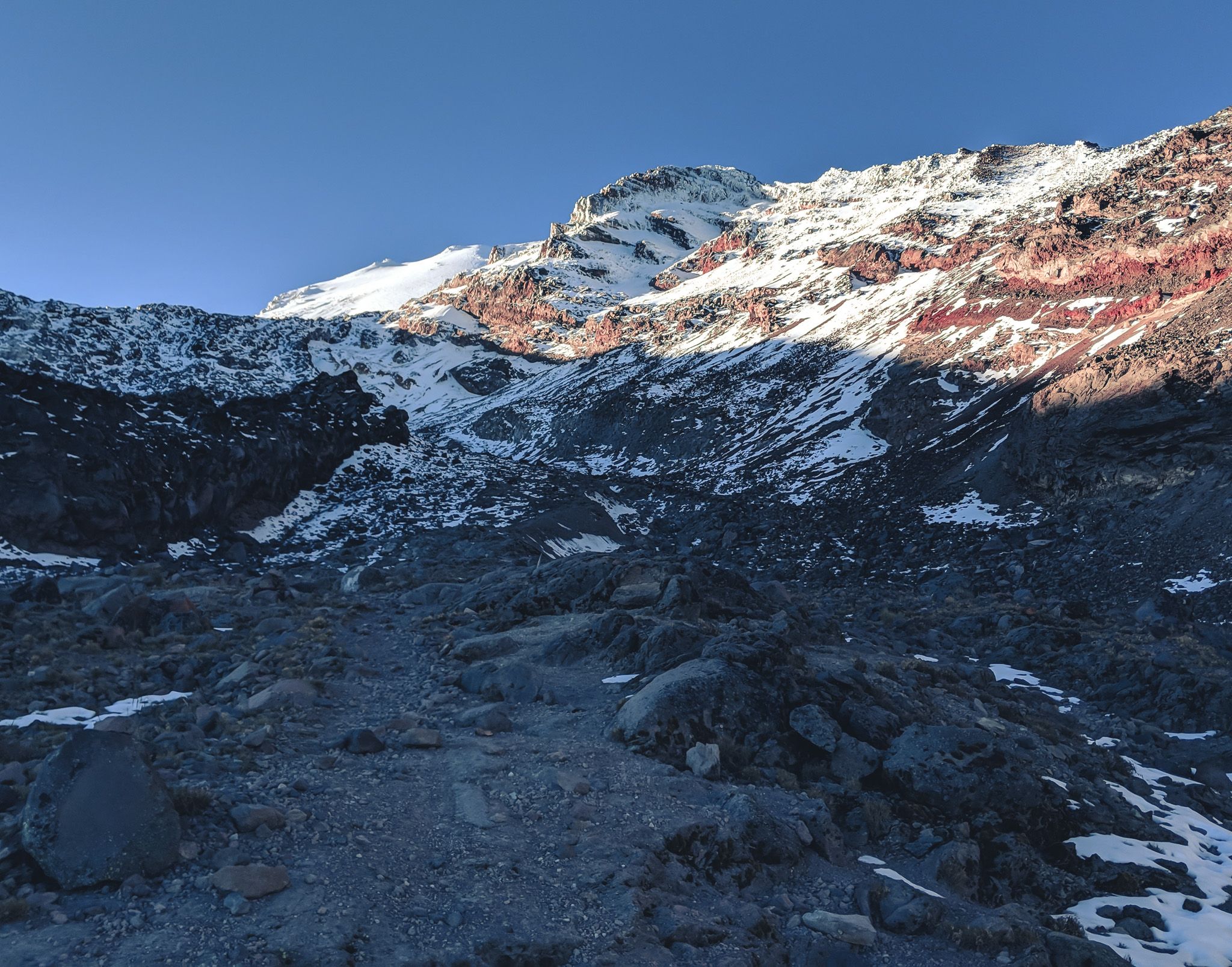 Stage 1: The Scree
The first few hundred meters of the climb are the least enjoyable. Leaving the hut, you'll follow an old concrete aqueduct to the base of a rocky and sandy slope. There are a number of trails weaving up this part, just stick to the one that looks most defined. Be careful, a lot of the rocks aren't very stable and it's easy to slip in the dark. Getting through this part of the climb won't take too long, and before you know it you'll start seeing snow (depending on the season).
I found this section easier to climb at night while the ground was still frozen. The loose sandy areas are more solidified at this time. On the way down, things were much more slippery and I had to be very careful with my (tired) feet.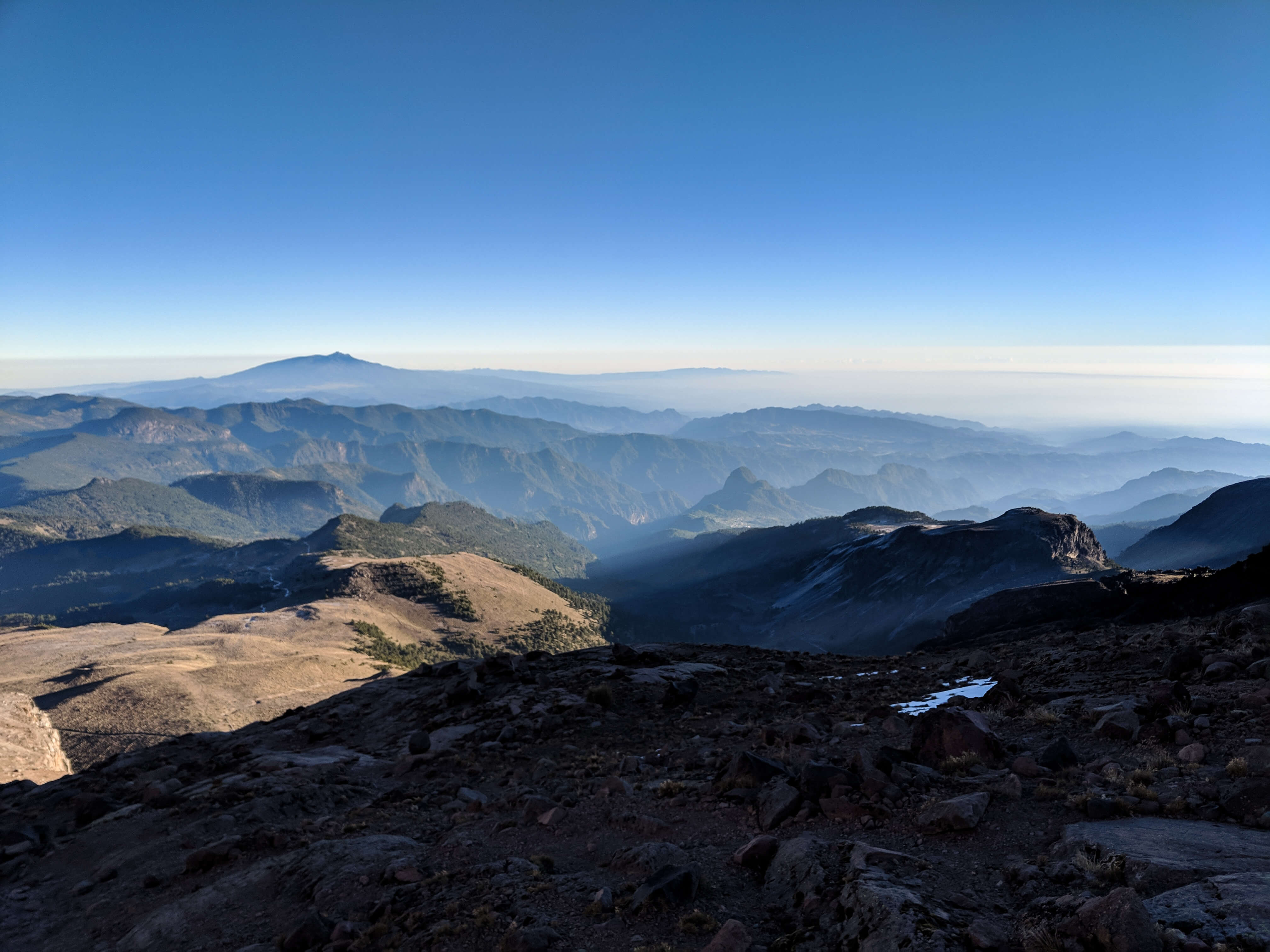 Stage 2: The Labyrinth
The infamous part of this climb is the Labyrinth, a confusing maze of ice and rock. During my climb, there was quite a bit of packed snow/ice on the Labyrinth, so there were footprints I could follow. There are two main routes up, a steeper path on the right (looking up), and a more gradual but windy one on the left.
I took the steeper route up as I felt confident climbing it, but there were a few parts that were a bit more technical than I had expected. I chose the left (right going down) route on my descent, which was a good idea. I'd recommend the less-steep route both ways unless you want a bit more of a challenge.
Depending on the amount of snow/ice, you'll likely have to put on your crampons at some point while in the labyrinth.
Navigating through the Labyrinth is challenging, especially in the dark. I recommend downloading an offline map app such as MAPS.ME so you have some backup navigation.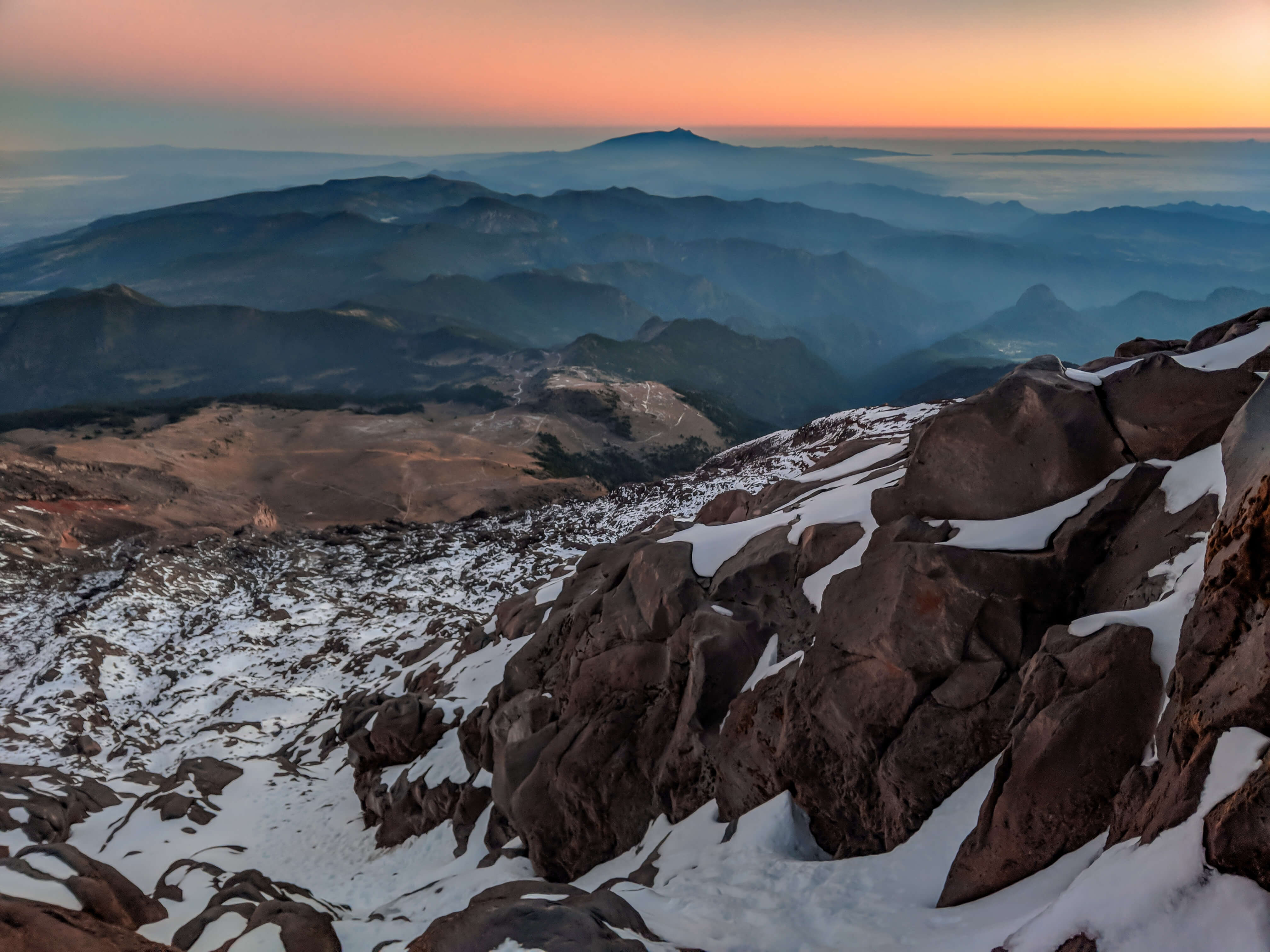 Stage 3: Jamapa Glacier
The Jampa Glacier is definitely the most straight-forward part of the climb, you basically just need to keep going up. Its size is very deceiving, and you can feel like you're making very little progress without much to use as a reference.
Nearing the top, the glacier becomes quite steep – maxing out at around 40 degrees or so. Depending on the time of year, the glacier can be very icy and slippery, or snow-covered and easy to climb. When I climbed in late October, the glacier ice was very hard and difficult to get my crampons into. A slip would've been disastrous, so be careful and make sure that you know how to self-arrest.
There are crevasses on the Jampa Glacier, but they're usually small and don't pose any danger for climbers. In the past, people have managed to fall into crevasses on Orizaba, although it's not clear where they were – certainly not on the most common path up the glacier. If you want to be as safe as possible, it's a good idea to rope up.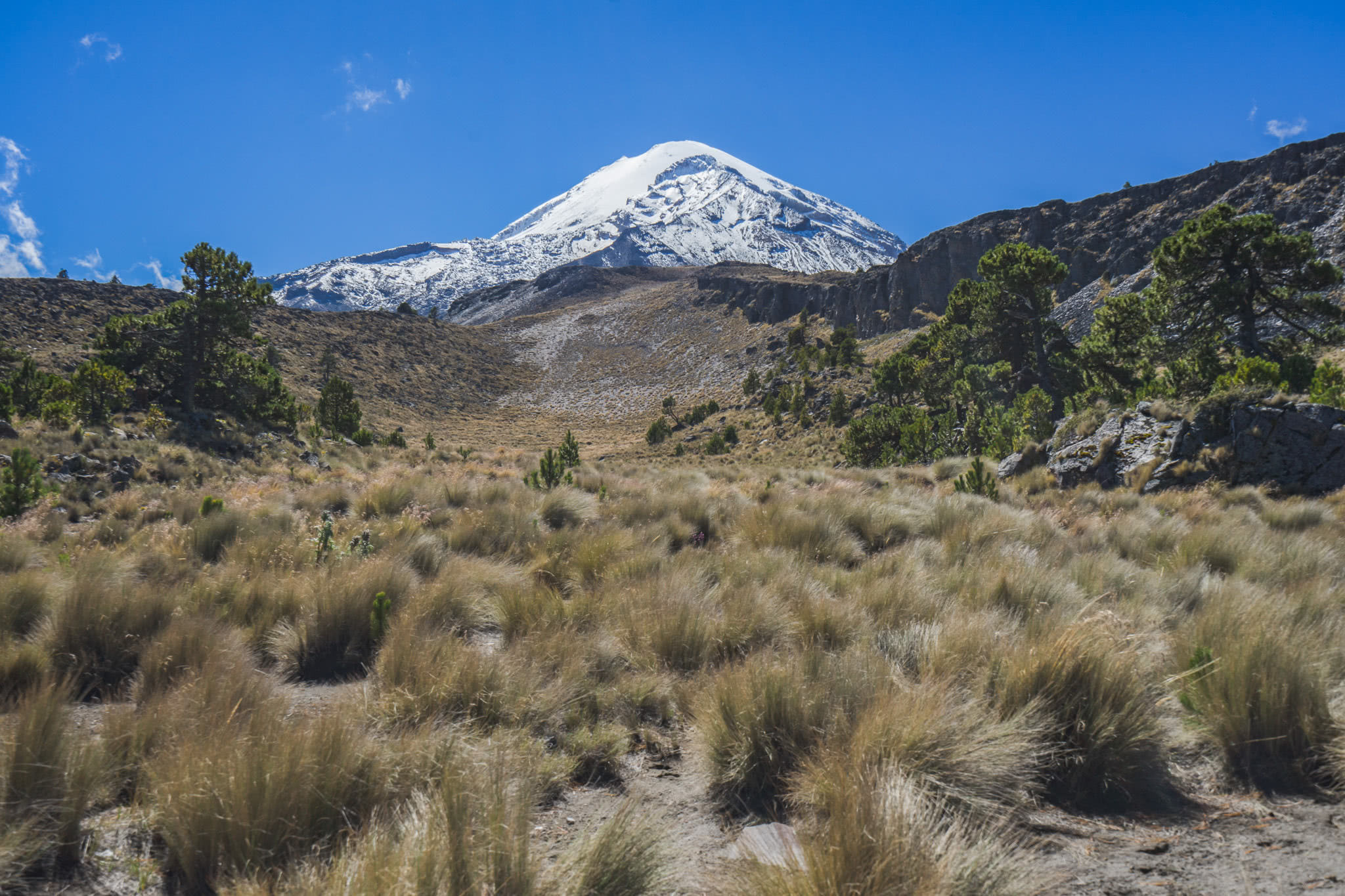 Recommended Gear for Pico de Orizaba
Before you actually head to Mexico and embark on your climb to the summit of Pico de Orizaba, you need to make sure that your gear is up to the task.
Of course, there are tons of different gear combinations that will work on a mountain like Orizaba, so here I'll give my personal recommendations based on my own research and experience.
The most important thing is to be sure that you've got warm enough clothes (layers are your friend!) and well-fitting climbing boots. An ice axe and crampons are mandatory on the Jampa Glacier route.
| Gear Type | My Recommendation | Notes |
| --- | --- | --- |
| Mountaineering Boots | La Sportiva G2 SM | Lightweight, and extremely warm. I've used these boots on Orizaba and Pik Lenin and have nothing bad to say about them. |
| Crampons | Black Diamond Sabertooth Crampons | Great quality crampons that will fit the G2 SM boots perfectly |
| Ice Axe | Black Diamond Raven Pro | Lightweight ice axe, all you need for Orizba |
| Base Layers | Ice Breaker Merino Wool Top & Bottom | Warm, amazing quality, and very comfortable. |
| Mid-Layer Top | Mountain Hardwear Fleece | A classic mid-layer fleece – keeps you warm and dry. |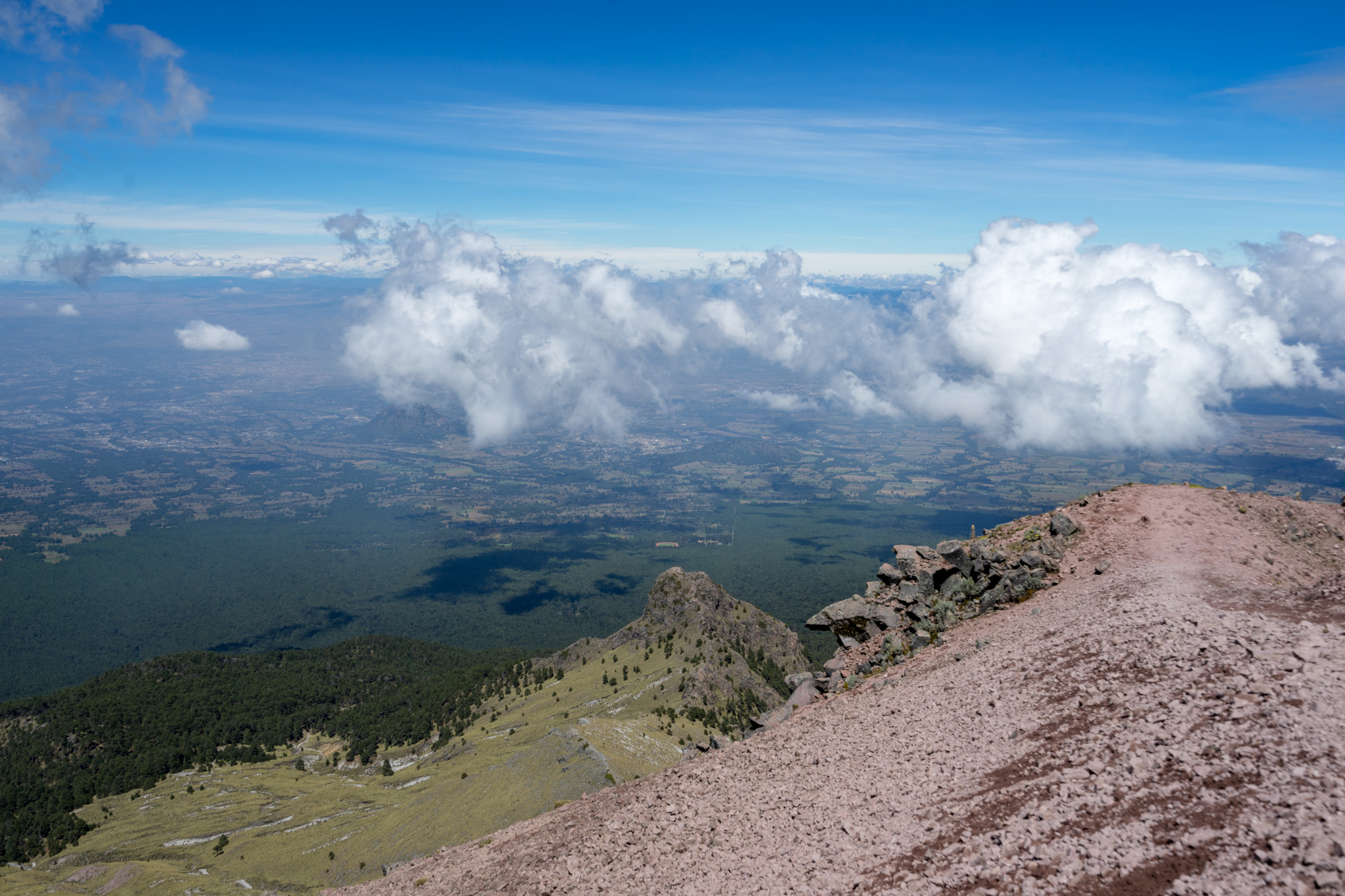 When to climb Pico de Orizaba
Pico de Orizaba is most commonly climbed during Mexico's dry season, which lasts from November to March.
I climbed in late October and had good weather. It's also possible to climb the peak in April or May, but there will likely be more snow on the upper parts of the mountain.
The summit of Orizaba is always below freezing, so just because it is summer doesn't mean that it will be warm. Check out Mountain Forecast for the latest weather on the mountain.
When climbing, I recommend an alpine start. In the afternoon, clouds often form and it's best to not be on the mountain at that time. On the Jampa Glacier route, you should leave the Piedra Grande Hut anywhere from 1 am to 3 am, depending on your fitness level. This will put you on the summit of Orizaba shortly after sunrise, and you'll be back down to base camp for lunch!
Food and water on Pico de Orizaba
If you arrange your transportation with one of the outfitters I mentioned earlier, they'll likely provide you with a large 20L bottle of water to use at the Piedra Grande Hut. Otherwise, you can buy these large bottles in Tlachichuca.
For food, you'll have to pick up some stuff in Tlachichuca and bring it with you to the base camp.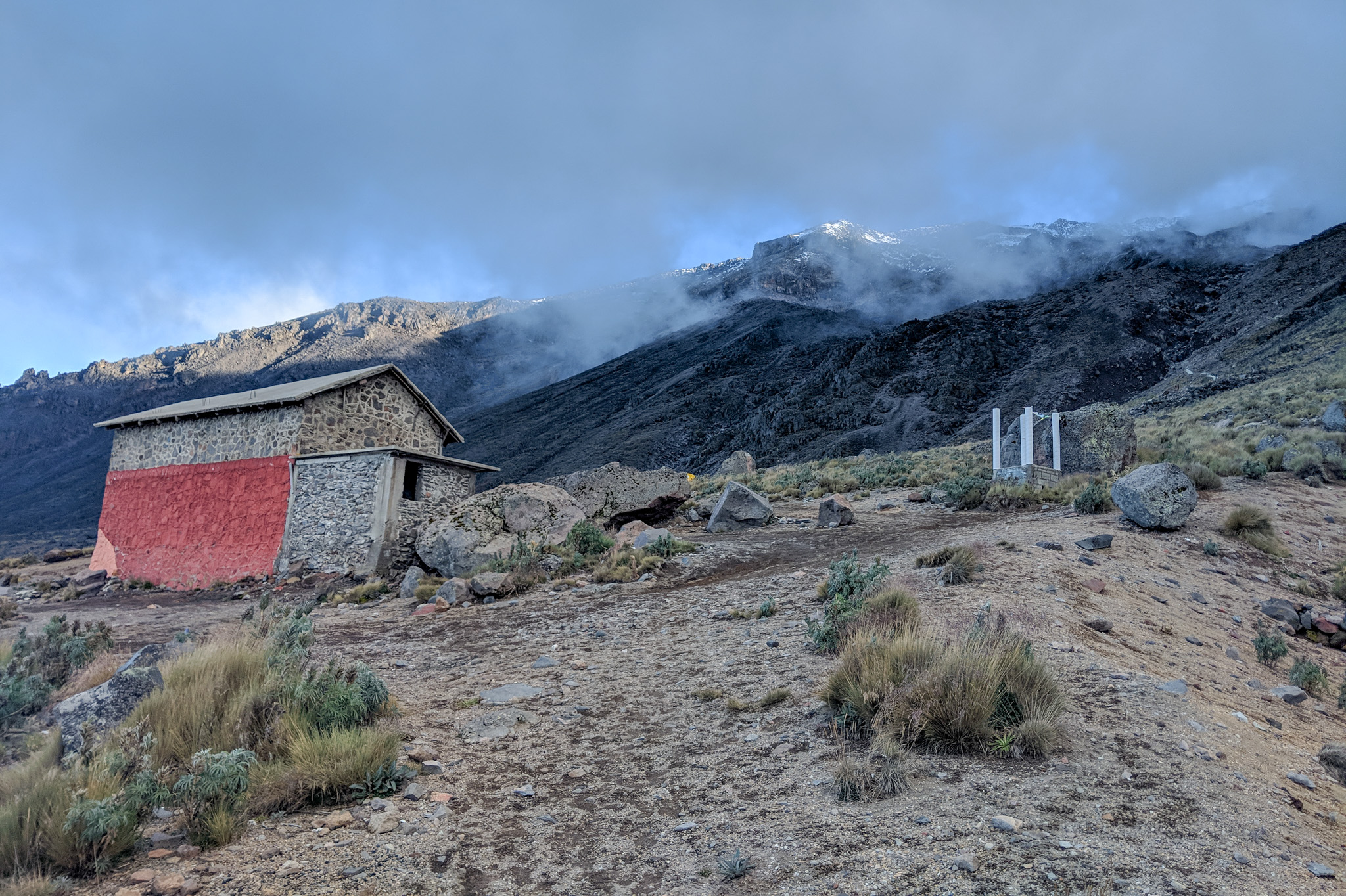 Solo Climbing Pico de Orizaba
It's entirely possible to solo climb Pico de Orizaba. Of course, there are always risks when climbing solo – if anything happens, you're on your own.
There is a small crevasse risk on the Jampa Glacier, and going solo greatly increases the risk of something bad happening if you do encounter one of these crevasses.
When climbing solo, you also won't be able to know if you're falling ill to a high altitude cerebral edema. This is extremely dangerous – the best way to avoid this is by turning back as soon as light AMS symptoms show.
Due to the dangers of climbing solo, I have to recommend climbing Orizaba with a partner. If you're confident in your abilities, soloing the mountain is possible, but you'll need to decide if you're willing to take that risk yourself.
Training for Pico de Orizaba
Orizaba is a tough peak, and the best way to be successful in your attempt on it is to be as fit as possible.
You need to be comfortable hiking for 10+ hours with a heavy backpack while at altitude.
Read more 7 Haunted Trails in Los Angeles
The best way to train for Pico de Orizaba is to climb and hike! If you live near mountains, try and get out as often as possible and you'll naturally get fit enough for the climb. If you're from a flat part of the planet, running and core strength exercises are your best bet. You can even find a tall building and spend some time going up and down their staircase.
One of the most challenging parts of Orizaba is the length of its summit day. 1,400 meters of elevation gain at altitude is no joke, and it's easy to run out of energy before making it to the summit. Endurance is important, and going on long hikes with a heavy backpack can help you train for this.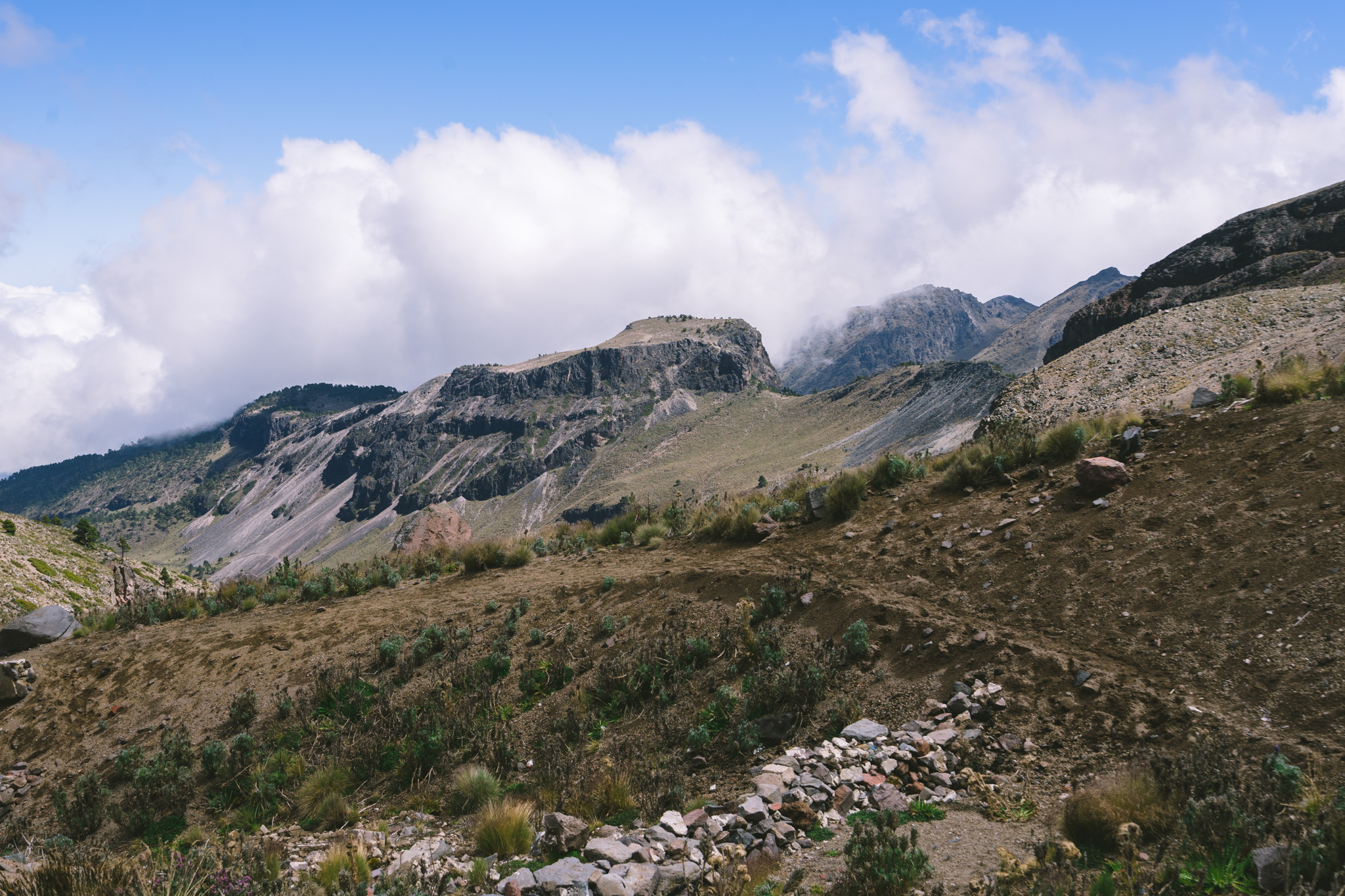 My Attempt on Pico de Orizaba
Unfortunately, I wasn't successful in summiting Orizaba – but I did make it to within 100 meters of the top. I'm confident that on my next attempt that I'll make it, as I learned a lot during my first time.
My climb was going great – my acclimatization plan had worked well, I had plenty of energy, and was climbing at a good pace. About halfway up the Jamapa Glacier, it started to get very windy and cold. I figured that the sun would come up soon and warm me up. I checked the time on my phone, and it was still a lot earlier than I had thought – 4:45 am. The sun wouldn't come up for another hour and forty-five minutes. I kept climbing but took a few 5-minute breaks to wait for the sun.
I was now about 100 meters from the summit and very cold. The winds didn't let down, and when I checked my phone again it was still only 5:30 am. I decided that I didn't want to try and push to the summit and wait around at the top for the sun to come up, as it would likely be even windier up there. I decided to turn back.
When I got to the base of the glacier at 6:30 am the sky began to get lighter, and the wind went away.
On my next attempt, I'll start my climb at around 2:30 am rather than 12:30 am. I think starting too early was my only issue – if the sun had risen earlier or  I had climbed more slowly, I think I would've made the summit. I estimate temperatures near the summit were around -15°C with the windchill, making it very cold to hang around without a belay jacket.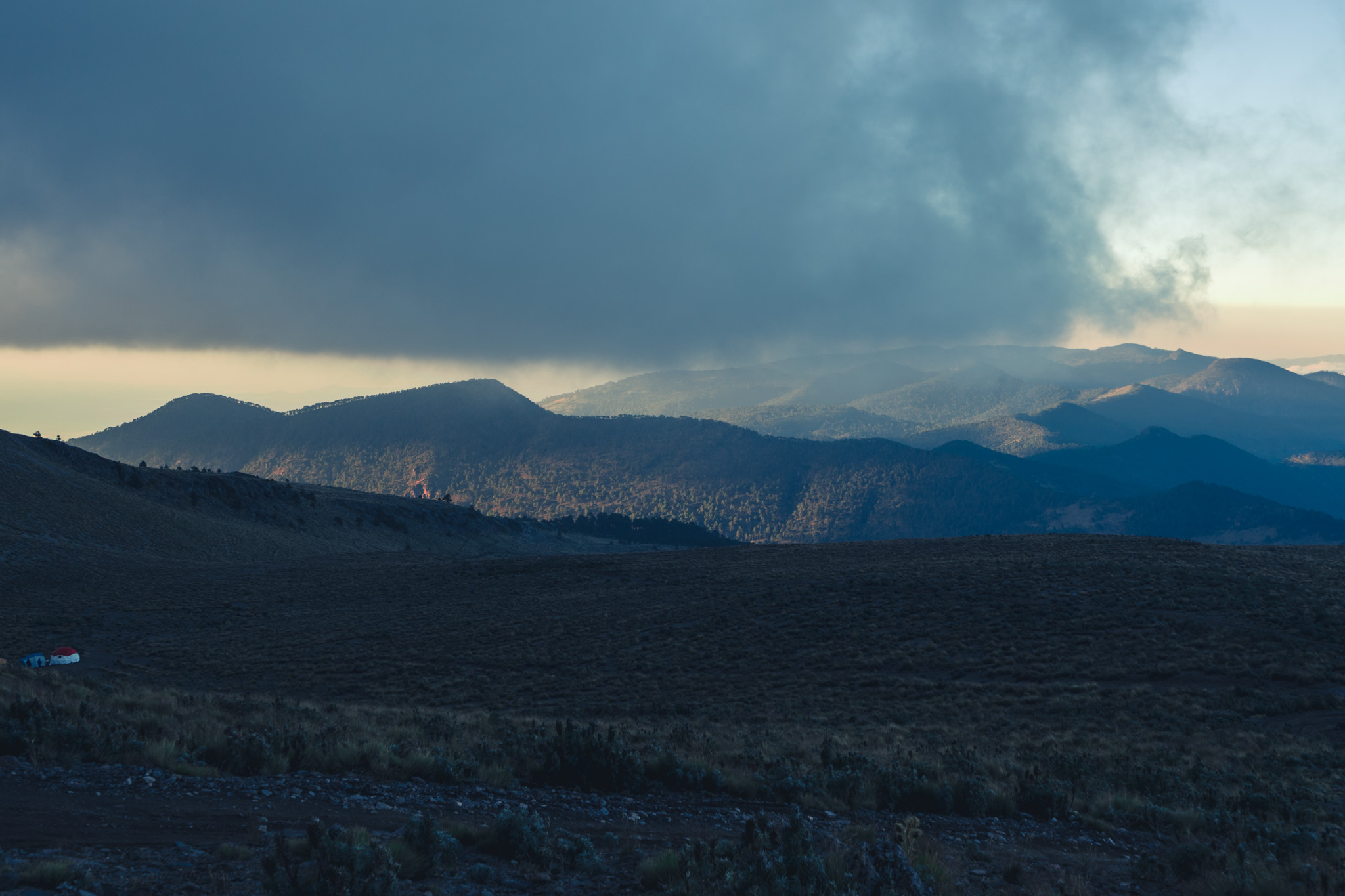 Pico de Orizaba Itinerary
Here's a typical one-week acclimatization itinerary for climbing Pico de Orizaba. It's the one I used, and I had no issues with altitude on the mountain.
Day 1: Fly into Mexico City and drive to Puebla
Your first day will have you arrive in Mexico City, which is already at an altitude of 2,250 meters above sea level. If your flight isn't arriving too late, you can take a bus to Puebla this same day. It's a 2-3 hour drive over a gorgeous mountain pass.
You can take a bus to Puebla directly from the Mexico City airport (MEX). The company is called Estrella Roja, and you can check their schedule here. Don't worry about booking a ticket in advance, you can just buy it when you land at the airport (in case your flight is delayed and you miss the bus).
I also recommend picking up a local SIM card at the airport if you'd like to have some internet access during your trip.
Where to stay in Puebla
In Puebla, I recommend the Posada Vee Yuu hostel. It's located right near the city center and has both dorm and private rooms available.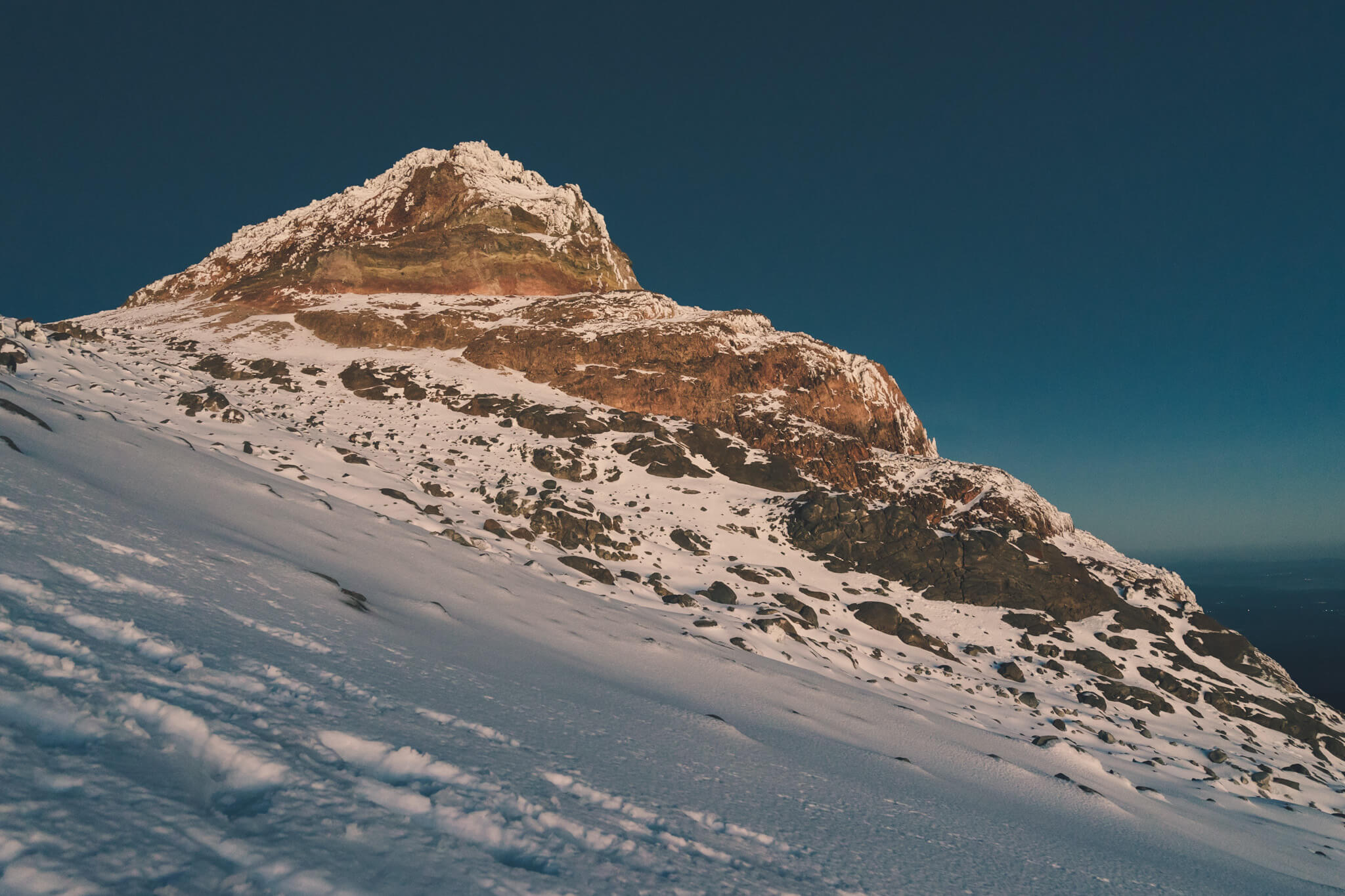 Day 2: Relax in Puebla
This day is pretty easy, just hang out in Puebla! Spend some time taking in the sights and eating some delicious Mexican food.
Day 3: Climb La Malinche
Here's a much tougher day! You'll attempt to climb La Malinche (4,461 meters). It's a beautiful climb through a forest all the way up to a barren volcanic summit. You'll drive up to about 3,100 meters, and hike the rest of the way.
For complete info on climbing La Malinche, check out its page over at SummitPost. If the weather is good, you'll be able to see Orizaba from the summit!
After the climb, head back to your hostel in Puebla.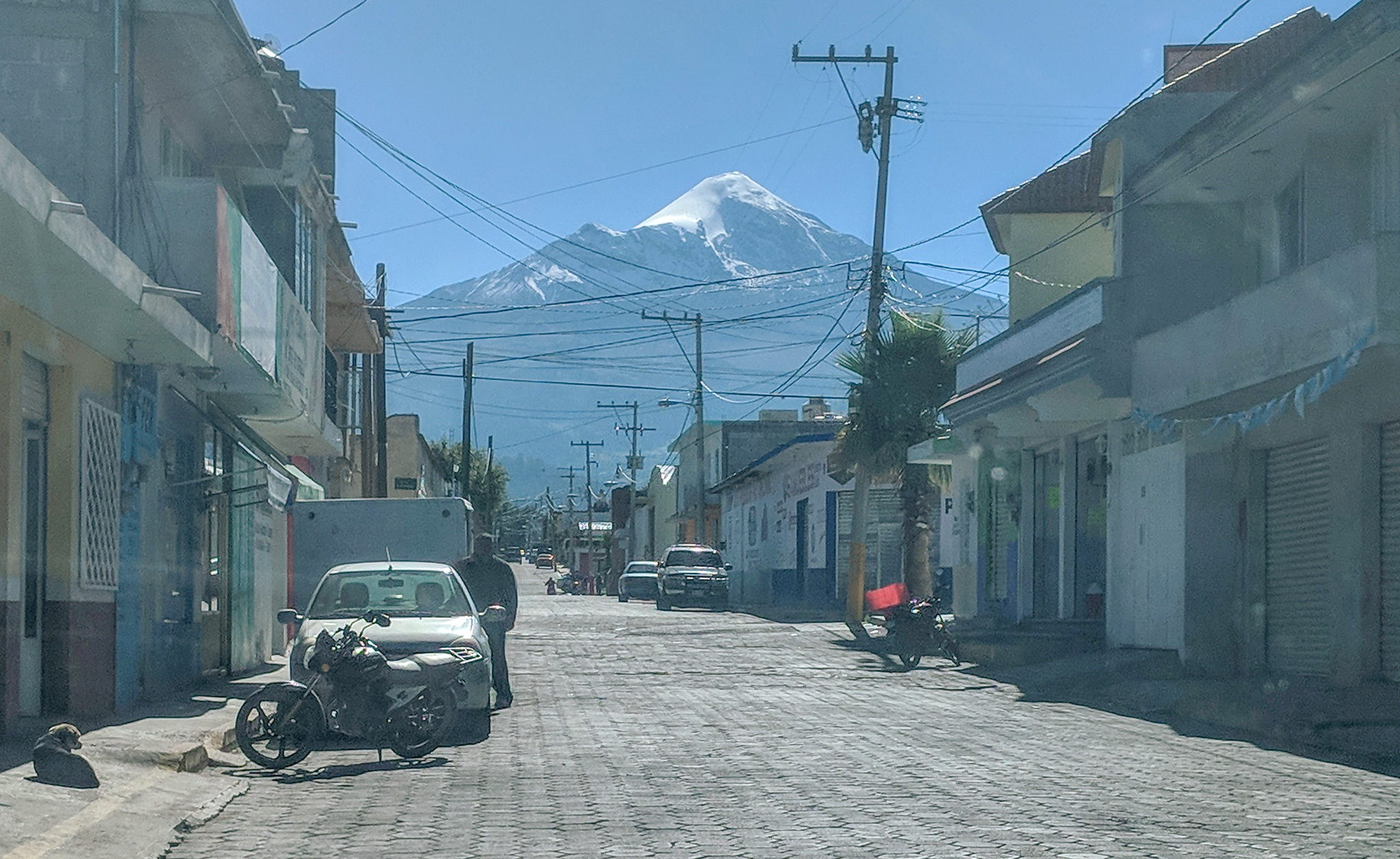 Day 4: Transfer to Tlachichuca
From Puebla's CAPU bus station, take one of the hourly Tlachichuca buses. The ride takes two hours, and you'll begin to see how big of a mountain Orizaba really is.
In Tlachichuca, you can stay with either the Cancholas or Servimont. I can vouch for the Cancholas, but I also have heard good things about Servimont. They'll arrange your transport to the base camp and provide you with room and board. Expect to pay around $200 for these services.
Day 5: Drive to the Piedra Grande Hut (Base camp)
Take a 4wd car to base camp, and start preparing for the climb! If you're feeling good, and the weather is okay, you'll attempt to summit early the next morning.
Day 6: Summit Pico de Orizaba
Begin climbing from the Piedra Grande hut anytime between 12 and 2 am depending on your climbing speed. If all goes well, you'll summit shortly after sunrise, and be back down to base camp for lunch.
After lunch, you'll be picked up by the 4wd jeep and brought back to Tlachichuca.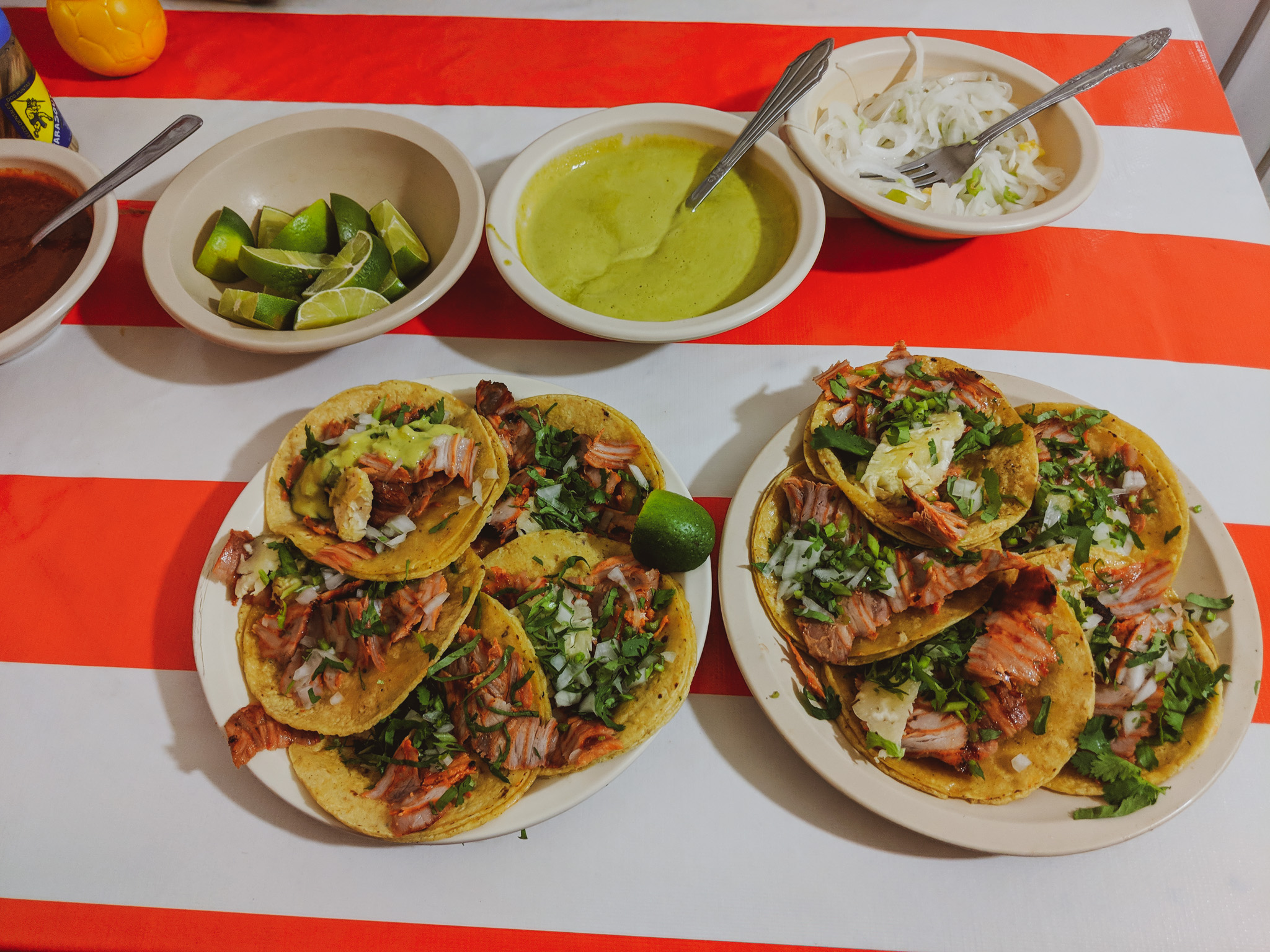 Day 7: Head back to Mexico City
First, take a bus back to Puebla, and then get another one the rest of the way to Mexico City. The journey should take about 5 hours in total.
You could fly out of Mexico City this same evening (just be sure to leave Tlachichuca early in case there is traffic!).
Pico de Orizaba FAQ
Here are a few frequently asked questions about climbing Pico de Orizaba:
Pico de Orizaba Climb Wrap-up
I hope this post has helped you plan your trip to climb Pico de Orizaba! Feel free to ask me if you have any questions, and I'll do my best to get back to you as soon as possible 🙂
Interested in another mountaineering adventure? How about climbing Lenin Peak in Kyrgyzstan!
Safe climbing!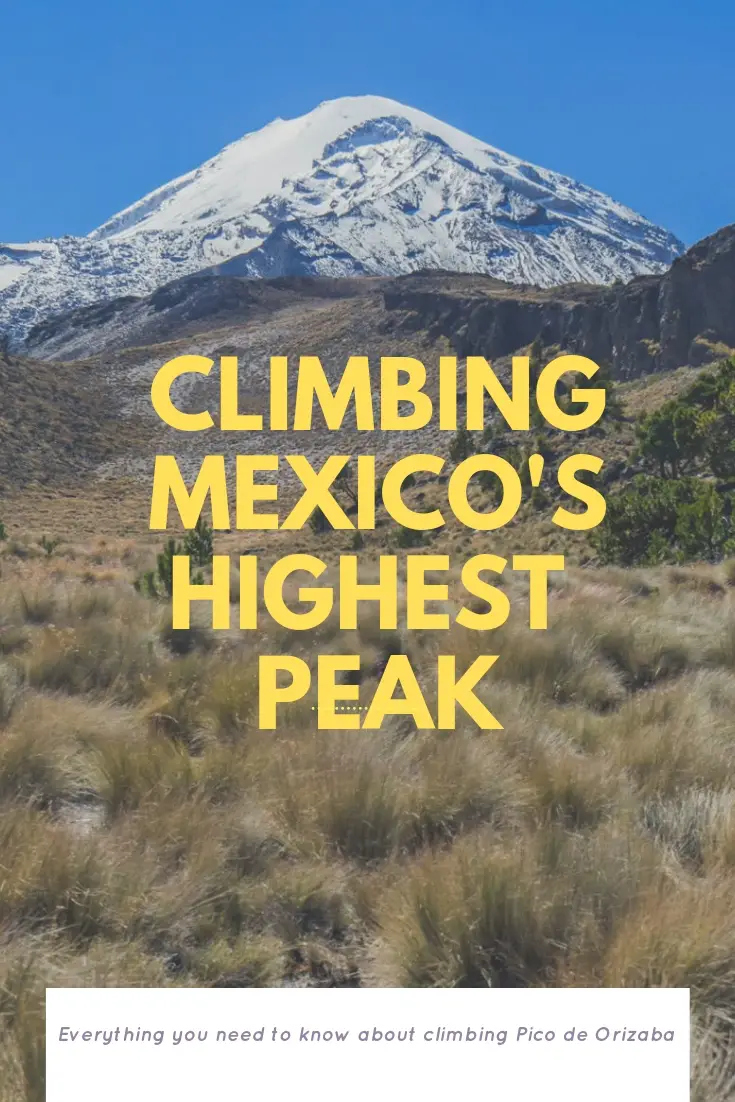 Yay transparency! There are affiliate links in this guide. If you book or buy something using my links, I'll make a bit of money at no extra cost to you.
---
— Update: 16-02-2023 — cohaitungchi.com found an additional article The Step-by-Step Guide to Climbing Pico de Orizaba from the website localadventures.travel for the keyword pico de orizaba hike.
1. Preparation
Let's start at the beginning, to climb Pico de Orizaba, first you will need to prepare.
One of the most important things about climbing a mountain is to get ready before you go. Pico de Orizaba is not technically difficult, but I have to say it's very physically demanding, specifically your legs need to be in shape.
Another factor to consider is acclimatization. If you haven't been higher than 13,000 feet in the previous three weeks, I recommend you to go to Nevado de Toluca or Malinche to acclimatize, both mountains are accessible from Mexico City.
2. Climbing Equipment
What gear am I going to need for climbing Pico de Orizaba? I'm guessing that if you are interested in Pico de Orizaba is because you have some experience in mountains and you want a bigger challenge, so you probably have your basic clothing layers. If you need a refresher, read our article on how to stay warm while trekking. Below is a list of the minimum required equipment for a high altitude trek like Pico. However, a professional guide may provide some or most of these items for you. Be sure to ask the company you book your tour with, what equipment they provide.
Backpack, minimum 50 liters capacity.
Layered Clothing System, you will be at a minimum of -10 ºC to -5 ºC
3-seasons tent, probably you won't use it if you find space in the refuge
Sleeping bag, minimum -5ºC comfort
5 liters of water for the full expedition
Bottle, minimum capacity 1 litter
Crampons
Ice axe
Rope, here you decide the longitude depending on the number of people
Helmet
Glasses, the glacier of Pico de Orizaba really brights, be careful with your eyes
Headlamp
Gloves
Boots, should be warm, waterproof and supportive, I recommend to use a B2 boot (flex index). With flexible boots maybe you will have issues because of the inclinations of this mountain.
Harness
Carabiners
Trekking poles if they are useful for you
3. Transportation
Two options, by truck or bus, I'll discuss both options. Renting a car is a 3rd option, but does not make much sense because it will be parked sitting at the base of the mountain for days.
By Bus
The best way to start this trip is to fly into Mexico's City airport. Remember that Pico de Orizaba is not far from this point. It's shared by two states, Veracruz and Puebla and if you get to this airport you will be 2-3 hours away depending on the traffic. Once you get into Mexico City you should take a bus directly to Puebla which you can get in the airport.
After this, I recommend you to go directly to Tlachichuca, the town in the base of this mountain, if your goal is just to conquer Pico de Orizaba summit. If you have time you can take a few days in Puebla, this city has much to offer.
Once you get Tlachichuca you will see in front of you the colossus mountain, it's really impactful because as you drive directly at Pico de Orizaba the reflection of the snow from the enormous glacier is blinding.
Once rested, it's time to go to the mountain, to the base camp. For that you have to hire a truck 4X4 service and is a little over 2 hours of drive time on a dirt road. These services normally take you to the base camp and can also pick you up to take you back once you finish the mountain.
By Truck
The second more expensive option from the Airport is to rent a 4X4 vehicle that you can drive yourself to base camp. Once at the airport there are many options for hiring a truck. Once you have your truck head to Tlachichuca, the town in the base of Pico de Orizaba. This trip will be about 3.5 hours from Mexico City to Tlachichuca and then another 2+ hours down a dirt road to base camp.
4. Expedition
You are now at the base camp of Pico de Orizaba called "Refugio de Piedra Grande". My recommendation, is to take 2 days for this expedition.
This first day is to acclimate to the altitude and to rest. You should go to sleep at approximately 6pm to wake up at 1 or 2am the next day. Before you go to sleep eat a bunch of carbs to have enough energy for the expedition, depending on the person this can be 1-2 plates of pasta. I like to mix in tuna for some extra protein in the meal.
Upon waking up at 2am you should start preparing your stuff to begin trekking. Take all the necessities for this trip but be aware of the weight in your backpack. It's going to take you an average of 12 hours roundtrip to summit, so be smart in only selecting the things that are necessary.
When you get out of the refuge or tent you will see a wonderful night sky. It's one of the best skies I have ever seen. There are so many stars shinning down upon you.
Grab a bite, prepare your things, and start trekking. One foot in front of the other.
Local guides are very friendly and they really know the terrain and are very well connected with emergency services.
Pico de Orizaba's route to the top is divided into two parts.
The first part is simply trekking through dirt and rock. You are going to use only your boots and trekking poles. This part of the trek is very panoramic, and looks like you are on Mars.
Second part in my opinion is more interesting because it is the beginning of the glacier. It's massive, it's beautiful, and it's definitely demanding. At this point you hiking in your crampons, and your trekking poles have now been changed out to the ice axe. You are now also roped together with your climbing partners.
Depending on the conditions this climb will be "easy" or "hard". Why easy? Because with a lot of snow you can trek easily on the snow. But if the snow is frozen to ice, each step will be slow, and you will be trying to build holes in the ice to make sure you have decent footing.
After 3 or 4 more hours of baby steps you are on the summit celebrating with your partners.
You made it!!!
Don't forget to take a peak inside the crater, it's pretty awesome and has spectacular colors. From the top you can see some great mountains; Iztaccihuatl, Popocatepetl, Cofre de Perote, Malinche, Nevado de Toluca. This view is indescribable, you are on the top of Mexico!
After you have enjoyed your accomplishment there is only one thing left to do, descend back to base camp. This will take approximately 4 hours. Once you arrive at base camp you gather your things and get ready to take the truck back to Tlachichuca.
From here you can decide on either returning to Mexico City, visiting Puebla or any other town close by. Don't forget to take in the culture and local cuisine and a selfie or two. Enjoy, Mexico.
Sit back and think about how much money you saved because you didn't trek the other 2 highest mountains in North America. Denali and Logan will still be there for you, if you decide to make them your next adventure. But I'm guessing they won't serve you tacos after the summit 😉
Hopefully this article has educated you on how to prepare for and conquer Pico de Orizaba. If you are interested making the logistics as seamless as possible, LocalAdventures provides an all-inclusive experience for climbing Pico de Orizaba. All you need to do is book a flight into Mexico City and then LocalAdventures takes it from there… great expert guides, great local cuisine, and great accommodations. Trust me it is an adventure that you'll never forget.
Let me know in the comments if this information was useful for you, and if you want to know more about high altitude trekking in Mexico.
Make your dream trip possible, receive a personalized quote and payment facilities to suit your needs
No compromises!
---
— Update: 17-02-2023 — cohaitungchi.com found an additional article Your Ultimate Guide to Successfully Climbing Pico De Orizaba. from the website holidayfromwhere.com for the keyword pico de orizaba hike.
Everything you need to know about climbing Pico De Orizaba
Elevation – 5636 meters
Distance – 3.5kms one way. 7kms return.
Elevation gain – 1397 meters
Hiking time – 6 to 10 hours up, about half that down.
Read more 9 Best Personal Locator Beacons (and Satellite Messengers) for 2022
Climbing Pico de Orizaba was probably the most incredible things we did in Mexico during our entire 8 months. It was also by far the hardest. The hike itself is fairly straight forward but with Pico de Orizaba's altitude being 5636 meters or 18,491 feet, even after having hiked almost every other mountain we could find in Mexico (actually only 6 others) including Iztaccihuatl which itself sits at 5230 meters the altitude still smashed us.
Our post about Climbing Iztaccihuatl without a guide is over here.
El Pico de Orizaba or Citlaltepetl as it is also know meaning Star Mountain is an incredible site, the peaks itself is so imposing you can see it from both the Pacific Ocean and the Caribbean (so I've been told, we didn't actually have clear enough weather to see either) and as the sun rises it throws a mind-blowing shadow over the plains to the west. El Pico de Orizaba sits, snow-capped or at different times of year topped with just an icy glacier, towering over the small village of Tlachichuca and is Mexicos highest peak and the third highest peak in North America, Denali being number one and Mount Logan holding the second spot. The glacier begins at about 4900 to 5000 meters and depending on the time of year can be incredibly icy or have a nice little covering of snow.
When to climb Pico de Orizaba.
We climbed it on the 12th of September in 2018, this is about 2 months before the start of the popular season and snow and storms can still be common. We did get perfect weather until the afternoon thunderstorm rolled in, which I will add was incredibly brutal. However, the general climbing season for Pico de Orizaba is around Christmas, after speaking to some guides back in town they said this was when the weather is consistently the best, which makes sense. The dry season begins in November and ends in March. One other thing about the time of year we climbed Pico de Orizaba was the fact that there was not a single person on the mountain the day we climbed and there was also no one else staying in the hut beside a few small mice, this made sleeping much easier. I will just add though that having no one else around was great for us but only because we had spent a lot of time studying the route up and down and had the most detailed maps we could have over several tracking apps just in case something went wrong. If you have enough experience you should be fine but if you don't it is something to think about. We did end up getting lost on the way down after a massive dump of snow completely destroyed any signs of anything that resembled a trail. We eventually made it down but it added a few hours extra to our day and it could have been far worse if we had have not been so prepared. Coming back to my point about no people, what I'm trying to say is that having the third highest mountain in North America to yourself is something pretty special, but, if something does go wrong you have nothing to rely on except your own preparation and experience. I will take this moment to mention that although the hike is fairly straight forward people do die there yearly and if you're not that comfortable or experienced then a guide might be a great option. I added the number for one we stayed with in the where to stay in Tlachichuca section.
Also, an alpine start is highly recommended, you will want to leave the hut somewhere between midnight and 3 am at the latest as clouds tend to roll in in the afternoon. On our way down we got caught in a crazy thunderstorm but more on that later.
Getting to Pico de Orizaba.
You are going to want to fly to Mexico City first, the town of Puebla is another option which is about 2 hours closer but you flight options will be far more limited and it's likely to cost more to get there. Veracruz is also another option.
From Mexico city you need to take a bus to Puebla, if you're super keen to get out of the city straight away you can take a bus from the airport. The journey as stated previously will take about 2 hours and will cost you about 150 pesos. If you wanted to spend a day or two in Mexico city you will have to make your way to the TAPO station when you're ready to leave.
Once in Puebla, you will need to go to the CAPU bus station and take the Valles bus to Tlachichuca. This will again take about 2 hours. Buses leave every hour.
I did read about a few people taking private drivers from Mexico city all the way to Tlachichuca, the price they quoted was about 100 USD per person. If this is in your budget it might be a far more comfortable option and worth considering if you have the money.
At no extra cost to you, some of the links in this article are affiliate links and by using them Sara and I receive a small commission. This goes towards helping us continue to explore and write articles like this. 😁
Where to stay in Tlachichuca.
We looked at a couple of options in Tlachichuca but eventually decided on a beautiful little hotel simply called Orizaba Mountian Guides in the small town of San Miguel Zopan which is a 2 dollar cab ride and about 10 minutes outside of Tlachichuca and is actually the closest village to the volcano. We chose this place for a few reasons, 1, it was the prettiest, 2, it was closer to the mountain, 3 it was the cheapest in terms of transport up the mountain and 4, the owner Roberto was the most forthcoming with information to the questions we were asking about the mountain. The other owners didn't seem to want to answer any questions until we had paid. So we went with this place. Not only that, Roberto has been doing guided tours up Orizaba for over 25 years. He also leads expeditions to Peru, Ecuador and Aconcagua.
To make a booking here you can get in touch with him here: Roberto Flored Rodriguez.
No: 52-1-222 632 5881
If you do decide you want to stay in Tlachichuca though here are the two best options we looked at. The first one we looked at and the one I would actually recommend was Servimont(click the text to check it out and make a booking), which was in an incredible building that decades ago used to be some kind of factory, it was quirky and interesting and the owner Mr. Reyes is a climber also and seemed like he knew exactly what he was talking about from the little I could pry out of him. The other place we looked at was Cancholas. It was friendly and looked nice but it was also the most expensive of all the places we looked at.
Getting to Piedra Grande Hut
Getting to Piedra Grande Hut takes about 2 hours and a 4×4 is required, the road is terrible and the ride is slow but the countryside you're driving through is beautiful. If you plan on renting a vehicle and driving there yourself make sure it's a 4wd, otherwise your organized hotel if you chose one of the three mentioned here will have a lift service and be able to take you up the mountain or your guide if you chose to use one will have the ride up organized.
The hut sits at 4,230 meters and has incredible views but it is very basic.
Camping on Pico de Orizaba
The Piedra Grande hut offers protection and is a comfortable enough option, however, I've read peoples stories of the hut being completely full which mean you're sleeping in a room with 40 to 50 other people. This is fine but camping may also be a better option for you if you would like a little more privacy or the chance to actually sleep without the sounds and smells of 40 plus other humans all around you then I would camp. This was our original plan, when we arrived it was a Sunday and there was a lot of people there so we set up our tent but by the afternoon everyone was gone and we decided to move into the hut.
Around the base camp, there are several flat spots where you can pitch a tent. There are also two more camp spots one at 4500 meters just before the labyrinth and another one at 4900 meters right at the foot of the glacier. The glacier camp breaks the hike up into two days and means you will have a far shorter summit distance on day two of your hike. It is however very exposed to the wind and weather so unless you have a tent built for extreme weather the 4500-meter camp or base camp might be the best option. Getting water up to either of these camps will be difficult though. If you choose the high camp you will be able to melt snow and ice but expect to carry a heavy water load if you decide to camp higher.
Map of Pico de Orizaba Climbing Route.
Here is a map of Pico de Orizaba. Well two maps actually, taken from Hiking Project and Maps.Me. The track changes occasionally and neither of these should be relied on 100%. But they are both good guides to have if you think you have gone off track as they can help lead you back towards the trail.
If you have a better app or mapping tool I'd love to hear about it in the comments also.
Training for Pico de Orizaba.
Training for climbing Pico de Orizaba is just like training for any other physical activity you want to do. The only difference here is that unless you're a Nepalese sherpa you're probably not used to being at 5,000 to 6,000 meters above sea level.
I'll cover the physical aspect here first then the acclimatization process after.
If you're lucky enough to live in an area with mountains or even large hills then the best training you can possibly do is hike. Start without a pack first and then slowly build up weight until you're at the carrying weight you think you will have on Orizaba.
One of the best ways to build weight is with water bottles. There are two reasons this is good. One is you can pretty accurately gauge exactly how much weight you have and the other is that you can empty the bottles at the top of the hike so you can reduce the stress on your knees coming down. The last thing you want is some niggling injury to slow down your training.
If you live in a completely flat area don't worry there are still things you can do. Running is an overall great activity to get your fitness levels up and I'd highly recommend it. I love swimming as well personally. It can be boring and repetitive but it also allows you to focus in on your breathing and control it which is something you're going to need if altitude is new to you.
Now this one is one that I actually love but it might sound funny to any men out there that are accustomed to solely using weights at the gym. The stairmaster at any normal gym is a huge asset because essentially these are the exact muscles you're going to be using and the stronger and more ready they are the less your body is going to have to work in that department so you can just concentrate on your inability to breathe haha.
These are just our personal tips and what we did for getting ready to hike Pico de Orizaba.
If you fly into Mexico City the closest high point will be Nevado de Toluca which is only an hour outside of Mexico City. It sits at 4200 meters and is a great opening hike to get a little used to the altitude. The hike is a basic climb around a volcanic crater but if you have come from sea level you're still going to feel it but in my opinion, it is one of the best places to start.
After that, we made out way to Iztaccihuatl which sits at 5200. Unless you're super fit and start extremely early this is a day hike. Where you can camp either in the basecamp hut or in a tent just around the corner. There are a few other mountains that you could hike. We did Nevado de Colima but this is a little out of the way if you're coming specifically for Orizaba. Malinche is another mountain that is very close to Orizaba and while not the most beautiful hike a really good acclimatization hike and close to your starting point. Once we got to Orizaba we also did an acclimatization hike up through the labyrinth almost to the bottom of the glacier. This also turned out to be extremely beneficial as we also got a chance to plan our route a little better which was a great choice because on our way down it snowed so much we couldn't see any signs of a trail. We ended up getting a little lost but eventually found our way due to the fact we had already hiked it. The other option is to contact Roberto at OMG whose number is above. They have different packages that you can customize that include several acclimatization hikes.
You may have bigger time restrictions than we did and therefore you won't be able to cover all these hikes. If you can just pick two of these for warm-ups I'd suggest Nevado de Toluca and Iztaccihuatl.
Side note here: As stated people do die on Orizaba, and others have to be rescued on a semi-consistent basis so if you're not that familiar or comfortable with crampons and ice axe or planning your own route up a mountain you might be better off hiring a guide just for this hike.
Packing list for Climbing Pico de Orizaba
Ice axe
Crampons
Rope Length is up to you we had 30 meters
Helmet We didn't actually use them but it is a strong recommendation.
Good hiking boots Boots are highly personal but we have had these in everything from minus 35C to plus 30 and they have been perfect for everything.
Good socks lifetime warranty merino wool socks
Sleeping mat these are super comfy and pack down tiny
Good sleeping bag, nothing is worse than being cold all the time, this is the best $300 to $400 I ever spent.
Thermal top – We try & buy Patagonia as much as we can afford to. Great quality products, lifetime warranty & environmentally friendly.
Thermal Bottom
Gators, not needed if there is no snow but life saving if there is.
Sun cream, environmentally friendly sun cream
Sunglasses, it gets soooo bright and the sun is harsh.
Jacket – The micro puff jacket packs down so tiny!
Gortex Shell
Gloves
Camera – were shooting the Sony A7riii and A7ii
Lenses – we have a few different lenses here are the two best all-around ones.
Sony 16-35mm f2.8 – super wide lens great for wide landscapes
Sony 24-70mm f4 – If you are only needing one lens then I think this is it. It covers such a huge range of everything that I would be happy to carry only this most of the time.
GoPro
Warm pants
Stove
Backpack
Something to read or music
Between here and Izta I was reading The Ledge a crazy survival story about two friends climbing Mt Rainer.
Read more 10 Fast Facts About Mount Kilimanjaro
You do not need a permit to hike Pico de Orizaba and there are no entrance fees to enter either.
Route to hike Pico de Orizaba.
When you read about hiking routes for Pico de Orizaba there are officially four. I only researched two of them, the Jamapa Glacier route which is the most common route and the one we ended up taking. The other route we researched was the southern route.
The southern route is shorter and faster however it is steeper, the main thing that turned us off though was the fact that there is no permanent glacier which we wanted as part of our experience. We also read about a possible avalanche hazard after rainy summer/fall seasons.
The are other more technical routes on the east, one called the Serpents Head that is 10 pitches and grade 3 ice.
The Jamapa Glacier route.
This route is the most popular route.
There are three sections to the Jampa glacier route and I'll outline them here:
The scree.
The trail starts on an old broken aqueduct that's starts almost immediately after leaving the hut. This only lasts for a few hundred meters and there are several small tracks to follow. We had done an acclimatization hike up and already chosen our route but it's pretty straight forward and I can't imagine any of them leading anywhere else other than to the Labyrinth. Sections on this part of the track are loose so just watch where you put your feet.
The Labyrinth.
Although climbing Pico De Orizaba was pretty straight forward this is the section of the hike where we got lost on the way. On our way up it was a fairly clearly defined rock path that was mostly easy to follow and really just required a little experience and common sense even in the dark. After a massive dump of snow through the track completely disappeared and with no one else on the mountain, there were no other tracks to follow. The track splits into two sections here, the section on the right is steeper while the section on the left is a windy path with less of an incline. On our acclimatization hike we took the track to the left, in the dark we missed this and ended up on the steeper route to the right which ended up being fine also but there was a couple of small slightly technical section that we had not expected. We did, however, take the windy track down, it was the route we had planned on and we kind of knew the way. It was also easier and the way would have liked to have gone in both directions. On the way up we didn't need our crampons until the glacier but on the way back down we had our crampons on the whole way through the labyrinth.
Climbing Pico De Orizaba, The Jamapa Glacier Route.
This section of the climb was super straight forward and we had amazing conditions for the hike up, ice axe and crampons are 100% needed though and if you are climbing with a partner I would suggest being roped up. We had no problems but if one of you had a tumble it is extremely steep. The angle of the glacier reaches up to 40 degrees and once we reached about 5300 meters despite all the acclimatization I started to struggle terribly and it became a matter of one foot in front of the other, but it slowed our progress. I almost quit 100 times, well I said out loud overly dramatically about 100 times that I quit and just lay face down in the snow but in the end, sheer perseverance and Sara's encouragement managed to get me to the summit. Sara had very few problems though and she was really the only thing that pushed me through it.
Climbing Pico de Orizaba solo.
Obviously there were two of us doing this hike but climbing Pico de Orizaba solo is completely possible. The day we left one guy arrived and went for the summit by himself. We also met another guy in town that had done it a few days before us solo. If you're taking the standard Jamapa Glacier route then there is nothing overly technical and you don't really need to be roped into anyone. Depending on the time of year the glacier as discussed can be extremely slippery and is probably your major concern. But don't let being solo deter you from going for the summit.
Thunderstorm on Pico de Orizaba
We got caught in a crazy thunderstorm that rolled in about 50 meters before the summit. At first, it was just a lot of hail but then the lightning rolled in. This was by far the scariest experience I have ever had with a thunderstorm. I grew up in a region when they were a daily occurrence all summer, Sara had never really seen them and it scared her a lot. I, however, had not experienced one on top of a glacier, I kind of took the whole thing a little light because I suppose I was just so used to lightning and thunder. That changed pretty quickly after the first few cracks started to hit around us. The air changed, it was literally charged with electricity, every single bit of metal we had on us started to charge, it stung, or burnt or was somewhere in between these two feelings, it was something I had only ever really felt when you touch a cable that is not well insulated or metal that has electricity running through it that is not well grounded or something like this.
With this new feeling came the noise, we could hear this loud low vibrating noise and it proceeded to get louder and louder as the sensation burning our faces grew stronger and stronger and as it peaked bright light and thunder would surround us immediately. The thunder was like nothing I have ever felt, the ground shook like crazy thunder but this was more extreme, this was more like when you shoot a gun(I have only ever shot a guns once) and all the air around you completely compresses, you could feel it push on you.
We realized pretty quickly that this was a far more serious situation than we both realized at the start and we started to run as best we could down the glacier. We were actually extremely lucky there was so much snow as it allowed us to have very steady footing even though we were moving really quickly. We got down from the summit to the bottom of the glacier in about 15 minutes, but we were still not safe, there was nowhere to hide, it was still just bare rock and the hail and snow had completely covered the trail and our tracks from the way up.
We kind of scrambled down as fast as we could until we managed to find a massive rock that had a small overhang and we took a break under there and tried to wait out the storm.
It eventually started to pass but even as it did it still took several hours of gnarly lighting that was far too uncomfortably close to us.
The smart thing for us to do would have been to dump our gear and go up the next day and get it. I do not know if we would have done this again in hindsight. It should have been our first move and the smart thing to do would have been to do it instantly but we were getting picked up the next morning and after the struggle and energy from the day I was not even sure I would make it up the glacier again and we just couldn't bring ourselves to dump several thousand dollars worth of camera gear on a glacier never to return again. Nothing ended up happening so it was all good in the end but are a few cameras really worth our lives, hell no, I just hope this is not a situation we end up in many more times.
If anyone has more experience in these issues than we do I would love to hear your opinions in the comments.
Safety on Pico de Orizaba.
So when we returned from the hike there was someone going through all of our stuff, they had taken out anything valuable and tried to leave with it. This didn't happen luckily but it was sheer luck that it didn't. The man fled on horseback and it's not like there is anything you can do up there, the cops are not coming that's for sure.
We had been a little bit smart at the start of the day and we had taken all our really valuable things, put them in a large waterproof bag and hidden them along the trail so even if we had not have caught this guy we would not have lost our most valuable things.
Another thing here was the two days we didn't go up the mountain people came up to the hut, they rode motorbikes, they had no purpose, they came into the large hut first, saw us and said hi then went straight to the other hut looked inside and then left. I really can't see any reason besides theft for someone to come this far out of their way to leave within 5 minutes, as the drive is long and pretty terrible.
So you may want to think about having a waterproof bag to hide any electronics and other things you don't want to take up on the hike with you and hide them somewhere along the start of the track. I suppose the locals know that most of the foreign people that do this have some expensive gear and they take advantage of this. So yeah just be careful.
Tips on how to hike sustainably
So this is something we think about every time we go anywhere and it ranges from things as simple as buying a banana and making a sandwich instead of buying plastic wrapped products to buying clothing from companies that support sustainable business practices.
Bananas are actually one of the most environmentally friendly things you can buy. They travel well, hold for a long time during transport and they have their own natural packaging.
Here are a few little tips to help you hike more sustainably.
I'm going to start with this just because I actually love the product so much! Sawyer water bottles come with built-in filters that remove 99.99999% meaning you can fill it up from any tap in Latin America and have no problems with bacteria. You kind of kill a few birds with one stone here. Number one you're not spending money on bottled water, you are also not using single-use plastic bottles and you're also making water more accessible to yourself on a day to day basis.
If you travel and hike often one of the things I would suggest investing in is a Water bladder. Osprey makes a nice series of them that range from 1.5 liters to 3 liters. I use one of these every hike unless it is below negative 5(Which it shouldn't be on Izta) then the water tends to get really cold and or freeze. The benefit for me is that as you drink the packaging gets smaller and you end up with more room in your pack for a jacket or something else you might take off later and you never actually have to take your bag off to get a drink, just hang the straw over your shoulder and drink as you see fit. It is also reusable for a long time. I have been using my current one since 2010. So that's 9 years of constant use and it looks good for another 10years.
Now if a Camelbak is not your thing, I know some people really don't like them a reusable non-plastic water bottle is also something that will cut a crazy amount of plastic waste out of your life. Hydro Flask is one super popular company and they make a massive range of sizes and shapes.
Food, food is almost always wrapped in plastic when you buy it but this has been a surprisingly easy one to get around. It may be a little harder if you are backpacking but we're traveling in our van so we have a small kitchen. We have started to make everything and package it in reusable containers that we just take on the next hike. Sara has been perfecting making these protein balls that are a mix of oats, peanut butter, cranberries, almonds and whatever else we have lying around. Also fruit! But if you buy fruit do not throw the peel along the track. These things can take forever to break down especially if they are not regional fruits and no one really wants to see someone's old orange or banana peel lying around on the track.
Clothing is something that is often overlooked as a sustainable product as you just kind of wear things till they are old and then throw them away but there is a range of companies out there these days that are making amazing products built to last. Patagonia is one company I can not push enough. They support so many environmental campaigns, they have a lifetime warranty on everything they sell and they give one percent of all sales back to small grassroots charities. They will also repair any clothes you take into them with minor issues.

References