Behold the coconut, one of Mother Nature's sweetest tropical fruits (or nut or seed, depending on who you ask.)
Scientists and foodologists aren't entirely sure where coconuts came from, and when, but their best guess is that coconuts are a variety of prehistoric plant that originated in the South Pacific – most likely in New Guinea.
Reportedly, sailors aboard Vasco de Gama's fleet dubbed the fruit with the name "coco" – sailor lingo for a hobgoblin-like, grimacing face. When "cocos" were brought back and introduced in England, the locals added the term "nut" to coco, giving it the name still widely in use today.
The inside meat of a coconut is considered by nutritionists to be abundant with protein, while the milk inside the coconut is light, refreshing with a low sugar level. Besides being a South Pacific food staple, coconuts have other uses as well. For example, natives have used coconuts as an insect repellent (mosquitoes hate the smell and haze of a burning coconut husk.)
Perhaps the most useful ingredient inside a coconut is the oil, which health-food advocates say contributes to higher energy levels and a stronger metabolism. In fact, coconut oil's benefits (and some risks) have become a hot topic in health and nutrition circles, as more and more people turn to coconut oil to better their wellness habits.
Are they on to something? Here's a deep dive on coconut oil, and what it brings to the table for you.
What Is Coconut Oil?
In a word, coconut oil is a body-friendly foodstuff that is heart-healthy, great for oral health, and other health benefits. Structurally, coconut oil is taken from coconut kernels. It's tasteless and colorless, and is available for consumer usage in refined and unrefined coconut oil.
Advocates call the coconut a "superfood", but the evidence doesn't completely support that name tag – at least not yet.
Composite-wise, coconut oil contains a cornucopia of fatty acids and proteins that hold antioxidants and provide myriad health benefits. It's rich in so-called medium-chain fatty acids (MCFA's), which are, in great part, comprised of Caprylic acid, Lauric acid and Capric acid.
Approximately 60% of all coconut oils are comprised of the above three fatty acids, while 90% of coconut oil fats is comprised of heart-healthy saturated fats. The latter figure is a high one, and not one that is recommendable to many doctors. For example, 14% of olive oil calories come from saturated fat, and 63% of butter's calories come from saturated fat.
As a rule, nutritionists love MCFA's, noting that, among other advantages, they're easily digestible and since they're processed by the liver, MCFA's are more effectively and quickly converted to energy, and not fat, inside the body.
Coconut Oil Nutritional Facts
Here is how coconut oil is broken down, nutritionally (based on one tablespoon of coconut oil.)
14 grams of fat (12 = saturated fat; 1 = monounsaturated fat; and 0.5 grams of polyunsaturated fats.)
0 milligrams (mg) of cholesterol
It's worth noting that, component-wise, coconut oils often differ in their make-up, and differ in their health benefits.
For example, partially hydrogenated coconut oil isn't deemed as healthy by nutritionists – it's similar as other processed oils that hold trans fats. Yet so-called "virgin" coconut oil comes from fruit component of coconuts, and is extracted without the use of chemicals or other foreign agents. Thus, nutritionists look more favorably on virgin coconut oil.
10 Benefits of Coconut Oil
There is a growing body of evidence that coconut oil offers some health benefits, both internally and externally.
1. A Boost in Good Cholesterol
Coconut oil is said to modestly hike one's level of good cholesterol.
2. Good for Blood Sugar and Diabetes
Coconut oil can aid in lowering obesity levels in the body and also battles insulin resistance – issues that often lead to type two diabetes.
3. Helps Fight Back Against Alzheimer's Disease
The MCFA component in coconut oil – especially its generation of ketones by the liver – aids in mending brain function in Alzheimer patients.
4. Helps Stop Heart Disease and High Blood Pressure
Since coconut oil is so high in saturated fats, that helps boost HDL (or "good") cholesterol to ward off heart disease and lowering high triglycerides. Additionally, coconut oil also performs a rather remarkable and heart-healthy feat – it helps turn bad cholesterol into good cholesterol.
5. Aids in Liver Health
Coconut oil also guards against any damage to the liver, and also aids in curing urinary tract infections.
6. Boosts Energy
Unrefined coconut oil also hikes energy and endurance, primarily by its MCFA's shooting directly into the liver, which enables to be converted into energy.
7. Aids with Digestion
Another benefit of coconut oil – it helps with food digestion by aid the body take in fat-soluble components like vitamins and magnesium. It also eliminates toxic bacteria and candida, which fights poor digestion and stomach inflammation. That helps prevent stomach ulcers.
8. Acts as a Salve for Wounds and Burns
Coconut is good for the skin, especially in the treatment of wounds, burns, and dermatitis. It also acts as sunblock, and as a moisturizer for the skin, thanks to the two primary fatty acids in unrefined coconut oil, caprylic and lauric, and to its antioxidant component, which team up to reduce inflammation under the skin and promote better healing.
9. Acts as an Anti-aging Component
Rich with antioxidants, coconut oil is known to slow the aging process, generally by curbing any undue stress on the liver.
10. Helps With Weight Loss
Coconut oil also can help with weight loss, as it acts as a fat burner and a calorie burner, especially with doses of unrefined coconut oil. It also acts as an appetite suppressant. One study shows that the capric acid in coconut oil helps boost thyroid performance, which in turn reduces a body's resting heart rate and aids in burning fat for an increased energy boost.
Coconut Oil Risks
Some critics of coconut oil as a health and wellness remedy recommend that users slow their roll before taking in too much coconut oil.
For starters, the bulk of the medical research hasn't been done on humans, so any conclusions drawn have to be taken with a grain of salt. Additionally, coconut oil is high in calories, and used to excess, could result in weight gain, especially if coupled with a high-calorie diet.
In reality, any risks associated with coconut oil comes down to saturated fats, which are abundant in coconuts. The American Hospital Association recently issued a warning against saturated fats, especially coconut oil. In addition, the American Heart Association recommends keeping saturated fat intake to no more than 6% of one's total calorie intake.
In general, medical professionals recommend edging away from unsaturated fats and toward unsaturated fats to increase heart health, and to increase healthy food habits.
Ways to Take Coconut Oil
Health advocates who do tout the benefits recommend limiting your daily intake of coconut oil to two tablespoons (30 ml) – that should leave enough room in your diet for additional fat nutrients, like nuts, olive oil, and some fruits.
If you're taking coconut oil for the first time, start gradually with one tablespoon of coconut oil and work your way up to two tablespoons per day. Ingesting too much coconut oil right off the bat can lead to nausea, consumer advocates warn.
Other coconut oil-linked side effects include headache, dizziness, fatigue, swollen glands, joint or muscle pain, stomach upset, chills, hives or rashes, or other adverse skin conditions.
When taking coconut oil, you have several options, including:
Stir-fry. Coconut oil is ideally used in a pan, either via sauté or stir-fry, in a pan with beef, fish, chicken, eggs, or vegetables.
Baking. You can also ingest coconut oil by drizzling it on beef, fish or chicken before cooking in the oven. Some health advocates also recommend coconut oil as a substitute for eggs or butter in baking dishes, like curry or vegetable dishes.
Add to coffee and tea. You can also add coconut oil to coffee or tea, in moderate amounts (no more than a teaspoon is recommended.)
As a supplement. Users can also buy coconut oil, usually in capsule form, at a drug store, health food outlet, grocery store, or online through companies like Amazon.com. A word of warning – coconut oil in capsule forms is only available in minute amounts per capsule. Consequently, to get your daily recommended amount of two tablespoons of coconut oil, opt for taking in as a cooking ingredient in a meal you're preparing.
Read more 9 incredible ways coconut oil can boost your health
Health professionals who tout the benefits of coconut oil recommend avoiding refined doses and instead opt for virgin coconut oil. When storing coconut oil, keep it at room temperature, just as you would virgin olive oil, for best results.
Size of Coconut Oil Market
In 2016, the size of the global coconut oil market stood at $4.6 billion, although sales declined in 2017, as coconut prices rose, and as demand slowed moderately.
The countries where coconut oil is consumed the most include the U.S., Indonesia, and the Philippines, with the latter two countries, along with Mexico and Vietnam, are the largest producers of coconut oil, as of 2017.
Top-selling coconut oils include Nutiva Organic Virgin Coconut Oil, Thrive Market Organic, Ethically-Sourced Virgin Coconut Oil, Dr. Bronner's whole Kernel Organic Virgin Coconut Oil, and Kelapo Extra Virgin Coconut Oil.
---
— Update: 10-02-2023 — cohaitungchi.com found an additional article 20 Coconut Oil Benefits for Your Brain, Heart, Joints + More! from the website draxe.com for the keyword benefits of coconut oil supplements.
To date, there are over 1,500 studies showing coconut oil to be one of the healthiest foods on the planet. Coconut oil uses and benefits go beyond what most people realize, as coconut oil — made from copra or fresh coconut flesh — is a true superfood.
It's no wonder the coconut tree is considered the "tree of life" in many tropical locations.
Coconut oil is made by pressing dried coconut meat, called copra, or fresh coconut meat. To make it, you can use a "dry" or "wet" method.
The milk and oil from the coconut are pressed, and then the oil is removed. It has a firm texture at cool or room temperatures because the fats in the oil, which are mostly saturated fats, are made up of smaller molecules.
At temperatures about 78 degrees Fahrenheit, it liquifies. It also has a smoke point of about 350 degrees, making it a great option for sautéed dishes, sauces and baked goods.
This oil is also easily absorbed into the skin because of its smaller fat molecules, making it an excellent skin and scalp moisturizer.
There's no doubt that many people are confused about whether or not they should consume coconut oil regularly, especially after the American Heart Association's (AHA) 2017 report on saturated fats that recommended reducing saturated fats from your diet. This doesn't mean that people should avoid consuming any of it.
In fact, the American Heart Association recommends sticking to 30 grams per day for men and 20 grams per day for women, which is about 2 tablespoons or 1.33 tablespoons of coconut oil, respectively.
In addition, we should highlight that the American Heart Association did point out that we don't have to completely avoid saturated fat, and that's because we actually need it. It works to enhance our immune function and protect the liver from toxins.
While the AHA is focused on how saturated fats may increase LDL cholesterol levels, we need to remember that coconut oil works to reduce inflammation naturally. Reducing inflammation should be everyone's biggest health goal, as it is the root cause of heart disease and many other conditions.
So despite the questions about whether or not coconut oil is healthy, I'm still a huge advocate of consuming it to reduce inflammation, support cognitive and heart health, and boost energy levels.
Coconut Oil Benefits
According to medical research and the U.S. Department of Agriculture nutrient database, the health benefits of coconut oil include the following:
1. Helps Treat Alzheimer's Disease
The digestion of medium-chain fatty acids (MCFAs) by the liver creates ketones that are readily accessible by the brain for energy. Ketones supply energy to the brain without the need for insulin to process glucose into energy.
Research has shown that the brain actually creates its own insulin to process glucose and power brain cells. Studies also suggest that as the brain of an Alzheimer's patient loses the ability to create its own insulin, the ketones from coconut oil could create an alternate source of energy to help repair brain function.
A 2020 review highlights the role of medium chain triglycerides in the prevention of Alzheimer's disease because of their neuroprotective, anti-inflammatory and antioxidant properties.
2. Aids in Prevention of Heart Disease and High Blood Pressure
Coconut oil is high in natural saturated fats. Saturated fats not only increase the healthy cholesterol (known as HDL cholesterol)  in your body, but also help convert the LDL "bad" cholesterol into good cholesterols.
A randomized crossover trial published in Evidence-based Complementary and Alternative Medicine found that daily consumption of two tablespoons of virgin coconut oil in young, healthy adults significantly increased HDL cholesterol. Plus, no major safety issues of taking virgin coconut oil daily for eight weeks were reported.
Another more recent study, published in 2020, had the same results and concluded that coconut oil consumption results in significantly higher HDL cholesterol than nontropical vegetable oils. By increasing the HDL in the body, it helps promote heart health and lower the risk of heart disease.
3. Treats UTI and Kidney Infection and Protects the Liver
Coconut oil has been known to clear up and improve UTI symptoms and kidney infections. The MCFAs in the oil work as a natural antibiotic by disrupting the lipid coating on bacteria and killing them.
Research also shows that coconut oil directly protects the liver from damage.
Coconut water also helps hydrate and support the healing process. Doctors have even injected coconut water to clear up kidney stones.
Coconut is a powerful superfood, which is evident given all of these tremendous coconut oil health benefits.
4. Reduces Inflammation and Arthritis
In an animal study in India, the high levels of antioxidants present in virgin coconut oil proved to reduce inflammation and improve arthritis symptoms more effectively than leading medications.
In another recent study, coconut oil that was harvested with only medium heat was found to suppress inflammatory cells. It worked as both an analgesic and anti-inflammatory.
5. Cancer Prevention and Treatment
Coconut oil has two qualities that help it fight cancer, including the ketones produced in the oil. Tumor cells are not able to access the energy in ketones and are glucose-dependent.
It's believed that a ketogenic diet could be a possible component of helping cancer patients recover.
The second quality is the medium-chained fatty acid content in coconut oil. As the MCFAs digest the lipid walls of bacteria, they also can kill the helicobacter pylori bacteria that is known to increase the risk of stomach cancer.
Plus, research shows that lauric acid found in coconut oil may have anticancer actions by triggering anti-proliferation and pro-apoptotic effects.
6. Immune System Boost (Antibacterial, Antifungal and Antiviral)
Coconut oil contains lauric acid (monolaurin), which has been shown to reduce candida, fight bacteria and create a hostile environment for viruses. Many diseases today are caused by the overgrowth of bad bacteria, fungi, viruses and parasites in the body.
A 2020 review indicates that it has antimicrobial activity and helps activate the anti-inflammatory nature of the immune response in the human body.
You can replace grains and sugar in your diet with coconut oil as your natural fuel source when you're sick. Sugar feeds the growth of bad bacteria.
Instead, take one tablespoon of coconut oil three times daily when sick, and consume plenty of vegetables and bone broth as well.
7. Supports Memory and Brain Function
In a 2004 study published in the Journal of Neurobiology of Aging, researchers found that the MCFAs in coconut oil improved the memory problems in older subjects.
Across all the patients there was a marked improvement in their recall ability after taking this fatty acid. The MCFAs are absorbed easily in the body and can be accessed in the brain without the use of insulin. Thus, they are able to fuel brain cells more efficiently.
8. Improves Energy and Endurance
Coconut oil is easy to digest. It also produces a longer sustained energy and increases your metabolism.
Studies indicate that when taking a quality unrefined coconut oil, you can get the most coconut oil benefits as its MCFAs are sent directly to the liver to be converted into energy.
Today, many triathletes use coconut oil as their source of fuel during training and races for long-distance events.
You can make a homemade energy fuel by mixing coconut oil, raw honey and chia seeds together. Simply put together one tablespoon of each, and consume 30 minutes prior to exercise.
9. Aids Digestion and Reduces Stomach Ulcers and Ulcerative Colitis
Coconut also improves digestion as it helps the body absorb fat-soluble vitamins, calcium and magnesium. If coconut oil is taken at the same time as omega-3 fatty acids, it can make them twice as effective, as they are readily available to be digested and used by the body.
Research suggests that coconut oil can help improve bacteria and gut health by destroying bad bacteria and candida. Candida imbalance, in particular, can decrease stomach acid, which causes inflammation and poor digestion.
All this together means coconut oil benefits digestive health and helps treat or prevent stomach ulcers and ulcerative colitis.
10. May Help Reduce Symptoms of Gallbladder Disease and Pancreatitis
An animal study published in the Journal of Animal Sciences shows that the MCFAs of coconut oil do not need the pancreatic enzymes to be broken down, so taking coconut oil eases the strain on the pancreas.
Additionally, this superfood is so easy to digest that it has been known to improve the symptoms of gallbladder disease as well. Replace other long-chain fats with coconut oil to improve gallbladder and total body health.
11. Can Improve Skin Issues (Burns, Eczema, Dandruff, Dermatitis and Psoriasis)
Coconut oil is wonderful as a face cleanser, moisturizer and sun screen, but it can also treat many skin disorders. The fatty acids (caprylic and lauric) in coconut oil reduce inflammation internally and externally and moisturize, making them a great solution for all types of skin conditions.
It protects the skin and has many antioxidants that make it ideal for healing the skin. In addition, the antimicrobial properties balance out the candida or fungal sources that can cause many skin conditions.
Read more How to Grow Quinoa Plants at Home
There's so much unrefined coconut oil can do for skin.
12. Helps Prevent Gum Disease and Tooth Decay
Oil pulling with coconut oil has been used for centuries as a way to cleanse the mouth of bacteria and help heal periodontal disease. Plus, research shows that in addition to offering several oral perks, oil pulling with coconut oil also has a beneficial effect on overall health.
Coconut oil is one of the most effective oils for oil pulling due to its high concentration of antibacterial MCFAs.
By swishing the oil in your mouth, it denatures the bacteria and sticks to it. Removing oral bacteria greatly reduces your risk of periodontal disease.
If you want to heal your gums and repair your teeth, try oil pulling three times a week for 20 minutes a day.
13. Support Bone Health
Oxidative stress and free radicals are the two biggest culprits of osteoporosis. Since coconut oil has such high levels of antioxidants, which help fight free radicals, it is a leading natural treatment for osteoporosis.
Coconut oil increases calcium absorption in the gut. Research on osteoporosis has found that coconut oil not only increases bone volume and structure in subjects, but also decreased bone loss due to osteoporosis.
14. Helps with Type II Diabetes
When cells refuse to respond to insulin and no longer take in glucose for energy, they're considered insulin-resistant. The pancreas then pumps out more insulin to compensate and creates an overproduction cycle.
Insulin resistance is the precursor to type II diabetes.
Studies suggest that the MCFAs in coconut oil help balance the insulin reactions in the cells and promote healthy digestive process. They take the strain off the pancreas and give the body a consistent energy source that is not dependent on glucose reactions, which can prevent insulin resistance and type II diabetes.
15. Coconut Oil for Weight loss
Because of the energy-creating abilities of coconut oil and the fact it's a no-carb oil, it is no wonder that it is beneficial for losing weight. It helps burn fat and calories, decrease appetite, and in studies it has been especially helpful in losing belly fat.
Coconut's ability to help you shed fat has been well-established. A 1985 study published in the Journal of Toxicology and Environmental Health found that a single injection of capric acid resulted in "initially rapid, then gradual decrease in food consumption and a parallel loss of body weight" in male rats.
It might seem counterintuitive to assume that eating coconut oil (a fat) will contribute to fat loss, but it is actually quite logical. The key to understanding this phenomenon lays in the multidimensional ability of the MCFAs to control a variety of physiological processes.
For example, in the 1985 study mentioned above, it was discovered that capric acid shows significant improvements in thyroid function, helps lower resting heart rate and assists your body in burning fat for energy.
More recently, the Obesity Research Journal published a study from Boston University Medical School that gives us a clue why MCFAs have fat-burning ability. Testing the effects that MFCAs have on fat breakdown, adipose (fatty) cells in rats were pretreated with caprylic acid. Researchers observed that fat breakdown occurred at such a significant level that it literally mimicked the characteristics of fasting.
Fasting, in this sense, is not to be regarded as negative, but positive in that the body uses its energy reserves most effectively and speeds up the breakdown of needless fat reserves. In the words of the researchers who conducted this study, "Such changes could contribute, in part, to weight loss in animals and humans associated with dietary medium-chain fatty acids."
16. Building Muscle and Losing Body Fat
Research suggests that MCFAs aren't just good for burning fat and decreasing metabolic syndrome — they are also great for building muscle. The MCFAs found in coconut are also used in popular muscle-building products like Muscle Milk™.
The vast majority of heavily produced supplements, however, use processed forms of MCFAs. By eating actual coconuts instead, you get the "real deal," so try adding two tablespoons of the oil to a muscle-building shake daily.
17. Coconut Oil Benefits for Hair Care
If you have dandruff or dry hair, coconut oil has the perfect fatty acids to help improve these conditions. In fact, there is so much coconut oil can do for hair.
You can make homemade coconut lavender shampoo to improve your hair and use straight coconut oil as an all-natural hair conditioner.
To get rid of dandruff and thicken hair, massage one tablespoon of coconut oil mixed with 10 drops of rosemary essential oil into your scalp for three minutes. Then shower 30 minutes later.
18. Candida and Yeast Infections
A study published in the journal Antimicrobial Agents and Chemotherapy found the capric acid and lauric acid in coconut oil made for an effective natural treatment for candida albicans and yeast infections.
To effectively kill candida and treat yeast infections, remove processed sugar and refined grains from your diet, and consume plenty of healthy fats. Take one tablespoon of coconut oil three times daily as a supplement.
19. Coconut Oil for Anti-Aging
Research published in the medical journal Food and Function found that coconut oil improves antioxidant levels and can slow aging. Coconut oil works by reducing stress on the liver and lowering oxidative stress.
Also, researchers found that coconut oil may support detoxification because of how it works with the liver.
To naturally slow aging, take one tablespoon of coconut oil with antioxidant-rich berries for breakfast. You can also apply it directly to skin for additional health benefits and smoothing.
20. Coconut Oil for Hormone Balance
The health benefits of coconut oil include hormone balance as well. Coconut oil may help naturally balance hormones because it's a great source of saturated fat, including lauric acid.
Studies have found that coconut oil may be an excellent fat to eat during menopause and also may have positives effects on estrogen levels.
In order to naturally balance hormones, reduce sugar and grain consumption, and load up on healthy fats from coconut, avocado, flaxseeds and ghee. You can also consume other coconut forms, such as coconut butter or coconut water.
Nutrition Facts
To understand its nutritional impact, it's important to understand the few types of coconut oil that are available on the market:
Virgin coconut oil: Virgin coconut oil is the least refined and most beneficial. It's made with copra, or dried coconut meat, that's removed from the shell and pressed to extract the natural oils. It typically has a great nutty and sweet flavor.
Within this category, you'll see oil that's been produced using a "wet-milling" method, which means that it's extracted from fresh coconut meat, and oil that's been produced with a dry method, as dried copra is used instead. Sometimes you'll see "extra-virgin coconut oil," but there really is not difference between virgin and extra-virgin when it comes to coconut oil, so either option is a great choice.
Refined coconut oil: Refined coconut oil has gone through a refining process that involves bleaching and deodorizing the oil. Unlike virgin coconut oil, refined oils don't have a noticeable coconut taste or aroma. They are not recommended because many of them are made with high temperatures and harsh chemicals, both of which can destroy the oil's beneficial antioxidants.
Those types differentiated, thousands of studies have been conducted to uncover the secrets of this amazing superfood: namely healthy fats called medium-chain fatty acids. These unique fats include:
Caprylic acid
Lauric acid
Capric acid
Around 62 percent of the oils in coconut are made up of these three healthy fatty acids, and 91 percent of the fat in coconut oil is healthy saturated fat. This fat composition makes it one of the most beneficial fats on the planet.
Most of the fats we consume take longer to digest, but MCFAs found in coconut oil provide the perfect source of energy because they only have to go through a three-step process to be turned into fuel, as opposed to other fats that have to go through a 26-step process!
Unlike long-chain fatty acids found in plant-based oils, MCFAs are:
Easier to digest
Not readily stored as fat
Antimicrobial and antifungal
Smaller in size, allowing easier cell permeability for immediate energy
Processed by the liver, which means that they're immediately converted to energy instead of being stored as fat
One tablespoon of coconut oil contains about 120 calories, 14 grams of fat, no fiber, no cholesterol and only trace amounts of vitamins and minerals.
All things considered, the MCFAs present in coconut copra make it a true superfood, and it's why coconut oil health benefits are so plentiful and amazing.
Related: MCT Oil Health Benefits, Dosage Recommendations and Recipes
Risks and Side Effects
There are rarely any side effects for coconut oil.
Research shows that, occasionally, a contact allergy may occur for certain individuals who are allergic to coconuts. Some of the cleaning products created by coconut oil have been known to cause contact allergies as well, but it is not common.
In fact, coconut oil is known for reducing side effects of many medications. For instance, studies show that it can reduce the symptoms and side effects of cancer treatments.
Keep in mind that refined or processed coconut oil can be bleached, overheated past the preferred melt point and chemically processed to increase its shelf life. Processing the oil changes the chemical makeup, and the fats are no longer good for you.
Avoid hydrogenated oils whenever possible, and choose extra virgin coconut oil instead.
Related: Is Peanut Oil Good or Bad for Health? Separating Fact vs. Fiction
How to Use
When purchasing coconut oil, choose an extra virgin coconut oil. This type offers the greatest coconut oil benefits.
Opt for virgin, wet-milled, unrefined, organic coconut oil to ensure you get pure coconut oil. Refined versions, like with other foods, are not as beneficial and lose key nutrients.
What can coconut oil be used for?
1. Cooking and Baking
Coconut oil can be used for cooking and baking, and it can be added to smoothies. It's my oil of choice, since unrefined, natural, organic coconut oil adds a nice coconut flavor but does not contain the harmful toxins other hydrogenated cooking oils often do.
Read more 15 Benefits of Yoga for When You Need to Calm Your Mind and Move Your Body
Plus, adding it to your food or smoothies helps boost energy quickly, and it's easier to digest than other types of oils. Some ways to use it in your food include:
Sautéing veggies and meats
Adding a creaminess to your coffee
Adding nutrients to your smoothie
Replacing unhealthy fats in baked goods
2. Skin and Hair Health
How do you apply coconut oil to your body? You can simply apply it topically directly to your skin or as a carrier oil for essential oils or blends.
Rubbing it into your skin right after you shower is especially beneficial. It works as a great moisturizer, and it has antimicrobial properties that boost skin and hair health.
Some ways to use it for your skin and hair include:
Using as a natural skin moisturizer
Fighting premature aging
Creating a natural wound salve
Making an antifungal cream
Making a natural hair conditioner
Treating dandruff
Detangling hair
3. Mouth and Teeth Health
It can be used for oil pulling, which is an Ayurvedic practice that works to detoxify the mouth, remove plaque and bacteria, and freshen breath. Swish one tablespoon of coconut oil in your mouth for 10–2o minutes, and then dump the oil into the trash.
4. DIY Natural Remedy Recipes
Coconut oil has antimicrobial properties, making it an excellent ingredient in DIY natural remedy recipes that are used to fight infections and boost immunity. Some recipes that can be made with coconut oil are:
lip balms
homemade toothpaste
natural deodorant
shaving cream
massage oil
5. Household Cleanser
Coconut oil works as a natural dust preventer, laundry detergent, furniture polish and homemade hand soap. It kills bacteria and fungus that may be growing in your house, and it keeps surfaces looking shiny too.
Related: Coconut Milk Nutrition: Beneficial Vegan Milk or High-Fat Trap?
Conclusion
Is consuming coconut oil good for you? The answer is yes. In appropriate amounts (about 2 tablespoons per day or less), its advantages are immense, and they don't stop with these 20.
It helps the body in so many ways, which is due, in large part, to the medium-chained fatty acid content. Not only that, but coconut oil for dogs has benefits as well!
MCFAs are easier to digest quickly used for energy, help boost cognitive health, work to improve HDL cholesterol levels and more.
You can use coconut oil in so many ways — from cooking and baking to adding it to smoothies and coffee, using it as an ingredient in DIY natural remedy recipes, and using it for oil pulling.
Remember to always opt for a pure, unrefined organic products.
---
— Update: 10-02-2023 — cohaitungchi.com found an additional article 9 incredible ways coconut oil can boost your health from the website www.themanual.com for the keyword benefits of coconut oil supplements.
Coconut oil can be used for a lot of things, from searing to frying and even putting on popcorn. It's also full of health benefits, which is an added bonus for something so tasty. You may be cooking with the stuff already, or using it to deal with some dandruff, but you may want to up your intake once you realize how powerful the stuff is.
So what are the benefits, aside from a smell and taste that whisks you away to the tropics? Well, it can help you lose weight and aid your fitness routine and even take on cholesterol issues. It can also be used in a variety of ways, making getting your daily dose of the stuff all the easier.
The majority of nutritional professionals agree that saturated fat is not particularly healthy and should be consumed in only limited diets. Most studies have routinely shown that diets high in saturated fat intake increase the risk of high cholesterol, atherosclerosis, heart disease, stroke. In fact, saturated fat and trans fats are actually more responsible for increasing levels of low-density lipoproteins (LDL) cholesterol, commonly referred to as "bad" cholesterol, than consuming foods high in cholesterol itself. That said, there seems to be an exception to the rule — coconut oil.
Coconut oil is extremely high in saturated fat, yet unlike animal sources of saturated fat, there is a rather expansive body of evidence demonstrating quite a few health benefits of this plant-based saturated fat. Accordingly, coconut oil has earned superfood status in many health and wellness circles and is used as both a nutritious and flavorful fat in both sweet and savory vegan and paleo dishes and consumed as is, right off the spoon, by many people looking to capitalize on its reported health benefits. Whether you follow a paleo, keto, vegan diet, or low-carb diet and have already jumped on the coconut oil bandwagon or want to understand why coconut oil is touted as a healthy elixir, keep reading for a list of the health benefits of coconut oil.
What is coconut oil?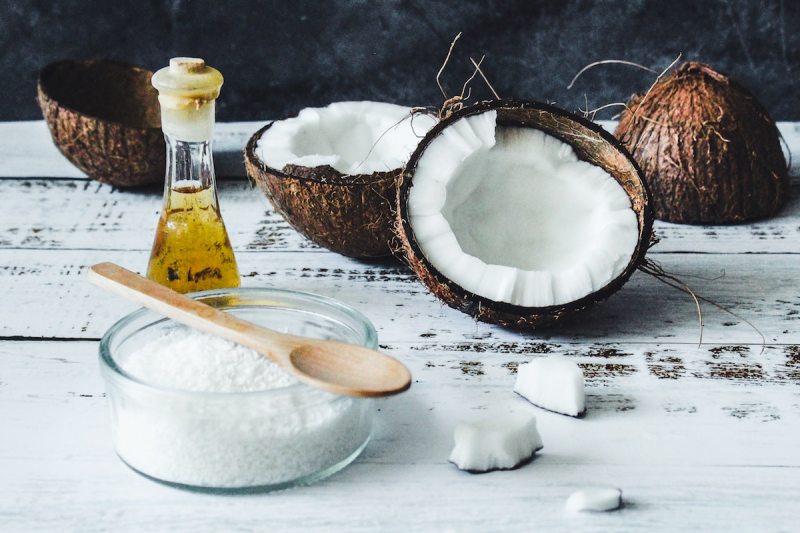 Coconut oil is a fat that is made by pressing coconut meat and concentrating the oils. Because coconut oil is 80% to 90% saturated fat, it is solid at room temperature but has a relatively low melting point. There are different types of saturated fats in coconut oil, but about 51% of the saturated fat is lauric acid, which is considered a medium-chain triglyceride because it has 12 carbons in the fatty acid chain.
Benefits of coconut oil
The health benefits of coconut oil are mainly attributed to the medium-chain triglycerides as well as some of the unique phytonutrients and antioxidant properties of coconut.
Coconut oil has antibacterial properties
Coconut oil can support your immune system and the beneficial bacteria in your gut and mouth by preferentially killing harmful pathogenic bacteria and fungi while preserving desired species. For example, the lauric acid in coconut oil has antimicrobial and antibacterial properties and has been shown to be effective against and among others.
Coconut oil may increase fat burning
Coconut oil is a rich source of medium-chain triglycerides, which have been shown to boost metabolic rate and help mobilize fatty acids to energy production. Studies investigating the effects of supplementing with medium-chain triglycerides have demonstrated that these saturated fats can enhance weight loss.
Coconut oil may support athletic performance
About 65% of the fat in coconut oil is comprised of medium-chain triglycerides. Unlike other fats, these fatty acids are digested and absorbed rapidly, providing a quick boost of energy. Studies have shown that medium-chain triglycerides are as effective at quickly fueling working muscles and supporting energy production as carbohydrates, which are generally considered to be the preferred fuel of working muscles.
Coconut oil may curb appetite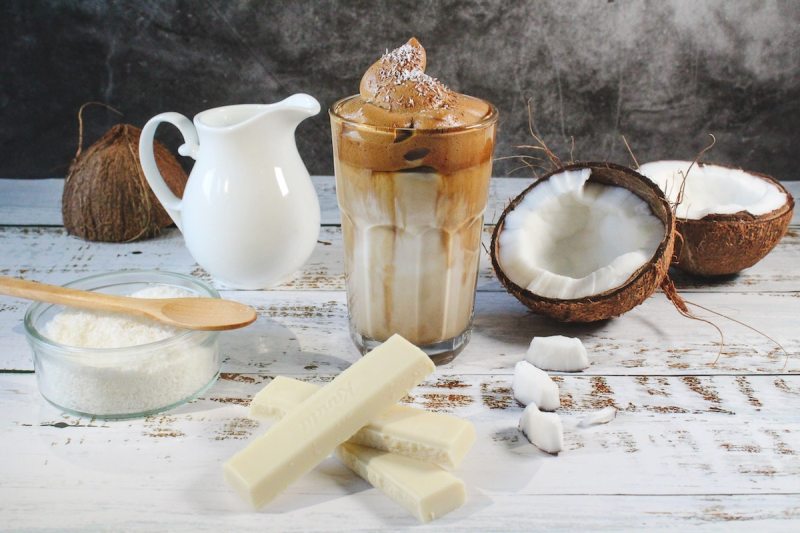 One of the reported benefits of the paleo diet and keto diet is that adherents report feeling less hungry. This appetite-modulating effect of high-fat, low-carb diets is attributed to the ketones produced when fats are metabolized in the absence of carbohydrates. Ketones seem to suppress some of the hormones involved in regulating hunger signals, so you may feel less hungry. Moreover, fats are filling because they contain nine calories per gram and take longer to break down than carbohydrates. As such, it's possible you may eat less if you start incorporating coconut oil into your diet, depending on your energy needs and overall diet composition.
Coconut oil can hydrate and nourish your skin
The fats, oils, and vitamin E in coconut oil help hydrate skin cells, preventing dry skin and nourishing cell membranes in skin cells to optimize the texture and appearance of skin and prevent dullness and sagging. Furthermore, research has demonstrated the effectiveness of coconut oil in combating inflammatory skin conditions like atopic dermatitis by supporting skin barrier function by preventing excess water loss and minimizing the irritating effect of allergens and infectious agents.
Coconut oil can strengthen your hair
If you are frustrated with split ends or thinning hair, here's another reason to consider coconut oil: Just as the fats and vitamin E in coconut oil can nourish your skin cells, so too do these nutrients support the health of your hair follicles and even hair strands. A study demonstrated that coconut oil is able to penetrate deep into hair strands—into the core—and make the hair more flexible and able to withstand tension without breaking.
Coconut oil can fight bad breath, plaque buildup, and gingivitis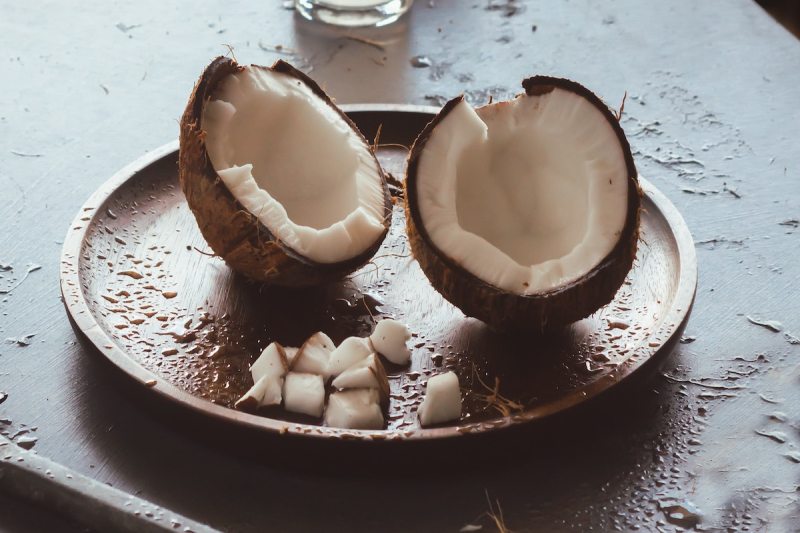 If you've heard of oil pulling, you're probably familiar with the oral hygienic effects of coconut oil. In much of the same way as a conventional antiseptic mouthwash cleans your mouth to kill disease- and plaque-forming bacteria, swishing with coconut oil (a process called oil pulling), has been found to reduce bad breath, kill pathogenic species, and support oral health and hygiene as effectively as antiseptic mouthwashes. Plus, the lauric acid in coconut oil can protect against plaque buildup, gum inflammation, and cavities.
Coconut oil supports brain health
The medium-chain triglycerides in coconut oil have been linked to reducing the symptoms of Alzheimer's disease, dementia, and other age-related declines in cognitive performance by providing the brain with an alternative fuel source to glucose in the form of ketones. Coconut oil has even been shown to reduce the incidence of seizures in those with epilepsy.
Coconut oil may reduce cellular damage and the risk of disease
Coconut is high in antioxidants such as tocopherols, tocotrienols, flavonoids, and polyphenols. Antioxidants are natural plant-based compounds that confer health benefits in the body by neutralizing harmful free radicals. Free radicals cause oxidative damage in the body, potentially altering DNA and turning on or off genes, and can cause premature cell death, cellular aging, inflammation, and cancer. Diets high in antioxidants can protect against this adverse cellular damage and the risk of certain inflammatory diseases and cancer.
Have a new respect for coconut oil? Us too. Not only can it be used in a variety of tasty formats and recipes, it does tremendous things for your body and overall health. Be sure to keep some on hand in the pantry throughout 2023.
Editors' Recommendations
Make these 5 easy appetizer dips for your Super Bowl party
Improve your skin and eyes with these delicious foods high in vitamin A
Did you know these popular foods are high in saturated fat?
9 important health benefits of magnesium you need to know about
8 incredible reasons you should be drinking green tea
References