What is the Cosmic Ashtray?
Also known as The Volcano, Islomania Dome, the Cosmic Navel, or Red Breaks, The Cosmic Ashtray is a unique geological formation near Escalante, Utah.

The Cosmic Ashtray is huge dome with a large island in the middle of it, surrounded by what looks like orange water (and might be, after a rain,) but is actually bright orange sand.

It's much bigger than it looks in photos: you really have to see to believe!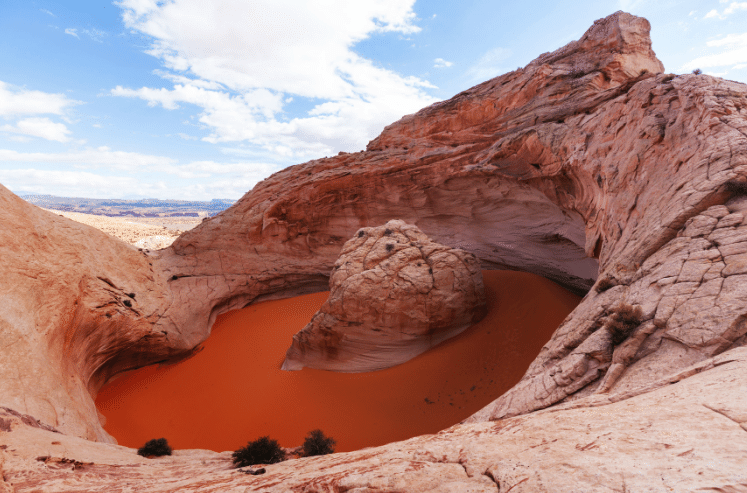 Driving Directions to the Cosmic Ashtray
To reach the Cosmic Ashtray, start at Escalante, Utah. (Grab a slice of pizza for the road at Escalante Outfitters and thank me later!)

From Escalante, travel 10 miles down Hole-in-the-rock Road, then turn east onto Harris Wash Road. The road crosses Harris Wash after about seven miles, which may be impassable if it's recently rained.

Here, you'll find a dirt pullout with a trail register and a sign saying "Authorized Vehicles Only Beyond This Point."

From the unmarked trailhead, you'll hike about four miles across the desert to the Cosmic Ashtray.
Hiking to the Cosmic Ashtray: GPS Coordinates and Maps
Before I give you the coordinates for the Cosmic Ashtray, please read the following VERY IMPORTANT SAFETY TIPS:

• The Cosmic Ashtray is in the literal middle of nowhere. If you get hurt or stranded and need help, help may be several hours to several days away.
Read more Mount Rainier 3 Day Muir Climb
• The road is best navigated in a 4×4 or AWD vehicle, the higher clearance the better.
• No matter what kind of vehicle you have, make sure to bring at least 2 days of food and water and plenty of warm clothing in case you unexpectedly need to spend the night.
• I highly recommend bringing a satellite messenger, like a Garmin InReach, to call for help if needed. You will not have any cell service near the Cosmic Ashtray.
• I do not recommend hiking this trail in the summer, when temperatures can pass 100ºF. Try to hike in the spring or autumn, and always bring plenty of water.
If you've read all the safety warnings, here are the coordinates for the Cosmic Ashtray itself: 37.682978, -111.315898.

Please use the coordinates in combination with at least two different downloaded maps: don't expect Google to get you there.

It's very easy to get lost in the slickrock desert, even with coordinates, when there are few landmarks to guide you and every direction looks the same.
You can find a few people's recorded routes to the Ashtray via AllTrails and GaiaGPS. I recommend downloading more than one route to your phone or handheld GPS, as recorded paths aren't always 100% accurate.

The trail is 8.3 miles roundtrip, but leave yourself extra time to get there in case you get disoriented or lost. Even with the GPS coordinates, it can take some time to locate the Cosmic Ashtray in the great expanse of the Utah desert.

Pack enough food and water to last all day, just in case.

Read more How to Visit Cosmic Ashtray: An Otherworldly Utah Adventure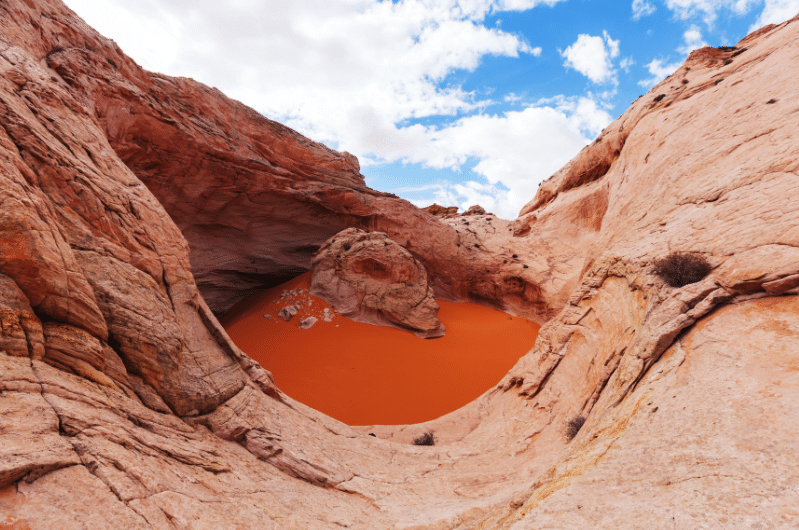 Leave No Trace: Visiting the Cosmic Ashtray Safely and Responsibly
The Cosmic Ashtray is literally in the middle of nowhere, with no established trail. If you choose to visit, please be sure to Leave No Trace.

In the desert, Leave No Trace means packing out your poop!

Yes, really. There are no toilets at the trailhead or anywhere within many miles of the Cosmic Ashtray.

In a desert environment, unlike a forest, burying your poop doesn't work because there aren't enough micro-organisms in the thin soil to help it decompose.

If you visit the Cosmic Ashtray, be sure to bring doggy poop bags or a designated "Wag bag" with you in case nature calls.
Camping near the Cosmic Ashtray
The Cosmic Ashtray is surrounded by public BLM land, which means you can pull off the road and camp almost anywhere.

You can even camp overnight at the "trailhead" where the trail register is, if you want to get an early start or are planning to return at sunset.

Just remember to Leave No Trace, which means using existing campsites, not disturbing plant life or fragile cryptobiotic soil, and packing out ALL of your trash including human poop.
Tips for photographing the Cosmic Ashtray
The shape of the dome makes it hard to get a well-lit photo of the Cosmic Ashtray on a sunny day, since part of the "navel" will always be in shadow. Golden hour is the best time, or you can hike on a more overcast day.

(However, I don't recommend hiking if there's rain in the forecast, as the road can become impassable.)
Read more 7 Heavenly Hikes around Crested Butte
Things to do near the Cosmic Ashtray and Escalante, Utah
While you're in the area, don't miss Lower Calf Creek Falls, also near Escalante, Utah. (And make sure to grab that slice of pizza at Escalante Outfitters.)

Utah is also home to five gorgeous National Parks worth visiting: Arches, Bryce Canyon, Canyonlands, Capitol Reef, and Zion.
You could spend several weeks road tripping around Utah and still not see everything, but the "Mighty Five" National Parks are a great place to start!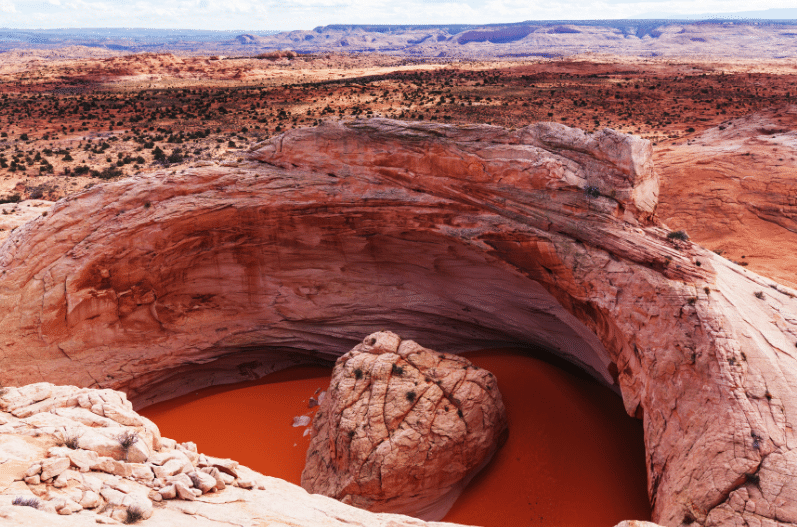 Questions about visiting the Cosmic Ashtray near Escalante? Let me know below!
References