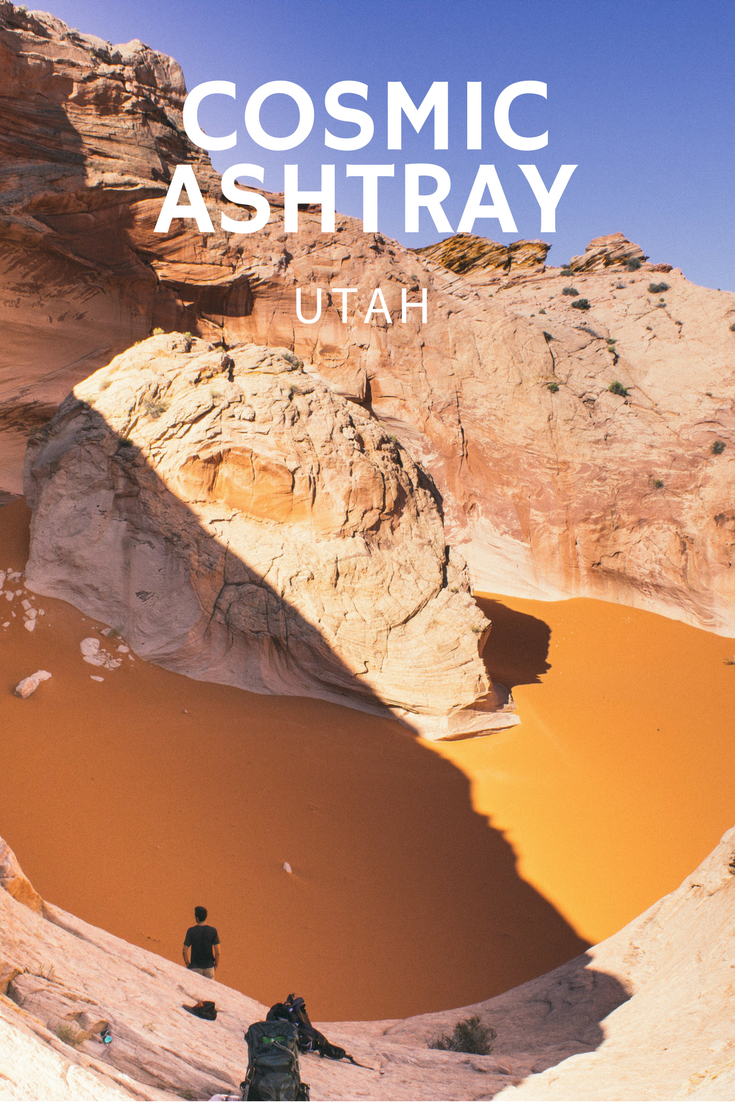 The Cosmic Ashtray is a geologic wonder in Southern Utah. This formation was carved out through years of friction between wind and sand. There are even some traces of Native American tribes as you approach it. The hike itself can be tough – it requires navigational skills and plenty of patience. It is said that 9 out of 10 people who set out never even find it.
Hike Distance: 8.5 miles
Elevation Gain: ~800 feet
Terrain Rating: Moderate
Hike Time: 4-5 hours
Preparation
It is worth mentioning that I debated whether or not to put this online, but the fact is if I found this on Google, there is already information out there. What is scary is that the information doesn't necessarily warn novice hikers of the dangers of this hike. So let me be clear – this hike has no official trail which makes it tough to navigate. There is little to no shade and the summers are HOT. My cell phone didn't work out here. Please use good judgement and assess your own skill & risk before attempting this hike.
There are different routes to get to the Ashtray. One popular one found online is via Red Breaks making a loop the Ashtray. We decided not to combine the two and instead approached it from the north on Old Sheffield Road. 
First we spent hours looking at Google Earth to get an idea of where the ashtray is. We then clicked our way through waypoints that we thought would make a manageable hike and plugged it into our Garmin 64st. Even with a GPS, we made sure we looked at landmarks and had a compass with us in case our GPS failed. There are search and rescue teams out in Escalante every week, and we didn't want to be one of those stories!
Read more How to Visit Cosmic Ashtray: An Otherworldly Utah Adventure
Reach out to me (leave a comment or contact me via Instagram) if you are interested in the GPX files.
Important GPS coordinates:
Old Sheffield Parking: N37° 42.617′ W111° 21.450′
Going through the two mesa breakoffs: N37° 42.134′ W111° 20.356′
Cosmic Ashtray: N37° 40.978′ W111° 18.948′
The Hike
The hike itself was relatively straight forward, except it was a blistering 100 degrees by noon. It's around 8 to 8.5 miles depending on how you carve your way through the landscape. Because of this, we started at sunrise and drove out to Old Sheffield Road. We had a 2WD and were fine with driving to the end of the road. You'll reach an obvious parking lot because there is a brown post that says "No Vehicles."
Once parked, continue on foot down Old Sheffield Road and make your way down towards the mesa to your right (south-east). Looking at the mesa, you can see there is a portion on the very left (east) that looks like it broke off thousands of years ago. That crack is where you want to walk between. It makes your life a lot easier than going up and down the mesa. 
Once you make it through, you're going to continue through relatively flat sandstone and sand curving slightly to your right (making your way south-east). From there, it's another 1.5 miles to find the cosmic ashtray! This is where many people fail to find it. The ashtray is incredibly hidden. You almost have to turn a full corner to find it, and it's easy to see how people miss it. This is where you'll want to have a GPS to help you out. We really enjoyed spending time at this geologic wonder. I bet it looks even cooler up above on a plane!
Read more Huayna Picchu Tickets 2022 & 2023
Packing List
Looots of water. In the summer you could be drinking up to 4-5L. (I like MSR Dromlite)
Emergency gear
Protein bars. I love Level Foods. Read more of my review here.
I receive commissions from purchases but that does not change my opinion on any of the gear linked here.
Enjoy the Ashtray and remember to keep it wild. Pack It In, Pack It Out. & please no graffiti!
References