---
If you can't have caffeine or have decided to give up coffee, your morning mug routine doesn't have to be sad! Dandy Blend is a healthy herbal alternative to coffee! Made from roasted dandelion root, it offers health benefits and a taste remarkably similar to coffee. It made my switch to no-coffee mornings so much easier (and I don't miss my coffee)!
---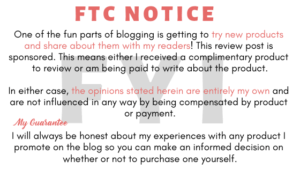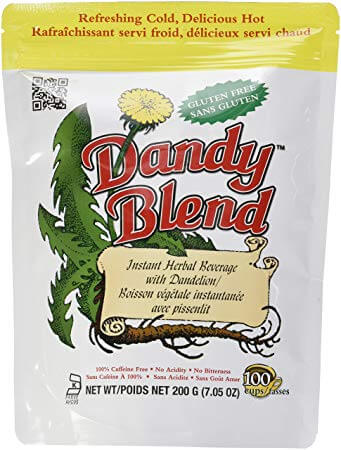 I first discovered Dandy Blend about a year before starting Trim Healthy Mama. I've updated this review with suggestions suitable for THMs and will be creating some delicious THM-friendly recipes with Dandy Blend soon!
My Dandy Blend Story.
For our first Sukkot ever we camped one night with some friends from our new fellowship. Since it was "just one night" I thought a few blankets and pillows would be fine.
Never considered how hard the ground is, or that there might be rocks under our tent. I'd recently quit drinking coffee too, so Dandy Blend was a lifesaver the morning after sleeping in the tent. On very hard ground. With rocks.
Did I say sleeping? I wouldn't actually call it sleep when I felt like I woke up as soon as I fell asleep, over and over all night!
As a result, I felt absolutely awful the next morning. And I wanted coffee…in the worst way. This created a problem, since I had quit drinking coffee not long before and replaced my morning pick-me-up with tea. There was no way tea was going to work that morning. Pfft.
I stumbled down to the "mess hall" and saw a bag of Dandy Blend on the table. Curious, I picked it up and looked at it. "Instant Herbal Beverage with Dandelion." Interesting.
Gluten free. Awesome.
Caffeine free. Not necessarily an issue for me at that time, unless I want to drink coffee before bed.
Read more Ginseng Benefits: Less Stress & Better Brain Function
No acidity and no bitterness. Sounds great! But, how would it taste?
The back of the bag claims a "rich, smooth full-bodied coffee flavor" which is exactly how I like my coffee.  The ingredients listed were extracts of roasted barley, rye, chicory root, dandelion root and sugar beet. Wait a minute…barley and rye AND it's gluten free? I was skeptical, but desperate for coffee so I decided to take my chances.
Soothing Relief In My Mug!
That first sip ow warm, dark goodness tasted remarkably like coffee. There is also a very subtle, different kind of underlying taste that is hard to describe. I suppose it's "roasted root" flavor.
However, overall it tastes enough like coffee to satisfy even me. I'm even a former barista with very particular taste buds and lover of all things espresso.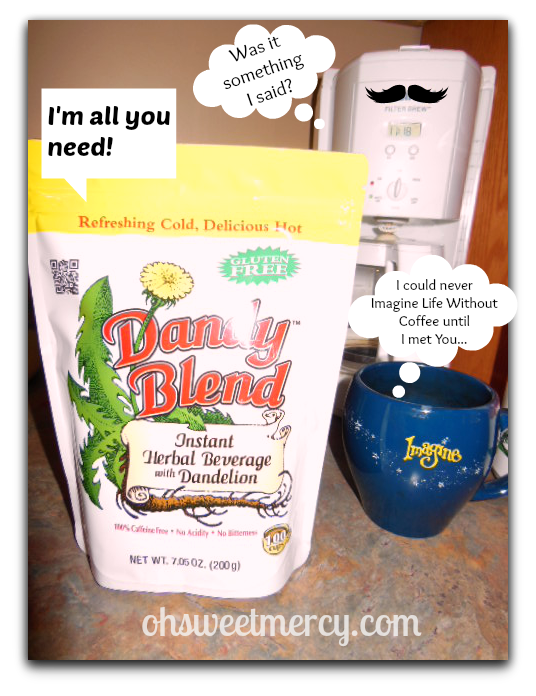 Update: I went back to drinking coffee for several years but have recently (as of February 2019) given up caffeine entirely. Dandy Blend has once again been a morning lifesaver. I love tea, but it's just not the same as coffee in the morning! To learn more about my decision to give up caffeine, read this great post from Traditional Cooking School – Is Coffee Good For You? + The Truth About Caffeine.
How To Make A Good Cup Of Dandy Blend.
Since there are varying ways to make it your tastes come in to play. One level teaspoon in  8 ounces of hot water results in a very "tea" like beverage. A heaping teaspoon makes more of a coffee-like beverage. And one tablespoon yields something more along the lines of espresso (depending on the size of your cup of course). 
I wanted to experiment with the differing strengths, and the recipes on the bag intrigued me, such as Dandy Cafe Lattes and Dominic's Dandy Coffee Ice Cream.
The Dandy Blend company sent me a very generous sample to try and I've really enjoyed getting to know "the many faces of Dandy Blend." This is also the title of the little cookbook that came with it.
I'm an espresso kind of gal myself, so I put a big ole spoonful in and sometimes a bit more. Then I add what I normally would to coffee, a little raw cream and some sucanat (now I use pure stevia extract). I also decided to get creative and see what else I can do with Dandy Blend. Here's what I've enjoyed:
Read more Drinking Rain Water Health Advantages & Disadvantages by Nancy Hearn, CNC
Dandy Iced Pumpkin Latte (Not THM Friendly)
Super simple! Mix together:
 1.5 cups of raw milk
 2 tablespoons of Dandy Blend
 3 tablespoons of Pumpkin Puree
 a splash of pure vanilla extract
 sweeten to taste as desired
So delicious! Mister loved it and I love that I can give him "coffee." He always asks for "Dandy Coffee" now. Update…at 11 years old, he now enjoys regular coffee now and then but actually prefers Dandy Blend!
THM-ify it! 
While raw milk is a healthy alternative to store bought pasteurized milk, it's not conducive to weight loss on the Trim Healthy Mama Plan. You can easily make a Dandy Iced Pumpkin Latte THM style by making 2 simple changes (I've put a recipe card below for the THM version):
Use an on-plan non-dairy milk such as unsweetened almond or cashew milk
Try THM Pure Stevia Extract or Gentle Sweet to sweeten instead of sucanat
My Version Of Dominic's Dandy Coffee Ice Cream (Not THM)
Ice cream is my weakness, and one of the few "junky" foods I buy with any regularity. I just can't help myself. It's terrible, I know. I had wanted to try this Dandy Coffee Ice Cream so with the last bit of some "turtle tracks" ice cream (which was mostly vanilla), I stirred in some Dandy Blend.
I was really surprised at just how much it tasted like coffee ice cream! That subtle flavor I notice in my morning cuppa Dandy Blend is not there at all. It just tastes like coffee. Amazing! Love. Love. Love. Although, bad for my ice cream addiction. 
However, now that I am a Trim Healthy Mama with an ice cream maker, I plan on making some java-inspired ice creams this summer! Keep checking back (or checking your email if you're on my email list) to see what I create.
Baking With Dandy Blend.
In our homeschool we've been focusing on letters and decided on Baking Brownies for B Week. Since I love putting coffee in my brownie batter, I used Dandy Blend instead.
Read more Why You Should Start Drinking This Coffee Alternative Today
Suffice it to say, they were simply amazing. Be sure to stop back and check it out, especially if you love brownies and coffee!You can vie w and print my Gluten Free Dandy Brownies recipe here.
THMs keep an eye out for a plan-friendly version coming soon!
The Verdict Is In!
I'm hooked! Dandy Blend is a terrific coffee substitute. It's also very healthy! Dandelion root is great for your liver and to support your body's natural detox processes.
According to their site, Dandy Blend  contains over 50 trace minerals in each cup, most of which the body uses to help synthesize compounds needed in metabolism. And, their FAQ page answers many questions, like how can it be gluten free if there's rye and barley extracts in it? It's a kind of complicated process, so if you're really curious check it out!
Dandy Blend is also safe for pregnant and nursing women and children of all ages. It also does not cause any side effects. 
Some people report an increase in energy, but not like you'd have with coffee. I have not noticed a remarkable increase in energy myself, but then I typically only drink one cup a day (same as my previous coffee habit). I love that I can drink it before bed though, sometimes a cup of "coffee" just sounds good. Real coffee would keep me up for hours.
Also, compared to some other delicious herbal coffee alternatives, I feel that Dandy Blend is much more economical. That's an important factor for me.
Where To Buy Dandy Blend (Or Get A Sample).
I'm super blessed that some local health food stores around me keep it stocked. However, you can order on their site or on Amazon with Prime shipping.
If you're curious about Dandy Blend but not sure you'll like it they have very affordable samples available with free shipping! Just visit their page here to order your samples. Two single serving sample packets of Dandy Blend for $1.00. Four sample packs maximum per/customer per request ($2.00 max). 
Will You Try Dandy Blend?