Acadia National Park is one of America's most popular national parks. Once you drive onto Mt Desert Island, it's not hard to see why. Rugged coastline, colorful flora, and scenic lakes make up this 49,000 acre park. It's only natural that you'll want to get outside as much as possible during your time in Acadia. When researching things to do in Acadia National Park, you quickly notice there are not too many indoor activities listed! With an abundance of Acadia National Park hiking trails to choose from, you might have a hard time deciding which one to hit first! Allow us to help!
We had a full week to explore the park during our fall visit. The weather was pretty nice for most of the week, so we were able to squeeze in several of the best hikes in Acadia National Park. At the time of our visit, our son had just turned 1 year the month before. As such, we had to stick to Acadia hikes that were not too strenuous (for when we had our baby carrying backpack) or that were stroller friendly when our backs needed a break!
So, for the sake of this post, we'll be highlighting relatively easy Acadia National Park hikes. Many are deemed as family-friendly hikes, which is great if you're traveling to Acadia with your little ones. Even if you don't have kids and are simply looking for a leisurely stroll with outstanding views, we've got you covered! We'll also throw in two strenuous Acadia trails at the end of the post, that we weren't able to do ourselves, in case you're feeling up for more of a challenge!
Getting to the Acadia Trails

Acadia Parking
Seeing as Acadia is one of the most popular national parks in the US, no doubt parking can be a little problematic,  especially during July and August, the park's busiest two months. We actually found parking to be quite limited during our October visit. We were among the many 'leaf-peepers' who flocked to New England hoping for a glimpse of the vibrant fall foliage! On several occasions, we had to wait for a parking spot to become available at Acadia's most popular natural attractions, like Cadillac Mountain and Jordan Pond. In fact, as we were leaving Cadillac Mountain, park rangers had to close the road to the summit. The parking area had reached capacity and there was still a long line of cars waiting to reach the summit.
So, how can you avoid these parking headaches? For starters, try to avoid the park's busiest months (July, August, and October during peak foliage). Consider a late-May, early-June, or early-September visit to Acadia for favorable weather and fewer crowds. Though be aware, there are typically biting bugs mid-May through mid-June, so don't forget to pack your bug spray! Another way to avoid the Acadia parking woes is to take advantage of the FREE shuttle service that runs during the park's popular tourist season.
Acadia Shuttle Bus Service
If you'd rather someone else do the driving or you simply don't want to deal with Acadia's often crowded parking areas, take advantage of the FREE Island Explorer Shuttle Bus. Please note, the shuttle only runs in the busy summer months (late June through mid-October/Columbus Day). Park Loop Drive is a 27-mile route that takes visitors to several of Acadia National Park's most popular attractions and destinations.
Fortunately, Park Loop Drive is one of 10 routes of the Island Explorer shuttle service. Stops along Park Loop Drive include the Visitor Center, North Ridge, Sieur de Monts Spring, Sand Beach, Thunder Hole, Wildwood Stables, Jordan Pond, and Bubble Pond. It's important to note that some portions of Park Loop Drive are one-way and the shuttle only travels in one direction along this particular route.
You might be thinking, Ok, wait… I thought this post was about Acadia National Park hiking?! Don't worry, we're getting there! We wanted to make mention that many of the Acadia hikes we're about to highlight can be reached from Park Loop Road. Furthermore, we wanted to note that Park Loop Road is one of 10 routes of the Island Explorer Shuttle Bus. So, if you're visiting during the summer months, feel free to utilize the Acadia National Park shuttle service to get to and between hikes on Mt Desert Island. For detailed shuttle information, including all 10 routes and timetables, click HERE.  And now, without further adieu, now let's get into details about the best Acadia trails in the park!
Read more 15 Hikes in Shenandoah National Park You'll Want to Add to Your Bucket List
Best Hikes in Acadia National Park
Ocean Path
The Ocean Path trail is a great way to see the most beautiful segment of Park Loop Road by foot! Start at the south end of the upper parking area for Sand Beach. The mostly flat trail meanders 2.2 miles along the rugged Atlantic coast leading all the way to Otter Point. Because the elevation gain is less than 20 feet, it's a great family-friendly hike. Dogs are permitted on the Ocean Path trail, but must be kept on a leash.
At about the half-way point, you'll come to Thunder Hole. When waves crash into this naturally carved rock inlet it creates a thunderous roar, hence the name! Though if you visit on a day when the seas are calm, like we did, you may wonder what all the hype is about! If you do luck out and get to see Thunder Hole in action from the designated viewing area, be warned… you may get wet! Waves crashing into the inlet have been known to shoot water up to 40 feet in the air!
Want to add a little challenge to this easy Acadia hike? About halfway between Thunder Hole and Otter Point is the trailhead for Gorham Mountain Trail. (You'll see a small parking area on the opposite side of the Park Loop Drive.) This 1.6 mile out and back trail takes you up another 400+ feet for spectacular panoramic views up and down the coast. Otter Cliff is located at the southern most end of the Ocean Path trail. Keep an eye out for rock climbers and repellers on the cliff front.
Just before you reach Otter Cliff is Monument Cove on the left where you can take a brief side trail to yet another spectacular viewpoint. Once you've reached Otter Point, head on back to the Sand Beach parking lot to complete the close to 4.5-mile hike. If you took the shuttle bus to the start of the trail, you can get back on the bus either at Thunder Hole or Sand Beach to continue your day in Acadia National Park!
Ocean Path Trail Summary:
Distance: 4.5 Miles RT (out and back) | Elevation Gain: 17 ft
Trailhead Location: Upper Lot at Sand Beach
Island Explorer Shuttle Stop: Park Loop Road Route | Sand Beach Stop
Great Head Trail
Great Head Trail can also be reached from the Sand Beach parking area (specifically, the lower lot). We had all intentions of doing this easy Acadia hike, but having to cross a silly little stream unfortunately stopped us from doing so. (We simply didn't want to risk slipping with our infant in our backpack carrier and we didn't have waterproof shoes with us.) Depending on the tide at the time you choose to hike Great Head Trail, you may or may not have to forge this small stream leading out to the Atlantic.
Once you've made it to the official trailhead, you'll begin the hike by climbing a fairly steep set of granite steps. Follow the blue trail markers to ensure you navigate the stairs correctly. Take a right at the top of the steps to a ledge that will provide sweeping views of Sand Beach below and The Beehive in the distance. Continue on the trail as you traverse the headland, enjoying the dramatic coastal views.
The highest point on the trail is 145 feet above sea level which you'll reach with a gradual ascent. The total elevation gain for the trail is 245 feet, so not too strenuous! Before the trail turns away from the shore and into the forest, you'll see the remains of a tea house from 1915. At this point, you have two options: At the wooden trail marker, turn left for a shorter loop (1.3 miles) back to Sand Beach or continue straight for a longer route (1.9 miles).
Great Head Trail Summary:
Distance: 1.3-1.9 miles (loop) | Elevation Gain: 265-301 ft
Trailhead Location: Lower Lot at Sand Beach
Island Explorer Shuttle Stop: Park Loop Road Route | Sand Beach Stop
Wonderland Trail
The Wonderland Trail was our first introduction to Acadia National Park hiking and we were instantly hooked! This is the perfect trail for families with children, as it not too long (1.4 miles), easy terrain, and there are tidepools to explore! The Wonderland Trail trailhead is located about 5 miles south of the town of Southwest Harbor on the "quiet side of Acadia". Walk 0.6 miles through a calming forest to the rocky coastline at the peak of the trail. You'll see the point of land that makes up the Ship Harbor Trail (which we'll talk about next) to the right. Look left to see various islands off the coast, including Swans Island, Placenta Island, Great Gott Island, and Great Cranberry Island.
Read more CANYON TRAIL TO WAIPO'O FALLS (PU'U HINAHINA)
The highlight of the Wonderland Trail is definitely the tidepools at the end of the trail! Be sure to visit at low tide (check the tide chart HERE). Low tide provide you with the opportunity to peek into these shallow pools of water teeming with life. While we didn't see as much sea-life as we did during our visit to Rialto Beach on the Olympic Peninsula in Washington State, it was still a fascinating ecological experience! When visiting the tidepools, it's important to keep a few things in mind. The rocks and algae can be slippery, so please watch your step. Do not step in or sit in the tidepools and do not remove any sea creatures from the tidepools. Once you've gotten your fill of the intertidal zone, head on back to the trailhead.
Wonderland Trail Summary:
Distance: 1.4 miles (out and back) | Elevation Gain: 78 ft
Trailhead Location: Route 102A (1 mile south of the Seawall Campground)
Island Explorer Shuttle Stop: Southwest Harbor Route | Seawall Campground or Bass Harbor Campground Stop (You will need to walk a mile (each way) to get to/from the trailhead from either bus stop)
Ship Harbor Nature Trail
Just 1/3 mile south of the Wonderland Trailhead is the Ship Harbor Nature Trailhead. Because they're so close to one another and both short and easy hikes in Acadia National Park, you could combine the two for a wonderful morning or afternoon of hiking. (The total distance (including both trails and the distance between) would equal an easy 3 miles.) Without a doubt, we can say that Ship Harbor Nature Trail is one of the best hikes in Acadia National Park and it should not be missed! The trail itself is very diverse with ever changing scenery.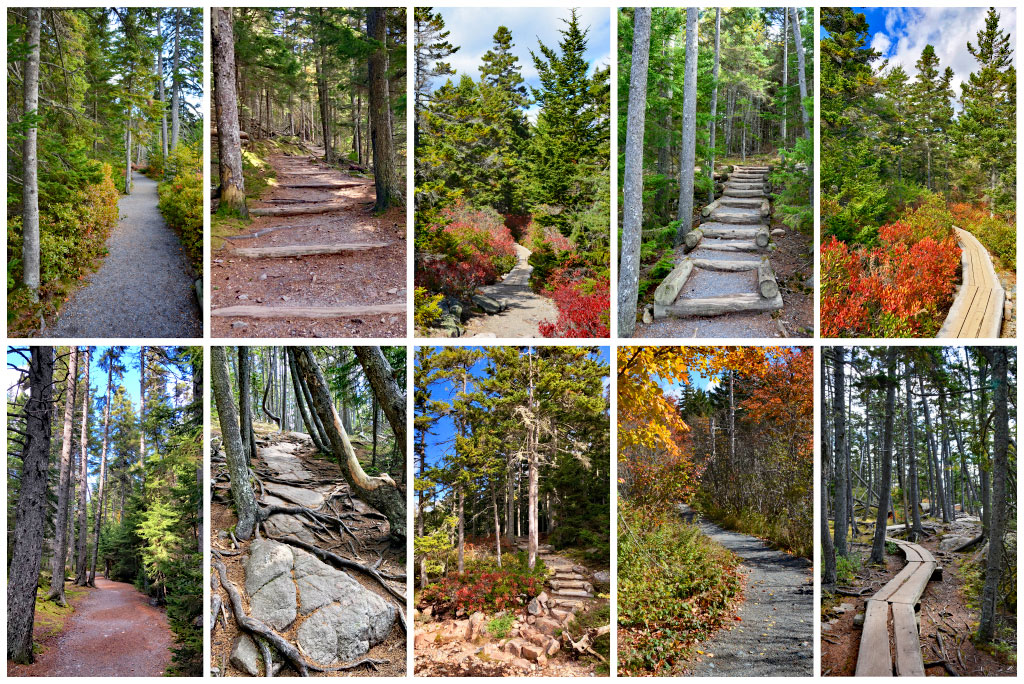 Like the Wonderland Trail, the Ship Harbor Nature Trail navigates a spit of land leading to a rocky area complete with tidepools at the point's peak. In June, September, and October you can partake in the ranger-led program Life Between the Tides at Ship Harbor. Check the Schedule of Events for specific times. Fun Fact: Ship Harbor get its from the tale of smugglers who would sail into the protected cove at high water and tie trees to their topmasts to hide from the English revenuers.
Ship Harbor Nature Trail Summary:
Distance: 1.3 miles (loop) | Elevation Gain: 65 ft
Trailhead Location: Route 102A (<1 mile north of the bass harbor campground)
Island Explorer Shuttle Stop: Southwest Harbor Route | Bass Harbor Campground Stop (You will need to walk just under a mile (each way) to get to/from the trailhead from the campground bus stop)
Jordan Pond
The Jordan Pond Loop Trail is one of the most popular Acadia National Park hikes. Because it is such a popular hike in Acadia, we had to wait for a parking spot to open up. The parking lot is also shared by those visiting the famous Jordan Pond House restaurant, the only full-service restaurant located within the national park. (Though there is a separate parking lot for people just visiting the restaurant.)
Jordan Pond House has been serving its famous popovers with jam and tea since the 1890s. The new building, built in 1982, replaced the original building which was destroyed by a fire in 1979. Tea on the lawn has been a summer tradition since Nellie McIntire began the custom in the late 1800s.
The surrounding area is simply gorgeous. Jordan Pond was formed by glaciers and its waters are about as clear as it gets! The pond is surrounded by beautiful mountains – Pemetic Mountain to the east and Penobscot Mountain to the west. In addition, The Bubbles, a pair of rounded mountains, lie to the north. 
Jordan Pond Trail was the most crowded of all the hikes we did in Acadia. Despite this, we would still highly recommend you take a nice stroll around the pond. The entire path around the pond is 3.4 miles. Though we only chose to do a portion of the trail on the North Shore. A narrow boardwalk winds through the forest on the shoreline of the pond. Since hikers travel on the path in both directions, you may occasionally have to step aside to let oncoming traffic pass. The trail is mostly flat but because of the narrowness of the path you'll want to wear sturdy footwear and watch your step!
Read more Browning Knob and a Plane Crash Site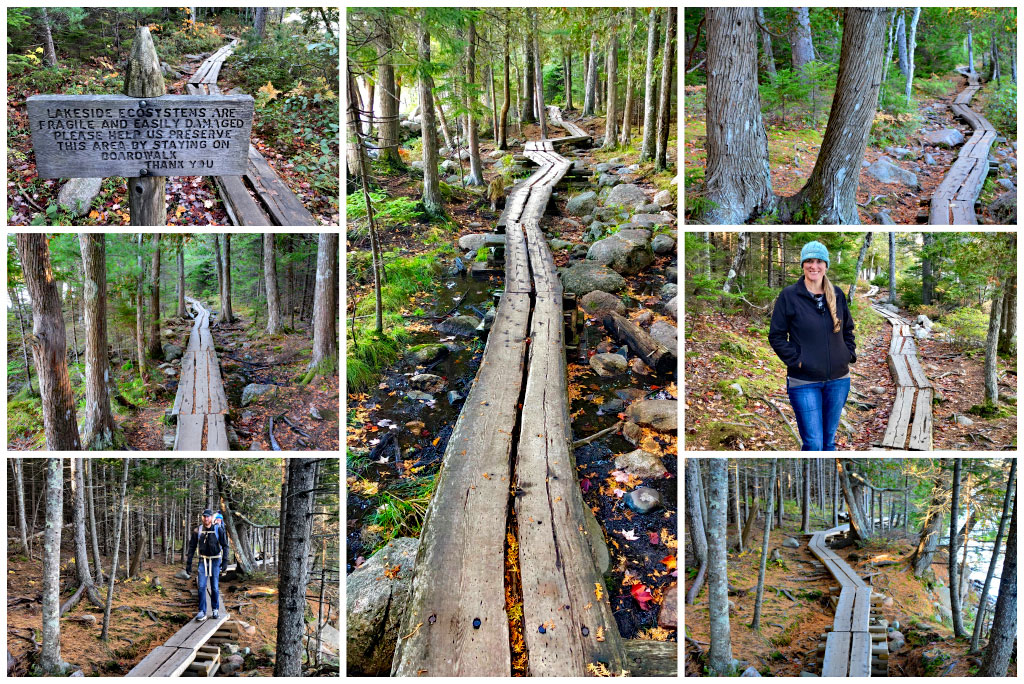 Jordan Pond Trail Summary:
Distance: 3.4 miles (loop) | Elevation Gain: 95 ft
Trailhead Location: Western Side of Park Loop Road
Island Explorer Shuttle Stop: Park Loop Road Route – Jordan Pond Stop OR Jordon Pond Route – Jordan Pond Stop
Carriage Roads
Looking for a completely (wheelchair) accessible or stroller-friendly hike in Acadia? You will definitely want to check out the 45 miles of carriage roads that meander throughout the mountains and valleys of the park. These 16-foot wide car-free roads are the gift of philanthropist John D. Rockefeller Jr. and family. Construction of the roads (and its 17 stone bridges) took place between 1913 and 1940 and thousands upon thousands of visitors to Acadia have been enjoying these roads ever since. Since the roads were originally built for horse-drawn carriages, they were carefully graded so they were not too steep or too sharply curved. As such, the roads are perfect for a leisurely stroll, bike ride, or horse-back ride. 
Please note that bikes are prohibited on privately owned carriage roads. Also, there are some limitations for horses on certain segments. Particularly, horses are prohibited on the Witch Hole Pond & Paradise Hill Loops. They are also prohibited on the Eagle Lake Loop, except between intersections 7 and 8. Check out this map of the carriage roads for all restrictions and other relevant information.
Also note that dogs are permitted on the carriage roads, but must be restrained on a <6-foot leash. there are various points at which you can join the network of carriage roads. therefore, make your hike (or bike ride) as long or short wish! (update: please note, a massive storm came through park on june 9, 2021 and did substantial damage to some for up-to-date information closures, visit Acadia National Park Current Conditions website.)
Challenging Acadia National Park Hiking

Feeling up for a challenge? These next two Acadia hikes definitely DO NOT fall under the category of easy, which is why we did not experience them for ourselves. We may have been up for the challenge if we were without child on this trip. However, we stuck with the easy hikes for our first visit to Acadia for this very reason. If you're ready to get your blood pumping, lace up your hiking boots and get ready to tackle these challenging Acadia hikes!
Cadillac Mountain
Many visitors to Acadia flock to the summit of Cadillac Mountain for sunrise. This is because, not only is it a truly magnificent scene, but it is the first place to view sunrise in the US  (October 7 through March 6). The majority of visitors who go to watch the sunrise drive to the summit. Otherwise, they would have to begin their descent in the middle of the night if going by foot. At 1,530 feet (466 meters), it is the highest point on the North Atlantic seaboard, which means a hike to the summit is no easy task.
The (South Ridge) hike is a 7.5 mile loop the has you scrambling over boulders and occasionally going up almost vertical slopes. Much of the trail is exposed bedrock, so don't forget to pack your sunscreen. Many who have conquered the South Ridge Cadillac Mountain hike have said it was "challenging" and "strenuous", but "totally worth it"!
Cadillac Mountain (South Ridge) Trail Summary:
Distance: 7.5 Miles RT (loop) | Elevation Gain: 2,247 ft
Trailhead Location: Route 3 just west of the town of Otter Creek near Blackwoods Campground
Island Explorer Shuttle Stop: The Shuttle only stops at the North Ridge trailhead
The Beehive
A hike up to the top of The Beehive is short, but intense! It's just a 1.4 mile loop, but it will get your heart racing! Located across Park Loop Road from Sand Beach, where you start the Ocean Path and Great Head Trails, is the trailhead for the Beehive. Follow the blue markers to ensure you stay on the trail. Iron rungs and hand and foot holds will guide you on the steeper portions. Once you reach the top, catch your breath and enjoy the sweeping views of Sand Beach. You can either opt to make it a loop and go down the back side or simply go back down the way you came up.
The Beehive Trail Summary:
Distance: 1.4 Miles RT (loop or out and back) | Elevation Gain: 488 ft
Trailhead Location: Lower Lot at Sand Beach
Island Explorer Shuttle Stop: Park Loop Road Route | Sand Beach Stop
Be sure to check out our other Acadia post for more things to do in Acadia National Park.
References