This Easy Baked Salmon is drizzled with Lemon-Garlic Butter for a delicious dinner that's ready in just minutes! Indulge in tender, healthy salmon for a quick, tasty weeknight meal.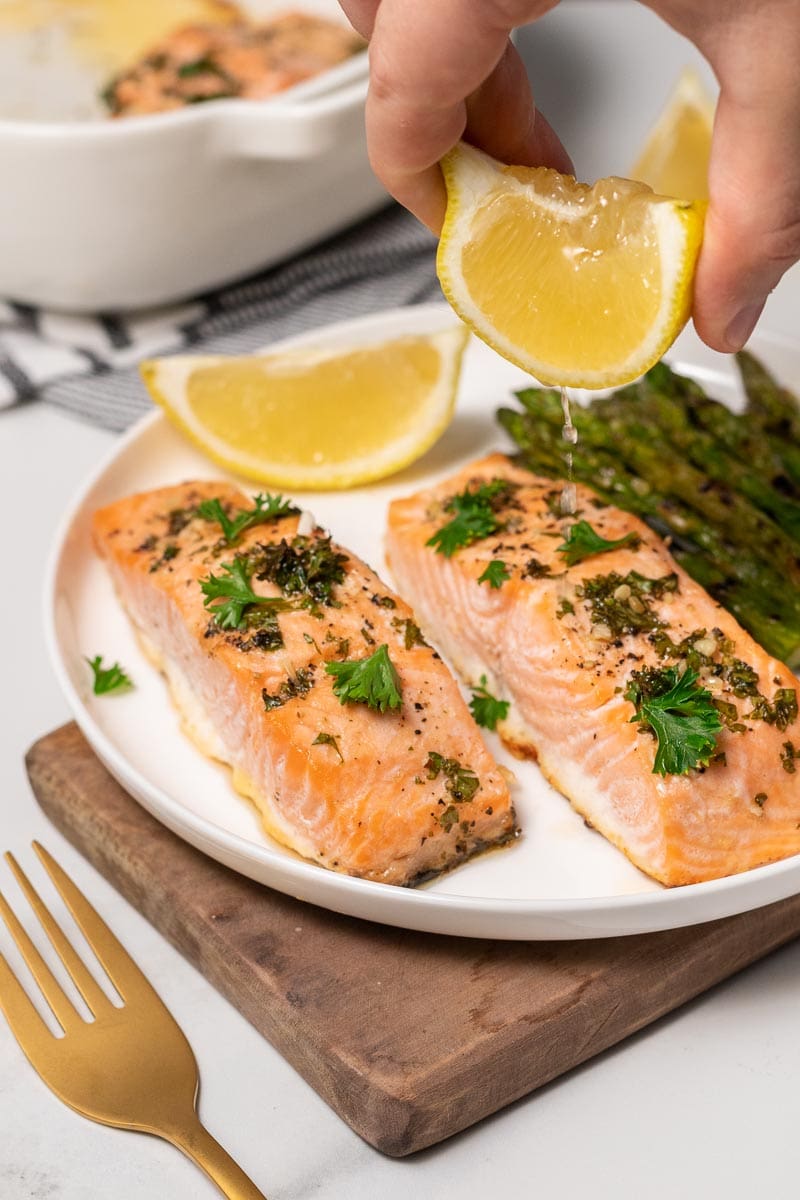 A lot of people don't realize how easy it is to make salmon for any occasion. Not only is it simple to prep, but it's also a deliciously light and flavorful fish anyone can enjoy.
It also helps that salmon is really good for you too! It has a high amount of Omega-3 fatty acids, which are great for heart health. 
This recipe for baked salmon is a perfect way to incorporate this delicious fish into your menu. When drizzled with the lemon-garlic butter, you'll feel like you ordered this meal off the menu of a fancy restaurant!
In reality, it only takes minutes to prep and truly couldn't be easier. This salmon is a great dish to serve to impress guests, or you can simply whip it up for yourself as a quick weeknight dinner!
How to make easy baked salmon with lemon-garlic butter
This dish takes about 5 minutes to prep and then 15 minutes to bake. You can be sitting down to rich, delicious salmon in just 20 minutes!
Step 1: Preheat your oven to 400F (200°C). Line a baking tray with tin foil.
Step 2: Clean the salmon and remove any visible bones. If the skin is still on, pat it dry.
Read more How Much Protein Should a Person With Diabetes Eat?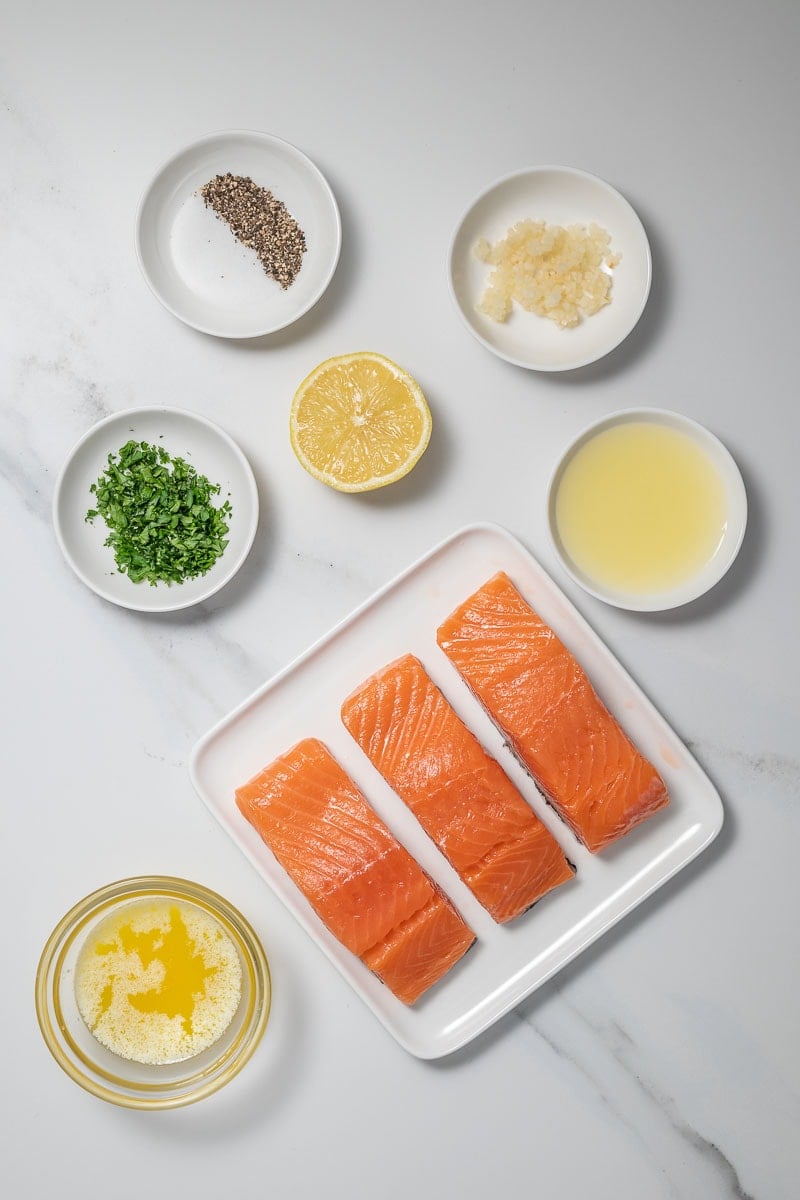 Step 3: In a small bowl, mix together the melted butter, garlic, lemon juice, salt, and pepper until well-combined.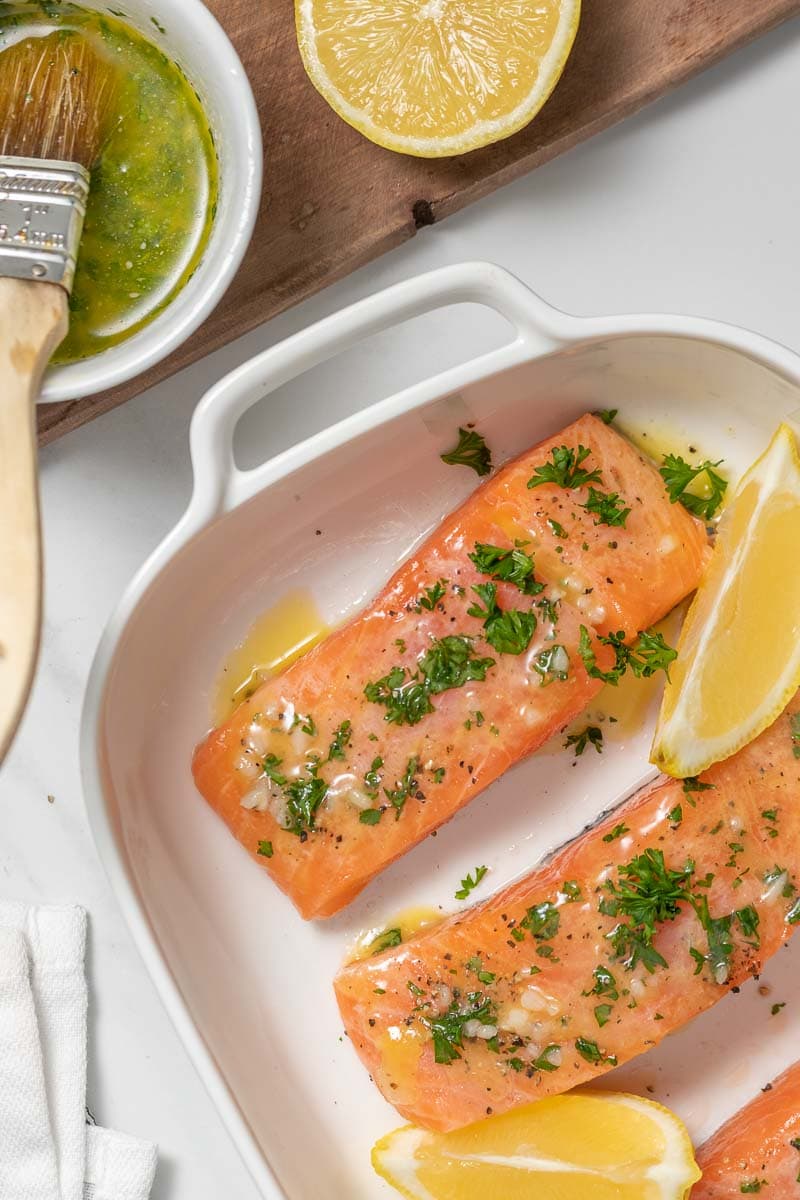 Step 4: Add the salmon fillets to the baking tray, skin-side down. Brush with the garlic butter until well-covered, but reserve some to brush on the fish after it's done baking.
Step 5: Place in the oven and bake for 12 – 18 minutes depending on the thickness of the salmon fillets. I find that 15 minutes is usually the right amount of time.
Step 6: Take the salmon out of the oven. If baked with the skin, remove that now. Brush the fillets with another layer of garlic butter, then drizzle with fresh lemon juice and top with chopped parsley.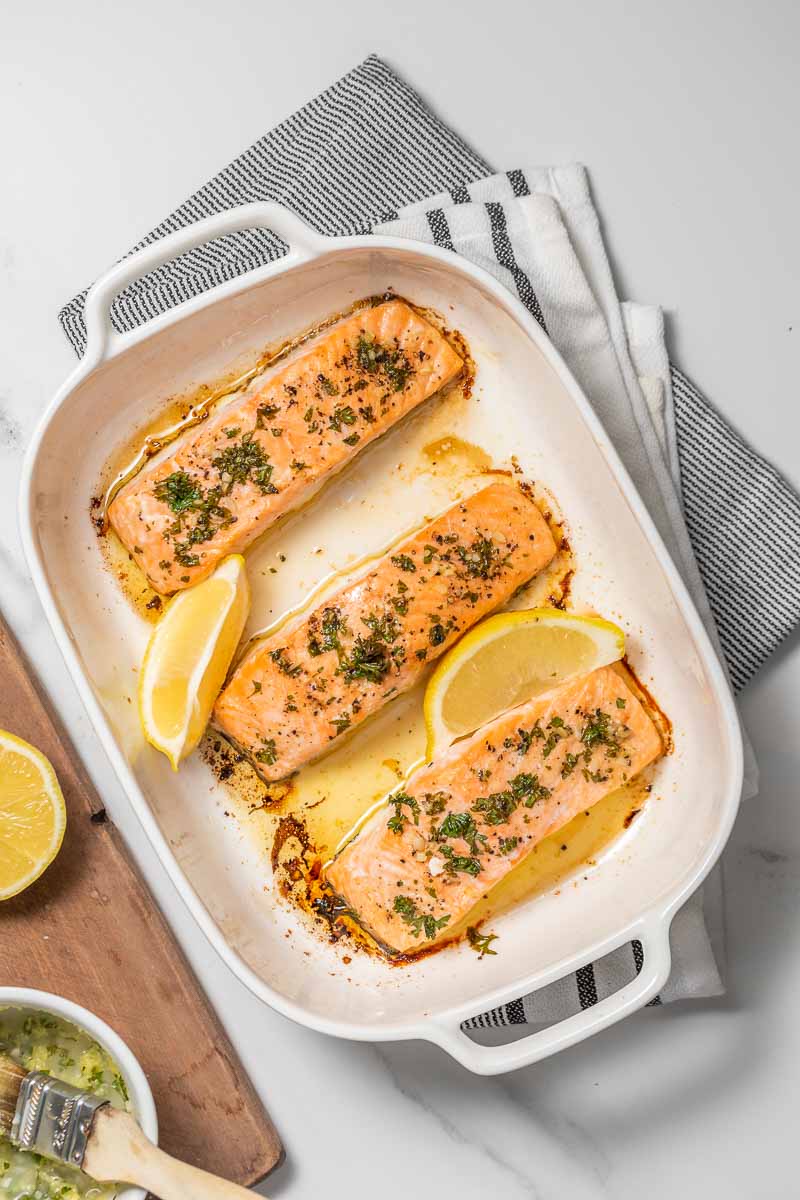 Your salmon is ready to enjoy! You can serve as is or with some low carb side dishes like cauliflower mash, cauliflower risotto, roasted asparagus, or even a simple side salad. 
Choosing your salmon fillet
When you're buying your salmon, I recommend buying fillets with the skin still on. 
The skin helps keep the fish moist while it's cooking, plus it keeps the fish from sticking to the cooking surface.
Before placing the fish on the baking tray, be sure to wipe down the skin to get rid of excess moisture. This will allow it to crisp up, preventing the fish from sticking while also holding in moisture to keep the salmon tender. 
When choosing your salmon fillets, you should also check for any visible bones. Most fillets won't have any, but you can save yourself the step of removing them if you catch them while you're choosing your fish.
Read more Intermittent Fasting + Type 1 Diabetes
You may also want to pay attention to the thickness of the fillets, as this will affect the cook time. A good rule of thumb is to cook your salmon for 4-6 minutes per 1/2 inch of thickness. 
Substituting the ingredients
If you don't have all of the exact ingredients for this recipe, don't fret! Salmon is a very forgiving fish, so it's easy to find substitutions.
For example, you could use olive oil instead of butter for the drizzle. Or, if you're out of fresh herbs, you can substitute with dried instead. 
Salmon is a very versatile fish with a light flavor. It will go well with just about any combination you have on hand!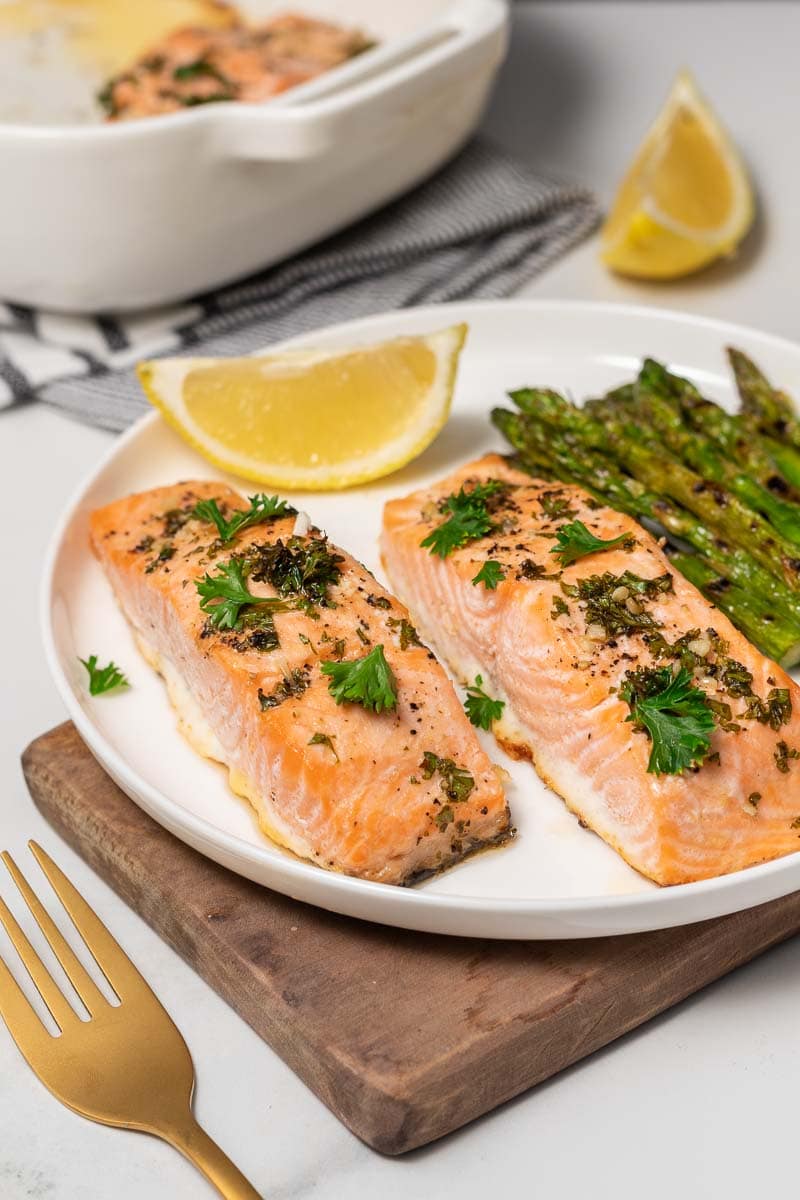 Storage
Leftovers can be stored in an airtight container for up to 3 days in the refrigerator.
But you definitely want to make sure the salmon is well-covered, otherwise your entire fridge will start to smell like fish!
Other low-carb seafood recipes 
Low-carb seafood recipes are great for easy, delicious meals you can whip up in minutes. Here are a few other recipes you might enjoy:
Ahi Tuna Poke
Tuna Nicoise Salad
Easy Thai Green Curry with Shrimp
For even more inspiration, check out this roundup of my favorite 10 low-carb seafood recipes!
When you've tried this dish, please don't forget to let me know how you liked it and rate the recipe in the comments below!
References