Ella Rock is the prettiest desktop background I've ever had on my laptop! No joke – the view from up here is absolutely jaw-droppingly stunning!
The trek to Ella Rock is only half a day tops, but it easily ranks as one of the best treks I've ever done with Stefan during our travels. And we've done some pretty amazing treks together, from the Annapurna Circuit in Nepal to the Inca Trail to Machu Picchu in Peru.
Ella is a beautiful small town in the south of Sri Lanka in the Hill country located at an altitude of 1,041 metres (3,415 ft). It's the ideal base to explore the surrounding hills and take in pretty breathtaking views of the Badulla green valleys. The weather is usually quite humid, with moderate air temperature, sunny mornings, and often rain showers in the afternoon. Ella Rock is a famous cliff, located high above Ella's village, around 8km (5 miles) from the centre of town – around 4 hours total trekking there and back.
The trek to Ella Rock from Ella town is pretty straightforward if you follow our advice below! Sometimes finding the correct path can be tricky, so we've put together this easy-to-follow step-by-step guide to help you on your way:
The hike to Ella Rock step-by-step
The route for trekking to Ella Rock can be a little bit complicated. Nothing is clearly marked out. However, we were able to figure it out thanks to the friendly locals who pointed us in the right direction and based on what others had written on Tripadvisor forums.
We've put this all together for you right here:
Total hiking time: 2-3 hours (longer if like us you get lost and take loads of photos!)
Do you need to hire a guide?
It's a personal decision. On the one hand, we were adamant we could do it ourselves – a sort of personal satisfaction at achieving something. And we were absolutely fine. We got distracted by a few wrong turnings (which we've warned you about above), but otherwise we were absolutely fine. If you follow the steps we set out above, you will also be fine.
On the other hand, you may want to hire a local to guide you for the company and for the reassurance you're going the right way. It's not expensive and the money goes to the local economy. To give you an idea, when we were there, various locals offered to guide us to Ella Rock and back for 1,500 rupees (around £8/$12) per person.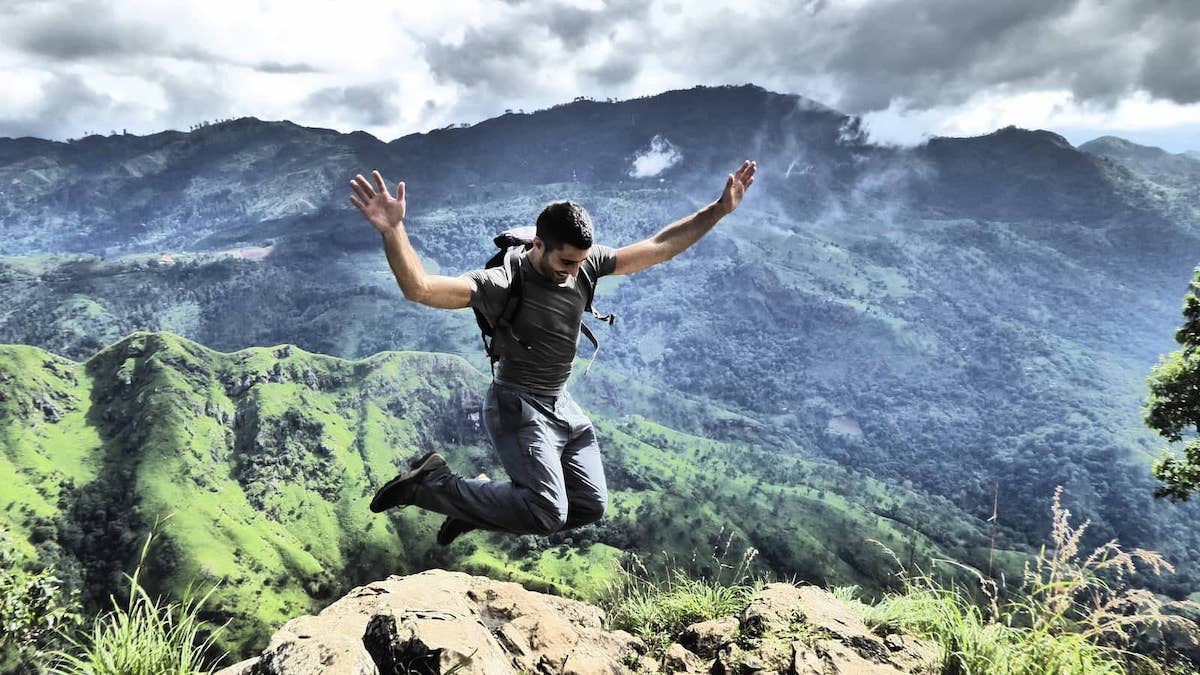 Safety tips for trekking to Ella Rock
We've put a few little nuggets of advice above from our experience trekking to Ella Rock, but here is a summary of our all our safety tips and what we did to prepare:
Local SIM card: we always get one when we arrive in a new place. It lets you have access to Google Maps if you get lost, allows you to access (ahem!) valuable online resources and Google Translate is a godsend with language barriers.
The earlier the better: we went late morning and got caught up in the midday sun here. It's no biggie if you're savvy about wearing sunblock cream and remembering to reapply. However, it does usually rain in the afternoon around Ella Rock, so the earlier you do your trek, the better!
Sunblock cream: it gets hot here and the sun rays more intense the higher you go. Wear lots of sunblock cream and remember to reapply!
Insect repellent: you'll no doubt quickly get used to wearing lots of insect repellent in Sri Lanka to ward off mosquitos, but on this trek, it's a must to ward off other pesky insects, in particular leeches! We recommend a DEET-based repellent.
Trekking shoes: do not do this trek with sandals or flip flops. It frequently rains, the paths, therefore, get muddy – a haven for leeches! A sturdy pair of trekking shoes (or boots) is a must.
Leeches warning: at the end of the day they're not dangerous if you do get one "stuck" to you! One bit of advice we were given by our guesthouse host in Ella was to take some limes with us on our trek. If you squeeze a few drops of lime on the leech, it's enough to repel it off you without killing it.
Waterproofs: it is likely to rain, so make sure you come prepared for this with waterproof long pants and jacket.
Caution on the railway lines: this is plain common sense. If you see a train approaching, get off the railway lines and let it pass. It's not dangerous – the trains are sparse and move slowly. Nonetheless, caution and common sense on the railway lines!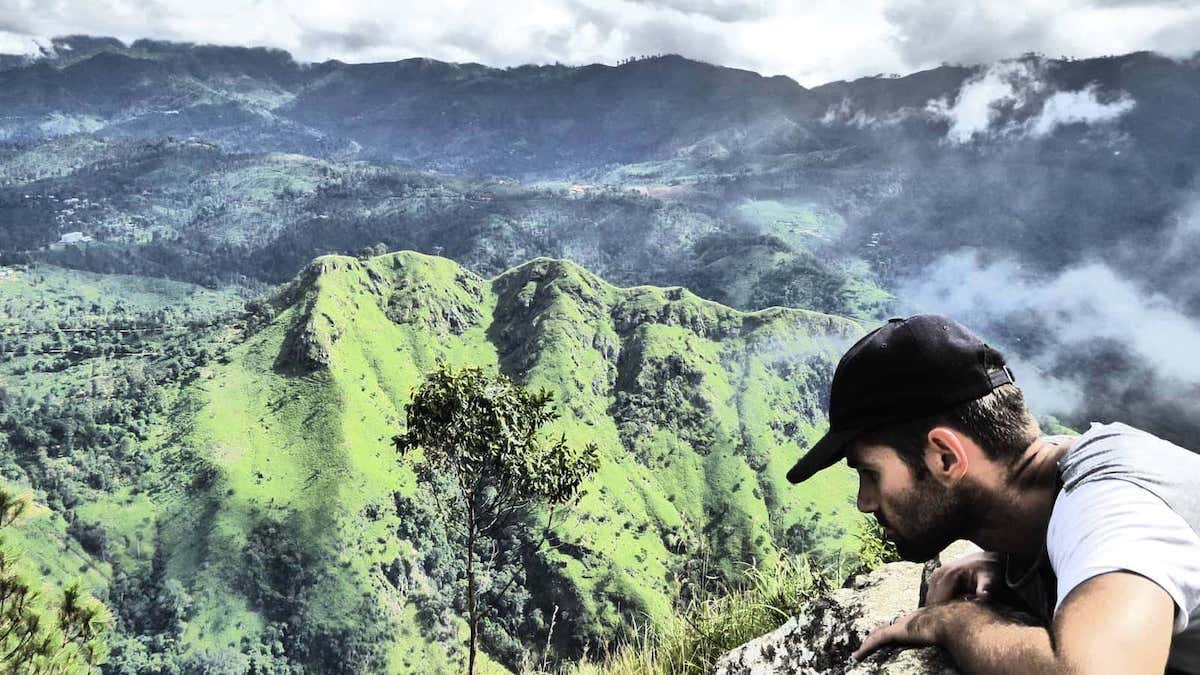 Where to stay in Ella?
There are a number of great places to stay scattered around town, each with amazing views and to suit all budgets.
These are the places we tried and made us feel welcome as a gay couple, in particular, which didn't mind two men sharing a double bed, despite Sri Lanka's anti-gay laws.
Things to do in Ella
As well as the trek to Ella Rock, there are a whole bunch of awesome things to do in and around this really pretty part of Sri Lanka. Here are some of our favourites:
---
— Update: 17-02-2023 — cohaitungchi.com found an additional article Ella Rock Hike It Yourself – 2020 Updated Guide! from the website gretastravels.com for the keyword ella hiking.
Ella Rock is one of the most beautiful viewpoints in Sri Lanka. When we arrived in Ella we knew we wanted to do some hiking, and as soon as we saw photos of Ella Rock we knew had to hike it.
However Ella Rock isn't a very easy hike to do, mainly because of the lack of clear directions indicating the trail. We hiked Ella Rock without a guide by following the instructions our hostel gave us, but it was still a challenge.
In this guide I have outlined step-by-step the exact turns and trails you need to follow to reach the Ella Rock peak. If you follow these instructions, you'll be able to hike Ella Rock without getting (too) lost. So let's dive in!
The view from the top of Ella Rock in Sri Lanka
Some information about Ella Rock
The Ella Rock hike is approximately a 10km round trip, which can take anywhere between 3-5 hours. The terrain itself isn't particularly hard, but the challenge lies in following a route that isn't marked correctly.
We were actually told by our hostel to not follow the signs, since these have purposely been put to point in the wrong direction.
The idea is that you follow the wrong signs, get lost, and then a friendly local offers to take you to the peak in exchange for some money.
The route he then takes tends to be even longer and more complicated, so that you don't realise how easy it could have been even without a guide. It's a bit of an adventurous hike, and the incredible panoramic views make it well worth it.
The view from the top of Ella Rock in Sri Lanka
Best time to hike Ella Rock
You want to hike Ella Rock either very early in the morning or late in the afternoon. It gets incredibly hot in Sri Lanka in the peak hours of the day and you don't want to be hiking under the sun.
However don't leave it too late in the afternoon. We set off around 3PM and after reaching the peak, ended up running back down as we didn't want to get caught on the train tracks in the dark.
The view from the intermediate viewpoint on the way to Ella Rock
How to hike Ella Rock without a guide – step-by-step instructions
It's definitely possible to hike Ella Rock by yourself without a guide. You might find yourself at a bit of a loss at times but just follow these instructions and you will be fine.
Part 1 – Along the train tracks
I divided the hike into three main sections. This first section is on the train tracks. You set off from Ella train station and walk on the train tracks towards Kithalella.
Read more The Absolute Best Hiking Trails Near Deep Creek Lake
When they first told me I had to walk on the train tracks I was a bit wary, after all the trains go past here! However you don't have to worry.
The train to Ella is a very scenic one, meaning it goes quite slowly and it's not very frequent. You will be able to hear it long before it arrives.
If a train comes while you're on the tracks, just hop to the side!
If a train does come while you're on the tracks, just hop away from the tracks and into the grass on the sides. Locals and tourists alike walk on the tracks and you will walk past lots of other people.
After about 20-30 minutes walking on the tracks you will reach the station of Kithalella. Keep going along the train tracks.
Kithalella station, keep going, you're on the right track!
After about 10 minutes from Kithalella station you will see a yellow sign on the left saying 15 km/h. This is where you have to get off the train tracks, turn left and into the fields.
The start of the Ella Rock hike is between waymarkers 166 ½ and 166 ¼. The yellow sign is very easy to spot but in case it's not there anymore, keep an eye out for the waymarkers. If you see waymarker 166 ¼, you've walked too far.
The yellow 15 km/h sign where you turn left
Part 2 – Through the tea plantations and tall grass
The second section of the hike was the confusing part. As soon as you come off the train tracks you will cross a small bridge.
After the bridge there will be the first fork in the road. There is a path on the left that goes steeply uphill through tea bushes, and a path on the right that goes around this little hill.
There are signs pointing to the path on the right saying "This way to Ella Rock", "The RIGHT route to Ella Rock" and similar messages. I know it seems counter intuitive but ignore these!
These are the signs I mentioned earlier that will lead you the wrong way, to inevitably get lost so you have to hire a local guide.
Take the uphill path on the left through the tea bushes
Instead, take the path on the left through the tea bushes. The tea bushes will soon give way to tall grass. You're on the right track, keep going!
The trail through the tall grass is fairly easy to follow. There's a main trail that's slightly more beaten and wider; you want to follow that one. The smaller trails and forks go into people's houses and fields.
Follow the trail through the tall grass
Part 3 – Through the forest & up Ella Rock
Once you're past the tall grass, you've completed the tough part of the hike! The third section of the Ella Rock hike is more challenging physically, but fairly straightforward geography wise.
After about 30 minutes in the tall grass you will reach a more rocky terrain with trees. Proceed uphill through the trees and you will reach a flat plateau soon.
The rocky terrain in between the trees
This is an intermediate viewpoint. It's not as high as the peak and it doesn't have full 360° views, but it's still a nice spot to take a breather.
Catch your breath and drink some water, you're almost there!
The interim viewpoint during the Ella Rock hike
From the intermediate viewpoint you will find yourself at the base of a steep hill with lots of trees. You just have to keep going up. There's one main path at the base, but as you go up the trails all get a bit jumbled up.
There isn't one set trail, more like lots of little paths that zig-zag their way up through the trees. As long as you're going uphill you're going in the right direction.
Once you're out of the trees and reach the next plateau, you've made it! You will see a little hut and a Sri Lankan flag that marks the peak of Ella Rock. Now sit back and enjoy the views.
The final section of the hike; uphill through the forest!
Our experience & what to expect hiking Ella Rock
In took us a total of 2 hours to reach the peak of Ella Rock. We went down some wrong turns but always corrected ourselves before walking too far.
We might have wasted a bit of time here and there but we were mostly on the right route. I personally really liked Ella Rock.
Despite the difficulties finding the route I enjoyed the challenge and the feeling of adventure. The views from the top of Ella Rock were absolutely incredible and well worth the efforts.
What amazed me most about the views was just how close the other mountains felt. It didn't feel like a usual hike where you're high above the other hills and landscapes.
From Ella Rock you look down over the edge and you can see the valley and other hills around you.
We hiked Ella Rock on the same day that we hiked Little Adam's Peak and honestly and I don't know which one was best. Both hikes were absolutely incredible. A great day all in all!
Enjoying the view from the top of Ella Rock
Enjoying the view from the top of Ella Rock
Do you need a guide to hike Ella Rock?
Generally speaking, no, you can hike Ella Rock without a guide. We did it without a guide and even if we wandered a bit around the tea fields, we eventually found our way.
However we were also a group of four people. If I was travelling solo, I would have probably either joined a tour or looked for a local guide.
When we returned to our hostel we met a German girl who said it took her seven hours to do the full Ella Rock hike, since she kept getting lost but she refused to hire a local guide.
My friend Preiti enjoying the view from Ella Rock
Ultimately it's up to you if you prefer a bit of a solo adventure or you would rather avoid getting lost amongst the Sri Lankan countryside. One great option you can do is this Ella 3 icons combo tour.
Besides hiking Ella Rock with a guide it also takes you to Little Adams Peak and Nine Arch Bridge, the two other main attractions in Ella.
It's a great option for those travelling on a tight schedule, who want to tick off all the main Ella spots without wasting time getting lost on one hike.
Click here to book the Ella 3 icons combo tour!
Nine Arch Bridge in Ella, Sri Lanka
What you need to hike Ella Rock
Ultimately you don't want to bring too much with you on this hike, since it can get quite tough. However some essentials you need to bring include:
Solid hiking shoes – you should always be hiking in appropriate footwear, but especially on this trail. At one point a scorpion crossed the path in front of me and I almost stepped on it, if I'd done it in flimsy shoes it wouldn't have been ideal.
Water bottle – and make sure it's full! I like the stainless steel bottles because they keep the water cold. There are some shacks here and there selling snacks and water but make sure to have plenty with you.
Snacks – like above, there are some shacks along the train tracks and in the initial tea bushes sections of the trail, but it's easier if you bring your own.
Sunscreen – at whatever time of the day you do this hike, the Sri Lankan sun is relentless. You don't want to get sunburnt while hiking.
Hat – like above, bring a hat so you've got some shade and protection from the sun.
The view from the top of Ella Rock
Where to stay in Ella
In Ella we stayed at the Hangover Hostel. We loved it so much we ended up changing our bookings later in the trip to stay at another Hangover Hostel in Mirissa.
The dorms are clean, with comfortable beds, spacious lockers and a big communal space. It's also perfectly located close to the Ella train station for all your hikes and evenings in town.
If you don't want to stay in a hostel a great option is Mountain Heavens. This hotel has an infinity pool overlooking the hills, and is also located half way along the tracks. A prime position to start your Ella Rock hike!
Click here to book your stay at Mountain Heavens in Ella!
The infinity pool at Mountain Heavens in Ella, Sri Lanka
Final thoughts on doing the Ella Rock in Sri Lanka
When we hiked Ella Rock all the information I could find online wasn't very clear, which is why I wanted to put together a step-by-step guide with pictures.
I hope that by following these instructions you will be able to reach the Ella Rock peak alone.
If you have any questions just let me know in the comments below! Or if you used this guide to do the Ella Rock hike more recently and something has changed, please let me know in the comments.
The incredible hikes were one of my favourite things about Sri Lanka. We went on lots of awesome adventures like elephant safaris, chasing waterfalls and exploring the beaches of Mirissa, but the inland hikes were amongst my favourite experiences.
Read more 7 Best Hikes Near Portland, Maine
Enjoyed reading about hiking Ella Rock without a guide? Pin it!
---
— Update: 17-02-2023 — cohaitungchi.com found an additional article Breathtaking Hikes Above 2000m in Ella from the website nerdnomads.com for the keyword ella hiking.
When you picture Sri Lanka, soft golden beaches probably pop up before your eyes. But this beautiful island can also offer an entirely different side, one of the misty green lush landscapes. Here you can find blankets of green tea bushes as far as your eyes can see, divided by waterfalls and small mountain villages.
It's a place where you can go hiking above 2000 m, walk to the end of the world, or in the footsteps of Adam. Welcome to the Hill Country! This is perhaps the best place to go hiking in Sri Lanka. We went on three hiking trips from our base in the sleepy town Ella. On two of them, we went with a guide.
1. Above Ella Town
Senadhi, the owner of Ravana Heights Hotel where we stayed, used to be a mountain guide in Ella and suggested that we could go with a guide to some of his favorite tracking routes. Our guide and his son, who was a tuk-tuk driver, picked us up at our hotel after breakfast. We then drove on small roads through a Tamil village, up in the mountain above Little Adam's Peak.
Along the way, we had spectacular views over the valley Ella Gap. The landscape was incredibly green and lush!
We mainly walked along a clear track in between tea bushes. If you are curious about how your morning tea makes it from these hills to your breakfast table, you can read all about Sri Lankan tea and it`s tea industry in our blog post: Would You Like A Cup of Sri Lankan Tea?
But in some places the path was almost impossible to see, completely covered with jungle. Good thing we had a guide with us, helping us find the way, or we would have been pretty lost!
We also met some, more or less friendly animals, like this cow.
Our guide was excellent! He was 83 years old, with only one tooth, walked bare feet, and was wearing a sarong. He was born in Ella and has lived there all his life with his wife and seven children. He learned English as an adult, working as a driver for a tea company, and spoke perfect English. He used to work as Sendahi's (the owner of our hotel) driver in Colombo but retired a few years ago. Now he takes tourists on walks, and his son is his driver. Such a real gentleman!
All around us were thousands of tea bushes, like a sea of green!
The path got a bit steep towards the end, returning to the road where the tuk-tuk was waiting for us.
2. St. Catherines Division at Nyabedde Estate
We enjoyed our first hiking trip, and decided to take another one a couple of days later with our excellent guide! This time, we drove for a couple of hours in the Tuk-tuk before we reached our destination. The road took endless turns winding itself up the mountain. Higher and higher it went until our guide informed us we were more than 2000m above the sea.
This hike had, if possible, even more, spectacular views than the first hike! This trip had more variation, taking us through magnificent tea plantations and a small mountain village. The air was also cooler, which was nice when walking.
We walked through the tea plantations.
In some places, there was a sandy path to walk on…..
But not everywhere…… And in some places, even our guide was a little uncertain where to go.
Bit luckily he always managed to find the right way!
Everywhere, as far as our eyes could see, we were surrounded by bright green tea bushes. They were all planted in rows, making beautiful patterns in the hillsides.
Along our walk, we met some people clearing the grounds for grass and planting more tea bushes. As if it was not enough tea already!
After a couple of hours of walking, we came to a small village in the middle of the tea plantations. Here is where the tea pickers, mainly Tamils, live.
The village people also grow their own vegetables and rice.
The people in the community were very friendly! They came out of their houses saying hello to us and shaking our hands, as we walked through the narrow streets.
Our guide even met an old childhood friend from his schooldays in the village, whom he hadn't seen for years! Seeing their smiles when they realized who the other person was, was a great moment!
Especially the village's children were curious and friendly, waving and running next to us as we walked. They wanted to talk to us, but "Hello" was the only English word they spoke, so unfortunately not much of a conversation. Some even wanted us to take a picture of them, and enjoyed seeing themselves on the camera's monitor afterward! Great fun for both us and them!
As in many cultures, women have the hardest jobs! In addition to tea leaves picking the whole day, it was their responsibility to collect and carry home the wood for the fire. Sure looks heavy!
After a long day walking among tea bushes, we were so glad to see our tuk-tuk driver waiting for us. He was our guide's son and a great driver!
We really enjoyed our two days of hiking in Ella Sri Lanka, with our lovely guide! We loved Ella so much that we ended up staying seven nights instead of two, which was our original plan. If you ever go to Sri Lanka, we would highly recommend a visit to Ella!
We also did a hike without a guide, to Little Adam`s Peak. If you don`t have that much time in Ella, this hike is the best option! A very nice walk, with stunning views.
---
Where To Stay In Ella
Ella has mostly small family-run guesthouses but also a few higher-end boutique hotels. The recent popularity surge means that there is no shortage of accommodation options for any budget. Below are some of the best accommodation options in Ella, including their address and price, starting with the place we called home for 7 nights.
We stayed at Ravana Heights

By chance, we ended up at Ravana Heights and while we had originally intended to stay two nights we ended up staying for a full week. We especially enjoyed the new big and comfortable superior rooms with stunning views from the balcony. The location is excellent, you're just a short walk away from the main street of Ella with shops and restaurants.
The food at this hotel is fantastic! The breakfast is served on the terrace, with spectacular views over the Ella valley, mountains, and tea plantations. You are served pancakes, eggs, bread, jams, tea/coffee, juice, fruits, basically everything a good breakfast should have.
And the dinner, oh the dinner is delicious! The best food we have had in Sri Lanka, maybe the whole of Asia! It cost $15 and consists of several different tasty dishes including dessert. The dinner varies from day to day and is a fusion of Thai and Sri Lankan.
The owner Senadhi speaks perfect English (he studied at the London School of Economics). He is a great character and really makes you feel at home at Ravana Heights. He can also organize walks for you, with or without a guide, and will draw maps of hiking routes for you. We did two walks with a guide, and one without a guide. The other staff are also very sweet and couldn't do enough for us.
Click here to check the latest prices
Boutique hotels
Planters Bungalow Ella
An old converted tea planters bungalow located in a very peaceful and relaxing setting away from town. It's also one of the very few places around Ella that have a swimming pool to enjoy after a day of hiking. They have rooms set in the newly refurbished colonial bungalow as well as apartment-style rooms in a new building. Rooms are very comfortable and no two are alike. The staff is super friendly and the Sri Lankan style breakfast is very tasty. There is a $15 set dinner menu that changes every evening. It's a great choice if you like a place to relax and enjoy the scenery and don't mind being 20 minutes' drive away from the touristy and busy Ella town.
Click here to check the latest prices
Zion View Ella
The rooms here have floor to ceiling windows that truly let you admire the awe-inspiring view in all its's majesty. The rooms are cozy, well maintained and clean, with comfortable beds and hot water showers. Every room has a balcony with chairs for relaxing as well as a hammock. Wi-Fi is free and surprisingly fast. Despite being just a six-minute walk from Ella center, it's a quiet and relaxing place. Breakfast is plentiful and very tasty. It's a popular choice with families and there is a children's play area with toys.
Click here to check the latest prices
Guesthouses
La Montagna Resort
This is a new small hotel located a ten-minute tuk-tuk ride away from the city center. It has 3 large and spotlessly clean rooms with hot water showers and spectacular views overlooking the Ella gap. The service can rival any five-star hotel and the excellent breakfast is served on your balcony. It is free in-room Wi-Fi.
Click here to check the latest prices
Read more Tour du Mont Blanc Hike: The Ultimate 2022 Planning Guide
Ella Guest Inn
If you want a place centrally located and close to the train station then this is an excellent alternative. It's just a five-minute walk away from the station and two minutes from Ella center with its shops and restaurants. Standard rooms are in the old section and are a little small and worn down but the newly built rooms (2017) are very nice and spacious so it is definitely worth upgrading to a new superior room. It's family-run and the owners are very friendly and helpful.
Click here to check the latest prices
Leisure Dream Inn
This family-run place is very popular so reserve your room early! The view is spectacular and the rooms are well furnished, clean and comfortable with hot water showers, fridge, cable TV and free Wi-Fi. The three brothers that run it are super friendly, and the mother cooks a delicious breakfast served on the terrace. It's located on a quiet hill about 10 minutes walk from Ella Town. All in all, its fantastic value for money!
Click here to check the latest prices
Chamodya Home Stay
Basic but large and clean rooms with amazing views make this a popular budget homestay option. Breakfast is good and they serve delicious rice & curry dinner. Location is a 15-minute walk away from the city center.
Click here to check the latest prices
---
PIN IT FOR LATER:
Hover over the pictures below and press the green PIN IT button that pops up
Can you picture yourself wandering the mountains around Ella? We'd love to hear your opinion in the comment area below! If you like this blog post and find it useful, please share and like it on social media! Thank you so much! 🙂
---
— Update: 17-02-2023 — cohaitungchi.com found an additional article 5 hiking trails around Ella, Sri Lanka from the website www.atlasandboots.com for the keyword ella hiking.
Some of the best scenery in Sri Lanka awaits you on the hiking trails around Ella in the Hill Country
Many people head to Sri Lanka for the beaches – and the country does have some of the finest in the world – but it was Sri Lanka's Hill Country that really captured our imagination. Carpets of tea plantations and alpine forests emerge from creeping morning mists to reveal some of the most beautiful scenery in the country (if not the world).
When we arrived in Ella, we couldn't wait to get out onto the trails and explore the highlands. The town itself is a busy and unappealing thoroughfare flanked by charmless hotels and noisy cafes. The surrounding hills, however, really are something else so we spent three days exploring them.
Here, we list our favourite hiking trails around Ella, so eager hikers can follow in our footsteps.
Little Adam's Peak
Distance: 4.5km (2.8mi)
Duration: 1 hour
Little Adam's Peak is ideal for a late and leisurely stroll – if you can dodge the almost clockwork afternoon rain showers. Mildly similar in shape (although nowhere near as dramatic) as its big brother, Adam's Peak, Little Adam's Peak is a short hike from town and offers some rewarding views for little effort.
Take the Ella-Passara Road from town and turn right at Ella Flower Garden Resort. From here, it is well signposted so just follow the waymarkers. The final 20 minutes are steep but otherwise it's an easy walk. Part of the path takes you through a local tea estate usually dotted with workers.
Ella Rock
Distance: 10km (6.2mi)
Duration: 3-4 hours
One of the most popular hiking trails around Ella is this moderately challenging half-day hike with exceptionally rewarding views. It's worth heading off early (no later than 9am) to avoid the heat and afternoon rain showers. This is a slightly more complicated hike with little or no signage along the way. Additionally, local touts attempt to lead hikers astray in order to earn a few rupees for putting them right again!
Follow our guide on how to hike Ella Rock which includes detailed directions, a route map and a list of essential tips. Once at the summit, take your time to enjoy the view – it's one of the finest in Sri Lanka.
Dambatenne to Lipton's Seat
Distance: 14km (8.7mi)
Duration: 4-5 hours
At 1,970m (6,463ft) , Lipton's Seat lookout above the Dambatenne Tea Factory is another excellent viewpoint. The Scottish tea aristocrat, Sir Thomas Lipton, used to watch over his growing tea empire from here.
The signs from the tea factory are easy to follow. The ascent should take about 2.5 hours and the descent around 1.5 to 2 hours. As with Ella Rock, give yourself plenty of time at the top to take in the view.
It's a bit of an effort to get to as you'll need to take a train to Haputale (80/50/25 LKR – 1st/2nd/3rd class) and then either a bus (30 LKR one way) or a tuk-tuk (800-1,000 LKR return journey including waiting time) to the Dambatenne Tea Factory where you start the hike.
Idalgashinna to Haputale
Distance: 8km (5mi)
Duration: 2 hours
This is one of the least popular hiking trails around Ella, but offers some of the most outstanding views. We suggest buying a comfortable observation class train ticket (1,000 LKR) from Ella Railway station and taking the train to Idalgashinna (1hr 20min). From there, hike back along the tracks back to Haputale. The views across the surrounding hills, tea plantations and local villages are unrivalled.
The terrain falls away dramatically on either side throughout the hike. At one point, you'll walk along a narrow piece of track with spectacular views sliding away to your right and left. It's also very quiet; we didn't see any other hikers along this route and only a handful of locals.
It's worth noting that this hike doesn't work so well in reverse. We made the mistake of starting at Haputale and had to rush to get to Idalgashinna to meet the returning train. As such, make sure you stay on the train from Ella until Idalgashinna and walk back to Haputale. Hiking in this direction ensures you have plenty of time to meet the returning (often very busy) trains to Ella.
Pattipola to Haputale
Distance: 14km (8.7mi)
Duration: 4-5 hours
A similar option to the above is to take the same train all the way to Pattipola (160/90/45 LKR – 1st/2nd/3rd class, 2 hours) and walk the longer route back to Haputale. This will be a full day's hike so take one of the earlier trains from Ella to give yourself enough time. There is the 6.40am which ensures you'll miss the heat of the day or the 9.24am if you don't mind the stronger sun.
Pattipola is the highest train station in Sri Lanka and with it comes some sweeping views en route. Again, you're unlikely to meet many fellow hikers along this route.
Be aware that with this longer hike along the tracks you'll almost certainly meet trains coming from both directions. You'll usually have plenty of warning but always listen carefully and make short work of the sections without pathways alongside the tracks.
Hiking trails around Ella: the essentials
What: Exploring the hiking trails around Ella in Sri Lanka's Hill Country.
Where: We booked our stay fairly late so ended up on the main thoroughfare at Ella Dream Cafe. While the rooms were lovely and spacious, they were also ridiculously noisy (a mixture of traffic, tourists and thumping music from the adjacent bar). Instead, we recommend Lonely Planet's suggestions of Ella Flower Garden Resort or Zion View Ella.
When: The best time for exploring the hiking trails around Ella is between Dec-Mar when the Hill Country is driest. The shoulder season of April and Sep-Nov is a decent time to visit while the Yala monsoon season of May-Aug brings rain to the Hill Country.
How: If you're planning on doing more hiking around Sri Lanka it's worth investing in a decent map. Sri Lanka 1:500,000 + city plans waterproof travel map is by far the best map available for hiking in Sri Lanka. On one side of the map is relief shading, spot heights and names of mountain ranges and prominent peaks.
You can reach Ella by rail from Colombo and Kandy (check timetable here; note that 'Ella' is spelt 'Elle' in the search dropdown).
There are various bus routes available depending on your point of origin. It's worth noting that we found bus travel to be quite stressful in Sri Lanka so you may wish to take a transfer instead. Your hotel can arrange this but it's always worth negotiating a discount as these are usually inflated (e.g. if quoted 15,000 LKR, ask for 11,000).
Many tourists opt to hire a driver for the entirety of their trip. This costs around $45 USD per day (including the days you don't use the driver). We used Ajaa (+94 777 284 178) and Sisi (+94 777 203 083) for shorter transfers and found them to be friendly and reliable.
Most international flights land in Bandaranaike International Airport (CMB). Book via Skyscanner for the best prices.
---
Enjoyed this post? pin it for later…
---
Lonely Planet Sri Lanka is a comprehensive guide to Sri Lanka, ideal for those who want to both explore the top sights and take the road less travelled.
Lead image: Atlas & Boots
References