Employee benefits have become an essential part of any competitive compensation package. From law-mandated insurance to free snacks, benefits and perks can play a big role in talent attraction and employee retention.
So if you're thinking of building effective benefit plans or looking to boost your existing policies, we got you covered – we present the basics of employee benefits, including types of employee benefits, common benefits per location and insight on what candidates and employees truly want:
What are employee benefits?
Before we get into the nitty-gritty of employee benefits (or fringe benefits), let's define the term:
This employee benefits definition points to examples of job benefits such as insurance (including medical, dental, life), stock options and cell phone plans. But, employee benefits can be much more than these, from training opportunities to startup perks (let's not focus on the notorious ping pong tables, though).
Basically, any kind of non-wage gain attached to an employee's position can be classified as an employee benefit, be it mandatory or voluntarily given by an employer.
Why do employers offer benefits to employees?
Benefit packages take a lot of time out of many HR professionals' time. And with good reason: they're one of the most basic employee engagement and retention strategies, and they support talent attraction as well.
The numbers speak for themselves about the importance of employee benefits. Extensive research by the Society of Human Resource Management (SHRM) indicates that 92% of employees consider employment benefits as important for their overall job satisfaction (in itself, a great element of retention and productivity). Almost one third of employees also cited work benefits as the top reason of looking for a job outside their organization; and for choosing to stay at their job, too.
Benefits are also among the top driving factors candidates look for in job ads – 63% of job seekers surveyed say they pay attention to what benefits a company offers. This means that offering benefits, and mentioning them in your job ads and careers page, is a great part of your employer branding efforts.
Employee benefits also help you take care of high-performing employees without the need to keep investing in exceptionally high pay raises. All employees should get paid enough to pay the bills and live comfortably, but they might accept less pay if they have strong health insurance, flexible hours and other benefits important to them. The practice of employees giving up a part of their salary for benefits is called salary packaging, and may also result in tax deductions or other gains for either party.
What are the four major types of employee benefits?
The major types of benefits are those categories of benefits that are more commonly met in companies across countries. Many cite these benefits as health insurance, life insurance, disability insurance and retirement plans. However, this view is focused on the different types of insurance, and neglects other equally major benefits. In an effort to expand our scope, we've grouped insurance benefits together and listed three other major types of benefits offered by employers:
Insurance
Retirement plans
Additional compensation
Time off
Insurance
This category includes health insurance (dental, medical, vision), life insurance, and disability insurance. Offering health insurance, or some kind of medical plan, is mandatory in many countries, and there's often publicly available medical care sponsored by employers. However, many companies opt for private group or individual insurance in order to provide better options to their employees.
Life insurance shows that the company cares not only about the employee, but also about their family. If the employee dies, their family will get a sum to cover funeral and other related expenses, and their cost of living for a set time period. Life insurance may also be complemented by Accidental Death and Dismemberment (AD&D) policies which pay a sum to employees who either die or sustain injuries which render them unable to work.
Disability insurance may cover long-term and short-term disability or illness. For example, if an employee gets sick, they can receive payments for as long as their sickness lasts. In the U.S., some employers may sometimes use short-term disability policies to fund paid maternity leave for female employees.
Retirement
Retirement benefits help employees feel more secure about their future after retirement. In the U.S., for example, a common benefit is the 401(k) in which both company and employee make defined contributions to the employee's account on a regular basis.
The 401(k) is a type of defined contribution plan which doesn't guarantee employees a specific benefit amount at retirement. This is because the money invested from the account may be lost if investments fail. Employees choose how to invest contributions, or how much to contribute from their paycheck through pre-tax deductions. Employers may also contribute, in some cases by matching a certain percentage of employees' contributions. At retirement, employees receive the balance in their account. Before you decide whether to implement a 401(k) plan, learn about its different forms.
There's also the defined retirement plan which is entirely funded by the employer, so employees can receive a specific monthly benefit at retirement. The amount may be determined based on retirement age and tenure at the company.
Time off
In many countries, paid time off is mandated by law, like in the European Union (Austria, for example, has a legal minimum of 22 paid days for vacation and Finland has five weeks). Employers in countries like the U.S. may not be obliged to offer paid vacation leave, but those that do it voluntarily can get a competitive advantage in talent attraction and retention – 9 out of 10 employees reported that paid leave is important to their overall job satisfaction, according to SHRM.
For similar reasons, employers around the world may choose to extend law-mandated leave, such as giving extra days for sickness. In the U.S., 71% of all workers in the private sector had paid sick leave as a benefit, according to a 2018 report by the Bureau of Labor Statistics.
The same goes for other types of leave such as parental or bereavement leave. For example, the law in the UK doesn't provide for bereavement or compassionate time off, so offering a few days of this type of leave can be an important benefit.
Other time-off benefits may include training days and sabbaticals, which are usually voluntary for employers, but can have just as much impact on employee engagement.
Additional compensation
This category refers to any money offered to employees apart from their regular compensation. This money includes bonuses, commissions, awards and gifts, as well as indirect compensation, like stock option plans and profit-sharing.
Bonuses can be contractual or discretionary and may include:
Sales commissions
Individual or company-wide performance awards
Lump sum gifts (e.g. for exemplary actions on the job)
These compensations are usually part of incentive programs that motivate employees to produce more and better quality results. They may also help keep morale high. Often, bonuses are determined by union contracts.
There are some arguments against monetary benefits though; financial rewards may sometimes spur unethical behavior or create envy among coworkers. For example, a salesperson who knows that the most successful salesperson of the month will get higher commission might resort to stealing prospects from coworkers or otherwise contributing to an unhealthily competitive atmosphere in the office. To prevent these outcomes, make sure you give everyone the same chances to earn bonuses and make the criteria for those bonuses transparent to all, and be suspicious of discrepancies in employee results.
If you want to formulate a clear and transparent bonus policy, here's our policy template to get you started.
Common and best employee benefits
Apart from the major categories, there are several other types of benefits that appear frequently in company benefits plans.
Here are the top 10 employee benefits worldwide:
Private Health Care Plan (Medical, Dental & Vision)
Retirement / Pension plans
Training and Development
Stock option plans
Work From Home and/or flexible hours
Food and snacks
Life insurance
Extended leave (Vacation, Sick)
Bonuses / Awards / Gifts
Company equipment (including vehicles, laptops, phones)
Note that the most popular benefits vary per location and there are also benefits that are exclusive to certain areas. For example, Australians can receive novated leasing as a benefit, enabling them to lease cars with their employer taking on the contract's obligations.
In the U.S., where paid parental leave isn't federally mandated by law like in other countries (although it exists at the state level in some jurisdictions), time off for mothers and fathers is a popular company-offered benefit.
In four English-speaking countries, employee benefits may include: (this list isn't exhaustive for any of these areas and the order of items isn't significant)
So what are good benefits for employees?
Or rather, what employee benefits do people value the most? The easy answer is that employees value all benefits. But, budgets are limited and companies need to find the benefits mix that will have the most positive impact, while also not breaking the bank.
Read more Best Apple Cider Vinegar Detox Recipe
To do this, first be sure to learn what benefits you need to offer by law. This could be national or state law. Make a list and decide if you can extend some of those benefits. For example, in France, employees are guaranteed three to five days of bereavement leave. You could decide to extend this leave if you find that your employees need it.
Then, take a look at surveys to help you determine voluntary benefits your company should offer. Glassdoor's Benefits Review survey in the US investigated the correlation between certain benefits and job satisfaction. A correlation of 1 means the benefit is a good predictor of employee satisfaction, while 0 shows no correlation. Here's the list of employee benefits with correlations of more than 0.5: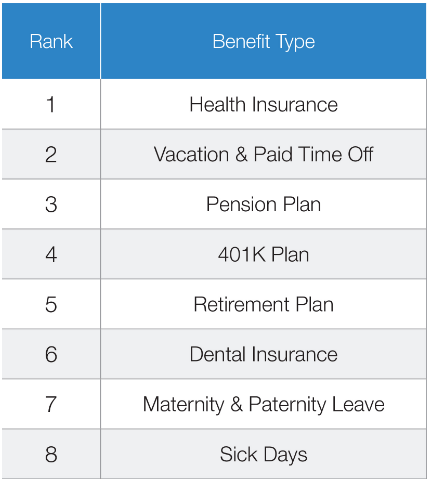 Another recent survey by a benefits provider identifies the three most popular non-insurance benefits:
Paid family leave
Flexible/ remote work
Professional development
You can also look at employee benefits examples from big companies with high employee ratings. You may not be able to afford all these benefits, but they can certainly give you ideas.
Of course, it never hurts to investigate what your own employees want – perhaps, they have different needs than workers in other industries or locations. Ask for feedback via email or create an online survey using a free tool like Google Forms. Also, some employers pay attention to the demographics of their employee base to give everyone the benefits they need most based on their characteristics. For example, in order to retain and engage millennials, businesses may offer them benefits such as student loan repayment support and co-sign support for auto loans.
How much do benefits cost a company?
According to a 2019 report by the Bureau of Labor Statistics, employee benefits in the U.S. make up 30% of total compensation costs. Insurance benefits accounted for 8% of compensation costs and legally required benefits were at 7.7%.
Health benefits especially might average $15,000 per employee in 2019, prompting employers to make changes in order to lower the cost of employee benefits (e.g. adding more virtual care solutions).
Benefits do cost money, and their importance is such that these costs will not (and should not) be reduced too much. But, not every benefit has to create heavy financial burdens for companies. You can try your hand by introducing cost-effective benefits and perks, such as:
Free lunches and/or snacks
Remote work / Flexible hours
Public transit cards or reimbursement for tolls, gas and other travel-related expenses
Company-sponsored discounts (e.g. for coffee places, gyms, restaurants, daycares)
Extra time off for training or volunteering
Free parking spaces
Cellphone plans with free calls/texts/internet
Housing and relocation benefits for new hires (where applicable)
Wellness resources (such as standing desks, first-aid training)
Many of these unique employee benefits are on the rise: for example, in the U.S., out of all the organizations that increased their offered benefits, 44% increased their employee wellness resources. These can help boost morale, but they can also help you avoid indirect costs, like costs associated with missed work and associated productivity (about $1,685 per employee each year, according to SHRM).
And this may be the case for most benefits. What seems expensive at first glance might actually save you money in the long run. So make sure you examine the possible costs and gains for each employee benefit before you decide what to include in your plan.
Employee benefits management: How to do it effectively
Employee benefits have a significant impact on the administrative aspect of HR, especially when regulatory issues are involved. But there are ways to manage benefit plans more effectively to save time and reduce the possibility of mistakes. Here are five things to consider:
Hire a dedicated employee benefits specialist. This person could be in-house (as a Benefits Administrator or Compensation and Benefits Manager) or external (such as a Benefits Broker). They will help you find the best options based on your company's needs, calculate costs and gains, and even negotiate prices for certain benefits.
Find the right software. It's very difficult (and unnecessary) to manage benefit packages without the help of technology. A good employee benefits information system helps you see which employees receive which benefits, export statistics and administer benefits (it might also integrate with your talent acquisition software to further streamline the entire HR process). To find the right software, do your research and make a compelling business case.
Measure benefits and costs diligently. This will be the responsibility of the finance department, but it's important for HR to keep track of rising or plummeting costs and gains. Having data will be vital to form your long-term benefits strategy.
Include a description of benefits and perks in your Employee Handbook. No number of great benefits will be effective if employees don't know they have them. Prepare a section in your Employee Handbook to give important information on what your company offers (use our benefits and perks template as an employee benefits package example to get started with your own).
Monitor employees' wishes and needs. Employees' needs may change. Offering free lunches and gym memberships is great for younger employees. But, as they grow older and have families, flexible hours or parental leave might be more important. Listen and make changes when needed.
---
— Update: 09-02-2023 — cohaitungchi.com found an additional article Employee Benefits: Types, Examples and importance from the website www.questionpro.com for the keyword examples of employment benefits.
Employee Benefits: Definition
Employee benefits are defined as the non-wage compensation provided to employees by an organization in addition to their normal salaries or wages.
These benefits may include, group insurance (health, dental, life etc.) retirement benefits, education loan, other loans (house loan, vehicle loan etc), sick leaves, vacation as well as flexible alternative arrangements.
In an organization, workforce is the most valuable asset and is important for an organization to understand their needs and help them be engaged and satisfied. Employee benefits when offered to the employees act as an attribute for better performance and support for your employees.
With rapid globalization and organizations looking at massive expansion not only in the countries where they are set up but also across the globe, is a key indicator for giving employees the flexibility to work at the hours most convenient to them.
For example consider an organization that is based out of the states and has its branches in Germany, Latin America, Asia, and Australia. The workforce engaged with this organization have different working hours according to the continent they are in. If the organization is providing flexible working hours, it will be suitable for the employees to effectively communicate with each other at the hours most appropriate for them.
This is just one example of employee benefits. Let us explore in this blog the other examples of employee benefits that will help you keep your staff engaged and happy.
Learn more: 30 Employee Satisfaction Survey Questions you Cannot Afford to Miss!
8 Examples of Employee Benefits for a Greater Employee Commitment
1. Cover the Medical Expenses and Insurance Cost
As goes an old saying, "health is wealth". If you want your employees to be happy, keep them healthy and fit! To build the level of commitment from your employees it is essential that you provide them with benefits first. The first thing you need to do is pen down a medical coverage plan that covers their medical expenses and insurance. You can also provide them with:
A. Offer them with facilities to exercise
Your workforce will be enthusiastic to have space to work out and stay fit. This will not only save you time and money in the number of lost working days but will also facilitate a healthy environment which will result in less number of sick days marked. And it should be mentioned that turning a room in your office into a workout space is way cheaper than you can imagine. A healthy work environment not only keeps a person fit but also relieves them of stress and this is scientifically proven.
There are many organizations that incorporate this work culture into their routine, there are other organizations that offer to pay the cost of membership for their employees. Google is one such organization that promotes a healthy lifestyle.
B. Start with a health and fitness course
One of the best ways to promote individual health is by having your employees participate in health awareness sessions and exercise-related competencies. To reward their efforts announce the winner if you are conducting competitions and motivate others to participate in such get-togethers, to promote health and fitness amongst your employees.
2. Sponsor Events for your Employees
People often stress when they have a lot of work and deadlines to meet. To help your employees lower their stress levels, you should organize social meetings and promote the satisfaction of your employees in general. Many organizations have a "Friday" culture where there are different kinds of recreational activities included during the day. Going to team dinners, sponsoring karaoke nights, bowling, go-karting etc are some examples of recreation you can often include during your work week.
3. No Dress Code!
A study conducted by QuestionPro revealed that organizations that do not follow strict dress codes have happier employees. A whopping 94% employees said they were a lot happier with no dress code policy at work. There are many organizations who have adopted and practice a certain standard of casual dressing and if those standards are met by the employees it is a good adaptation for them as well as the organization.
4. Collect Examples of Benefits Through Employee Surveys
How common is it to see organizations conduct employee surveys? Very common right! But, how common is it to see the organization take action on the feedback that is provided by the employees? No very often right?
Not taking actions based on the result will not only decrease the response rates of the deployed surveys, but it will also create a negative impression of your surveys. You don't need to bombard your employees with a 20 question survey. Ask them just one powerful survey question, the employee Net Promoter Score Question:
"Considering your overall experience with our organization, on a scale from 0-10, how likely are you to recommend this organization to your family and friends?"
A quarterly or a half-yearly survey will also help you in finding out trends with respect to the levels of commitment and satisfaction of your workforce. Collect and act on their responses and you will be surprised with the changes in the levels of engagement of your employees.
Read more Is Corn A Grain, A Fruit, Or A Vegetable? Here's What Nutritionists Say
5. Involve your Employees in Organizational Decisions and Policies
Another good example of benefits for employees is to involve them in the policies and decision making within the organization. A weekly meeting is a good start to keeping your employees aligned with what is going on in the organization, what are the developments or changes the organization is aiming to achieve and what role employees are bound to play in it. Get feedback from your employees before implementing these changes and make them a part of the process.
6. Promote Effective Communication
Create a work culture that promotes effective communication. As Dale Carnegie says, "Communication is a dialogue, not a monologue." Communicate with a reason with your employees and the reason should be to keep them updated with all that is happening in the organization. Promote the open door policy and give your workforce the voice they are looking for. Transparent communication often opens the door for a better belief system.
7. Motivate your Employees
Organizations stagnate, sales dip all-time low, there is a sudden rise in employee attrition and you experience financial losses. All these are signs of a disengaged and highly unmotivated workforce. To avoid such a sudden downfall make sure to keep your employees motivated and enthusiastic towards their work, don't let employees lose interest in their work, make sure you know their needs and implement immediately any changes that might positively affect their performance.
8. Labor Autonomy
Share goals, strategies, and plans and make your employees own their tasks. Give them the freedom to think out of the box and create an environment that significantly reduces boredom in the workplace. Committed employees always work harder and keep things moving. Appreciate their levels of commitment.
Create a free account
---
— Update: 09-02-2023 — cohaitungchi.com found an additional article Employee Benefits: Packages, Examples, & Costs Explained from the website sunnydayfund.com for the keyword examples of employment benefits.
The days of taking a cookie-cutter approach to employee benefits are long gone. In today's competitive hiring and retention landscape, employees seek more than basic health and retirement plans. Their needs extend far beyond perks like free snacks too.
The best employee benefits plans take the whole person into account, provide security in case of emergencies, and make life better every day for employees, both at work and in their personal lives.  
There are many reasons to make it a priority to get your employee benefits packages right, from attracting and retaining talent, to staying fully compliant with federal, state and local mandates. For HR decision-makers the stakes are high – and not just when it comes to talent in the $100k+ pay range. For employees earning up to $80k, benefits can make a dramatic impact on things like financial wellness, stress and job satisfaction – all factors that impact retention and productivity at work.  
In this guide, we'll answer: 
What Are Employee Benefits? 
Why Are Employee Benefits Important? 
What Employee Benefits are Required by Law?
What Should Employee Benefits Packages Look Like?
How Much Do Employee Benefits Cost Per Employee? 
What is Employee Benefits Liability Coverage? 
What Are Employee Benefits? 
Employee benefits include any form of compensation, tangible or intangible, provided over and above employee wages and salaries. These incentives include federally or state-mandated benefits as well as employer-defined voluntary programs and perks.  
Sometimes referred to as "fringe benefits," voluntary employee benefits commonly offer financial rewards. However, intangible benefits like flexible working hours, office snacks or learning and development opportunities are increasingly popular among employees and employers alike. 
Types of Employee Benefits 
There are many types of benefit, including both legally required and voluntary benefits. The most common employee benefits fall into three major categories: health benefits, financial benefits, and wellness and lifestyle benefits.  
Traditionally, benefits plans have focused on providing various forms of health-related insurance, and retirement savings programs. Common examples of traditional benefits include: 
Medical insurance 
Dental Insurance 
Vision Insurance 
Retirement plans 
Life insurance 
Disability insurance
In recent years, the traditional categories of benefit have evolved, with innovative programs and non-traditional perks on the rise. It's become common for companies to offer more extensive packages that include both tangible and intangible benefits in order to differentiate themselves as an employer of choice. 
WTW's 2021 Benefit Trends Survey found that integrating employee well-being into benefits strategies has become a top priority for global employers. In this survey, 73% of employers cited stress, burnout and mental health challenges as their top workforce challenges, while 65% reported that integrating wellbeing into their benefits package is their top strategic objective.  
This demonstrates the importance of thinking beyond traditional benefits when considering how to develop your employee benefits packages. 
Health Benefits 
Health benefits are consistently ranked among the most important benefits for employees. They're also among the most costly benefits to employers. From 100% employer-paid policies to optional group plans, employers have a wide range of options to consider. 
Examples of health benefits 
Health, vision and dental insurance 
Life insurance 
Health Savings Accounts 
Critical Illness Insurance 
Accident Insurance 
Cancer Insurance 
Hospital Indemnity 
Disability Insurance 
Financial Benefits 
Retirement plans have traditionally been the most common financial benefit offered to employees. But today many employees are seeking shorter-term solutions to support their financial goals and wellbeing.  
In Sunny Day Fund's own research, carried out at the start of 2022, we found that almost 50% of those who responded to our financial well-being survey said that emergency savings would be one of the top three benefits that would convince them to join, or stay with, a company. 
Examples of financial benefits for employees 
401K or other retirement benefits 
Stock options 
Tuition reimbursement 
Paid leave 
Defined benefit pensions 
Employer-rewarded emergency savings 
Financial planning 
Paid volunteer time 
Charitable donation matching 
Transportation reimbursement 
Wellness and Lifestyle Benefits 
The COVID-19 pandemic has amplified the need for support and services to promote well-being among workers, who face high levels of stress in their lives today. In a tight labor market, wellness and lifestyle benefits can be particularly valuable for attracting talent and keeping employees engaged at work. 

By offering a variety of benefits that support employee wellness and provide lifestyle enhancements, employers can cater to the needs of a diverse workforce.  
Examples of wellness and lifestyle benefits  
Flexible working hours  
Work from home options 
Wellness programs 
Behavioral programs (eg. smoking cessation, weight management, life coaching) 
Sabbaticals 
Gym reimbursements  
Training and education programs 
Office perks (eg. snacks, games and activities) 
Employee rewards (eg. sports tickets, happy hours and company-sponsored events)  
Lifestyle spending accounts  
Why Are Benefits Important? 
Employee benefits can do more than make your company stand out in a competitive hiring environment.  
Tracy Avin, founder of HR community TroopHR, explains:
Arguments in favor of rich benefits programs aren't just anecdotal. Research has shown that offering a diversified benefits package can make employees more loyal, productive and happy at work.  
Mercer's 2021 Health on Demand survey of 14,000 global employees found that employees who have access to a diverse array of benefits are more likely to stay in their job, feel like their employer cares about their health and wellbeing, feel energized at work, and feel confident in their ability to afford healthcare. 
For any employer seeking to build the kind of company that people are proud to work for, employee benefits are a critical priority. 
Impact of Benefits on Hiring & Retention
Benefits can have a profound impact on your hiring and retention goals, especially if we think beyond the scope of traditional benefits to address the needs and preferences of different demographics and individuals within our organizations. For example, by offering flexible parental benefits, companies may be able to make strides toward retaining more women in the workforce and creating a more equitable playing field for all parents.    
 
As WTW highlights in their Benefits Trends Survey findings, "A focus on DEI will help employers address the different needs and preferences of today's diverse workforce and shape a benefit portfolio that meets employees where they are."

avinSalary and wages are important pieces of the puzzle but today's workers are looking for more than just financial incentives. Comprehensive health care benefits may be more important to an employee with a chronic illness than salary alone. For another employee, flexible work hours and location may be a top priority.  
Lauren Newton, Head of People at Medium, says we have to acknowledge the role of benefits in attracting candidates. "These days, most candidates are interested in the "entire package" when they're considering offers of employment. For the most part, cash tends to be the most important piece of the package folks consider, but benefits are up quite high on the list as well.  Especially over the last two years, job seekers want to know that beyond the transactional work-for-pay relationship, they (and their families!) are going to be well taken care of by way of benefits and perks." 
As the economy shifts, offering benefits such as work-from-home or hybrid work opportunities can boost employee happiness. A 2022 report from Condeco on Attitudes to Hybrid Working found that 63% of hybrid workers would recommend their company as an ideal work destination. Of course, remote work isn't feasible for every role or company. Health, financial or other benefits can have similar impacts on employee satisfaction.   
Simply put, companies that don't offer compelling benefits risk losing employees. A 2022 WTW study found that more than half of employees are actively seeking new jobs or open to leaving their employer. Along with pay, bonus and job security, health benefits and flexible work ranked among the top reasons to leave or stay with an employer 
Impact of Benefits on Engagement & Productivity 
Employee stress is one of the key factors that can reduce productivity and engagement at work. As an employer, providing benefits like flexible work schedules, financial planning support and paid leave can all help to reduce stress, enabling employees to bring the best version of themselves to work. 

As Tracy Avin points out, "healthy employees are happy employees, and that healthy is mental health, physical health, [and] financial wealth. When you're worried about having to pay your rent every month because you're not making a lot of money, that's stressful, and that impacts your day." 
 
Read more What are the Benefits of Pomegranate Skin Powder?
With global instability and inflation on the rise, employees are being impacted in significant ways. PWC's 2022 Employee Financial Wellness Survey found that financial concerns are a top reason for employees to seek a new job, be distracted at work or experience drops in productivity. Even when struggling, employees are reluctant to ask for help with financial concerns.  
 
By supporting employees with benefits like financial literacy programs or emergency savings accounts, employers may be able to reduce turnover and minimize the mental health challenges that come with financial insecurity. 
What Benefits are Required by Law?
While some employee benefits are nice-to-have, others are legally required for all employers.  
Federally mandated employee benefits include:  
Social Security, Medicare and Federal Insurance Contributions Act (FICA) 
Unemployment Insurance 
Workers' Compensation Insurance 
Family and Medical Leave Act (FMLA) Protections 
Sometimes, employers are also required to provide employees time off to vote, serve on a jury and perform military service, depending on which state they're located in.
Retirement savings and emergency savings may also soon be entering the mix with the RISE & SHINE Act of 2022. Congress is debating automatic enrolment of retirement savings and pension-linked emergency savings given the savings crisis in America. 
The takeaway here is that the benefits landscape is complex and, based on the size of your organization as well as the states your employees reside in, you may be required to provide thing like health insurance benefits under the Affordable Care Act, and disability insurance, and more. HR leaders need to find trust-worthy ways to stay up to date with benefits requirements on a regular basis.
Employee Benefits Compliance 
As an employer you're responsible for accurately and appropriately delivering employee benefits. This includes legally mandated benefits, which must be reported to the relevant governing bodies, as well as voluntary benefits, which must be provided as agreed upon in your employee contracts. Beyond providing benefits, employers are responsible for providing information to employees to ensure they're able to make informed decisions about benefits such as optional health insurance coverage. 
To remain compliant, you must be up-to-date on the requirements of all plans, policies and other benefits provided to your employees, which can change year to year, and vary at the federal, state and local levels. A professional employee benefits manager or consultant can help you to ensure your company remains in good standing.  
Employee Benefits Packages  
There are many ways to approach your benefits strategy, but it is always useful to consider what is most important for your existing and prospective employees. To understand the total value of your offering to employees, benefits should be calculated as one component of total compensation, along with salaries and wages. 
 
One strategy is to begin with your core benefits, including legally mandated benefits and top priority voluntary benefits such as health insurance and retirement plans. Beyond this, the options are vast, with various costs and advantages associated with different offerings. Some employees may choose to use a mental health counseling service while others may be attracted to financial planning resources. 
 
A personalized benefits package with a range of options for employees to choose from may be an effective way to provide an inclusive and sustainable workplace for a more diverse workforce. 
Employee Benefits Package Examples  
As we've discussed, there is no one size fits all benefits package that will work for every company. Instead, it's helpful to consider the needs of your existing workforce and the people you hope to attract.  
Here's one example of an employee benefits package designed to attract and retain employees:  
401K plan with employer matching  
Medical, dental and vision insurance with a range of coverage/co-pay options for employees 
$100/month gym or fitness reimbursement 
10 days paid time off annually 
Paid sick leave 
Flexible working schedules / remote working 
Employer-rewarded emergency savings plan 
Social Security, Medicare and Federal Insurance Contributions Act (FICA) 
Unemployment insurance 
Workers' compensation insurance 
Family and Medical Leave Act (FMLA) protections 
In practice, employee benefits packages can be very complex, particularly for organizations with a diverse workforce spread across multiple jurisdictions.
 
Employee Benefits Package Template 
When constructing a benefits package, it may be useful to build a core benefits framework that takes into account physical, mental and financial wellness. While the benefits that fall within each of these three pillars of employee wellness can vary significantly, each pillar should be carefully considered. 
The table below provides a helpful starting place to help you create a basic employee benefits package outline. This template is intended to help you visualize the breadth of the benefits you may choose to offer, along with the value of the benefits to employees. 
How Much Do Employee Benefits Cost Per Employee? 
Employee benefits contribute substantially to the total cost of employee compensation.
The Bureau of Labour Statistics reports that in 2021, on average wages and salaries cost employers $27.83 per hour worked, accounting for 69% of total compensation, while benefits cost the equivalent of $12.52 per hour, accounting for the remaining 31%.  
Actual costs vary by industry, company size and other factors. In some cases, benefits may be partially employer funded and partially employee paid, such as a 401K plan with employer-matched contributions.  
It's important to note that not all employee benefits have to be expensive – some may not require any financial expense at all. The value of the intangible or low-cost benefits can be significant, from organizing volunteering opportunities to providing recognition for a job well done, to creating a company book club. In some cases, the most desired employee benefits, like flexible or remote working opportunities, may actually save your company money. 
How Do Total Employee Benefits & Total Employee Rewards Differ?

Total employee rewards includes direct pay (salary and wages) along with all of the indirect benefits that are provided to employees. So total benefits forms part of total rewards:
Total rewards is not to be confused with total compensation, which refers to salary, benefits and any bonuses. 
How to Calculate the Value of Your Benefits Pack
To understand the value of the benefits you choose to offer, it's helpful to consider how benefits impact salaries.
All else being equal, an excellent benefits package may tip the scales for employees considering multiple job offers.  Many people will consider accepting a lower salary if a compensation package offers high-value benefits such as comprehensive health insurance or paid parental leave.  
Consider providing a total compensation statement to employees to help them understand the value of the benefits you offer. This may include salary plus the total dollar value of the tangible benefits, as well as a list of intangible benefits such as flexible work hours or company-sponsored social events. 
How to Calculate Employee Benefits Percentage
You can calculate the employee benefits percentage for an employee by dividing the dollar value of all non-salary benefits by total employee compensation.  
Here's an example: 
Employee benefits value = $20,000 
Total compensation = $95,000 
Employee benefits percentage = 21% 
How Many Hours Can a Part-time Employee Work Without Benefits?
As we've discussed, some benefits are legally required by federal, state or local laws. In order to remain compliant, you must understand how to identify whether your employees qualify as full-time or part-time. The IRS website explains, "For purposes of the employer shared responsibility provisions, a full-time employee is, for a calendar month, an employee employed on average at least 30 hours of service per week, or 130 hours of service per month." 
If your employees work less than 130 hours per month or 30 hours per week, you are not required to provide benefits, but keep in mind, that legal compliance is only one factor. 
Voluntary employee benefits come with a wide range of costs – and advantages – for your entire organization. Offering at least some perks and benefits to part-time employees can give you a competitive edge in hiring and retention, particularly for dynamic workforces that require flexible labour, such as the senior living or hospitality industries.  
 
A 2021 survey from the Bipartisan Policy Center found that employees earning less than $50K per year were significantly less likely to have access to workplace savings vehicles than higher-income employees. For lower-income employees who are more likely to face financial challenges, benefits can have life-changing implications.  
 
As an employer, it is valuable to think beyond legally required benefits, taking into consideration how benefits can make a tangible impact on part-time workers. Often those who are least likely to have access to benefits are the ones who need them the most. 
What is Employee Benefits Liability Coverage? 
Providing employee benefits is complex. In case of administrative errors or omissions, you could be liable if an employee decides to sue. Employee benefits liability coverage protects your company in situations where a simple mistake causes undue hardship to an employee.  
 
For example, if your company provides health insurance coverage on behalf of your employees, a clerical error could mean that an employee is not enrolled in your health plan. If an uninsured employee has an accident and finds that they must pay for healthcare expenses out of pocket, they may be able to sue your company. In this case, employee benefits liability insurance could protect your company. 
 
While employee benefits liability insurance is optional and does not cover your company in all situations, it's worth considering, particularly if you offer substantial employee benefits. 
 
Get Started With Employee Benefits 
A well-designed employee benefits program is an imperative for every company in today's competitive hiring environment. Benefits are so more than just a requirement though; they're an opportunity to give your company and your employees a meaningful boost. As Lauren Newton of Medium puts it:  
No matter where you're at in the process of building your employee benefits packages, right now is the perfect time to think beyond the basics. By offering benefits that address the needs of employees across all roles and levels of your organization, you can set your company apart and make a meaningful difference in the lives of your workforce. 
References