Bariloche is one of Patagonia's most enchanting spots, nestled on Lake Nahuel Huapi and surrounded by glacial lakes, mountains, and beautiful forests. It is this landscape that makes Bariloche's hiking trails so good. 
Also known as San Carlos de Bariloche, this town offers hikers access to some of the best trails in Argentina's Lake District. At its heart is Argentina's oldest national park, Nahuel Huapi National Park. Glaciers, snow-capped mountains and pine forests await trekkers and there are no high altitude worries. 
Bariloche's accessibility is a  big draw, too. It is situated in the mid-west of Argentina, close to the border with Chile. Arrival is by flights or long-distance buses, including from Puerto Madryn or Neuquén in Chile.  
The wilderness and landscapes that sweep through this part of Argentina's Lake District appeal to all levels of hikers. Many lower-level trails are open year-round. Most paths are available from October to April/May, with January-March being the best trekking season. 
 Whichever trek you choose, you won't fail to be won over by Bariloche's enduring beauty.  
Bariloche Hiking Trails: Short Walks Nearby

Circuito Chico 
Circuito Chico translates as the 'small circuit', but its name doesn't reflect what it offers — stunning lookouts over crystal-clear lakes and forests on the Llao Llao peninsula.  
Many people rate it as the best day hike in Bariloche, which is why you will most likely encounter other hikers and even some cyclists. The entire loop takes 4-5 hours in total on predominantly even terrain with a few uphill pulls.  
 Time: 4-5 hours (total) 
Note: There is the option to hike up Cerro Llao Llao, too. (1,025 /3,363 ft). Few make this side trip, so you may have the place to yourself, with views to Cerro Lopez, Lago Moreno, Cerro Capilla, Brazo Tristeza and Lago Nahuel Huapi. The climb adds about two hours to the walk, around 3.5 miles/6 kilometres. 
Los Duendes Waterfall, Lago Gutiérrez 
Enchanting forests and some small cascading waterfalls await people on this family-friendly walk. You follow the same route in and out as you walk along the banks of Lago Gutiérrez, just south of Bariloche. 
There are lake views to enjoy en route to the waterfalls. The path and terrain are suitable for most people. Do take good walking shoes as some areas can be slippery. 
Time: 1.5 hours (total) 
Ascent: 100m / 330ft up to a max. height of 868m / 2,487ft 
Distance: 1.2km (total) or 3km if you start in Villa Los Coihues.  
Sendero de Los Arrayanes 
The Sendero de Los Arrayanes is a lovely, short route ideal for families or anyone looking for a gentle stroll.  
You start on the Circuito Chico road and walk into a forest full of arrayanes — myrtle trees. The 3km walk offers forest, views of Lago Moreno, and a relaxing way to enjoy Bariloche's beautiful forests.  
Time: 2 hours (total) 
Ascent: 35m / 115ft up to a max. height of 820m / 2,690ft 
Distance: 3km 
Cerro Campanario 
Cerro Campanario features a steep hiking trail that rewards you with some of the best, if not the best, views of the Bariloche area. If you want to avoid that stiff 30 to 45-minute ascent, a chairlift offers a more leisurely arrival. 
Lots of people visit the panoramic lookout so expect to meet others. There is a café at the top, too. Those that visit late in the day/evening will encounter fewer people. The 360-degree views are superb at any time. 
Time: 1 hour (total) + viewing time 
Ascent: 240m / 787ft up to a max. height of 1,080m / 3,543ft 
Distance: 1km (total)  
Bahía López to Mirador Brazo Tristeza 
This walk features a gentle climb through a forest to a viewpoint overlooking the Tristeza section of Lago Nahuel Huapi and Cerro Capilla mountain (1,958m/6,434ft). 
The lookout is popular, so while suitable for children, do keep an eye on them at the viewpoint; there are various rocky outcrops.   
Time: 1.5 hours (total) 
Ascent: 100m / 330ft up to a max. height of 868m / 2,487ft 
Distance: 1.4km (total)  
Longer and Multi-day Walks: Bariloche Hiking Trails
Refugio Frey 
Refugio Frey is one of Bariloche's most accessible and popular hikes. Why? A rocky landscape starts with beautiful views of Cerro Catedral, and most of the walk is on flat terrain. You'll pass forests, rivers, and streams as well as soaring peaks. 
The walk takes about four hours to Refugio Frey, where you can overnight or return the same day to Bariloche. If you want a two-day hike, stay at Frey and walk to Refugio Jakob (six hours more).  
Time: 4-5 hours (total) 
Ascent: 700m / 2,295ft up to a max. height of 1,748m / 5,735ft 
Distance: 9.5km/5.9 miles 
Laguna Jacob  
Laguna Jacob enjoys a privileged position at the end of a valley surrounded by Cerro Navidad (2,093m/6,867ft), Cerro Reyes (2,090m/6,857ft), and Cerro Cuernos del Diablo. 
As a day walk, it's a long one to go there and back in a day. A gentle, forested opening see you follow a river to a bridge. Once over the bridge, the path starts to rise as you climb towards the lake, with its mountain views. 
You can stay overnight at Refugio San Martin/Refugio Jacob, which sits at the trail's end or return by the same route. You can also traverse on to Laguna Negra, albeit this is recommended with a guide.  
Time: 5 hours (one way) 
Ascent: 800m / 2,625ft up to a max. height of 1,580m / 5,184ft 
Distance: 13km (one way)  
Paso de las Nubes 
This two-day hike, called the 'Cloud Pass', is a challenging 23.3 kilometre (14.5 miles) point-to-point trek. It gets its name from the clouds that creep over the mountains from the Chilean side. 
Rio Frias and Lago Frias, which you cross by boat, are your companions in this genuinely remote trek. Waterfalls, snow-capped peaks, and trees abound.  
South to north: Start at Pampa Linda and hike north to Puerto Blest, sleeping at the Agostino Rocca Hut (1,400m/4,593ft). A ferry takes you from Puerto Blest to Bariloche (check times, subject to weather conditions). 
North to south: Catch the ferry to Puerto Blest and walk the opposite way to Pampa Linda. 
Time: 2 days  
High point: 1,430m/4,691ft 
Distance: 24km/14.9 miles
Laguna Negra 
The Laguna Negra walk offers lots of options; the primary route is a long, forested walk, passing a waterfall and a sharp climb at the end to the beautiful Laguna Negra.  
You can make this into a two-day hike by overnighting at Refugio Laguna Negra, on the shore of the lake, before returning. Hikers looking for a long day out in the hills can return the same day. This trek is also known as the Refugio Manfredo Segre hike. 
Time: 5 hours (one way) 
Ascent: 800m / 2,625ft up to a max. height of 1,650m / 5,413ft 
Distance: 14km (one way) 
Cerro Tronador 
Cerro Tronador — Thunder Mountain — marks the Argentina and Chile border. At 3,554m/11,600ft, it towers above the surrounding mountains. There are many attractions; spot trout in crystal clear waters, lakes, and kingfishers lower down, which give way to views and glaciers as you climb. 
Hike to the Refugio Otto Meiling for views, or stay overnight (basic) and attempt the summit. The hike to the Refugio takes around 5 hours, and many people hike here, sleep, then hike out the next day and include a visit to the impressive waterfalls that flow from the Castaño Overa glacier. 
For the peak baggers, the trek to the summit from the Refugio makes for a long, 9-10 hour day. Keep an eye on the Manso river, which changes colour during its descent from the summit.  
The Cerro Tronador peak is for experienced hikers, and crampons will be required. A guide is recommended. 
Time: 2-3 days 
Height: Max. height of 3,554m/11,600ft 
Distance: 24km/14.9 miles (Refugio only) | 40km/24.9 miles (summit) 
Nahuel Huapi Traverse 
The Nahuel Huapi traverse is a 5-day trek aimed at trekkers that want a challenging, multi-day hike around Bariloche. The route links many of the Bariloche hiking trails and refugios we've mentioned. 
A classic traverse would encompass starting at Villa Catedral and walking to Refugio Grey for your first night's stop. From here, head to Refugio Jakob, then on day 3, walk to Refugio Laguna Negra. The fourth day takes you to Refugio López for a final night before finishing your hike at Arroyo López. 
Time: 5 days 
Distance: 50km/31 miles 
Find Out More About the Best Bariloche Hiking Trails
These are just some of the adventures that await you on Bariloche's hiking trails. Cycling, kayaking, and horse riding, as well as fine dining, and more can also be arranged. Contact us for more. 
---
— Update: 11-03-2023 — cohaitungchi.com found an additional article Trekking in Bariloche: Top 5 Day Hikes from the website thisremotecorner.com for the keyword hiking bariloche argentina.
If you like the outdoors even a little, San Carlos de Bariloche should be high on your list of places to visit in Argentina. Famous for trekking, climbing, mountain biking, kayaking, snow sports, and more, this resort town is a year-round hub for outdoor adventure activities. (It's also stunningly beautiful, if you'd prefer to just enjoy the good views with a drink in hand.) Those who want to explore a bit more have plenty of activities to choose from, thanks to the town's proximity to the mountains of Nahual Huapi National Park. In the warmer months, hiking is one of the most popular activities here. You could easily spend weeks trekking Bariloche's gorgeous single and multi-day routes. 
For a taste of what the nearby mountains have to offer, there are many spectacular hikes that can be done in a day. Don't be surprised to find yourself ready to rent a tent and head out for longer! (Not that a tent is even necessary. You can also sleep in refugios, or mountain huts, throughout the national park.)
There is no fee to enter the park, and many trails can be reached via public bus. If you'd like to camp or spend the night in a refugio, you can find specific reservation and pricing information on their respective websites.
To check timetables for the public bus routes listed below, head to the MiBus website. For trail conditions, you can contact the Club Andino Bariloche or consult individual refugio websites. 
Trekking in Bariloche: Best Single-Day Hikes
The routes below are just a sliver of what the region surrounding Bariloche has to offer. All of the trails on this list are accessible using public transportation.
Gorgeous Views on the Hike to Refugio López
The trek to Refugio López is an all-around fantastic day hike. You can access the trailhead by bus from Bariloche's center, and the hike itself takes four to five hours roundtrip.
To reach the trailhead, take bus number 10 from Bariloche in the direction of Colonia Suiza. Get off at the Arroyo López stop at Km. 22.5 of the Circuito Chico. The ride takes 45 minutes to an hour. 
There is a small shelter and a sign with a map at the start of the trail. The route to the pastel-pink refugio is steep but easy to follow. Throughout your ascent, you'll have incredible views over Nahuel Huapi Lake below.
About an hour in, you'll reach the small Roca Negra hut, which is a nice place for a short break. From there the trail weaves in and out, heading into the forest and then back out to meet the gravel road, which it eventually joins.
Once you reach the hut, there is an option to continue climbing to Pico Turista. The roundtrip to the peak from the refugio will add between two and three hours to your hike. 
It looks tiny, but Refugio López can sleep 100 trekkers. For a multi-day hike, you can continue to Refugio Laguna Negra, about six hours away. 
Best Day Trekking in Bariloche: Refugio Frey
In my humble opinion, the trek to Refugio Frey is Bariloche's best day hike overall. The main reason is the variety of scenery along the route – alpine lakes, granite spires perfect for rock climbing, and lush forest that is particularly beautiful in autumn.
Another is that the trail can be done as a circuit, so you never have to retrace your route. 
Most trekkers start the hike from the Catedral Alta Patagonia ski center, which can be reached in about 35 minutes via public transportation from center of town. To get here, take bus number 55 from Bariloche to Villa Catedral. 
From the parking lot of the ski resort, you have two choices. The first is to take the chairlift up to Refugio Lynch and hike the ridgeline route known as "Frey por el filo." Due to the higher altitude and rock scrambling involved, this route is not recommended for beginner hikers, and it should only be done in clear weather. That said, it is a spectacular trek that is well worth the extra effort (and a bit of money for the lifts) if you are prepared and comfortable with the challenge. I have outlined the trek in detail in this post. Once you get to Refugio Frey, you can continue along the traditional route back down to the parking lot.
Read more Trail of Ten Falls: Everything You Need to Know About Oregon's Most Unique Hike
If you have to pick just one trek in Bariloche, this is it.
The second option is to start your trek from the trailhead next to the parking lot. Usually, this route is done as an out-and-back trip. If you're going to hike one way between the parking lot and Cerro Catedral, it's better to hike the other direction as explained above.
Cerro Otto: A Few Options, with Varying Levels of Difficulty
Cerro Otto is quite close to town, so it offers a different angle on Bariloche's scenery compared with some of the other day treks a bit further afield. At the top there is a rotating restaurant and a small network of easy trails. 
There are several routes up, including a winding gravel road and a steep track through the woods. It takes between 1.5 and 2.5 hours, depending on which way you go and how fast you move. The road starts at kilometer 1 of Avenida Pioneros, while the trail begins at kilometer 4.5. You can take bus 50 or 51 to either starting point from the center of Bariloche. 
There is also a cable car at kilometer 5 of Av. Pioneros, if you'd prefer to just hike one way or stick to the mostly flat tracks around the top. The gondola ticket includes a free bus from the Civic Center and access to the restaurant. Note that you can't pay for just a part of the package. It's the same price for everything (yes, even just entering the restaurant to warm up a bit).
To me, the complex at the top seemed like a tourist trap, so I didn't actually enter the fenced area with the restaurant. I still enjoyed the views and a different perspective on the surrounding mountains. 
For gorgeous views of Lago Gutiérrez, follow the signs to Piedra de Habsburgo and walk for an additional four kilometers (about an hour).
Another option is to descend via Refugio Berghof, approximately one kilometer away from Cerro Otto.
Low-Key Hiking in Bariloche: Llao Llao Municipal Park
Trekking in Bariloche doesn't have to be a challenging, all-day affair. If you've already climbed up to Refugio Frey or Refugio López, or if you've done one of the challenging multi-day hikes in Nahuel Huapi National Park, your body is probably asking for a bit of rest. I fully support spending the day wandering around town and eating ice cream if that's what you want to do.  
But maybe the sun is shining and your mind is still nudging you to get out and explore more of this spectacular scenery.
May I present Parque Municipal Llao Llao, a scenic, shady forest filled with mostly-flat trails, about 45 minutes from the center of town by bus. This is the perfect place to hike on a recovery day (or any day, if you prefer something more chill).
Take bus number 20 to the Puerto Pañuelo stop at kilometer 25 of Avenida Bustillos, just past Villa Llao Llao. Once there, you have a few different routes to choose from.
Arrayanes Trail and Lago Escondido
This is the most low-key option of them all, with virtually no gains in elevation. From the bus stop, you'll need to walk about a kilometer along the Circuito Chico before you reach the trailhead, which is next to the Llao Llao Information Center. 
The path is flat and takes you through a forest of arrayán trees and along Lago Moreno. You'll eventually run back into the road. At this point, you can turn around or continue on to either Lago Escondido or Tacul Bay. 
To the left, just about 100 meters down the road, is the ranger's station, where you'll find another trailhead. Turning right here takes you to Puente Romano and the gorgeous Tacul Bay.
Turning left at the ranger's building takes you to Lago Escondido. It's a very short walk (500 meters) to the "hidden lake" and another 500 meters to Los Troncos Bay. There are several nice spots around the lake to relax.
Cerro Llao Llao
From the Llao Llao Information Center (see above), walk an additional 300 meters to the Villa Tacul – Cerro Llao Llao trailhead on the righthand side of the Circuito Chico. 
To reach the peak, look for a turnoff on your left after about two kilometers. From there, it's about one kilometer to the lookout point. Note that if you continue hiking to Villa Tacul from the trail junction, there's no public transportation back to Bariloche. (If you're up for a longer walk, though, you could always take the Puente Romano/Tacul Bay trail described above over to the ranger's building and head back to the bus stop along the Arrayanes Trail.)
Short but Sweet: A Quick Hike Up Cerro Campanario
This is a super-quick hike with gorgeous views, perfect for a day when the weather only cooperates for an hour or so at a time. 
It's somewhere in between the climb up Cerro Otto and a stroll through Parque Llao Llao in terms of difficulty. It's steep, for sure, but it only takes about 45 minutes to reach the top. 
The trailhead is located at kilometer 17.5 of Avenida Bustillos, just next to the Cerro Campanario chairlift entrance. To reach it, take bus number 20 from Bariloche's town center. The ride should take about half an hour. At the top, there is a restaurant perched on a large viewing platform. 
Trekking in Bariloche with your own Transportation
As mentioned above, this list is limited to hikes that are accessible using Bariloche's public bus network.
You'll have an impressive array of options if you rent a car. For more trekking ideas, including many hikes you can reach under your own steam, check out this list.
---
— Update: 13-03-2023 — cohaitungchi.com found an additional article Bariloche: The Best Hikes & Trekking Routes from the website motohorek.life for the keyword hiking bariloche argentina.
Bariloche is a city in the Argentine Patagonia region, on the shores of Nahuel Huapi Lake. Its scenic beauty and outdoor activities have made it a hotspot for tourists. In this article, you will find out about my favourite hikes and trekking routes in the area. Time to hit the road and see some of the most beautiful places on earth!
Where Is Bariloche?
Bariloche is a city in the Argentine Patagonia region. It's located on the shores of Lake Nahuel Huapi, surrounded by majestic Andean mountains.
A Brief History Of Bariloche In Argentina
The town of Bariloche was founded in 1902 by a group of Swiss and German immigrants. In the 1940s, 5,000 Nazi officers fled to Argentina looking for a quiet life after the fall of the Third Reich. Argentine President Juan Perón, with the help of the Vatican, organized escape routes known as Rat Trails that led to Argentina through Spain, France, and Italy. Among these settlers were Dr. Josef Mengele—known as the "Angel of Death" for his medical experiments on prisoners at Auschwitz, Nazi police captain Klaus Barbie (the Butcher of Lyon), and Erich Priebke. At the same time Bariloche became an important center of scientific research, and many world-renowned scientists, including the Nobel laureate Luis Alvarez, worked there.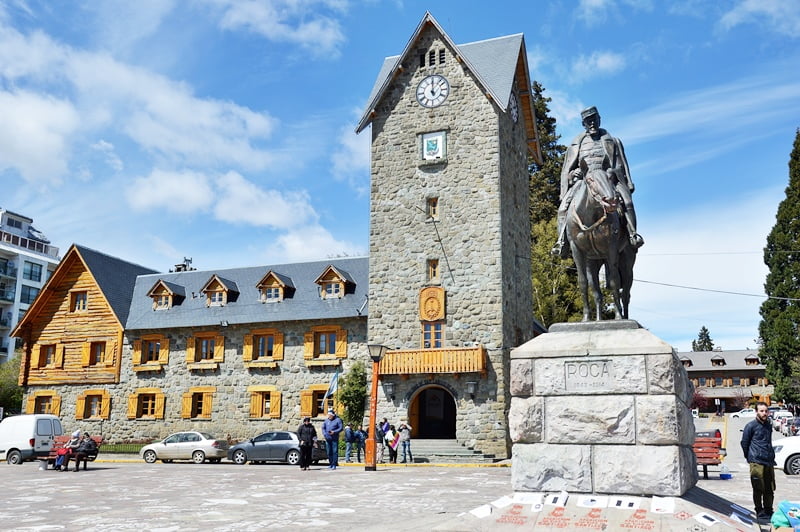 Today, Bariloche is a thriving city that is visited by thousands of tourists every year. It is often called "Argentine Switzerland." People from all over the world flock to this resort town in the foothills of the Andes Mountains. In winter, it is a popular ski destination; in summer, it is a heaven for hikers.
How To Get To Bariloche
The easiest way to get to Bariloche is by plane. One way flight from Buenos Aires costs around 20 000 ARS. Check out the following airlines: Aerolineas Argentinas, Fly Bondi, and Jet Smart.
Alternatively, you can take a bus to Bariloche from the major cities in Argentina. A bus ride from Buenos Aires costs around 20 000 ARS; the journey takes 22 hours. The trip from Mendoza is slightly shorter — 18 hours, and San Martin de Los Andes is "only" 4 hours away. Check the bus schedule here: https://www.busbud.com/, https://www.checkmybus.cl/, https://www.rome2rio.com
Best Time To Visit Bariloche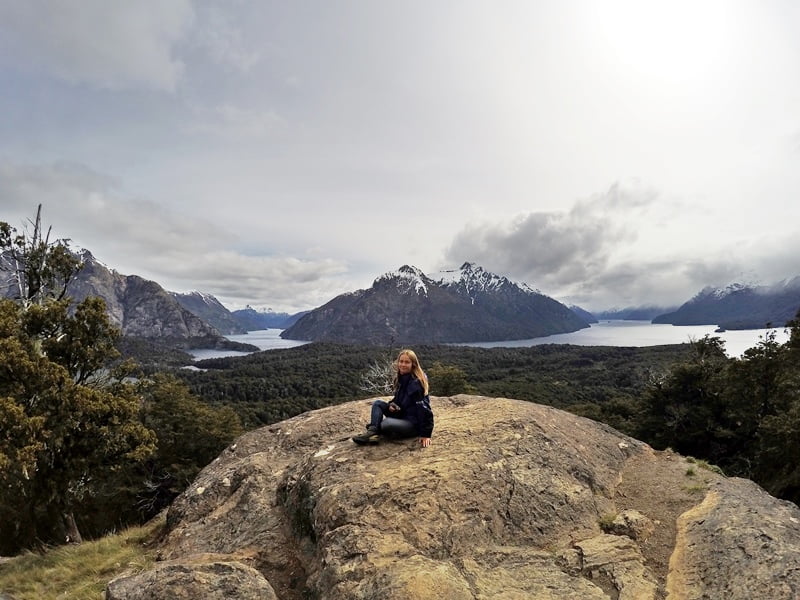 For skiing the best time to visit is during the winter months from June to September. The most well known ski resort in Bariloche is Cerro Catedral.
If you're planning a trip to Bariloche for hiking and camping, the best time to visit is during the summer months of December through February. During this time, you'll enjoy mild, sunny weather as well as a variety of festivals and events taking place in the city. Mountain passes are clear from the snow.
The shoulder season can also be a great time to explore the outdoors in Bariloche. While it may rain more frequently in October and November, you can still experience sunny days and beautiful scenery. And during the autumn months of March and April, you'll be treated to stunning views of the forests with their colorful leaves. No matter when you visit, Bariloche has plenty to offer for outdoor enthusiasts.
6 Hikes In Bariloche That Will Blow Your Mind 
Llao Llao reserve — an easy and picturesque hike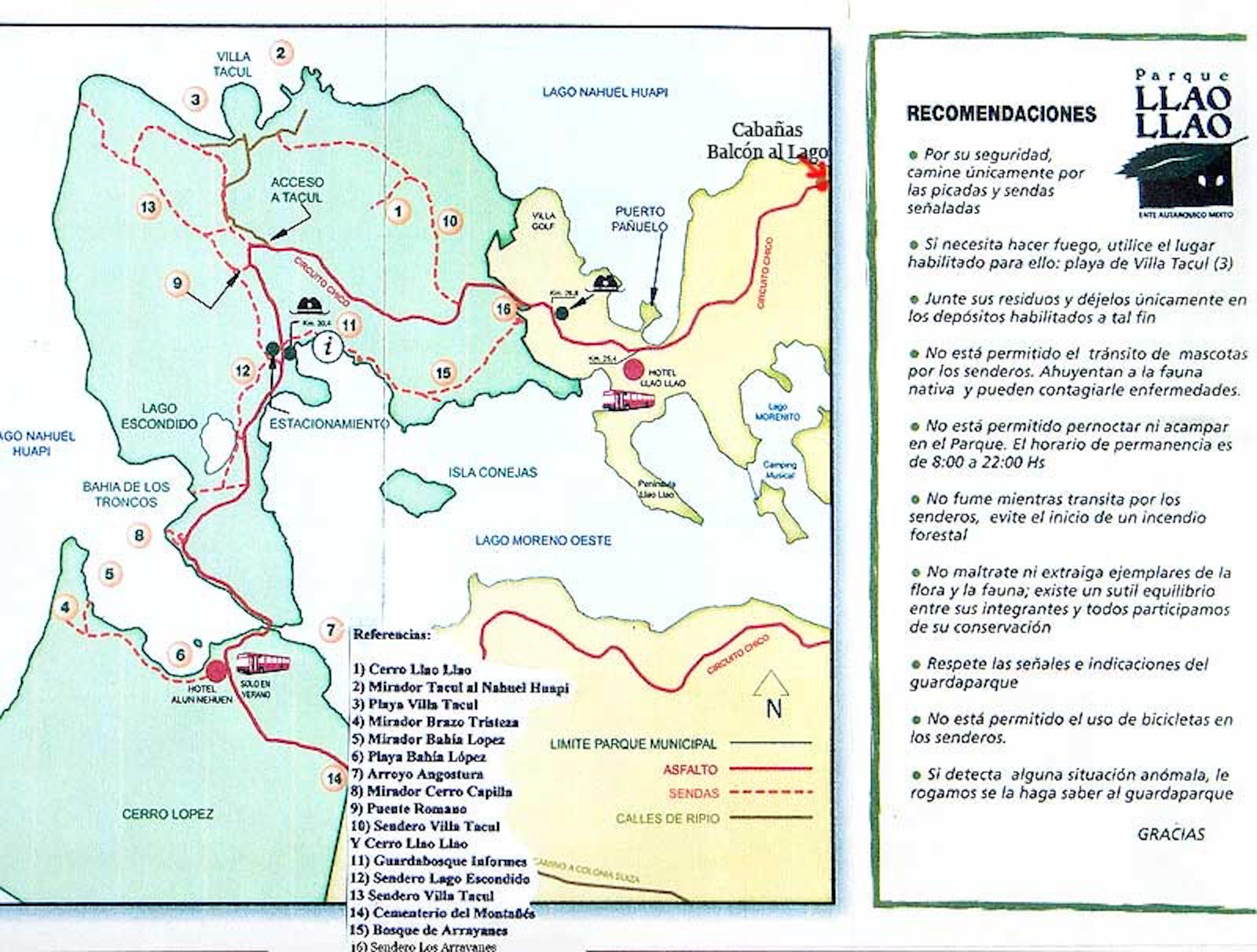 How to get to Llao Llao reserve?
You can get to Llao Llao reserve by bus #20 from the center of Bariloche. At the last bus stop in Llao Llao you will see the hotel on one side and the ferry terminal on the other. Follow signs for "Circuito Chico" by the main road, leaving the hotel on your left.
Please note that the buses do not accept cash. You will need a SUBE card, which you can buy at any kiosk in the city. Do not throw away this card — it is valid throughout Argentina.
Description of the hike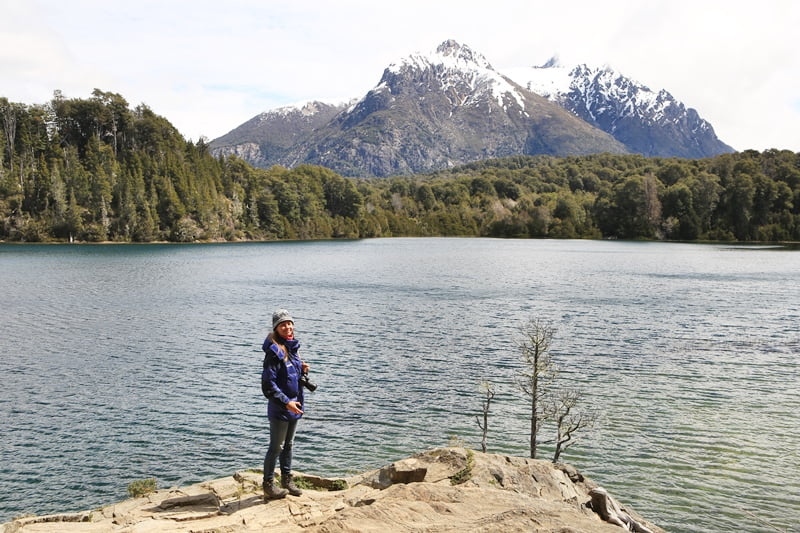 The trail in Llao Llao reserve is a section of the Circuito Chico, a 25 km loop that is popular with mountain bikers and hikers. It goes along the mountain edge, leading you to a stunning lake with breathtaking views of the fjords. This hike is easy and accessible for all fitness levels.
Don't miss a short side trail through the myrtle forest. These clusters of myrtle trees are a rare sight, and the trail through them is truly magical.
Los Arrayanes National Park — home to the rare myrtle forest
Distance: 12 km (7,5 miles) one way
Duration: 4-5 hours
Difficulty level: easy to medium
Cost: entrance ticket to the park costs 2700 ARS and boat trips – from $20. 
GPS trek: https://es.wikiloc.com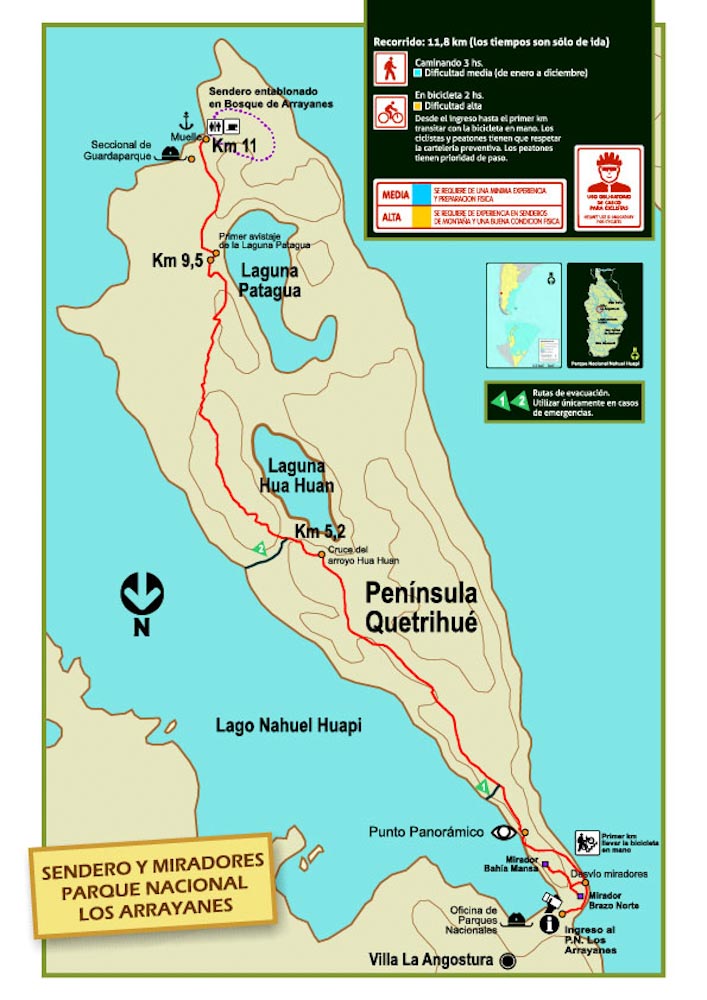 How to get to Los Arrayanes Park?
From the port of Bariloche, where the route to Llao Llao park begins, one can take a ferry to the Quetrihue Peninsula. It will take you directly to the myrtle forest; you can come back by the same ferry — then you will have to walk very little. Roundtrip costs 10400 ARS, and at the port, you will have to pay a 350 ARS boarding fee (cash only). You can check the current prices and timetable on the website of this travel agent.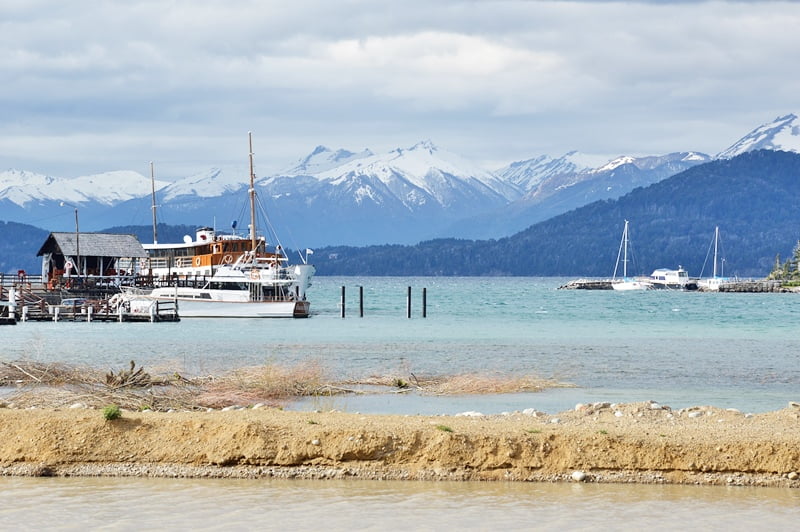 A popular option is to come to Villa Angostura by bus from Bariloche and return the same way. You can choose a 24 km hike, a catamaran trip, or combine both. "Via Bariloche" bus goes from Bariloche to Villa Angostura. The first one departs at 8:00, the second at 9:45. Return bus leaves at 16:30 and 19:00. Then you walk 3 km from the bus stop in Villa Angostura to the entrance to the park or take a bus to Puerto Villa. This bus runs irregularly, but one leaves at 10:00.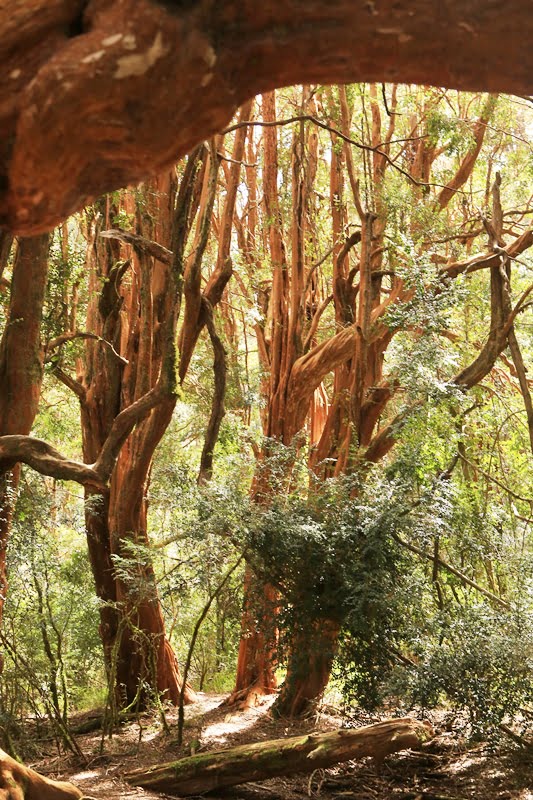 The Futaleufú catamaran company is located in Bahia Mansa. The boat departs at 11:00 and 14:30 and returns at 13:00 and 16:00. It is possible to purchase a one-way ticket and return 12 km on foot. A one-way ticket costs 3500 ARS, and a roundtrip is 4000 ARS. Another Catamarán Patagonia Argentina departs from Bahia Brava and follows an alternative mountain route. It leaves at 12:00 and 15:15, and returns at 14:15 and 17:30. One-way ticket costs 5000 ARS, and roundtrip is 5500 ARS.
Cerro Campanario — 380 degree view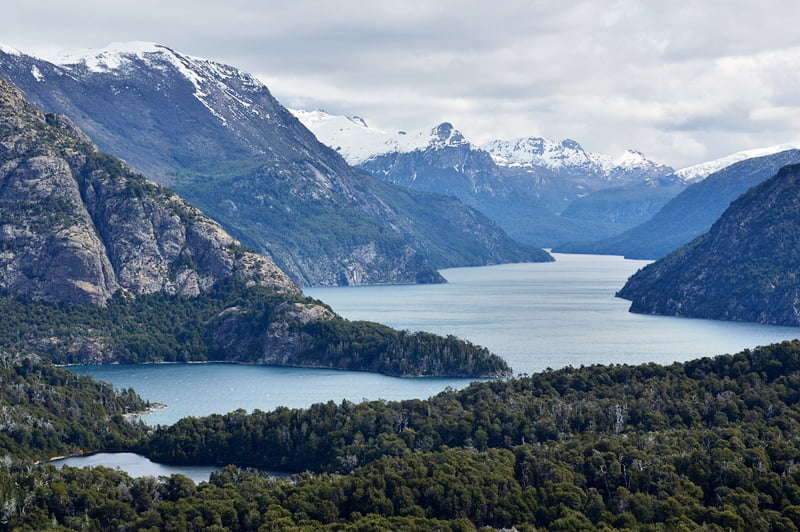 Cerro Campanario trail is one of the easiest hikes in the area, and also one of the most picturesque one. Bus #20 will bring you to the Cerro Campanario ski resort. Then you will walk for 30 min to reach the summit. Don't worry, the elevation gain is not that big. At the top of Cerro Campanario, you will find an indoor cafe with panoramic views.
Nahuel Huapi Traverse — a tough adventure 
Distance: 47 km (29 miles)
Duration: 5 days
Difficulty level: difficult
Cost: free, but you have to pay to sleep in the mountain huts
Trek report in other blogs: https://www.martreya.com/, https://www.barilochetrekking.com, https://besthike.com/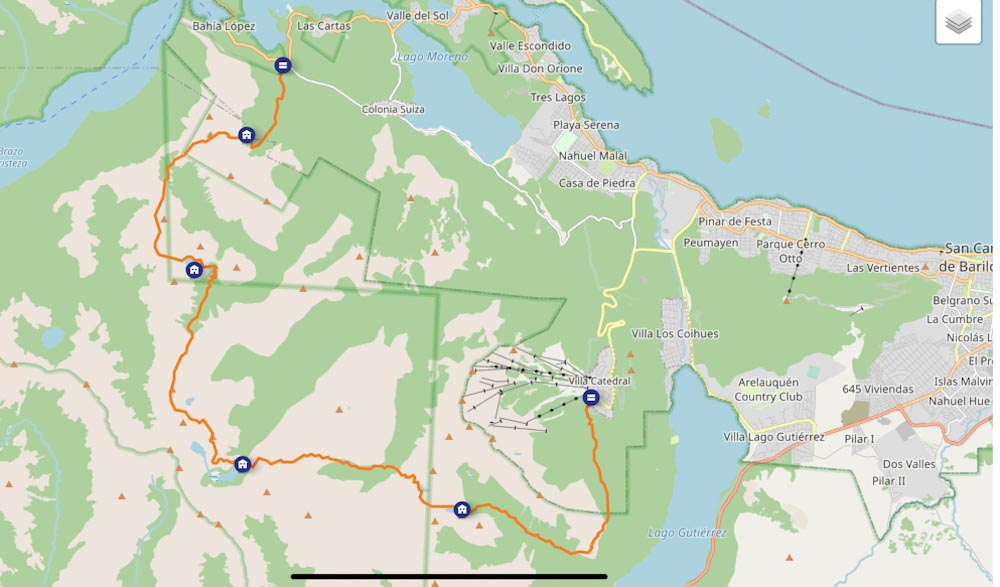 Tourists have to register online before the hike. You also have to book the place in the mountain huts or camping spots in advance — links are provided below. 
Day 1. Villa Catedral – Refugio Frey 4 hours | 12 km | 750 m ascent. Bus#55 brings you from the Bariloche to Villa Catedral. There is a bus every two hours, one along Av. Bustillo (55B) and one along the Av. Pioneros (55P). You only can pay with a SUBE card. You can also take the chair lift from the Cerro Catedral resort to Punta Princesa. The trail goes to the pass with a magnificent view of the Monte Tronador glacier (3484m); then passes through Lake Schmall. Refugio Frey is on the east side of the lake. It is possible to do this route as a day hike. Camping at Frey hut is free; the bed costs 5000 ARS; the use of the bathroom is 200 ARS.
Day 2. Refugio Frey to Refugio Jakob 8 hours | 9 km | 600m ascent. Camping cost 1000 ARS; the night in the room is 5000 ARS. No kitchen, so bring your gas stove or purchase their meal option.
Day 3. Refugio Jakob to Refugio Laguna Negra 10h | 10 km | 700 m ascent. It is a difficult unmarked trail over unstable rocks, covered with snow until February. For experienced hikers only. If the weather conditions are not perfect, descend to Colonia Suiza — a description of this trail can be found here. Due to the terrain, there are no camping options between these huts. Laguna Negra mountain hut is open only from November to April. Camping cost 800 ARS (including bathroom and hot water shower); the night in the hut is 4000 ARS.
Day 4. Refugio Laguna Negra to Refugio Lopez 6 hours | 10km | 600m descent. Great views of the Tronador volcano. From the Lopez hut, you can hike to Pico Turista (2060 m). This walk takes 3 extra hours.
Read more Bariloche: The Best Hikes & Trekking Routes
Day 5. Refugio Lopez to Arroyo Lopez 2h | 6 km | 1200 m descent. Then you can take bus #20 or #10 which goes from Colonia Suiza to Bariloche.
Colonia Suiza to Pampa Linda trek — a spectacular multi-day hike in Bariloche 
Distance: 50 km (31 mile)
Duration: 5 days
Difficulty level: very hard
Cost: 2700 ARS – Nahuel Huapi park entrance fee (at the end of the trek).
GPS track: https://es.wikiloc.com
The route is open only from January to February. The trail is covered with snow at other times of the year.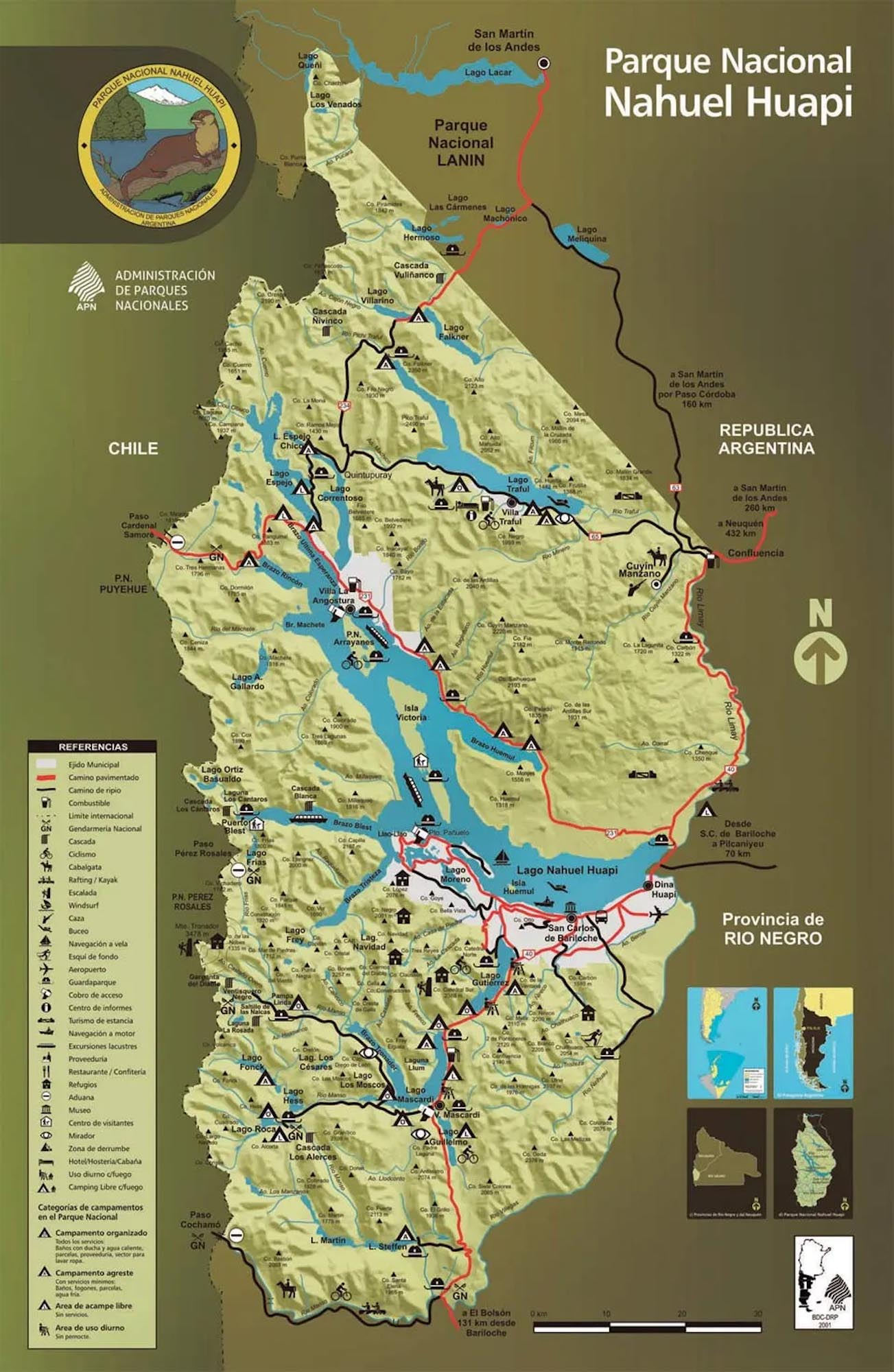 Day 1: Colonia Suiza – Laguna Negra. 5 hours | 11 km | 800 m ascent. Camping at Laguna Negra mountain hut cost 800 ARS (including bathroom and hot water shower); the night in the hut is 4000 ARS.
Day 2: Laguna Negra – Laguna CAB. 7 hours | 8 km | 600 m ascent. Very difficult trail. Wild camping at Lluvu lagoon. 
Day 3: Laguna CAB – Cretón Lagoon. 10 hours | 9 km | 460 m ascent. The terrain has very loose rocks and is very steep. This route is very difficult, with a lot of snow in January, and it is recommended only for experienced hikers. Wild camping at the lake. 
Day 4: Creton Lagoon – Ilón Lagoon (Refugio Ilon). 5 hours | 9 km | 650 m ascent. You also can climb to the Mirada del Doctor viewpoint, a round trip is another 8 km. From Ilón lagoon you can connect with Agostino Rocca Hut via the La Marca pass. Camping at the mountain hut cost 1800 ARS, night in the room 4000 ARS. 
Day 5. Ilón Lagoon – Pampa Linda. 4 hours | 12 km | 600 m descent. Come back to Bariloche by Travel Light or Refugio Meiling minibus (reservation required).
Paso de las Nubes — hiking in the clouds
Distance: 26 km (16 miles)
Duration: 2 days
Difficulty level: medium to high
Cost: 2700 ARS – Nahuel Huapi park entrance fee
GPS track: https://es.wikiloc.com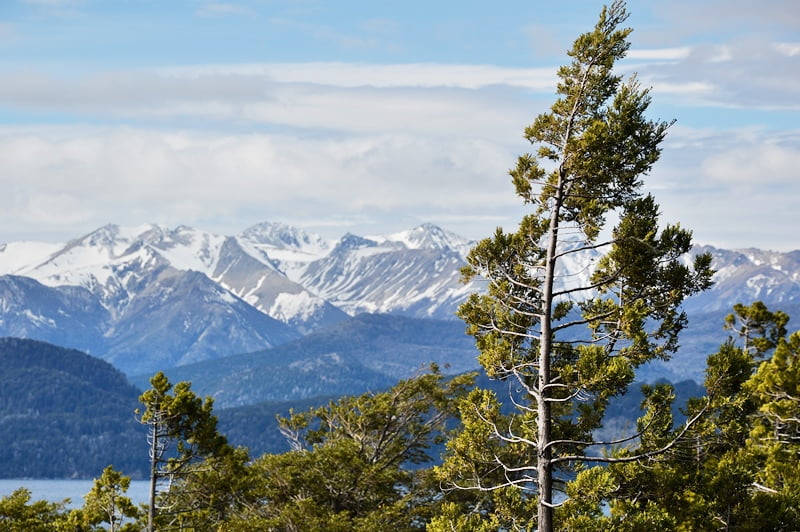 Paso de las Nubes is a famous trail in Nahuel Huapi park. It passes through the forest from Pampa Linda through the Las Nubes pass to Puerto Frias. On the way, you will find two huts: Refugio Otto Meiling and Refugio Agostino Rocca.
Day 1. Pampa Linda to Agostino Rocca hut. 5 hours| 14 km | 600m ascent. You will need to book a transfer from Bariloche to the trailhead. Camping costs 3000 ARS (only 4 tents), and a night in the hut is 8000 ARS.
Day 2. Agostino Rocca hut to Frias lake. 6 hours | 12 km | 680 m descent. Then the boat across lake Lago Frias. You can book it on the Turisur company website or at the Agostino Rocca hut. The fare is 11800 ARS.
What To Pack For Hiking In Patagonia
Proper packing is crucial when hiking in Patagonia due to the unpredictable and changing weather. It is essential to be prepared for strong winds and rain even during the summer. Additionally, it is important to remember that many of the routes in Patagonia require hikers to be self-sufficient.
Here are some things to consider packing:
Clothing: Pack layers of lightweight, breathable clothing that can be easily added as the temperature changes. Pack a waterproof and windproof outer layer, as well as warm layers for colder temperatures. 
Footwear: Good hiking boots or shoes with good traction are essential for navigating the rugged terrain of Patagonia. The region features a range of landscapes, including swamps, rocky terrain, small streams, and mud following rain. Bring an extra pair of socks in case your feet get wet. Bamboo socks are a good choice as they are durable and can help prevent odor.
Personal hygiene items: Pack a small first aid kit, good deodorant, insect repellent that protects from horseflies, sunscreen, and lip balm.
Sleeping gear: Depending on the type of hike you're planning, you may need to pack a tent, sleeping bag, and sleeping pad. If you'll be staying in huts, you may not need to bring a tent.
Food and water: Pack high-energy snacks like nuts and dried fruit to fuel your hikes. Bring plenty of water, and consider packing a water filter or purification tablets. If you are going on a multi-day hike, pack a stove, a pot, and utensils for cooking meals on the go. 
Navigation: bring GPS device and download an offline map. Bring a paper map and compass for the more difficult and remote routes. 
Other essentials: Pack a flashlight or headlamp, a knife, and other tools that you may need on the trail. It's also a good idea to bring a small repair kit in case of any equipment malfunctions.
What Food To Try In Bariloche
The city is known for its high-quality chocolate. You can find chocolate shops and cafes in the city center, where you can sample some of the delicious treats (for free!) and learn about the history of chocolate making in Bariloche. The most famous store is "Mamushka". The city is also known for its beer, which is brewed using pure mountain water. You can visit microbreweries to sample the local brews.
The curanto is a typical Patagonian dish that originated from the native Indian tribes of Mapuches. The cooking process starts by digging a pit, then arranging hot river stones in it. Then meats and vegetables are stacked in the pit, such as beef, lamb, pork, chicken, chorizos (pork sausages), potatoes, sweet potatoes, apples, and hollowed-out pumpkins stuffed with cheese, cream, and peas. Leaves and damp sheets cover the food to keep the heat inside. Finally, the soil is piled on top of everything to make it resemble a pressure cooker. At Colonia Suiza, you can experience this dish every weekend.
Is Bariloche Worth Visiting?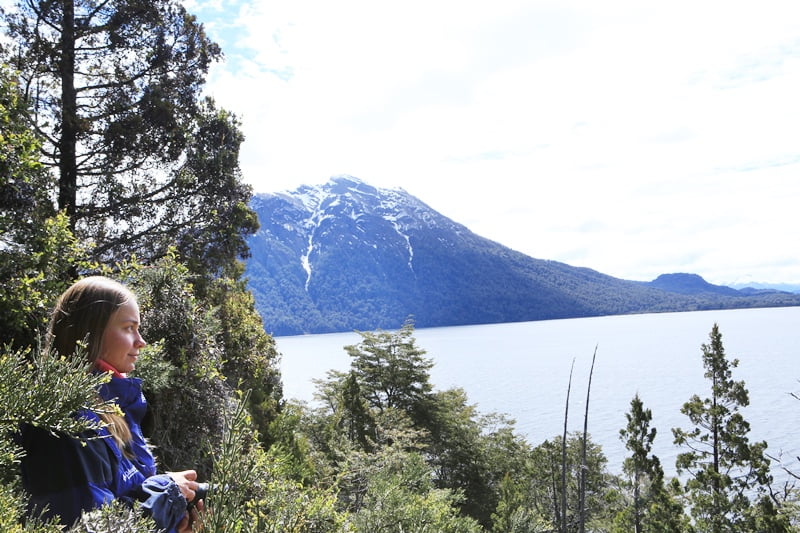 Bariloche is one of my favorite cities in Patagonia. It is an expensive destination, but the beautiful landscapes make it worth visiting. There are hundreds of kilometers of hiking trails that can't be explored in a lifetime. In Bariloche you can hike in the mountains in summer, ski in winter and admire the fiery red autumn leaves in the forest in autumn. It's perfect at any time of the year. If you have only one day to spend in that area, I recommend taking an easy hike in Llao Llao park or taking a boat ride on the Nahuel Huapi lake. 
Where To Go Next?
If you are traveling in Argentinian Patagonia, you likely will go to El Chalten — to see the magnificent Mt Fitz Roy. However, this is a long bus ride that will take almost 24 hours. There are plenty of other attractions on the way that are worth checking out during your journey.
For nature lovers, a visit to Los Alerces national park is a must. Stop at El Bolson, the hippy town known for its vibrant arts scene and laid-back atmosphere. While you're there, check out Cerro Piltriquitrón, one of the earth's "energy centres". In Esquel you can travel on the Old Patagonian Express train that winds through Andean valleys. Another town that shouldn't be missed is Cholila, with its stunning mountain peaks as a backdrop.
---
— Update: 22-03-2023 — cohaitungchi.com found an additional article 🇦🇷 10 Hikes for Adventure Trekking in Bariloche, Argentina from the website greenmochila.com for the keyword hiking bariloche argentina.
"The mountains are calling & I must go", said naturalist John Muir while fighting to protect Yosemite in North America. Well, we're confident that he would have said the same if he had paid a visit to the fantastic Lake District of Argentina. In the northern part of the Argentine Patagonia, this area reveals a string of lakes cheekily tickling a mountain background. It's an ongoing source of outdoors activities for active travellers; but still, trekking Bariloche is the one pastime that just never gets old. Do you travel to Argentina to seek beauty? So make sure you add in a few hikes in Bariloche, Patagonia, to your South America itinerary!
Chances are that this post contains affiliate links. We're not selling anything ourselves – we just help out products we find great. If you click one of them and decide to purchase, it'll be at no extra cost to you; and we'll get a trifle that'll help us bring you more awesome travel guides.
---
Jump to:
When to visit Bariloche  |  How to prepare |  Accommodation in Bariloche
1-day Bariloche hikes:
Circuito Chico  |  Colonia Suiza  |  Cerro Campanario  |  Lake Gutiérrez  |  Refugio Frey  |  Cerro Catedral
Multi-day Bariloche treks:
Laguna Negra  |  Paso de las Nubes  |  Refugio Otto Meiling  |  Nahuel Huapi Traverse
---
"Amazing", "fantastic", "jaw-dropping" – a few lines into this post and you're already 3 adjectives the richer. Be ready to see more of those because the Lake District around Bariloche is a land of superlatives.
And yet, I have to tell you: it wasn't on our travel route until the very last moment. We took off for South America planning to skip traveling in Patagonia altogether; we wanted to cross from Mendoza to Santiago de Chile, and from there make our way north. It's only in Mendoza, before leaving to see the Aconcagua, that our host Franco convinced us to make the detour. He certainly found the right words, and how grateful we are that he did!
Where is Bariloche
Patagonia is that tongue of land at the end of the world that licks the ice of Antarctica. It's remote, wild, and a wind of adventure sweeps through it. It spreads from coast to coast over Argentina and Chile; but while Chileans consider that Patagonia only starts under Puerto Montt, the one in Argentina goes up to include the province of Neuquén.
Well, before reaching the ice and the fjords, before losing yourself in the immensity, visit the Lake District of Argentina. That (unofficial) region flanks the mighty Andes, in the mid-west of the country.
It can be easily reached with a night bus from Neuquén, Osorno in Chile; or with a half-a-day journey from Puerto Madryn, on the Atlantic coast. So of course, it's a tad busier than Tierra del Fuego; but you will hear here about off-the-beaten-path paths (what?) where you could well end up alone and happy.
San Carlos de Bariloche stretches on the shore of Lake Nahuel Huapi, and on the edge of the beautiful Nahuel Huapi National Park, the oldest national park in Argentina. It is dominated by snowy mountains, glacier lakes and extensive pine tree forests. That's the kind of disgusting landscape you can expect when trekking in Bariloche.
Sure enough, there are many jaw-dropping places in Argentina, but Bariloche really blew our minds! One of its advantages is to be more easily accessible than the deep South and to have more infrastructures, therefore welcoming all levels of hikers. And really, you'll see from the below list that most of the hikes in Bariloche are on easy level!
Best hikes in Bariloche
Another thing about the Lake District is that you're not coming all this way only for a couple of hikes. That's what puts off many travellers about the Perito Moreno glacier for instance; "Should I really travel that far for one glacier, as beautiful as it may be?"
Where to trek
There's not such dilemma here and Bariloche could keep you trekking for weeks. Most visitors go hiking in the Nahuel Huapi National Park, as it's considered the area of the best hikes in Bariloche, but there are many other areas nearby.
Some of the trails (typically the day hikes) are open all year round; others at higher altitudes (the multi-day hikes) can be closed for the winter or on severe weather conditions.
When you should go
In general, the best time to go trekking around Bariloche is in the summer months, January-March. That's when the trails are more likely to be open; but that's also the tourist season when prices are the highest and places the most crowded. You could also consider the shoulder season, in April-May, with a slight risk of rain and bad weather.
For sure, backpacking Bariloche in winter is a beautiful sight; go for it if you're not afraid of the cold or if you would like to try skiing in Argentina!
---
---
Now put on your hiking shoes and choose a comfy hiking backpack! I'm listing below the best one-day and multi-day trekking options around Bariloche.
1-day treks around Bariloche
Llao Llao peninsula
The number one trekking place in Bariloche is Llao Llao (pronounce: 'zhao zhao' in Argentine Spanish). It's a rugged peninsula shredded at the western tip of town, on the Nahuel Huapi Lake. 
You can easily get there by bus, or hitchhiking – just follow Avenida Exequiel Bustillo until the end. You could spend a full day there, although it's possible to do it in 4-5 hrs. The duration of the trek will depend on the number of places you want to stop at. We took our time to really enjoy the environment and stayed there all day.
Circuito Chico
Llao Llao offers a circular hiking route called Circuito Chico, the 'short trail'. (You guessed right, there's also a 'long trail': it's a road trip going through Villa Traful and Villa La Angostura.)
Circuito Chico leads you to beautiful lookouts on crystal-clear lakes, wild forests, and that precious laguna landscape which is the reason why hikers come to Bariloche. Places of interest start at km 23 and are scattered on either side of the road. The landmarks that you should look out for are:
Llao Llao hotel (nice views at the beginning of the trail)
Puerto Pañuelo
Punta Verde
Cerro Llao Llao
the trail to the hidden beach
the other trail to the window-size viewpoint
From km 30 follow the road again to Villa Tacul, then continue to Lago Escondido (the 'hidden lake') and at km 33 to the Bahía López area. Don't miss the outstanding panoramic view near the end of the loop, possibly after a brew at the local Patagonia brewery.
The trails that you should follow are marked as Cerro Llao Llao and Sendero de los Arrayanes. At km 40 you'll find an amazing viewpoint overlooking the Lago Perito Moreno (nothing to do with the glacier) and the Llao Llao peninsula.
At km 42 comes your chance for the detour to the peaceful Colonia Suiza, the "Swiss colony"; a glance at the wooden chalets and you quickly understand why they named it so. More about it in a minute.
How to trek the Circuito Chico
We found the best Bariloche hiking trails map on the free Maps.me app, much more precise than Google Maps; so we recommend that for finding trail heads and points of interest.
Although we did a mix of trekking and hitchhiking, there's the option to do the loop by bike. Bike rentals are available on the way to Llao Llao, around km 18. The bikes seem to be in fair condition, and they provide helmet and high-viz jacket. There's very little traffic, so by fair weather, it's a real treat. We've seen many people cycling their way on Llao Llao, with the wind of freedom blowing through their curls…
Read more 8 Reasons Not to Be an Appalachian Trail Thru-Hiker
If you don't feel like multi-day or long hikes, Llao Llao is the ideal place to go hiking in Bariloche.
Hike duration
From 4-5 hrs to all day to do the loop
Difficulty
Easy
Key features

Mainly level trails with very short uphill paths
Beautiful nature
Many other hikers on the trail
You can hike the whole trail or cycle between the points of interest
Colonia Suiza
It's surely not among the most exhausting hikes in Bariloche, more like a cute little place to get back slowly into civilisation. The whole Lake District was first colonised by Swiss immigrants in the early 19th century and they set their first stone precisely here.
Visit small farms and sip a nice cup of tea. Or if you are hungry for more nature, head in the direction of Refugio Laguna Negra and enjoy forest views, pristine rivers and chilling pick-nick spots by the lake. But don't decide to take on the Refugio Laguna Negra hike on a whim, because it's a full-day trek.
Cerro Campanario
Now, make sure that you make it to the top of Cerro Campanario. This is THE best-ultimate-definitive viewpoint in the Bariloche area.
It lies at km 17, so most hikers visit it on the same day as Llao Llao. You can either climb it with a hardcore 30-min ascend for free, or take the chairlift for 500 ARS (as prices rapidly change in Argentina, check the official website for the current price).
Enjoy the truly breathtaking panoramic view from the top on a constructed lookout with a cafe and bathrooms. Call us misanthropist if you will, but we recommend you go after 6 pm, when most people have already taken the last chairlift down.
Hike duration
30 mins uphill, 10 downhill + the time you spend at the top
Difficulty
Moderate
Key features

Steep uphill all the way, but short trail
Best view of Bariloche area
You will meet other hikers, the top will be more crowded
Lake Gutiérrez
The Parque Nacional Nahuel Huapi has some more precious scenery in stock for you. Going in the southern direction from Bariloche, you'll find other trails leading through native forests and clear waters. You'll reach untouched lakeside beaches where you can relax and meditate.
Trails are well marked and signposted. Trekking from Bariloche towards Lago Gutiérrez, you'll first get to Los Duendes Waterfall which has 2 falls. Follow the trail to climb to hilltops and enjoy a view of the lake enclosed by 3 mountains: Cerro Otto, Cerro Catedral, and Cerro de la Ventana.
After a seemingly never-ending trail among bushes, you'll reach the Gutiérrez lake and the beaches, like at Villa Los Coihues. It's the warmest lake as the water doesn't come from melted snow, as opposed to other lakes in the area. So it's perfect for water sports when the weather is warm. Take your swimming suit and a picnic!
Hike duration
5 hours return
Difficulty
Easy
Key features

Mainly level trail with very short uphill paths
Lake view, waterfall, beach possibility
Few other hikers on the way
Refugio Frey hike
This is one of the most popular day hikes around Bariloche since it's accessible and offers amazing views. The hike starts in Villa Catedral (you can get there with public bus) and in 4 hours you'll reach the refuge.
The trail will lead you through a rocky landscape and in the end you'll admire some of the most stunning views over the area. If you want to hike more than one day, continue the trek to Refugio Jakob. It's common to stay overnight in the Refugio Frey, but you need to book your bed a few days ahead. Find more info and book on the refuge's website (es).
Hike duration
8 hours return (6 more hours if continuing to Refugio Jakob)
Difficulty
Easy
Key features

Easy terrain starting flat, last hour uphill
Panoramic view, view on the Cerro Catedral
Overnight stay possibility
There will be other hikers on the way
Cerro Catedral
Although Cerro Catedral is mainly known as a ski resort, trekking is also possible in the summer months (Jan-Mar). There's a beautiful view on the surrounding area; the Nahuel Huapi and the Gutiérrez Lakes, the Andes and the majestic Cerro Tronador, in the direction of Puerto Blest and the Chilean border.
Hike duration
7 hours return
Difficulty
Medium (due to terrain)
Key features

Difficult, rocky terrain without steep ups and downs
Beautiful, cathedral-like rock formations, small lakes
Not very likely to have other hikers on the way
Multi-day hikes around Bariloche
Looking for more adventure? For the feeling of exhaustion and the pleasure of the first hot shower in days? Hiking in Bariloche, Patagonia can bring you there. Here's a selection of long hikes that you can do self-guided.
As usual, when you plan on camping and trekking the national parks, make sure you follow the rules displayed at every entrance.
Refugio Laguna Negra
2-day trek with a potential extension to 4 days
If you've come to trek in Bariloche for longer distances, the hike to Refugio Laguna Negra might be for you. Laguna Negra (the "Black lake") is in the direction of Llao Llao, in the west of Bariloche. The trail leads through lush forests in the valley; then after a zigzag climb out of the trees, you'll reach the refuge on the lakeside of Laguna Negra.
The trek to Laguna Negra takes at least 5 hours, so consider staying overnight. The refuge can accommodate up to 60 people, and you have the possibility to shower and cook. It even serves dinner! Camping is free or donation-based. Check the refuge's website (in Spanish) for more info.
The best thing about this trek is that it doesn't end here! There's a possibility to continue on to the Refugio López or Refugio Jakob treks.
Hike duration
5-6 hours one way, 2 days return
Difficulty
Easy
Key features

Most serious ascend only at the end of the trail
Hike in the forest, along the river, small waterfall
Overnight possibility
Few other hikers on the trail
Paso de las Nubes trek
2-day trek
Between Puerto Frias and Pampa Linda is this 2-day, medium-difficulty hike leading through amazing viewpoints on the Frias glacier, the Frias River valley and the Valdivian rain forest. Yes, a real –although temperate– rainforest.
It's better to start the trek from Pampa Linda and sleep in the authorised camping spot at the Refugio Rocca. The "Path of the Clouds" really is a beautiful trail. Count with a hike of 6 hours until Refugio Rocca, then 6 more hours the next day until Puerto Frias.
Check the national park's brochure (in English and Spanish) for technical info and check ahead if the trail is open; it can be closed due to weather conditions.
Hike duration
5-6 hours one way, 2 days return
Difficulty
Easy
Key features

At parts the terrain can be difficult, be careful
On the second day there's a 300 m descent
Trail can be closed until Jan due to path condition in bad weather
Overnight stay possibility
Few other hikers on the way
Refugio Otto Meiling
2-day trek with a potential extension to 4 days or 6 days
This beautiful trek will bring you to the glaciers and since it starts in Pampa Linda as well, it can be combined with the Paso de las Nubes trek. From Pampa Linda it's a 5-7 hour trek to Refugio Otto Meiling, where you can stay overnight. Read the national park's brochure (es) for more info.
Hike duration
5-7 hours one way, 2 days return
Difficulty
Medium
Key features

Flat and uphill parts alternate during the whole hike
Trail goes above vegetation level
Overnight stay possibility
Very few other hikers
Nahuel Huapi Traverse
The ultimate 5-day trek
Is city-hopping your thing? No, we guessed so. Then try refuge-hopping! If you're up for a challenge, consider the ultimate multi-day hut trek around Bariloche, which links all the refuges listed above. This 5-day hike will surely leave you tired but happy and the views are well worth the effort.
Hike duration
5 days return
Difficulty
Medium / difficult
Key features

Uphills and downhills
Trail on Day 3 is difficult and not well marked, only for experienced hikers
One of the best views in the national park
Hut to hut trek with overnight stay possibility
Very few other hikers
How to prepare to go trekking in Bariloche
There's really something for everyone who goes trekking in Bariloche, from casual hikers to adventure seekers. However, to enjoy even the shortest hikes, you have to prepare well.
Keep in mind that the weather is constantly on the chilly side, even in the summer months. So bring some comfy jumper and thick socks. Of course, what to bring on the treks will largely depend on the length and difficulty of your hikes. But for every trek, we highly recommend that you bring:
Hiking shoes
Comfortable hiking gear: technical T-shirt, hiking trousers, fleece to put on at breaks, rain jacket
Hat or head scarf against the sun
Sunscreen, even on cloudy days
Picnic food, and a bag to collect your rubbish
Refillable water bottle
Camera, and a good online map
Hold on a second! Before starting your multi-day hike, check whether you need to bring your own warm sleeping bag. Most of the refuges don't offer bedding, so a good sleeping bag is essential. If you don't have a suitable one, rent one downtown.
In case you wish to cook in the refuge, bring your own food. Most of the refuges have bathrooms but showers are not hot. You can refill your bottle with clean water, but if you want to get water on the trail, better use a water filter.
Camping in your own tent is also possible at the refuge, and most of the time for free!
Trekking trails around Bariloche
The hiking trails are marked surprisingly well and small maps are even displayed at trail heads and crossroads. On some of the most popular trails, information boards tell hikers about the flora and fauna of the area. The paths are clean, with bins provided.
We promise that you can do all the treks in this post independently, self-guided, without the need for a mountain guide. But if you'd rather go in a group, choose among the Bariloche hiking tours that many tour operators offer downtown.
Accommodation in Bariloche
Before and after hikes, it's best to stay in comfortable accommodation and start off with a hearty breakfast. We recommend the below hotels / hostels, as they are comfortable, clean, relaxed, have very good rating on Booking.com and all include breakfast, and free wifi.
Budget option: Italia Inn Hostel – there are dorms and rooms with private bathroom, guests can use the kitchen and is rated as "very good" 8.1.
Mid-range option 1: Hotel Crans Montana – this nice hotel is very near the beach of Nahuel Huapi, all rooms have a private bathroom and after (or before!) hiking one can enjoy the jacuzzi. Rated "very good" 8.2.
Mid-range option 2: Selina Bariloche – our personal favourite, this colourful hotel offers rooms with private and shared bathrooms, has a lovely garden, welcomes pets and has a spa. Rated as "very good" 8.3.
High-range option: Hotel Panamericano Bariloche – this 4-star hotel is marked as a sustainable property on Booking.com. It is a few minutes away from the beach and has a mountain view from the windows. The rooms have private bathrooms. The hotel has a health suite with spa, gym and hot tub to relax.
What else to do in Bariloche
While there's enough trekking around Bariloche to keep you busy for a while, there are many other outdoor activities. In fact, the town and the whole area are famous nationwide for being an outdoors play field. Whatever water sport you could invent is surely already an attraction in Bariloche. Skiing, canyoning, kayaking, kite surfing, rafting, SUP, via ferrata, lake tours, you name it!
Besides the nature, Bariloche town is also worth a visit. The architecture is clearly European influenced (check out the main square for example), unsurprisingly, as many European immigrants settled in the area.
The area charms always more people from the province of Buenos Aires, who move here to live and to work. The town has a lively nightlife scene, restaurants, bars and clubs. If you like craft beer, try a pint of Patagonia (wheat beer, ales and IPA styles); the brewery is a few kms from Bariloche, on the Circuito Chico.
Best tours starting in Bariloche
If you'd rather visit the area with a guide, as a part of a group, these are the best tours we recommend from Viator.
San Martin de los Andes and the Seven Lakes day trip: with this trip you'll see the most beautiful part of the Lake District, as a kind of road trip
Boat day trip from Bariloche to Puerto Varas (Chile): this amazing boat tour will take you to Chile crossing Andean lakes and allowing to get a peek of volcanos, glaciers and waterfalls.
Learn to ski at Cerro Campanario on a day trip: a full-day program to learn how to ski, and enjoy the breathtaking view. It includes transport and equipment.
Where else to go in the Lake District of Argentina
We won't tire of singing the praise of Argentina's Lake District; it's probably one of the best places to spend time for nature lovers. Unless you really don't want to travel that far south in South America, it's a must-visit place.
Together with San Martín de los Andes, Villa Angostura and El Bolsón, Bariloche forms the backbone of the Lake District, and is the biggest town in the area. We spent 1.5 weeks visiting the region –mainly hitchhiking– and revelled in amazing landscapes!
★
Those few last meters were a nasty climb and you're out of breath. You sit down on a rock that is just casually overlooking a fantastic scenery of clear blue waters surrounded by ancient snow-topped mountains. The little breath you had left is going in a cloud of fog; you need time to take in the beauty of what's in front of you. Maybe the blue marble should give us a fragment of its eternity so we can fully appreciate it. And what if you never left Bariloche? Las montañas están llamando y tengo que ir.
What sort of hikes do you like the most?
Tell us your opinion about these hikes in Bariloche, or about your expectations!
---
Like it? Pin it!
---
Don't miss anything from South America on Green Mochila travel blog!
References