Coconut Chia Pudding is healthy, delicious, and perfect for a filling breakfast or snack! It only takes a few minutes to make and can be enjoyed right away or stored in the fridge overnight.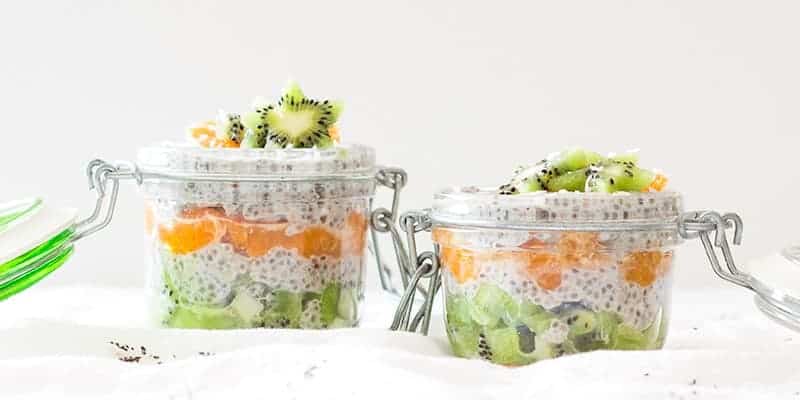 After enjoying chia seed pudding for years, I'm so glad to see it finally catching on!
Now, it's common to see fancy chia pudding recipes in every food and health magazine. There are tons of great ideas out there. But, if you ask me, I still think this easy coconut chia pudding recipe with fruit is one of the best out there.
Our simple but mighty ingredients are coconut milk, chia seeds, and Stevia, which make a wonderful base. Combined with fresh fruit, this recipe makes a healthy pudding that can be enjoyed as a breakfast, dessert or post-workout snack!
How to make coconut chia pudding
The beauty of chia seed pudding is that it is so easy to make, and then you can dress it up however you want! Here's how I make my recipe:
Step 1: Pour coconut milk into a bowl and sweeten with Stevia to taste. Whisk well to combine.
Step 2: Add chia seeds and give it another whisk. Set aside or store in the refrigerator for up to 24 hours.
Step 3: Peel the clementines and remove the skin.
Step 4: Peel and dice the kiwi.
Step 5: Layer fruit, chia pudding, fruit, chia pudding. Decorate with remaining fruit and finish with a sprinkle of unsweetened coconut on top.
Read more Can you eat Dill Pickles if you have Diabetes? [7 Benefits]
There you have it!
Please note that cutting the kiwi into pretty stars is entirely optional 🙂 You can cut your fruit however best suits you!

Tips for making chia seed pudding
The longer the chia seeds sit in the coconut milk, the more liquid they will absorb, resulting in a smoother pudding. 
Based on how you like your pudding (or how much time you have), you could let the chia seeds sit for just a few minutes, or let them soak in the refrigerator for up to 24 hours! 
Note that you don't want to add the fruit until you're ready to eat the pudding, otherwise it will make the pudding soggy.
Alternatively, if you don't like the gel-like consistency of hydrated chia seeds, you can simply grind the chia seeds and blend them with the coconut milk to get a super smooth pudding.
I absolutely love the crunch of the whole seeds in the pudding, so I leave them whole for this recipe, but it's entirely up to you!
Choosing the pudding ingredients
I have a few tips and tricks when it comes to the other ingredients in this recipe.
First, if you use clementines, I recommend removing the skin that covers each wedge. The skin can get a little bitter when it contacts other liquids.
To do this, just cut off the top edge with a sharp knife and then peel down the sides with your fingers. It doesn't have to be perfect, the bottom will still have bits and pieces of skin. As long as you get most of the skin off, you'll be good.
Read more 11 Healthy Snacks for Diabetes and Prediabetes
Next, you have a few options when it comes to the coconut milk product you use. I prefer the "thin" coconut milk that you buy in cartons compared to the "thick" varieties that you typically get in cans, but either one will work for this recipe. Just be sure to check the label for any added sugar or sweetener!
Finally, don't be afraid to make this recipe your own!
You can really put almost anything on your chia seed pudding. It's just a base that's ready for the toppings that sound best to you. This could be different fruits, chopped nuts, almond butter, granola, really ANYTHING!
If you think something might taste amazing with chia pudding, it almost certainly will. So go for it!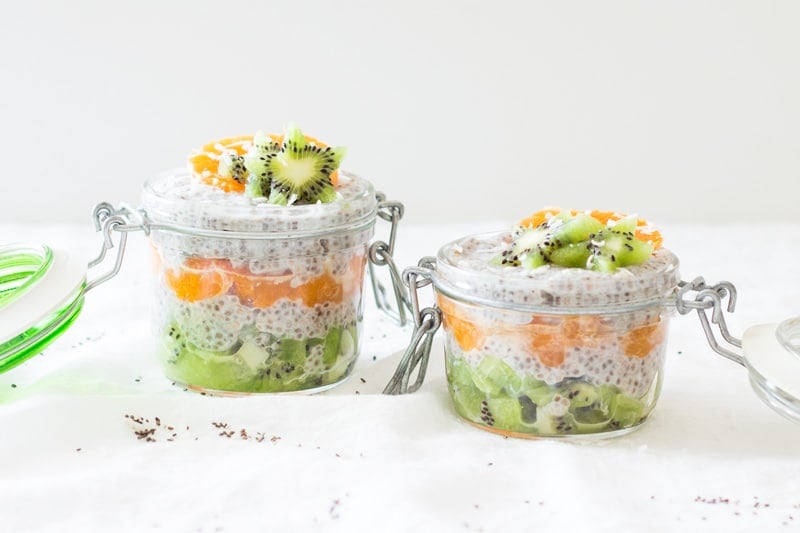 Nutritional Information
Coconut chia pudding itself is quite low in calories. A serving of this recipe without any toppings is:
162 calories
3 g carbs (2.5 g sugar)
5 g protein
10 g fat
And thanks to the chia seeds, this pudding is also rich magnesium, calcium, and iron. Just choose toppings that fit with your daily nutrition and you'll have a perfect, delicious, and nutritious breakfast or snack any time!
Chia seed pudding for diabetics
Recipes made with chia seeds are quickly becoming a go-to breakfast option for people living with diabetes because of the low impact on your blood sugar.
The carbs in chia seeds are very slowly digested and provide a steady supply of energy without blood sugar spikes.  
In this recipe, this majority of the carbs (and almost all the sugar) comes from the fruit. If you prefer to eat fewer carbs, simply use less fruit or use berries instead (despite tasting sweet, most berries are much lower in carbs than fruit).
Read more 10 Things You Didn't Know about Mary Mouser
Storage
Once you combine the chia seeds with the liquid, the pudding can be stored in an airtight container in the refrigerator for up to 24 hours. The longer it sits, the more liquid the chia seeds will absorb.
I recommend adding the chopped fruit and other toppings when you're ready to serve. Otherwise, the fruit can make the pudding soggy.
Other healthy breakfast recipes
I am a huge fan of healthy breakfast recipes that taste great (no boring cereal for me!) Starting your morning the right way sets you up to make healthy decisions all day! Here are some of my favorite breakfast recipes:
Chocolate Chia Seed Pudding
Whipped Cottage Cheese Breakfast Bowl
Low-Carb Cauliflower Oatmeal
You can also check out this roundup of my favorite low-carb breakfast ideas for diabetics for even more inspiration!
When you've tried this recipe, please don't forget to let me know how you liked it and rate the recipe in the comments below!
References