Are you wondering how to climb Mt Fuji in one day? I'm here to tell you that it can be done with reasonable fitness and no special climbing skills. Buckle up and discover how to summit Japan's most famous mountain.
How to Climb Mt Fuji in One Day
I have a weakness for iconic summits.
So when I learned that the highest and most celebrated mountain in Japan could be climbed within a day, I was there faster than you can say shinkansen.
On the postcards, of course, Fuji is beautiful. A snow-capped deity, framed with cherry blossom and cloudless skies, an image recreated in a thousand different ways across the land of the rising sun. Up close and personal, however, Fuji feels different. Earthy, wet and submerged in mist. Slippery, stubborn and chasing my breath.
That picturesque snow blocks the mountain for all but July and August, when most of the 400 000 people who climb it each year do so by night.
But I'm here to tell you how to climb Mt Fuji in one day.
Most People Climb Overnight
In Japan, Fuji is sacred and pilgrims labour by torchlight to reach the 6th station for the sun's first appearance. For pilgrims in search of solitude (and latecomers like myself), the only option in September is to hike by day. Yet the clouds that hover around Fuji-san make the search for sunlight no less optimistic.
The Pros and Cons of Climbing Mt Fuji in One Day
Which is best for you? Climbing Fuji in one day or the more traditional overnight method?
Pros
You climb in daylight
You can avoid the crowds
You can sleep in a bed!
It saves time in your itinerary
Cons
You miss the sunrise
You miss the torchlit procession
You have to be pretty fit
It's an early start and late finish from Tokyo.
Conclusion:
Climbing Mt Fuji in one day makes great sense if you are in pretty good shape and short on time. Think, regular cardio sessions at home and injury and illness free.
Where to start to climb Mt Fuji in one day
In time-honoured tradition, we cheat by starting at the 5th station, where roads and civilisation end. The "viewing point" shows clouds beneath us – and the crater above, sliced in two by Alpine-looking buildings wearing rows of Japanese script.
"The Yoshidaguchi Climbing Trail is closed from September 5 to June 30," reads the translation. "We are not responsible for your life and what you do."
With that warning, we set off. The earthy path is wide and soft underfoot, the sun streams through the branches and we have the place to ourselves.
What the climb is Like
We pass a few unfinished buildings, a concrete pathway and a collection of corrugated huts with grubby plastic awnings. But overall, nature soothes.
That changes as we break free of the forest and tackle the blood-red volcanic soil. Spongy, light and craggy, the path springs under pressure and is crowned with fresh, fresh air. Nature takes me by the hand and introduces me to the Fuji adventure I've dreamed of.
Then it gets tough and the climb gets ugly. My fingers splay apart and my nails scrape at the rock. The path carves a scar into the steep and soulless terrain.
 Perhaps now I understand why people climb at night. No-one's here for the view…or are they?
At a certain altitude (probably around the oxygen-deprivation zone), I see beauty: a lone man as a silhouette, doubled over a gnarled stick and plodding slowly, carefully upwards. No waterproofs, no Gore-Tex, no dehydrated noodles. Simply bubbling clouds beneath, scarlet torii above, and an end, an end to the relentless rocks, dirt and railings.
Reaching the Summit of Mt Fuji
We have reached the stone white lions. We have reached the Konohana Sakuya Hime Shinto shrine. We have reached the summit.
At 3776 metres, I stare in almost cosmic wonder at the crater that drops away before me, at the fields of clouds all around, and at the swords of ice that drip from the rugged volcanic walls.
I breathe in that strange blend of accomplishment and emptiness that accompanies reaching a peak.
We slither, slip and slide on the descent. Knees groaning, palms chafed, faces decorated with diamonds of mist. I can't really explain why I enjoy hiking so much, but I am reminded of the following Japanese proverb:
A wise man climbs Fuji once. A fool climbs it twice.
WHEN CAN YOU CLIMB MT FUJI?
Ideally, between July and August to be safe. It is possible to summit Mount Fuji in September during the day but you do so at your own risk.
WHAT TO WEAR TO CLIMB MOUNT FUJI
Plenty of layers, sturdy boots with ankle support. Waterproofs. Check out what to pack for a walking holiday for more useful tips.
WHAT TO BRING TO MOUNT FUJI
Nothing heavy. Consider a torch at night, take plenty of drinking water and bring some food. In the peak season, mountain huts serve basic food but it's best not to rely on this. Again, check out this link for useful information.
You can find even more information on how to climb Mt Fuji, when to climb and how to get to the starting point on the official information page here. 
How long does it take to climb Mount Fuji?
Most people start at the 5th Station (Kawaguchi-ko ) and from there, the Moutn Fuji hike takes between 5-10 hours depending on your fitness and on the queues. Don't forget to leave 2-4 hours to get back down.
Is climbing Mount Fuji hard?
Yes and no. The Mt Fuji climb doesn't require technical climbing skills. You'll mainly be hiking or scrambling. That said, it's tough terrain and pretty steep. I wouldn't recommend climbing Mt Fuji if you have injuries or breathing trouble. I also wouldn't recommend it for children younger than twelve.
Can you climb Mount Fuji without a guide?
Yes! We completed our Mount Fuji climb without a guide in September during the day. The paths are clearly marked and the route is easy to follow. Climbing Mt Fuji at night, however, might be more complicated. During the peak season, the crowds should make it obvious but I wouldn't recommend attempting an overnight climb without a guide on your own.
How much does it cost to climb Mount Fuji?
Access to the mountain itself is free, although you do have to consider your transport to the 5th station. During the peak season, collection stations ask for a 1000 Yen donation to maintain the paths.
More About Travel in Japan
Start with our Japan Trip Planner and itineraries and then move on to our other articles and resources on travel in Japan.
The Highlights of Japan – read about Japan's top attractions
How to spend five days in Tokyo – your step by step itinerary
This snowy festival is beautiful and I want to take you there
The secret to the longest life expectancy in the world
What this Nagasaki bomb survivor wants you to know
How to enjoy hot octopus in the snow in Japan
What is Hiroshima like today?
How to spend two days in Kyoto: an itinerary
How to get off the beaten path in Japan
---
— Update: 31-12-2022 — cohaitungchi.com found an additional article Climbing Mount Fuji in One Day from the website www.poppinsmoke.com for the keyword hike mt fuji in one day.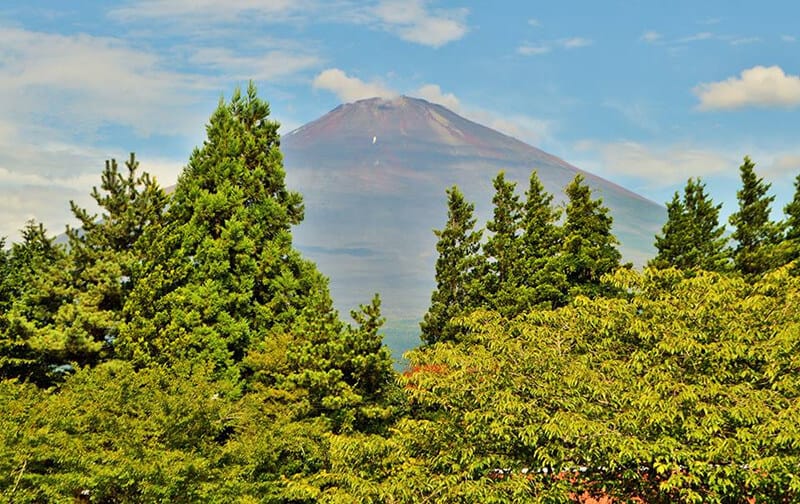 Mount Fuji has profound importance and a mystical quality to the Japanese. They refer to it as "Fuji-san," which is a name of respect. At an elevation of 12,388 feet, it is the tallest mountain in Japan and unmistakable in photographs. If you've ever flown into one of the airports in Tokyo, you may have seen Mount Fuji rising from the clouds.
Shortly after we moved to Japan, my husband and I agreed that we had to climb this hallowed mountain before we left. The Mount Fuji climbing season was already over, so the trek was at the top of our list for the following year.
As my husband and I researched the Fuji climb and read other hikers' accounts, we found many people who said they didn't have a good experience. Many recounted stories of extreme weather, massive crowds on the Fuji trails, or altitude sickness. So, going into the hike, we didn't actually expect to enjoy it. We thought of the Mount Fuji trek as something we would experience one time and check off our list.
Spoiler alert – it's one of my favorite hikes we've ever done.
To the Mount Fuji Summit and Back in One Day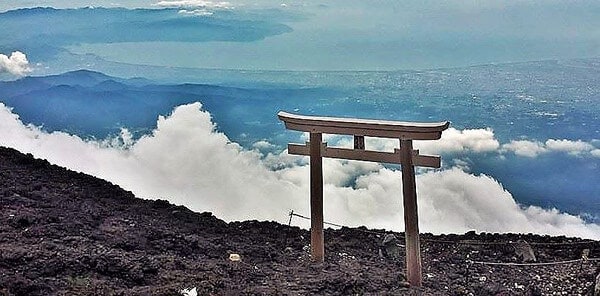 This section has a short summary of our climb. The detailed logistical information is in the sections that follow.
Planning for our trip was easy, because we did it "military style." We took advantage of all of the benefits available to us as military retirees. We used space-available lodging, transportation provided by the base Trips & Recreation office, and on-base facilities, such as the gym and Exchange.
All of these combined made the trip convenient, inexpensive, and stress-free, which contributed to making our trek up Mount Fuji one of our best hikes ever.
We arrived at Combined Arms Training Center (CATC) Camp Fuji, located at the base of Mount Fuji, two days before our hike. The area near Camp Fuji is very quiet and surrounded by beautiful mountains.
(Who knew you could find military lodging at the base of Mt. Fuji!? Here are 12 other unexpected places you can stay on a military installation!)
On a clear day, we had an incredible close-up view of Mount Fuji hovering just beyond the base. Our early arrival gave us a day to relax, enjoy the view, and make sure we had everything on our checklist.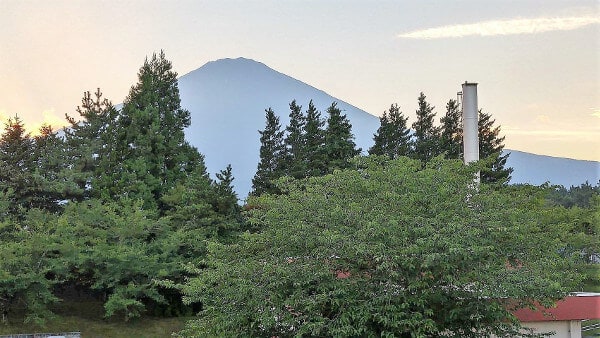 The morning of the hike, the shuttle we had arranged through the Camp Fuji Marine Corps Community Services (MCCS) Trips & Recreation Office picked us up at the lodge at 0500. We were the only passengers on the bus.
It took about an hour to get to the trailhead, which was at the 5th Station of the Fujinomiya trail (elevation 7874 feet). From there, the driver wished us luck and said he would meet us at the base of the Gotemba trail at 17:00. If we were late, we would have to take a taxi back to the base.
The Ascent – Fujinomiya Trail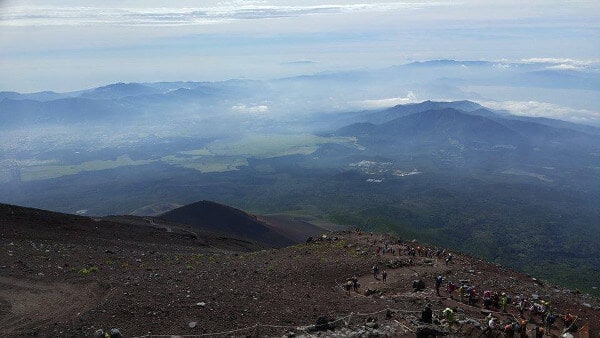 We started our hike at 0600 on a beautiful, clear day. It was breezy and much cooler than at Camp Fuji. Throughout the entire hike I wore a long-sleeved dri-fit shirt under a light fleece jacket. My husband wore a button-up hiking shirt and "wicking" undershirt. I was a bit warm at times, but having the extra sun protection from the high neck of the jacket was easier than applying sunblock.
On the way up, most of our fellow climbers were Marines from Camp Fuji along with a handful of Japanese, including a few solo climbers. The trail never got too crowded, and we ascended at a comfortable, steady pace.
All of the Mount Fuji trails have rest stops called "stations." At each station, we stopped to have the station's stamp branded into our Mount Fuji walking sticks, but we did not take any extended breaks.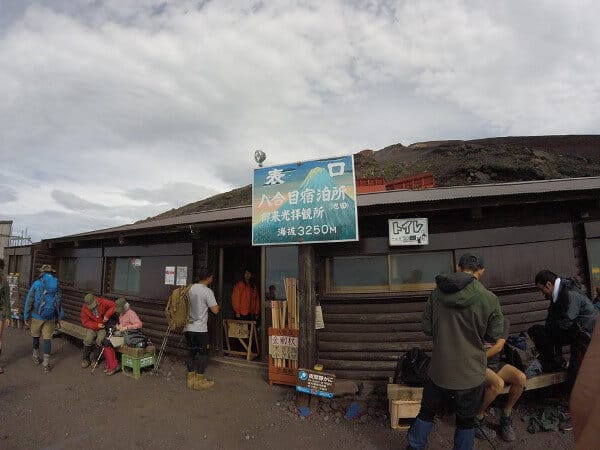 The views on the way up were spectacular, and it was amazing to stand on the iconic mountain that we had seen in so many pictures!
We reached the summit at about 1100. At the top of Mount Fuji, there is a beautiful shrine, a small ramen shop, and restroom facilities.
You can also view the massive crater of the Mount Fuji volcano. If you still have energy after your climb to the summit, you can walk the trail around the crater, which takes about an hour.
At least, that's what we read, but we did not hike it. Not knowing what the Gotemba trail had in store for us on the way down, we wanted to allow plenty of time for the descent to ensure we didn't miss our shuttle.
Read more My brother did the Mt Fuji bullet climb ⛰ Day trip from Tokyo to climb Mt Fuji?! ⛰ Japan travel blog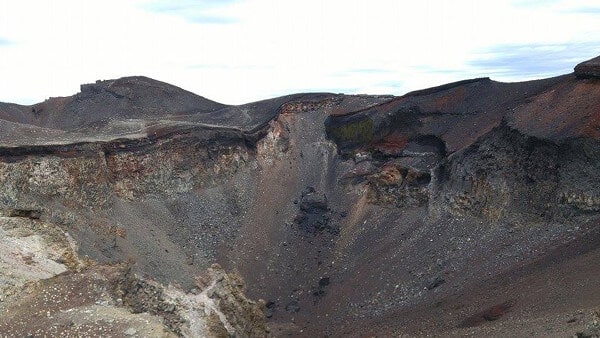 We spent about 45 minutes at the summit, enjoying the view, resting, and eating hot ramen noodles. Crazily enough, there is free WiFi on the mountain, but it only works in certain spots. At the summit, I couldn't resist sending a few "greetings from the top of Mount Fuji" texts to my family!
The Descent – Gotemba Trail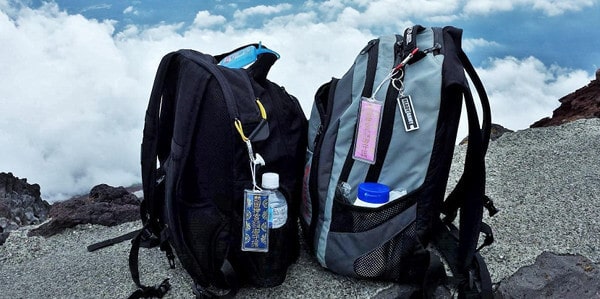 The Gotemba trail was a bit steep and slippery for the first 30 minutes, and we relied heavily on our hiking sticks and poles. Eventually it flattened out and became a seemingly endless path of deep, loose, sand and ash.
The stations were few and far between, and there was virtually no vegetation (the images on this page gives you an idea of how it looks). It was quite foggy, so we were glad we had enjoyed our views on the way up.
We reached the last station before the Gotemba parking lot and realized we still had more than an hour before our shuttle was scheduled to pick us up. As a reward for our accomplishment, we enjoyed a refreshing "shave ice" (you'll likely have at least one of these while in Japan). Then we made our way to the parking lot, where our shuttle driver was waiting for us.
Round trip, including breaks, the Mount Fuji climb took 10 hours.
Logistics of Climbing Mount Fuji
Here's what you need to know to plan your climb.
Getting to CATC Camp Fuji
We traveled to Camp Fuji by train from Nagoya. The closest train station to Camp Fuji is Gotemba.
I figured out the best way to get to Gotemba simply by using Google Maps and entering Nagoya station as my starting point and Gotemba station as my destination. From Google Maps, I could see which trains to take, what time they departed, where to transfer, and how much they cost (yes, you can get all that information from Google Maps, which is why it's one of our favorite travel apps).
From Gotemba station, we caught a taxi to the base. It took about 10 minutes and cost 2200 yen (~$20). The taxi dropped us at the pedestrian gate, which is only a 5-minute walk to the Mountain View Inn, the lodging facility on Camp Fuji.
Lodging
The Mountain View Inn has 34 rooms. Space-A guests can reserve up to 60 days in advance.
We had a standard room, and it was very spacious with the usual base lodging amenities as well as a refrigerator and microwave. The Inn has a free laundry facility, which you will definitely need when you return from your hike.
Base Facilities
Camp Fuji is quite small, and you can walk from the Mountain View Inn to the main part of the base in about 15 minutes. Please note that some of the information on the MCCS Fuji pages linked below is outdated, so verify schedules and costs before making plans based on the information.
Big Guns Gym is the fitness facility. You can buy a Fuji walking stick at the store in Big Guns Gym (ours were $18). It's slightly more expensive than buying it on the mountain, but it also has the Camp Fuji stamp branded into it.
Trips & Recreation is located within the library. We booked our shuttle to Mount Fuji ($25 per person round trip) through this office. The Fuji shuttle service drops you at one trailhead and picks you up at another. You can choose between a day hike and a night hike. The year of our hike, shuttles were available on Fridays and Saturdays from July 1st through September 3rd. Trips & Recreation provides a comprehensive gear list and other climbing advice. However, they do not offer guided hikes – they simply provide the shuttle.
Trips & Recreation also offer many other trips and tours. The day after climbing Mount Fuji, we hopped on the first leg of a day trip to Tokyo and got a direct shuttle to the New Sanno hotel (a luxury hotel that is run by the U.S. Naval Joint Services Activity) for $15 per person.
The Marine Corps Exchange (MCX) is basically a large Shoppette. It has snack food, select household and personal care items, Marine clothing & sales, and a few local souvenir items.
Dining: Retirees cannot eat in the mess hall except on certain holidays. The food court has a pizza restaurant and a Subway. The Roadhouse Enlisted Club and Station 4 SNCO/O Club also serve food, and both clubs have full service bars.
That pretty much sums it up for the facilities you're likely to use on this small base. Camp Fuji does not have a commissary, so you will need to buy snacks for your hike at the MCX or at the 7-Eleven down the street from the pedestrian gate.
Also, make sure you have all of the hiking gear and clothing you need before you get there, because you will not be able to buy or rent those items on base.
When to Climb Mount Fuji
The official climbing season is quite short: from early July to early September. That means everyone is trying to climb during the same narrow window, and it can make for large crowds, especially on weekends and during the annual Obon holiday in mid-August (exact dates vary from year to year).
The best time to climb Mount Fuji is on a weekday, avoiding Obon week entirely. We did our climb in late August, and it was perfect.
Daytime vs. Nighttime
When planning a climb up Mount Fuji, you must first decide if you will climb during the day or at night.
Many climbers choose to start hiking in the afternoon and spend the night on or near the summit so they can watch the sunrise from the top of Mount Fuji. Some people argue that seeing the sunrise is the whole point of the experience.
However, staying overnight on the mountain introduces a whole new set of logistical issues and additional clothing and gear requirements. It can be extremely cold due to the wind, and weather at the top of the mountain is hit or miss.
We decided to keep it simple and climb during the day. We enjoyed breathtaking views all the way up, and the temperature was comfortable. If we do the hike again, maybe we will try climbing Mount Fuji at night, but we were happy with our decision to do our first expedition during the day.
Weather
Keep in mind that no matter how hot it is at sea level (e.g. Tokyo) or even at Camp Fuji, weather on Mount Fuji is completely different. The air is dry and much cooler, and it's usually quite windy. So don't worry about being too hot, even in August. Instead, bring layers and a good windbreaker in case you are cold.
Altitude
Even the fittest climber may get altitude sickness. As a precaution, we took ibuprofen at the start of our climb, and we maintained a slow, steady pace. Fortunately, neither of us felt sick.
Gear and Last Minute Preparation
The Camp Fuji MCCS Trips & Recreation office has a checklist that I recommend following carefully. While there are a few items that you won't need if you're climbing during the day (e.g. headlamp), the rest is important. A few special mentions:
Hiking poles. Poles are helpful on the way up and a necessity on the way down. We each used one hiking pole and our Fuji walking stick. You could get away with using only the walking stick, but the descent is steep and slippery in many places, so the extra balance of two poles is helpful.
Sturdy hiking shoes or boots. My husband and I both wore low-top hikers and they worked well. You need shoes with a thick sole and good treads (I always choose hiking shoes with Vibram soles). "Fashion" sneakers or even regular athletic shoes won't do the job.
Gaiters. Whether you have low-top or full hiking boots, you will want gaiters for the descent, especially on the Gotemba trail. It's almost entirely small pebbles and volcanic ash. Gaiters will help keep all that stuff from filling your shoes.
Hat: The sun is very strong at that altitude, and you need a hat that shades your neck. The hat should also fit tightly or have a neck strap, because the wind on Mount Fuji is powerful.
Cash: Bring at least 5000 yen per person. Each climber must pay the "donation" of 1000 yen (about $9 at the time of this writing) at the trailhead. Toilets cost between 100 and 300 yen (they are clean and well-maintained). Burns on your stick at each station cost 300 to 500 yen. You can also buy snacks and supplies at many of the stations and at the top.
I also read a preparation list from another source that recommended hikers cut their toenails. I followed that advice and cut mine extra short. It made the long decent a little less painful.
Mount Fuji Trails
There are four trails leading to the top of Mount Fuji. The starting point of all trails is part way up the mountain at the "fifth station," but each trail's fifth station is at a different elevation.
If you are using the Camp Fuji shuttle, you don't have a choice of which trail you climb, because the shuttle drop-off and pick-up points are designated. The year of our climb, the day hike started on the Fujinomiya trail and ended on the Gotemba trail. The night hike started on the Yoshida trail and took Gotemba on the way down.
Fujinomiya: This is the shortest trail, but also the steepest. It is the second most popular trail. It was not very crowded when we began our climb at 0600. As we ascended and began to encounter climbers who had spent the night on the mountain and were on the way down, there were a few short bottlenecks at the narrower sections of the trail.
Yoshida: Also called the Subaru trail, it is the most popular and considered to be the easiest. As a result, it can get quite crowded, especially during the most popular climbing days. Fortunately, the ascending and descending trails are separate, unlike Fujinomiya.
Gotemba: This is the longest and flattest trail, but I would not recommend using it to ascend. Most of the trail is volcanic ash, so it would be like trying to hike a mountain of quick sand. It wasn't especially difficult on the way down, but it was very long, and even with gaiters, we had to stop and empty the sand from our shoes.
Subashiri: This is one of the less popular trails and is generally not crowded until it joins with the Yoshida trail at the 8th station. Like the Gotemba trail, it has a section made of volcanic ash.
Leaving Camp Fuji
As mentioned above, we were lucky to hop one of the Trips & Recreation shuttles to the New Sanno. If you're heading back to Tokyo, check the schedule to see if you can do the same. Otherwise, you can simply reverse the original directions and catch the train.
Related Reading
Planning a trip to Japan? Here are other articles you will like:
8 Things You Need to Know About Flying Space-A to Japan
Staying as The New Sanno Hotel in Tokyo
Visiting Hiroshima and Miyajima Island
How to Rent a Car in Japan
---
— Update: 31-12-2022 — cohaitungchi.com found an additional article My brother did the Mt Fuji bullet climb ⛰ Day trip from Tokyo to climb Mt Fuji?! ⛰ Japan travel blog from the website www.flashpackingjapan.com for the keyword hike mt fuji in one day.
Hi there!
So I did the Mt Fuji climb as a 2-day hike, but my brother did this as a one-day hike aka as a bullet climb.
Doing a "Mt Fuji bullet climb" basically means that you are going straight from Mt Fuji 5th station (where you'll start the hike) to the trail summit in one go.
This is compared to splitting up the hike over 2 days, or getting in some extra rest at a mountain hut as you make your way up to the highest point in Japan.
So there are basically 2 most common ways to do the bullet hike:
Start in the evening and hike through the night so you can be at the Mt Fuji summit for the sunrise
As a day hike, starting in the morning and returning back to Tokyo in the evening
It should be mentioned that officially, bullet climbing is not recommended.
Climbing in the off season is also not recommended for safety reasons. If you DO decide to attempt it anyway, basically prepare yourself for winter hiking.
In many ways, you'll want to prepare yourself for winter hiking even if you're hiking in summer during climbing season! Or at the very least, you should be prepared for cold weather hiking.
Generally the climbing season is from July to early September, although exact dates change each year.
More below on hiking up Mt Fuji as a 2-day hike vs 1-day hike!
🗾
Climbing Mt Fuji as a 2-day hike
This is what my 2 days of climbing Mt Fuji looked like:
Bus from Tokyo to Mt Fuji 5th station
Walk around 5th station
Hike from 5th station to 7th station
Overnight stay at mountain hut
Hike from 7th station to summit!
Crater hike at the top
Hike back down to 5th station!
Bus from 5th station to Kawaguchiko (Fuji Five Lakes area)
Overnight stay at Kawaguchiko hostel
Okay, now what if you don't want to do it as a 2-day hike because you don't want to pay to stay at a mountain hut just for some floor space?! (You do get a little more than floor space, though.)
Hiking through the night for the Mt Fuji sunrise

This is sunset at 7th station.
Well, there's only one highest point in Japan, and there's only one spot that you can catch the sunrise from the highest point in Japan!
This is one of the main motivations for everyone who chooses to hike through the night.
The other motivation might be the cost of a Mt Fuji mountain hut, and to avoid those extra expenses.
Although, there are some people who also choose to get a couple hours of rest by staying at one of the higher station mountain huts, and then waking up really early while it's still dark to make it to the summit in time for sunrise.

This is morning at 7th station.
Either way, if you choose to start in the evening and hike through the night, make sure you're prepared for night hiking.
This can include a headlamp so you can see where you're going, and it can also include cold weather clothing. (Possibly even more than if you were to hike during the day.)
Read more Climbing Mount Fuji in One Day
Even during the day it can get cold the higher you get, so night time will be even colder.
And once you reach the summit, you might be sitting around for a bit as you wait for the sunrise, so you'll also want to make sure you have extra layers to keep you warm then too.
Day hike
If you were to do the Mt Fuji climb as a day trip from Tokyo, your day may look something like this:
Early morning bus from Shinjuku to Mt Fuji 5th station
All day hike to Mt Fuji summit and back
Return to Mt Fuji 5th station in the evening
Bus from 5th station back to Tokyo (or depending on timing, you may consider going from 5th station to Kawaguchiko, and then Kawaguchiko to Shinjuku)
Personally if I were to attempt a day hike from Tokyo, I would make the bus reservation for the direct bus from Shinjuku to Mt Fuji 5th station, but I wouldn't make a reservation for the way back since I wouldn't know what time I'd return to 5th station. (And I think it'd be better to not be pressured by time!)
Maybe there will be a direct bus back to Tokyo leaving shortly after you arrive back to 5th station, but if not, it might be quicker to go through Kawaguchiko.
No matter what, you will likely find a way back to Tokyo if you return back at a decent time!
Another option to consider if you are determined to make it a bullet climb is to stay overnight in Kawaguchiko instead of Tokyo. You'll be closer to Mt Fuji 5th station that way.
So…
Should you bullet climb Mt Fuji?!
Or will the altitude and quick ascent make you so tired that you will fall over?!

Don't worry, this guy was mostly kidding. 😉
The main reason that bullet climbing is not recommended officially is because of the increased risk of something going wrong – mainly issues as a result of altitude sickness.
Here's the official word on bullet climbing Mt Fuji:
Well, for me the stories I read online of people getting symptoms of altitude sickness was enough to decide to take it slowly up Mt Fuji!
But yes, there ARE are plenty of people who do successfully climb Mt Fuji straight through as the so-called bullet climb.
And just because you climb Mt Fuji over 2 days doesn't mean that you'll be totally in the clear from developing symptoms of altitude sickness.
The Mt Fuji summit is considered high altitude no matter how long you choose to take getting there.
The summit is 3,776m (12,000ft). It's generally accepted that anything above around 2,500m or around 8,500ft is considered high altitude.
Whether you climb Mt Fuji in one day or 2 days, to give you the greatest chance of not having to deal with altitude sickness yourself, make sure you do as much as possible to set yourself up for success! (For starters, stay well-hydrated and be well-rested when you begin the hike!)
HAPPY CLIMBING MT FUJI!
---
— Update: 31-12-2022 — cohaitungchi.com found an additional article Planning a Tokyo to Mount Fuji day trip: All you need to know from the website www.wapititravel.com for the keyword hike mt fuji in one day.
Wonder how to plan your Tokyo to Mount Fuji Day Trip? We got you covered.
The region around Mount Fujisan is located less than 2 hours away from Tokyo. You will find many beautiful places that will appeal to both culture and nature lovers. 
A trip to this region is also a good way to split your stay in Tokyo and escape the hustle and bustle of the capital for a day or two.
In this post, we describe the best things to do around Mount Fuji.
We will share all the things you need to know to choose the best Tokyo to Mount Fuji day trip or day tour based on your personal interests. 
And lastly, once you have seen the many things that you can see and do in this region you may want to go for 2 days instead of 1. Therefore we also share some excellent hotels to spend the night.
Tip: Join our Facebook group about Japan to hear the latest tips and get help with your travel plans from us and fellow travelers!
Where is Mount Fuji
Mount Fuji is part of the Fuji-Hakone-Izu National Park.
It's located less than 100 kilometers away from Tokyo.  It is a UNESCO World Heritage site since 2013 and has always been a popular destination for day trips from Tokyo.
Most day trips from Tokyo to Mount Fuji will head to either Lake Kawaguchiko or Hakone. These are the two most popular regions as they are both easily accessible from Tokyo.
Both places offer a different experience. That's why we'll go into more detail about the differences between Hakone and Lake Kawaguchiko below.
But first, let us see what's the best time to visit Mount Fuji.
What is the best time to visit Mount Fuji 
Despite the many other sights, most people only want one thing when they come to this region, and that is, of course, to see the beautiful mountain.  The many postcard-like pictures may give the impression that it is easy to take stunning pictures of the mountain but unfortunately,  Mount Fuji isn't always visible.
The mountain is best seen on clear and sunny days with mild temperatures.  That makes  November to February the best period to see Fujisan. 
But a trip to this national park is not completely worthless if you aren't lucky with the weather, and the mountain is hiding behind the clouds. 
It will still be time well spent because there are so many other things to see and do in both Hakone as well as Lake Kawaguchiko.
Still, we recommend those that absolutely want to see the mountain, check the weather forecast when they're planning their visit. 
How to see Mount Fuji 
There are plenty of ways to discover this beautiful area. 
You could go independently or join a Mount Fuji Day Tour. 
Going independently to Mount Fuji
Pros and cons of going independently 
Joining an Mt. Fuji Day Tour
Another option is joining a day tour to Mount Fuji.
Pros and cons of joining a day tour 
If you prefer to join a day tour from Tokyo to Mt. Fuji we have both good and bad news. 
The good news is that the list of day tours from Tokyo to Mt. Fuji is incredibly long.  Everyone will be able to find something to his liking. 
The bad news is that the sheer variety on offer makes it that much harder to pick a tour.
It took us several days to compare the different tours. 
That's why we decided to write a separate post just about these tours. We describe the various tours in detail and added a comparison table so you can quickly see the similarities and differences. Many tours are very much alike but still, they all have some small aspects in which they differ.
This overview will make it easier for you to choose the best tour based on your interests and budget.
How long do you need to explore the Mount Fuji area?
Mount Fuji is less than 2 hours away from Tokyo so it's perfectly possible to get a good first impression of it in a single day. 
If you want to go hiking, spend the day in an onsen, or simply want to increase your chances of splendid views of Mount Fuji it's recommended to stay 2 or 3 days.
We share some good hotels for your Mount Fuji trip further down in this post. 
Knowing that not everybody has the luxury to reserve 2 or 3 days just for Mount Fuji, a Mt. Fuji day trip from Tokyo is great to get a first impression of this beautiful area.
Don't want to go independent? These one-day tours are perfect for those who don't want to travel independently.
Choosing between Hakone or Lake Kawaguchiko
Hakone
Hakone is a small town nestled in the mountains near Gotemba. It is situated in a green environment and offers dramatic views of Mt. Fuji.
It is also a hot spring destination thanks to the volcanic activities in the area.
There are a lot of activities to enjoy around Hakone. A day trip from Tokyo is great to see Mount Fuji but wouldn't leave much time to explore the wider region. If you have 2 or 3 days you are able to enjoy some of the other activities that can be done near Hakone.
If you're into hiking, kayaking, fishing, or just love being outdoors, then this is the place for you.
Lake Kawaguchiko 
Lake Kawaguchiko is the largest and easiest accessible of the five lakes of the Fuji Five lakes resort area.
Besides splendid views of Mount Fuji, it offers plenty of other great activities such as onsen, museums, cable cars, hiking trails, an amusement park, and much more. 
We have a separate post about Hakone, so in this post, we will focus on the main attractions in Lake Kawaguchiko.
Things to do in Kawaguchiko
Lake Kawaguchiko money-saving tips
If you decide to travel independently by public transport you will probably save with the Mount Fuji pass.
This pass gives you unlimited rides on buses and trains around Mount Fuji, and free access to a number of attractions such as the Fuji-Q highland rollercoaster,  museums, cable cars, and more.
You also enjoy an extra discount at 12 locations including restaurants, onsen, and museums. 
Due to COVID-19 the pass is still not available, but we're counting on it to be back soon.
Getting to Lake Kawaguchiko
Taking the bus to Lake Kawaguchiko
You could take a direct bus that leaves from Shinjuku station or Tokyo station.  The bus will take you to Lake Kawaguchiko in just under 2 hours.
Taking the train to Lake Kawaguchiko
If you want to go by train you need to take the JR Chuo line to Otsuki first where you need to change to the Fujikyu Line to Kawaguchiko. 
The train journey will take approximately 2,5 hours.
How to get around Lake Kawaguchiko
The easiest way to independently explore the region is by using a sightseeing bus. There are several lines. 
Each line covers a different area. 
They all leave from Kawaguchiko Station. 
The Red line brings you along the eastern and northern coastline and to the main resort amenities.
The Green line takes you to the southern shores of Lake Kawaguchiko. The bus follows a scenic route and offers many splendid views of the wooded Fuji 5 lakes region. 
The Blue Line travels along road 139 and through the Aokigahara Forest over to the Lake Motosuko Tourist Information Centre. 
The Fujikko-go (F-line) bus line leaves from Kawaguchiko Station for Fujiyoshida, Oshino Hakkai, and Lake Yamanakako. You can take this bus to visit Lake Yamanaka, including the Sengen Shrine, Mt. Fuji Radar Dome, Benifuji Spring, Oshino Hakkai, and Hananomiyako Park.
The Mount Fuji World Heritage Loop Bus takes you to lots of interesting places such as the Chureito Pagoda,  Oshino Hakkai Village, Oshino Ninja village, etc. 
JR offers an alternative pass for this region. The JR Mt. Fuji-Shizuoka area mini pass covers the same bus lines and, in addition, you can ride the local Tokaido, Gotemba, and Minobu JR lines. The private Izuhakone railway is also covered. Thanks to the addition of the JR lines a much larger region can be traveled, however, entrance fees to attractions are not included with this pass.
Where to stay in Lake Kawaguchiko
With all the great things to do in the Fuji 5 Lakes region, you might want to stay longer than 1 day. Here are some of the best places to stay around Lake Kawaguchiko.
Mizno hotel
This newly renovated hotel offers excellent service, an amazing view of Mt Fuji, and a wonderful traditional Kaiseki dinner.
The hotel also has a private onsen on the rooftop overlooking Mt Fuji. English is widely spoken by the staff. The hotel also has complimentary bicycles that you can use to explore the region. 
Be aware that the hotel is on top of a steep hill. But they offer pickup and dropoff at Kawaguchiko Station. 
Fujikawaguchiko Onsen Konanso
FujiKawaguchiko Onsen Konanso offers a free shuttle bus to and from the station. You will stay in a comfortable traditional Japanese room. The breakfast offers a good selection of both Japanese and Western food.
From the rooftop, you can get amazing views of Mount Fuji while bathing your feet in the foot onsen.
What to do in Lake Kawaguchiko
Now that we have taken care of the discount passes and hotel options, let's have a look at all the marvelous things to see and do in and around Lake Kawaguchiko.
For each of these attractions we also state whether they are covered by a tour, and if so, which one. So if you're still in doubt about joining a tour, you can get a better idea about what they include.
Enjoy the magnificent views of Mount Fuji
One of the reasons, or should we say the major reason, most visitors come to Lake Kawaguchiko is to see Mount Fuji.
That's why we start with the list of places that offer the most beautiful views of Mount Fuji.
The good news is that the Fuji Five Lakes region one of the best places is to see the mountain. It offers visitors one of the highest chances of an unobstructed view thanks to its proximity. 
These are the places with the most beautiful views of Mt. Fuji. 
The northern shore of Lake Kawaguchiko
A hike along the Northern shore of the lake will grant you several splendid views of the lake with the volcano in the background. 
Chureito Pagoda
The Chureito Pagoda offers magnificent views of Mount Fuji and is an iconic Mount Fuji viewing spot. 
Oshino Hakkai 
This touristy village offers excellent picture opportunities with Mount Fuji in the background. 
Kachi Kachi ropeway
This ropeway offers 360-degree views of Mount Fuji and the five lake area. 
Oishi park
This small park offers great views of the lake and Mount Fuji. 
Mt Fuji 5th Station
Mt. Fuji 5th stations are intermediary stations for people that climb Mt. Fuji. As their name suggests they're already a good part up the mountain. Because these stations can be reached by car most people will start their climb here, it may be cheating a little but it still takes about 6 hours to get to the top.
There're 4 5th stations, roughly one in each wind direction. The stations are the closest you can get to the top of Mount Fuji without making the climb.
Read more The 20 Best Hiking Beers, According To 11 Brewers
Each station is located at around 2000 meters above sea level and therefore when weather permitting, they offer breathtaking views of the mountain and its surroundings.
These stations are excellent places for beautiful views of Mount Fuji, the Japanese Alps, and the greater fifth lake area. 
Stroll around Arakurayama Sengen Park and climb up the Chureito Pagoda
The Chureito Pagoda is part of the Arakura Fuji Sengen Jinja Shrine. It offers magnificent views of Mount Fuji and is an iconic Mount Fuji viewing spot. 
The image of the pagoda with Mt. Fuji in the back is one of the most famous pictures of Fujisan.
If you go to the Cureito Pagoda you can create your own version of this iconic shot.
Just be aware that you will first have to climb around 400 steps to reach the spot where you can take this picture. 
How to get here
Coming from Kawaguchiko: You can ride all the way to Shimo-Yoshida Station on the Fujikyu Railway Line (14 minutes, 310 yen from Kawaguchiko).  From the station, it's a short 10-minute walk to the park.
Coming from Tokyo: If you hold a JR pass you take the Chuo line express from Shinjuku to Otsuki station (1h). This part is covered by the JR Pass.  At Otsuki station change for the Fujikyuko line.  The ride from Otsuki to Shimo-Yoshida Station takes another 40 minutes and costs 960¥. 
Instead of the train, you can also use the Mount Fuji World Heritage Loop bus.
Try Hoto Noodles
Hōtō is a local Mount Fuji dish made of thick flat udon noodles and vegetables in miso soup. 
Visit the Kitaguchi Hongu Fuji Sengen Jinja Shrine
This is the main Sengen Shrine on the Northside of the mountain and this used to be the place where hikers from Tokyo started their climb to the top of Mt. Fuji. 
The Shrine is dedicated to Princess Konohanasakuya, the deity of Mt. Fuji, and is built for protection from volcanic eruptions. 
The colorful red buildings of the Shrine are well hidden in a dense forest. The forest and beautiful buildings make it a great place to relax, walk around, and appreciate nature.
The Shrine is also known as Fujiyoshida Sengen Shrine and shouldn't be confused with the Fujisan Sengen Shrine.
The latter is located at the Southern side of the mountain and is the most important Shrine dedicated to Mount Fuji. 
Back in the days, when Kyoto was still the capital of the country, the Fujiyoshida Sengen Shrine was the starting point for those who wanted to climb Mount Fuji. 
Nowadays most climbers start from one of the much higher-located 5th stations. 
You can read reviews here. 
How to get there
By Mount Fuji World Heritage Loop bus.
Visit one of the Mt. Fuji 5th Stations
These days the Mt. Fuji 5th stations are the starting points for climbing Fujisan. They're located at the Northern, Eastern, and Southern slopes of the mountain and are the highest points accessible by car.
As already said, on a clear day, you can enjoy beautiful views of Mount Fuji, the Japanese Alps, and the fifth lake area. 
How to get there
By bus from the Kawaguchiko train station. The bus operates daily except when the road is closed due to snow during the winter months. 
Enjoy an onsen 
Soaking in an onsen, a Japanese hot bath, is something you should absolutely experience while in Japan. 
Onsen are an integral part of the Japanese traditional culture and the Japanese have been using the onsen for ages to unwind and to take good care of both body and soul.
Many of the outdoor onsen that are located around Lake Kawaguchiko offer stunning views of Mount Fuji.  It's a unique experience to sit in an onsen with such a breathtaking view of Mount Fuji.
Several hotels and ryokans have their own onsen facilities. 
If you're on a day trip your possibilities are slightly more limited.  You can either use one of the public onsen facilities or one of the hotel or ryokan onsens that are open to day visitors.
These are 2 onsen facilities with Mt. Fuji views that can be used by day visitors:
Hotel Mifujien has older gender-separated bathing facilities with nice views of Mount Fuji.  
Yurari is a public onsen complex that has over 10 different hot spring baths. From one of them, you have a view of Mt. Fuji. 
Wander around Oshino Hakkai Village 
This village lies between Lake Kawaguchiko and Lake Yamanakako. It's a world cultural heritage site famous for its eight crystal-clear sacred ponds. 
It's a touristy village and several of the rustic houses contain restaurants and shops.
Next to the largest pond is Hannoki Bayashi Shiryokan, an open-air museum that showcases old traditional farmhouses along with traditional farming tools, samurai armors, and various weapons from that time.  
The houses, with the perfectly shaped volcano in the background, make for a perfect picture that could have been made in the old days of Japan.
Hours and Fees
There is no fee to view the ponds but there is an admission fee of ¥300 for the open air museum, Hannoki Bayashi Shiryokan, which is situated at the largest pond.
The museum is open every day from 9:00 am- 5:00 pm.
How to get here: 
By taking the red line of the Kawaguchiko sightseeing bus.
By Mount Fuji World Heritage Loop bus.
Learn everything about Ninjas in the Oshino Ninja Village
Oshino Shinobi no Sato also called the Ninja Village, is a place where you can rent Ninja costumes, watch a Ninja show and solve the mystery of the Karakuri house which is full of traps and secret doors. 
From the garden, you can enjoy great views of Mt. Fuji. 
You can find more info about the Ninja Village here and read reviews here. 
How to get here:
By Mount Fuji World Heritage Loop bus.
Ride the Tenjoyama Park Kachi Kachi Ropeway 
This ropeway is known for its scenic view of Mt. Fuji. He is therefor more often referred to as the Mount Fuji Panoramic Ropeway rather than its official name.
The Kachi Kachi cable car starts at the eastern shore of Lake Kawaguchiko and ascends 400 meters to an observation point near the summit of Mount Tenjo. 
From here you can enjoy amazing views of Mt. Fuji and Lake Kawaguchiko.
It's possible to hike an additional 300 meters uphill from the top station to the actual summit of Mount Tenjo where you can see a small Shrine.
Opening hours: 9 am- 5 pm
Winter: 9.30 am-4.30 pm ( December first until 28th February)
900 yen for a round trip with the cable car.  If you want you can also hike to the top and back or you can buy a one-way ticket for 500 yen and walk back down along the trail.
How to get there:
By taking the red line of the Kawaguchiko sightseeing bus.
Fuji Q Highland Amusement Park
Fuji Q Highland Amusement Park is the place to be for those who want to add a bit of adrenaline and thrills to their day trip from Tokyo to Mount Fuji. 
This is one of Japan's most popular amusement parks. It has 4 spectacular roller coasters, all of them held a record when they opened and Do-Dodonpa still holds the record for being the rollercoaster with the fastest acceleration. It reaches its top speed of 180 km/h in just 1.6 seconds.
Despite the fact that the other coasters have lost 1 or 2 places in the rankings since their opening, they are still regarded as some of the best roller coasters in the world.
Besides roller coasters, you can also find a lot of other thrill attractions such as a scary labyrinth, a haunted hotel, water coasters, virtual reality attractions, and more.
There is a 4D Fuji Airways Flight Simulator that provides a 4D aerial tour of Mt Fuji.
But also the families and the less brave aren't forgotten, here's an overview of the attractions.
How to get there
From Tokyo: Most busses coming from Shinjuku to Kawaguchiko make a stop at the Fuji Q Highland Amusement Park.
From Kawaguchi station: 1 stop on the Fuji Kyūkō Line..
Visit one of the many museums
Museum fans will love the red line of the Fujikyuko sightseeing bus.  This bus has several stops at museums.  
Below are some of the most popular museums along the route.
Kawaguchiko Music Forest Museum
The Kawaguchiko Music Forest museum shows a world-class collection of different types of music boxes. 
Various musical performances go on throughout the day; be sure to catch the water fountain show. Every hour, on the hour, the fountains just outside the museum, will 'dance' to music.
The beautiful gardens around the museum are also very festively lit up during the winter months.
Read reviews on TripAdvisor. 
How to get there
Using the Hop on hop off bus: Take the Red Retro bus to stop 15.
The Kawaguchiko Museum of Art
This museum houses a collection of Mount Fuji-inspired art pieces.  Visitors can see a variety of pictures and paintings showing the volcano. 
Read reviews on TripAdvisor.
How to get there
Using the Hop on hop off bus: Take the Red Retro bus to stop 16.
Itchiku Kubota Art Museum
This museum displays incredibly beautiful kimonos created by Itchiku Kubota. The museum is surrounded by a beautiful Japanese garden.
Read reviews on TripAdvisor.
How to get there
Using the Hop on hop off bus: Take the Red Retro bus to stop 19.
Yamanashi Gem Museum 
The museum has a collection of over 3000 valuable gems from all over the world. The exhibits cover a wide variety of gems ranging from rough gemstones created by nature to beautiful jewelry pieces created by true artists.
Read reviews on TripAdvisor.
How to get there
Using the Hop on hop off bus: Take the Red Retro bus to stop 8.

Take wonderful pictures from Oishi park
This small park situated at the northern shore of Lake Kawaguchiki offers great views and plenty of photo opportunities of Mount Fuji.
Thanks to the various flower beds spread throughout the park, a visit is always a colorful experience.  
The end of the 350-meter-long "Flowers road" is a popular Mt. Fuji picture spot.
The park is also a nice place to relax and enjoy a picnic. 
No entrance fee.
Read reviews on Tripadvisor.
How to get there
Stroll Around Saiko Iyashi no Sato Nemba
This open-air museum is situated on the site of the former farming village of Nemba.  The village was destroyed by a typhoon in 1966 and about 20 of the original houses were later restored.
Visitors can see the quaint thatched roofed houses, some of which contain small museums.  You can also participate in craft workshops to test your skills in traditional handicrafts.
It's rather commercial so many of the houses contain restaurants and gift shops. You can also rent traditional Japanese costumes to take pictures.
Read reviews on TripAdvisor.
Entrance fee:
500 yen
How to get there
Using the Hop on hop off bus: Take the green line and exit stop 48.
Explore a cave
Past eruptions have created lots of caves in this region. Three of these caves are open to the public. 
The bat cave 
With its length of 386 meters, the bat cave is the longest cave in the region. Although it's called bat cave you will hardly see any bats during the day because they are sleeping. 
As you walk around the cave, you can see various kinds of formations created by the lava.
Read reviews on TripAdvisor
Opening Hours: 9:00 to 17:00
Closed: December 1 to March 19
Entrance fee
300 yen
How to get there
Take the green line from Kawaguchiko station to Saiko-Komriana.
The Fugaku wind cave
This cave was once used as a natural refrigerator to store ice and other perishables, as the temperature remains low through summer.  The year-round average temperature in the cave is 3 degrees.
Read reviews on TripAdvisor.
Hours: 9:00 to 17:00 (shorter hours in winter; longer hours in summer)
Closed: No closing days
Entrance fee
350 yen
how to get there
Take the green line from Kawaguchiko station to Fugaku-Fuketsu.
The Ice Cave
The ice cave has since long been used to store ice. The temperature in the cave stays below freezing all year round. It's the smallest of the three caves.  During your visit, you can see some ice formations. 
Read reviews on TripAdvisor.
Hours: 9:00 to 17:00 (shorter hours in winter; longer hours in summer)
Closed: No closing days
Entrance fee
350 yen
How to get there
Take the blue line from Kawaguchiko to Narusawa Hyoketsu.
Go hiking in Aokigahara Forest
This forest grows on the bottom of hardened lava. The lava absorbs the sound and gives the forest a special quiet atmosphere.
It is believed that the ghost of the dead live in the forest and in recent years many suicides have taken place in this location.  As a result, the park is now known as the Suicide forest.
Some urban legends arose as a result of these accidents.
Stories are circulating about compasses that go haywire, but those are false.
The magnetic rays of the lava may interfere with the compass when put on the ground but when the compass is held at a normal height it will function perfectly fine.
Despite its lurid nickname and the urban legends, the park is a perfectly safe place to hike. 
It attracts two types of visitors these days, those who come here for vistas of Mount Fuji and disaster tourists who hope to spot some macabre activities.
How to get here
Take the green line from Kawaguchiko station to the Wind cave. 
Take the blue line from Kawaguchiko to the Ice cave
Conclusion
Lake Kawaguchiko and the surrounding national park is a nice region to spend a few days during your trip through Japan. 
You can admire Mount Fuji and enjoy a number of other activities, such as relaxing in the onsen or having a blast in the Fuji-Q Highland amusement park.
Lake Kawaguchiko is so diverse that young and old will never be bored.
The info in this post should help you to explore this region on your own but if you are short on time, or prefer the comfort of a guided tour, you should have a look at our top list of organized Mt. Fuji Day tours.
Either way, if you visit this region, we're sure it will be one of the highlights of your Japan trip.
Did you already make a Mount Fuji day trip? How was your experience?
If you like this post, pin it. 
References