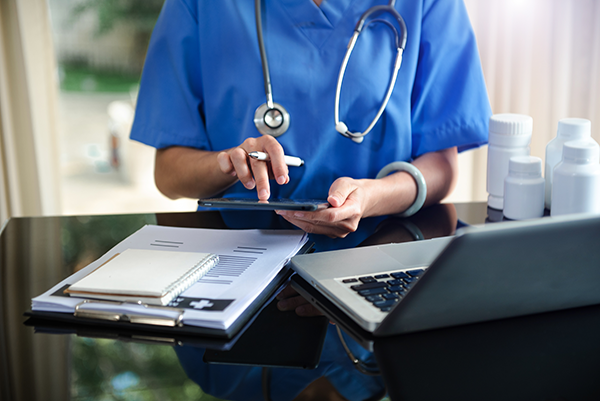 Data analytics is the process of analyzing raw data for the purpose of determining trends and enabling better decision making. It is relevant to all types of organizations, especially health care organizations.
Data analytics in health care is vital. It helps health care organizations to evaluate and develop practitioners, detect anomalies in scans and predict outbreaks in illness, per the Harvard Business School. Data analytics can also lower costs for health care organizations and boost business intelligence. Most importantly, it helps health care companies to make better care decisions for patients.
What Are the Types of Healthcare Analytics?
There is more than one type of health care analytics. The top categories of data analytics in health care include:
Descriptive analytics: Descriptive analytics in health care uses historical patient data to glean insights into benchmarks and trends.
Prescriptive analytics: Prescriptive analytics relies on machine learning to propose a strategy.
Predictive analytics: In health care, predictive analytics uses both forecasting and modeling to predict what will probably happen in the future.
Discovery analytics: Like prescriptive analytics, discovery analytics also uses machine learning. The difference is, it utilizes machine learning to examine clinical data for the purpose of determining patterns that provide actionable insights.
Different analytics tools are used for each of these categories of health care analytics. These types of data analytics can be used in practical ways to benefit health care organizations, as well as patients.
How Health Care Data Analytics is Used by Medical Providers: Examples of Data Analytics in Healthcare
The best way to discover how data is used in health care is to take a look at real-life examples of big data analytics in healthcare. Vie Healthcare Consulting tells the story of how data analytics informs preventative care.
Preventative care is essential for health care systems and patients. It can help prevent future illness and patient readmissions to health systems. It can also promote better patient outcomes and lower health insurance costs. This is especially true of high-risk patients and those with chronic diseases. Cancer screenings, well-child visits and counseling on smoking cessation are all examples of preventative care. By identifying risk factors that could have gone unnoticed, health care analytics can be used to promote better preventative care.
Lisa Miller, contributor to the Vie Healthcare Consulting blog, gives an example of how health care analytics can promote preventative care through insurance companies.
Miller explains that in 2017, Blue Cross Blue Shield analyzed several years of pharmacy and insurance data. The data was related to opioid abuse and overdose. Through the analysis, Blue Cross Blue Shield was able to effectively identify almost 750 risk factors that can predict whether or not someone is at risk of abusing opioids.
"Gathering all of this data was only possible with the help of analytics experts and the right software solutions," Miller said.
How Data Analytics in Health Care Improves Patient Care
One of the most amazing things about data analytics in health care is that it enables health systems and clinicians to make better care decisions for patients.
"In health care, decisions often have life-altering outcomes—both for patients and the population as a whole," said Catherine Cote in the same Harvard Business School article from above. "The ability to quickly gather and analyze complete, accurate data enables decision makers to make choices regarding treatment or surgery, predict the path of large-scale health events and plan long-term."
Data analytics is helpful to health care professionals and organizations. Both health care providers and health systems need health information and data that makes sense. Without accurate data, they can't make decisions that are in patients' best interests. Data analytics provides these institutions with the data they need to make decisions that lead to superior patient care. This not only improves patients' quality of life, but can also extend their life.
Health Care Data Analytics Helps with Population Health Management
Health care data analytics not only improves patient care, it also helps with population health management. Population health management is the process of upgrading clinical outcomes of a group of people via better care coordination. Improved patient engagement is also a part of this process.
Health care data analytics can help with population health management. How? By enabling data scientists to build predictive artificial intelligence (AI) models. These models enable health care organizations to manage initiatives in the health of select populations. This is primarily done through identifying the health care system's most vulnerable patients.
"With these patients identified, organizations can perform outreach and interventions to maximize the quality of patient care and further enhance the AI model's effectiveness," according to an article by Health Catalyst.
This is another example of how data analytics can improve patients' lives and maximize the efficiency of health systems. 
What Is the Future of Data Analytics in Health Care?
Like data analytics in all sectors, there is a solid future for data analytics in health care. This is particularly true in light of the COVID-19 pandemic.
Data analytics in health care has grown in importance during the pandemic. Hundreds of thousands of individuals around the world have required health care for treatment of the coronavirus. Health care organizations have utilized data analytics to manage the global health crisis and better treat patients.
The need for quality healthcare will remain constant. For this reason, data analytics in health care will always be relevant, and jobs in this field will remain in-demand. For example, the Journal of Ahima states that while the demand for jobs in data analysis is high in every industry, the most emerging role is that of health care data analyst.
Get a Job in Data Analytics in Health Care with CompTIA Data+
Data analytics is a great field to get into. Besides being in-demand, data-related jobs often pay well. On average, a job in data analytics in health care pays a median wage of $86,806.
Would you be a good health care data analyst? If you are interested in providing data solutions for health care companies and have a degree in business analytics, health IT or health information management (HIM), it could be. Some companies look for health data analysts with degrees or equivalent experience in statistics, data science and computer science. Some experience with electronic health record (EHR) data is also a huge plus to employers.
These in-demand data mining in healthcare jobs calls for specialized skills in data. If you need these skills and already have experience working in data, CompTIA Data+ certification training can prepare you for a role in this field.
CompTIA Data+, which will be available in Q1 of 2022, offers a full training suite of Official CompTIA CertMaster products. These products include:
CertMaster Learn: CertMaster Learn provides comprehensive eLearning that prepares you for the CompTIA Data+ certification exam.
CertMaster Labs: CertMaster Labs provides hands-on experience in real virtual environments.
CertMaster Practice: CertMaster Practice is an online knowledge assessment and certification exam practice and preparation companion tool.
Read more How to Cook with Apple Cider Vinegar
When learners buy a training bundle that includes both CertMaster Learn and CertMaster Labs, they will enjoy an integrated training experience. Find out more in The New CompTIA eLearning Bundles: Where Knowledge and Practice Intersect.
Need more information about your online IT training options with CompTIA? Check this out.
After training with CompTIA Data+ certification resources, you'll be ready to take the certification exam. The exam covers:
Mining data
Manipulating data
Applying basic statistical methods
Analyzing complex data sets
To get the job you want, you have to prove to employers that you have the skills needed to do the job. With CompTIA Data+, you can do exactly that.
CompTIA Data+ covers the data analytics skills you need in health care. Start studying with CompTIA CertMaster Learn + Labs for Data+. Sign up for a free trial today!
---
— Update: 10-02-2023 — cohaitungchi.com found an additional article What is the Role of Data Analytics in Healthcare – Folio3 Digital Health from the website digitalhealth.folio3.com for the keyword benefits of data analytics in healthcare.
Posted in Healthcare Management
Executive Summary – What is the Role of Data Analytics in Healthcare?
Data may appear to be just a mess of numbers and words until it is transformed into relevant information by applying powerful data analytics technologies, which have totally changed the shape of the healthcare business. What is the role of data analytics in healthcare? Let this read be your comprehensive guide. With whose help healthcare has better access to medical data and histories.
Introduction – What is the Role of Data Analytics in Healthcare?
The Healthcare industry is one of the most challenging industries when it comes to data analytics and management. The massive influx of complex data in the healthcare industry makes it almost intimidating for organizations that don't have the right data analytics and management tools to handle it. This also results in the failure of such organizations to squeeze out meaningful insights from the data, which otherwise can be used to improve the quality of healthcare offered to patients, as well as, to increase the efficiency of the organization.
That's where the Advance Data Analytics tools or Big Data comes into play.
The healthcare data may just seem like a jumble of numbers and words that is until this data is converted into meaningful information by using advanced data analytics tools. According to one survey, over 90% of healthcare organizations strongly agreed to the growing influence of data analytics on their organizations in the next few years. This shows that just like every other industry, data analytics is slowly but surely starting to influence the healthcare industry for the good, transforming not just the clinical and operational side of the practice but also the administrative and financial aspects of the healthcare industry.
What is the Role of Data Analytics in Healthcare?
The data analytics and management for the healthcare industry are concerned with collecting data from all different departments of the organization to create a central structured data repository. This central and structured data repository enables healthcare practitioners to offer better quality services to patients by adapting a holistic treatment approach and offering personalized healthcare services.
So, when one asks what is the role of data analytics in the healthcare industry, the role is deeply rooted in the potential of the data analytics technology to enable healthcare organizations to stay competitive in the increasingly complex industry by offering better quality services to patients, as well as, by improving the efficiency of services.
Today, healthcare organizations need advanced software as medical device tools and methods to transform complex data into insightful information. The data analytics technology thus enables organizations to get maintain a highly-structured data repository that helps them make well-informed decisions for greater efficiency and improved quality of services. Once the healthcare organizations implement data analytics into their systems and get comfortable leveraging the capability of the technology, they start seeing the bigger picture of the healthcare services by receiving detailed and structured patients information, which subsequently enables them to offer a completely personalized, holistic and precise treatment for the disease.
What is Healthcare Analytics Data? 
Data analytics in the healthcare industry represents the automation of collection, processing, and analysis the complex healthcare data, to gain better insights and enable healthcare practitioners to make well-informed decisions. The impact of data analytics in the healthcare industry is massive, from the reduction in medical costs to personalized treatment and from patients' behavior analysis to pharmaceuticals, the data analytics in healthcare influence the practice at both macro and micro levels; developing automated operations for improved quality services and lower costs.
Now, if we are to look at what is the role of healthcare analytics data, it is to be noted that healthcare data is one of the most complex data generated in any industry. From recording the vital signs in real-time or telemedicine to electronic health care records (EHR), there is a plethora of complex data generated by each patient which is required to be stored, structured, and analyzed to ensure a holistic healthcare treatment. To make things even harder, there are strict government regulations for the healthcare industry, which obligate healthcare organizations to ensure the storage and security of the data.
With all of these complexities, the healthcare data analytics technology equips organizations with the best tools to ensure compliance with the industry regulations, while also ensuring high-quality healthcare services to patients.
Why is Data Analytics Important in healthcare? 
There are various reasons why is data analytics important in the healthcare industry. For the past many years, the healthcare industry has transformed significantly. While previously the industry operated as a volume-based business, today it is more about value-added business; looking to maximize patients' experience with personalized services. This transformation means that doctors, physicians, and all related staff are under continuous pressure to offer the best and value-added services to patients with better outcomes. This has also affected the financial structure of the industry, where healthcare organizations are competing with competitors by offering more valuable and affordable services to patients.
Now, the role of data analytics isn't just restricted to benefiting the patients, rather the technology also offers significant relief and incentives to healthcare organizations, insurance companies, as well as, governmental bodies. For instance, the healthcare insurance companies have been adapting to value-based data-driven payments instead of their traditional fee-for-service model using Electronic Medical Records (EMRs) to offer better and more customized services to their insurers.
What is the Role of Data Analytics in Healthcare for Practitioners?
Disease Prediction and Prevention 
One of the biggest and most beneficial roles of data analytics in healthcare for practitioners is the ability of the practice management technology to predict diseases at an early stage. The powerful analyzing features of the technology backed by machine learning capabilities enable the technology to analyze the massive volume of historical patients' records and identify specific patterns in patients for a serious diseases. This gives doctors and physicians a better chance to take preventive measures for patients to minimize the complications before they become deadly and too complex to handle.
Care Coordination 
Data analytics also comes extremely useful for emergency care, especially at times when doctors are required to take quick actions. The crucial and real-time insights offered by the technology give doctors a second chance to save the patient's life. Apart from its care coordination role in emergency situations, the technology can also help caregivers to take better care of the patients and send alerts about patients' health.
Customer Service 
Since the healthcare industry is increasingly adopting a value-added business model, it is becoming more important than ever to offer patients better customer services like personalized treatment, faster processing time, and overall better & accurate healthcare services. Data analytics has a great influence when it comes to customer servicing. By offering organizations with structured and filtered data, the technology enables healthcare practitioners to add a personalized touch to the treatment, as well as, develop a seamless healthcare experience by streamlining the billing and payment process.
Read more 10 Natural Treatments for White Tongue
Financial Risk Management 
Healthcare organizations come with various financial risks including unpaid bills, under-utilized records, lower reimbursements, and much more. Now, data analytics backed by powerful Artificial Technology can help organizations implement predictive analytics which is able to determine the accounts owing payments, identify unpaid bills, identify the insurance coverage of the patients, and much more to improve the overall cash flow for the organization.
Fraud & Abuse 
Apart from improving the quality of services and efficiency of the organization, data analytics can also help healthcare organizations to detect and avoid fraud and abuse. The Healthcare industry is highly prone to many fraudulent activities, ranging from human errors in billing to unnecessary lab tests, improper payments, insurance claims, and much more. Data analytics technology enables hospitals and healthcare organizations to identify potential patterns of fraudulent activities (honest or abusive) and avoid them.
What is the Role of Data Analytics in Healthcare for Patients?
Population Health Management 
The rise of data analytics technologies in the healthcare industry including machine learning, deep learning, artificial intelligence, and others have derived the development of Population Health Management (PHM) service in the industry. The rise of PHM has re-shifted the focus of healthcare services from treatment and response to prediction and prevention. The powerful predictive analytics technology is able to identify risk patterns for chronic diseases in patients at early stages, thereby, giving healthcare practitioners a chance to act in time and avoid complexities of the later stages. The predictive analysis isn't just a life-saving technology, but it also helps in lowering the cost of the treatment and cure for patients.
Health Tracking
Today the key to healthcare services is the ability to predict the health risks for patients before it becomes a chronic illness. This can only be achieved by implementing powerful data analytics technology with sufficient training data to train the models, which then would be able to closely analyze the medical records of patients and identify key patterns predicting potential risks of diseases, thus acting as a healthcare tracking system; offering faster and better services to patients.
With healthcare tracking technology, healthcare organizations are now able to track the vital statistics for patients' health, while developing preventive care methodologies for early treatment and cure. The technology also helps patients in developing chronic illnesses by giving them the right care at the right time.
Industry Advancement
Apart from the massive benefits of the technology and its potential to overcome current healthcare industry problems, data analytics technology also has massive potential to develop Health BI solutions for the future. The technology can be used to analyze a massive amount of complex medical data to come up with the best treatment options personalized concerning the patient's medical history.
What is a Build vs Buy Data Analytics Solution in Healthcare?
While there is a massive potential for Business Intelligence solutions in the healthcare industry, still the sector falls well behind when it comes to leveraging the technology for advancement. A closer look at the problem reveals that one of the biggest reasons for the healthcare industry not adapting the powerful business intelligence solutions is the inherent complexity of the initiative. The complexities including the connectivity, security, integration, and implementation of the technology act as the biggest barrier to the adaptation of BI solutions in the healthcare industry.
Thereby, instead of building an in-house analytics solution, a better alternative is to buy the data analytics solution from a professional tech business, which can seamlessly integrate all required systems with the existing infrastructure and give healthcare organizations an easy way to implement and leverage the power of data analytics technologies.
Folio3 Offers Custom Healthcare Intelligence and Data Analytics
Healthcare is undoubtedly one of the most dynamic and complicated industries when it comes to data management. The continuous growth of the complex data makes it almost impossible for the legacy system to assist healthcare practitioners to get insights from the data and improve the quality of their services.
With proven experience and expertise to design, developing, and implement robust clinical decision support systems (CDSS), Folio3 is one of the leading tech partners for healthcare organizations to implement and leverage the power of data analytics and assist healthcare practitioners to improve efficiency, maximize productivity and profitability. It is important to know how a healthcare app is developed to proceed further.
Check out cliniclive and clinically free demo.
---
— Update: 12-02-2023 — cohaitungchi.com found an additional article The Role of Data Analytics in Health Care from the website online.shrs.pitt.edu for the keyword benefits of data analytics in healthcare.
Data analytics is the process of examining raw datasets to find trends, draw conclusions and identify the potential for improvement. Health care analytics uses current and historical data to gain insights, macro and micro, and support decision-making at both the patient and business level.
The use of health data analytics allows for improvements to patient care, faster and more accurate diagnoses, preventive measures, more personalized treatment and more informed decision-making. At the business level, it can lower costs, simplify internal operations and more.
What is Health Care Data?
In order to discuss health data analytics and the role it plays in the health care sector, we must first understand the data that is being collected and analyzed. There is data being collected on the processes and procedures of the business side of health care, but there is also an enormous amount of health data being gathered, stored and analyzed.
Health data is any data relating to the health of an individual patient or collective population. This information is gathered from a series of health information systems (HIS) and other technological tools utilized by health care professionals, insurance companies and government organizations.
We are able to see a holistic view of each individual patient as well as trends tied to location, socioeconomic status, race and predisposition. The information being collected can be broken down into specific datasets that can then be analyzed.
There are a variety of tools and systems used to collect, store, share and analyze health data gathered through various means. These tools include:
Electronic Health Records (EHRs)
Personal Health Records (PHRs)
Electronic Prescription Services (E-prescribing)
Patient Portals
Master Patient Indexes (MPI)
Health-Related Smart Phone Apps and more
With digital data collection, there is more and more health care data to be analyzed every second. With the increase of electronic record keeping, applications and other electronic means of data collection and storage, there is a significant amount of data being collected in real time.
These data sets are so complex that traditional processing software and storage options cannot be used. Cloud storage is a necessity when dealing with "Big Data." Cloud storage is built to be secure, an absolute must when dealing with sensitive patient information. It is also very cost-efficient and has been helpful in lowering the increasing cost of health care.
Big Data Analytics and COVID-19
The impact COVID-19 has had on the health care industry is evident to anyone and everyone. You don't need to be plugged into the world of medicine to see what has been happening worldwide during this pandemic.
What most people don't see, though, is the impact COVID-19 has had on health care data analytics. "Big data tools have played an increasingly significant role in health care decision-making" says HealthITAnalytics. It is not just providers, but lawmakers and researchers who are turning to big data analytics and predictive models to help allocate resources, predict surges, improve patient care and outcomes and employ preventive measures.
Big data and health data analytics have played an integral role in the fight against COVID-19. The data is coming in at a near constant rate. Analyzing that health data has allowed for a better understanding of how to respond and treat patients.
This pandemic has resulted in an enormous surge of health data being recorded and manipulated allowing for bigger and better analytics. Unfortunately, we are also seeing that COVID-19 is "shining a harsh spotlight on health care's biggest issues." There are a lot of obstacles when it comes to sharing health data across organizations and a distinct lack of standardization in the way that data is collected and analyzed.
Read more Niacinamide Is the Brightening, Clearing Ingredient Derms Want You to Use
This widespread problem was evident in the early days of the pandemic as conflicting and ever-changing information was being presented to the public. We saw a turn towards disbelief when it came to COVID-related information with many still believing misinformation and previously held beliefs on how this virus should be handled.
The spotlight that COVID-19 shined on these problems, however, will allow for them to be rectified. The providers, researchers and policymakers can learn from these mistakes and work towards a better, more standardized solution for big data in health care.
The Importance of Health Care Data Analytics
We can collect all the data we want, but it doesn't do any good if we don't know what to do with that information. We need a centralized, systematic way of collecting, storing and analyzing data so we can use it to our advantage.
The collection of data in health care settings has become more streamlined in recent years. Not only does the data help improve day-to-day operations and better patient care, it can now be better used in predictive modeling. Instead of just looking at historical information or current information, we can use both datasets to track trends and make predictions. We are now able to take preventive measures and track the outcomes.
The fee-for-service style of health care is becoming a thing of the past. There is a growing demand for patient-centric, or value-based, medical care which has led to a considerable shift towards predictive and preventive measures in regards to public health in recent years. Data makes this possible. Instead of simply treating the symptoms as they present, practitioners are able to identify patients at high risk of developing chronic illnesses and help to treat an issue before it surfaces. This helps to lower costs for the practitioner, insurance company and patient as the preventive treatment may help to stave off long-term issues and expensive hospitalizations.
If hospitalization is necessary, data analytics can help practitioners predict risks of infection, deterioration and readmission. This too can help lower costs and improve patient care outcomes.
Consider the impact this has had on the COVID-19 pandemic. The data being collected is analyzed in real time to understand the effects of the virus better and predict future trends so we may slow the spread and prevent future outbreaks.
Types of Health Care Analytics
Not every question can be answered by using the same analysis of the data. Through the use of different types of big data analytics, we can answer many of the questions being asked in health care settings.
Descriptive Analytics
Descriptive analytics uses historical data to draw comparisons or discover patterns. This type of analysis is best for answering questions about what has already occurred. We can gain insight into the past with descriptive analytics.
Predictive Analytics
Predictive analytics uses current and historical data to make predictions about the future. The models created with this type of analytics are best for answering questions about what could happen next. We can gain insight into the future with predictive analytics.
Prescriptive Analytics
Prescriptive analytics will also make predictions about future outcomes. Machine learning is a big factor with this type of analytics. The information provided can help determine the best course of action. We can gain insight on what course of action should be taken to reach the most ideal outcome with prescriptive analytics.
How Data Analytics Leads to Health Care Solutions
Health care data management has the potential to lead to better care if used properly. With centralized datasets, there is immediate access to necessary information whenever and wherever it is needed. The addition of big data analytics improves efficiency on all fronts. Better data leads to better care.
Predictive Modeling
Predictive modeling is the process of analyzing current and historical data to predict future outcomes. Models use data mining, machine learning and statistics to identify patterns and predict outcomes. Predictive models built off of the health data being collected provide solutions on the macro and micro level.
The use of predictive analytics can alert health care professionals to potential risks. By analyzing behavioral data, we can predict treatment outcomes, potential risks for chronic illness and even predict risk of self-harm. The health data collected can be used for risk scoring, readmission prediction and prevention, predicting infection and deterioration and so much more at the individual patient level.
Predictive modeling can also be used on a much larger scale. Population health management is impossible without the use of these models. Outbreaks can be predicted, outcomes can be predicted, and in knowing what is to come, preventive measures can be taken.
Predictive modeling can even be used in administrative applications to increase efficiency and lower costs for all.
Reductions in Health Care Costs
Health care is expensive. And, those costs only continue to increase across the board. We are, however, seeing a shift from fee-for-service payment models to value-based care.
Through the use of predictive and prescriptive analytics, health care organizations and practitioners can get detailed models for lowering costs and patient risk. In addition to the patient-centric benefits mentioned above, health data analytics can reduce appointment no-shows, manage supply chain costs, prevent equipment breakdowns and decrease fraud.
The Growing Role of the Health Data Analyst
Health Data Analysts take the health care data being collected and use skills such as data acquisition, data management, data analysis and data interpretation to provide actionable insights. The role of big data in health care and the increasing need for improvement in the health care sector has led to a higher demand for qualified health data analysts.
The role of a health data analyst varies based on their position and industry of choice. Regardless of industry, a health data analyst will need to be able to work with, develop and evaluate health information technology (health IT) and other health information systems (HIS).
They may also be expected to:
Collect or mine data
Examine current and historical data
Evaluate raw data
Build predictive models
Automate reports
Required Skills for Health Data Analysts
Health data analysts solve problems for the organizations that hire them. In order to do so, they should be well versed in several essential skills:
Structured Query Language (SQL)
Excel
Statistical Programming
Data Visualization
You should also have certain soft skills as a health data analyst such as:
Analytical thinking
Creative thinking
Attention to detail
Strong communication skills
Schooling for Health Data Analysts
While it is not a requirement to become a health data analyst, many jobs will require a bachelor's degree in health information management (HIM) or a related field (data science, mathematics, health informatics, statistics, etc.).
A master's degree is, again, not a requirement to work as a health care data analyst, but it will qualify you for higher, more competitive positions. You can earn your master's in data analytics, health informatics, or another related field.
Where Will A Health Data Analyst Be Employed?
Numerous industries and organizations utilize health data and require the help of health data analysts. These include:
Hospitals, private or public
Government health care departments
Diagnostic centers
Health insurance companies
Health care consulting companies
Large medical practices
Health IT vendors
Other health organizations
Depending on the industry or role they choose to take, health care data analysts may work as part of larger teams or alone.
How Much Do Health Data Analysts Make?
Your salary, much like your role responsibilities, will vary based on the industry or organization for which you choose to work. Payscale lists the median salary for a health data analyst as $63,000 per year. The U.S. Bureau of Labor Statistics doesn't have an entry specific to Health Data Analysts, however, the Medical and Health Services Manager page does list "health information manager." The median pay listed here is closer to $100,000.
Take the Next Step in Your Career
The University of Pittsburgh School of Health and Rehabilitation Sciences offers a Master of Science in Health Informatics degree with a Data Science track. If you want to enter the field of health informatics or health data analytics or open up your career options, this master's degree can make you a competitive candidate.
References