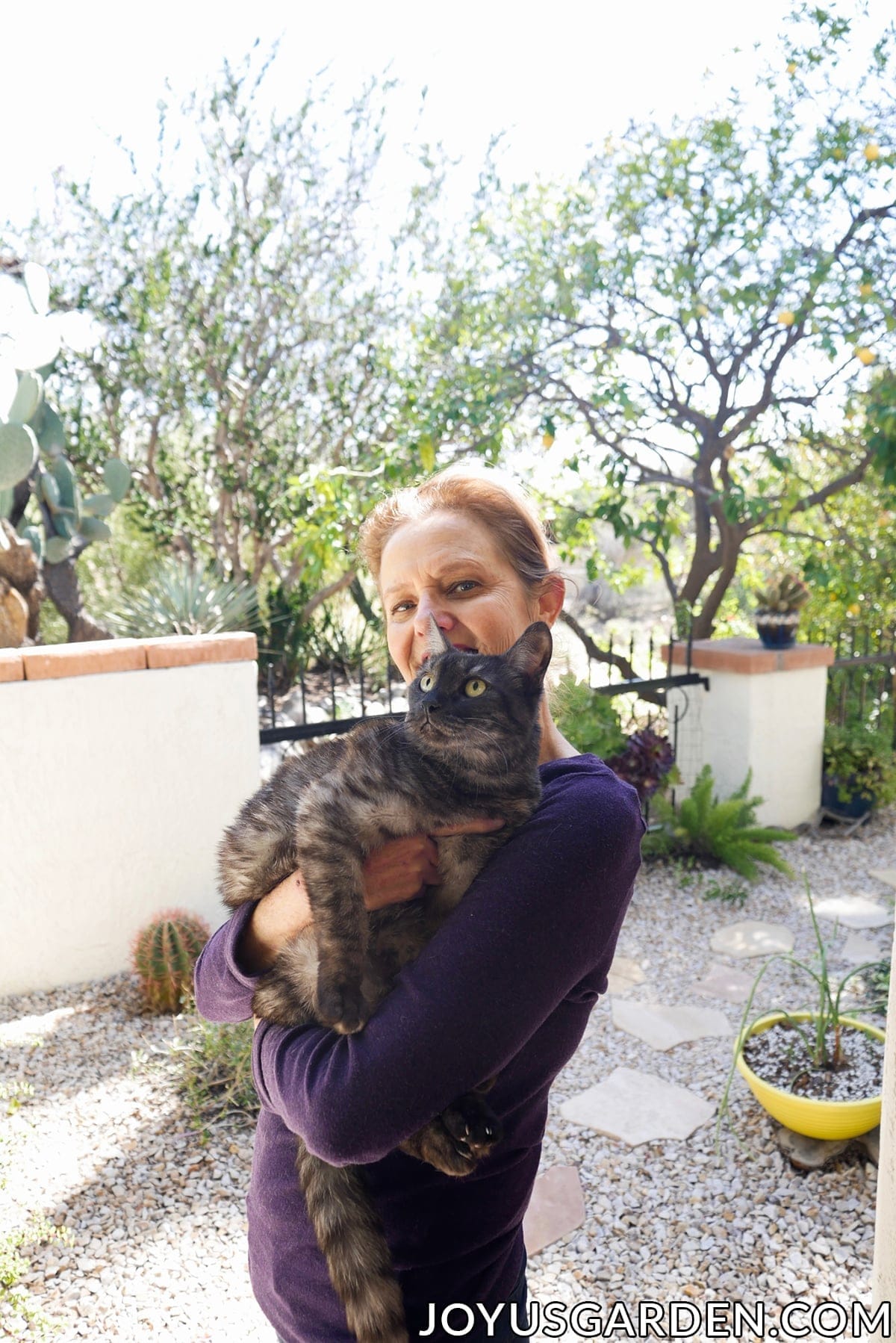 Here's how to grow cat grass indoors including the mix to use, the steps to take, how to maintain it and how long it takes.
I must admit, the pretty seed packet initially tempted me to buy the cat grass. My kitty Riley was acting a bit lonely (his buddy Oscar died 6 months ago) so I thought a little grass may be just the ticket to keep him entertained.
Riley has never shown any interest in any of my houseplants but I thought the cat grass might pique his curiosity. I never got around to planting the seeds until Sylvester entered the picture. 
10 days before Christmas I decided it was time to get another kitty companion for Riley. Off to the shelter I marched carrier in hand. I ended up coming home with a big tuxedo boy, who for the most part has no interest in my plants.
That is, except for the Spider Plant which sits on a plant stand in the bedroom. Those big, crunchy leaves are just too irresistible!
I thought he'd be wildly enthusiastic about the grass and that I'd be planting it on a regular rotation. Both Sylvester and Riley sniffed the grass and that was the extent of the interaction.
So what did I do with the grass you ask? I cut it off and put it in my smoothies. 
My neighbor says her kitty goes crazy for cat grass. Regardless of the fact that mine don't, I want to share the details on how to grow it because your kitty will probably love it too. 
I hadn't grown cat grass for almost 20 years and forgot what a cinch it is to do.
Soil Mix for Cat Grass
A soilless mix is best for seed starting. It needs to be light and well-aerated so those tiny plants can easily emerge. If you like to DIY, here's a recipe to make your own seed starting mix.
There are many seed starting mixes on the market which you can find online or at your local garden center. 
I know a couple of people who start their seeds in organic potting soil and add in perlite to lighten the mix. Cat grass seeds are big (as you'll see in the video) so I'm sure this option works just fine also.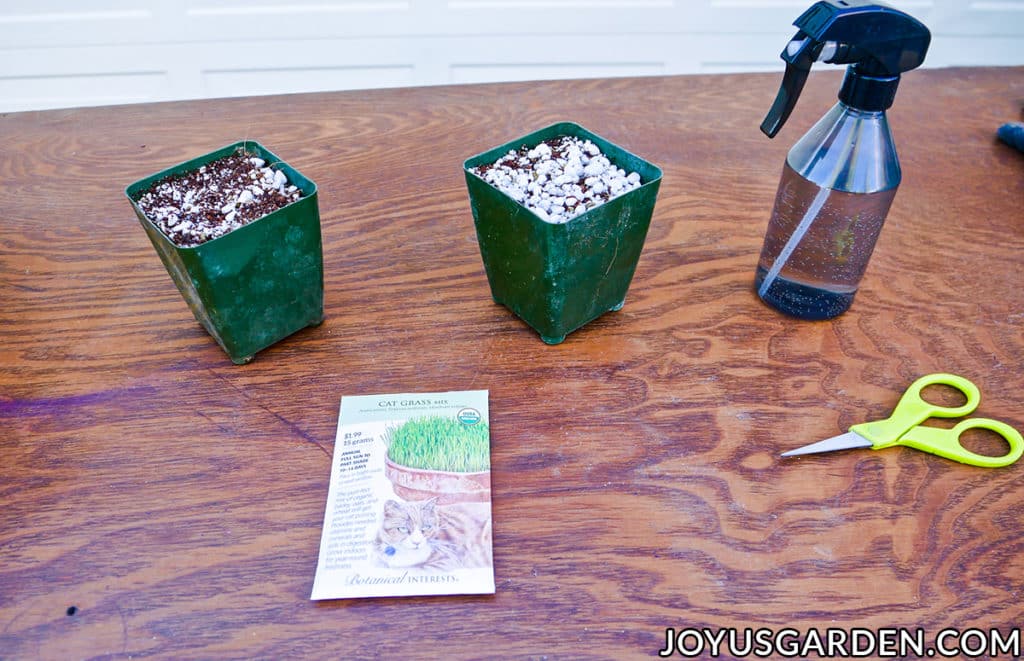 Container to Use
I don't think it matters what container you use. Just make sure it's sturdy enough so your cat can't easily tip it over. I used 4″ plastic grow pots but 6″ would work also. I've seen cat grass grown in trays, low bowls, rectangular planters, ceramics, terra cotta and more.
Some Of Our General Houseplant Guides For Your Reference:
Guide To Watering Indoor Plants
Beginner's Guide To Repotting Plants
3 Ways To Successfully Fertilize Indoor Plants
How to Clean Houseplants
Winter Houseplant Care Guide
Plant Humidity: How I Increase Humidity For Houseplants
Buying Houseplants: 14 Tips For Indoor Gardening Newbies
11 Pet-Friendly Houseplants
Read more Home Remedies for Cat Eye Infection
See me planting the seeds:
When to Sow the Seeds
Indoors, you can sow the seeds year round. I planted my 2 pots in late winter and they germinated and were ready for use in the specified time on the packet.
I live in Tucson with warmer, sunny winters so if you live in a climate where winter days are shorter, the process might take a bit longer at this time.
When the Cat Grass was Ready for Use
It was ready for kitty inspection (& consumption) in 10 days. So fast & easy!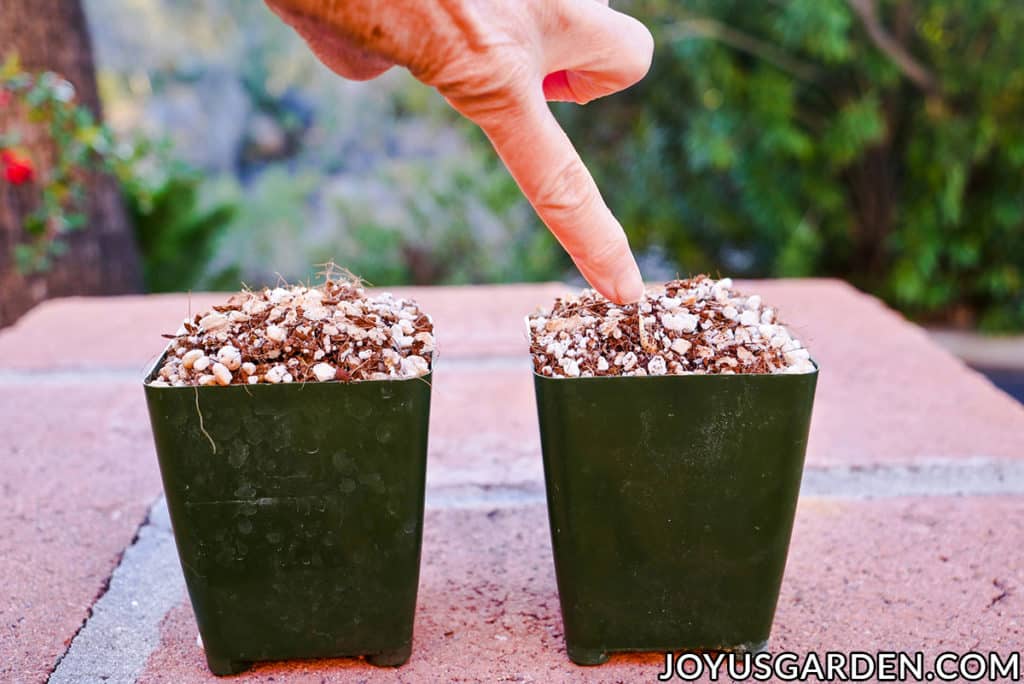 How to Grow Cat Grass
Fill your container with the soil mix to 1/2″ to 1″ below the rim of the pot. I filled mine a bit higher than this, and when the large seeds starting emerging, they "puffed" the mix-up and a bit spilled out.
Moisten the mix.
Sprinkle the seeds on the surface. I sowed them densely and didn't leave much space in between the seeds. This grass grows straight and narrow so they can be planted closely. I lightly pressed the seeds into the mix.
Cover with more of the mix.
Moisten the top. I used a mister for this part.
Put in a spot with bright natural light, preferably away from where your kitty can get it.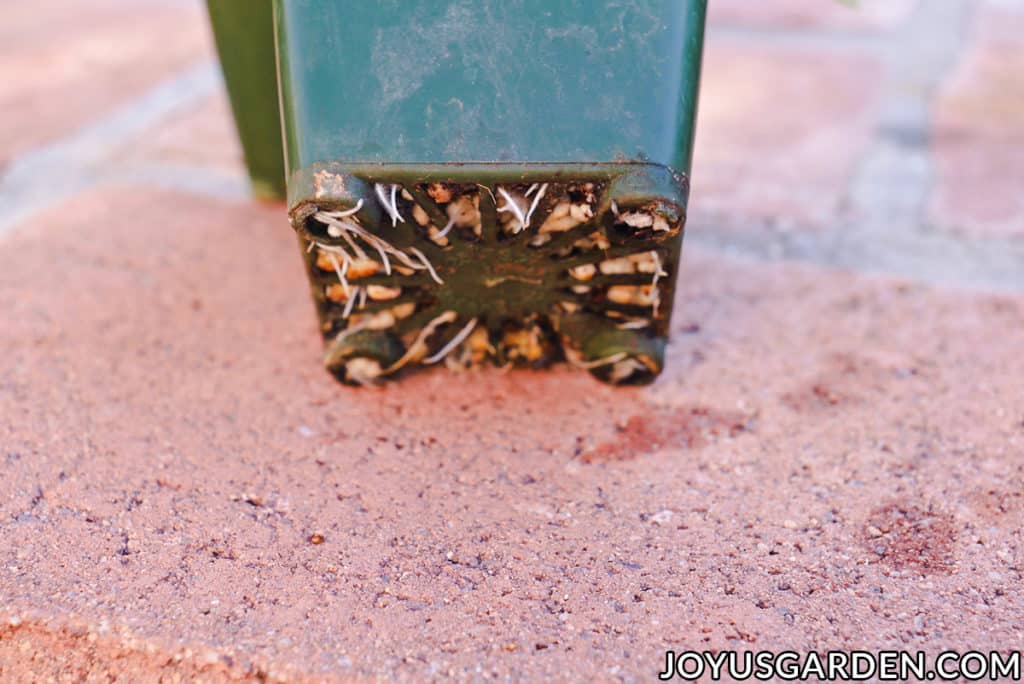 How to Maintain
I put the seeds in my northeast-facing dining room window. This location is very bright all day but receives no direct sun. Remember, I'm in the desert so yours might need a different exposure.
I misted the seeds every day until they started to germinate. After that, I watered the seeds every 2-3 days. You may have to water more or less depending on your conditions.
That's all you do—easy as can be.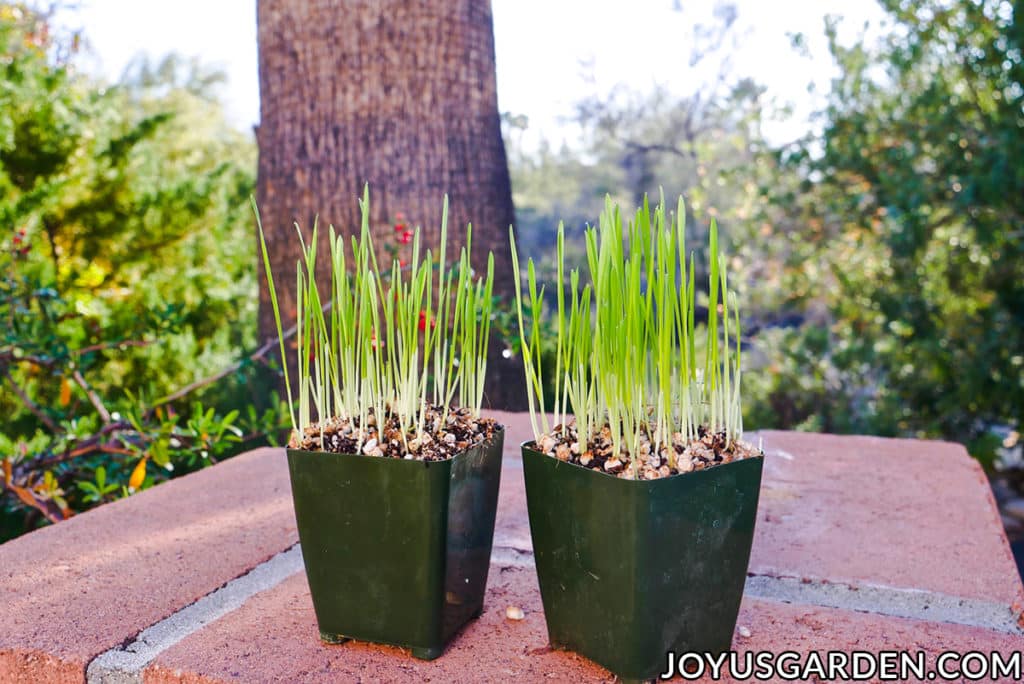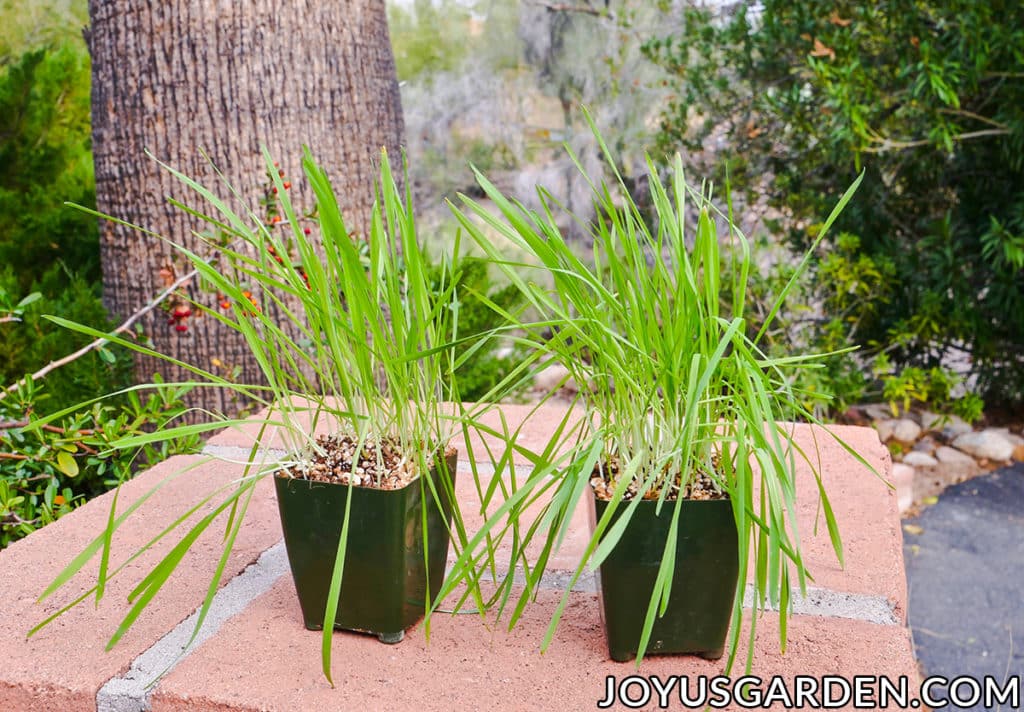 Botanical Interests. This is the mix I used.
Baker Creek. This 1 is interesting because it's variegated.
Todd's Seeds. This is a pound of wheatgrass for.
Cat grass is simple and inexpensive to grow. Keep it on rotation so your kitty has a steady supply. You'll be hearing the purrs in no time!

You may also enjoy this content!
How To Grow Catnip
Seed Starting Mix DIY Recipe
How To Make An Indoor Cactus Garden
Caring For and Growing Lucky Bamboo
This post may contain affiliate links. You can read our policies here. Your cost for the products will be no higher but Joy Us garden receives a small commission. Thank you for helping us spread the word & make the world a more beautiful place!
---
— Update: 16-02-2023 — cohaitungchi.com found an additional article The ultimate guide to growing cat grass from the website www.chirpycats.com for the keyword how to grow cat grass indoors.
Last updated September 5th, 2021
For indoor cats, the grass is not greener on the outside. Perhaps your cat would disagree, but we know indoor living is the safest place for your cat. Free-roaming cats have a full daily schedule, they hunt, catch, kill, groom, sleep, and nibble on grass at their leisure. To keep your cat happy it's important to provide a natural, stimulating and changing environment that most closely resembles what he would normally stumble upon in an outdoor kitty expedition. We know that one of the things cats love, next to catnip, is cat grass. What's great to know is that cat grass is super easy to grow at any time throughout the year. 
Read more How To Apply Coconut Oil To Cat's Skin?
If you have an indoor 'plant-pruning' kitty in your midst that cannot resist your houseplants, then growing his very own 'all-you-can-eat' cat grass platter is a great distraction. So instead of yelling "No Mr. Tiggs, not the plant!" tell kitty to get ready to…
Why do cats eat grass if they are obligate carnivores?
As obligate carnivores, cats require only meat protein to stay healthy and there is no scientific evidence that they need grass at all. But many theories from cat experts abound.
What we do know is that cats do not need grass, but that there is no harm is serving up a little grass entree at the kitty salad bar! Cats love it and if it serves as a non-caloric snack, it's all good! As with everything always check with your vet for your cat's nutritional needs before offering anything unfamiliar to your kitty.
What are the common types of cat grasses?
Any type of the common cereal grasses which are normally grown for cats includes wheat, barley, oats, and ryegrass. You can either grow them separately or mix them up for variety. Experiment with them all to see which type your kitty prefers. And believe me, there will most certainly be a preference.
It's not only Mr. Tiggs that gets some benefit from chowing down on grass. Wheatgrass has many health benefits for the humans so make sure you grow an extra pot for juicing or smoothies! There's something for everyone, I love win-win scenarios, don't you?
How to grow cat grass (Instructions)
So let's get our hands dirty and grow some cat grass to make it greener on the inside! Growing cat grass for your cat is a fun activity. Involving the kids in this activity is a great way to strengthen the bond between the kids and their fur-sib.
What you need to grow cat grass
We use the organic wheatgrass seeds below from the "Food to Live" brand. It's a nice big bag sufficient for year-round grass growing for our multi-cat grass addicts!
1.  Soak the seeds

For growing three 7.5″ diameter pots, put about half a cup of seeds in a bowl and cover with water for about 4 to 6 hours. The pre-soaking helps speed up germination. Some say this is not necessary but I have always soaked my seeds. Rinse them thoroughly after soaking, they're now ready to be sewn in pots.
2.  Prepare your pots

If you wish, before you fill the pots with the soil you can line the bottom of the pot with a piece of paper towel or coffee filters. Fill your pots with some organic potting soil to about 1" from the top. Be sure to moisten the soil thoroughly.
3. Sprinkle the seeds evenly over the soil.
You may cover the seeds with a thin layer of extra soil, about 1/4″ but I find this is not necessary. In fact, I have done both to experiment to see which would grow faster, covered or uncovered, and this does not make a difference.
4. Water the seeds lightly with a spray bottle or watering can
5. Cover the seeds
I use plastic plant saucers with holes punched in them to cover the pots. This prevents the seeds from drying out; moisture is essential for seeds to germinate. You also want to ensure there are enough holes for adequate air circulation to prevent mold. If you are using plastic food wrap, ensure to cover loosely over the pot as it should not be airtight.
Read more Sneezy, Wheezy, and Snorey: Feline Asthma and Other Cat Breathing Noises
6. Place your pots in a dark area away from direct sunlight
The ideal conditions for germination of seeds are warmth, adequate moisture, and indirect light. I place my covered pots in the garage or high up on the fridge away from sunlight and curious paws! Moisten the seeds/soil day and night or three times per day if you can with a water sprayer and keep the pots covered. In a day or two, you should notice some roots emerging. By the third day, you can remove the lid and move the pots to a sunny location to green up the emerging grass sprouts.
In 5 days you should have something resembling the promise of a scrumptious cat snack or smoothie filler for you.
How long does cat grass last?
Cat grass that is grown exclusively indoors may only last for one week due to weak sunlight. Our pots last up to three weeks in the catio with regular watering. But I always plant a new crop of cat grass every two weeks so that there is always a fresh supply of on hand for the cats to nibble. If the cats have not 'mowed the lawn' down you can do this yourself by giving it a little 'haircut' with a pair of scissors to encourage it to keep growing. But eventually, it will die off so it's best to just start afresh!
Enriched cat and healthy you!
If your cats allow, harvest some sprigs of their cat grass for smoothies or juicing, cut at the base just above the root. Blend with water in a blender and strain the juice or use the grass directly in your juicer.
Next to catnip, cat grass is a staple in our house and I grow it for the catio in the Summer and indoors during winter. It's gratifying to know that something as simple as cat grass can contribute to your cat's environment enrichment needs to keep him happy and engaged. After all, your indoor cat has a full schedule too:
Hunt. Stalk prey. Eat grass.
Be warned, when you allow your cat to munch on grass, be prepared for the inevitable. The Haiku below says it all:
If you love growing cat grass you might like these projects too!
How to grow cat grass without the soil
How to make a cat grass pond for your cat
How to make a cat grass puzzle to bring out your cat's foraging and hunting skills.
How to make an indoor Spring oasis for your cat
Check out our other post on creative ways we use cat grass for the cats' enjoyment.
Like this? pin it!
Do you grow cat grass for your kitties? Is your grass greener on the inside? Chirp us a line below, we'd love to hear your stories!
For more inspiring ways to your cat's heart, join our newsletter for free access to unique and fun DIY cat hacks, enrichment ideas, reviews and giveaways!
References