The Lake Agnes Tea House hike is a classic hike in Banff National Park that provides access to stunning natural landscapes and finishes at a historic tea house. The trail begins at Lake Louise and ends at the Lake Louise Tea House and has grown to be one of the most popular hikes in the park.
It has a rich history, and the Lake Agnes Tea House (commonly referred to as the Banff Tea House or Lake Louise Tea House) dates back to 1901 while the name itself takes the name of Canada's first First Lady, Lady Agnes MacDonald.
Lake Anges is a stunning alpine lake set inside a breathtaking cirque formed by the peaks of Mt. Saint Piran, Niblock, and Whyte.
---
Lake Agnes Tea House Hike (Lake Louise Tea House)
---
Key Points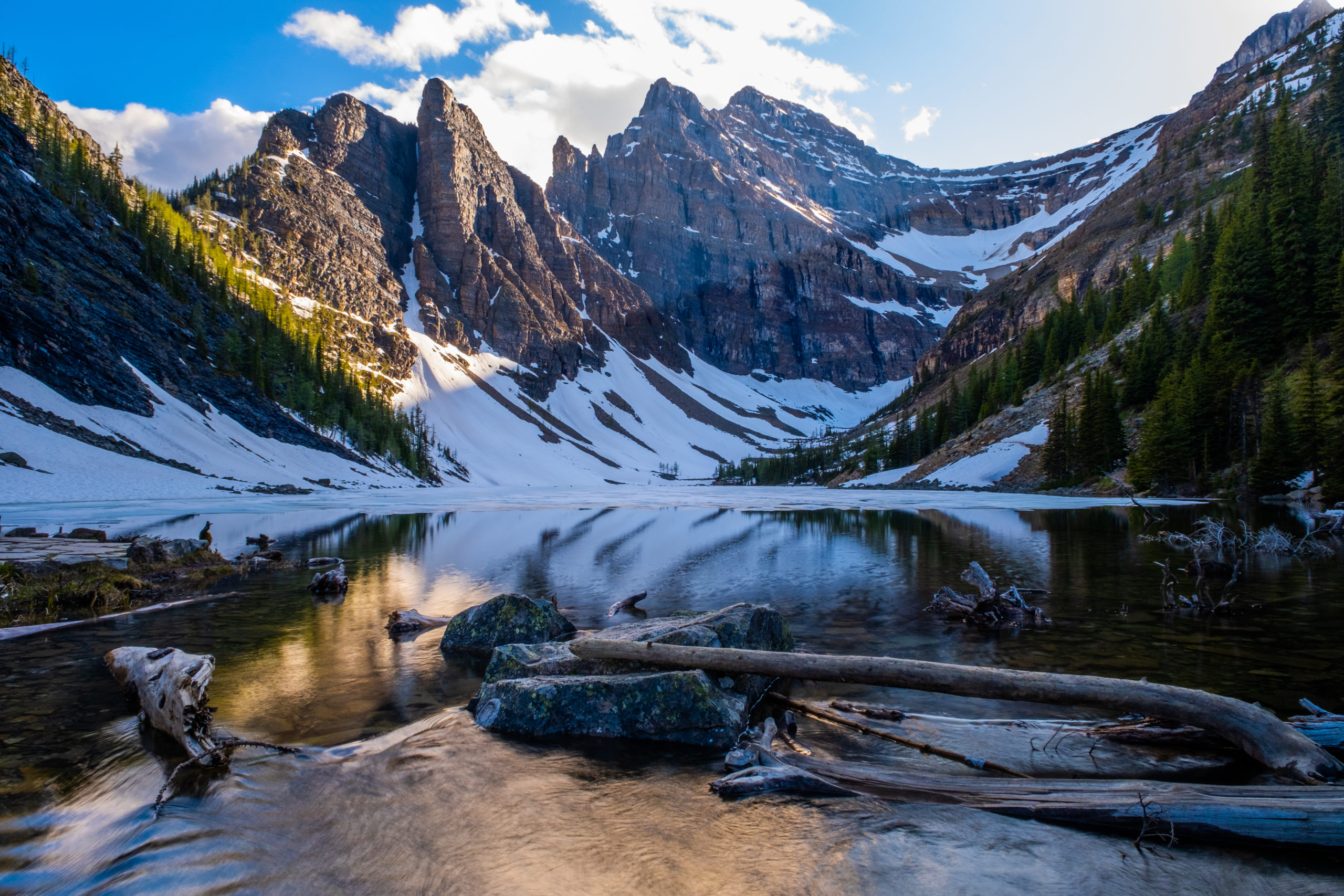 ---
Lake Agnes Tea House Hike Route Description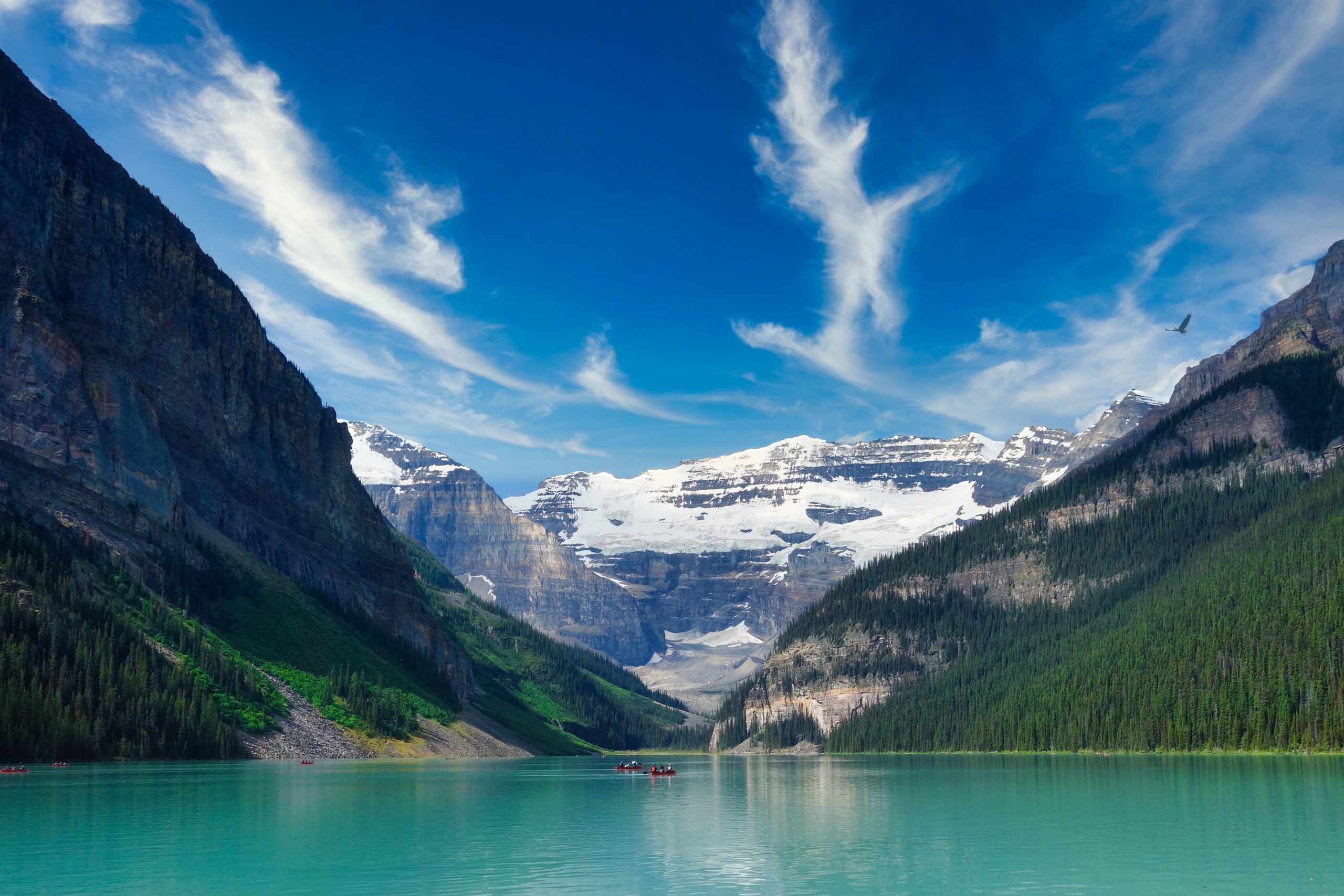 Starting from Lake Louise, the Lake Agnes Tea House hike makes its way along the lake's north shoreline. Right from the start, views of the lake are astounding, and there is no mystery as to why millions visit the lake every year.
Turquoise blue Banff lake water, soaring peaks, forests, and the stunning Mount Victoria topped by an expansive glacier make for one of the most ideal settings on earth. It is a sight that never grows old, no matter how many times you see it in person.
The lakeside trail is where you'll see most hikers heading, as it is the start of the vast majority of hikes around Lake Louise. Finding the trailhead is pretty simple to the Big Beehive, but you have two options for the route and allows hikers to avoid taking the same trail in and out.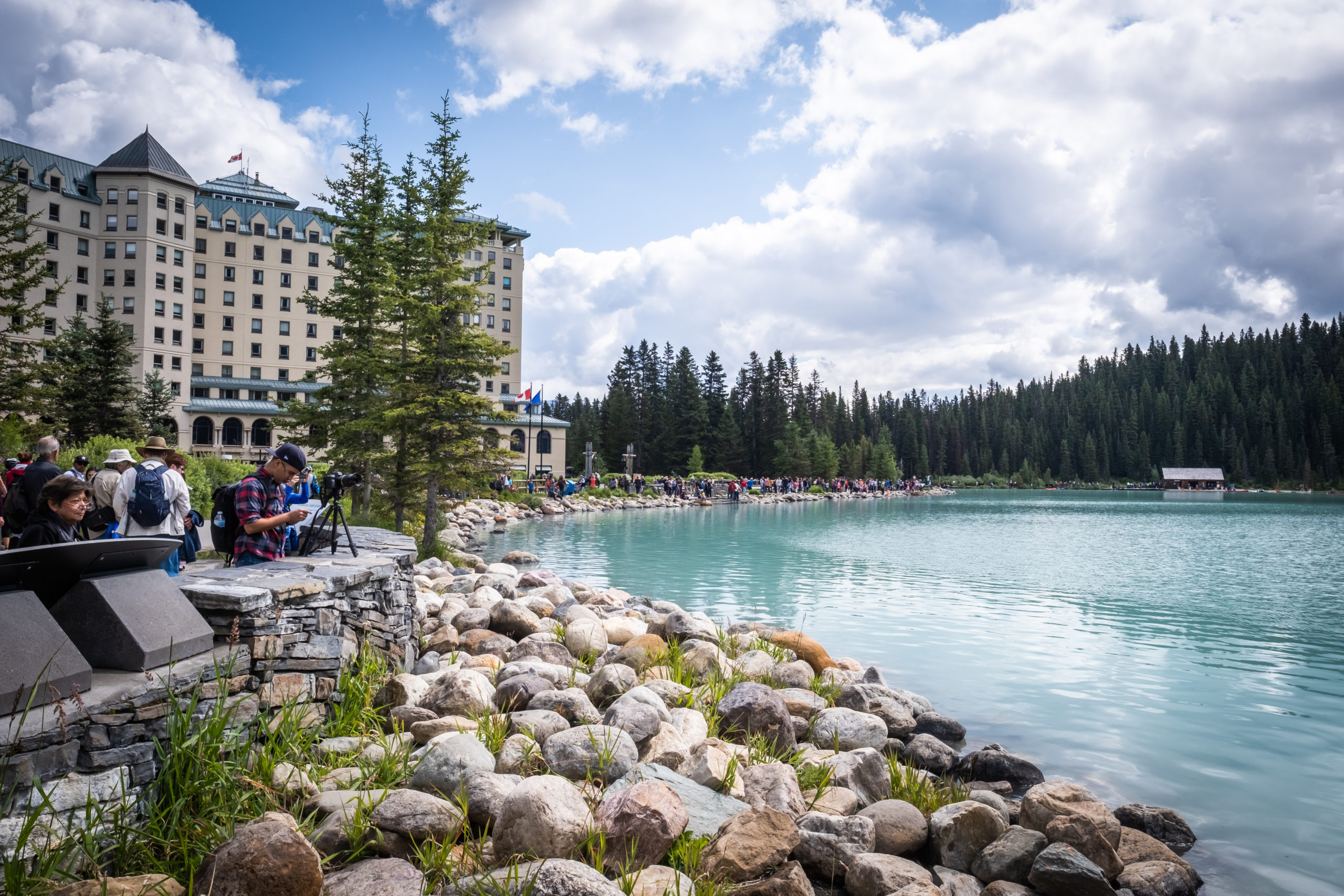 We recommend taking the trail to Lake Agnes and Mirror Lake first as it's more of a gradual climb and offers better sights along the route. As you leave the crowded shore of Lake Louise, you'll begin a gradual climb on a wide trail that follows a series of long switchbacks to the first stop.
You'll get a few fleeting glimpses of Lake until you're surrounded by a spruce forest as the trail moves around to Mirror Lake and Lake Agnes.
Mirror Lake is the first highlight, and it offers great views of the Big Beehive. While the lake is not as vibrant as Lake Louise, it does have some color and serves as nice foreground to Big Beehive. From this angle, it's pretty easy to see where the namesake comes from as it quite literally looks like a very, very big beehive.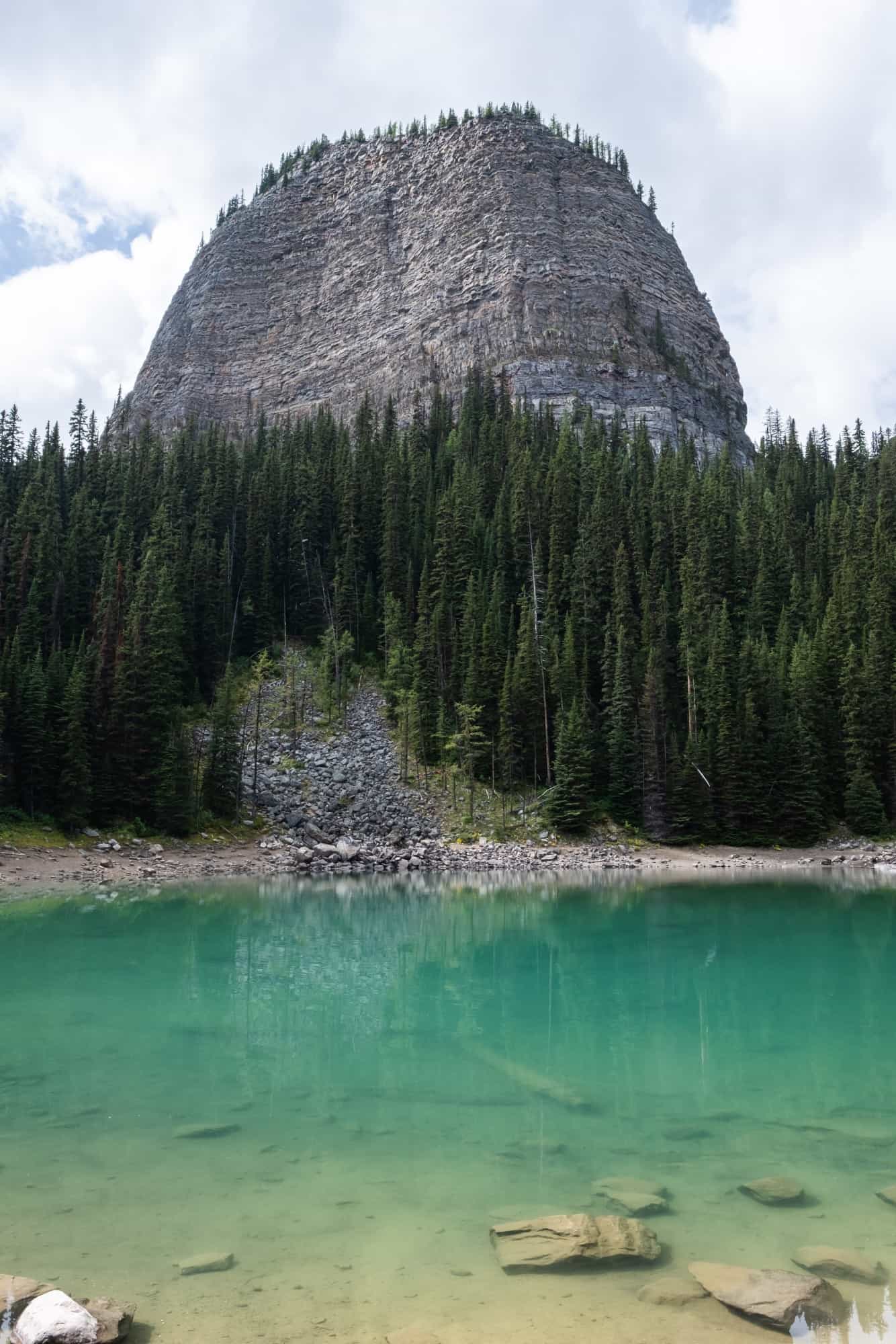 From Mirror Lake, the trail moves to the right, following signs to Lake Agnes and the Beehive hikes. From here, the trail continues to climb through a series of switchbacks where the occasional opening of the forest allows views of the soaring peaks that surround it.
You have two options from Mirror Lake up to Lake Agnes, but the trail to the right is more scenic with a small waterfall and provides access to the Little Beehive hike. It's also the route you'll want to take to complete the Beehive Circuit.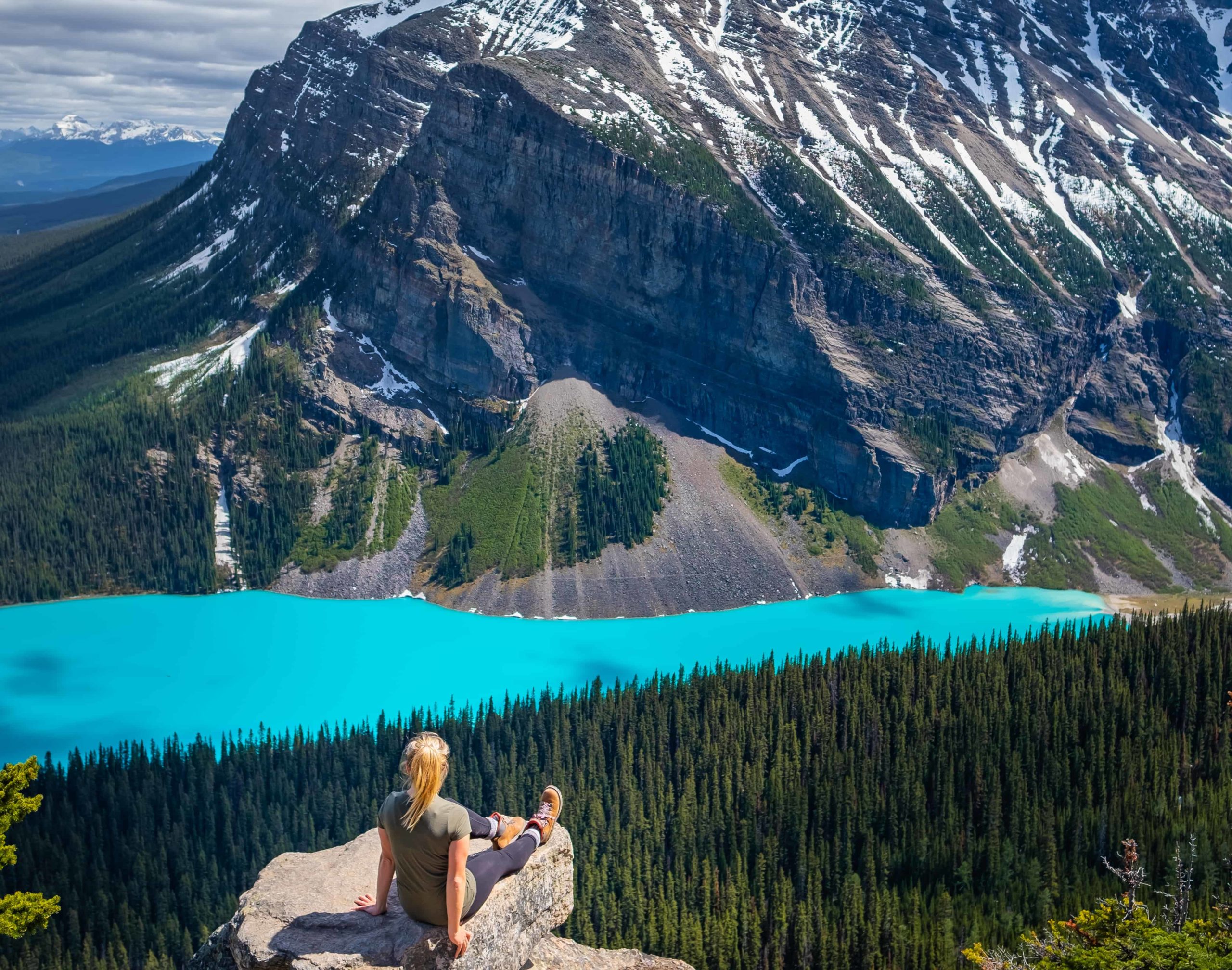 The Little Beehive is a 1.2-kilometer round trip detour from Lake Agnes and not too difficult, so it's a great addition. It rises to a nice ridge with fantastic views of Lake Louise and Mount Fairview.
On the lookout, a series of large rocks make for a great place to take photos and clamber along the ridge edge. The view does differ from the Big Beehive, and it generally sees fewer hikers, even though it is easier than the Big Beehive.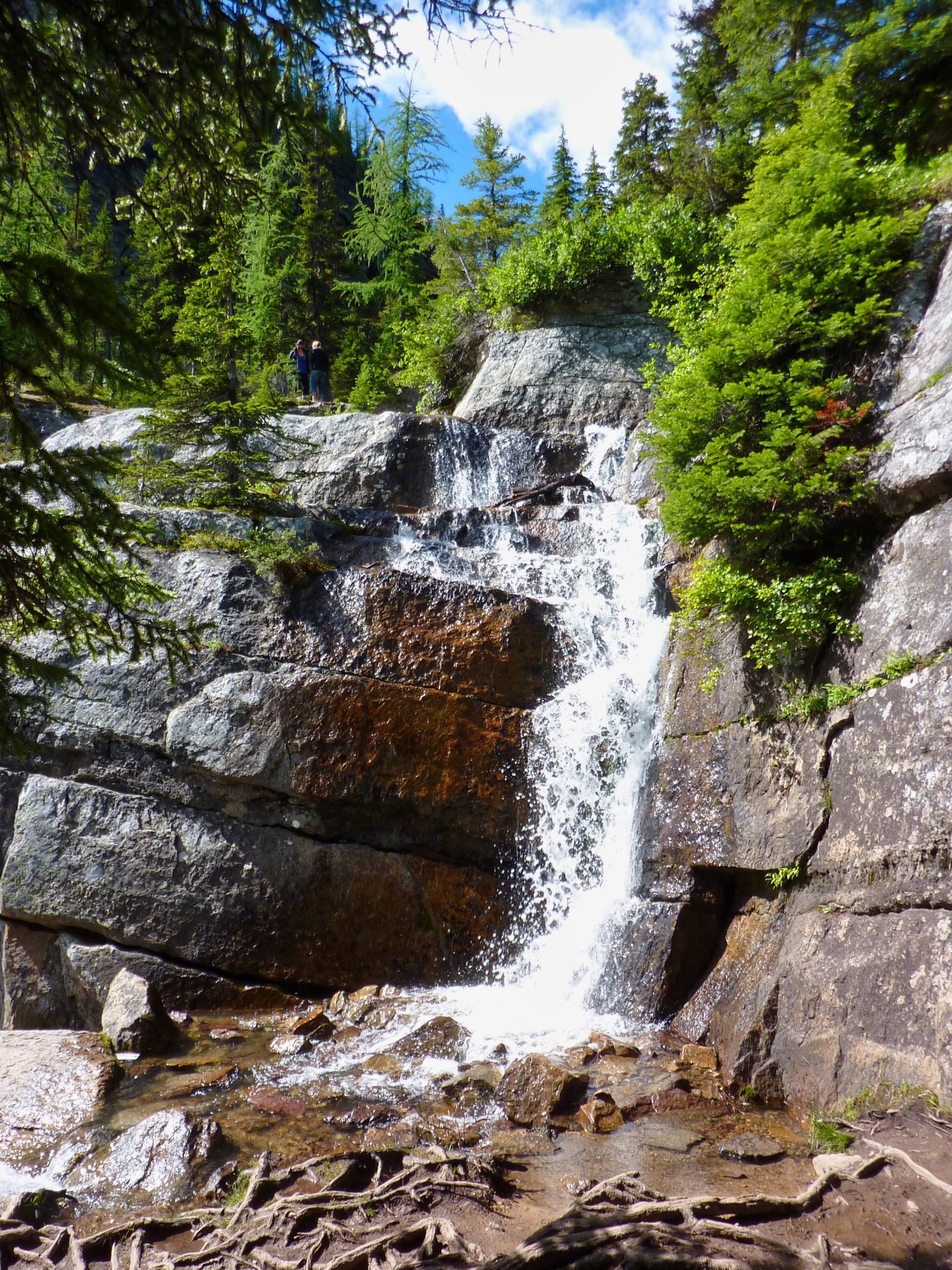 From the Little Beehive, the trail can either descend the same way back to the original trail to catch a view of the Banff waterfall coming off of Lake Agnes. Or take a shortcut directly to Lake Agnes and the Tea House.
Hikers that forgo the Little Beehive will catch some great waterfall views before arriving at Lake Agnes and the tea house.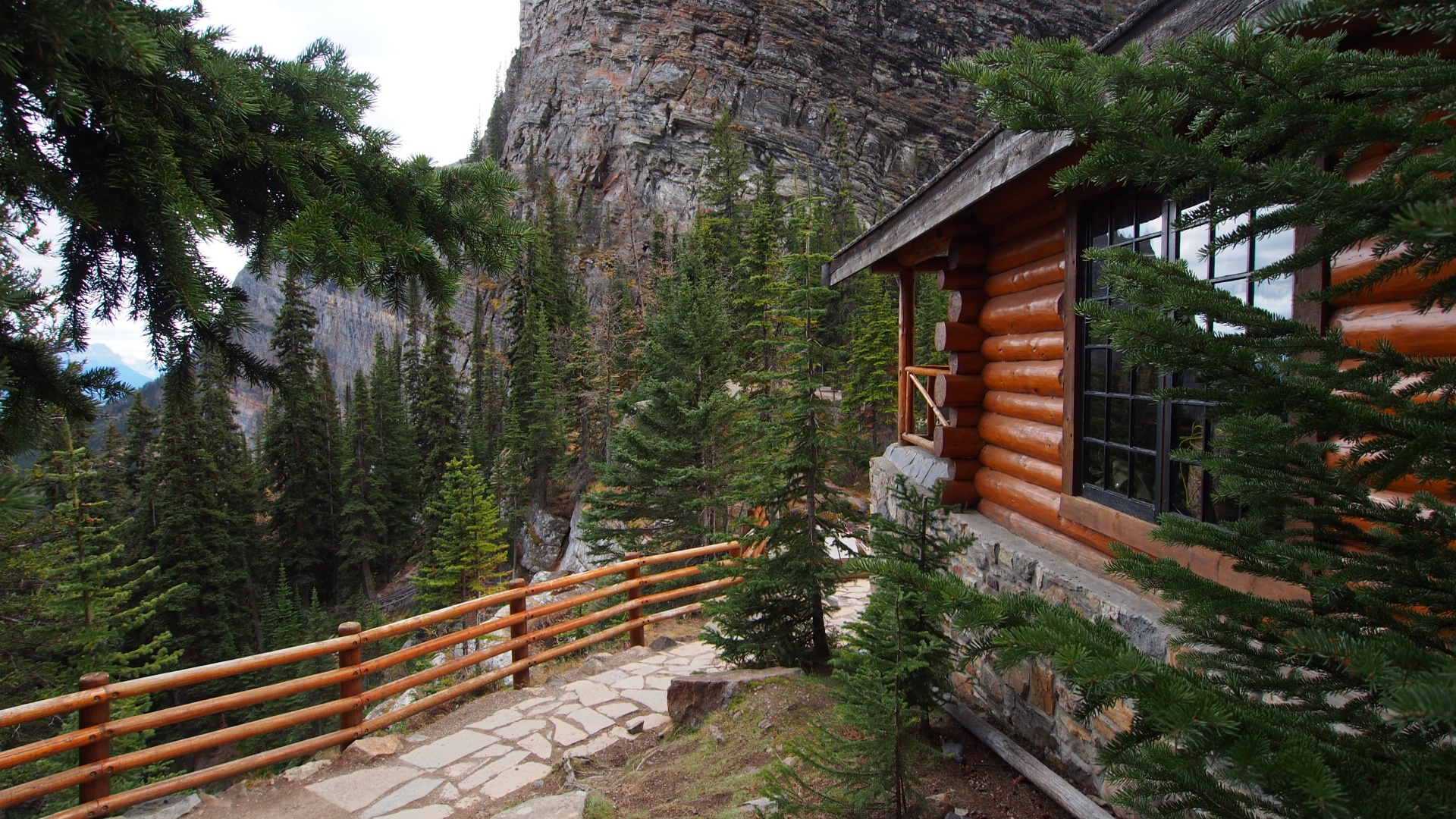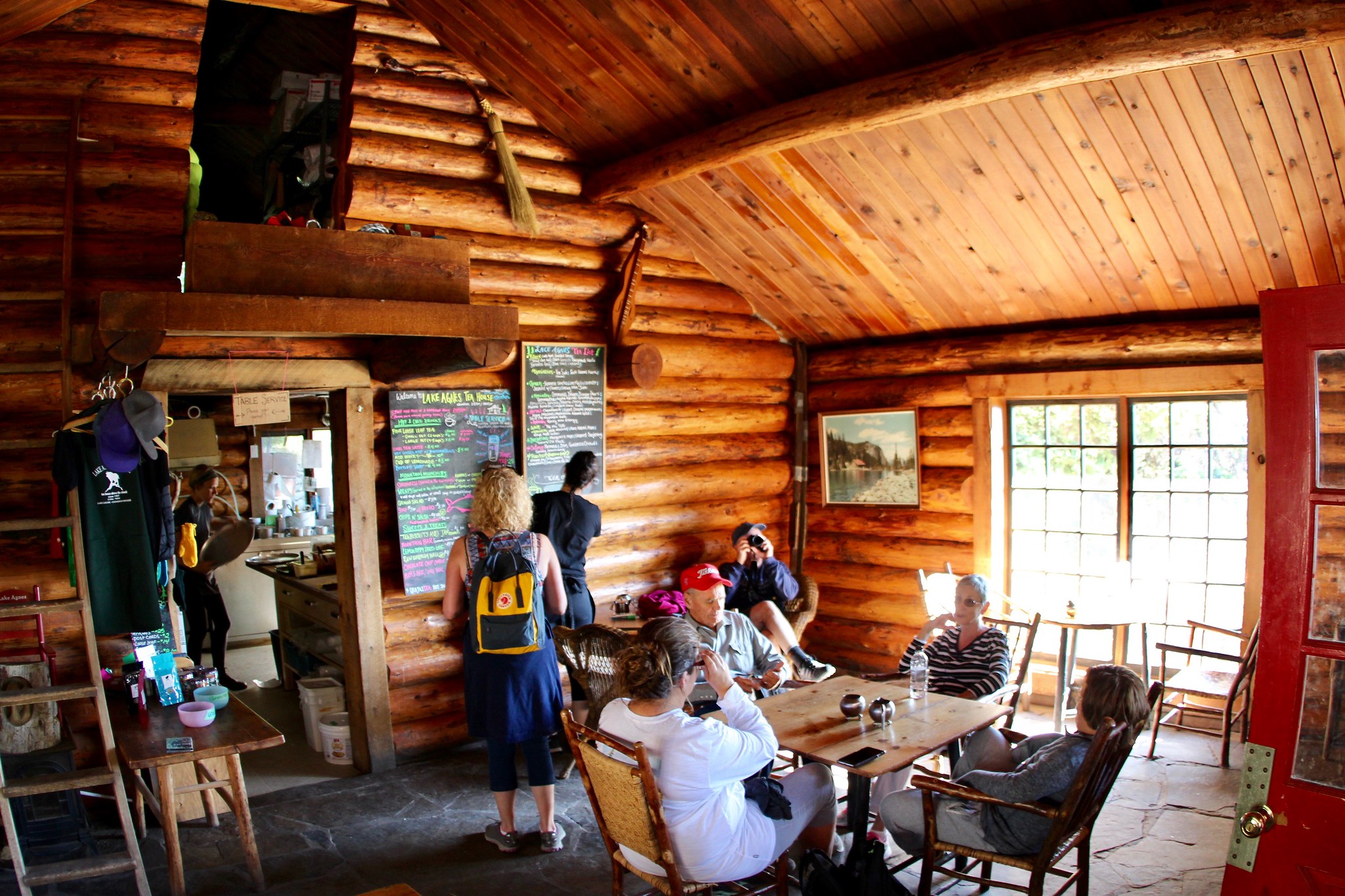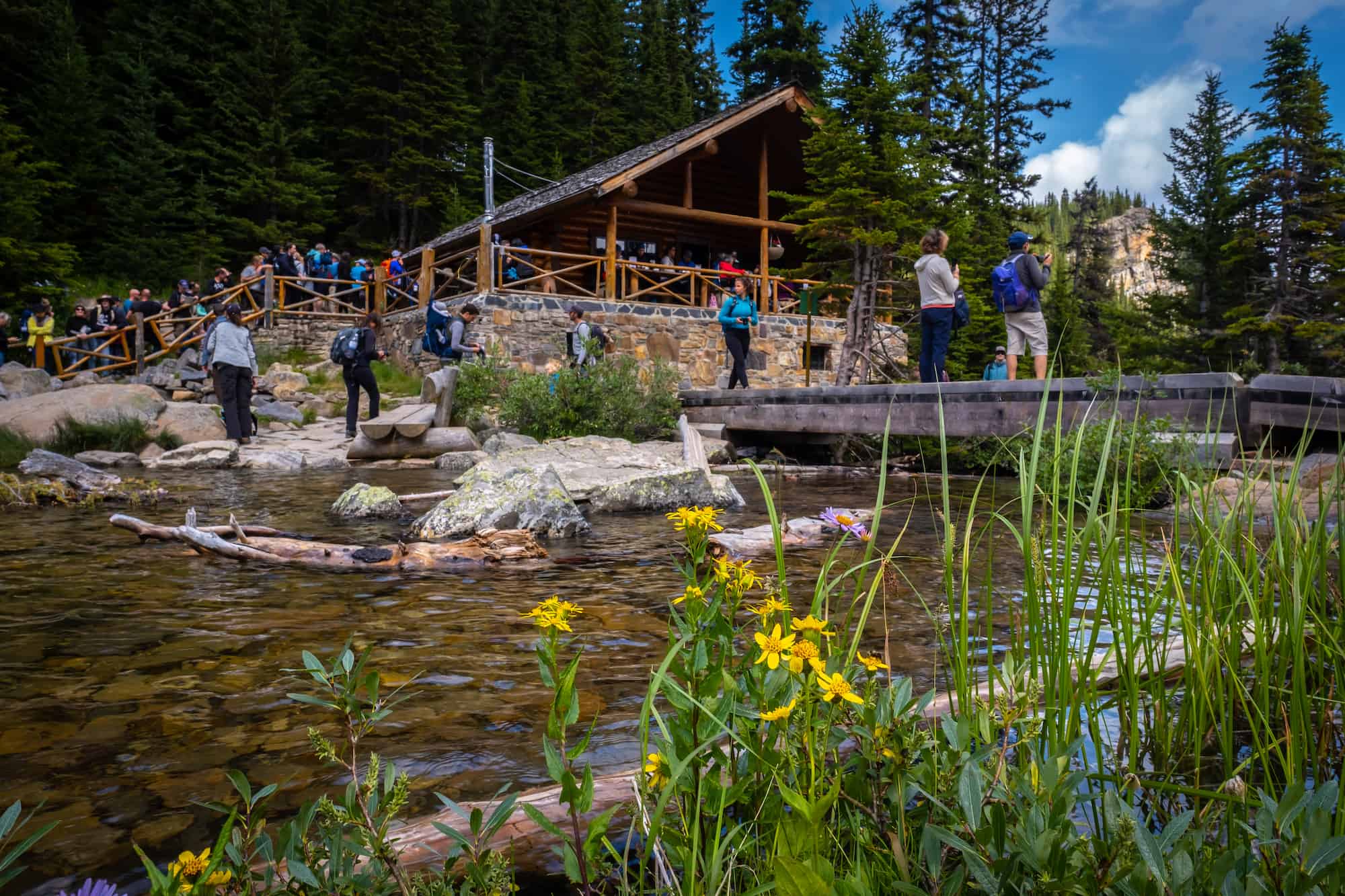 The historic Lake Agnes Tea House dates back to 1905 and has served hikers for over a century. If nothing else, it's worth checking out the wooded Banff tea house just to get a sense of the history and its close ties to the conservation movement in North America. It's not an all around Lake Louise restaurant, but you will be able to grab a few treats there.
By midday, a long line forms outside the tea house, and the Lake Louise Tea House is packed with visitors. If you're lucky enough to arrive around the opening of the tea house at 08:00 a.m., it's worth having a cup of tea before more hiking in the area.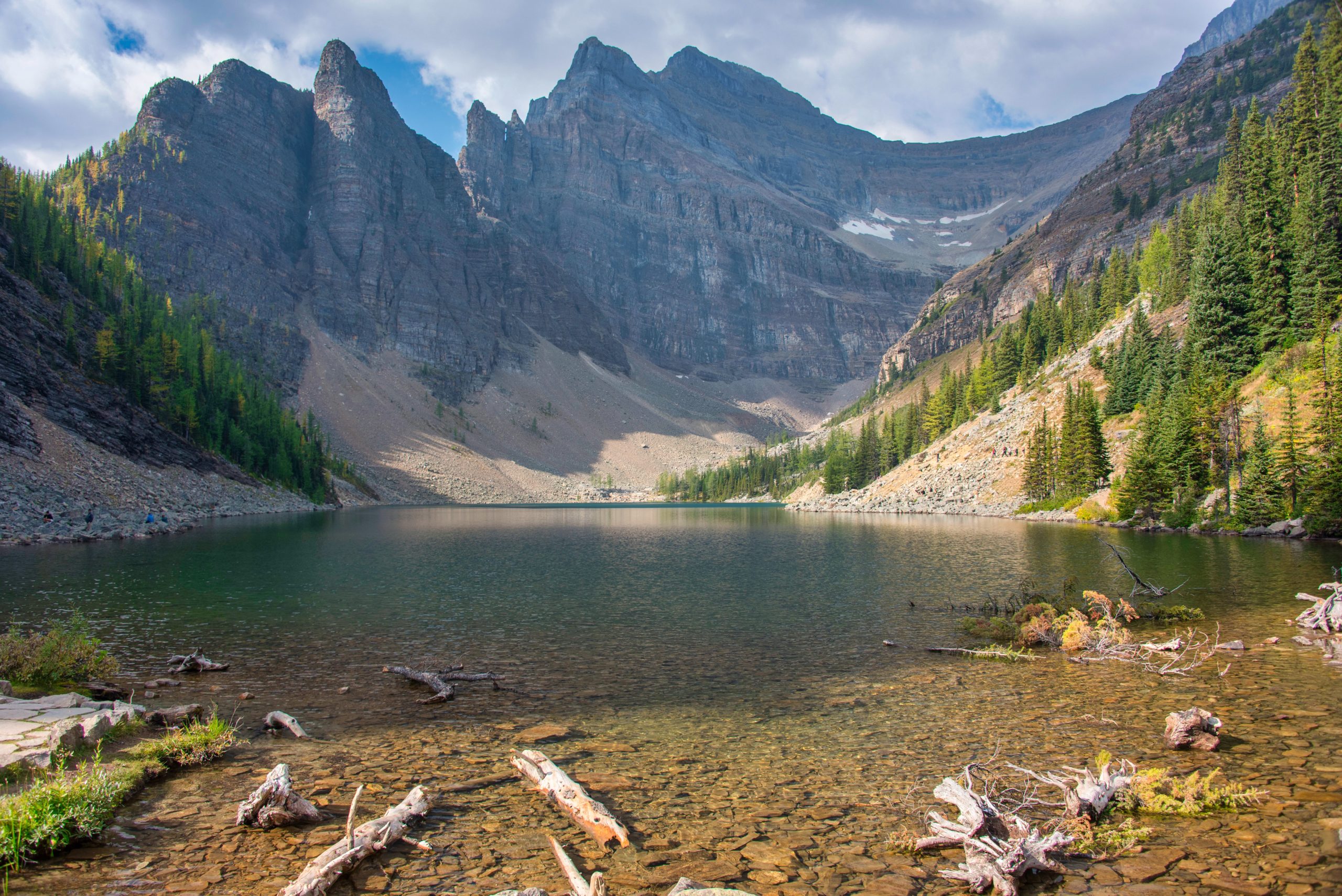 After visiting the Lake Louise Tea House, take in the views of Lake Agnes and epic cirque formed by Mount St Piran, Niblock, Whyte, and the Devil's Thumb. A trail goes around the Northwest side of the lake, and it's worth the trek even if you do not plan to hike any further up.
We particularly love some of the large rocks at the end of the lake that is a perfect spot for picnics and does not disturb the natural environment off-trail.
From the end of Lake Agnes, the trail continues up to the Big Beehive which requires another half hour of hiking to the ridge. The Big Beehive, much like the Little Beehive, offers some fantastic jaw-dropping views of Lake Louise and the surrounding area. If you have the strength, we can not recommend the hike enough.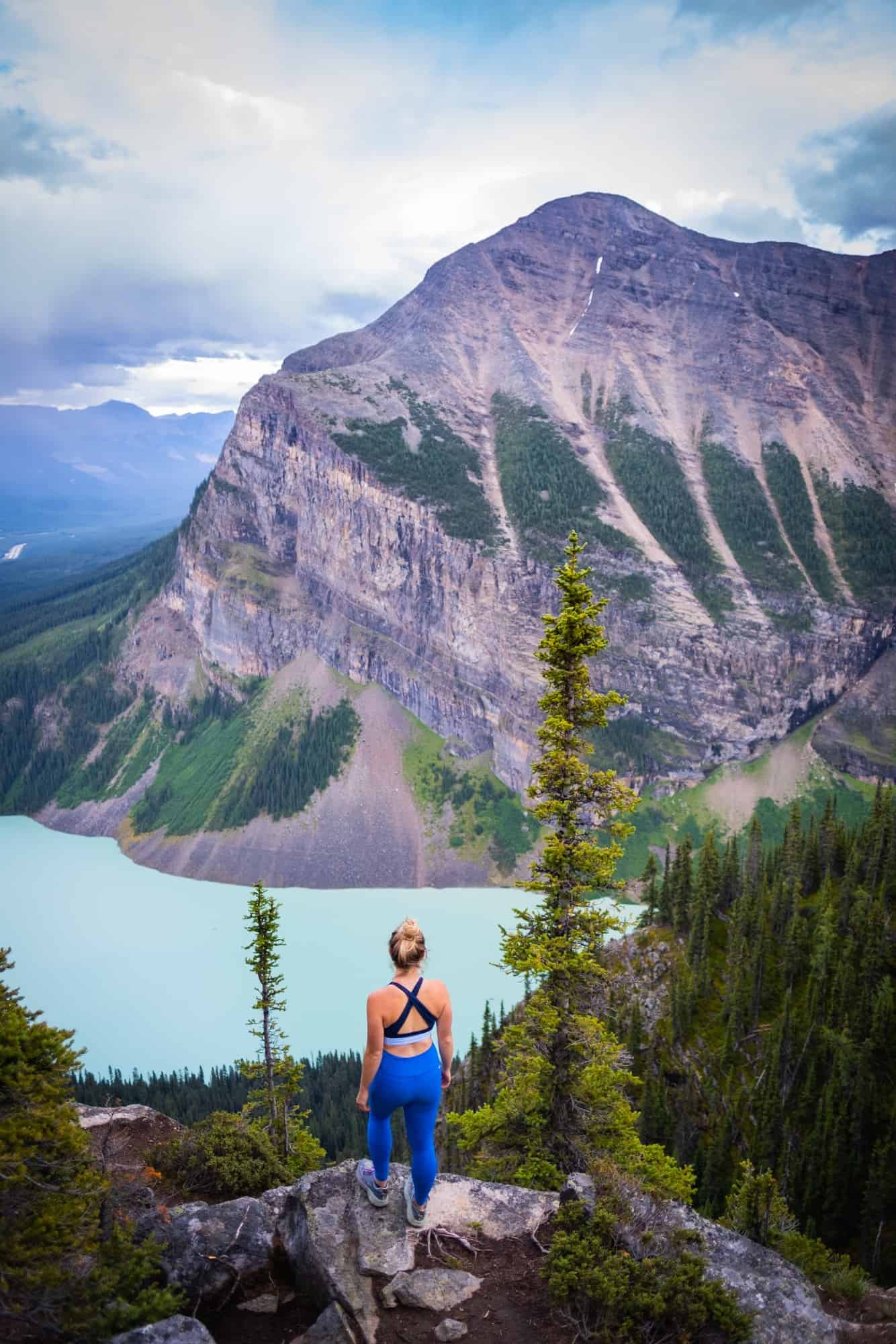 There are several routes down from Lake Agnes. If you climb up to the Big Beehive we suggest you take the route down towards the Plain of Six Glaciers trail. For those descending from Lake Agnes for some variety, take the shorter trail across the bridge from the Lake Agnes Tea House and down the staircase. It's shorter and provides some variety to hike back down to Lake Louise.
The staircase also provides some views of the waterfall from another angle, a quick glimpse of the valley and the Little Beehive.
---
Gear We Recommend
---
Tips For the Lake Agnes Tea House Hike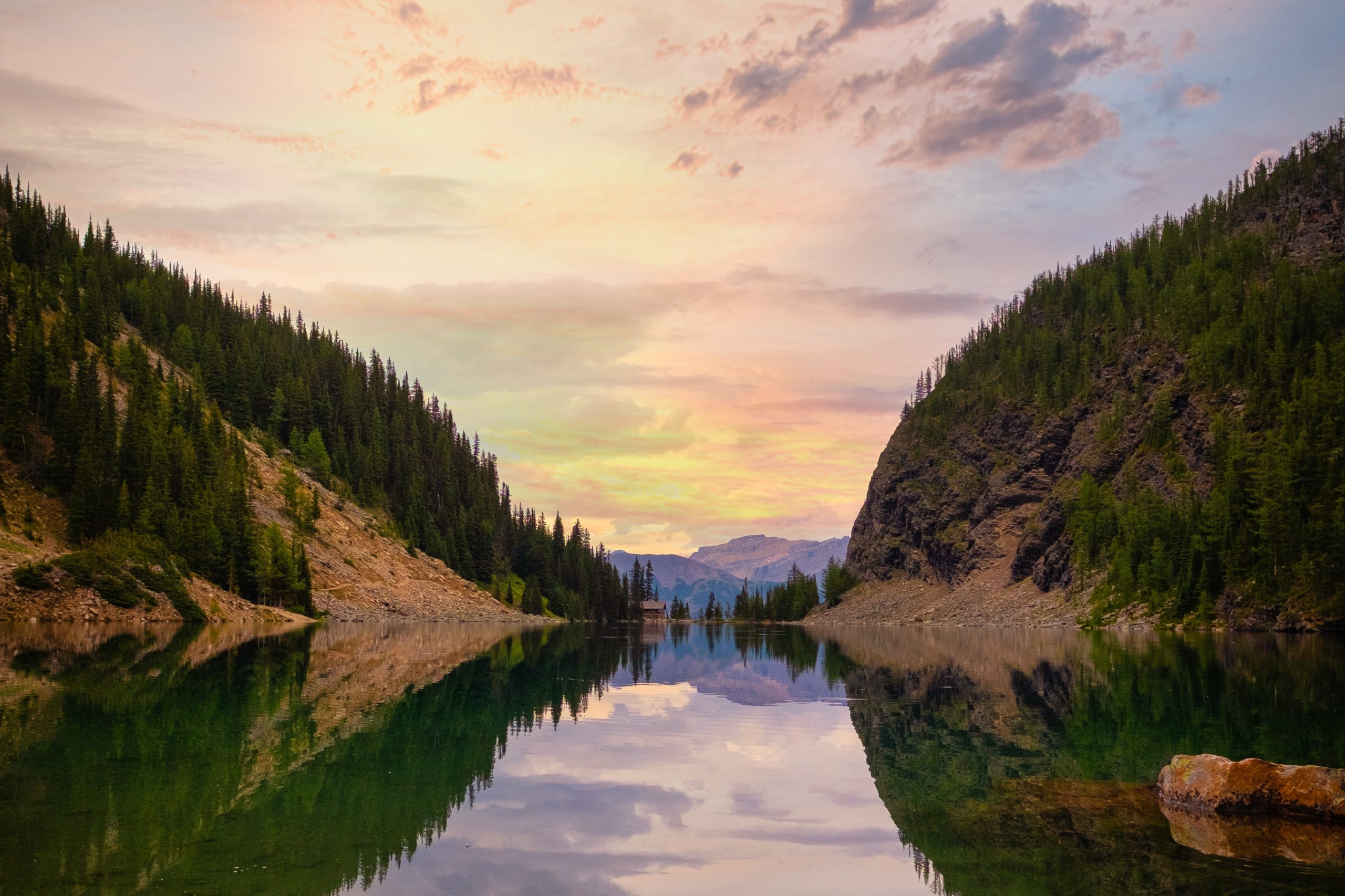 If you're up for the hike, it's well worth the addition of the Little Beehive or Big Beehive, or possibly even Mount Saint Piran for some extraordinary views of Lake Louise. The views from the two vantage points do not require much more work than the Lake Agnes hike, and they offer surreal views out over Lake Louise and the Bow Valley. Quite literally, it may be the most beautiful landscape you'll ever see.
Please, refrain from the use of the restroom facilities at Lake Agnes. There is no sewage, and a long drop toilet is used to collect human waste. Due to the sheer number of hikers who choose to use the restroom at Lake Agnes, a daily helicopter collection of sewage is needed to remove the waste.
That's right, the helicopter many hikers will see is not dropping off supplies but collecting hiker's poop. There are public restrooms at Lake Louise that we recommend using before you start the hike. This goes for facilities around the park; but please treat them respect the amount of time, money, and resources required to manage human waste would be shocking to most.
The Banff tea house is bustling, and you'll often have to wait in line to get a cup of tea or baked goods from the historic business. If you want to enjoy the experience, arrive early in the morning when they open at 8:00 or go for an evening hike as they close at 5:00 p.m. Otherwise, the Lake Louise tea house is most busy from 10:00 until 2:00 p.m. when most visitors arrive at Lake Agnes.
---
Lake Agnes Tea House Hike Duration
The hike up Lake Agnes is 3.5 km long and climbs about 400 meters in elevation. There are several worthwhile stops along the way and plenty of trails for detours in the area.
On average, expect the hike up to Lake Agnes to between one to two hours. A roundtrip journey is around three to four hours; of course, it's very easy for the hike to take more or less time depending on your fitness.
Read more 17 Best Hikes in California in 2022 (By a Local)
---
How Hard is the Lake Louise Tea House Hike?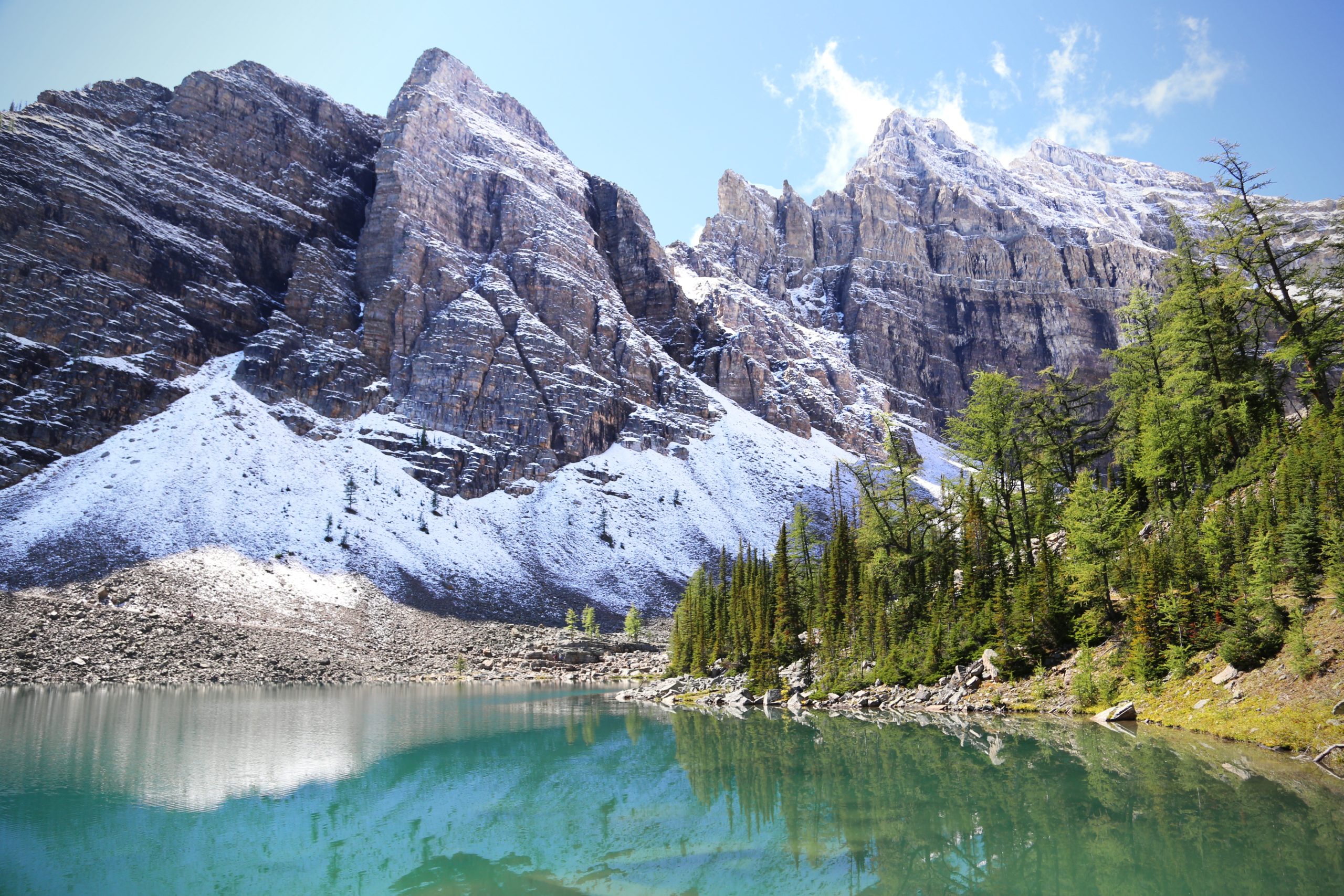 In our opinion, the Lake Agnes Tea House hike is straightforward and should be appropriate for most visitors to the park. If you're extremely limited in physical abilities, it may not be the best choice as the hike climbs 400 meters.
The reward is well worth the work as Lake Agnes is one of the most scenic spots in all of Banff National Park. If you continue on to the Beehives you won't regret it!
---
When Can You Hike to Lake Agnes?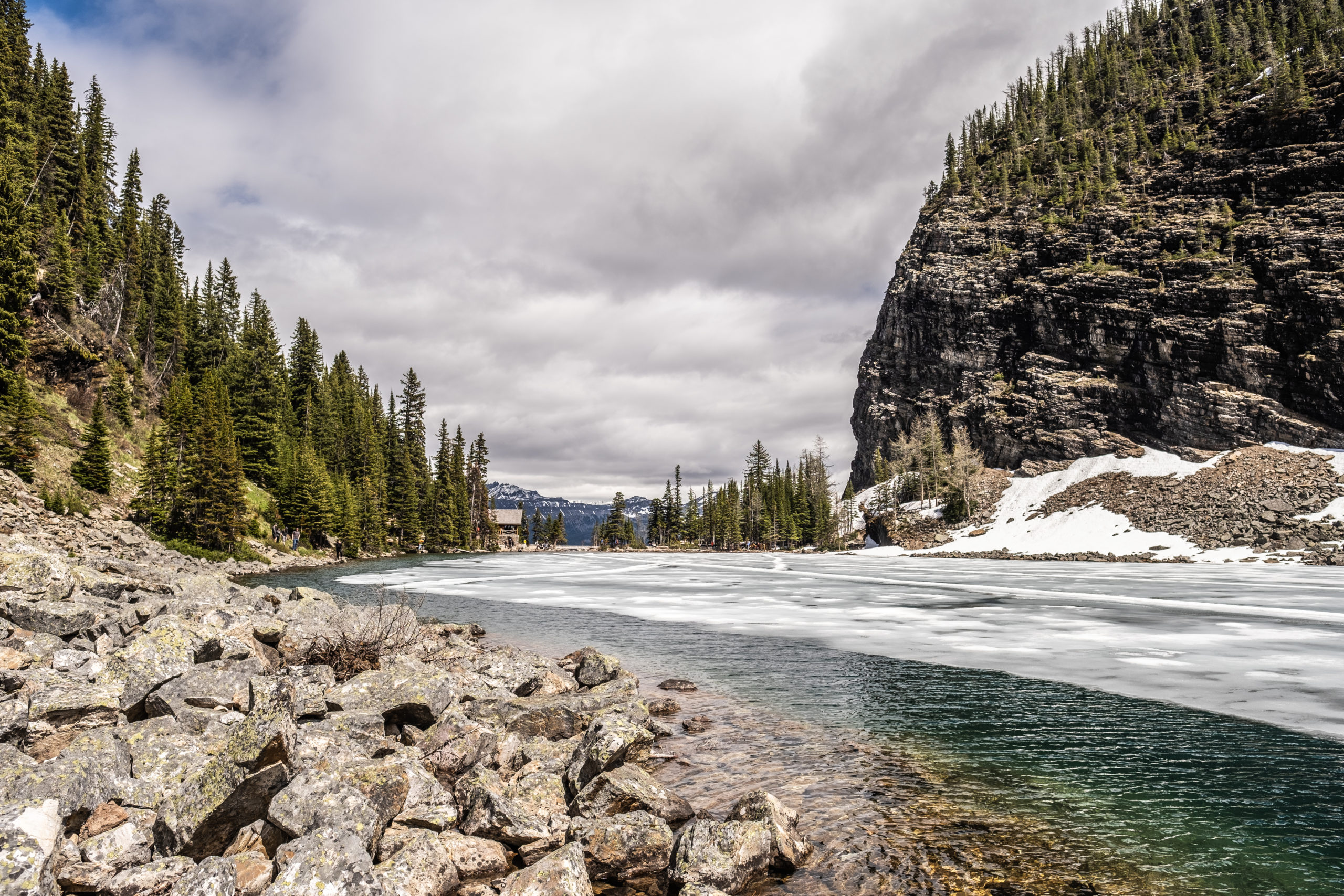 The Lake Louise Tea House trail is best done in the summer months from June – September. In the shoulder months of May and October, hikers should expect to find snow and ice on the trail, but not enough to make navigation of the trail too difficult. Lake Louise and Lake Agnes are frozen in the winter months and should melt around late May-early June.
Of course, the weather is seasonal and every year the melt date is different and it's possible to extend well into June. In 2019, we visited in early June and found ice-free lakes. In 2020, Lake Agnes was not thawed until mid June.
The Lake Anges Tea House opens on June 4 and remains open daily from 8:00 am to 5:00 pm until Canadian Thanksgiving.
---
How Popular is the Lake Agnes Tea House?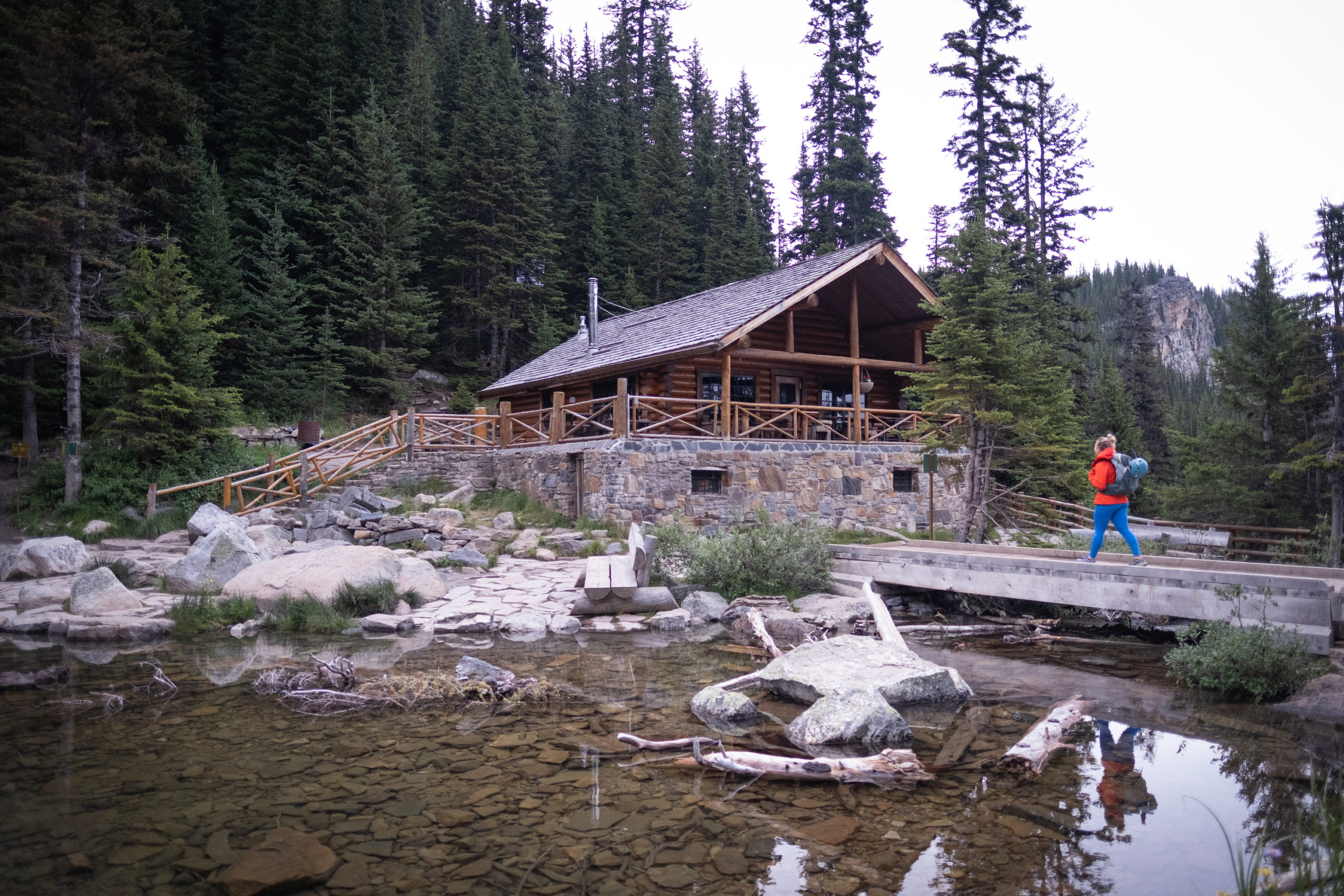 Aside from the hike through Johnston Canyon off the Bow Valley Parkway, the hike to Lake Agnes is the most popular in all of Banff National Park. Despite this, you'll be surprised by the number of people who only visit Lake Louise and who do not choose to venture up to Lake Agnes.
It's been said that nearly 80% of visitors to Banff, Yoho, and Jasper venture further than 1 kilometer from the road or parking lots.
As you progress through the hike, you'll increasingly find yourself alone on the trail, and it's possible to find some isolation along the Lake Agnes shoreline. That being said, if you're looking for peace and quiet, the Lake Agnes trail is not for you unless you are the first up to the lake or the last one to descend for the day. We took the photo above at around 9:00 p.m after summiting Mount Niblock. At that time we were some of the last in the area.
---
Should You Bring Dogs & Kids on the Lake Agnes Trail?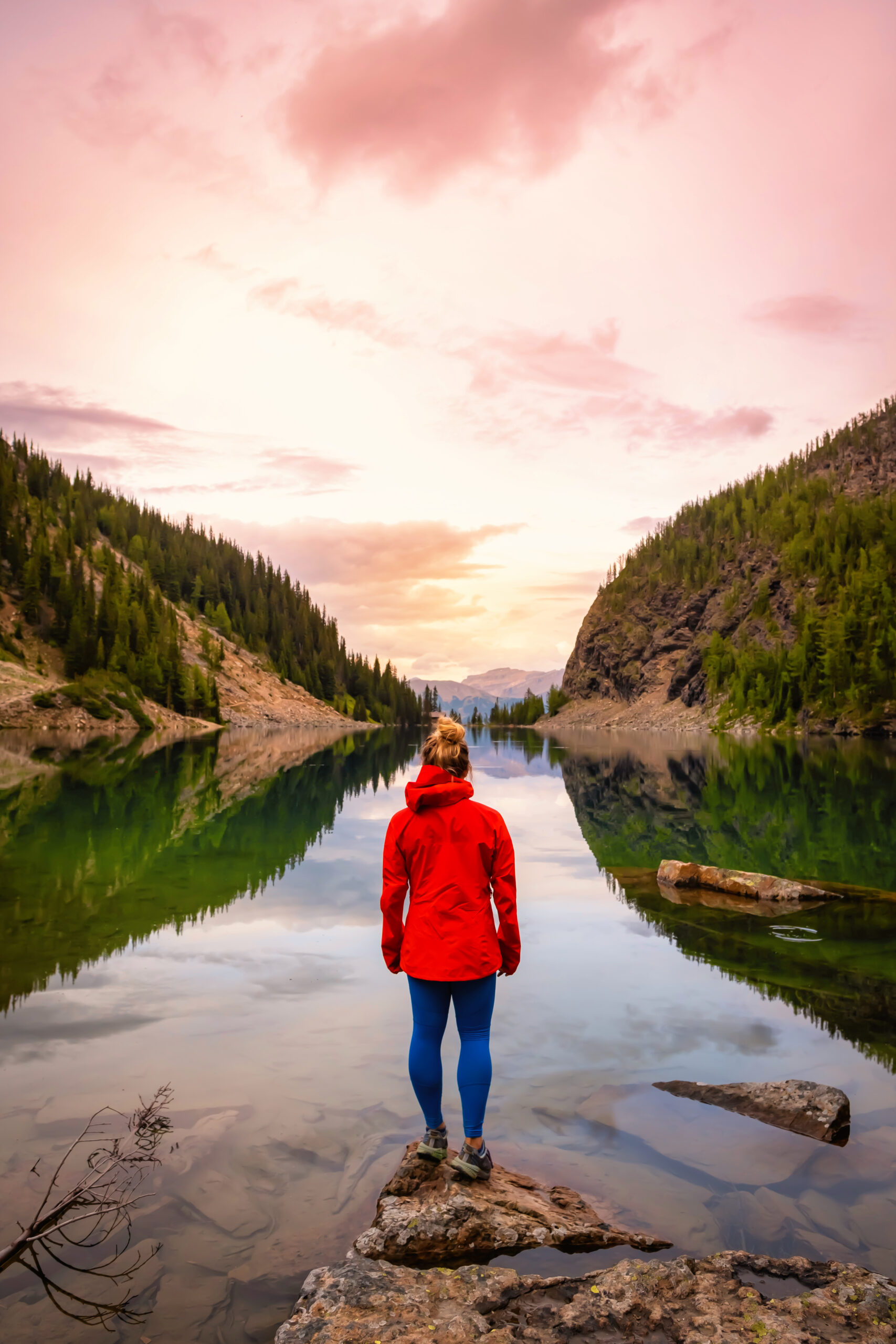 The trail is appropriate for most hikers who feel comfortable walking uphill. If you'd like to take the detours to the Little Beehive or Big Beehive, it would be appropriate for anyone of moderate fitness.
I'd say kids from ages six years old and up, maybe even younger. Strollers will not work on the rugged trail, but you should be fine hiking to the lake if you have a baby carrier.
Dogs should be able to handle the trail just fine. Just keep in mind the hike is over 7 km in length, so small dogs may struggle with the length while large dogs will handle the trail with ease. Also, remember dogs must always be on a leash in the national park for the safety of fellow hikers, the dog, and wildlife.
---
Parking at Lake Louise
The toughest part of the Lake Agnes hike may not actually be the hike itself for you, but instead it will be to score parking at Lake Louise. It's best to use the Parks Canada Park and Ride rather than fight for parking at Lake Louise in the summer.
There is also paid parking in effect at Lake Louise now. We break down everything you need to know about parking at Lake Louise here.
---
Cell Service at Lake Louise
You can get a cell signal at Lake Louise, though not at Lake Agnes. That being said I have received text messages at the Little Beehive.
---
Is Lake Agnes a Good Larch Season Hike?
There aren't many golden larch trees to enjoy around Lake Agnes, and in general it's not a great larch season hike in Alberta. Though, if you hike to Big Beehive or complete the Devil's Thumb scramble you'll be able to see a sea of golden larches from above come the third week of September.
---
Wildlife on the Lake Agnes Trail
Being in Banff in the Lake Louise area you always stand a chance of seeing wildlife, including bears. Though truthfully the only thing I've ever seen around Lake Agnes are chipmunks, picas, and marmots.
Please don't feed these animals no matter how adorable they are. Every year we see hikers feeding chipmunks their peanuts or whatever else they have in their pack in an attempt to get a photo and this should be avoided. Please leave nature wild and leave no trace.
It's unlikely you'll come across a bear on the trail as it's so heavily frequented. Nevertheless, it's always important to still carry bear spray on hikes in Banff.
12 Bear Safety Tips • How To Hike In Bear Country
---
Advice on Hikes in the Canadian Rockies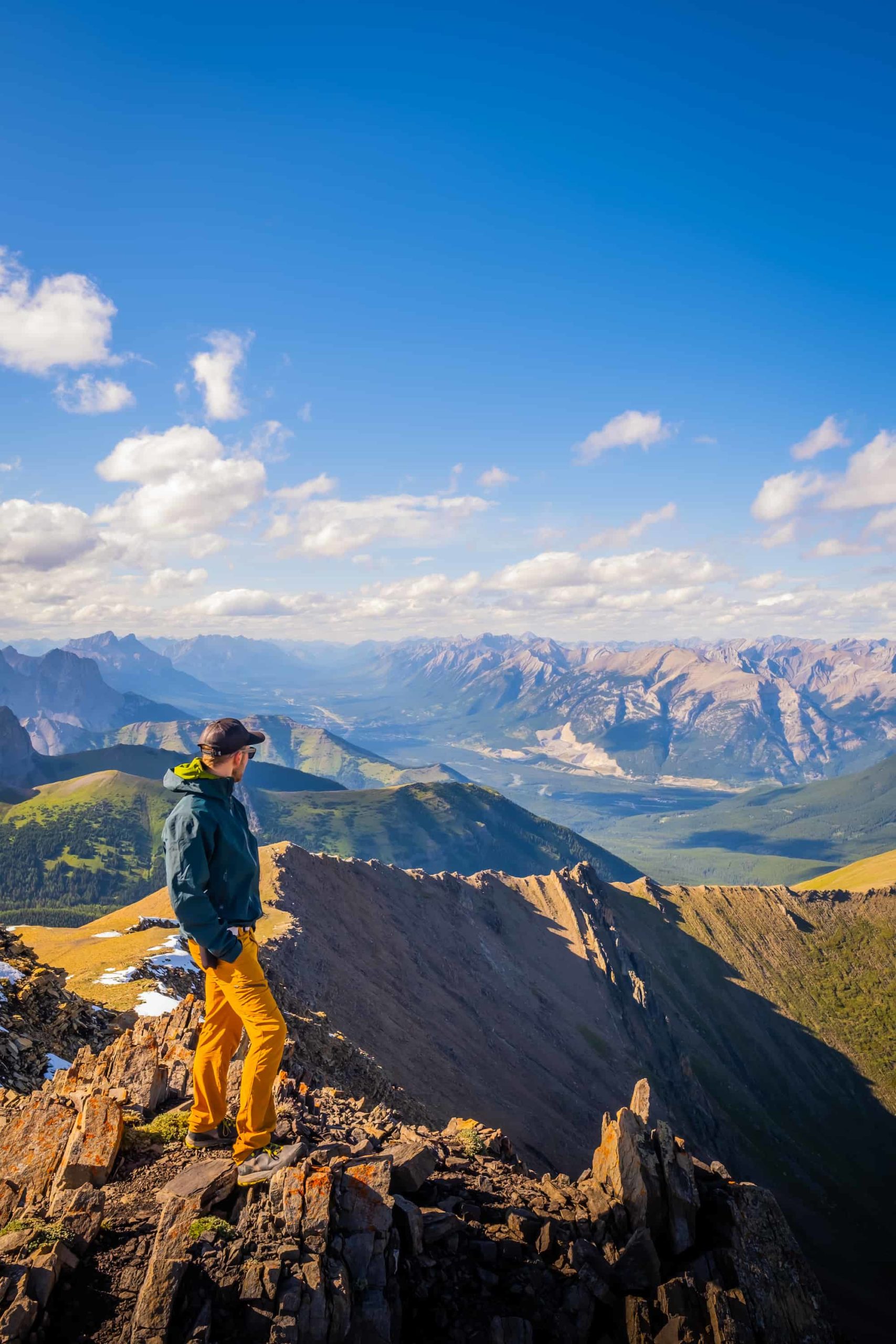 If this is your first time hiking in the Rockies, take a conservative approach. Pick an adequate hike for your fitness, plan for plenty of time, pack water and food, and don't be afraid to turn around. If you want to learn more about what to wear hiking, we have a great post.
For long hikes, set a turnaround time at the departure. Whenever we set out for an objective, I determine a time at which we need to turn around to arrive at the parking lot or campsite by dark. I would recommend not hiking in the dark as it's easy to get lost and it's not fun in bear country.
Always carry bear spray if you plan to hike in the park. We carry ours in the neighborhood, and bears have been known to stroll through town and busy parking lots. Always practice wildlife awareness when you're on a trail, and please give animals space.
---
What to Wear On a Hike?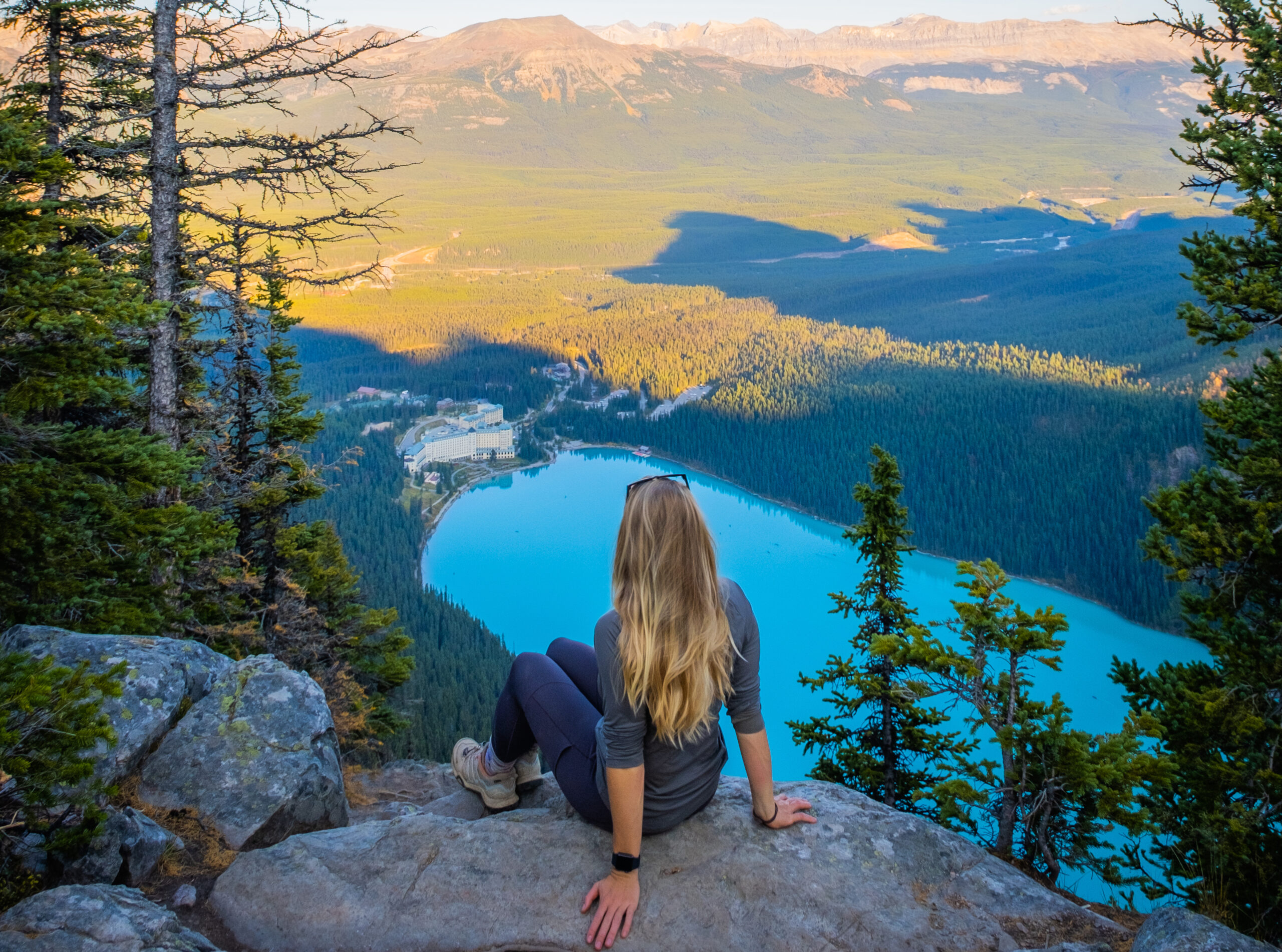 The most basic principle of what to wear hiking is layering. Anyone that has spent time in the wilderness or mountains can speak to the fact your temperature can fluctuate a lot on a hike. You can easily start off cool at the mountain base and get hot as soon as you begin moving.
What To Wear Hiking in The Canadian Rockies
---
Other Easy Hikes in Banff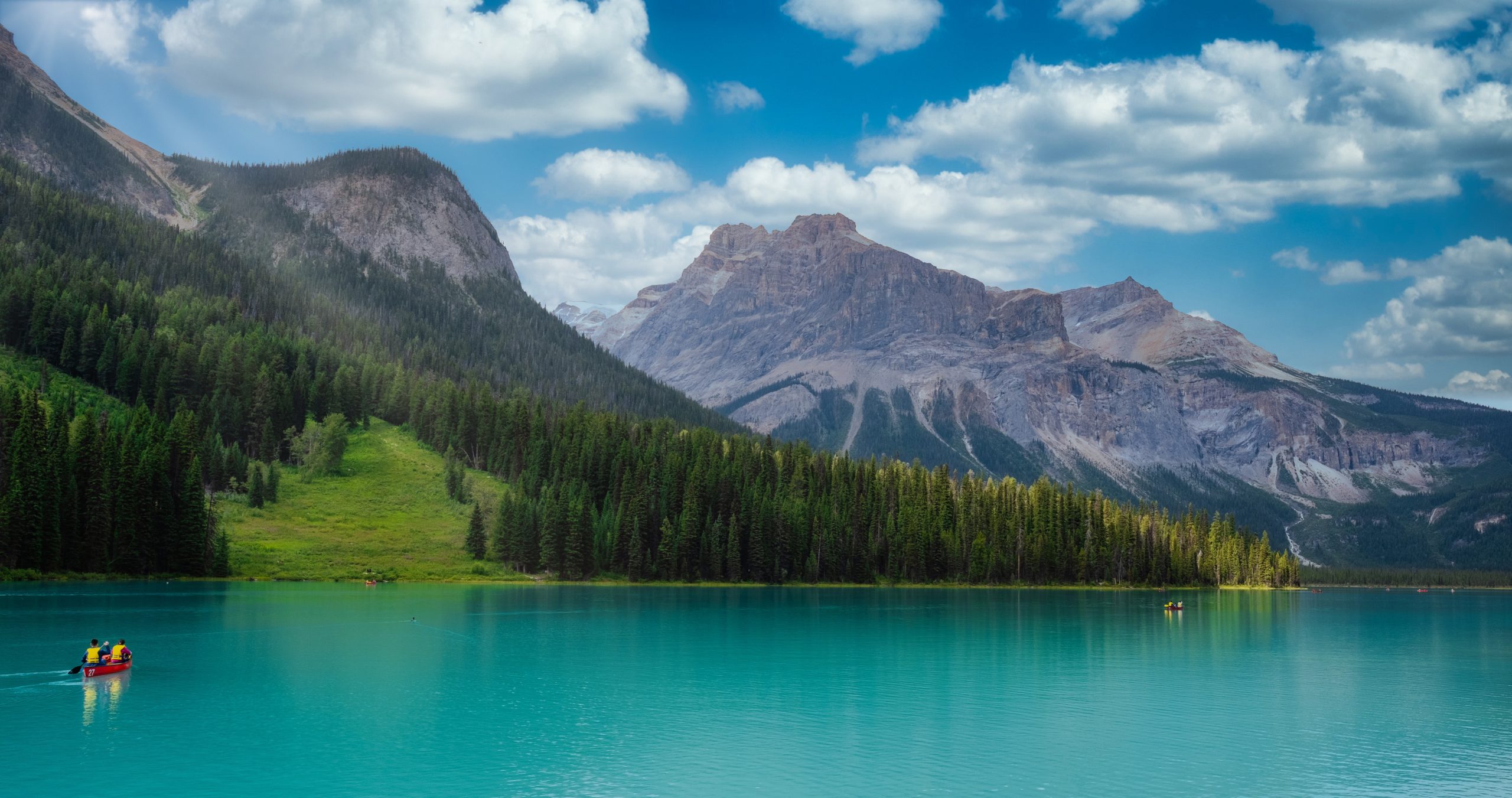 You don't have to be an experienced mountaineer to enjoy the Canadian Rockies. It's very easy to find several great trails that should be appropriate for all visitors.
We've compiled a few of the most popular easy Banff hikes that everyone can enjoy. A number of these, in our opinion, are better than Johnston Canyon, like the Emerald Lake Path in the photo above, not technically in Banff!
---
Things to Do in Lake Louise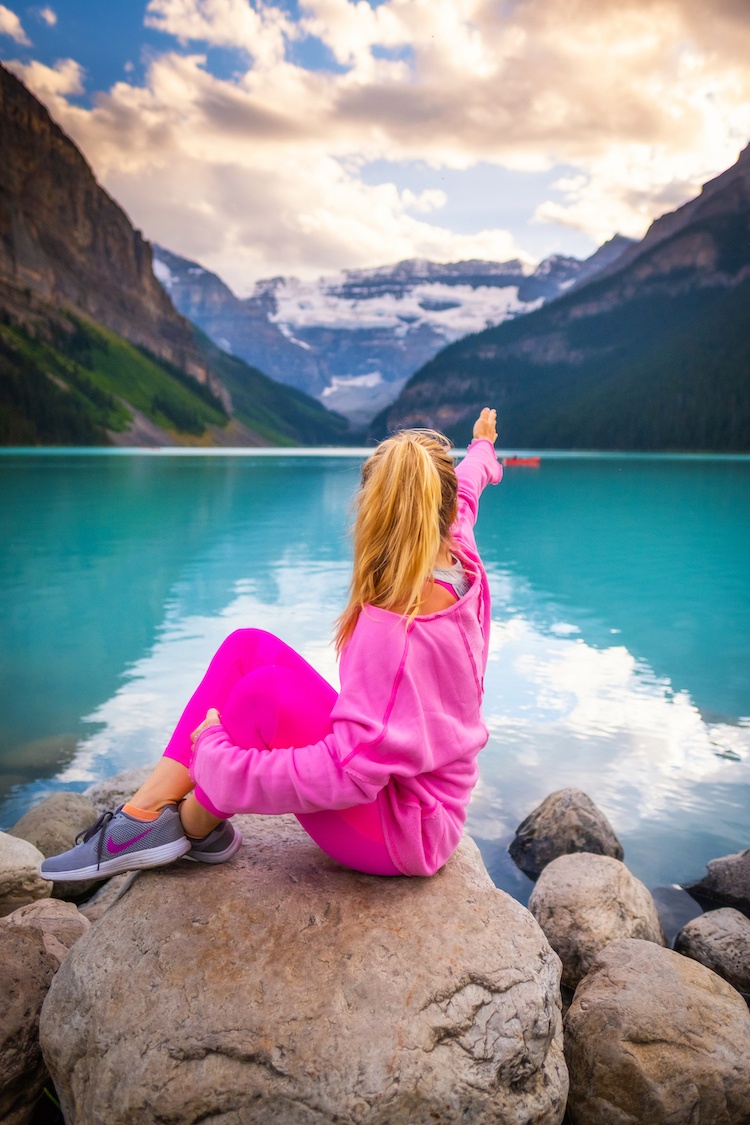 There are a plethora of things to do in Lake Louise. After taking in the spectacular scenery, go for a hike, climb, ski, or canoe in Banff National Park. Lake Louise is an image that will last with you for a lifetime. It's hard to find a more majestic and awe-inspiring place in the world than Lake Louise.
---
---
Hopefully, this helped you plan your route up to the Lake Agnes Tea House!
If you have any other questions leave a comment or see our Canadian Rockies travel guide for more articles about photography spots, lakes, hikes, and everything else.
---
---
— Update: 18-03-2023 — cohaitungchi.com found an additional article Lake Agnes Tea House Hike – A MUST-DO Lake Louise Hike from the website www.travelbanffcanada.com for the keyword lake agnes hike.
The Lake Agnes Tea House hike is one of the most popular of the short Lake Louise hikes in Banff National Park. An easy hike up a mountain slope on the north side of Lake Louise, hikers will be rewarded with stops at two stunning mountain lakes.
Mirror Lake is the first lake you'll visit on the Lake Agnes hike. Mirror Lake is a small, but beautifully set lake below a massive rounded massif known as the Big Beehive.
The second lake you encounter is, of course, Lake Agnes. Surrounded by magnificent jagged mountains, Lake Agnes is one of the most scenic lakes in Banff National Park. A fun tradition is to reward yourself with a treat from the iconic Lake Agnes Tea House.
This post contains compensated links.
Lake Agnes Tea House Hike Highlights
The Lake Agnes hiking trail begins with a moderate incline and remains this way throughout the entirety of this Lake Louise tea house hike. The views of the turquoise colors of Lake Louise and the impressive Victoria Glacier get better and better with every step.
The early stages of the hike to the Lake Agnes tea house is through a dense evergreen forest, with a deep green carpet of shrubs and moss, with occasional bursts of color from wildflowers. The air is filled with the sound of happy birdsong. You're still close enough to the lake surface that the intermittent views of Lake Louise through trees on the left are a real treat.
At the 690 m mark of the Lake Agnes hike you'll cross a little stream, although it can dry up in summer. Take a moment to appreciate the beauty of the whitebark pine trees which line the trail. Sadly, the whitebark pine tree is endangered, so please don't touch and definitely don't carve anything into the trunk.
Read more An Epic Three Day Hike of Virginia's Triple Crown
The incline of the Lake Agnes trail remains steady. You can expect to breathe a little heavy, but you'll notice there are hikers of all abilities on this beautiful Lake Louise hiking trail. While taking a break to catch your breath, try to spot tiny canoes floating on the brilliant blue water of Lake Louise through gaps in the trees.
At 1.4 km the roots of a massive white bark pine spill like an octopus onto the Lake Agnes hiking trail. As you gain more altitude the glimpses of Lake Louise become less prominent, but Fairview mountain begins to loom large overhead on the left.
At 1.7 km a glacier appears through trees atop Mount Aberdeen. Lake Louise is known for its many beautiful glaciers. Many of them are on display on the Lake Agnes teahouse hike.
Just 200 m later, the trail does a single switchback, taking hikers further up the mountain in the opposite direction. At the spot of the switchback, an opening in the trees allows for an amazing view of Lake Louise below. The water color on a sunny day is indescribable.
This section of the Lake Agnes trail becomes a little more rugged, with more roots and rocks to manage. Huge boulders add visual interest to the Lake Agnes hiking trail as you gain more elevation. Bright red paintbrush flowers and large wild roses (Alberta's provincial flower) grow in sunny patches along the side of the hiking trail.
At 2.3 km, you'll arrive at a break in the forest which allows for amazing views of Fairview mountain, which rises dramatically along the south shore of Lake Louise.
After another 200 m of hiking along the Lake Agnes trail, the trail turns left and leads hikers directly away from Lake Louise for the first time. Hikers who need a break can rest sitting on a huge fallen tree trunk near the trail side.
You'll pass a trail junction after 2.8 km of hiking. This trail is for horses and goes back to the main Lake Louise area. I'm sure the people who take a horseback ride to Lake Agnes enjoy it, but the rest of us hikers now need to watch our step as we continue on the hiking trail.
You'll arrive at Mirror Lake after 2.9 km of hiking the Lake Agnes trail. Mirror Lake is a small mountain lake in front of the majestic Big Beehive.
As you can imagine, after nearly 3 km of hiking uphill along the Lake Agnes trail, Mirror Lake is a popular place for hikers to stop and rest. There are plenty of rocks to sit on near the shores of Mirror Lake. The relaxing sound of a mountain stream flowing into this beautiful Banff lake is complimented by the sound of happy dogs leaping into the water to fetch sticks. You'll be able to find a shady spot on a hot day, but don't stay too long as Lake Agnes is the final goal.
From Mirror Lake you can choose between hiking across to the Plain of Six Glaciers (another Lake Louise tea house hike) or continue another 0.8km to Lake Agnes.
The final leg of the hike to Lake Agnes is short, with several switchbacks. It's a little steeper than the rest of the Lake Agnes hike, but it's not too bad.
Along this stretch of the trail to the Lake Agnes Teahouse, you'll be able to see beyond the close mountain valley to the main Bow Valley beyond. From this leg you can see the TransCanada highway along with incredible views of Fairview, Mt Aberdeen, Hadoo peak and Devils Thumb.
At the 3.5 km mark of the Lake Agnes trail, the jagged peak of Mt Whyte appears through the trees. Watch carefully on your left for a chance to see the beautiful waterfall which flows from Lake Agnes. There are not many chances to see it from afar.
You'll arrive at the trail junction for the Little Beehive trail after 3.6 km of hiking. Continue straight for Lake Agnes. At this elevation, the mountain views become more regular along the Lake Agnes hike.
Shortly after passing the horse stable, the Lake Agnes trail leads to the edge of the waterfall. This is an incredibly beautiful spot and a rare opportunity to stand near a beautiful Banff waterfall.
As you'd expect with an opportunity as good as this, the area under the Lake Agnes waterfall gets very crowded. Be very careful, as the area to stand is small and the drop down beyond the waterfall is significant.
Once you've had your fill of Lake Agnes waterfall pictures, your final task is to climb 57 stairs. At the top, you'll be greeted by the Lake Agnes Tea House, and the iconic Lake Agnes just beyond.
The Lake Agnes Tea House is a very popular place for a snack and a drink after completing this popular Lake Louise tea house trail. There are a few picnic tables, benches and rocks to sit down around this Lake Louise tea house area.
It's hard to describe the beauty of Lake Agnes. With the jagged Mount Whyte and the Devils Thumb looming high overhead. The setting for Lake Agnes couldn't be more dramatic.
We haven't visited Lake Agnes in fall yet, but the lake is surrounded by larch trees. Lake Agnes must be incredibly beautiful in fall when the needles on the larch trees change color.
If you can peel your eyes off Lake Agnes for a moment, you'll enjoy some amazing vistas looking southeast. You'll be able to see the Chateau Lake Louise and across the valley to the Lake Louise ski resort.
Just the day before we were on the opposite side of the Bow Valley looking towards Lake Louise and Lake Agnes. We took the Lake Louise Summer Gondola for some fun hiking and got to enjoy excellent views of Lake Louise. Now, just 24 hours later, we were enjoying the inverse view.
By itself, the Lake Agnes trail is one of the best Banff National Park hikes, but once you reach the lake, there are many excellent Lake Louise hiking trails on which to continue the hike if you are up for it:
The lakeside trail around edge of Lake Agnes
Big Beehive Hike
Little Beehive Hike
Mount St Piran
Devils Thumb
Most people return to Lake Louise the exact same way they came, and there's nothing wrong with this approach. But if you have good hiking shoes on, there is an opportunity to take an alternate trail down to Mirror Lake, which we highly recommend.
The Lake Agnes loop trail begins near the Lake Agnes waterfall (after you've crossed the little bridge). You'll find a much longer set of stairs leading down on the opposite side of the waterfall from which you came.
One of the many benefits of this alternate trail down from Lake Agnes is excellent views of the towering waterfall.
Once the stairs are over, the hiking trail is much more natural and comes with lots of rocks and roots. It should be manageable for almost everyone, but hiking shoes would be a big help here.
Not long after the stairs end, look up on the right and you'll see you are immediately below the summit of the Big Beehive. It's a pretty incredible sight!
This trail from Lake Agnes to Mirror Lake is through a beautiful, lush forest likely from the humidity of the nearby waterfall. It's much less busy than the main trail, but watch your step, as there are lots of small, loose rocks on the trail which have fallen off the Big Beehive cliff above.
As you pass the Big Beehive cliff, the mountain views really open up in front of you. You'll be standing in a boulder field enjoying a stunning vista of Mt Aberdeen, Fairview Mountain and Hadoo Peak. You can also see Mirror Lake through the trees below as well as the massive Big Beehive cliff overhead. It hard to compete with the scenery at Lake Agnes, but this spot could very well be the most scenic spot on the Lake Agnes hike.
A few hundred meters beyond the boulder field, yet another beautiful mountaintop glacier comes into view. The views up here are truly breathtaking.
After 5.1 km of hiking, Mirror Lake appears through the trees on your left. On a sunny day you can really appreciate turquoise color from this vantage point.
Beyond Mirror Lake you'll be back on the main Lake Agnes trail heading back to the Chateau Lake Louise. The views coming down are amazing, especially as you are working less hard and are more able to look around and soak in the world-class Lake Louise scenery!
Lake Agnes Trailhead
The Lake Louise parking lot is 46 minutes from Banff and just over 2 hours from Calgary. Take the TransCanada Highway 1 west, then exit toward Lake Louise. Turn left towards the village of Lake Louise then continue on Lake Louise Drive until you reach the parking lot.
The Lake Louise parking lot will fill up fast in the summer. If you are visiting Banff National Park in the summer, we recommend that you arrive before 9 am even on a weekday.
Note: In 2021, Parks Canada implemented mandatory paid parking from June to mid-October for the Lake Louise Lakeshore parking lot. The rate for paid parking in Lake Louise is $11.70 per vehicle per day.
As you walk from the Lake Louise parking lot, past the popular lakefront photo ops with Lake Louise brilliantly blue in the background, you'll find the Lake Agnes trailhead just past the Chateau Lake Louise hotel – one of the best hotels in Lake Louise.
Read more 15 Things To Know Before Visiting Exit Glacier Alaska (Safety, Packing, & Hiking)
As the main walking trail forks, the Lake Louise Lakeshore trail and the Plain of the Six Glaciers hike are to the left, while the Lake Agnes tea house trail is to the right.
Lake Agnes Hike Stats
How Long is the Lake Agnes Tea House Hike?
The round-trip distance of the Lake Agnes trail is 6.8 km (one-way distance of 3.4 km) from the Lake Agnes trailhead along the Lake Louise lakeshore.
We took an alternate route down from Lake Agnes on the other side of Mirror Lake before joining up with the main Lake Agnes tea house trail. We tracked our distance to be closer to 7.5 km.  
How Hard is the Hike to Lake Agnes Tea House?
Due to the length and incline, we rate the Lake Agnes hike as "easy".
At only 6.8 km and 385 elevation gain, the Lake Agnes trail is an easy Lake Louise hike that most anyone can do.
It is a consistent climb on the way up, so if you are a beginner hiker or don't hike frequently then this will probably feel much more like a moderate hike. The trail is well groomed and there are plenty of spots to take a break along the way.
How Long Does the Lake Agnes Hike Take?
It should take a typical adult 2-3 hours to hike to Lake Agnes. We did this hike with our two kids (8 and 5 years old) and it took us 3.5 hours including time at Mirror Lake, lunch at Lake Agnes and stopping for pictures.
Lake Agnes Trail Map
The Lake Agnes trail is easy to follow and is well marked. If you are feeling uncertain, you can use the Alltrails app while hiking to Lake Agnes, but the trail is popular enough that you'll have plenty of people to follow.
To find the Lake Agnes trail map in Alltrails, simply search for "Lake Agnes trail". Be sure to download your hiking maps prior to leaving.
A paper map isn't required for this Lake Louise tea house trail, but if you prefer to hike with a paper map and compass as an additional safety layer, we highly recommend Gem Trek hiking maps. We own the entire set of these excellent Banff and Kananaskis hiking maps. They are exceptional 3D topographic maps which we love looking at for hiking inspiration.
The Lake Agnes trail map is found in the "Lake Louise & Yoho" map. You can order it before your trip, or you can pick it up here as they are widely available.
Hiking Lake Agnes Trail with Kids
If you are visiting Banff with kids, this is an excellent hike for the entire family. It may be challenging for some kids, with the consistent climb, but it's well worth it to make it to the top. Even kids can appreciate a view like the one you get at Lake Agnes tea house.
Along the way there are plenty of opportunities to stop for a break on a log or a large rock.
Our kids, who are 8 and 5 years old, are decent hikers and they really enjoyed this hike. The number of people hiking on the trail gave them a constant distraction as they would chat up anyone willing to listen.
The hiking trail to Lake Agnes is wide enough for 2-3 people, making it a great hike for families or groups.
Don't miss these other best Banff day-hikes with kids.
Where to Stop for Lunch or a Break
The obvious place to stop for lunch is at the Lake Agnes Tea House. You can find the Lake Agnes Tea House menu here. While some may find the Lake Agnes tea house prices to be high, it's important to remember that all supplies need to be carried up to the tea house.
If you are traveling to Banff on a budget, there are plenty of places to sit and enjoy lunch at one of the most scenic places in Banff. We often pack a lunch when hiking with kids, so we can stop when we need to. Even on a very busy day at this Lake Louise tea house, we had no issue finding rocks along the lake to stop and enjoy our lunch.
Lake Agnes Hiking Safety
There are relatively few hiking hazards along the Lake Agnes hiking trail. The trail is well maintained and easy to follow up all the way to the Lake Agnes Tea House.
That being said, it's still important to educate yourself on Bear Safety in Banff National Park. This should entail carrying bear spray, hiking in a group and making plenty of noise on the way up.
Cougars also live in Banff National Park. Learn more about Cougar Safety in Banff National Park.
Chances of a dangerous wildlife encounter in Banff are very low, but you never know what will happen with Banff wildlife, so be prepared.
We recommend you check the Lake Agnes trail report for the Lake Agnes trail conditions, wildlife warnings and possible closures before you head out.
Lake Agnes Trail Logistics
On-leash dogs are allowed on the Lake Agnes hike. Mountain biking is not allowed on the Lake Agnes trail. There are toilets in both the Lake Louise parking lot and up at the Lake Agnes Tea House.
Plan to pack plenty of water and snacks for this hike. Fill your hydration packs before you leave. Though you always have the option of buying lunch or a snack at the tea house.
You won't get cell service for the entirety of your hike, so don't count on it for your safety.
What to Bring for Hiking Lake Agnes Trail
This isn't a very long hike, so you don't need to be as prepared with all the proper hiking gear. Check out our list of hiking essentials with the hiking gear and clothing we recommend to get the most enjoyment out of your hike, regardless of the variable Banff weather and trail conditions. The Lake Agnes trail is a short Banff hike, but there are still a few items that we recommend bringing:
Bear spray is a must. Cannisters are available to buy or rent at many locations in Canmore and Banff. Carry your bear spray in an easily accessible location.


Water – the Lake Agnes trail is a consistent uphill climb and on a hot summer day you'll want to ensure you have enough water. A hydration pack is an effective and eco-conscious way to bring enough water for a hard hike.


Bring several layers of clothing with you. The weather can be quite variable hiking in Banff National Park, no matter the season. For hiking in Banff, we typically wear convertible hiking pants, T-shirts, a fleece top and rain jackets. Bring a daybag as you can expect to put on and take off layers all day.


We don't use trekking poles, but they can help with balance and to take pressure off knees on the descent.
Lake Agnes Footwear Recommendation
The Lake Agnes trail is in decent shape for most of its length. You could do this Lake Louise teahouse hike with trainers on. We've even seen people do it with sandals on, though we don't recommend it.
If you do any of the other hiking trails from Lake Agnes or hike the optional route down the other side of Mirror Lake, then we recommend a good pair of hiking shoes or hiking boots.
Hiking Lake Agnes in Fall
In September, everyone goes crazy for the best larch tree hikes around Lake Louise, such as the Larch Valley Trail. While the Lake Agnes trail is not a spectacular larch tree hike, it is a good Banff hike if you wish to avoid the larch tree madness elsewhere in the national park.
You can't completely escape the larch tree madness when hiking to Lake Agnes in September, as there are a few larch trees at the far end of the lake along the lakeshore trail. In addition, if you add on the Big Beehive hike or the Little Beehive hike, you'll be treated to a decent amount of golden larch trees, especially on the former.
Once the final golden larch tree needle has fallen, the Banff hiking trails get a lot quieter. This doesn't mean it's a bad time to hike – in fact October is a wonderful time to hike to Lake Agnes. By this time of year, there is often snow on the mountaintops, which makes them especially beautiful, but Lake Agnes should still be thawed.
When hiking in Banff in October, it's critical to be prepared for varying conditions. We recommend dressing in layers and always having a pair of microspikes in your bag. When we last hiked Lake Agnes in October, there was a good layer of snow on the hiking trail about halfway up.
We had our microspikes on and had no traction issues at all. 90% of the hikers on the trail were really struggling and nearly everyone stopped us to ask about our microspikes. If you intend to do a lot of fall or winter hiking in Banff, they are a great investment!
Lake Agnes is a "must-do" Lake Louise hike! You'll find every step worth the effort when you see the views!
Other Lake Louise Hikes
Banff Trip Planning Resources
Found this post useful? Save it or share it with your friends!
References