Utah houses many gigantic natural bridges, but the biggest is known as Rainbow Bridge National Monument and it happens to be the biggest in the entire country. However, there's specific instructions on how to to hike to it which I will explain in this post.
There are 2 main options to hike to Rainbow Bridge National Monument:
By boat (then hike 1-2 miles to it).
By foot (you're looking at a 10+ mile hike one way and it requires a permit).
I'll get to the instructions in a moment, but first, here's some important info to know about this area:
What is the Rainbow Bridge National Monument?
It's the biggest natural bridge you'll find in the entire United States, but it just so happens to be the one which is hardest to reach as it.
You have no roads leading there, it's located near Glen Canyon Recreational Area and the land around it belongs to the Navajo people. It's a protected land basically.
What should I bring for my hike to Rainbow Bridge?
Lots of water for starters and maybe a snack or two if you plan to stay the day there. And certainly, if you elect to do the long hike there (no boat basically), then plan accordingly (a lot of water and food).
While the main marina which takes you to the short hike to Rainbow Bridge has amenities, you won't find them once you get to the trailhead to Rainbow Bridge, so make sure you have a full stomach (and don't need to use the bathroom) once you reach the trailhead.
How to hike to Rainbow Bridge using the boat option:
You first have to get to one of 2 docks (Bullfrog or Halls Crossing).
There are roads which take you to one or the other dock.
You need to leave from Halls Crossing Marina to reach the trailhead to Rainbow Bridge.
The boat ride is about an hour long.
You will pass by Rainbow Bridge entry point.
You will then dock by the entrance to the trailhead to Rainbow Bridge Canyon.
You'll then walk about 1-2 miles to reach it (and overlook is also available).
You can then return to the docking area and come back to Halls Crossing marina.
Read more You Won't Believe Your Eyes (NUDE HIKING)
Note: Call ahead of time to ensure there is space.
Other options available:
You can use a private boat (or kayak) to get to the trailhead, but you have to dock from my understanding in a specific location near the trailhead.
Most people elect to just use the ferry that goes there to avoid getting lost in the waters of Glen Canyon.
How to hike to Rainbow Bridge without the boat option (hard):
You need to start south of it (Rainbow Bridge South Trailhead), literally in Arizona.
The hike is over 10 miles long and goes through private land.
You will need to get a permit before going (get it here).
This hike is tough, long and I recommend doing it when the seasons are cooler.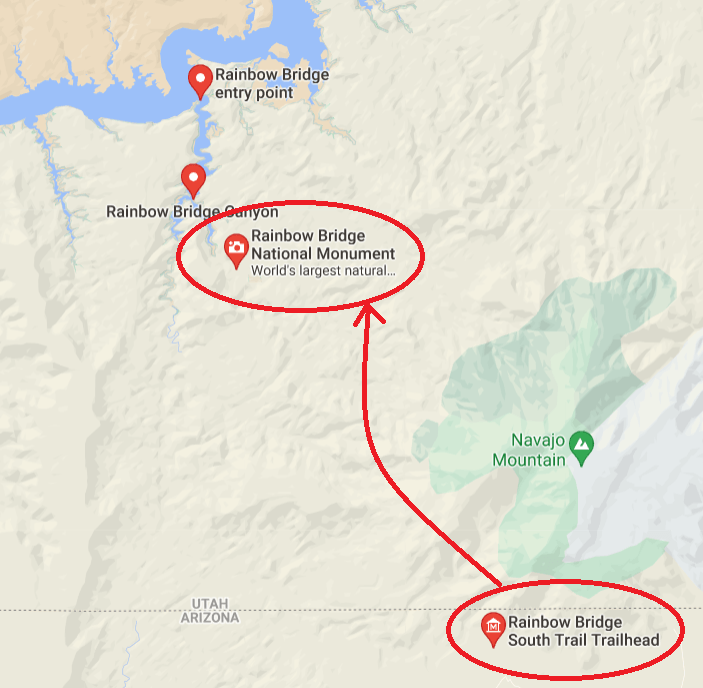 Should I take use the boat or regular hike option to get to Rainbow Bridge?
The boat one is the easier and better for tourists or those tight on time.
And the second is more for serious hikers and people who know how to navigate.
You can see the official page of Rainbow Bridge here for more info, but I personally found it lacking in details, which is why I decided to write this post to help compliment reaching this beautiful spot in Utah.
Can you do the Rainbow Bridge long hike in a day?
If you are in amazing shape and are used to marathon like trail runs, then yes, but otherwise, it's unlikely and you shouldn't do this unless you are in great physical condition.
And again, if you decide to do this hike, remember this:
It gets very hot around these areas, and this is for most of the year.
You're looking at very hot temperatures from April all the way to October so if you don't deal well with the heat but want to do this hike, winter time might be a better option for this hike.
Either way, bring plenty of water for the occasion and supplies and of course it helps to be very experienced and in shape in general (I wouldn't do this hike otherwise).
Ready to hike to Rainbow Bridge? Bring this with you:
Top Product
Description
Where to get it
Teton Sports Oasis:
My top recommendation for hiking backpacks is easily the Teton Sports Oasis. It's lightweight, affordable, durable and can hold just about everything you need for a day hike.
Check Price and Reviews
Salomon Speedcross 5:
My top pick for hiking/trail running shoes is easily the Salomon Speedcross 5. I've used these in every environment imaginable and they are amazing for grip, safety and reliability. There are many colors, for men and women available.
Check Price and Reviews
Randy Sun Waterproof Socks:
These socks have literally saved me from catching hypothermia. They are 100% waterproof, very reliable and highly recommended for any hikes where your feet/legs are going to get wet and when they do, these socks WILL protect you (I have 3 pairs).
Check Price and Reviews
Salomon ADV HYDRA VEST:
A trail running vest is highly recommended if you enjoy trail running and this is the one I've been using on numerous hikes. It's very comfortable, holds about 3 liters of water and has space for even more stuff.
Check Price and Reviews
TrailBuddy Trekking Poles:
I used to underestimate the value of trekking poles until I got these. They literally extended my hiking longevity, help me hike 2x as long, protect my joints and are super convenient to carry. Also very affordable!
Check Price and Reviews
Read more Top 5 Easy Hikes in the Smoky Mountains National Park
Questions about exploring the Rainbow Bridge National Monument:
Can you drive to Rainbow Bridge National Monument?
No, Rainbow Bridge National Monument is in a very remote place and to reach it, you have to either take a boat which will bring you to 1 mile from it, or hike it from the south which is a long overnight hike.
How far is the hike to Rainbow Bridge National Monument?
There are 2 hikes to Rainbow Bridge National Monument. One is from Glen Canyon which is 1 mile after you dock near the trailhead, and the other is an over 10 mile hike one way and requires a permit.
How much does it cost to go to Rainbow Bridge?
It doesn't cost anything, but to reach Rainbow Bridge National Monument, you have to pay $15 for a car fee, and then a boat fee to get to the trailhead.
Can you walk under Rainbow Bridge?
I don't know of any restrictions from being able to hike to and under the Rainbow Bridge National Monument.
10 other amazing sights to explore near the Rainbow Bridge area: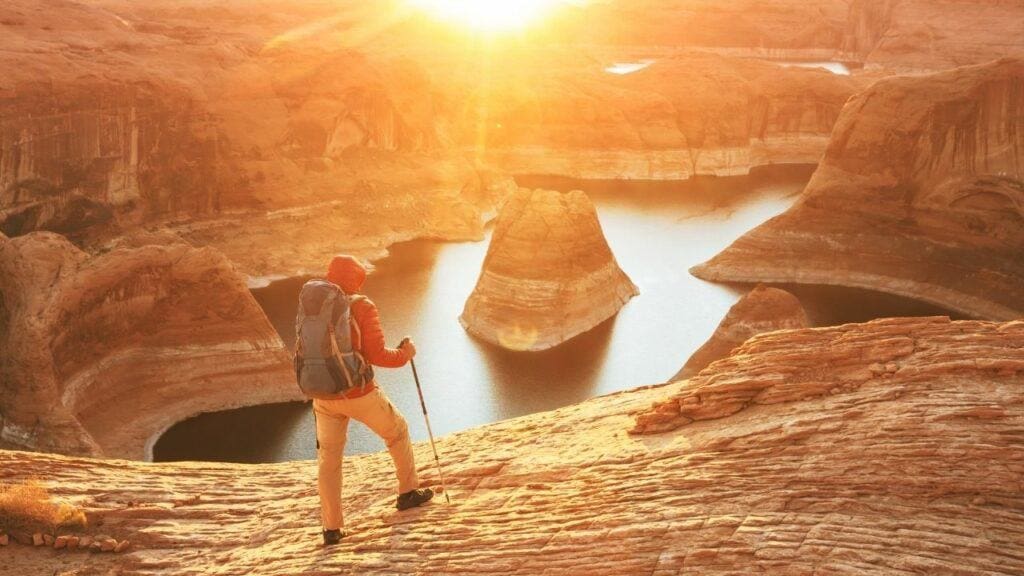 1) For starters, reflection Canyon is a must (it's on the way to Rainbow Bridge). It's a highly popular destination and in the area. And it does require you use a boat to get there.
2) Second, just cruising the waters of Glen Canyon is itself an experience.
3) Third, I highly recommend you check out a place called La Gorce Arch. It's actually shown on Google maps, but also requires you use a boat to get there. Basically, it's a water canyon where you can park your boat and get a great picture from.
Read more The 11 Best & Most Beautiful Hikes in New England & A Full Guide for Each
4) If you finish your hike to Rainbow Bridge and want to see more places, head over to Capital Reef National Park. You would need to travel to Bullfrog Marina first, then drive to enter the park from the eastern end.
That drive alone is one of the most scenic in Utah and Capital Reef National Park is one of the most beautiful parks in the Mighty 5 National Parks of Utah. It also has at least 2 natural bridges you can explore.
While I love all the parks there, my 2 favorite are Zion National Park and Arches National Park.
5) Going through Capital Reef National Park gives you further access to more parks and other than the Mighty 5, I also highly recommend Dead Horse State Park and then next option which is:
6) Coyote Gulch. It has a gigantic natural bridge too known as Jacob Hamlin Arch which is almost as huge as the Rainbow Bridge one, but hiking to it doesn't require a boat ride. Instead you'd need to drive deep into the Grand Staircase Escalante area, and hike to it from there.
Another option here is that you can actually kayak to Coyote Gulch via the Escalante River, all the way up to Steven's Arch which is one of the end points of Coyote Gulch (this is a very advanced method).
7) Sedona Arizona. If you're going to do the land hike to Rainbow Bridge, you may as well explore Arizona and the Sedona area is one of the most beautiful spots there is in the state. It's a few hours south west of Rainbow Bridge and a very popular area to hike and explore.
8) Grand Canyon. Again, if you're doing the land hike (starting south) of Rainbow Bridge, then you can drive further south west to enter Grand Canyon National Park, which it goes without saying is one of the most popular in the state.
9) Regarding Utah (if you choose to stay there), here is a list of the best hikes in Utah to explore and the best state parks in Utah, some of which include the options mentioned on this list, but are far more specific. Certain ones can be found right off the road too.
10) Monument Valley and places near it. You'll have to drive east for at least 2 or so hours, but there's many areas here to explore too.
Overall, if you have been to or are planning to head to Rainbow Bridge, let me know if you have any questions or comments regarding getting there. If you've done the long hike to this place, I'd love to know what your experiences were and if you have any personal tips on completing it.
References