Dandelion oil is a versatile addition to your herbal medicine cabinet, and it's so easy to make!
When spring arrives, dandelions fill our yard, covering our property with bright, yellow, cheerful flowers. It's easy to think of dandelions as weeds, but they're a helpful, medicinal flower, and one of the best ways to use dandelions is to learn how to make dandelion oil.
I learned about dandelion oil several years ago, and now, I make it every spring. Before my husband cuts the grass, my kids and I gather dandelions and make another batch of dandelion oil. There are so many ways to use dandelion oil, and with how many that appear on our property, we cannot let them go to waste. 
Calendula is the most common medicinal flower that comes to mind when you think of skincare benefits, but dandelion blossoms contain many of the same properties as calendula. Dandelions are known for their detoxification, digestive, and hormonal benefits, and they also have properties that nourish and hydrate skin. 
However, unlike calendula, dandelions grow every spring and summer nearly everywhere for free. That's huge! 
How to Harvest Dandelions 
When using dandelions, you want to make sure you only harvest from unsprayed lawns.
Unfortunately, too many people view dandelions as useless weeds, and they try to kill them off instead of valuing them. It's not safe to harvest dandelions from unknown properties or yards without asking if they use herbicides. 
Harvest dandelions on a sunny day when the dew dries off of the plants. Only harvest the flowers that are full, open, and dry. Take a pair of clean scissors and cut the flower heads from the stem of the plant.
You need to fill an entire jar with dandelions. I make my dandelion oil in pint jars, but if you have a lot of time and dandelions, you might be able to harvest enough to fill a quart jar. 
Once you harvest all the dandelions that you need, take them inside and wash them. Insects live inside these flowers, and you don't want them to end up in your dandelion oil.
Next, you have to dry the dandelions, and that's one of the most important steps. I spread my dandelions out on a screen or a baking sheet and leave the sheet somewhere warm and dry. It takes one to three days for dandelions to wilt and dry. 
Another option is to spread your dandelions on a dehydrator sheet and let them dry on a low temperature. You'll need to dehydrate the flowers for 12-24 hours. 
(Fresh, wet dandelion flowers can make an infused oil go rancid, especially with the slow infusion method.  If you don't want to dehydrate the dandelion flowers first, use the fast infusion method described below.  The warmth from the double boiler helps to drive off moisture and prevents the oil from going rancid.)
How to Make Dandelion Oil
There are two ways to make infused oils – a slow infusion or fast infusion. I prefer to use a slow infusion method because I feel like the properties infuse better, and we end up with a nicer final product. However, if you're in a rush for whatever reason, the fast infusion method is valid. 
The Slow Infusion Method
Place the dried dandelions into a clean glass jar, and then fill the rest of the jar to ¼ of the top with olive oil. You can use any olive that you like, but I prefer to use olive oil. Gently stir around with a butter knife to remove any air bubbles, and make sure all of the blossoms are under the oil.
Put the lid on the jar, and keep it on a sunny windowsill for two weeks. The longest that you can keep dandelions in oil is two weeks because they start to mold. Make sure you mark it on your calendar and pay attention. 
After the two weeks are over, strain the blossoms from the oil through clean cheesecloth, and store the oil in a clean jar. It's ready to use in one of the many ways to use dandelion oil. 
The Fast Infusion Method 
Many herbalists recommend avoiding the hot infusion method for dandelion oil, but it takes less time and reduces the chances of the herbs going moldy or rancid if the dandelion flowers are improperly dried.
Place your herbs and oil in your glass jar.
Set the glass jar into a pot filled ⅓ of the way with water and gently heat the water. You want to keep the water at about 100 degrees F (but no more than 120 degrees F).  The goal is to speed the extraction process, not deep fry the herbs. 
Be careful, the oil should be warm to the touch but nowhere near hot enough to burn your skin.
Turn off the heat once the temperature reaches 100 to 120 degrees.  You can remove the double boiler from the stove and wrap it with a towel to keep it warm, or just periodically (every 4-6 ish hours) turn the stove back on to keep the mixture just warm. 
(Obviously don't do both, you'll light your towel on fire…)
Allow the jar to warm for 24 to 48 hours before straining and using. 
(For more details, read this guide on making herbal infused oils.)
4 Tips for Making Dandelion Oil
If you've never made an infused oil before, dandelion oil is excellent for beginners. It's one of the easiest, and it has so many uses. You'll end up in love with making infused oils for medicinal purposes.
Here are a few tips to get you started. 
Always label your jars with a date; it's easy to forget when you made an infused oil, and they expire after a year. 
When you infuse oil using the slow, solar method, check every few days for mold. If you see mold, it has to be thrown away.  Be sure your dandelions are completely dry, as any moisture remaining in the flowers can lead to mold. 
Gently shake the jar every few days to help move the herbs around inside the oil. 
Store your prepared dandelion oil in a cool, dark place. If you store the infused oil properly, it will last around one year, but smell it before using. If it smells bad, the oil is rancid and needs to be tossed out. 
7 Ways to Use Dandelion Oil
Now that you have jars of dandelion oil ready to use, here are some of my favorite uses for dandelion-infused oil. Be creative; you'll find all kinds of ways to use this medicinal oil. 
First Aid 
If you or your children have cuts, scrapes, minor burns, sunburns, bug bites, or skin irritation, apply dandelion oil to the injury. Not only will it help the wound heal, but it'll also nourish and moisturize your skin. 
Diaper Rashes
Whether you keep it as an oil or make a salve with it, dandelion oil is great for treating diaper rashes. Many babies experience irritated, red, and inflamed diaper regions. Applying dandelion oil is the perfect way to get rid of this without using any conventional diaper rash cream from the store. 
Read more Chrysanthemum Tea Benefits, Uses, And Side Effects
Make Dandelion Salve
If you want to make a dandelion salve, you need to have dandelion-infused oil. I make mine with beeswax and shea butter; there are so many uses for dandelion salve. 
I like to use dandelion salve for its pain-relieving and anti-inflammatory properties. If you have achy joints or sore muscles, rub dandelion salve over the troublesome areas. Use it to moisturize dry, cracked, and itchy skin; it even works for chapped lips.  
Use It as Massage Oil
Dandelion oil is great for those suffering from stiff joints or tired muscles. If you want it scented, add a few drops of your favorite essential oil, and use this as a massage oil. 
Use It to Make Homemade Body Balm
Instead of using other oils when you make homemade body balm, replace it with your homemade dandelion oil. Dandelion body balm is perfect for dry, chapped skin, and it also heals damaged, inflamed areas on your body. 
Make Homemade Soap 
All homemade soaps require the use of oil, and instead of using plain olive oil or coconut oil, use your dandelion-infused oil instead! You'll give your soaps some amazing medicinal benefits while still maintaining the proper ratios needed to make homemade soap. 
Use it as Facial Serum 
It only takes a few drops, but you can use dandelion oil as a natural facial serum to help moisturize your skin after washing your face with a cleanser. Facial serums are expensive in the store, so save money and use your dandelion oil instead. 
For facial serum, try using jojoba oil as the base for your dandelion-infused oil, as it's especially nourishing.
Other Ways to Use Dandelions 
Need a few more ways to use dandelions?
How to Make Dandelion Tincture
How to Make Dandelion Root Coffee 
Homemade Dandelion Wine Recipe
Dandelion & Honey Ice Cream 
Dandelion Capers
Dandelion Jelly
---
— Update: 14-02-2023 — cohaitungchi.com found an additional article How To Make Dandelion Oil (And 5 Ways To Use It) from the website mommypotamus.com for the keyword benefits of dandelion oil.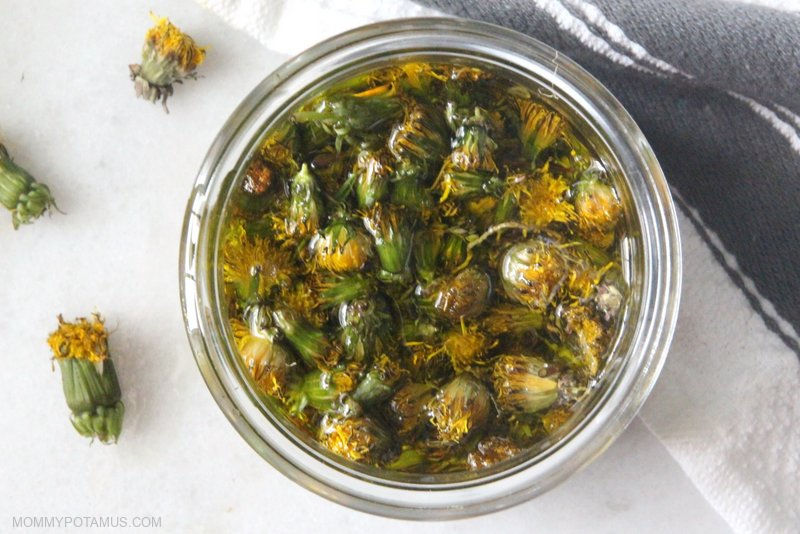 It's not uncommon for notable pairs to run in families. Sometimes the resemblance is obvious – for example, Clint Eastwood and John Wayne are related – but sometimes it's not . . . at least not at first. Buffalo Bill and Ralph Waldo Emerson are from the same family, as are Abraham Lincoln and Tom Hanks. (1) (2) (3) And of course there's calendula and dandelion – not usually considered similar, but both members of the Asteraceae family.
Calendula is more well-known for its skincare benefits, while dandelion is better known for its detoxification, digestive, and hormone balancing benefits.
I call this homemade calendula salve recipe my #allthethings balm because it can be used as a face moisturizer, chapped-lip balm, baby bottom balm, owie salve, burn salve, bug bite balm, and more.
Actually, though, dandelion blossoms have a lot of the same properties that calendula is prized for. They contain compounds that nourish and hydrate skin, making them perfect for a healing balm. Unlike calendula, though, these sunny yellow flowers can be found during the spring and summer just about everywhere . . . for FREE.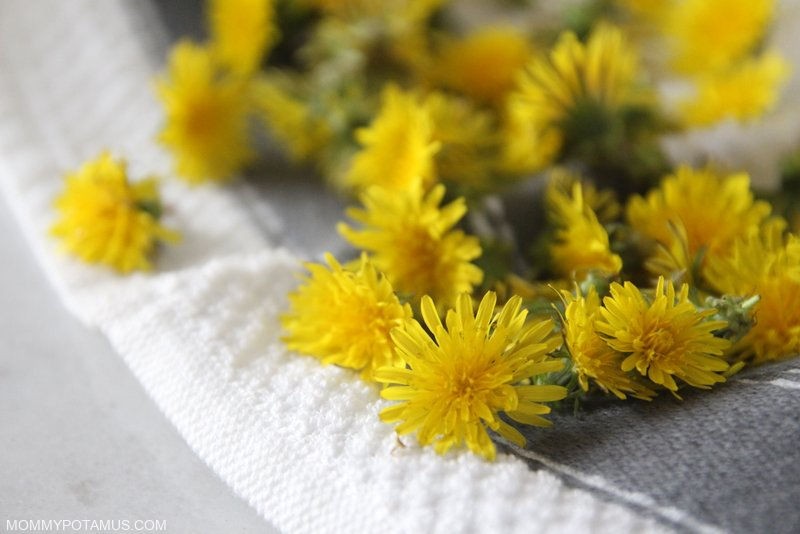 Benefits of Dandelion for Skin
Gathering dandelions is a perfect way to introduce kids to the joy of wildcrafting, or to experience it firsthand for the first time. In addition to their culinary uses (topping salads, making infused vinegars, etc), they also have properties that make them ideal for skincare.
Yep, dandelion blossoms are full of anti-inflammatory antioxidants, polyphenols, flavonoids and minerals that support and protect your cells, soothe skin irritations and nourish dry skin. (4)
For example, this study found that both dandelion flower and leaf extracts protect against UVB-related photoaging and senescence (aging at the cellular level).
5 Ways To Use Dandelion Infused Oil
The infused oil can be used as: 
First aid – For cuts, scrapes, burns, sunburns, bug bites and other minor skin irritations.
Face and lip care – Dandelion oil is becoming more popular in skincare products, and can be used in place of regular olive oil in this lip balm recipe. It can also be used on its own as a facial oil.
Diaper rash – I like to apply the oil – or a salve made from it – and then sprinkle some bentonite clay over the area.
Dry or chapped skin – Due to its soothing and conditioning properties, dandelion oil is often used in moisturizing hand salves.
Sore muscle rub or massage oil  – If you want to include essential oils in a dandelion salve, adding black pepper, copiaba, and lavender will help to relax muscles. 
Wondering if dandelion oil or dandelion salve is best for you?
The main difference between the two is that dandelion oil is a liquid, while the salve is semi-solid and therefore easier to carry in a purse or diaper bag. If you want to make a salve, follow the instructions below to make the infused oil and then follow these steps to thicken it into a salve.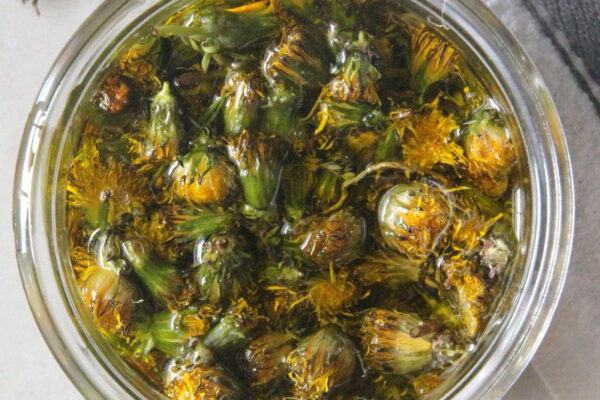 Safety Considerations
According to the Botanical Safety Handbook, dandelion is a Safety Class 1A herb – the safest rating possible. There are no known contraindications for pregnancy, nursing, or use with children.
As always, please check with your healthcare provider before using any herbal remedy.
More DIY Herbal Oil Recipes
Plantain Oil – Like dandelions, plantain grows in the wild just about everywhere and is easy to identify and harvest. This nourishing oil is helpful for bee stings, sunburn, poison ivy, eczema flares, diaper rash and more.
Arnica OIl & Cream – Arnica has been traditionally used by Swiss mountaineers to prevent muscle soreness, and according to The New York Times, "scientists have found good evidence that it works." When I injured my shoulder awhile ago, I made up a batch of arnica cream to use along with physical therapy. It was so helpful and it's very simple to make, too!
Comfrey Oil & Salve – Sometimes called knitbone or All Heal, comfrey is often recommended for soothing sprains, bruises, minor cuts and burns. It can also be used to ease tight muscles, boost hair softness and shine, and moisturize skin.
Want more research-backed natural remedies?
No problem, I've created a free ebook for you – Kitchen Apothecary: 25+ Natural Remedies Using Ingredients From Your Pantry – as a gift for signing up for my newsletter. You'll also get updates when I post about safe essential oils for pregnant/breastfeeding mamas, exclusive gifts and coupons (I was able to give away a jar of free coconut oil to anyone who wanted it recently!), plus other goodies.
Sign up using the form below.
This article was medically reviewed by Madiha Saeed, MD, a board certified family physician. As always, this is not personal medical advice and we recommend that you talk with your doctor.
Sources:
1. Ancestry.com. Tom Hanks Reveals Lincoln Connection.
2. RootsWeb. The Ancestry of Overmire Tifft Richardson Bradford Reed. 
3. Geni. Jonathan C. Parsons Ancestry.
4. Ganora, Lisa. (2009) Herbal Constituents: Foundations of Phytochemistry
5. Michalun. M Varinia. (2014) Skin Care and Cosmetic Ingredients Dictionary 4th Edition
---
— Update: 14-02-2023 — cohaitungchi.com found an additional article DIY Dandelion oil for cracked hands from the website simplybeyondherbs.com for the keyword benefits of dandelion oil.
Dandelion oil is used in salves, lotions, and lip balms to soothe dry and cracked skin. Thanks to its capability to speed up the healing process of scars and calm down skin irritations, dandelion oil is also efficient in acne treatment.
"As an Amazon Associate, I earn from qualifying purchases." Read full disclosure here.
While some people want to see their dandelions pulled from their garden, some just cannot wait to see the first yellow blossoms sprouting from the grass. I belong to the latter. Especially this year, since I have been waiting impatiently for the first blossoms to come. My hands were dry and cracked and I was hoping to fix it with my homemade dandelion salve.
To make a healing dandelion salve you need to start with the dandelion oil first. Wait a minute, you better start with dandelions…
Making dandelion infused oil.
Identifying dandelions
For such a common weed, dandelions are easy to misidentify. 
While there are many plants with similar leaves, dandelion leaves are hairless with typical toothed edges that remind you of lion's teeth (that is where name come from – in french "dent de lion")
Their leaves and stems grow directly from the rootstock with only one flower per stem. Whereas other plants that look-like have more than one flower per stem. 
The last typical thing for dandelions is the white sap that is often excluded by stem or leaves.
Dandelion benefits
Dandelion is a modest flower, but its effects are absolutely fabulous. All parts – the flowers, the leaves, and the root can be used. 
Read more Everything You Need to Know About Glycolic Acid, Explained
Dandelion is known for its diuretic effects and as a stimulant of the pancreas and gall bladder activity. It has already found its ways to our kitchens.
While young dandelion leaves collected in early spring are delicious in salad, pesto or compound butter. The root, on the other hand, is best to collect in autumn, it has a bitter taste, and is great to use in dandelion bitters or root coffee. The flowers are edible and delicious in dandelion cupcakes, dandelion gelatin or fritters. I also like to collect young buds to make these irresistible capers.
Dandelion oil benefits
But today we will be infusing the flowers in oil to make this amazing dandelion oil that has many benefits for the skin.
Dandelion oil is effective for sunburns when applied right before or after sun exposure (NCBI).
They also reduce inflammation of the skin as well as its irritation, therefore, it can be used for certain types of acne treatment
Dandelion flowers are emollient and moisturizing. They are also great pain-relievers that make the most appropriate infused oil and salve for sore and chapped hands. Their mild analgesic properties might help with sore muscles or achy arthritic joints. 
Dandelion oil recipe
Harvesting Dandelions
What is great about Dandelions is that everyone has access to them and no garden is required. But before you go foraging, here are a few tips that you should consider:
collect dandelions only in areas you are sure are 100% chemicals (pesticides) free. You don't want those ending up on your skin.
2. avoid places near roadways or anywhere else that experience high levels of air pollution.
Inspect each flower carefully for insects or small ants. Don't wash them as that increases the chances of mold issues. Thus the importance of selecting the right place without chemicals is imperative
Drying dandelion flowers
Fresh dandelions contain quite a lot of water which is not good for the oil as it can get sludgy. So collect the flowers on a sunny day and set them to dry. There are three methods you can choose from:
Wilting method – this method is used to make infused oil that is further used in skincare products. Spread them on paper towels in one layer and let the flowers wilt naturally for several hours or overnight. It should take place indoors without direct exposure to the sun. Allow to air dry for several days until completely dry.
Solar method – this method is used when making teas or in cosmetics too. Spread the flowers on the direct sun in a single layer and let them out on the sun for 24 hours before soaking them in oil.
Dehydrator – You could also use a dehydrator that you need to set to 95 to 115 degrees F, for 1 to 4 hours.
Slow infusion
The traditional method is really easy, however it requires at least 2 weeks to get high-quality scented dandelion-infused oil.
Fill a jar ¼ to ½ of dandelion blossoms
Fill the jar almost to the top with your chosen carrier oil and stir
cover the jar with canvas so it can breathe and keep it in a warm place for 2 weeks.
After 2 weeks, thoroughly strain the oil with a soft cloth to get rid of all the petals and get only pure oil with herbaceous substances.
Quick infusion
to speed up the process you can use the double boiler method where you place an uncovered jar with dandelions and a carrier oil and let it simmer for 3 hours at a temperature of 40 degrees Celsius (100 F).  Don't allow the water to evaporate so monitor the oil periodically. This method is approximately 10x to 12x times faster than cold infusion. By this gradual maceration in a water bath you will be able to obtain high-quality dandelion infused oil.
Keep your Infused oil in a cool, dark place. Most infused oils will last for a year or perhaps even longer if stored correctly
Dandelion oil uses
as a massage oil to relax your muscles and  stiff joints
in the form of salve to soothe your dry skin (cracked or chapped hands)
to make a lip balm and moisturize your lips
in the form of oil, salve or lotion bar to treat cuts, burns, sunburns and other minor skin irritations.
rashes, insect bites, cracked hands (ideal for those who work in the garden) 
I used it as a base to make this effective homemade sunscreen
---
— Update: 14-02-2023 — cohaitungchi.com found an additional article Dandelion Oil Benefits and How to Make Dandelion Oil from the website www.yourbeautyblog.com for the keyword benefits of dandelion oil.
It's spring in Ohio, which means lots of rain and lots of dandelions.  
I remember when I was a kid, my grandfather used to freak if there was a single dandelion in his yard.  He would spray them, kill them, and have the perfect lawn again.  
It was the 1980s, so we weren't as environmentally friendly back then.  Thankfully, we mostly know better now.
I love looking out and seeing the dandelions.  I see a field of wishes, just waiting for a little or big kid to come along and make a wish. 
Dandelions are also one of the first foods for bees, so it's important that we keep them alive.
Remember: no bees, no coffee. 
Save the bees!
As if these weren't enough reasons to keep those little yellow flowers, they are also an amazing product for DIY bath and body recipes in a dandelion flower oil because of the dandelion oil benefits for your skin.
For more dandelion recipes, check out these posts:
How to Make Dandelion Tea
Dandelion Lip Balm Recipe
How to Make Dandelion Soap Recipe
Dandelion Solid Lotion Bar
Dandelion Body Butter
Dandelion Salve Recipe
How Do You Use Dandelion Infused Oil?
Dandelion oil uses are numerous.  You can use dandelion infused oil on your skin like you would any other oil.  You can apply it alone or use it in DIY bath and body recipes in place of other oils.
Learn more about dandelions in the Foraging Course from The Herbal Academy.  This course has information about 20 plants and several recipes to use them in.
What are the Benefits of Dandelion Oil?
Dandelion oil benefits are from the vitamins and minerals in the flower.  Although not all of these benefits will transfer to the dandelion flower oil, several of the benefits of dandelions will transfer to the oil when you create your herbal infusion.
Dandelions are high in antioxidants to reduce free radicals.  Free radicals can cause signs of aging, so dandelion oil for skin may help reduce the signs of aging.
Dandelion flowers are also high in vitamins A, C, E, and K.  They have small amounts of vitamin B.  In addition, dandelion flower oil also has iron, magnesium, folate, and potassium.
In one study, dandelions were proven to increase the rate at which skin cells regenerate.  This is important for anti-aging and for dry skin or eczema.
Dandelions were also proven to fight inflammation, hydrate the skin, and boost collagen production.
It's also been said that dandelions can help eliminate heat and reduce inflammation, so it's a great addition to a pain relieving salve recipe, too.  
Is Dandelion Oil Good for Your Skin?
Yes, dandelion oil for skin has several benefits.  The vitamins and minerals can transfer from the flower to the oil.  
Since dandelion flowers are high in several vitamins and minerals, the dandelion flower oil is also high in these vitamins and minerals.
This can reduce the signs of aging and promote healthy skin.
Is Dandelion Oil Good for Wrinkles?
Yes, dandelion oil benefits for skin can promote anti-aging.  Although dandelion oil for skin won't get rid of your wrinkles, it may plump the skin to temporarily reduce the appearance of wrinkles and fine lines.
The antioxidants, vitamins, and minerals in dandelion infused oil may also reduce the signs of aging and delay wrinkles and fine lines.
Is Dandelion Oil Good for Your Face?
Yes, dandelion oil for skin can be used on the face.  You can use dandelion infused oil on your face after apply moisturizer or use it one of these recipes.
I recommend using a carrier oil with a low comedogenic rating like argan oil, safflower oil, or rosehip seed oil.  
You can learn about the comedogenic ratings for several oils in my Carrier Oils and Their Benefits Chart.  You can get that free if you sign up for my newsletter or buy it from my Etsy shop.
Read more 70% VA Disability Rating and Compensation
Is Dandelion Oil Good for Your Hair?
Yes, dandelion oil for hair can promote healthy hair.  The vitamins and minerals in dandelions that are good for your skin are also good for your hair.
Try dandelion infused oil in my Coconut Oil and Peppermint Hair Mask, Homemade Hair Oil Recipes, or my Homemade Hot Oil Treatment.
Does Dandelion Oil Promote Hair Growth?
Using dandelion oil for hair is said to promote hair growth.  It can stimulate the scalp, which can promote hair growth.
The vitamins and minerals can also promote healthy hair, which may prevent breakage and encourage stronger and thicker hair.
How Do I Use Dandelion Oil?
You can use dandelion flower oil to replace a carrier oil in DIY beauty recipes.  You can use dandelion infused oil to make soap, lotion, scrubs, and more.
You can replace any liquid carrier oil with dandelion infused oil.  To replace coconut oil, you will need to make dandelion infused coconut oil, which we will cover below.
Can You Make Dandelion Essential Oil?
No, there is not a dandelion essential oil.  I wish there was because of the dandelion oil benefits for skin and hair.  
However, you can learn how to make dandelion oil or where to buy dandelion oil to get the benefits.  You can buy Dandelion on Etsy if you don't want to make your own.
Best Carrier Oil for Dandelion Flower Oil
What's the best carrier oil to use for learning how to make dandelion oil?  That depends!
I used chia seed oil for my infusion, but that's because I wanted a very moisturizing oil.  You can choose the best oil for your needs so you get the benefits of the oil and the benefits of dandelion oil.
Sweet Almond Oil
Sweet almond oil is probably my favorite all purpose carrier oil.  If you want to make a dandelion infused oil and aren't sure what to use it for, I recommend this oil.  
It's moisturizing and gentle on your skin, but don't use it if you have a nut allergy.  It has vitamins A and E to nourish the skin along with the benefits of dandelion oil and those vitamins and minerals.
Chia Seed Oil
I used chia seed oil because it's a heavy and moisturizing oil.  Chia seed is high in omega-3 fatty acids to moisturize your skin.  Chia seed oil can also help strengthen the barrier on top of the skin to prevent moisture loss.  
It's a heavy oil, but it is one of the best oils for dry, chapped, or irritated skin.  For dry skin, I like the benefits of dandelion oil made with chia seed oil.
Apricot Kernel Oil
Apricot oil is another one that I used often.  It's a dry oil, so it feels light and soaks into the hair and skin quickly.  
For this reason, it's great to use in lotions, hair treatments, and massage oils.  It does provide some nourishing and moisturizing, but it's not the best for dry skin. 
 However, the benefits of dandelion oil made with apricot kernel oil make it a great oil for lotions or when you don't want to feel oily.
Avocado Oil
Avocado oil is another heavier oil that's great for dry skin or hair.  It's high in fatty acids and vitamins to help nourish the skin.  
Avocado oil is a great oil for dry skin.  Paired with dandelion oil benefits, it's a good oil to use for dry skin or eczema.
Grapeseed Oil
Like apricot oil, grapeseed oil is a dry oil.  It soaks in quickly.  It's best used on oily skin because it's so light.  It also acts like a natural astringent.  
Learn more about different carrier oils and their benefits to choose the best oil for your dandelion infused oil.
How Do You Dry and Store Dandelions?
I pick dandelions from my yard to make dandelion flower oil.  Just make sure you pick them from an area that isn't sprayed with any chemicals.  
Also avoid areas where dogs may go potty.  I also pick them from my back yard away from the street to avoid dirt and contamination from the road.
Once you pick them, remove the head from the stem.  Put the stems in your compost pile.  Then place the heads on a drying rack or on a cookie sheet.
Let dry for several days until they are completely dry.  You can then learn how to make dandelion oil or save them to make dandelion flower oil later.
You can also buy dried dandelions to use to make dandelion infused oil.
How Long Does Dandelion Oil Last?
Your dandelion infused oil will last as long as the shelf life of the carrier oil that you used.  Carrier oils have different shelf lives ranging from 6 months to 2 years.  
Generally, your dandelion flower oil will be good for 1 year with most carrier oils.
The shelf life of common carrier oils is in my carrier oils printable.
Where to Buy Dandelion Oil
If you don't want to learn how to make dandelion oil, you can buy the infused oil.  Just make sure to note the carrier oil that was used if you plan to use dandelion oil for skin on your face.
How Do You Infuse Dandelion Oil
There are two ways to learn how to make dandelion oil: the quick way and the long way.
If you want the really easy way, you can buy dandelion infused oil on Etsy.
Both work well.  I typically use the long method just because it's easier and I plan my recipes weeks or months in advance.
But if you're a spur of the moment person, then by all means use the quick method.  
No matter which method you use, just make sure that your dandelions are completely dry.  If there is any moisture, they can grow moldy.  If you are using the long method, this is more of a problem than if you are using the quick method.
Both the quick method and the long method will give the same benefits of dandelion oil.
Dandelions not in season?  Buy dried dandelions on Etsy.
How to Make Dandelion Infused Oil: Quick Method
If you're in a hurry and want to use your dandelion infused oil for its benefits that day or within two weeks, then learn how to make dandelion oil with the quick method.  
Collect your dandelions and save just the flower part.  Set them on a cooling rack or on a towel lined cookie sheet to dry.  I let mine dry for a week.
Place the dried dandelions in a pint jar.  Cover with the carrier oil of your choice.  The amount of dandelions and oil isn't an exact measurement.  Just make sure the oil covers the dandelions by a little bit.
Place a hand towel on the bottom of a slow cooker.  Place the jar of oil covered dandelions on top of the towel.  
Add water to the slow cooker to cover the flowers and oil.  
Turn the slow cooker to the warm setting and let the flowers and oil infuse for four hours.  Do not cover the slow cooker because it can cause condensation to fall down into the jar of oil.  
Turn off the slow cooker and let the oil cool.  
Use cheesecloth to strain out the dandelions and discard them.
Now you have dandelion infused oil in about 5 hours.
How to Make Dandelion Infused Oil: Long Method
This method is a lot easier, but it can take up to two weeks.  Learn how to make dandelion oil with the long method.
Pick your dandelions and set on a cookie sheet or cooling rack to dry completely for a week.
Be sure that the flowers are completely dry and have no moisture because they can grow mold in the next step.
Place the dried flowers in a mason jar and cover with a carrier oil.  There's no exact amount of flowers or oils, but the oils must cover the flowers so there is no air getting to the flower.
Let the flowers and oil infuse up to two weeks.  Give the jar a gentle shake each day to mix the oil and flowers.
After two weeks, strain out the flowers using cheesecloth.  Discard the cheesecloth and flowers.
How Do You Make Dandelion Oil With Coconut Oil?
Since coconut oil is solid at room temperature, you will have to use the quick method to melt coconut oil and infuse it with the dried flowers while keeping it warm.  Dandelion infused coconut oil is a wonderful herbal infused oil to use in DIY recipes.
Now you know how to make dandelion oil.  What will you use it for?
Like this post?  Pin it!
References