According to research conducted by BreastCancer.org, one in every eight women will be diagnosed with breast cancer at some point in her life, and one in every thirty-eight women will lose her life to this disease. While the incidence and mortality rates of breast cancer have decreased over the past two decades – thanks to state-of-the-art technology that enables early detection and treatment – the number of women affected each year is still quite high.
October is Breast Cancer Awareness Month. It is the perfect time to learn more about this disease that devastates the lives of so many people. Take this month as an opportunity to spread breast cancer awareness to encourage more people who are fighting the disease.
Breast cancer is a disease caused by the development of cancerous cells in the breast. These cancerous cells start by growing and invading healthy cells in the breast. With time, they make their way to other parts of the body via blood or lymph vessels. When this happens, metastasis occurs – a process where cancerous cells start to damage other tissues.
One of the primary reasons for raising breast cancer awareness is that it is the second leading cause of death among women worldwide. While it affects 1 out of 8 women, it only affects 1 out of 1000 men. It mostly affects senior women.
Here are some other facts about breast cancer:
According to several studies, approximately 50% of all diagnosed breast cancer cases are in women over 60.
If a first-degree relative (mother, daughter, or sister) has a history of breast cancer, your risk for developing it almost doubles. Around 15% of women diagnosed with breast cancer have a family member who currently has or had the disease in the past.
Breast cancer has no cure, which is why we should focus on early detection instead. Early detection can help you take several steps before the cancer spreads, such as getting a mastectomy or chemotherapy.
1. Educate Yourself
Having inaccurate information or not having any information can stand in the way of women receiving the care they require. For this reason, you must do your best to stay updated and seek out accurate information about the disease. Make sure to check multiple sources to educate yourself. Healthcare providers are your best resources for accurate and reliable information, so if you have questions about breast cancer, they can equip you with all essential information.
2. Educate Others
This Breast Cancer Awareness Month take the opportunity to start conversations about breast cancer with people around you. Send text messages or emails to women you know, sharing information about the disease. Include informative and accurate links to help educate them. You can also spread awareness on social media and encourage other women to speak with their healthcare providers about breast cancer.
3. Know Your Risk
It is important to understand the difference between relative risk and personal risk for breast cancer. If you are a woman, you have a 12% relative risk, but your personal risk could be much higher. For example, if there's a history of breast cancer in your family, your personal risk will be much higher. Knowing your personal risk will help you get the assistance and care you need.
4. Schedule a Mammogram
If you are a woman aged 40 years or above, you should get a mammogram every year. The American Medical Association and the National Cancer Institute recommend annual mammograms for women aged 40 and above. Take this opportunity to schedule a mammography screening for yourself if you haven't already had one this year.

Health One Family Medicine understands the importance of breast cancer awareness and aims to educate women about this disease. Please support us in spreading the message and encouraging millions of women worldwide to get the care they need.

If you want to schedule an appointment with one of our healthcare providers, visit https://www.healthonemedicine.com/ or call (469)262-5762.

Author
---
— Update: 25-12-2022 — We found an additional article Breast Cancer Awareness: Importance of Early Detection from the website www.leehealth.org for the keyword importance of breast cancer awareness.
October is Breast Cancer Awareness Month and Lee Health experts want to tell you a little bit about the importance of early detection. About one in eight women born today in the United States will get breast cancer at some point, says the National Cancer Institute.
The good news? Most women survive breast cancer if it is found and treated early. Here's what you need to know:
Screening and Early Diagnosis Can Beat the Disease
Screening refers to tests and exams used to find a disease in people who do not have any symptoms. Early detection means finding and diagnosing a disease earlier than if you'd waited for symptoms to start.
According to the National Breast Cancer Foundation, when breast cancer is detected early and hasn't spread to anywhere else in the body, the 5-year relative survival rate is 99 percent.
"That's why being proactive about your health through early detection is so important," says Dr. Bianca Ferrari, a hematologist-oncologist with Lee Physician Group and the Multidisciplinary Breast Clinic at the Regional Cancer Center. "A lot of the good survival rate numbers have to do with increasing discussion, awareness, and early prevention."
Lee Health Breast Health Centers
Did you know? Lee Health operates three Breast Health Centers that use a variety of breast examinations to get the most accurate diagnosis possible at convenient locations, says Diana McEnerney, director of Lee Health Outpatient Breast Health Imaging.
"We give our patients peace of mind with innovative technology, board-certified physicians who specialize in breast health, and technologists certified in mammography and breast ultrasound," McEnerney says. "Our Breast Health Centers are accredited as a Breast Imaging Center of Excellence by the American College of Radiology. and the only breast center in Lee County to have achieved accreditation by the National Accreditation Program for Breast Centers."
Self-exams and Mammograms
Screening and early detection includes doing monthly breast self-exams and scheduling regular clinical breast exams and mammograms. Women should be familiar with how their breasts normally look and feel. They should immediately report any changes to their doctor.
"It's important that women of all ages regularly perform their own breast exams," McEnerney says. "While administering your own breast exam, you may discover a new lump earlier than when your annual mammography may be due. If so, you should follow up with your health care provider as soon as possible."
The American Cancer Society recommends annual screening mammograms for women starting at age 40 and continuing as long as they are in good health. But your doctor might want you to have a screening earlier if you have a mother or sister with breast cancer.
Make a mammogram part of your yearly health checkup because it will also reveal what type of density your breast tissue is, allowing more tests such as MRI or ultrasound, McEnerney says.
Takeaway: Mammograms are essential, important, and potentially life-saving. Talk with your doctor about when to start mammography screening sooner than later.
Get the latest information and more details about mammograms here.
If Breast Cancer Strikes: Multidisciplinary Breast Clinic Offers Help and Hope
A breast cancer diagnosis leaves you with questions, decisions, and anxiety. The Multidisciplinary Breast Clinic at the Regional Cancer Center helps newly diagnosed breast cancer patients or patients looking for a second opinion for their treatment options. Patients can be referred by their physician or they can contact a breast cancer navigator for a self-referral.
Read more Secondary breast cancer that has spread to the skin (skin metastases)
Dr. Ferrari says clinic assessments give patients what they need to help them make informed decisions about their treatment. 
"Many recent advances in the diagnoses and treatment of breast cancer require close collaboration between cancer specialists, who have different areas of expertise," Dr. Ferrari explains. "The clinic brings these specialists together to meet with and evaluate each patient's case."
A medical oncologist, radiation oncologist, and surgeon as well as a medical team together evaluate each person's case, engaging them and their family in the treatment plan.
"Typically, this kind of process might take weeks to develop — but we have all the experts in one place," says Dr. Ferrari. "Local women (and men) have everything they need for screening, diagnosis and fighting breast cancer right here, close to home, at the Regional Cancer Center. That means the plan is complete in a single day, and your treatment begins quickly."
What Can You Expect On Your Visit?
Patients receive support and assistance navigating the health system through our breast cancer nurse navigators.
The Regional Cancer Center's breast cancer navigators are oncology certified nurses who work with patients, families, and physicians to help the cancer patient "navigate" the health care system from diagnosis through treatment.
Clinic Visit
You will meet the medical oncologist, surgeon, and radiation oncologist. Each doctor will talk to you one-on-one, complete an assessment, discuss treatment choices, and answer all your questions.
The medical team will discuss your case. The physicians — along with the breast cancer nurse navigator, pathologist, radiologist, genetic counselor, clinical oncology pharmacist, and when necessary, a plastic surgeon — evaluate your tests and health history. Using National Comprehensive Cancer Network (NCCN) guidelines, they will put together your personal plan of care.
The nurse navigator will discuss the plan with you and then help schedule all your appointments.
Multidisciplinary Breast Cancer Clinic: Team Members and Support Services 
Get to know our team! Here is a rundown of the different kinds of friendly staff members you'll find.
Cancer Nurse Navigators
Our cancer navigators are certified nurses who will help you and your family understand your diagnosis and provide encouragement and education. They will be there when you feel overwhelmed by coordinating appointments, explaining your treatment, and connecting you with services.
Oncology-trained Pharmacist
These skilled professionals prepare and dispense chemotherapy treatment, and provide key medication and counseling.
Psychosocial Support
The Regional Cancer Center employs licensed clinical medical social worker for individual and group counseling, so you never have to feel alone.
Nutrition / Dietitian & Nutrition Seminars
Regular workshops and seminars provide the most up-to-date information on how diet and nutrition can help during treatment. Learn how to shop, what to buy, how to cook, and other important details to take the guesswork out of your diet.
Nutritional Counseling
The Regional Cancer Center's oncology dietitians teach you about healthy, nourishing meals and guide you through problems with appetite, weight loss, malnutrition, pain, and supplements.
Genetic Counseling
Recent advances show that certain genes can put individuals at risk for cancer. One of our genetic counselors can dive into your history and help you and your family understand their risk, provide information, and perform a screening. The Regional Cancer Center offers counseling for breast cancer, gynecological cancers, skin cancers, and many other conditions.
Cancer Rehabilitation
Breast cancer rehabilitation is like other forms of rehabilitation patients might receive after suffering a serious illness or an injury. Our cancer navigators guide patients through exercises for flexibility and stamina to minimize side effects, lower the risk of readmission, and help patients return to normal lives.
Support Groups
Monthly support groups give patients and families a place to talk as well as provide facts and advice on diagnoses, treatments, ways to manage side effects/complications of treatment, as well as emotional support.
Survivorship Care
Our survivorship specialists will help you regain control of your health and life after cancer treatment. Follow-up care includes nutrition, exercise plans, wellness tips, and other essential tools as you ease back into a regular routine.
Onsite Mastectomy Prosthetic-certified Fitters
Our compassionate experts provide you with instruction and training on how to wear post-mastectomy devices. They will measure, fit, and adjust any related supplies and answer all your questions.
Integrative Services
Acupuncture, yoga, hypnotherapy, massage, and aroma therapy help soothe your mind, body, and spirit against the side effects of treatment. Repair, restore, regenerate, and rebuild with these services.
Cookie's Place Boutique
Cookie's Place Boutique assists patients, caregivers, family members, and friends find just what they need, from wigs to breast forms to that special gift. This healing boutique also offers massage therapies, essential oils, yoga, and gentle exercise classes.
Meditation Center for Patients
Our meditation classes will calm your body, mind, and spirit and inspire you to heal.
Healing Garden and Outdoor Labyrinth
Our beautifully landscaped Sidney and Berne Davis Healing Garden reminds our patients and their families that life is a journey, and reflection helps focus the mind and recharge.
Transition to Hospice
When effective cancer therapy is no longer an option, patients will have access to optimal palliative care and counseling with respect to end-of-life issues.
For more information about the Regional Cancer Center Multidisciplinary Breast Clinic, the breast cancer nurse navigators or to schedule an appointment, call 239-343-9546.
---
— Update: 25-12-2022 — We found an additional article Why Breast Cancer Awareness Is Important All Year from the website voice.ons.org for the keyword importance of breast cancer awareness.
Raising awareness is a great thing. Throughout the year I'm asked to speak to community groups about cancer prevention, early detection, and the impact of heredity on cancer risk. The number of requests always escalates sharply in October. These programs provide an opportunity to help educate the public on the health impact of breast cancer, the importance of taking personal responsibility for health, and the new research studies that ultimately affect clinical practice.
The American Cancer Society recently released its Cancer Facts and Figures 2017 report as well as t Breast Cancer Facts and Figures 2015–2016, which included some of the following statistics:
Breast cancer is a significant public health problem. About 252,710 new cases of invasive breast cancer will be diagnosed in women as well as 63,410 new cases of carcinoma in situ. And 2,470 men will be diagnosed with breast cancer.
Breast cancer is the second leading cause of cancer death in women with 40,610 deaths; lung cancer is the leading cause of cancer death in women.
Death rates from breast cancer dropped from 1989–2007. Since 2007, breast cancer death rates have remained steady in women 50 years or age or younger, but have continued to decrease in older women.
More than 3.1 million breast cancer survivors are living in the United States.
Risk factors for breast cancer include being a woman and getting older. Women with a family history of breast, ovarian, melanoma, or pancreatic cancer may be at increased risk—especially women with a family member diagnosed before 50 years of age. Women cannot change their family history. However, they should make an effort to know that family history and talk with their healthcare providers about whether they should change their screening plans or seek evaluation with a credentialed genetics provider for possible genetic testing. Genetic testing and identification of hereditary risk combined with increased surveillance and risk reducing surgery can be lifesaving.
Women can do some things to reduce their risk of developing breast cancer. Lifestyle factors should not be ignored.
Read more Luminal Breast Cancer: Risk of Recurrence and Tumor-Associated Immune Suppression
Drinking alcohol is linked to an increased risk of breast cancer. The risk increases with the amount of alcohol consumed. Women who have two to three drinks a day have about a 20% higher risk compared to women who don't drink alcohol. The American Cancer Society recommends that women who drink have no more than one drink a day.
Being overweight after menopause increases breast cancer risk. Following menopause, most of a woman's estrogen comes from fat tissue instead of the ovaries. Having more fat tissue after menopause can raise estrogen levels and increase the risk of breast cancer. Women who are overweight tend to have higher blood insulin levels, which have been linked to some cancers, including breast cancer. Women should try to achieve and maintain a healthy weight.
Regular physical activity reduces breast cancer risk, especially after menopause. Exactly how physical activity might reduce breast cancer risk isn't clear, but it may be because of its effects on body weight, inflammation, hormones, and energy balance. The American Cancer Society recommends that adults get at least 150 minutes of moderate intensity or 75 minutes of vigorous intensity activity each week (or a combination of these), preferably spread throughout the week.
All women need to be aware of how their breasts normally look and feel—any change, no matter how trivial it seems, deserves further evaluation by a healthcare professional. Beginning at age 40, women of average risk need an annual mammogram. Mammograms should continue annually, as long as a woman has at least five years of life expectancy. The decrease in breast cancer deaths and increased number of cases of the highly treatable carcinoma in situ of the breast is directly related to regular mammography use that can detect a lump long before it would be palpable.
Genetics and Breast Cancer
Research continues to better understand the complex interaction between genes and environment in the development of breast cancer. A large, long-term study funded by the National Institute of Environmental Health Sciences is currently being conducted with the goal of understanding the causes of breast cancer. The Sister Study enrolled 50,000 women who have sisters with a diagnosis of breast cancer and is currently following these families for at least 10 years. A secondary study, the Two Sister Study, examines women with breast cancer diagnosed before age 50, with a sister, and their parents to further characterize possible causes of early-onset breast cancers. It also aims to provide valuable information about long-term survivors of breast cancer.
Breast cancer is a public health concern that's a year-round issue, but it's good to draw more attention to the issue from time to time. I'm glad to do a few extra educational programs in October, because women need to know that breast cancer is treatable when detected early, especially when based on the 3.1 million breast cancer survivors in the United States.
Mammography can be an effective screening tool, and women need to engage in regular screenings. They need to understand their risks and talk to their provider about an appropriate screening protocol. Some families will benefit immensely from genetic testing. All women can take some control of their risk by embracing a healthier lifestyle—it can make a difference. Much of the progress in breast cancer is because of ongoing research. Thanks should be given to all of the women who have participated in this research. Thank you to our athletes, celebrities, and everyone else who will make a little extra effort this October to raise awareness about breast cancer.
---
— Update: 25-12-2022 — We found an additional article Bringing Awareness To Breast Cancer During October from the website unicityhealthcare.com for the keyword importance of breast cancer awareness.
October is Breast Cancer Awareness Month (BCAM), an annual international campaign to increase awareness of the disease, as well as to help raise funds for research into its origin, prevention, diagnosis, treatment and care.
Breast cancer is the second leading cause of death for women in the United States, though a breast cancer diagnosis is not limited to only women.  However, it is the most commonly diagnosed cancer for women all over the world. One in eight women will be diagnosed with breast cancer, and one woman will die from breast cancer every 13 minutes. 
The facts remain that while women and men of any age will be diagnosed with breast cancer, breast cancer does affect older women disproportionately more than it does the young and middle-aged.   The risk of developing breast cancer increases dramatically with age, making seniors the most likely age group to develop it. In fact, approximately 24 percent of breast cancer cases in the United States are diagnosed in women aged seventy to eighty-four years old.  And as America's population continues to grow older, it follows that the annual number of breast cancer diagnoses is expected to rise.
Researchers believe that developing breast cancer can be environmental or genetic, or perhaps a combination of both; and they also agree that there are some risk factors that cannot be changed, and preventing cancer entirely is impossible. However, there are ways to be proactive by living a healthy lifestyle, which we will discuss below.
In honor of National Breast Cancer Awareness Month, we are taking time to share what senior women need to know about the disease. We here at Unicity Healthcare want to discuss the importance of early detection, and educating the public about the disease that affects so many — in particular our senior community.
Breast Cancer:  The Importance Of Raising Awareness Among Seniors
Breast cancer is a disease where malignant (cancerous) cells form in the breast. Although these cancerous cells start by growing and invading healthy cells in the breast, they can eventually make their way to other areas of the body by entering blood vessels or lymph vessels. When this happens, and the cancer cells begin damaging other tissues the process is then called metastasis.
One of the biggest reasons raising awareness about breast cancer is important is that breast cancer is the most commonly diagnosed cancer in women and it is second leading cause of death among women. Further, in the United States, the median age for a diagnosis of breast cancer is about 60 years old — and more than 40 percent of all breast cancers are diagnosed in women aged 65 years or older.  
Here are some other facts: 
According to researchers, half of all newly diagnosed cases of breast cancer are in women over the age of 60. Nearly 20 percent of them are women aged 70 and older.
One in eight women will develop breast cancer in their lifetime, and while the odds are significantly lower, 1 in 1,000 men will develop it as well.
If a first-degree relative — meaning a mother, sister, daughter — has a history of breast cancer, your risk for developing it nearly doubles. However, it is important to note that even though breast cancer may not run in your family, you should never delaying preventative screenings. While family history plays a role, less than 15 percent of women diagnosed with breast cancer have a family member who has or has had the disease.
While there is no cure for breast cancer — and age is a major risk factor — seniors should instead focus on early detection, in order to give our loved ones the best chance of living out their golden years. As we get older, a senior's health may become more complicated and often older adults suffer from multiple chronic conditions. Because this is the case, early breast cancer detection is paramount for senior women.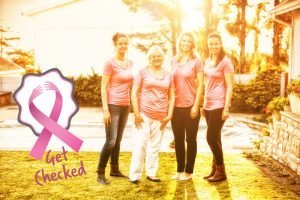 Preventative Screenings: Early Detection and Symptoms
Mammogram
The most common way to detect breast cancer is through a mammogram, which is basically an x-ray of the breast. The American Cancer Society recommend yearly screening mammograms starting at age 45 and continuing for as long as you are in good health. These are guidelines many physicians in the U.S. adhere to. However, the U.S. Preventive Services Task Force (USPSTF) takes a more conservative (and somewhat controversial approach) by recommending mammograms for women beginning at age 50 and continuing every two years through age 74. Is is important to do what you feel best, and follow what your doctor recommends due to your specific health and family health history.  Many doctors may even recommend women should start getting mammograms when they turn 40 years old, and continue to receive them annually until they are 55. After they reach 55, women have the option to reduce the frequency of their mammograms to every other year (again, depending on their family history).
Read more A Competing Risk Analysis Model to Determine the Prognostic Value of Isolated Tumor Cells in Axillary Lymph Nodes for T1N0M0 Breast Cancer Patients Based on the Surveillance, Epidemiology, and End Results Database
Self-Examination
Even though a mammogram often can detect tumors or cancerous cells before they become physically observable, many doctors still encourage women to perform self-examinations. A self-examination can be performed by doing the following:
Using a mirror, let your arms hang by your waist. Look for signs of bulges within the skin, the nipple either inverting or extruding abnormally, and redness or rash agitating the area.
Raise your hands above your head and look for the same signs.
Observe in these two tests whether any fluid is excreting from your breasts.
While laying down, either extend outward from your nipples in a circular motion, or go from top to bottom linearly, and try to feel all the tissues of your breast. Be on the look-out for any abnormalities.
You can perform this test while sitting down or standing up.
It is important to realize not all breast lumps are cancerous. Some are 'benign' and it is unlikely they will spread to other tissue. Despite this, they can still serve as a warning sign for an increased risk of breast cancer.  Regardless, they should be examined by a specialist.
If you find a lump in your breast during a self-examination or suspect you may have breast cancer, please see your doctor as soon as you can. Detection at an early stage makes a big difference.
Senior Screenings And Detection
For many seniors, in addition to chronic diseases they also face challenges to mobility, which may make home examinations very difficult. Loved ones should keep this in mind, especially if they are receiving home health care.
Home examinations should be carried out at least once a month in our seniors. Not only are they an important part of early breast cancer detection, they help seniors get a sense of what their breasts look like when they are healthy, making it easier to detect any changes. A home care assistance professional can help your loved one carry out a self-exam at home or even do it for them if they are unable to.
Senior women should also go for mammograms on a regular basis and if they can no longer drive, a caregiver should arrange to have them brought for any checkups and testing to help them stay safe and healthy for a long time.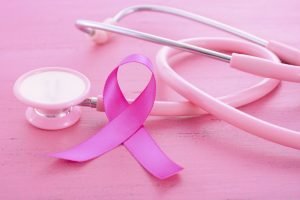 Breast Cancer: Preventative Measures
While there is no way to "prevent" breast cancer from occurring, there are many things women (and men) can do for their health to help lower their risk of developing the disease. These lifestyle and health changes are as follows:
Maintain A Healthy Diet: Harvard researchers found that women who ate foods with high carotenoid levels had a 19 percent lower risk of breast cancer than those who didn't, and carotenoids are found in many fruits and vegetables.  Maintaining a healthy weight is also a big factor in helping to prevent breast cancer. Because of this, it is important to eat a healthy, balanced diet.
Regular Exercise:  As you grow older and your metabolism slows, staying physically active is one of the best ways to manage your weight. A study by the American Cancer Society found that women who gained 21 to 30 pounds after age 18 were 40 percent more likely to be diagnosed with breast cancer than women who maintained their weight. Experts think fat-related estrogen found in overweight older women might be the cause, though it is not entirely proven.  Regular exercise helps to reduce the risk of breast cancer for any woman regardless of their body type. Exercise is also very important for breast cancer survivors.
Beware of Hormone Therapy (HT): Hormone therapy used to be a widely prescribed method of treating hot flashes in women. But research has uncovered risk factors associated with HT ranging from heart disease to breast cancer. The Women's Health Initiative found that long-term use of combined estrogen plus progestin therapy increased the chances of developing breast cancer by 24 percent. Physicians weigh the risks for each individual patient and prescribe the smallest dose of HT for the shortest amount of time possible.
BRCA Screening: The BRCA mutation, a gene mutation which increases the risk of breast and ovarian cancer, can be tested for. It's worth having a discussion about this testing with your personal physician about possibly having this screening.
Stop Smoking And Limit Alcohol Consumption: Research shows that pre-menopausal women who smoke raise their risk for breast cancer significantly, and for post-menopausal women being exposed to second-hand can be very dangerous. Limiting the alcohol you consume to also reduce the risk of not only breast cancer, but other cancers and diseases. Smoking and high alcohol consumption increases the risk of breast cancer development.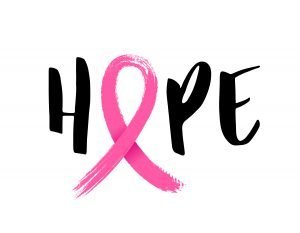 Survival: Why Breast Cancer Awareness Is So Important
When October was deemed National Breast Cancer Awareness Month, it was with the intention of not only educating people about the disease, but also to recognize those who have been/are affected.
In 2017, over 250,000 women are expected to be diagnosed with breast cancer. Despite those numbers, it is important to acknowledge the 83% of women diagnose SURVIVE and WIN the fight against this disease. Today, there are over three million breast cancer survivors in the United States. By raising awareness, we can help create a world full of survivors by ensuring women win every time.
The good news is that death from breast cancer has been on a decline, and this is due in part to the tireless efforts of multiple foundations, organizations and individuals who have made it their mission to educate women.  An increased awareness among women and more efforts to detect cancer early have made a tremendous difference, has brought about better treatment options, thus giving those diagnoses a better prognosis for survival.
Women and men alike must educate themselves on the resources available to them in their community in regard to cancer screenings and other preventative measures they can and should be taking.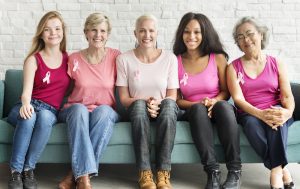 Breast Cancer Awareness Month is a time to celebrate survivors, become educated, educate and  band together to raise awareness to fight the disease.
The National Breast Cancer Foundation (NBCF) is giving away a free "Breast Health Guide" during the month of October in honor of Breast Cancer Awareness Month. Visit their website by clicking here to request your copy. This helpful guide will provide information on types and stages of breast cancer as well as how to adopt healthy habits and recognize the signs and symptoms of breast cancer.
To find out more information about breast cancer, here are some additional resources:
http://www.breastcancer.org/research-news/20120207
http://ww5.komen.org/BreastCancer/GettingOlder.html
National Cancer Institute
Susan G. Komen Foundation
American Cancer Society
National Breast Cancer Foundation.
* * * *
When the time comes to consider home care for your loved one, you may seek help from Unicity's qualified home care professionals to help ease the burden.
For more information please contact us at:
Email:  [email protected]
Explore Unicity Healthcare's website: www.unicity-ec.com
References