It's not uncommon for our late-night cravings to get the best of us. Sometimes we find ourselves choosing our favorite junk foods over healthier options, but this choice can often interfere with our sleep quality. Fortunately, the benefits of mango provides a deliciously sweet nighttime snack to curb cravings and may help improve your rest.
Mangoes are not only a tasty fruit, but the benefits of mango offer an abundance of nutrients to keep your body healthy. In fact, some countries refer to mangoes as the "king of fruits" for their impressive list of benefits—research suggests vitamins and minerals in mangoes and are a good source of health benefits per serving such as vitamin K, vitamin c, and beta carotene which are known to strengthen the immune system, may help improve digestive health, and even enhance eyesight to support a healthy body.
In this article, we take a look at some of the benefits of mango before bedtime.
1. Enhances Sleep Quality
Snacking on a couple of mango slices can help you get to bed faster and provide you with more restorative rest. Mangoes have a significant amount of your daily value of Pyridoxine (vitamin B6) and vitamin C, B6 is the vitamin responsible for the synthesis of serotonin. Your body uses serotonin to produce melatonin, a sleep-inducing hormone, thus helping support a healthy and peaceful slumber.
2. Relieves Congestion
The possible antimicrobial properties of mangoes could be effective in eliminating phlegm and relieving cough. Eating mango may remedy congestion and open your airways for better breathing during sleep. Additionally, mangoes contain anti-inflammatory properties helpful for the prevention and treatment of asthma and free radicals.
3. Helps Control Blood Pressure
Aside from being a juicy and sweet treat, mangoes also contribute to lowering blood pressure. Oftentimes, a lack of fiber in one's diet can be a contributing factor that puts you at risk of hypertension and other diseases. Luckily, mangoes are full of dietary fiber, and potassium, two nutrients that can be helpful in regulating blood pressure and boost heart health.
4. Promotes a Healthy Heart
The potassium and magnesium in mangoes are two minerals that help your body maintain a steady pulse and keep your blood vessels relaxed. Mangoes also contain mangiferin, a unique bioactive ingredient known to protect the heart cells against free radicals that cause inflammation.
5. Protects Your Skin
High quantities of vitamin C in mangoes keep your skin looking youthful and vibrant. Nutritionist Carlene Thomas notes, "One mango contains over 200% of your recommended daily intake of vitamin C!" Consuming more vitamin C helps with the production of collagen—a structural protein the body uses to prevent saggy skin. Not to mention, mangoes contains powerful antioxidants such as lutein and zeaxanthin to support eye health, so eating a couple of slices can play a part in protecting your skin from UV rays and other environmental impurities.
6. Improves Concentration and Memory
A unique quality of mangoes is their high content of glutamic acid, an amino acid your body uses to transmit information from cells to receptors on different parts of the body. Having increased levels of glutamic acid in your system, as a recent study suggests, can enhance memoryVerified Source National Library of Medicine (NIH)World's largest medical library, making biomedical data and information more accessible.View source and may help improve sensory function. This can be especially helpful for keeping you on your toes during a jammed-packed day.
7. Boosts Your Eyesight
Eating one cup of mango a day gives you over 30% of the daily requirement of vitamin A. Since vitamin A protects the surface of your cornea and strengthens eyesight, it can be helpful for individuals who suffer from cataracts or other eye conditions. Additionally, vitamin A can sharpen nighttime vision and reduce dry eye symptoms and overall eye health.
8. Strengthens Your Immune System
Including mangoes in your diet can strengthen your immune system, since one cup of mango can provide 100% of the daily recommended intake of vitamin C. The extra vitamin C in your diet promotes white blood cell production, protecting you from various illnesses.
9. Regulates Your Digestive System
Mangoes have a group of digestive enzymes called amylases. Your body uses these enzymes to break down complex carbs into simple sugars. This process makes it easier for the body to absorb carbohydrates and improves your digestive health.  Furthermore, the high fiber content in mangoes reduces the risk of gastrointestinal problems (GI) and other digestive-related diseases.
Read more 7 Cool, Hidden, And Unusual Things To See In Lake Tahoe
10. Contributes to Weight Loss
When consumed in moderation, mangoes can be helpful in the pursuit of weight loss. The caloric density paired with the fiber content of mangoes curbs hunger and keeps you full for longer periods of time. Plus, the undeniable natural sweetness can be a sweet, healthier replacement for sugary snacks.
You cant rely on mangoes solely as a way to lose weight, of course. We suggest speaking with your doctor for medical advice to discuss other potential methods, such as intermittent fasting.
FAQS
How many mangoes should I eat a day?
Mangoes are rich in carbohydrates and contain a higher level of naturally occurring sugar than most fruits. Like all fruit, when mangos are consumed in excess, they can increase blood glucose levels. A serving of mango is ¾ of a cup of sliced fruit and the Dietary Guidelines for Americans recommend healthy adults consume between 5 and 13 servings of a variety of fruits and vegetables every day. If you are a person with diabetes you should limit your consumption to 1 to 2 mango slices to keep your glucose levels stable.
What is the sugar content in mangoes?
One serving of mango (¾ cup mango pieces) contains about 17 grams of naturally occurring sugar and 0 grams of added sugars. However, when these fruits are eaten in excess, they can cause a spike in blood sugar levels.
What is the best way to eat a mango?
One of the most popular ways to eat mangoes is by slicing them and eating them raw. However, this fruit is extremely versatile and can be added to smoothies and salads as well. Not to mention, they can also be turned into delicious homemade fruit juice and salsas.
What foods should I avoid before bed?
It's best to stay away from fatty, greasy foods before you go to bed because they cause bellyaches and nighttime heartburn. Some examples of foods to avoid include pizza, creamy pasta, and ice cream. To prevent sleep disruptions, eat dinner at least three hours before bed and incorporate lighter foods, such as whole grains, salmon, turkey, and of course mangoes into your evening meals. Remember, mangoes can be helpful for enhancing a good night's sleep! Remember to follow us for more food and sleep tips!
Is it okay to snack before bedtime?
When it comes to snacking before bedtime, it's best to choose healthy options rather than junk food. Eating sugary foods late at night can cause stomach aches and hinder your sleep quality. However, keeping snacks small and light will curb your late-night cravings without causing sleep disruptions, so you won't have to worry about going to bed hungry.
Conclusion
Mangoes are full of essential nutrients to keep your body strong and healthy and these juicy fruits make great pre-bedtime snacks because they satisfy your appetite without causing sleep disruptions. However, it's important to remember mangoes have more naturally occurring sugar than other fruits, and like all things, they should be eaten in moderation. It's best to consume a variety of fruits and vegetables to get the most nutritional benefits possible.
---
— Update: 05-01-2023 — cohaitungchi.com found an additional article 8 Benefits of eating mango at night explained (+list of vitamins) from the website www.legit.ng for the keyword is it ok to eat mango at night.
Eating fruits at night is an excellent alternative to pastry if you are hungry. But not all fruits are beneficial for your health. Some of them may make your sleep disquieting and even add several kilograms to your weight. So which fruits is it better to eat? To answer this question, we will tell you about the benefits of eating mango at night.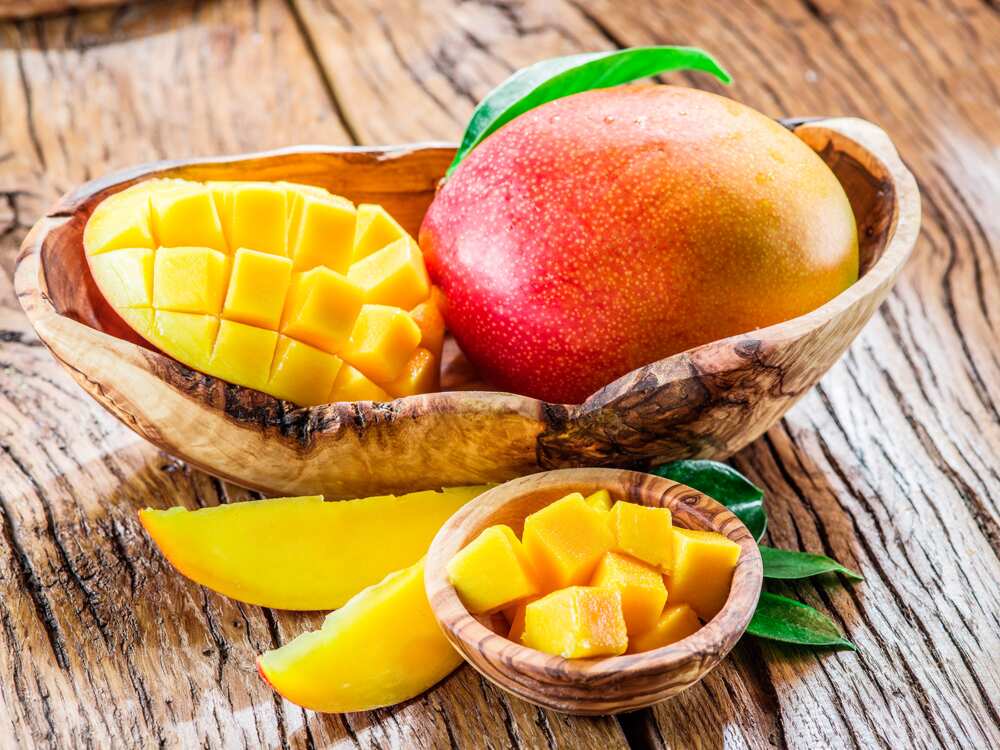 Photo: shop.evalar.ru
Health benefits of eating mango at night
If you are thinking about including fruit in your diet, you should pay attention to mango. Its sweet taste will satisfy your hunger and also keep your body in a healthy state. There are several benefits of eating mango at night.
The nutritional value of mango fruit:
Vitamin A
Vitamin B6
Vitamin C
Vitamin E
Folic acid
Phosphorus
Calcium
Magnesium
Potassium
Iron
Copper
For those who keep a healthy diet, a snack before going to bad is recommended. But the bite should be maximally beneficial and of high nutritional quality, to supply the body with the microelements that will get digested at night and therefore improve the body condition in the morning.
1. Mango keeps your digestive system well
A healthy digestive system is a vital factor for the body. The benefit of eating mango late at night is the stimulation of the digestive process. Therefore, you will not have any problems with the digestive system in the morning, and you will not feel discomfort in your stomach.
2. Mango controls weight
Most fruits, including mangoes, are low-calorie fruits. If you eat a piece of mango, you will not gain extra weight even if you eat it at night. Therefore, it is much safer than to consume foods with non-healthy sugars and high-calorie levels.
3. Mango improves sleep quality
Having eaten a couple of mango pieces late at night, you will relieve the feeling of hunger, and at the same time, you will not feel heavy in the stomach. You will not wriggle from hunger in your bed anticipating breakfast. Moreover, mango will have a relaxing effect on your body.
4. Mango will give you energy
Many people may think that one can become strong only by eating meals with a high level of calories (like meat). However, some fruits like mango, for example, have a high level of fructose. By eating mango late at night, you will gain strength without the help of unhealthy foods that can lead to weight gain and health problems, and in the morning you will feel quite active.
Read more 18 Beautiful DIY Plant Gift Ideas for Christmas
Photo: mygazeta.com
5. Mango makes your skin clean
As we all know that mango consists of an impressive amount of vitamin C. The vitamin C makes the skin healthy and clean. Therefore, consuming mango late at night can improve skin condition the very next morning. You will wake up with refreshed skin!
6. Mango controls blood pressure
One o the effects of mango consumed at night is the blood pressure control. Mango is rich in fibre and fiber in its turn has a beneficial impact on the blood pressure. Therefore, eating mango late at night will keep blood pressure under control while you are sleeping.
7. Mango is good for your heart
Mango is rich in potassium that is very good for a healthy heart. Therefore, you should not hesitate to eat mango every night to supply your body with potassium.
8. Mango is useful for pregnant women
Mineral-rich mango is recommended for pregnant women. One of the minerals containing in mango that is useful for pregnant women is iron. Consumption of mango late at night prevents and treats anemia that can be encountered during the pregnancy.
Photo: lesnik.life
10. Mango influences male and female reproductive functions
Mango contains vitamin E that is beneficial for the secretion of hormones of reproductive functions. It is also worth saying that eating mango at night is good for your "nightlife". This benefit is particularly interesting for men, so mango is food for the whole family.
11. Mango relieves asthma symptoms
Usually, asthma symptoms get worse at night. Mango contains anti-inflammatory properties that effectively relieve inflammation in the airways. So, you can not treat asthma with mango, but you can prevent its appearance by eating mango at night.
12. Mango is beneficial for eyesight
Mango contains vitamin A that is very good for the eyesight. At night while you are sleeping, your organism will ingest vitamin A, and it will protect your eyes.
More mango properties: it strengthens the immune system, improves brain condition, improves bone health, and has anti-aging property.
One hundred grams of this fruit contains only 67 kcal. A few centuries ago, secular women actively used mangoes for weight loss. It is believed that eating just one fruit per day (at night) you can lose about 1.5 kg in a week. If you follow this diet during a month, the result will be a loss of approximately 6-7 kg!
Why eating fruits at night is considered a healthy habit
Many fruits replace sweets or sandwiches for those who want to have a snack before going to bed. Moreover, fruits effectively cope with hunger, but they are easily digested, and in the morning you will wake up ready for a healthy breakfast. Citruses, for example, contribute to digestion of fatty food, and apples will help you to get rid of indigested elements.
But not all fruits suit for a midnight snack. As it has already been mentioned, mango is a perfect food at night. But if you do not have mango or you merely want to add more fruits to your good timetable, consider the following fruits that perfectly suit night consummation.
Photo: bvsms.saude.gov.br
Apples (47 calories) – the perfect snack for the night. Apples contain pectin in large quantities. This substance improves skin condition, so you wake up fresh in the morning. Just do not choose the sour varieties of apples – they cause abundant secretion of gastric juice.
Pineapple (52 calories) – cleanses the body of toxins and normalizes cholesterol levels. It also makes your skin shiny, clean and healthy.
Banana (90 calories) – relieves fatigue and improves mood. Banana is your fruit if you change your mind to sleep and decide to go to a party. But as long as it contains many calories, it is better to eat it in the morning.
List of fat burning vitamins:
C – citrus fruits, apples, pineapple, kiwi, pomegranate, raspberry, lemon;
D – citrus;
E – pear, apples, green fruits;
B12 – avocado, kiwi;
B1 – strawberry, plum;
P – dried fruits;
Ca – pomegranate, quince, passion fruit, strawberry.
As you can see you can get benefit from eating at night! The healthiest fruit for night snacks is mango, but it can be replaced or complemented with other fruits from the list above. Be healthy and eat beneficial food!
Source: Legit.ng
---
— Update: 06-01-2023 — cohaitungchi.com found an additional article Benefits of Eating Mango at Night from the website themangobasket.com for the keyword is it ok to eat mango at night.
It is common to get the night cravings if you are a late sleeper or have poor sleeping habits. We tend to eat more junk food at night instead of going for the healthier options. Eating snacks before bedtime is highly recommended for the people who follow a strict diet, but the snacks should be healthy and full of nutrients to improve digestion.

Fruits can be a good option to snack around even at night and are recommended if you want to maintain a healthy diet. Mangoes are beneficial and a healthy option to eat at night. They are not only highly nutritious but also satisfy the night cravings. Fruits are easily digested and enhance the condition of the body in the morning. This blog post will help you to understand the benefits of mangoes when eaten at night.
Is it ok to eat mangoes at night?
Some people think eating fruits at night can be harmful to the body. It is considered that eating mangoes or other fruits at night can increase the weight or can cause other diseases. But this is not true. It is recommended to eat mangoes & especially alphonso mango at night when consumed in adequate quantity. Mangoes are considered a good snack as they contain less fat and are less in calories. They are a healthier option, and the sweetness will fulfil your hunger.
Read more Map Of Florida East Coast: Beaches And Cities
Mangoes are safe to eat at night without causing any discomfort or problems to the body. They are packed with nutrients which help to maintain a healthy body. The sweet taste will not only satisfy your craving, but the nutrients in every bite will provide you with many health benefits.
The nutritional profile of mangoes includes the following vitamins which will give your body the daily required amount of nutrients: Vitamin A, Vitamin B6, Vitamin C, Vitamin E. It will also provide you with energy to do the daily tasks as mangoes are filled with fiber and sugar. Folate, phosphorus, calcium, magnesium, potassium, iron, copper, and protein present in the fruit help in the body's proper functioning.
Mangoes keep the body fresh and lean if eaten at night. The stereotype of eating mangoes or fruits at night will harm your body is not true and absurd. Mangoes can be eaten at night without thinking twice. However, they should be consumed in the supervised portion. Excess consumption can harm your body and can cause problems like diarrhea or heart diseases. The advisable portion is one medium-sized mango to maximize the health benefits.
Best time to eat mangoes?
Mangoes are known as the "king of fruits" and are eaten all around the world. They can be eaten at any time of the day whether it is breakfast, dinner or lunch. Some people even eat it late at night. However, very few people are familiar with the best time to eat mangoes. The best time to eat mangoes is lunch or breakfast.
The researchers have concluded that eating mangoes is more effective in the morning and afternoon than night. Eating mangoes at dinner may cause digestive problems as they are high in calories while eating mangoes in the morning after one glass of water will get the nutrients adequately absorbed and digested by the body.
Eating mangoes just after the meal should be avoided. A minimum time gap of 30 minutes is required to avoid excess acidity. When consumed 30 minutes before the workout sessions, Mangoes are helpful as they provide energy and check cholesterol.
Benefits of eating mangoes at night
It is well known now that mangoes are filled with nutrients, and they can be healthy snacks. Let's discuss the advantages of eating mangoes at night, which in turn improves the functioning of the body and enhances the health of an individual.
Improves the heart health
The potassium found in mangoes helps the heart to pump blood throughout the body. This boosts the health of the heart. Magnesium present in mangoes keeps the pulse constant and relaxes the blood vessels. Mangiferin is a rare bioactive chemical which is found in mangoes. It protects the heart cells from inflammation.
Upgrades sleep quality
Vitamin B6 (the chemical name is Pyridoxine) synthesis serotonin to produce melatonin, which is a hormone that induces sleep and mangoes are rich in vitamin B6. When mangoes are eaten at night, they help you sleep faster and upgrade your sleep quality.
Helps in weight loss
Mangoes contain a larger quantity of sugar than most fruits. Still, they are effective in weight loss. The sweetness of mango will help you to avoid junk foods with even larger quantities than mangoes. It will also curb hunger for a long duration as mangoes are high in calories. It should be noted that mangoes should be consumed in moderate quantities.
Improves eyesight
Vitamin A in mangoes can help you meet the required daily dose of vitamins. People suffering from cataract, night blindness or other eye problems should eat mangoes to improve their eyesight. Vitamin A protects the cornea of the eye and sharpens night vision. It also reduces the symptoms of dry eyes.
Cleans the skin
Mangoes contain strong antioxidants which shield the skin from UV rays and impurities from pollution. Collagen produced from Vitamin C is a structured protein which prevents the skin from ageing. You can also place thin slices of mangoes on the skin for 10 to 15 minutes. You can also incorporate mangoes in your face mask or scrub.
Controls blood pressure
The fiber contained in mangoes protects you from the risk of hypertension and other blood-related issues. Potassium increases the hormone Insulin, which keeps the blood pressure stable. It also controls low blood pressure. Mangoes, when eaten in the night, regulates the blood pressure when you are sleeping.
Final words
The bottom line of the blog post is that mangoes are very nutritious and can be eaten at any time. But, some precautions should be taken care of while eating. Eating excessive mangoes is harmful and can lead to some serious problems. If you are suffering from problems such as high acidity, one should avoid eating excess mangoes.
This blog post focuses on the benefits of eating mangoes at night in detail. you must now be familiar with how mango enhances the body's functioning. Mangoes are a healthy snack when you are craving for something sweet and tasty. They are juicy fruit and satisfy your hunger without causing any sleep interference.
References