This post may contain affiliate links, meaning if you buy or book through one of these links, I may earn a small commission .
Headed on a Miami to Key West road trip for your next vacay?  If the idea of driving to an island blows your mind, then you are in for some excitement. It's a known fact that making the drive from the U.S. mainland over the various bridges connecting the Florida Keys is a truly unforgettable and unique experience. 
Even writing about this trip puts me in such a good mood. It's a combination of many things I love: tropical vibes, road trips, and even historical sights. The moment I learned it was possible to drive the 159 miles between Miami and Key West, I knew this road trip was in my future. Especially since both Miami and Key West are both such awesome places to explore!
I found that spending a little bit of time in both Miami and Key West gives you the best of two different worlds.  Miami is the faster paced, more energetic portion, while Key West slows things back down for a calm finish. And of course, the road trip is the scenic buffer in between!
If you are in desperate need of a getaway, a road trip from Miami to Key West is just what you need.  This is a vacation that will bring you both adventure and relaxation, with the occasional dose of key lime pie and rum punch.  With that, let's get into how to plan an unforgettable Miami to Key West road trip with this dreamy one week itinerary.
---
Ultimate Miami to Key West Road Trip Itinerary
Up front, I want to say that this is not really a party itinerary for either Key West or Miami.  Don't get me wrong – my husband and I are all for a little bar hopping, but we rarely make it out past midnight. In fact, I've more so come to love being a morning person, and having the quiet streets to myself before the rest of the world rises.
As this is a seven day Miami & Key West itinerary, it's a good idea to pace yourself anyhow.  You can still find some great people watching, without actually partaking in Miami's crazy (and expensive) club scene. 
Table of Contents:
Best Time of Year for a Miami to Key West Road Trip
Getting Around Miami Beach & Key West
Where to Stay in Miami Beach & Key West
Part I: 3 Days in Miami Beach
Part II: Road Trip from Miami to Key West
Part III: 4 Days in Key West
Best Time of Year for a Miami to Key West Road Trip
Miami and Key West tend to have sunshine and warmth all year round. However, summer weather can get scorchingly hot and humid, and early fall brings hurricanes. Therefore, December through May is the ideal timeframe for planning a Miami to Key West road trip.
Getting Around Miami Beach & Key West
It is very easy to get around both Miami Beach and Key West by walking, biking, or ordering an Uber. The only time you will need a car on this entire trip is for the round trip drive from Miami to Key West.
Where to Stay in Miami Beach & Key West
Miami
Stay in a classy Art Deco hotel on the water.  When you aren't out strolling the streets of Miami, you could lounge at your hotel's pool, or grab a couple of your hotel's chairs along the beach. 
The Savoy Boutique Hotel is a great option, and we personally loved our stay here. We found great room prices for our late May trip when we booked it with our flight on Expedia. We were also excited to have our room upgraded upon arrival to an ocean view suite. It could be a coincidence, but we have always been upgraded whenever we've booked on Expedia without even asking!
Key West
Key West is the perfect place to grab an Airbnb or vacation rental on VRBO. If that's not quite your style, there are plenty of hotel and bed and breakfast options. However, lodging in Key West can get rather expensive.
My husband and I stayed in the Old Town Garden Villas, and had our own condo, which was nice and spacious for the two of us. It was tucked back on a quiet side street, but also very well located, being just a block from Duval, a five minute walk from the Ernest Hemingway House, and an eight minute walk from the Southernmost Point.
It also had a kitchen, which is great for saving money and preparing your own meals, as well as a small dipping pool to cool off from the hot sun. Most of all, we loved the convenience of being able to easily walk or bike to everything.
---
Part I: 3 Days in Miami Beach
---
Day 1: Arrival in Miami Beach
On the day you arrive into Miami, you'll mostly be getting settled in. Therefore, I wouldn't plan on squeezing in too much sightseeing. Just treat anything you do manage to see as a bonus.
-Dinner in Miami-
What you may have time for is some good food. Since my husband and I arrived into Miami around 3:14 p.m, and only had a twenty minute taxi to The Savoy Hotel, we made a dinner reservation at Joe's Stone Crab, which is known to be a Miami Beach institution.
If you are visiting from October to May, you too will be able to check this place out. However, be ready to spend some dough. My husband and I were on a tight budget, and I don't think our limited spending allowed us to fully enjoy this place. If you are on a budget like we were, your money will likely go further elsewhere.
-Evening People Watching on Ocean Drive-
If you have any steam left, find a perch on Ocean Drive for some people watching. One of my favorite moments during our trip was chilling at a Miami Beach sports bar on Ocean Drive, when the flashy club-goers were just getting primed for the evening.  We watched as luxury car after luxury car slowly rolled by, music bumping, and we could definitely feel the energy of the evening beginning to unfold.
---
Day 2: Miami Beach
-Take a Morning Walk-
Mornings in Miami are quiet and peaceful, in contrast to the rowdy night scene where the bars stay open until 5:00 a.m..  This is the perfect time to take a walk in Miami Beach, and you won't be alone.  Many residents of South Beach are dedicated to maintaining their physiques, and you'll see plenty of people out doing their workouts.
Full transparency – Miami is not all glamour. Like any other big city, Miami has its share of poverty, and you will sadly see some people sleeping in small parks along Ocean Drive.
-Breakfast Followed By Beach Time-
Hands down, one of my favorite places we checked out in Miami was Under the Mango Tree. If you love green juice and smoothie bowls like me, then this will absolutely be the place for you. We liked it so much, we came here every morning during our stay in Miami Beach.
After this delightful start to your day, spend the afternoon relaxing either poolside at your hotel, or check out the expansive beach. If you are staying on Ocean Drive, chances are that your hotel will set you up with some beach chairs and an umbrella. The beach in Miami is large in both width and length, and is perfect for long walks or tossing a football.
-Head Out for Dinner-
If you are traveling as a couple and seeking something formal for a romantic date night, consider making reservations for Pied a Terre. This high-end French restaurant is located in the ambient Cadet boutique hotel, and is sure to please the most refined of palates.
If you'd like a more unique, cultural experience, then head to Miami Beach's vibrant Little Havana neighborhood. It's full of charm, great food, and hip bars that will keep you entertained into the wee hours of the night. If you're going to pick one place, then head to Sanguich de Miami for Cuban sandwiches with batidos, or Cuban milkshakes.
---
Day 3: Miami Beach
It's your last day in Miami Beach before heading down to Key West. Hopefully you wake up well-rested and hang-over free!
I recommend either taking it easy again today with another beach/pool day, or heading out for a little shopping. I personally recommend taking full advantage of the beach while you can, as Key West's rocky and largely man-made beaches simply will not measure up.
-Do Some Shopping-
If you'd like to do a little shopping during your time in Miami, just a couple streets over from Ocean Drive is Collins Avenue. This street is lined with popular retail shops, such as Club Monaco and Sephora.
An even better place to check out is the Lincoln Road Mall, which was only about 1.5 miles from our hotel. This beautiful outdoor mall contains a wide selection of shops and restaurants, including our favorite: Doraku Sushi.
-Sushi For Dinner-
After an afternoon at the beach or perusing the shops at Lincoln Road Mall, you'll surely work up an appetite. End up at Doraku (at Lincoln Road Mall) in time for dinner, and enjoy some mouth-wateringly good sushi rolls.
For your last evening, check out the vibe on Ocean Drive, and maybe pop into a souvenir shop or two. My husband and I found ourselves at a sports bar called Finnegan's Way, where we watched the Cavs lose a playoff game to Toronto before drowning our sorrows with a quick stop at Gelato-Go on the way home. There may or may not have been a subsequent delivery order placed for Insomnia Cookies. I can neither confirm nor deny.
---
Part II: Miami to Key West Road Trip
---
Now for the adventurous part of the trip: driving south over 40 bridges through the Florida Keys on Highway 1 (aka the Overseas Highway).  The trip ends when there is no more highway left to drive.
The road trip between Miami and Key West is the only time during the trip that you'll need a rental car. We found it easiest to pick up a rental car from the airport before leaving Miami. That way, we could simply drive straight back to the airport from Key West at the end of our trip, and head to security before our flight.
The road trip from Key West to Miami is a three and a half hour drive as a straight shot. However, this will also depend on traffic and how often you stop. I have listed some places to check out along the way to Key West that are totally worth your while.
Miami to Key West Road Trip Stops:
I have listed the below stops in the order that you'll see them on the drive down to Key West, as well as the required drive time between each one. The journey down Highway 1 is one of the most relaxing and scenic drives you will ever do, so keep your camera ready and enjoy the ride.
From there, it's just another fifteen minutes or so to the action in Key West.
Road Tunes:
You'll of course want to have a fun playlist for a road trip as epic as this one. Here is the perfect tropical playlist, which you can feel free to use or pull from for inspo.
---
Part III: 4 Days in Key West
---
The Key West portion is when I felt like our trip began to turn into a vacation.  Miami was fast-paced, with lots of partying and emphasis on looking good, shopping, and fancy cars. 
That all began to fall away when we started our drive down through the Keys.  The shops and strip malls began to give way to bridges and irresistibly calm turquoise water.  The tropical vacation vibes were growing stronger with each mile.
Arriving into Key West, aka The Conch Republic, was a relief.  I felt myself stop obsessing about what I looked like, and welcomed the laid back atmostphere.  Nachos were consumed, and I downed the likes of rum punch and pina colada left and right.  Key West simply won't allow you to do anything but have a good time!
Read more 25 Best Stress Relief Gifts to Promote Relaxation in 2022
---
Day 4: Arrival in Key West
-Settle in and Rent Bikes-
Your arrival day in Key West is all about adjusting to your new surroundings and getting a lay of the land. Before all else, check into your new lodging and get your bearings.
The next step is to rent bikes as your primary mode of transportation for the duration of your stay. While you have your rental car available, you won't need it on this small island. Plus, traffic is congested and parking can be tricky (though not impossible). My husband and I rented bikes from A&M Scooters for about $97 total to use over four days.
-Find Some Dinner-
Once you're settled, it's time to find food. Make your way to DJ's Clam Shack, which is right in the heart of Duval Street, or Key West's main drag.
DJ's Clam Shack is a tiny outdoor restaurant that has been featured on Diners Drive-In's & Dives. Sometimes these places end up being overrated, but not this one.
First of all, the restaurant was still quite low key, and not overrun by tourists at all. Second, their food was mouthwateringly good. It is mandatory to try their super-stuffed lobster roll and conch fritters – you won't be disappointed!
-Drinks on Duval-
Afterwards, why not stroll down Duval Street and see what there is to see? There are a ton of bars lining this street, so here are two suggestions to help you decide where to start:
Rum Bar: This small bar serves awesome rum cocktails, including my St. John favorite: the painkiller. Any place that gives a nod to the Virgin Islands is alright in my book. On our latest trip, we came here every day to sit on the porch with our drinks and people watch.
Sloppy Joe's: This old Key West standby is known for its famous regular: Ernest Hemingway, as well as piña coladas and live music. It's also very loud in there, so don't go if you were hoping for hours of catching up with an old friend.
---
Day 5: Key West
For your first full day in Key West, it's time to get into the good stuff. We're talking landmarks, history, and majorly ambient restaurants. Find yourself some breakfast and coffee, and let's get to it.
-Visit the Southernmost Point-
Get to the "Southernmost Point of the continental United States" landmark early to enter the quick-moving line for your photo. This is simply one of those things that are a "must-do" on any trip to Key West. Even though waiting in line for a simple photo is annoying, I must say people were very courteous about taking their turn and snapping group photos for one another.
-Tour the Ernest Hemingway House-
To get in your slice of history for this trip, visit the ever-so-charming Ernest Hemingway House, where he lived with his second wife, Pauline, for almost ten years. You'll get to see the studio Hemingway kept above the carriage house, where he'd spend his mornings writing.
The Ernest Hemingway House is also famous for being home to generations of six-toed cats. Keep a lookout for these little fellas and pay your respects to those who went before at the cat cemetery.
-Visit the Key West Lighthouse-
Continue your morning sightseeing by making your way over to the Key West Lighthouse – just one minute from the Hemingway House. This lighthouse has been in service since 1848, and had the highly unusual circumstance of a female lighthouse keeper. Today, you can tour the grounds, and even climb the 88 steps to the top.
-Dinner at Latitudes-
Making reservations for Latitudes on Sunset Key is an absolute MUST for any Key West trip. This open air restaurant by the water is loaded with ambience and has an amazing menu. Our dinner here was definitely one of the best experiences we had on our trip.
To get to Latitudes, simply take the quick shuttle from Slip #29, behind the Opal Key Resort & Marina. This short ride gives you the extra bonus of being on the water for a second.
-Grab a Couple Drinks-
Our first trip to Key West had a bit of a sports theme, with the Cavs being in the Eastern Conference Finals against Toronto. Therefore, we had to find a bar with a good game-watching atmosphere.
If that's something you're after during your trip, I highly recommend Sandbar Sports Grill or Jack Flats. They both have the perfect setup, with plenty of TV's so that you don't miss the big game while on vacation.
---
Day 6: Key West
-Watch the Sunrise-
Sunrises and sunsets in Key West are legendary, and you need to experience both during your trip. For the optimal sunrise viewing, rise early enough to head to Higgs Beach Park for its pier with a perfect, unobstructed view of the horizon.
-Indulge in Some Donuts-
Glazed Donuts is the place to hit up for your donut fix in Key West. Just be sure to get there early, or they may sell out.
We ordered the Cuban coffee, blueberry cheesecake, and key lime donuts, and they were ridiculously good, with a nice chew. We actually liked the key lime donut better than many of the key lime pies we tried!
-Have Some Beach Time-
Although Key West is not widely touted for its beaches, they do exist there. Our favorite was at Fort Zachary Taylor State Park.
The beach there has fluffy white sand, and is large enough to fit plenty of visitors. It is also in a more natural environment, being removed from the action and traffic of Key West, and has lots of trees for shade.
There are chairs and umbrellas available for rent at Fort Zachary Taylor State Park, as well as a concession stand for snacks and refreshments. Also, this park is an excellent location for watching the sunset. Entry is $6 per vehicle.
-Sunset Sail-
This day will lead up to a sunset sail with Danger Charters at 6:30 p.m. where you will see a sunset like no other.  This is one of the most fun things you could do in Key West. 
During our trip, the water was so still that we couldn't even sail, and the boat had to use its motor.  In these relaxed conditions, the wine was flowing and we ate so many snacks. 
After this, we had a good time at Schooner Wharf.  I simply love this divey seaside spot for its harborside location, stiff drinks, and fried conch fritters. You could just picture the saltiest of sailors enjoying this type of place after being relieved of their duties for the day. 
-Dessert at Better Than Sex-
End your evening with the ultimate indulgent experience at Better Than Sex.  This dessert restaurant makes decadent, downright sinful desserts, such as Man Flowers (dense chocolate stout cake) and Blueberry Birthday Suit (dessert French Toast).
---
Day 7: Key West
Although the sun is starting to set on this Key West trip, we're not quite finished yet. There are still some great places to see before your time in the tropics is done.
-Brunch at Blue Heaven-
You cannot go to Key West without stopping at Blue Heaven for brunch and key lime pie. This colorful place perfectly encompasses Key West with its vibrance, laid back vibes, chickens freely clucking about, and excellent food. I can confirm that both the pineapple pancakes and key lime pie with its tall meringue were winners!
Can't make it for brunch? Blue Heaven is also great for dinner, and accepts limited reservations. They even have live music most nights of the week.
-Harry S. Truman Little White House-
It's time for one more little peak into history before leaving Key West. Although visited by other presidents, this site was most heavily used by President Harry S. Truman as his winter White House throughout his presidency. Truman ultimately spent 172 days here, where he would contemplate the issues of the time following World War II.
Today the Little White House is open every single day of the year for touring. Admission ain't cheap at $22.20 a person, but it's worth it to see Key West beyond just the bars and festivities.
-Watch the Sunset at Mallory Square-
Don't leave Key West without partaking in this nightly tradition that dates back to the late 1960's. Every night, about two hours before sunset, Mallory Square hosts a "Sunset Celebration".
Not only is this an amazing spot to watch the gorgeous orange glow of the sunset over the horizon, but there are also festivities to partake in before the main event. This includes the likes of street performers and local vendors, who add to the energy building up to sunset.
-Grab Dinner-
On your last night in Key West, head to Hank's Hair of the Dog Saloon. This fun outdoor spot features live music, a full bar, and the Garbo's Grill food truck in the back of the property.
Garbo's Grill serves delicious tacos, poke bowls, and their signature lobster roll. If you visit during happy hour (4 pm to 7 pm or 10 pm to midnight) you can sample three of their tacos for just $11.
---
Departure Day
It's time to finally free up the parking spot you've been hoarding, and make your journey back through the Florida Keys to Miami. Depending on how early you need to leave, you may have a little time to sit and eat breakfast before you depart.
If you feel in need of a cleanse after all you've consumed during this trip, the Green Pineapple Cafe is the perfect stop. Their green smoothies and salads will have you feeling good as new!
Have More Time?
If you have another day available to spend in Key West, then I highly recommend a visit to Dry Tortugas National Park. It is uniquely situated seventy miles west of Key West, in the middle of the Gulf of Mexico. The island is a cool place to spend the day at a gorgeous isolated beach and explore historic Fort Jefferson.
You can arrive either by ferry or seaplane. We made our visit via seaplane, and the views couldn't have been more incredible.
• • •
So was that an epic Florida adventure or what? With seeing two such different places as Miami and Key West, this trip is bound to feel like more than a week.
The road trip from Miami to Key West is a unique opportunity to make a driving journey over islands and bridges, with the calmest waters of the Gulf and Atlantic that you'll ever see. It's definitely a trip that is worthy of any bucket list!
Will you be making the memorable drive between Miami and Key West soon?
---
— Update: 01-01-2023 — cohaitungchi.com found an additional article Miami To Key West Road Trip: Driving Across The Florida Keys from the website expertvagabond.com for the keyword miami to key west itinerary.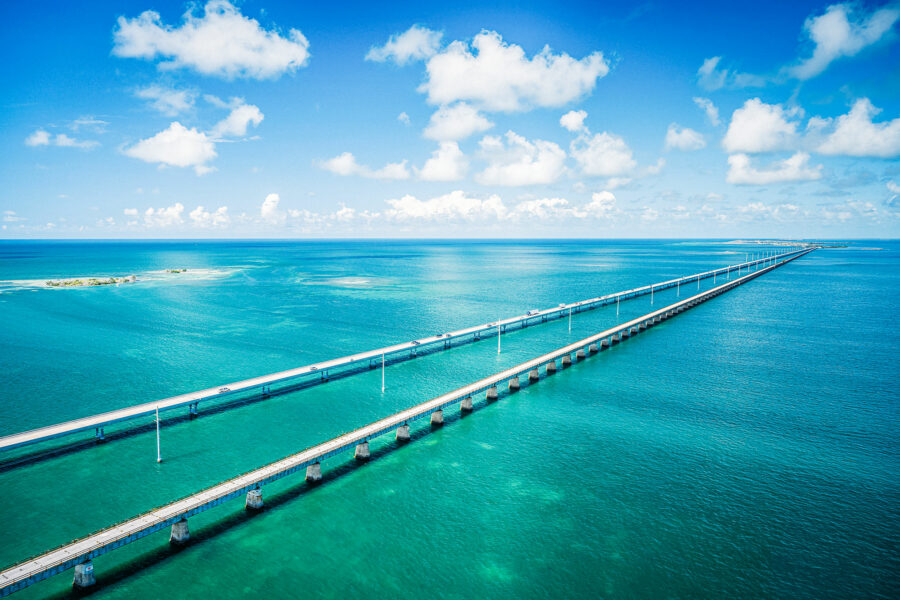 Key West, Florida
Driving from Miami to Key West through the beautiful Florida Keys is a classic American road trip. Here is my example itinerary and driving guide for getting to Key West!
Key West is the Southernmost city in the United States (only 90 miles from Cuba!) and just a 4-hour drive from Miami on the scenic coastal Overseas Highway.
There are tons of interesting (and kitschy) things to do during the 166-mile trip to the Conch Republic, including crossing 42 different bridges!
No visit to South Florida is complete without road-tripping from Miami to Key West for a few days. Especially if you like pirates, key lime pie, water-sports, and great live music!
Here are our favorite things to do while driving from Miami to Key West in the Florida Keys!
My Key West itinerary is completely free! I've worked hard putting it together for you. If you find it useful, please use my affiliate links when you book hotels, rental cars or activities. I'll get paid a small commission, at no extra cost to you! Thanks.
Miami To Key West Map
HOW TO USE THIS MAP: Above you'll find a map of highlights for driving from Miami to Key West. Click on the top left of the map to find separate layers marking the route and points of interest. You can hide and show different layers, or click icons on the map to see the names of places I mention in this travel guide. "Star" the map to save it to your own Google Maps, or open the map in a new window for a larger version. Enjoy!
Key West Road Trip Guide 2022
Getting To Key West From Miami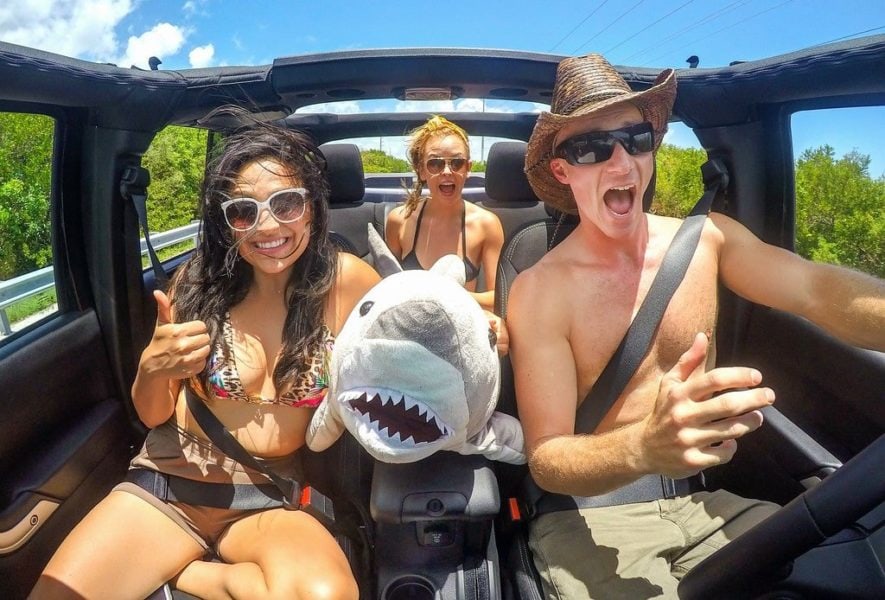 The 135 mile long Miami to Key West drive will take you down through Florida to the first "key" (island) of Key Largo — then across the amazing Overseas Highway through the Florida Keys.

The Florida Keys are split up into the Upper, Middle, and Lower Keys.
They are connected by a series of bridges, making for quite a memorable road trip. The drive itself takes about 3-4 hours, however with all the cool stops along the way, you'll probably want to stretch it out into a 2-3 day drive.
I think the best way to experience driving through the scenic Florida Keys is behind the wheel of a convertible like the Jeep Wrangler we rented from Tons Of Fun Tours.
Drop the top, and enjoy a beautiful coastal drive down to Key West!
Another option is to rent a car with Discover Cars. They search all the big car rental companies and find the best price.
Where To Stop Driving From Miami To Key West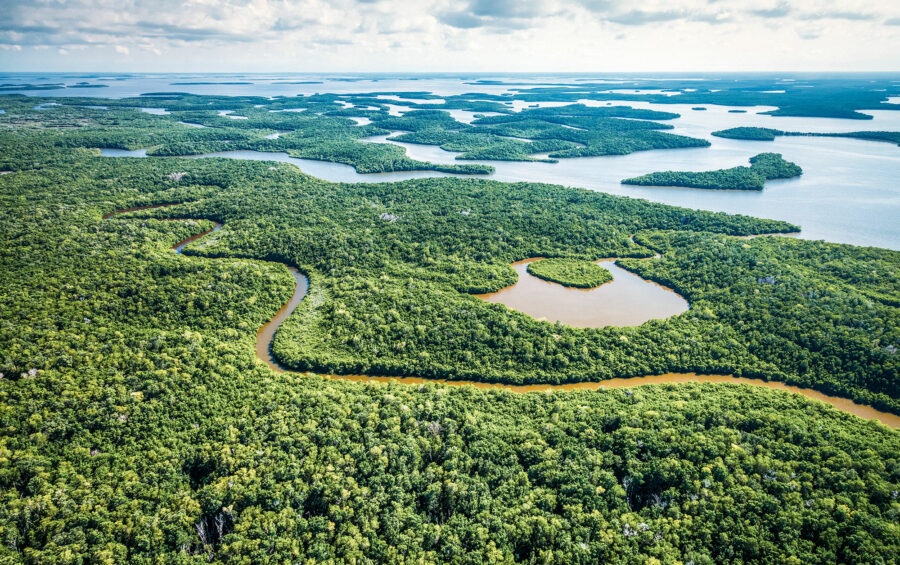 Everglades National Park
While not part of the Florida Keys, you will pass right by Everglades National Park if you're driving from Miami to Key West. I highly recommend stopping through if you have the time! The Ernest F. Coe Visitor Center is located only a few miles away from US Highway 1.
The Everglades is made up of coastal mangroves, marshes and pine flatwoods. It's also home to hundreds of animal species like the endangered leatherback turtle, Florida panther, alligators, and West Indian manatee.
One of my favorite things to do in the Everglades is take an air-boat tour, whipping over the swampland in a fan-powered boat! You'll often get to see alligators on these trips too.
Key Largo Highlights
John Pennekamp Coral Reef State Park
Known as the first underwater state park in the United States, John Pennekamp Coral Reef State Park is made up of both land and sea. Located at Mile Marker 102 on the Overseas Highway, this park is great for spending some time on the beach. Or taking a snorkeling tour for an amazing glimpse of the underwater world.
Renting a canoe or kayak is also possible, along with designated fishing areas. If you aren't a good swimmer, you can also book a glass-bottom boat tour. The visitor's center features some large salt water aquariums full of sea creatures (great for kids).
Islamorada Key Highlights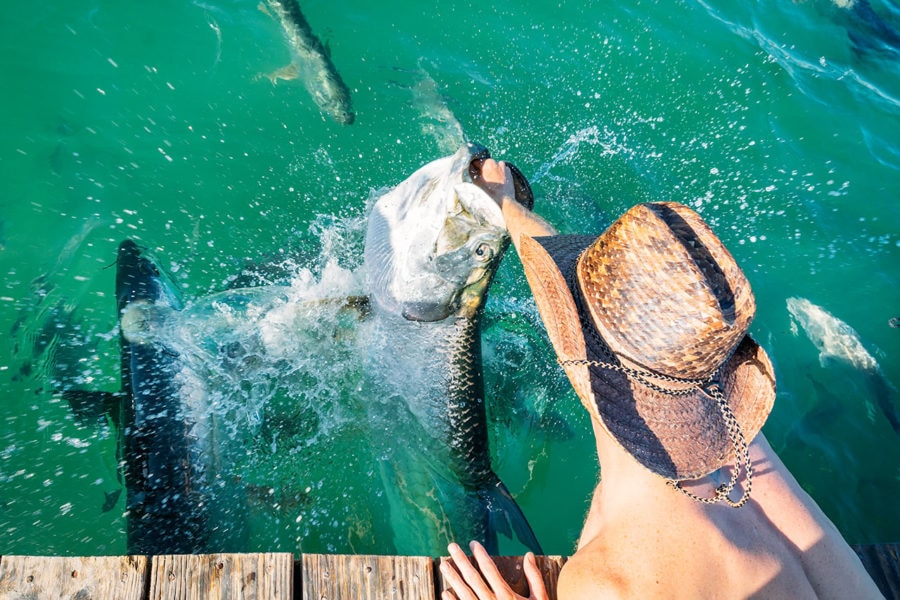 Feed Wild Tarpon At Robbie's
One of the wildest experiences I've ever had was dangling my arm over the side of a dock, when a massive fish leaped out wrapping its mouth around my hand to the horror of screaming onlookers.
Growing up to 8-feet long and weighing over 200 pounds, the Tarpon is a huge game fish that lives in the tropical waters off the Florida Keys.
You can buy a bucket of bait and hand-feed these giant fish from the docks of Robbie's Restaurant on Islamorada Key. Be careful though, they have small teeth that will leave marks!
It's a must-do experience for any road trip from Miami down to Key West.
Marathon Key Highlights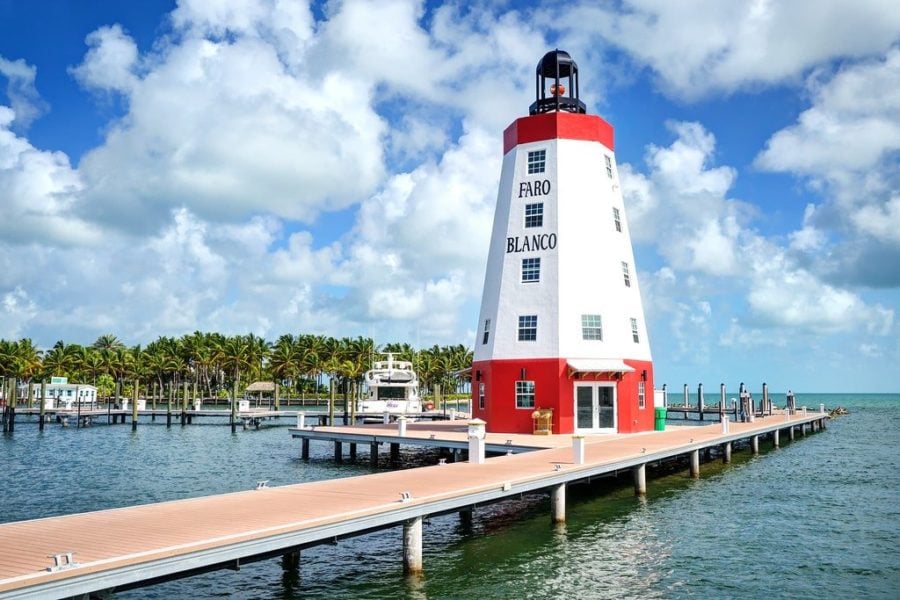 While you could drive directly from Miami to Key West in less than 4 hours, there's a lot of cool stuff to see in the Upper and Middle Keys too.
So I recommend driving down over the course of 2-3 days, maybe spending a night on Marathon Key before continuing to Key West.
That's exactly what we did, booking a room at the beautiful Faro Blanco Resort to break up the drive.
While in Marathon, make sure to grab some lunch at Tarpon Creek Bar & Grill and dinner at the Lighthouse Grill. Both serve up all kinds of tasty fresh fish caught locally.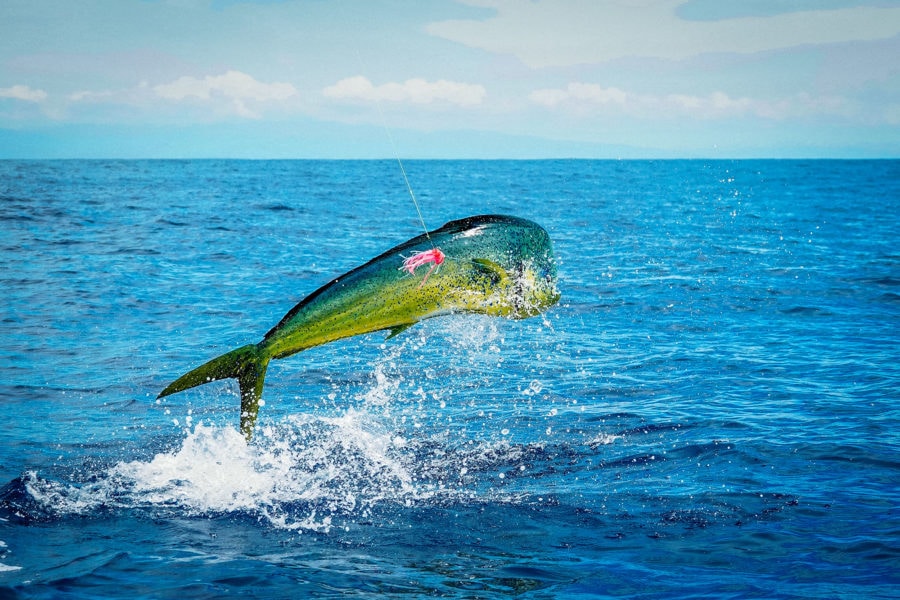 Deep Sea Fishing
The Florida Keys are famous for their excellent deep sea fishing experiences. Many professional fishing shows are filmed down here. September through November is the best time for fishing the Keys, but you can really go any time of year.

Some popular species to fish down here include Mahi-Mahi, Sailfish, Cobia, Blackfin Tuna, Wahoo, and Marlin. You can book a deep-sea fishing trip from any of the Florida Keys, but Marathon Key is the base for many companies, like Sea Dog Charters.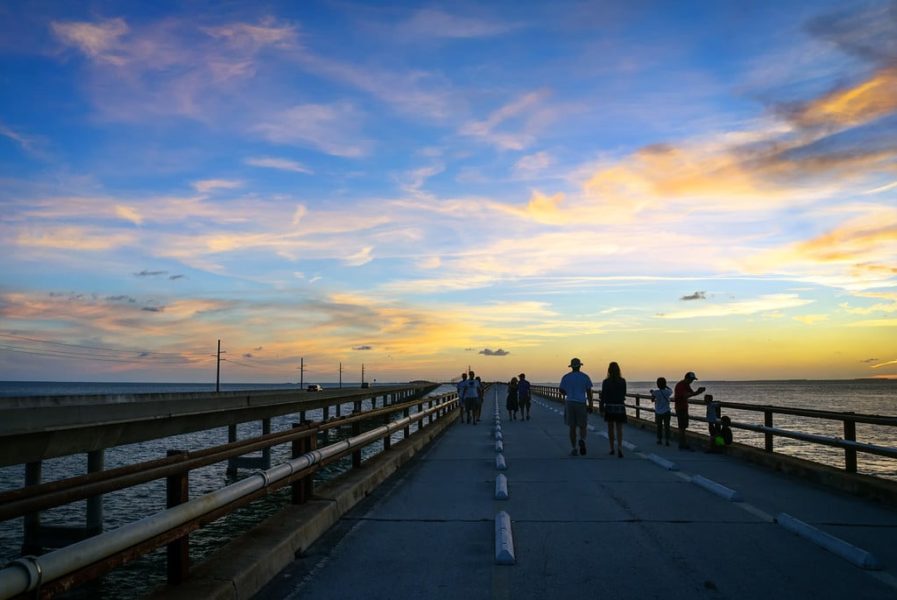 Walk Along Seven Mile Bridge
Driving over the vibrant blue ocean for miles on a bridge that never seems to end was one of my favorite parts of road tripping the Florida Keys.
The Seven Mile Bridge was originally constructed in 1912 for railroad traffic.
These days you drive across it on your way to Key West, or park just north of the bridge at Mile Marker 47 in Marathon Key and go walking or biking over to Pigeon Key along the older span.
Bahia Honda State Park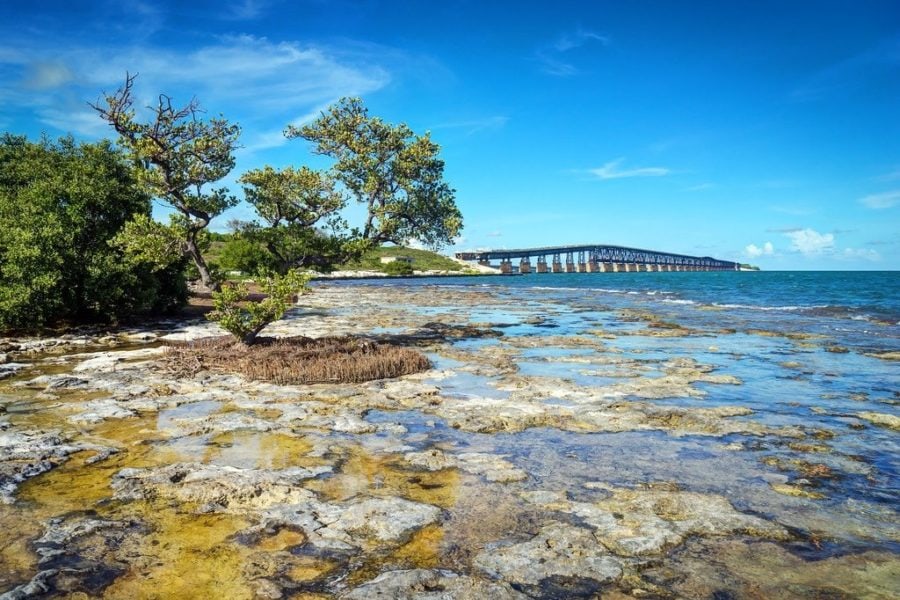 Bahia Honda State Park located on Bahia Honda Key covers over 500 acres as well as an offshore island. It boasts some of the best snorkeling and beach walking in Florida.

Sunbathe or walk along Calusa Beach or the beautiful mile long Sandspur Beach. Marvel at the old Bahia Honda Railroad Bridge. This abandoned bridge was once part of the Overseas Railway, which was mostly destroyed during the Labor Day Hurricane of 1935.
Best Activities To Do In Key West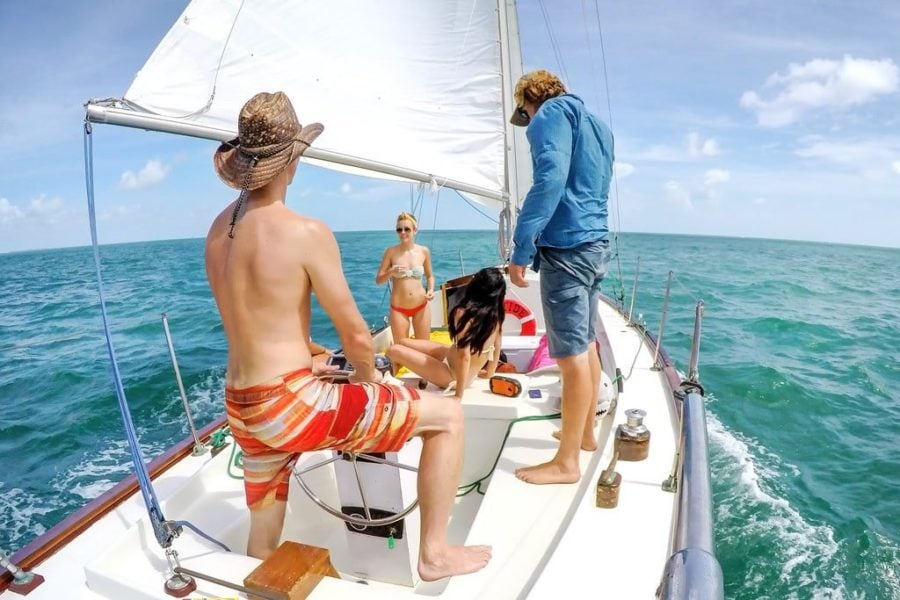 Congratulations! You made it down to Key West from Miami. It's time to spend a few days (or weeks?) hanging out in Key West itself. The famed Conch Republic! So what should you do while you're here? I've got you covered.
Go Sailing For The Day
Gather a few friends and charter a boat for some private sailing lessons like we did. Explore the islands powered only by the wind. Sailing companies in Key West offer day trips, sunset sails, snorkeling trips, and even overnight excursions.
Snorkeling Or Scuba Diving In Key West
Dive into the ocean and swim with sea turtles, nurse sharks, parrot fish, and spiny lobsters on the shallow reefs around Key West. Join a guided boat tour for the best snorkeling offshore, or simply snorkel from Fort Zachary Taylor State Park beach.
Read more The ultimate Miami to Key West drive
Visit Hemingway's House Cats
Ernest Hemingway lived in Key West during the 1920's, and you can visit his old house, and make friends with the 50 or so six-toed cats that live there. The "purfect" activity for crazy cat lovers (like me)!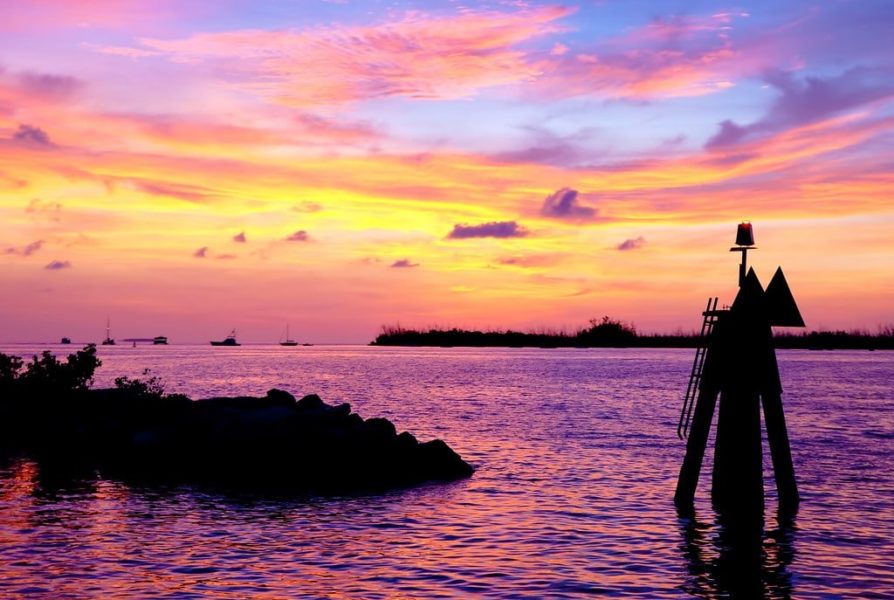 Watch Key West's Epic Sunsets
The sunsets in Key West are some of the best I've ever seen. Grab a beer and watch in awe from Mallory Square as the sun drops below the Gulf of Mexico, painting the sky in brilliant shades of pink, purple, yellow, and orange. Or, head out on a sunset sailing cruise to enjoy a few cocktails from the water!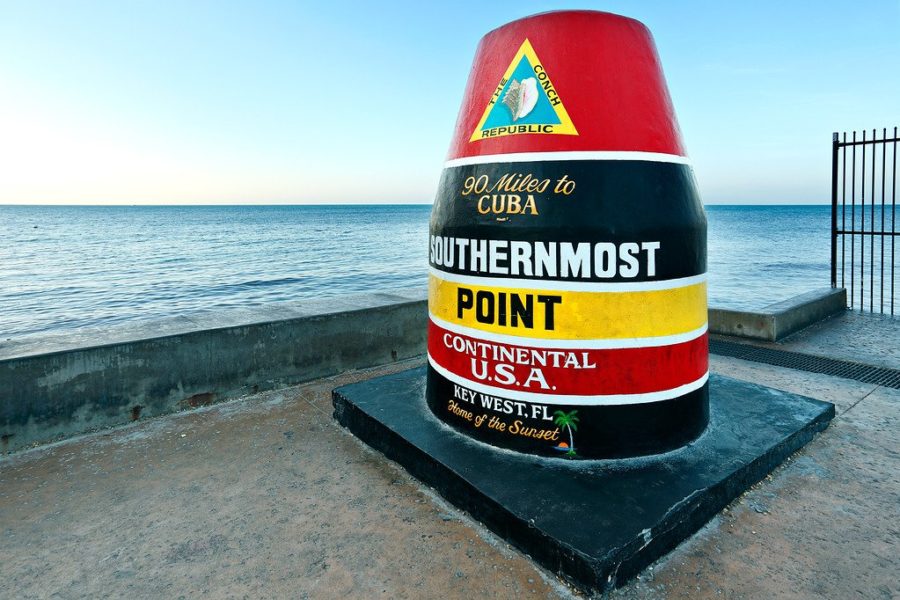 The Southernmost Point Buoy
You can't visit Key West and not stop by the southernmost point in the continental United States, which is marked by a red & white concrete pillar. The line for photos is long unless you get there early in the morning!
Bar Hopping Duval Street
Duval Street may only be a mile long, but it's packed with small bars & old Victorian mansions. Pop in and listen to one of the many live bands playing Jazz, Cuban, or Salsa music. Key West's nightlife is not to be missed!
Don't miss grabbing a drink in some of Key West's most famous bars, like The Green Parrot, Sloppy Joes (a favorite hangout for Ernest Hemingway himself), or the (clothing optional) Garden of Eden!
➜ Read My Full Key West Travel Guide Here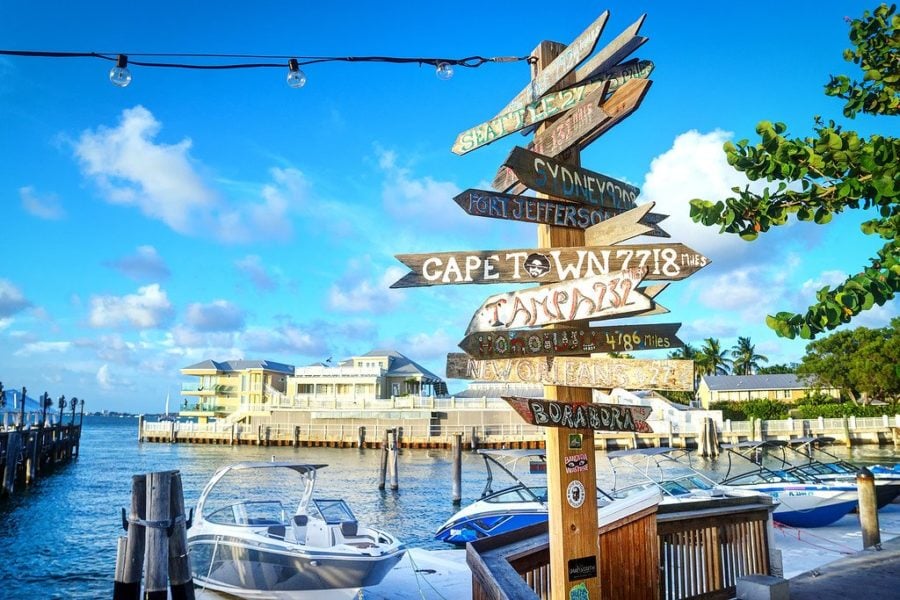 Where To Stay In Key West
Where To Eat In Key West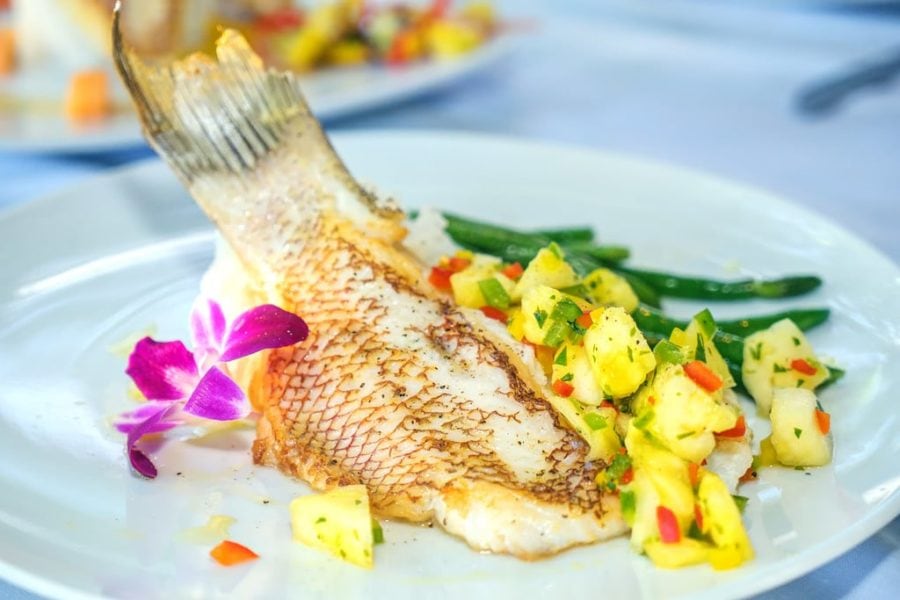 One of the best meals I ate in Key West was at Bagatelle Restaurant, located in a beautiful old building on Duval. Locally caught Hogfish with jasmine rice and pineapple salsa. Yum!
The key lime pie was born in Key West during the early 20th century. It's made using the small key limes native to the area, more flavorful than regular limes. The Key Lime Pie Company makes a good one!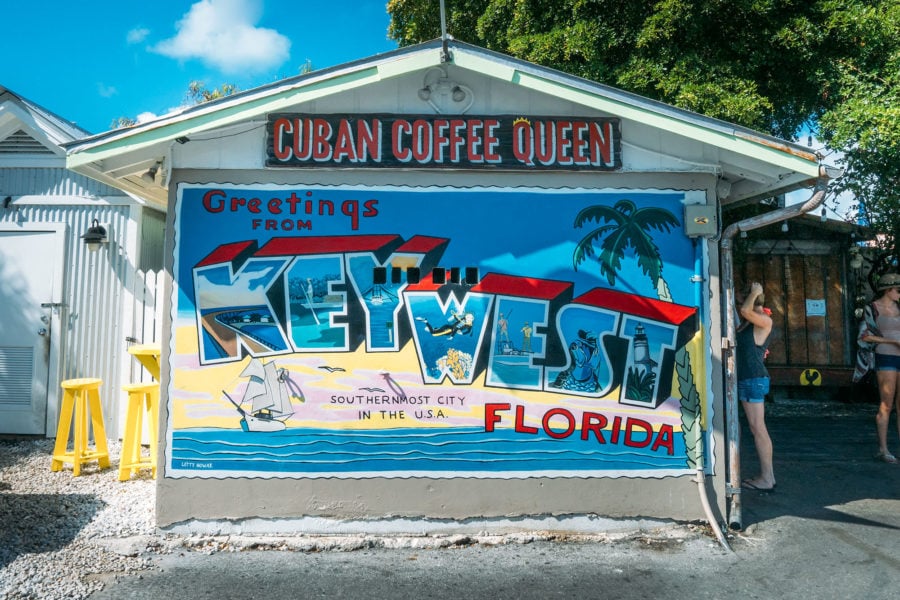 Helpful Key West Travel Tips
The drive from Miami to Key West takes about 4 hours without stopping, however, with all the fun stops at different islands, expect a full day.
To experience the best of the Florida Keys, I'd recommend breaking up your drive down into 2-3 days, spending the night on some other islands too.
Winter is a great time to visit Key West, but it's also high-season and the busiest. The shoulder season of March – May is less packed, hotel rates become reasonable, and the weather is similar.
FAQ: Top Miami To Key West Questions
Travel Planning Resources For Florida
Packing Guide
Check out my travel gear guide to help you start packing for your trip.
Book Your Flight
Ready to fly? Here's how I find the cheapest airline flights.
Rent A Car
Discover Cars is a great site for comparing car prices to find a deal.
Cheap Accommodation
Learn how I save money booking hotels & vacation apartments.
Protect Your Trip
Don't forget travel insurance! Protect yourself from possible injury & theft abroad. Read why you should always carry travel insurance.
---
— Update: 01-01-2023 — cohaitungchi.com found an additional article The ultimate Miami to Key West drive from the website howtobookyourtrip.com for the keyword miami to key west itinerary.
The ultimate Miami to Key West drive takes you through some of the best parts of tropical Florida. After leaving Miami and passing Everglades, you exit the mainland and enter the Overseas Highway. The impressive highway takes you from key to key until you reach the Southernmost Point of both the Miami to Key West road trip and the continental USA.
This travel site can exist thanks to compensation from advertising and affiliate links. Find out more here.
Miami to Key West road trip guide
Highlights on the Miami to Key West itinerary are listed below. You find gorgeous Florida Keys road trip spots in each area along the way.
Start: Miami
Key Largo
Islamorada
Marathon
Lower Keys
Finish: Key West
Total distance: 164 mi / 264 km
Total driving time: 3.5 h
Related reading: Also bookmark our ultimate Florida Keys guide.
1. Miami – The stunning Miami to Key West drive begins
The starting point of the tropical South Florida drive delivers a beachy big city vibe. In Miami you can enjoy white beaches during daytime and party the night away on Ocean Drive until the morning arrives.
But Miami is also a lot more than beautiful beaches and a fun nightlife scene. Little Havana and Wynwood offer versatile cultural experiences, and Everglades is just a short trip away.
Enjoy culture in Little Havana and Wynwood
Little Havana is a great place to increase your understanding for the Cuban heritage in Florida. Maybe the neighborhood even is where the city's real heart is.
In Little Havana, home to many Cuban exiles, you get a taste of old Cuba. Neighborhood highlights include trying Latin American food, listening to live music and, of course, watching games of outdoor domino.
Another Miami neighborhood with a lot of soul is Wynwood. Eye-popping in vivid colors, Wynwood's murals is what once made the area famous.
Nowadays visitors come to Wynwood to stroll around, take in the street art and capture that perfect picture for their social media accounts. A top Instagram place in Miami, the Wynwood neighborhood certainly is a fun place to explore before you take off on the Miami to Key West road trip.
See alligators in the vast Everglades
A visit to South Florida is not complete without a stop to check out the unique wilderness in the Everglades. The area represents the wild and untamed side of Florida, and there are many reasons to visit Everglades.
In the incredibly large wetland you find birds, lizards and alligators. Nature lover or not, it's a must to see the Everglades as you take the Miami to Key West trip.
Exploration of Everglades can be done as a day trip from Miami, or as a stop on the drive from Miami to Key West.
Ernest Coe Visitor Center of the Everglades is just a small detour away on the Miami to Key West road trip. Also close by the Anhinga Trail offers great chances to see alligators in the wild in the Everglades.
Route info: Everglades National Park has as much as five different visitor centers. Among these, Ernest Coe Visitor Center is the most convenient one for the Miami to Key West road trip. The Ernest Coe section of the park, which is its southern portion, is also famous for its alligator-lined trails.
2. Key Largo – The first miles on the famous Overseas Highway
Driving distance: 67 mi / 108 km
Driving time: 1.5 h
Key Largo is the first major upper island of the Florida Keys. As indicated by its name, the island is at 33 miles (53 km) long the largest segment of the Keys.
In Key Largo the famous Overseas Highway and the Florida Keys adventure begins. Water activities are very appreciated all over the Keys, and Key Largo is certainly no exception.
Entering the Overseas Highway on the Miami to Key West drive
From Key Largo the Miami to Key West road trip continues on one of the most spectacular roads in the world, the Overseas Highway.
The Overseas Highway is a breathtaking road that takes you on bridges from key to key until you reach Key West. To enter it from the mainland you can just continue on US Highway 1 until it becomes the Overseas Highway as you're about to reach Key Largo.
As soon as you reach the first key on the Miami to Key West drive you feel that the stress of the mainland disappears. Instead you embrace the laid-back Florida Keys vibe.
A Miami to Key West stop at the first undersea park in the US
John Pennekamp Coral Reef State Park is known as the first undersea park in the United States. It's an exciting place for a stop on the drive from Miami to Key West.
In the park you really get to see how rich the Keys are in natural beauty. The park is home to coral reefs and an impressive marine life.
At John Pennekamp you can explore the corals from a glass-bottom boat, or by diving and snorkeling. So it's totally up to you how active you want to be when you visit on the Miami to Key West road trip. If you don't want to, you don't even need to dip your feet in the water when you explore John Pennekamp Coral Reef State Park.
Peaceful time on quiet canals with the African Queen
Another nice way to explore the waters of the Florida Keys and to learn some movie history on the Miami to Key West trip is to take the African Queen on the canals. The steamboat got famous through the 1951 movie with the same name with stars such as Katherine Hepburn and Humphrey Bogart.
The African Queen canal trip is extra interesting if you have seen the movie. But even if you haven't seen it, the boat tour is a pleasant stop to make on the Miami to Key West itinerary. The Key Largo canals are incredibly peaceful.
Where to stay
It's early on the Miami to Key West road trip but you find some quintessential lodging already in Key Largo. The stunning Key Largo resorts show that you don't need to go deep into the Florida Keys to find some real gems.
3. Islamorada – Going deeper into the Florida Keys on the Miami to Key West road trip
Driving distance: 17 mi / 27 km
Driving time: 0.5 h
After a first taste of Florida Keys in Key Largo the road trip from Miami to Key West continues further down in the Keys. It's time to explore the fun things to do in Islamorada as you travel from Miami to Key West.
Islamorada is packed with opportunities to fully take in the beautiful environment of the Florida Keys. The area is known as the sport-fishing capital of the world, and water activities are in abundance.
Explore the forgotten Indian Key
The Indian Key Historic State Park is a unique stop on the drive from Miami to Key West. The state park is located within sight of the Overseas Highway. However, it's offshore and only accessible by boat when visiting on the Miami to Key West journey.
Indian Key has a rich past and it in 1836 even became the first county seat of Dade County. Wrecking ships was big business, and the founders wanted to compete with Key West.
In the end it didn't work out for them, and a long time has passed since anyone lived on the key. But a visit to the island is both historically interesting and a great chance to see some exceptional marine life on the Miami to Key West road trip.
Fish feeding at Robbie's when driving from Miami to KW
Another option on the drive from Miami to Key West is to go to Robbie's.
People from all around the world go to Robbie's for the opportunity to feed tarpons. The place has become like an institution along the Overseas Highway in Florida Keys.
The massive silver giants wait at Robbie's dock for food. And they aren't shy when you dangle fish on the surface. The tarpons love to snatch it out of your hands, and down in their stomachs it goes.
Where to stay
Islamorada is halfway from Miami and a superb base on the Miami to Key West road trip. You can't stay on Indian Key nowadays, but there's plenty of tempting Islamorada lodging to choose from.
Isn't this Miami to Key West road trip pretty? Its tropical ocean views makes it one of the best road trips in the USA.
4. Marathon – The Miami to Key West drive reaches the heart of Florida Keys
Driving distance: 30 mi / 48 km
Driving time: 0.5 h
As you leave Islamorada, you have passed the halfway point between Miami and Key West. In Marathon you're instead about halfway to Key West from the start of the Overseas Highway.
When the Florida Keys Overseas Railroad was built in the early 1900s, the stakes were high and the efforts put in by the workers enormous. They worked day and night to finish the project on schedule.
As they worked the men said that "this is getting to be a real marathon". Hence the name for the local station and later city was born.
Relax on Sombrero Beach on the Miami to KW road trip
It's almost impossible to not long for a beach to relax on when you travel from Miami to Key West in the endless summer season of Florida Keys. And in Marathon find one of the most popular beaches in the Florida Keys, Sombrero Beach.
At Sombrero Beach you find a sandy shoreline, calm waters and palm trees that give shade for the moments when the direct sun feels too strong. The beach with its shallow water is ideal for a day of unwinding, sunbathing, swimming and snorkeling on the Miami to Key West road trip.
A turtle sanctuary in the heart of the Keys
From April to October it's nesting season in the Keys for loggerhead turtles. Turtles just love the warm Florida waters.
On the Miami to Key West road trip a great way to learn more about them is to visit Florida Keys Turtle Hospital in Marathon. The turtle hospital rehabilitates injured sea turtles and return them to their natural habitat.
If you book a guided tour, you get to learn about turtles and the hospital's efforts to save them. A visit is a rewarding experience both for adults and younger travelers on a Miami to Key West family road trip.
Where to stay
The heart of Florida Keys is a true island oasis. Marathon has a lot of great places to stay to really make the most of the time in the central Florida Keys area.
5. Big Pine Key – Lazy days in the Lower Keys on the Miami to Key West road trip
Driving distance: 21 mi / 34 km
Driving time: 0.5 h
Now the Miami to Key West road trip is getting really deep into the Florida Keys. The Lower Keys is the area of the Keys after the Seven Mile Bridge. That includes every key from Bahia Honda Key and Big Pine Key until you reach Key West.
Another great beach stop on the drive from Miami to Key West
Spending time in Florida Keys is as much about unwinding as it is about seeing things.
Sombrero Beach higher up in the Keys is always mentioned as one of the best beaches in the Florida Keys. Another famous beach not to miss on the Miami to Key West road trip is located in the Lower Keys, Bahia Honda Beach.
In Bahia Honda State Park you find a picturesque beach for perfect days in the sun.
The beach is beautiful with crystal clear water and lots of shoreline to explore. In addition its shallow water also makes it a great place to stop for families on the Miami to Key West drive.
A heaven for the tiny Key Deer in Big Pine Key
On Big Pine Key you find the National Key Deer Refuge. It has been established to protect the local Key Deer and other wildlife in the Florida Keys. It's a fun place to visit on the Miami to Key West road trip for anyone who likes nature and animals.
The Key Deer is the tiniest member of the North American white-tailed deer family. So you might be surprised about how small it is. The refuge is about 9,000 acres and there the tiny deer lives side by side with other species, such as the Lower Key marsh rabbit and the silver rice rat.
Where to stay
The Lower Keys area is quiet and certainly far away from the buzz. But that just makes it the the most perfect place to unwind before you reach the quirky Key West.
6. Key West – The quirky end of the spectacular Overseas Highway
Driving distance: 29 mi / 47 km
Driving time: 0.5 h
After an impressive road trip on the Overseas Highway it's time to round off the journey. In Key West not only does the Overseas Highway end but also the continental United States.
Ernest Hemingway called Key West his home for some of the most fruitful time of his writing career. When you visit the island on the Miami to Key West road trip, it's easy to fall in love with the place. It's one of the most unique Florida Islands.
Key West is famous for its endless summer, sunset celebrations and unique quirky vibe. In Old Town of Key West you have the best of times. And most of the best things to do in Key West are centered around the two main streets, Duval and Whitehead Street.
Explore Duval and celebrate on Mallory Square
Duval Street is packed with fun stores, tasty restaurants and bars that can cool you off even on the hottest of Florida days. When you arrive at Duval on the Miami to Key West road trip, you are guaranteed to find something to do.
A popular place to visit is the Key West Butterfly and Nature Conservatory. There you are welcome to walk in a garden full of butterflies. It's peaceful, fun and educational. It's a great stop no matter if you travel solo, as a couple or take a family road trip from Miami to Key West.
And don't forget that in Key West every day ends with sunset celebration on Mallory Square. As the sun starts to set on the horizon, hundreds of people gather and quirkily celebrate the sunset.
Finish the Miami to Key West drive with slower pace on Whitehead Street
Next to Duval on Whitehead Street you find a much slower pace. There the setting is ideal to indulge in Key West history at the Ernest Hemingway Key West House and Key West Lighthouse & Keeper's Quarters Museum.
Read more How Long Does It Take to Break a Habit? 5 Tips and Tricks
More iconic places and splendid photo opportunities on Whitehead Street are Mile Marker 0 and the Southernmost Point. The latter marks out the Southernmost Point of the continental United States. Both are perfect spots to round off your amazing Miami to Key West drive.
Where to stay
After a scenic Miami to Key West road trip it's nice to not have to rely on your car for a while. From Key West hotels in Old Town you have most attractions and things to do within walking distance.
Additional stops: If you want to extend the road trip, you can start in Orlando instead of Miami. That way you make it an Orlando to Key West road trip and get to see some more of the beautiful South Florida.
Miami to Key West road trip hotel search
Use the booking tool below to find the perfect places to stay for your road trip from Miami to Key West. Browse the map for options in various areas, or click on the search button to start with hotels in Miami.
The ultimate Miami to Key West drive FAQ
Here you find the answers to some frequently asked questions about the drive from Miami to Key West.
---
— Update: 01-01-2023 — cohaitungchi.com found an additional article 6 Day Florida Keys Itinerary: Guide for an Epic Miami to Key West Drive from the website nytoanywhere.com for the keyword miami to key west itinerary.
A girl's getaway is good for the soul. Whether it's with your mom, sister or your besties there's nothing like a good spa break or road trip to enjoy some quality time together.  This was my first time to The Florida Keys and I'm so happy I got to enjoy the incredible Miami to Key West drive.  Keep reading for my 6 Day Florida Keys Itinerary!
The ease of the Florida Keys
There are many things I loved about Key West and the other Keys. In addition to the obvious; blue water, delicious seafood and amazing resorts, there's also the fact that no passport is required, no exchanging money or calling your bank and no language barrier.
If you want somewhere to just relax hassle free this is the place! It's even better that the Keys are so close to Miami. It makes for an easy addition to your city trip.
Where are the Keys?
The Florida Keys are a coral cay archipelago on the south tip of Florida, only 90 miles from Cuba. You can actually visit the Southern most point in the continental U.S. in Key West.
The Florida Keys are an easy hour's drive from Miami.
Is it Worth Driving from Miami to Key West, Fl?
Of course!! The Overseas Highway, which is the major road that runs through the Keys,  was named an All-American Road by the National Scenic Byways program administered by the Federal Highway Administration. This is one of the most amazing U.S. road trips you can do.
There are plenty of fun and beautiful stops along this epic drive between Miami and Key West and the driving itself  felt pretty laid back.
Florida Keys Facts
From Miami Airport to the start of the Keys is about 55 miles.
The Keys stretch across 125 miles.
Distance between Miami International Airport and Key West is about 110 miles.
Key Largo is the longest key at 30 miles.
The climate is warm year round. 
5 Main regions of the Keys : Key Largo, Islamorada, Marathon, Big Pine and the Lower Keys, and Key West.
The Overseas Highway also known as, "the Highway that goes to the Sea" is the main way to get around the Keys. It's 113 miles long and consists of 42 bridges.
When is the Best Time to Visit ?
Winter, December-February, is the busiest season, so plan accordingly. Prices will be at their peak.
Between March and May is a great time because it is shoulder season and you can take advantage of less crowds and discounted rates.
Summer, June-August is rainy season.
September- November is hurricane season so it may not be worth the risk of bad weather.
Miami to Key West Drive Map
6 Day Florida Keys Itinerary : Miami to Key West Drive
Day 1. Start off by flying into Miami Airport and pick up your rental car.
I usually book with Rentalcars.com. Remember to have all required paperwork. Check with your credit card company if you have car insurance included with your card or if you'll need to pay extra.
It's a few hours drive all the way down to Key West from Miami so make sure you have a good road trip playlist ready to go! You'll get to cross over multiple bridges including the famous 7 Mile Bridge which is the perfect way to start of your Florida Keys trip.
Stop 1: Seven Mile Bridge in Marathon Key
Location: Marathon Key, Mile marker 47-40
When driving over the Seven Mile Bridge, you'll cross over plenty of blue water and you'll also notice another bridge next to it.
You are driving over the modern bridge by car, while the old one is now used for biking and pedestrians only.  Currently though, the old bridge is closed for repairs and is set to re open by 2022.
Stop 2: Seafood Lunch at Sundowners
Address: 103900 Overseas Hwy, Key Largo, FL 33037
On the way, stop for lunch at Sundowners in Key Largo for some seafood and views of the Florida Bay. It's about an hour from the airport, which is pretty much the max time I can go without eating, especially post flight. If you know me at all you will know that I need to eat about every 3 hours so it was ideal to have a nice place to stop!
Stop 3: Check into Ocean's Edge Resort and Spa
Address: 950 Peninsular Ave, Key West, FL 33040
Continue on your drive to Key West for a couple more hours. You'll be very happy when you check into Oceans Edge Resort and Marina, a luxury resort where every single room has an ocean view.
Ocean's edge is completely with 7 heated pools overlooking the marina.  By the time we checked in and settled into our very spacious suite, the magical sunset had begun and it was amazing to see it dance over the boats.
Stop 4: Dinner at Matt's Stock Island Kitchen
Address: 7001 Shrimp Rd Suite 200, Key West, FL 33040
Eat dinner at the nearby Matt's Stock Island Kitchen located at the Perry Hotel in Key West. The food here was right up my alley, quality food made with the freshest ingredients.
To start, make sure you order the Admiral Tower, a seafood sampler which comes served in a tackle box!
Day 2. Water adventures in Key West
Stop 1: Breakfast at Blue Heaven
Address: 729 Thomas St, Key West, FL 33040
Head into downtown Key West to eat breakfast at Blue Heaven. (we were lucky to get a parking spot pretty easily-few are available, so plan accordingly) Who couldn't love an al fresco breakfast under colourful canopies with a live band to ease you into the day?!
I obviously had to order the shrimp benedict with lime hollandaise because I can certainly say I never had that before and it was delicious!
Stop 2: A day with Fury Water Adventures
Address: 0 Duval St, Key West, FL 33040
Did you know that just a few miles off Key West is the third largest coral barrier reef in the world?!  Yep, its true! We got to check it out during our Reef and Ritas Snorkel excursion with Fury Water Adventures. So do exactly as it says, see the only living coral reef in the U.S.A. (no big deal, right?) then come back to the boat to sun yourself on the top deck while enjoying your ritas. 🙂
Stop 3: Enjoy the Key West Sunset Celebration
Address: Mallory Square Pier, 420 Wall St, Key West, FL 33040
A must do while in Key West in the Sunset Celebration. Mallory Square Sunset street Carnival is a nightly event.  Everyone who's everyone comes together to applaud mother nature for her marvellous efforts.
Day 3. Spend the Day in Downtown Key West.
Stop 1: Breakfast at Kermit's Cafe Kitchen.
Location: 200 Elizabeth St, Key West, FL 33040
Grab a light breakfast at Kermit's Cafe Kitchen.
Stop 2: Things to do in Key West.
Take the day to explore what Key West has to offer. There is plenty to see and do in Key West, here are some of the top things to do:
1.The Key West Butterfly and Nature Conservatory
Address: 1316 Duval St, Key West
Check out over 50 different species of butterflies in a controlled climate glass house. Open from 9am-5pm daily. $15 entrance fee.
2. Ernest Hemingway Home and Museum
Address: 907 Whitehead St, Key West
Explore the historic home and gardens of Nobel Prize winning author, Ernest Hemingway. His cat's decendents still live on the property!
3. Go shopping or bar hopping on Duval Street.
There are so many fun bars, including lots of open air ones. Definitely try one of the rum cocktails! The Rum Bar, Captain Tony's Saloon, Alonzo's,  or the Green Parrot are some of your top options.
4. Admire beautiful homes throughout the downtown area.
Southern style homes in the downtown area are eye catching, intriguing and exude southern charm. There are lots of historic homes to see and learn about owned by famous playlists and artists.
5. Visit the Southernmost Point Buoy.
Location: Whitehead St &, South St, Key West
A concrete buoy marking the the Southernmost Point in the continental U.S. A popular tourist photo spot!
6. Strand Theatre
Address: 527 Duval Street, Key West
A theater from the 1920s turned into a store that has many of it's historic theater elements preserved.
7. Check out the Key West Lighthouse.
Address: 938 Whitehead St, Key West
Climb to the top of the 88 steps of the lighthouse turned maritime museum.  $12 admission fee.
8. Visit a Rum Distillery.
Rum is the drink of choice down in the Keys, with it's close proximity to the Caribbean and handful of local distilleries.
Key West Distilling
Papa's Pilar Rum Distillery, Hemingway Rum Company – Experience a distillery tour and all of the all the classic rum cocktails including a Hemingway Daquiri or Old Fashioned.
Key West First Legal Rum Distillery – Daily distillery tours and tastings. Must try to the Mojito!
9. Ride a floating Tiki Bar.
Cruisin' Tikis Key West leaves from Schooner Wharf Bar in Key West, Hurricane Hole Marina or Mellow Ventures. This cruise is BYOB so you choose and bring your own booze while ice cups are provided.
10. Visit the Harry S. Truman Little White House.
Address: 11 Front St, Key West
Florida's only presidential museum. Entry fee of $22. Purchase online for a discounted rate.
Stop 3: Sunset Sail with Danger Charters
Location: 255 Front St, Key West, FL 33040
Get ready for a wonderful evening with Danger Charters Wind and Wine Sunset Sail. This might have been my favorite activity of the entire trip (no surprise there, as I'm a self proclaimed foodie and wino so this is top of my list for what to do in the Florida Keys).
The boat cruise leaves from Front Street and takes you out to enjoy the sunset with lovely wines, passed hors d'oeuvres and good people.
Stop 4: Spend the Evening in Key West Downtown
After the boat cruise pop over to Turtle Kraals and bet your luck on a turtle race! I don't see you'll see this kind of race anywhere else. It's a great laugh to share with your friends.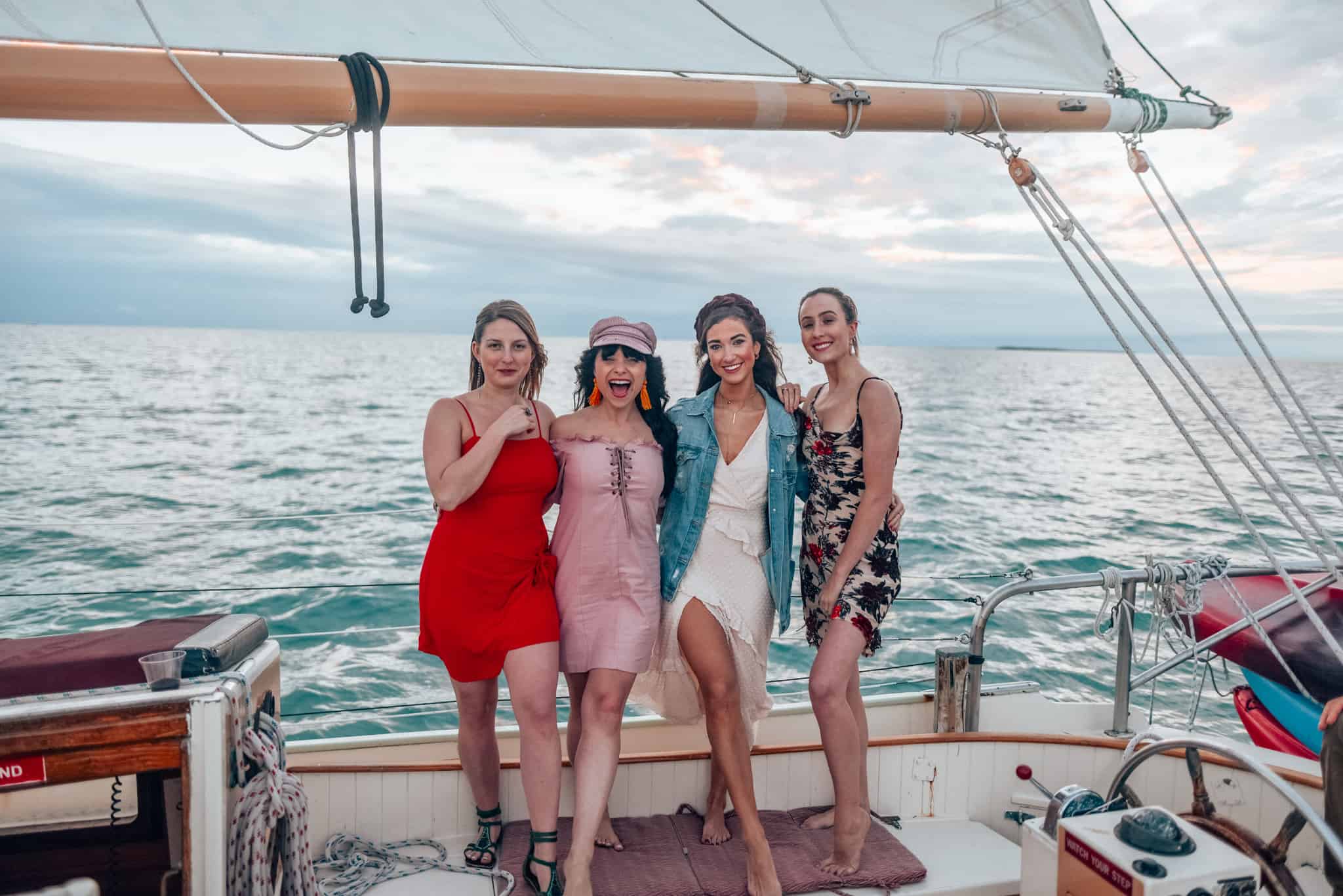 Day 4. Bahia Honda State Park + Drive to the Upper Keys
Stop 1: Check out of Ocean's Edge and drive to Bahia Honda
Address: 36850 Overseas Hwy, Big Pine Key, FL 33043
Time to check out of Ocean's Edge Resort and begin your drive to the Upper Keys. Don't pass by without stopping at Bahia Honda State Park for some gorgeous photos and a quick tanning session!
Bahia Honda State Park is located right off the Overseas highway. There is an $8 fee per vehicle and the park is open from 8am to sundown every day.
Stop 2: Lunch at Robbie's Marina
Address: 77522 Overseas Hwy, Islamorada, FL 33036, Mile marker 77
When you start to get that hunger pang you can stop for lunch at the famous Robbie's Marina to sip on a cocktail, feed the tarpons, shop and grab "a bite."
Stop 3: Check in to Amara Cay Resort
Address: 80001 Overseas Hwy, Islamorada, FL 33036, Mile marker 80
Check in to Amara Cay Resort and marvel at the palm tree lined property. I had a delicious strawberry mojito while I looked around the property.  Enjoy water sports, fire pits, games and the fitness centre, even a shuttle anywhere within a 4 mile radius, all of which is included at the resort.
Day 5. Ultimate Spa Day + Brewery Tour
Stop 1: Breakfast at Key Largo Conch House
Address: 100211 Overseas Hwy, Key Largo, FL 33037 , Mile marker 100
Breakfast at Key Largo Conch House. I had the crab eggs Benedict, an almond milk latte and a fresh orange juice. Can the day start any better?
Stop 2: Spa Day
Address: 97450 Overseas Hwy, Key Largo, FL 33037
No girls getaway is complete without a spa day. Book yourself a treatment at Playa Largo Resort and Spa. Enjoy the gorgeous ocean front pool. This place will not disappoint. I had the best facial of my life here. Post treatment in the quiet area we enjoyed a glass of bubbly and a yummy snack plate.
Stop 3: Brewery Tour
Address:81611 Old Hwy, Islamorada, FL 33036, Mile marker 81
Spends the afternoon learning a little something at the Florida Keys Brewing Co.  They can give you a tour of the brewery and then you can enjoy the fruits of their labor. So many different kinds of beer to try and definitely some ones you've never heard of. I kid you not, this was the most Instagrammable brewery I have ever seen. They're all about using tropical flowers and plants in their beer, like in their hibiscus beer which is a perfect color pink.
Stop 4: Dinner at Marker 88
Address: 88000 Overseas Hwy, Islamorada, FL 33036, Mile Marker 88
For the final seafood feast eat at Marker 88. An Oceanfront outdoor dining restaurant with friendly staff and perfect sunset watching location.
Day 6. Check out
 Check out + Enjoy your last hours in the sun.
Address: 84001 Overseas Hwy, Islamorada, FL 33036, Mile marker 84
Sadly, today is when you check out of Amara Cay Resort. However, you can conveniently stop on your way to the airport and use the pool at their sister property, Postcard Inn.
Their pool is amazing and you can enjoy a drink at their Tiki Bar knowns for the famous Rum Runner drink. A great way to end your Florida Keys itinerary.
Other places to stop on Miami to Key West Drive Itinerary
Dry Tortugas National Park
Located about 70 miles west and Key West lie the Dry Tortugas, a cluster of seven islands. You can get their via a 45 minute flight on a seaplane. You'll see plenty of wildlife like sea turtles and dolphins as well as one of the largest coastal forts ever built, Fort Jefferson.
John Pennekamp Coral Reef State Park
The first undersea park in the U.S. Take in the underwater wonders by glass boat, scuba diving or snorkeling. The park is about 25 miles long.
National Key Deer Refuge
Key Deer are a unique species to the lower Florida Keys. The over 8000 acre refuge is located in Big Pine Key and No Name Key.
Dolphin Research Center
A non profit organization aiming for peaceful coexistance with marine animals. Sit in on behavior sessions and even go swimming with the dolphins!
Turtle Hospital
Meet current patients and permanent residents at the Turtle Hospital and rehab center located in Marathon. Educational programs run daily.
Everglades National Park
A National Park that is also a World Heritage Site, International Biosphere Reserve, and a Wetland of International Importance. Explore the park with a guide or on your own. Entrance fee is $30 per vehicle. Boating, biking or hiking are just a few of the activities you can do here.
Southern Glades
Southern Glades Wildlife and Environmental Area is popular for biking and hiking. The glades lie just off the Overseas Highway in Miami-Dade County.
Biscayne National Park
Biscayne Bay National Park is located in the northern Florida Keys and is the largest marine park in the U.S.A. If you want to explore the reefs and islands of this National Park you'll have to go by boat. See a shipwreck, visit one of the world's largest lagoons or go kayaking.
Where to Stay in the Florida Keys
There are so many beautiful properties to choose from in the Florida Keys, many of which have waterfront real estate. During my time in the Keys,  I had the chance to check out Ocean's Edge Resort, The Postcard Inn, Amara Cay Resort and Playa Largo Resort.  Each one of these hotels had some amazing features.
Ocean's Edge Resort and Marina (Key West) –  You really can't go wrong at this hotel considering every room has a view of. the marina. Beautiful sunrises and sunsets each night. Choose to watch from your room or from one of the heated pools.
Gardens Hotel (Key West) – A pet and eco friendly hotel in the heart of Key West!
Sunset Keys Cottages (Sunset Key) –  Conde Nast Traveler 2020 Readers Choice Awards. One to four bedroom luxury cottages on this intimate Key. Boat transportation brings you between the pier and the cottages.
Casa Marina (Key West) – A Waldorf Astoria Resort with plenty of outside space and ocean views.
Hawks Cay Resort (Duck Key) – A classic family friendly resort.
Playa Largo Resort and Spa (Islamorada) – A stunning property with a private beach and exquisite spa facilities.
Cheeca Lodge & Spa (Islamorada) – A luxury resort on the key of Islamorada.
Amara Cay Resort (Islamorada) – A small boutique property on the
Little Palm Island Resort and Spa (Little Torch Key) This resort is located on it's own private island.
How to get to Key West from Miami if you don't want to drive.
Bus
Greyhound Bus – One way for under $20.
Shuttle
Keys Shuttle – Pick ups from both Miami International and Fort Lauderdale Airport.
Miami to Key West Shuttle – Round trip for as low as $29.99. Pick ups on Collins Ave and a few other locations in Miami.
Cruise
Norwegian Cruise
Royal Caribbean
Carnival Cruise
Ferry from San Marco Island or Fort Myers Only
Many thanks to the Florida Keys Tourism Board for sponsoring this post and for all the businesses along the way. As always all opinions are my own.
References