The country's oldest city, pet friendly St. Augustine, offers beaches, historic sites, and dozens of dog-welcoming restaurant patios. It's worth visiting many times in different seasons to experience everything it offers to pet travelers.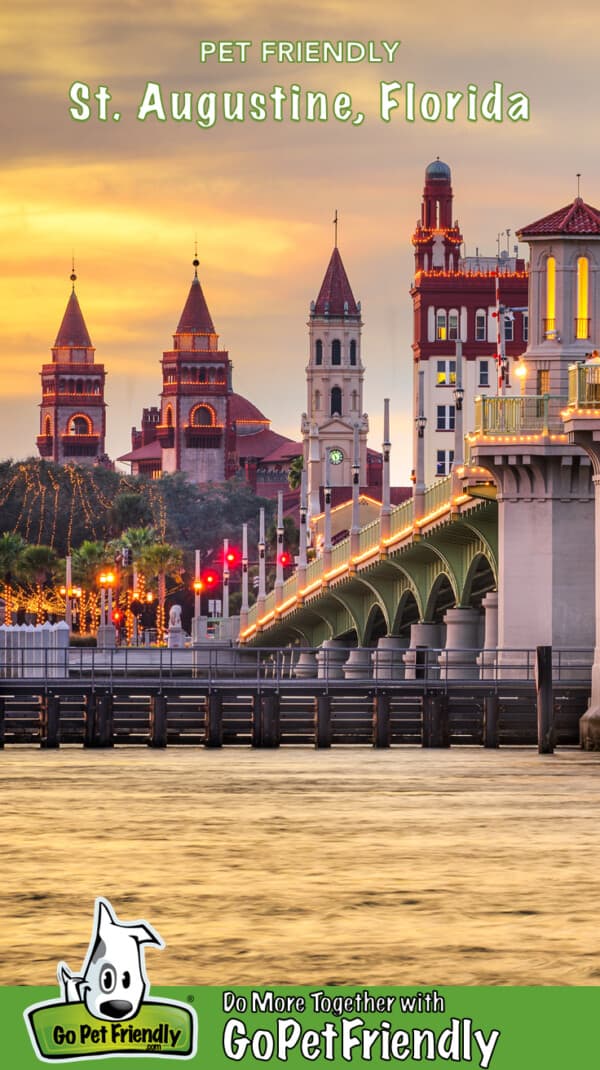 Whether you prefer hiking, boating, walking, or just hanging out and watching people, pet friendly St. Augustine offers visitors with pets plenty of activities to enjoy together. I have visited four times with my dog, Honey, and we have never run out of things to do!
Take A Pet Friendly Tour
Perhaps the best way to start your visit is by taking a tour.
St. Augustine is a small city. But its wealth of pet friendly activities means you run the risk of running out of vacation time before running out of things to do. Why not start by taking a tour to get familiar with all the town has to offer? 
Explore St. Augustine on foot, by bus, or by boat. You might even meet spooky specters on one of the city's haunted tours.
Touring St. Augustine By Boat Or Bus
Scenic Cruises of St. Augustine offers 75-minute, narrated tours up to 5 times a day during most of the year. Tours leave the St. Augustine marina, just south of the Bridge of Lions. Your dog is welcome aboard the boat, but you must keep them on a leash.
READ MORE ⇒ 5 Questions To Ask BEFORE Taking A Dog On A Boat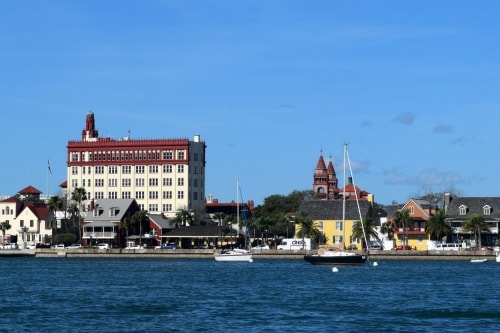 Or you can enjoy a variety of private and public nature tours through St. Augustine Eco Tours. Make your reservation in advance and let them know you would like to bring your polite pup. Tour routes vary each day to give you the best chance of seeing manatees, dolphins, turtles, or other sea creatures.
Another option are the open-air Red Train Tours which leave from the pet friendly Ripley's Believe It or Not Museum. Your small pet is welcome to join you on tours, as long has he sits on your lap.
Pet Friendly Walking Tours In St. Augustine
St. Augustine Historic Tours offers a variety of options to explore the city on foot. Their popular Conquistatour welcomes polite pets to join you. But they also occasionally offer specialty tours with dogs in mind.
Past tours included their "Bone Appetit Pet Friendly Food Tour" or the "St. Augustine Pup Crawl." So check their website to see new tours they offer.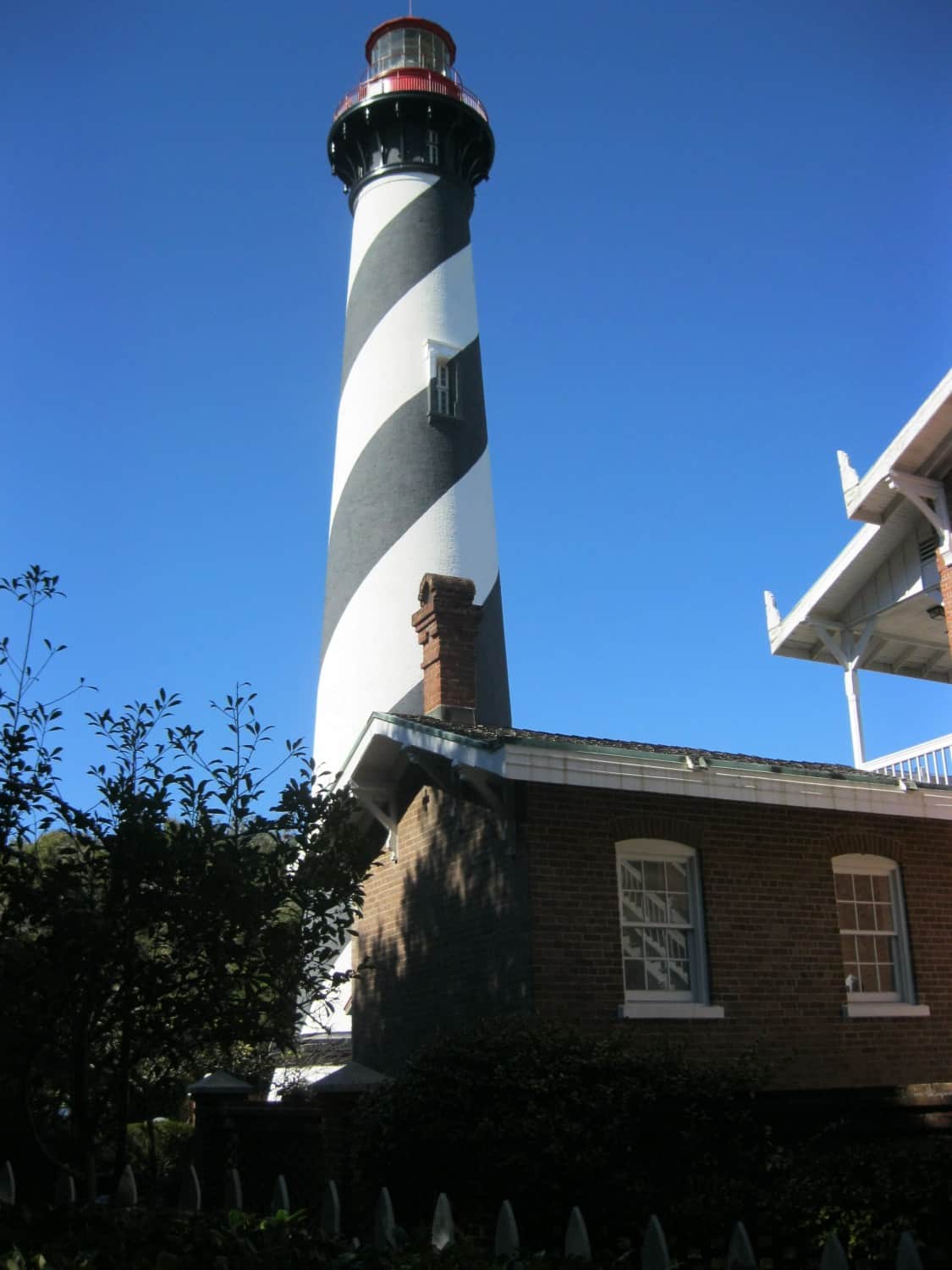 Some people believe pets sense paranormal activity. And in nearly 4 centuries, St. Augustine has accumulated quite a few ghosts. Pet friendly ghost walking tours include A Ghostly Encounter, Ghost Tours of St. Augustine, and Old City Ghosts.
In addition, some local Air BnB hosts offer private, pet friendly excursions for an additional fee. Look for these special activities when you book your stay.
If you and your pup are more independent, you can always pick up a map at the visitor center (10 S Castillo Drive) and do your own self-guided walking tour.
Along the way, you'll pass several historic sites—perfect for an impromptu photo shoot.
READ MORE ⇒ 6 Simple Steps To Get Your Dog Posing For Photos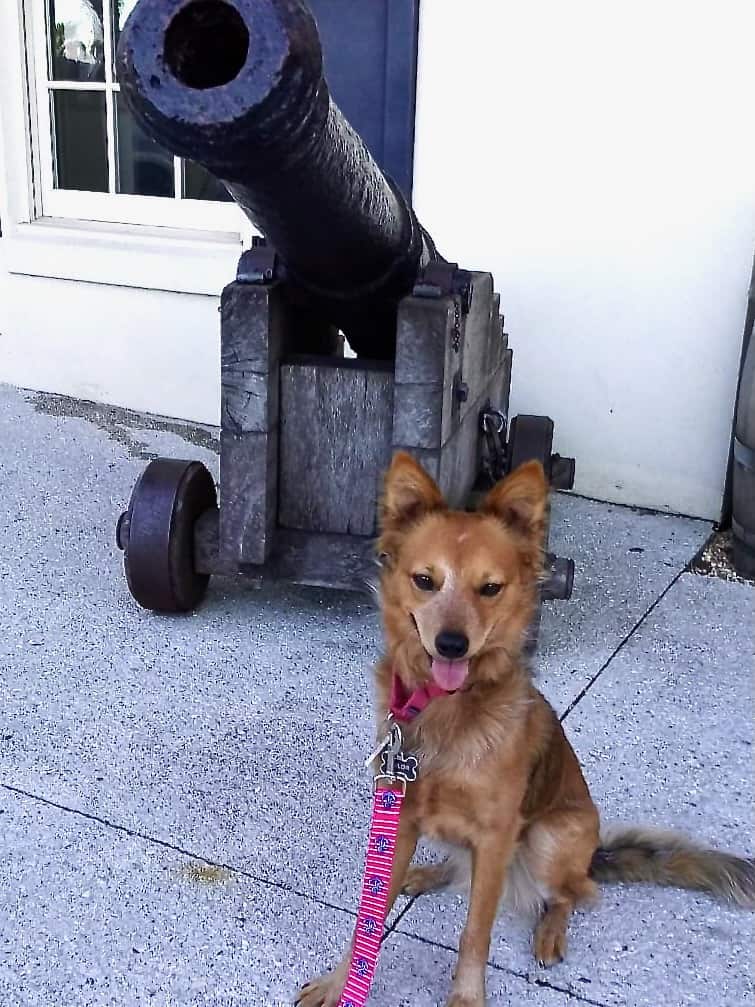 Visit A Historic Site
Downtown Historic District
Start at the Castillo San Marco (1 S Castillo Drive). This National Historic Site is the oldest fortification in the United States, built by the Spanish to protect Atlantic trade.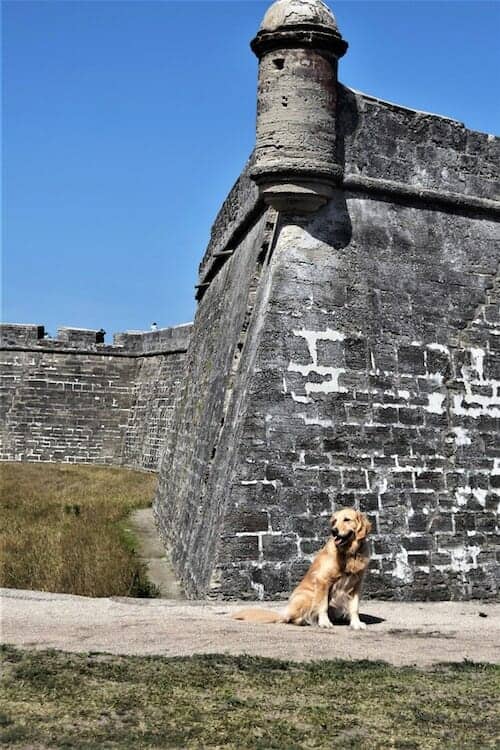 Sorry, only humans are allowed inside the fort. But the grassy grounds are great for a picnic and a stroll around the walls. And one person can wait with pets while another explores indoors. There is an admission fee to enter the fort. And since the site has no shade, make sure you pack water for yourself and your pets.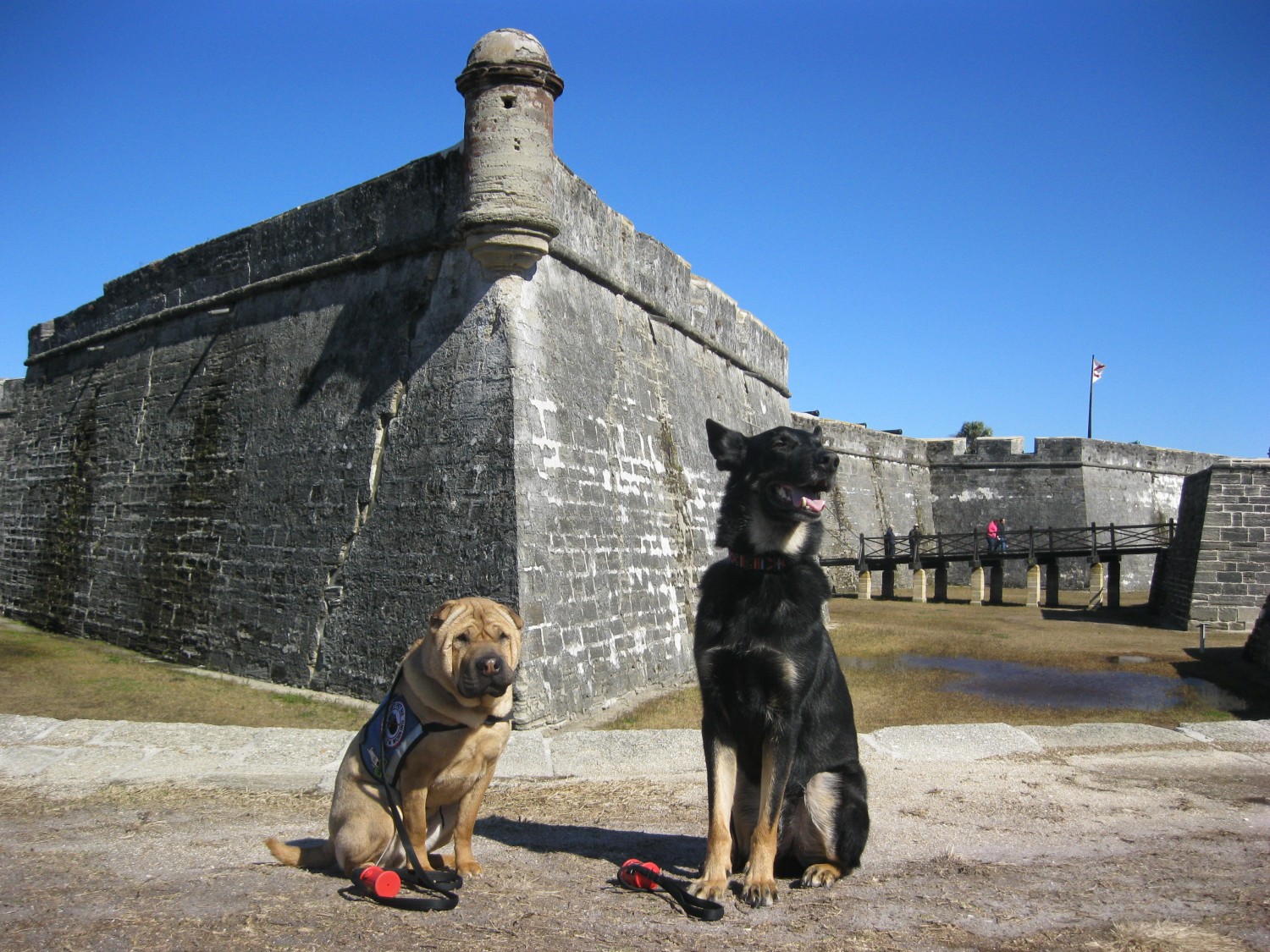 Between the waterfront and St. George's Street, visit the Colonial Quarter (14 S Castillo Drive), a living history museum. You can stroll the public areas and dine on the pet friendly patios for free. But to take advantage of demonstrations or to climb the watchtower, you must buy a ticket.
Walk one block north to view the Oldest Wooden Schoolhouse (14 St. George Street). Part of a Minorcan homestead established in the late 1700s, the building and gardens are a rich historical treasure. And yes, polite pets are welcome too!
Then walk about 10 minutes south to the Spanish Military Hospital Museum (3 Aviles Street). They welcome pets on fully guided tours. Learn about Colonial medical practices. Remember to reassure your dog that you're not taking him to the vet. 
Beyond Downtown
Take a long walk (about a half hour) or a short drive to the Fountain of Youth Archaeological Park (11 Magnolia Avenue). Exhibits at the pet friendly park will teach you about the original settlers of the area, the Timicua, as well as the arrival of the Spanish. 
Is the Fountain of Youth real? Probably not. But why not give your dog a drink from it just in case.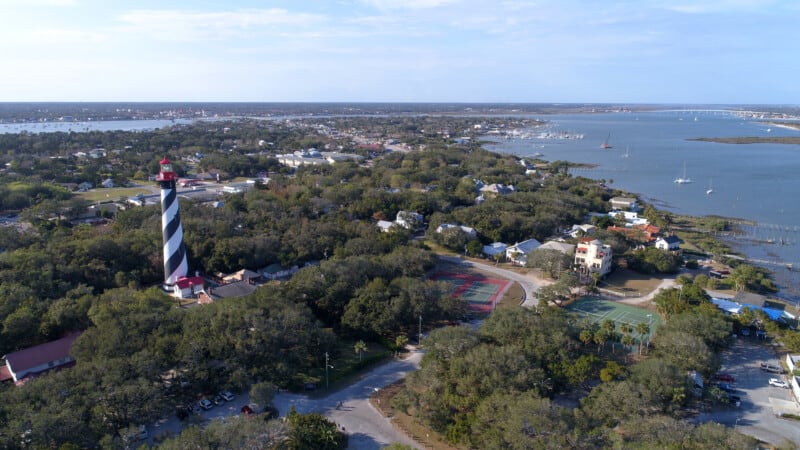 Magnolia Avenue, the parks address, is known as one of the most beautiful streets in America. So make sure to stop and take a photo of the live oak trees sweeping over the street. 
But there are so many more sites to explore with your pet: the St. Augustine Lighthouse (100 Red Cox Drive), the Ripley's Believe It or Not Museum (19 San Marco Avenue), and Fort Mose (15 Fort Mose Trail). The fort is the site of the first legally-sanctioned, free African American settlement and a beautiful, green space.
Wineries, Breweries, & Distilleries
Whew! After all that walking, you have earned yourself a drink. Time to check out the local dog-friendly wineries, breweries, and distilleries.
A few local alcohol businesses welcome dogs (at least small dogs) on tours. Just don't overdo it. You don't want your pup to have to walk home without you. 
Pet Friendly Distilleries & Wineries
The St. Augustine Distillery (112 Riveria Street) offers a tour and craft cocktail sampling. Dogs are permitted on tours but the distillery asks that you keep them on a leash at all times.
City Gate Spirits (11 St. George Street) is a short walk from the Castillo San Marco. And they welcome dogs on tours and tastings. 
Read more 15 Unique FREE Things to Do in Houston with Kids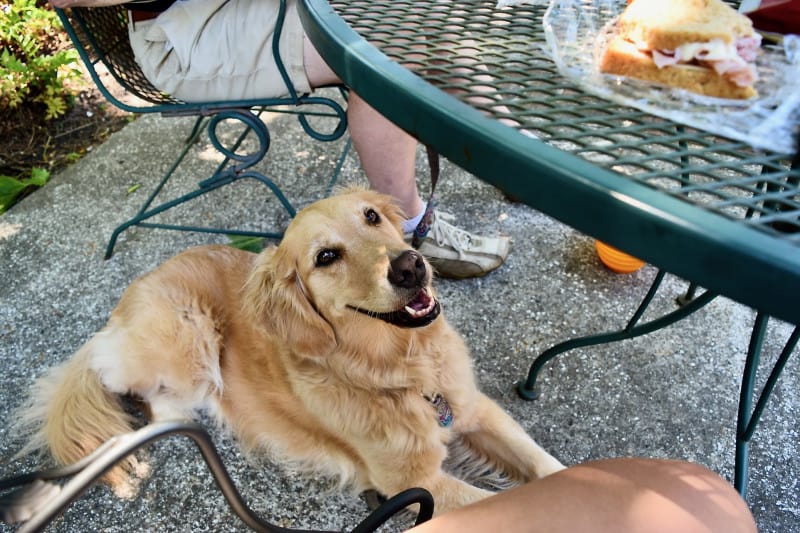 Dog Friendly Breweries
If hard liquor is not your thing, several breweries offer pet friendly seating as well.
Ancient City Brewing's (3420 Agricultural Center Drive) original brewhouse hosts special events and regular visits from local food trucks. They also have a roomy, pet friendly patio.
Or check out Bog Brewing Company (218 W King Street) which serves classic, seasonal brews on historic King Street. 
Dog Rose Brewing Co (77 Bridge Street) is a short walk from the historic area. They welcome dogs on their open patio.
And Old Coast Ales (300 Anastasia Blvd) has an indoor/outdoor taproom with live music. They welcome polite dogs at the tables outside. 
Dog Friendly Wineries
The San Sebastian Winery (157 King Street) allows small dogs on tours and in the rooftop bar. Dogs must be carried or remain on a leash.
Pet Friendly Shopping
If your dog has been a very good girl or boy, don't they deserve a treat? Stop in one of the local pet boutiques to get them a special treat.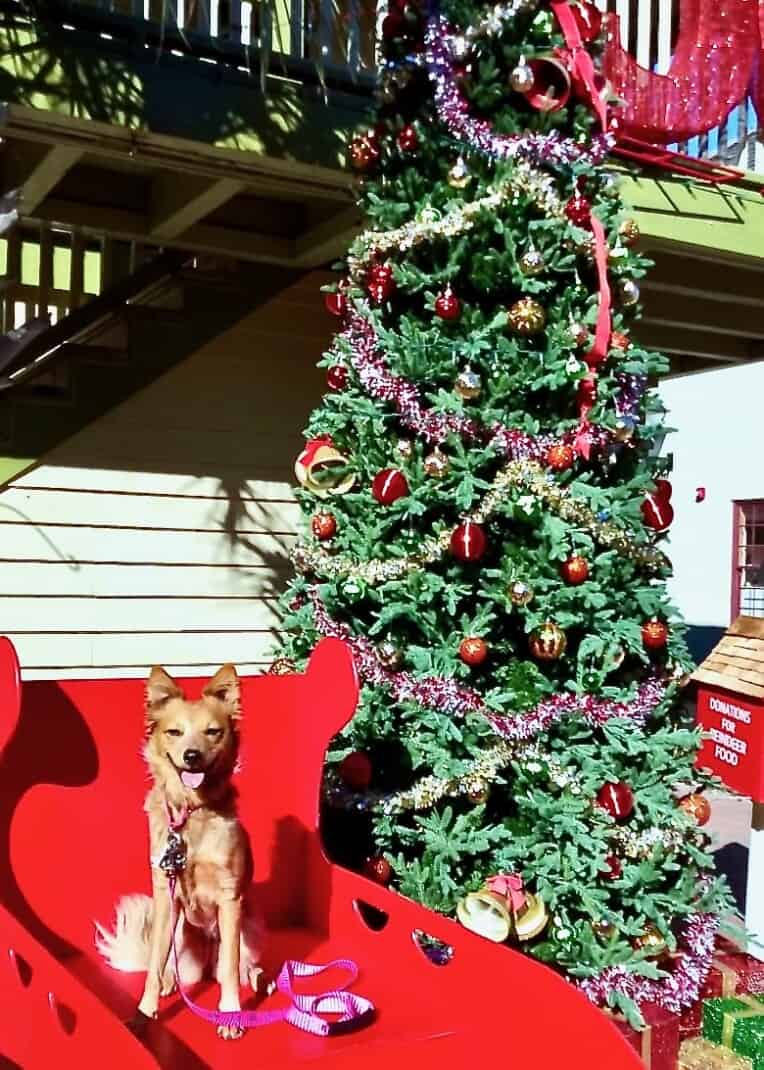 Check out Faux Paws (97 St. George Street) for special baked treats and accessories. This small shop is usually busy with pets and the people who love them. Or stop by Paradise Poochie (280 State Route 312) for Adventure Pets (51-1 Cordova Street) for an even larger selection of supplies, food, and treats.
St. Augustine's Pet Friendly Beaches
Of course, your pet did not ask you to come to St. Augustine for shopping, right? Make time to hit the beach.
You may take your dog on all St. Augustine's beaches, except at Anastasia State Park. Dogs must remain on a leash on all beaches.
READ MORE ⇒ Best Pet Friendly Beaches In Florida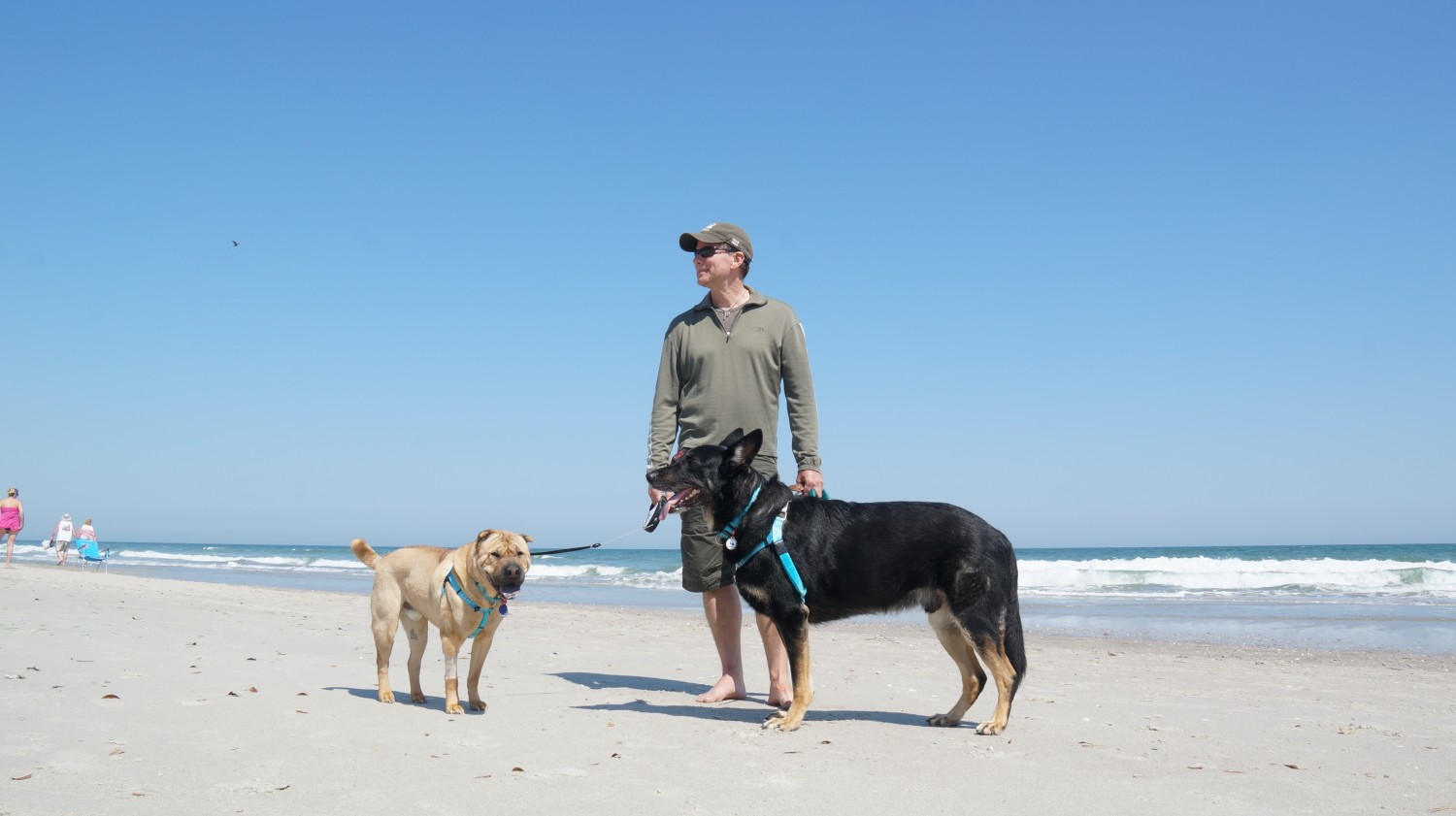 Please note that migratory birds breed along St. Augustine's shores from April to August. And sea turtles nest from March through October. So please keep your enthusiastic pups from stressing birds. Give them plenty of room. And pay attention to signs marking off sea turtle nests.
Most parking areas have showers for rinsing sand off your feet or paws. So you can go right from the beach to lunch at one of the city's many pet friendly patios. 
St. Augustine Restaurants With Dog Friendly Patios
So most of St. Augustine's restaurants and bars with outdoor patios welcome you to dine with your dog. Some will even provide a drink or snack. 
You will have no problem finding food you love, from Spanish to fast food to fresh seafood. And if one patio is too crowded, just keep walking. You are sure to find another one soon. 
READ MORE ⇒ Taking Your Dog To Pet Friendly Restaurants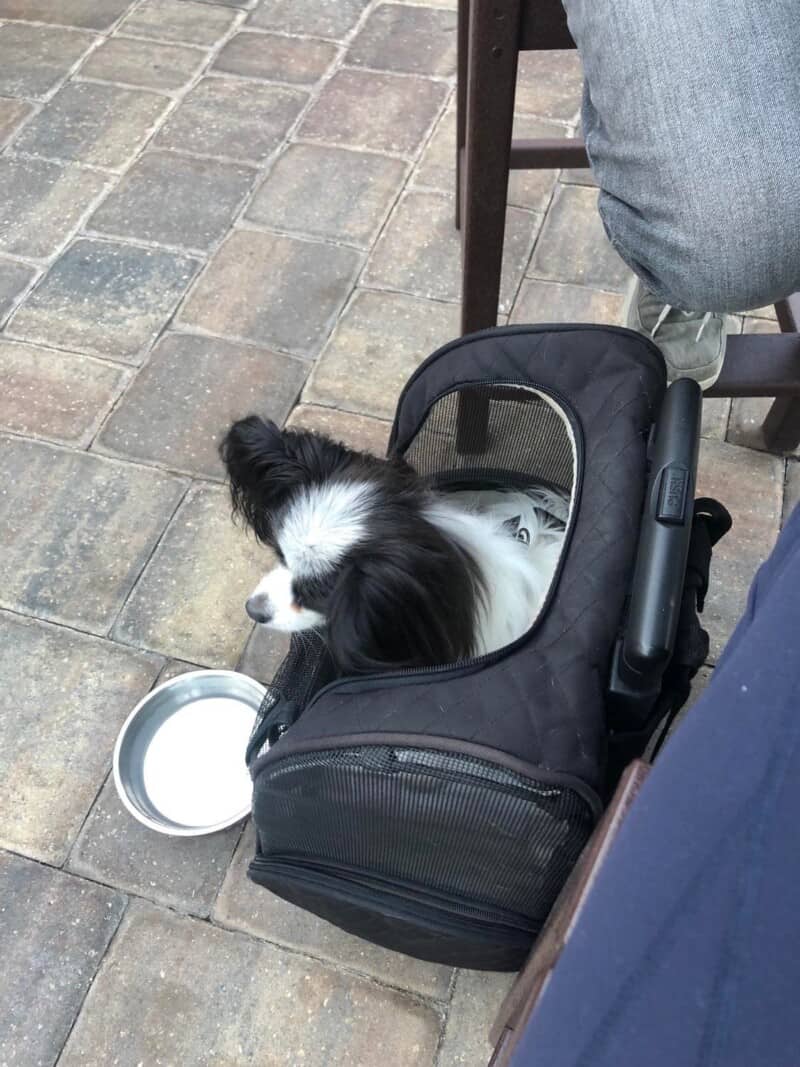 Here are just a few restaurants with pet friendly patios to get you started:
Ann O'Malley's (23 Orange Street)
Auggie's Draft Room (3 St. George Street)
Barley Republic (48 Spanish Street)
Casa Maya (22 Hypolita Street)
Crave Food Truck (135 King Street)
Florida Cracker Cafe (81 St. George Street)
Harry's Seafood (46 Avenida Menendez)
Hurricane Grill (4255 A1A S)
Hurricane Patty's (69 Lewis Blvd)
Kingfish Grill (252 Yacht Club Drive)
Meehan's Irish Pub (20 Avenida Menendez)
Mojo Old City Barbecue (5 Cordova Street)
O C White's (118 Avenida Menendez)
One Twenty Three Burger House (123 King Street)
Pizzalley's (60 Charlotte Street)
Preserved (102 Bridge Street)
Raintree Restaurant (102 San Marco Avenue)
Salt Life Food Shack (321 A1A Beach Blvd)
Sunset Grille (421 A1A Beach Blvd)
Taberna del Caballo (37 St. George Street)
The Floridian (72 Spanish Street)
The Reef (4100 Coastal Hwy)
Vilano Grill 180 (180 Vilano Road)
Although I have visited St. Augustine with Honey several times while cruising the Intracoastal Waterway, we have dined at a small fraction of this list. And only at the restaurants within walking distance of the marina and mooring field. 
So make sure you share your favorite pet friendly dining spots in the comments below!
St. Augustine Dog Parks
If wearing a leash at the beach makes your dog sad, consider checking out one of the local dog parks. 
Treaty Park is a 47-acre county park with its own Paws Park. With separate areas for small and large dogs, drinking water, and kiddie pools for splashing around, your pup will have a blast! If you need to tire your dog out just a little before entering the park, walk the park's nature trail first. 
Just north of downtown, find Pomar Park. Situated along the San Sebastian River, the dog park has a grassy area with trees for shade and a kiddie pool to cool off in.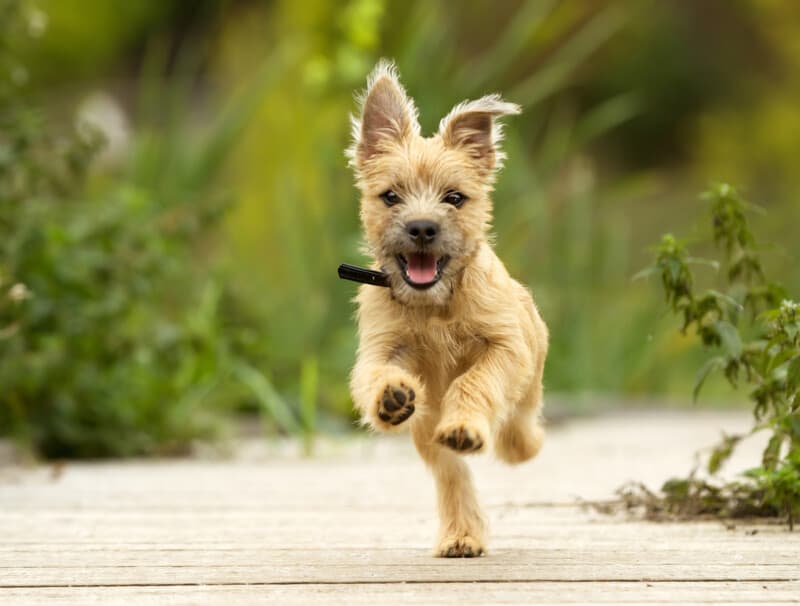 And the big draw of the Shearwater Dog Park is agility equipment! The park also has fun human activities, including a 3-story water slide and hiking trails.
In St. Augustine Beach, you will find the Ron Parker Park Off-Leash Area (44 Old Beach Road). And Vilano Beach has a small off-leash area at North Shore Park (3721 Coastal Highway).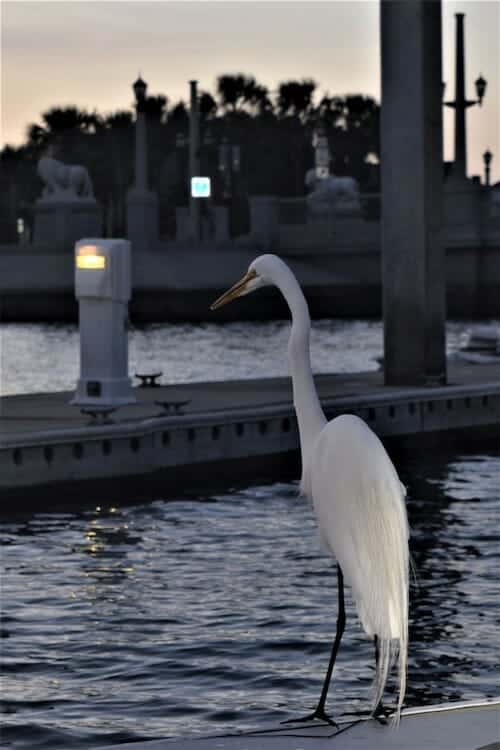 Attend an Outdoor Concert
Not all dog friendly activities have to be active. Perhaps your lazy pup prefers napping at a local concert? Summer in St. Augustine has her covered.
St. Augustine has been running its Concerts in the Plaza series for over 30 years! Listen to local and regional musicians perform Thursday evenings from the end of May through September in the Plaza de Constitución (170 St. George Street). Bring a chair or blanket. 
Also, on Wednesday nights, St. Augustine Beach offers Music by the Sea at the pier (350 AIA Beach Blvd). Bring your own picnic or buy a meal from a local restaurant providing food for the concert.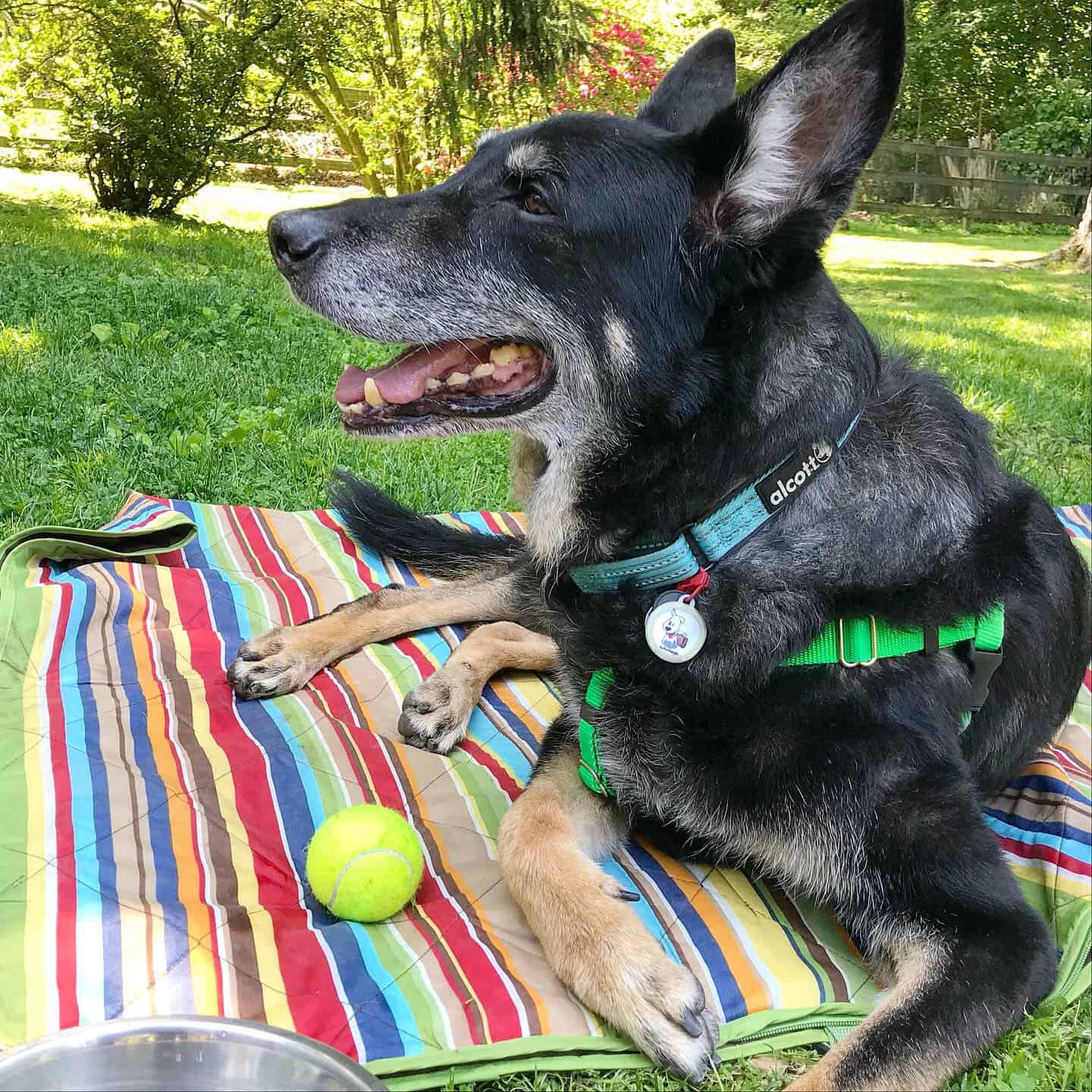 Pet Friendly Lodging
After an activity-packed day in St. Augustine, you will need a quiet and comfy place to stay. Luckily, there are dozens of pet friendly hotels, house rentals, and a few campgrounds. Click through the accommodations options on GoPetFriendly.com to find the perfect stay for you.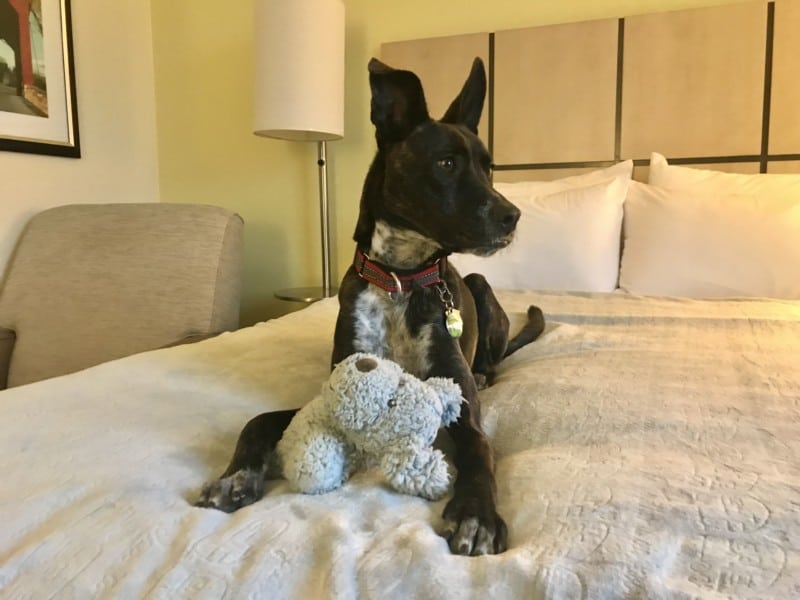 Here are a few pet friendly stays to help you plan your trip.
At Journey's End
Bayfront Marin House
Beacher's Lodge Vacation Rentals
Best Western – Bayfront
Casa de Solana
Casa Monica Resort & Spa
Days Inn – West
Days Inn Historic Downtown
Guy Harvey Resort (also has a pet friendly restaurant)
Inn at Camachee Harbor
Holiday Inn – World Golf
Home2 Suites – 1-95
La Quinta Inn & Suites
North Beach Camp Resort
Ocean Sands Resort Inn
Old City House Inn (has a pet friendly restaurant)
Quality Inn Saint Augustine Beach Area
Quality Inn Saint Augustine Outlet Mall
 Red Roof+
Southern Oaks Inn
Saint Augustine Beach KOA Holiday
St. Francis Inn
Super 8 Motel
The Collector Luxury Inn
The Flagler Inn
 The Kenwood Inn
The Ponce
The Saint Augustine Beach House
Don't Leave Your Pet Behind
One of my strongest memories from our stays in St. Augustine was the many people who came up to pet Honey. They told us they had left their own dogs at home. And I had to wonder, why?
 St. Augustine is the most pet friendly town I've ever visited!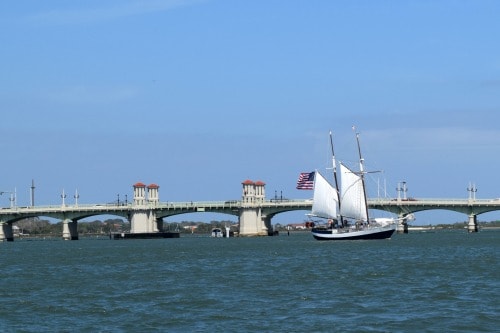 So here is one insider tip. Are pet lovers interrupting you to get a furry fix on their vacation? Send them to cuddle the cats up for adoption at the Witty Whisker Cat Cafe.
The kitties looking for homes will thank you. And it is a good place for pet loving travelers visiting St. Augustine to get a kitty fix.
---
— Update: 16-03-2023 — cohaitungchi.com found an additional article Pet Friendly St. Augustine: Pet Friendly Attractions from the website www.bayfrontmarinhouse.com for the keyword things to do in st augustine with dogs.
There are so many pet friendly restaurants and attractions in St. Augustine–it is paws-ible to create an absolutely re-bark-able trip for you and your fur baby!!
At the Bayfront Marin House, we LOVE our four-legged guests! All of the first floor rooms at the Bayfront Marin House Bed and Breakfast are pet friendly…just let us know that you're bringing your best fur-iend , and we'll make sure that your room is ready for both of you. There is a daily fee for pets of $35.
While it's great to have a pet-friendly place to sleep, we know you want to do things with your pet during your stay as well. St. Augustine has lots of pet-friendly options, and we think we've put together the ulti-mutt list! (Note: while these were all pet friendly at the time of writing, we always recommend you check before you go).
Best Pet Parks:
Ron Parker Park 607 Old Beach Road, St. Augustine.
A great place for your pup to frolic in the shade (especially important as hard surfaces can get HOT here in Florida), and lots of water for your doggo to cool off in. Just 3.7 miles from the inn–about a 10 minute drive.
Read more Your guide to The Magnificent Mile Lights Festival 2022
Treaty Park, 1595 Wildwood Drive, St. Augustine.
It's a park that caters to its canine guests! There are fire hydrants, drinking fountains, and lots of open space–the park is almost one acre. Take a ball or frisbee, and enjoy some dog time.
Things to Do with Pets in St. Augustine
St. Augustine Historic Downtown, St. George Street Area
To truly appreciate our town's history and beauty, we always recommend that our guests enjoy the town on foot. Dogs are welcome to walk with you along the streets–and many stores and restaurants have water dishes outside for your pet to get a drink. Here are some other attractions and tours that will have you and your pet raising the woof!
As you walk through our town, you will likely notice the hulking fort near the city gates. Your dog will likely notice the acres and acres of open green grass–perfect for frolicking! The fort lawn is pet friendly, although if you plan to stay for some time, make sure you pack water…there is not a lot of shade.
This guided walking ghost tour will take you through dark and narrow streets of Historic St. Augustine.  Tours begins at 8 pm and last for 1 ½ hr.  Well behaved leashed dogs are allowed except for the very beginning of the tour which goes inside the Spanish Military Hospital Museum.
This lighthouse, over 200 feet in height, allows visitors to climb the stairs to the top.  The stairs are steep and have very limited railings, and for this reason they don't allow small children or dogs to make the climb.  However, there are lovely grounds with gardens and trails, and a gift shop (be sure to try their fudge!), and your pet is welcome to enjoy those areas with you.
Take a (doggie) paddle on the Matanzas Bay: the Victory III departs daily from the Marina in downtown St. Augustine.  The cruise lasts a little over an hour.
Fountain of Youth, 11 Magnolia Avenue
It opens for visitation daily from 9 am to 5 pm, except on Christmas. Consider yourself forewarned: one of the many beautiful aspects of the Fountain of Youth is the spectacular peacocks that walk the grounds. If you have problems controlling your pup, you might want to go to one of the other open spaces listed above.
You know where this is–it's right next to the parking lot for the Bayfront Marin House! The Gonzalez-Alvarez House is a house museum, with two museums, colonial kitchen, and museum store. Headquarters for the St. Augustine Historical Society, the Oldest House also offers tours throughout the day, as well as a beautiful ornamental garden to walk through.
Best Shopping for Your Pet
Faux Paws, 97 St. George Street
This pet friendly store has goodies for both you and your fur baby–pajamas, hats, and t-shirts printed with your favorite breed, and toys, outfits, and truly delicious pet cookies for your baby. They also carry any necessities you may have forgotten (note: the Bayfront Marin House has pet dishes and will be happy to share them if you forgot that).
Pet Friendly Beaches in St. Augustine
Almost all of St. Augustine's beaches welcome leashed dogs and owners who clean up after their pet. The only one that ISN'T is Anastasia Island State Park–the campground and trails are pet friendly, but the beach itself is not. There are about 30 miles of pet-friendly beaches, and here are two of our favorite spots:
St. Augustine Beach, entrance at A Street/A1a or Pier
St. Augustine Beach has a wide, long beach. Four wheel drive vehicles are allowed on the beach during parts of the year (see the beach signage for open dates).
Vilano Beach, entrance at Beachcomber Way (next to our Beachcomber Cottages vacation rentals) or
Pier Next to Hampton Inn
Vilano Beach is a lovely shell-strewn beach, with plenty of dogs usually enjoying a stroll on the sand with their humans. You can drive onto the beach at the pier (behind the Hampton Inn) or park at the Bayfront Marin House's Beach Cottages (Beachcomber Cottages on Vilano) and enter the beach there.
No matter where you hit the beach, make sure to take some treats for your doggo (helpful if you need to get an errant kite or someone else's frisbee out of his mouth), fresh water, and a towel of his own (just ask us to borrow a pet towel!) And don't forget to check the weather–if the sand is too hot for your feet, it's too hot for paws as well!
St. Augustine obviously has lots of pet friendly things to do. The only thing that's missing is you and your four legged friend!! Call us at (904)824-4301 or Book Online to reserve your pet friendly room today!
---
— Update: 16-03-2023 — cohaitungchi.com found an additional article Hey, We're Bree + Stephen (and sequoia) from the website breeandstephen.com for the keyword things to do in st augustine with dogs.
Saint Augustine FL has it all – beaches, history, warm weather, and unique architecture – just to name a few. If you're visiting Florida and you're thinking about visiting the east coast beaches, you'd be remiss if you didn't experience Saint Augustine FL to stroll the stores, cafes, bars, and restaurants. There are a few small-town beaches less than 25 minutes south of St. Augustine that have hidden gem restaurants and beach spots worth mentioning in this article as well. We're a couple in our mid-to-late 20's, so we found the top friendly attractions St. Augustine, FL and we'e excited to share them with you!
*This is our perspective of fun things to do in Saint Augustine FL and we may make a commission from purchases made from the links in this article. We do not recommend any products or services that we don't use or stand behind!
Getting Around Saint Augustine FL
Getting around Saint Augustine FL can be tricky because there is extremely limited parking near the main areas (like the Castillo de San Marcos, the Historic District, and a waffle + milkshake bar that you simply can not miss!) so you need to get there before 10 or 11 am to secure a spot. Weekdays can be hard to find parking as well since more people are "working from home" these days, so we found the best ways to get around Saint Augustine are by car + foot, bike, or trolly!
Getting around by foot + car
Getting around by foot usually means finding a convenient place to park, then walking + zig-zagging through the main streets of downtown Saint Augustine. We recommend getting around by foot + Car if you get to St. Augustine early enough to secure a parking spot in the parking lot next to Cousteau's Waffle & Milkshake Bar. This parking lot has 15-20 parking spots, gets you 2 hours of parking for around $5, and buys you enough time to walk a few blocks and get a snack or ice cream!
Getting around by Bike
Getting around Saint Augustine by bike is what we decided to do because you can park your bike in various locations the historic district in order to cover more distance and see more attractions! Many visitors will rent a bike, we opted to bring our C7 from Public Bikes! The C7 is a timeless bike for those who appreciate European style and functionality that can handle tough hills like the Bridge of Lions that connects the historic district to the Atlantic coast side of town!
Cruising around Saint Augustine on a bike felt so free and stylish (Especially having Sequoia by our side) compared to the bike rentals in town! We got tons of looks asking if she was a paid actress for a dog and bike photoshoot, the C7 Bike certainly turns heads! We love it! There are so many perks of cruising on a C7 from Public Bikes, but these are our two favorite benefits:
Read more School's Out, Sun's Out, Fun's Out – Find Ways to Fill Your Summer Days with Gainesville and Alachua County's Top 15 Family Friendly Attractions
It's easy to assemble: you know we roadtrip! We drove from Salt Lake City, Utah to Orlando, Florida with the C7 Bike 99% Assembled in our SUV! That's right, we fit our dog comfortable AND the bike in our SUV without having to use an outdoor bike rack! In less than 5 minutes we attach the front wheel, bike seat, and handle bars with the easy 3-headed bike tool they provide in your order!
It's aesthetic and "with the times": The bike is a craftsman's work of art. Especially in the cream white which blends with our neutral aesthetic like a charm! It's easy to see why thousands of bike enthusiasts choose Public Bikes over other bike brands: because when you look good, you feel good! 
Getting around by Trolley
Saint Augustine FL has a Trolley system that's easy to navigate with the hop-on and hop-off spots all over town! Families with young children or elderly folks will take the St. Augustine Trolley as a method of transportation which is great because you can zig zag through some of the smaller roads that passenger vehicles are not allowed. The trolley in St. Augustine is open to the elements so you'll feel the fresh coastal air blowing through your hair as you take in the charm of the town.
Top Pet Friendly Attractions in Saint Augustine
Stroll The Historic District in St. Augustine, FL
The Historic District in Saint Augustine FL has charming streets to stroll that date back over 500 years! Visitors can enjoy restaurants, bars, and even visit the Castillo de San Marcos which took over 23 years to build! There are tons of pet friendly restaurants with outdoor patio seating in the historic district in Saint Augustine, so bring your pup and enjoy the experience!
One of the best pet friendly restaurants in downtown Saint Augustine is Cousteau's Waffle & Milkshake Bar – a grab-and-go waffle haven with the cutest patio seating for you and your pet! We got the caramel brule waffle with caramelized sugar and whipped cream – it was delicious!
Visit the Castillo de San Marcos
History lovers will get a kick out of the Castillo de San Marcos, a Spanish-built fortress right on the water! You'll notice it as soon as you drive over the Bridge of Lions. You can tour the inside and rooftop of the castle. Visitors will even grab tickets to a cannon-ball show where they blast off cannon balls into the ocean! The Castillo de San Marcos is even rumored to be haunted with ghosts of the soldiers that guarded the fortress over time. Definitely check this place out when you're in Saint Augustine, especially since it's conveniently located near the downtown historic district!
Drive on the Sand at Crescent Beach, Florida
One of the best dog friendly things to do in St. Augustine, FL is drive on the sand at Crescent Beach, Florida. Crescent Beach is less than a 25 minute drive south from St. Augustine. This beach is a local's favorite because it's low-key and has a section where you can drive on the sand (after grabbing take-out at Safe Harbor Seafood Restaurant). Crescent Beach is a great place to get away from the busier feel in downtown St. Augustine – you can listen to the peaceful sounds of the waves and birds chirping on the coast, it's truly a remarkable way to experience Florida.
Pro tips:
4×4 or AWD vehicles are recommended on the majority of the on-beach driving
It's sunny and windy, so bring a portable beach umbrella and ensure it's secured
Pick up after your dog and practice LNT (leave no trace) principals
Limit the amount of sand in your car by investing in a Sand Cloud Towel
Grab Fresh Fish or Some Hush Puppies at Safe Harbor Seafood Restaurant
If you have a limited itinerary, you'll want to eat at the top restaurants in St. Augustine during your visit! One of the best seafood restaurants in St. Augustine is Safe Harbor Seafood Restaurant in Crescent Beach! This place is steps from the beach drive-on entrance and even has a dog friendly patio so you can bring your fur friend. Honestly, it's one of our favorite dog friendly restaurants in St. Augustine because it has a walk-up window to order if you just want to grab-and go (bring your mahi tacos on the beach, don't forget the tartar sauce)!
The fish tacos, hush puppies, and clam chowder at Safe Harbor Seafood Restaurant was 10/10. It was so good, we went there 4 times in 2 weeks. No shame. We even have pics to prove it.
Munch at Ragga Surf Cafe
The best coffee shop in St. Augustine is called Ragga Surf Cafe, it's a beach front food truck with adorable picnic bench seating for 20-30+ people. As soon as you park, you're greeted with the pristine coastal air and an adorable blue truck called Ragga Surf Cafe. They have delicious coffee and breakfast sandwiches with their secret avocado aoili sauce (fire AF!) We also got their home made pop tart with frosting on top, it melted in our mouth and was flakier than making plans is in today's day and age!
Fun fact -this food truck was once a road trip bus!
The homies at Ragga Surf Cafe keep it real and provide a one-of-a-kind communal area on the east coast of Florida where visitors and beach lovers can kick off their flip-flops and snag some grab-and-go munchies! Plus, you get to munch with an ocean view less than 30 minutes from the Castillo De San Marcos!
If you plan of visiting Florida beaches then go give Ragga Surf Cafe some love on their Instagram: @RaggaSurfCafe! Save their Instagram post for your Florida road trip so you can experience it for yourself (and your dog)!
Map of St. Augustine FL
This Map of St. Augustine FL shows local landmarks and the historic preservation districts as well as parking, restrooms major roads (map of St. Augustine FL courtesy of FloridaHistoricCoast.com).
Noteworthy Saint Augustine Restaurants Downtown That Are Pet Friendly
Harry's Seafood, Bar & Grille St. Augustine
Florida Cracker Cafe
Maple Street Biscuit Company (Danger: so good you'll get addicted, worth the line even if it's 30 mins)
La Herencia Cafe
Barley Republic
Pizzalley's Chianti Room
O.C. White's Restaurant
Saint Augustine FL VRBO and Hotel Accommodations
There are an abundance of St. Augustine VRBO and hotel accommodations. If you stay in the heart of downtown, you'll get great parking and be within walking distance of the historic district in St. Augustine which has everything you need in one place: food, entertainment, bars, and charming scenery! These are the current options for the best VRBO in St. Augustine:
Our Overall Review of Saint Augustine FL
Saint Augustine FL is without a doubt worth checking out, especially for those who are on a quest to see lots of Florida beaches and enjoy 500+ years of history. It's easy to see why couples, families, and singles find a reason to visit St. Augustine while exploring Florida beaches! Overall, we love Saint Augustine and come here as much as possible when visiting family in Orlando, FL! That being said, here's a list of pros and cons of visiting Saint Augustine FL
Pros of visiting Saint Augustine FL
close to the beach
lots of activities for couples, families, and singles
tons of dog friendly attractions and restaurants
charming with tons of history
Cons of visiting Saint Augustine FL
can be crowded even on weekdays
hard to find free parking
the downtown city is not within walking distance of the beach
can be expensive in the touristy areas, that's why we spent time in Crescent Beach!
Thanks for enjoying this article on pet friendly things to do in Saint Augustine FL – we hope it helps you with your adventurous plans in the sunshine state! Bree + Stephen are adventurous entrepreneurs based in Salt Lake City, Utah! They're pioneers of the NO BS Podcast and hosts of their YouTube channel where they share travel videos, business tutorials, and lifestyle content! They live with their German Shepherd, Sequoia and are usually chugging coffee while on their way to a hike! Please contact for business inquiries or questions about the products in this list!
References