The Raven Rocks hike follows a rocky stretch of the Appalachian Trail, climbing and descending three times before reaching an overlook with beautiful Virginia views of the Shenandoah Valley and mountains. Hiking sites rate the trail as moderate, but the hills are steep and rocky, making it a challenging 5.5 mile out-and-back for many of us.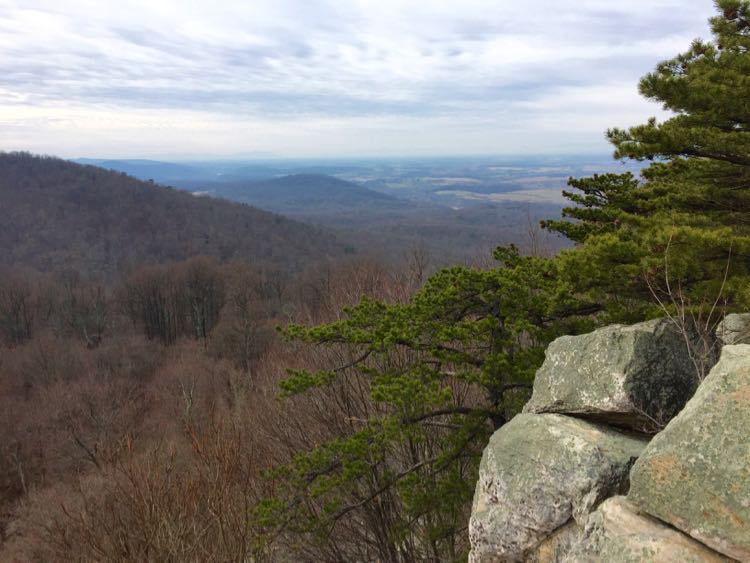 The Raven Rocks hike is just an hour's drive from Washington DC. That makes it a popular spot that can get very busy on warm weekends. In the warmer months, you'll often encounter AT through-hikers on the trail. In winter, the views are more exposed and trails are not as busy. This area of Loudoun County is pretty, with lots of fun diversions nearby (wine, beer, pie anyone?), so it makes a great day trip.
Make it a day trip or weekend getaway: 15 Fantastic Fun Things to Do in Bluemont Virginia.
Raven Rocks Hike to Beautiful Virginia Views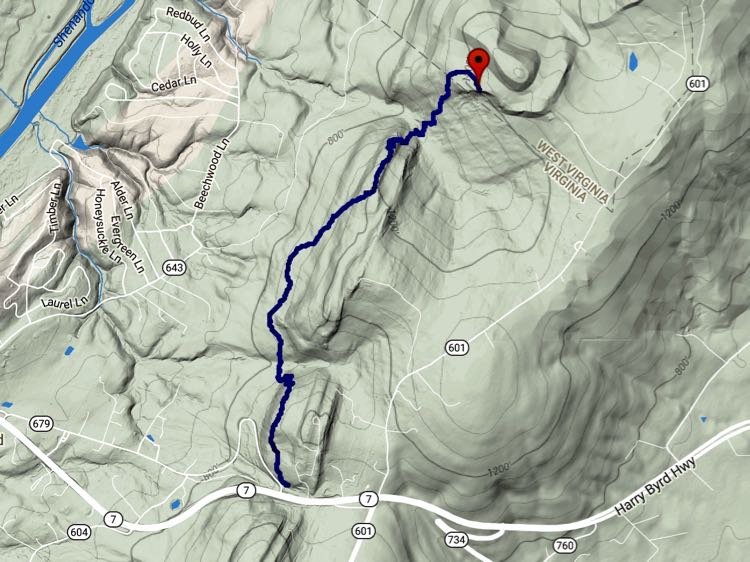 To reach the Raven Rocks hike, follow route 7 to Bluemont and turn right on Pine Grove Road near the top of the Snicker's Gap hill. Park in the small lot on your right just after the turn. (See below for essential tips on parking). You'll see a large AT sign board (but no map) marking the trail.
The hike climbs steadily but not too steeply as you begin your first ascent. This is the point where I thought reviewers may have overstated the challenge level of the trail. Silly me. After a few feet of level hiking, the first descent begins and you get a clearer picture of the steep and rocky nature of the roller coaster.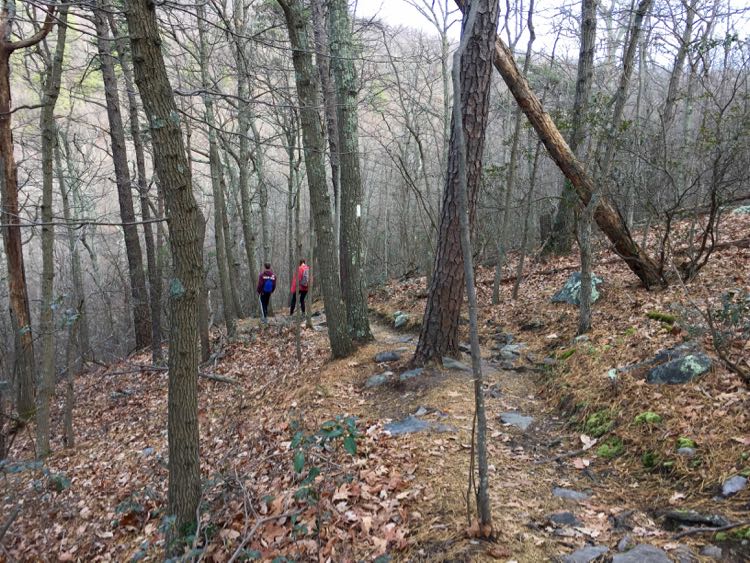 The next ascent is long, steep, and rocky, offering a great workout as you continue along the Appalachian Trail through the woods. There are a couple of partially obstructed views of the Winchester Valley in this section. Rocky areas are fun for a little climbing or a rest.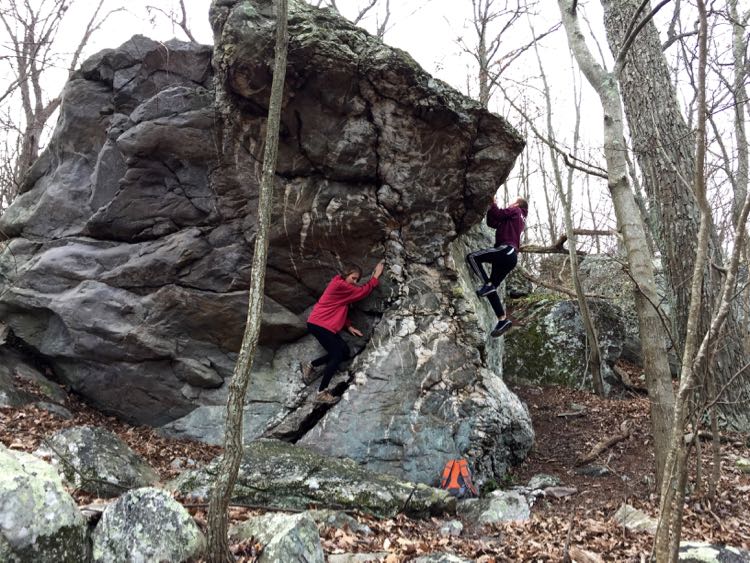 There are also some very rocky sections which require careful footing. The rocky section is especially tricky when the trail is damp or covered in leaves.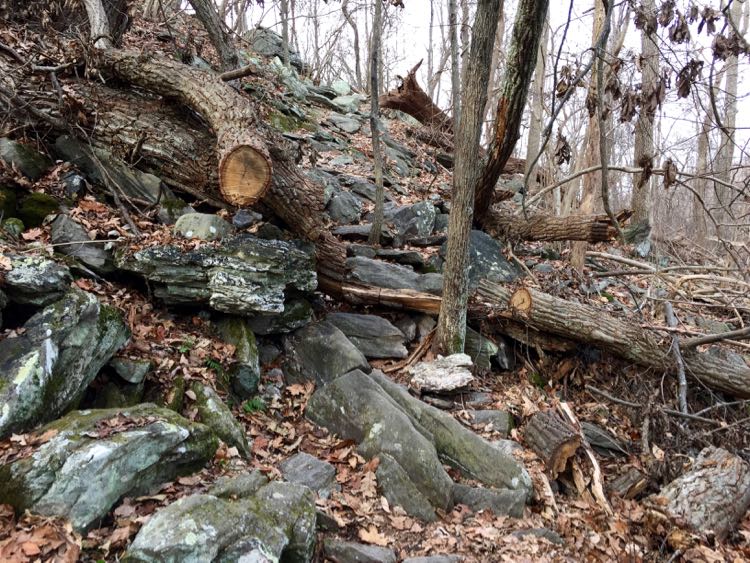 The AT crosses streams at the bottom of each descent. Water levels were very low when we hiked, and the stream crossings are very rocky so you should be able to stay dry. A sign at the Raven Rocks Hollow Run crossing directs AT through-hikers to a spring, a short walk from the main trail.
Your final ascent follows a long stretch of switchbacks before you cross the West Virginia border and reach Raven Rocks. We hear there is a sign marking the Virginia / West Virginia border, but we missed it. (No doubt looking down to avoid tripping over a rock).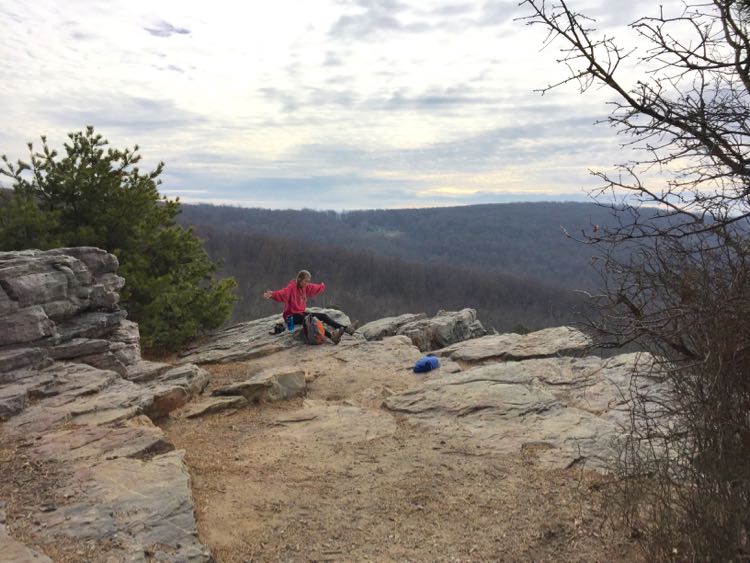 The payoff for all of that up-and-down hiking is pretty sweet. The open ridge offers a series of rocky outcroppings, which gives multiple hiking groups a chance at some privacy. The first open area is the largest. From here you have great views of the Shenandoah Valley and peaks of distant mountains. On a hazy day, you'll see more valley than mountains, but it's still an excellent view this close to DC.
Read more Laguna Beach Hikes: Best Hiking Trails in Laguna Beach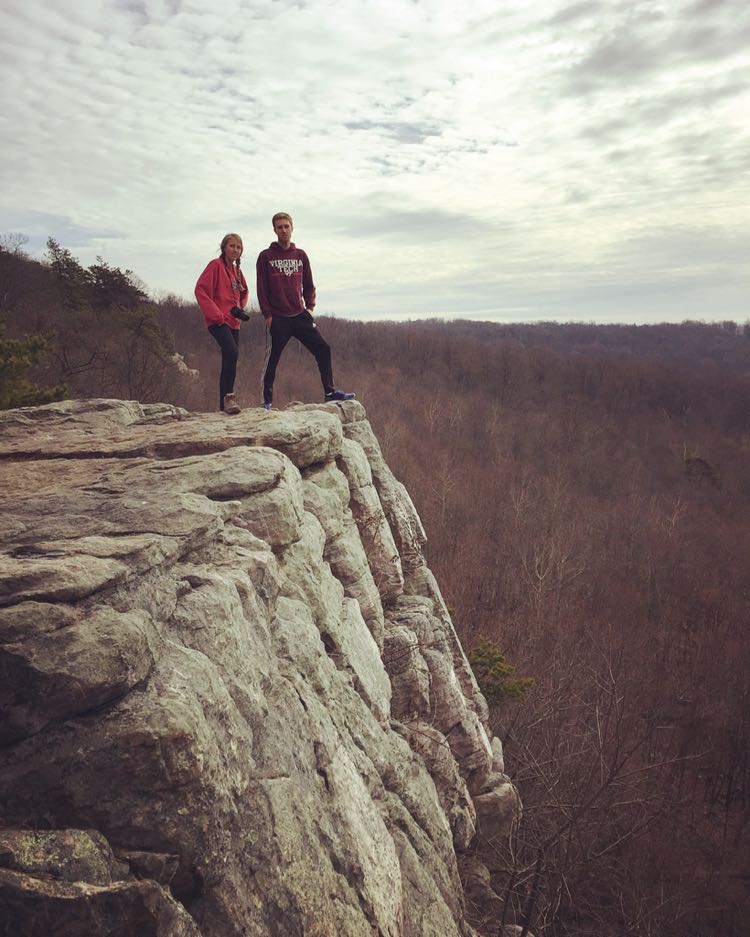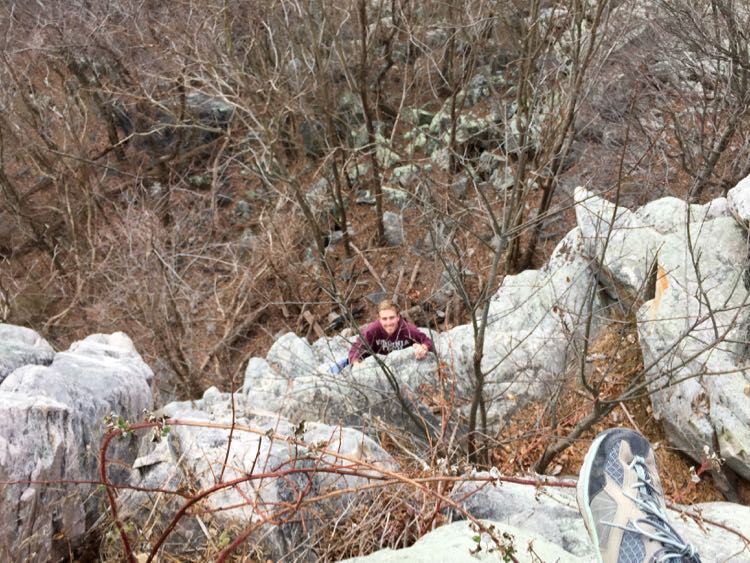 Follow the trail further along the ridge for more nice areas to relax, picnic, and enjoy the view. In good weather you may be able to watch rock climbers.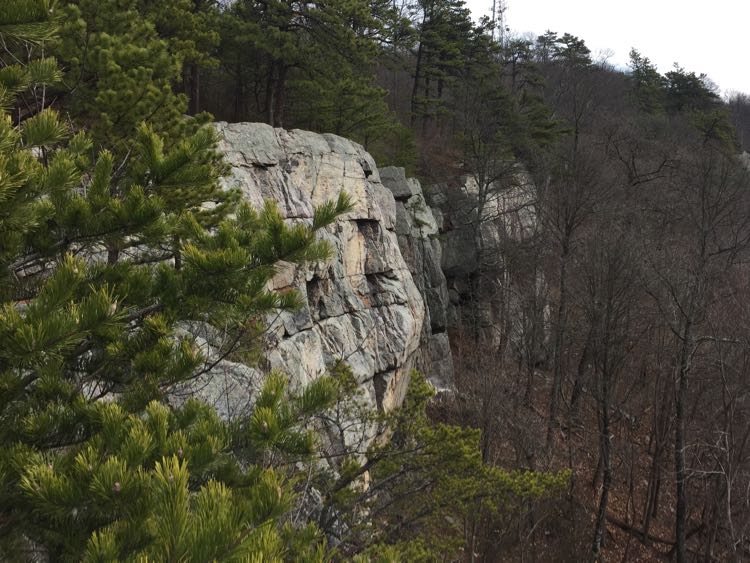 When you're ready, head back the way you came, and be prepared for an equally challenging return trip. In fact, the descents on the return were even tougher on the knees.
Tips for the Raven Rocks Hike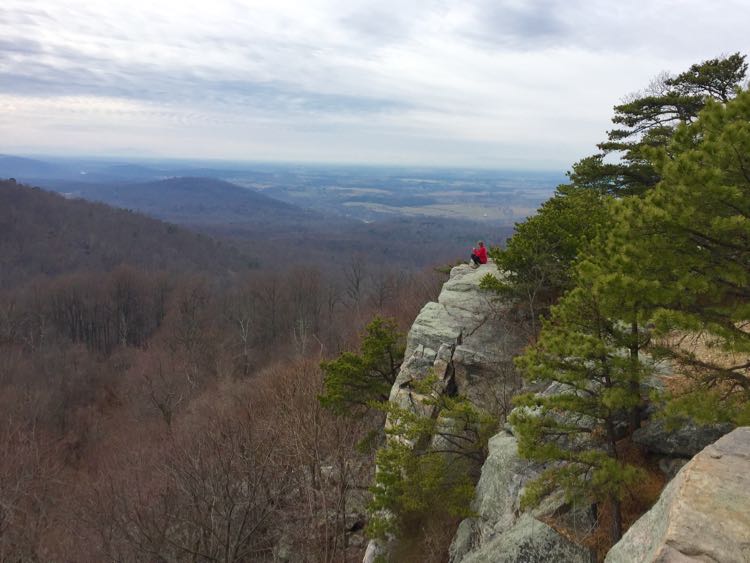 Here are 3 tips to make your Raven Rocks hike a success:
Wear good hiking shoes or boots; this is a very rocky trail.
Prepare for hills. The hike follows a section of the Appalachian Trail called the roller coaster. You're going to make 3 steep climbs and descents on the way to (and back from) the overlook. Hiking Upward rates this hike as moderate, but the descents were fairly tough for some of our group.
DO NOT park on the street. The lot at the trailhead is small and you will be towed if you park on the roadside. Fortunately, there is a much larger lot close by. Across Route 7 and slightly east you'll find a large lot at the base of Blue Ridge Mountain Road. Follow the AT connector trail from the parking lot, turn right on the AT (north) to cross Route 7, and head to Raven Rocks.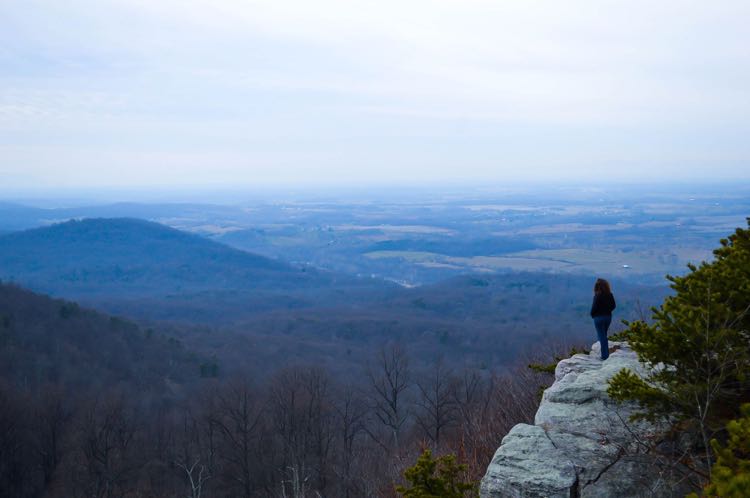 If you have young children along, consider the much shorter and easier hike to Bear's Den overlook. You can start the hike from the large parking area on Route 7.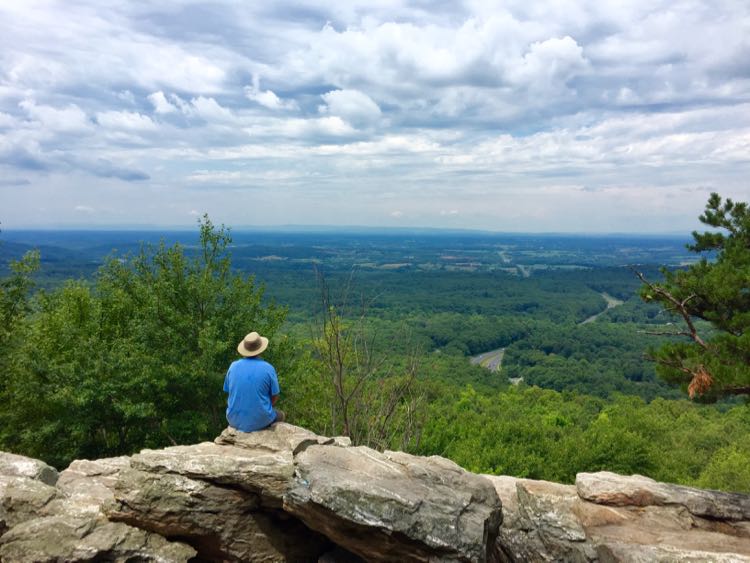 A longer alternate route to Raven Rocks begins at a former golf course turned nature preserve. A paved path at Cool Spring Battlefield leads to a pretty waterfall and the Ridge to River Trail. From here it's a steep but pretty climb up to the ridge and Raven Rocks.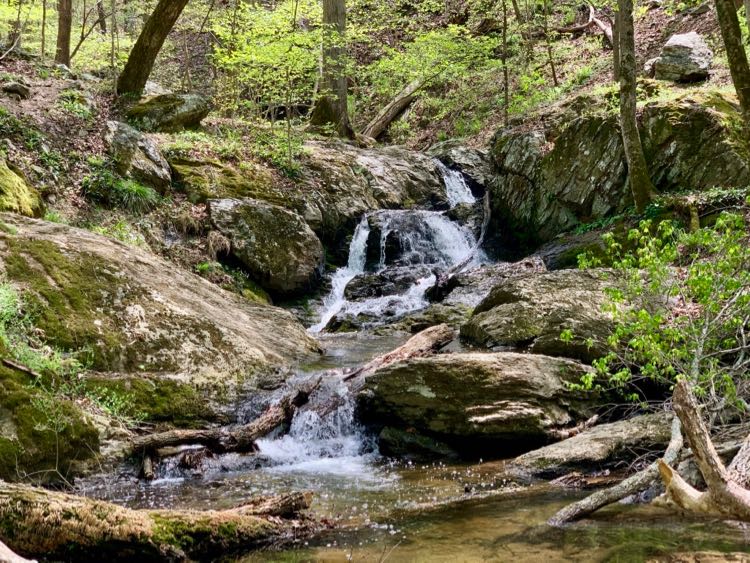 Fun Things to Do Near the Raven Rocks Hike
You deserve a reward after all that hard hiking! Fortunately, there are lots of fun places to visit in Bluemont. One of our favorite spots for Virginia wine and craft beer with a view is close by. Dirt Farm Brewing, and a sister site, Bluemont Vineyard, offer a commanding eastward view, just 3.5 miles from the trailhead. Nearby Twin Oaks Tavern Winery is a great place to enjoy wine with a beautiful sunset from the deck.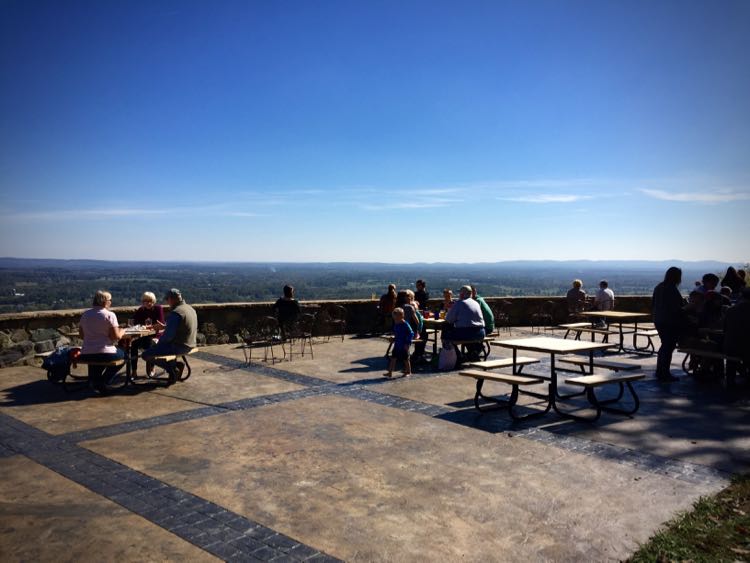 If time allows, consider a scenic drive on the historic Snickersville Turnpike. You'll enjoy beautiful country roads, historic general stores, and more wineries.
If you prefer a sweet reward, we highly recommend a stop at Mom's Apple Pie. The old school pie shop is about 5 miles east on Route 7 in Round Hill. They also make yummy sandwiches and have a cozy seating area perfect for a post-hike lunch stop. Bogati Winery operates a tasting room in the same building, so you can satisfy both your pie and wine cravings.
Find more of the best Pie Shops in Northern Virginia.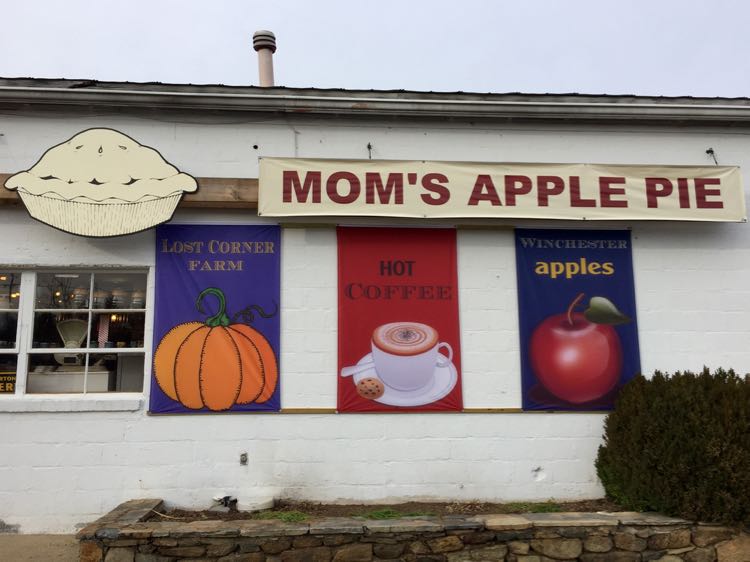 A bit further east, in Purcellville, you'll find several more excellent Virginia craft breweries, distilleries, and restaurants. Plan your stops with our round-up of great things to do in Purcellville.
You could also head west on route 7 and enjoy charming Winchester, Virginia. In fact, the Raven Rocks hike would be a fun way to kick off an overnight getaway or northern Shenandoah Valley road trip.
Read more 16 Beautiful and Best Hikes in Kauai, Hawaii
For DC area residents and visitors, the Raven Rocks trail is closer and easier to reach than Shenandoah National Park. Fortunately, it offers a nice challenging workout with the payoff of beautiful views.
Follow us on Facebook, Twitter, Pinterest, and Instagram for more fun travel in and from Northern Virginia.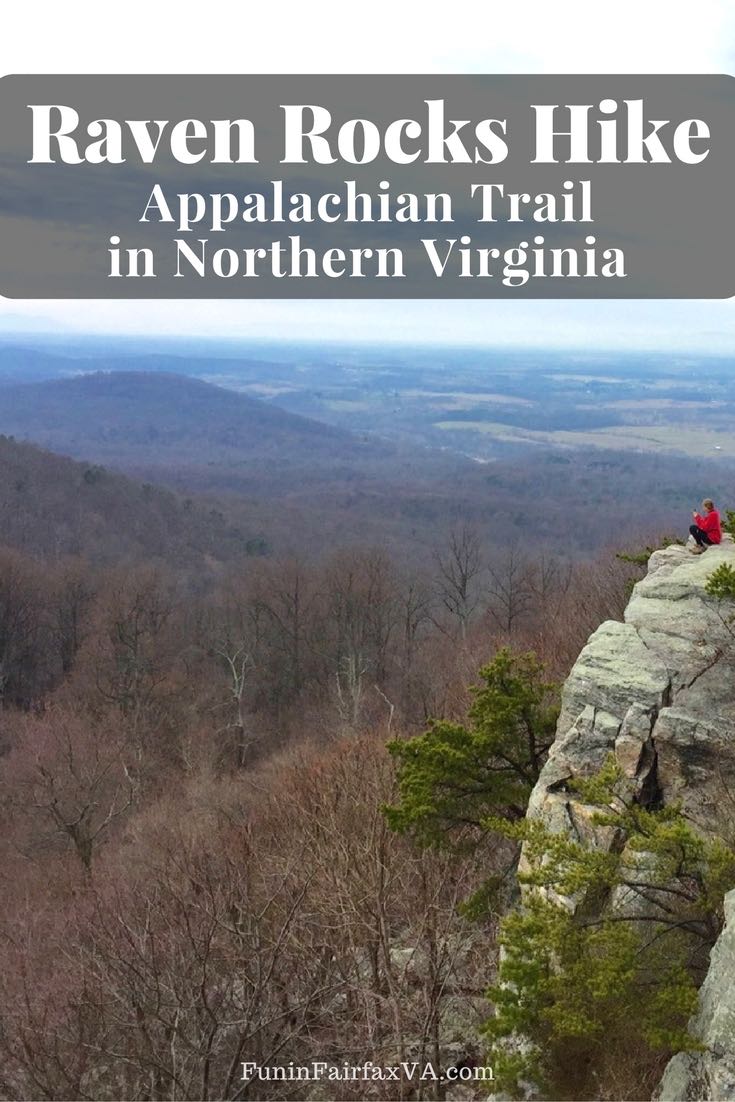 Sharing is caring!
---
— Update: 25-12-2022 — We found an additional article Raven Rocks: Hike the Appalachian Trail to Scenic Views in Bluemont, Virginia from the website gohikevirginia.com for the keyword raven rocks hike.
One of the most popular hikes in Loudoun County is the 5.1-mile out-and-back trek to Raven Rocks along the Appalachian Trail in Bluemont.
It's a rocky hiking trail with an elevation gain of more than 1,500 feet that rewards your efforts with sweeping valley and mountain views.
This hike follows a meandering route along a rock-laden section of northbound trail. You may bump into a thru-hiker or two, depending on the time of year.
My son and I met a clear veteran on the trail today. His trail name was Pine Stick.
| Trail Stats |   |
| --- | --- |
| Length | 5.1 miles |
| Difficulty | Strenuous |
| Trail Type | Out-and-Back |
| Elevation Gain | 1,509 feet |
| Duration | 3-4 hours |
| Terrain | Dirt & rock trails, some rock scramble |
| Dog-Friendly | Yes |
| Fee | Free |
| Driving Directions | Click Here |
Raven Rocks Hike
When you first arrive at the parking lot off Route 7 on Pine Grove Road in Bluemont, you'll notice that there are few parking spaces for such a popular hike. 
On weekends, every space in this lot will be filled and cars will parallel park behind parked cars. We arrived by 7 am and there were already five cars in the lot.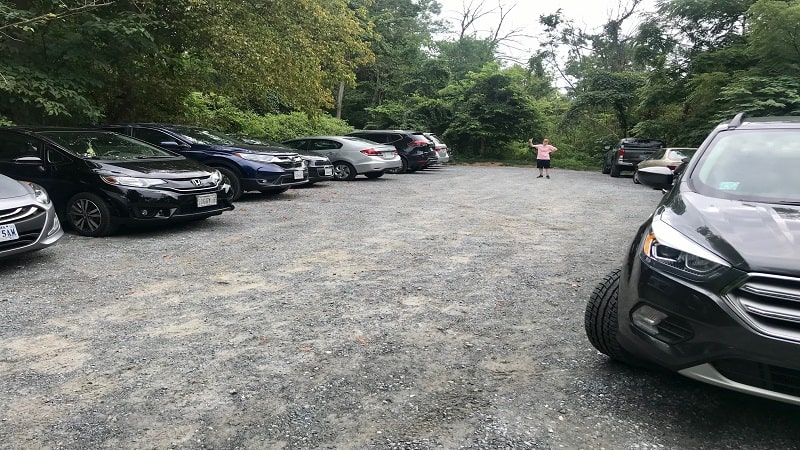 If you get a space, back in to make it easier to exit at the end of your hike. It was a bit touch and go this morning as to whether we would be able to escape the lot.
As in, escape without gently tapping another packed in car in the process. That was easily the hike's biggest challenge.
Hiking the Appalachian Trail in Virginia
Look for a large trail sign, which marks the Raven Rocks trailhead. Ascend the trail, first on steps built into the trail, then on trails of dirt and mid-size rocks.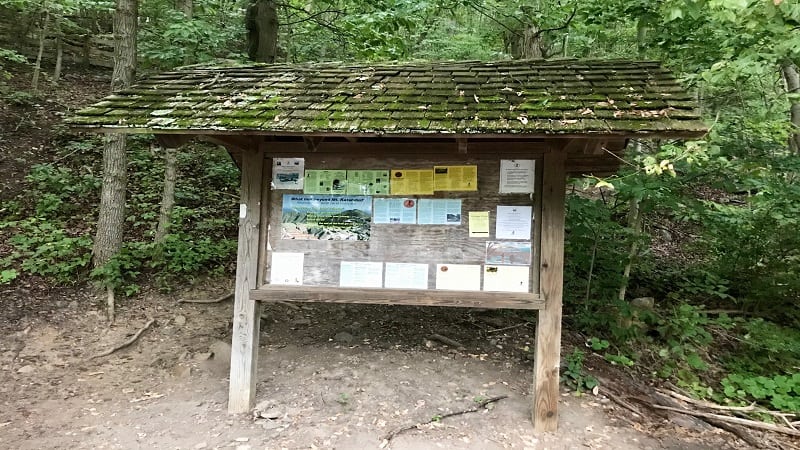 This section of the Appalachian Trail is fondly referred to as the "Roller Coaster" and it's not hard to see why as you go up and down stretches of trail.
Plan on a steep climb, then a flat section, then a steep decline. Repeat, repeat.
As a side note, while the parking lot is next to a busy four-lane stretch of Route 7 the sounds of cars motoring east and west will be a memory by the .5-mile mark.
Listen for birds singing, leaves rustling and woodpeckers pecking. It's very relaxing.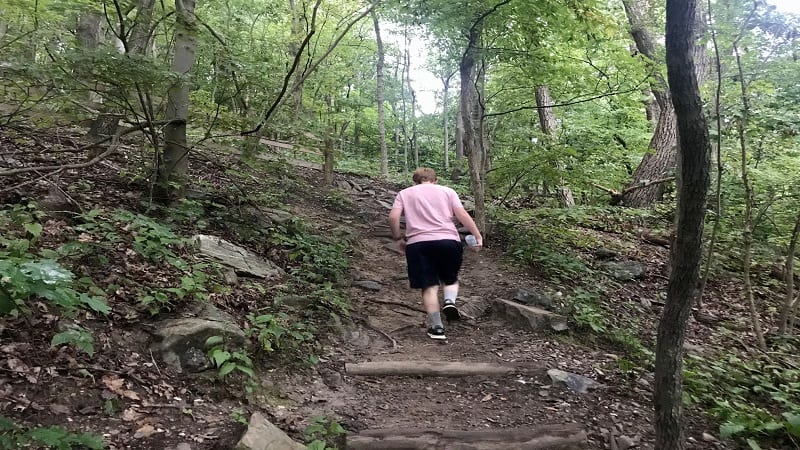 At the .6-mile mark, the trail gets interesting thanks to what I can only call a mini rock scramble. Watch your footing as you traverse mid-size and large rocks.
You may hear a stream burbling under the rocks, though you may not see it flowing. Once you cross the rocks, you will ascend for the next mile.
Read more 10 Top Things To Do In Florence, Oregon
This will take you to the second of three peaks. Continue downhill for .5-mile, carefully watching for rocks and roots that may trip you up on the way down.
At the 1.95-mile mark, there is a true rock scramble downhill, then you will reach a field of rocks to gracefully cross over.
Some rocks are not as stable as others, so keep this in mind as you zigzag over to the other side. Once on the other side, you'll see a blue-blaze on the left.
This short spur trail just past Raven Rocks Hollow Run leads to a primitive camping site with a fire ring. There is also a camp site on the right side of the trail.
The white-blazed Appalachian Trail is to the right of this trail, so keep your eyes on the prize. You don't want to unintentionally veer off course now.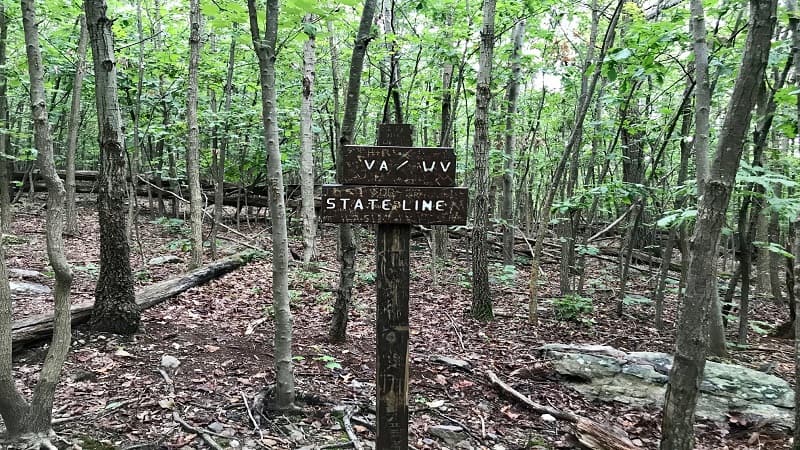 At the 2.4-mile mark, keep your eyes open for the brown VA / WV State Line sign as you leave Virginia and cross the West Virginia border. 
From here, the summit is close as the forest begins to clear and more light falls onto the trail. In another .15-mile you will reach the Raven Rocks overlook.
This rocky outcropping is broken up into three sections with space to settle down on a rock for a snack and more than a few gulps of water to re-hydrate.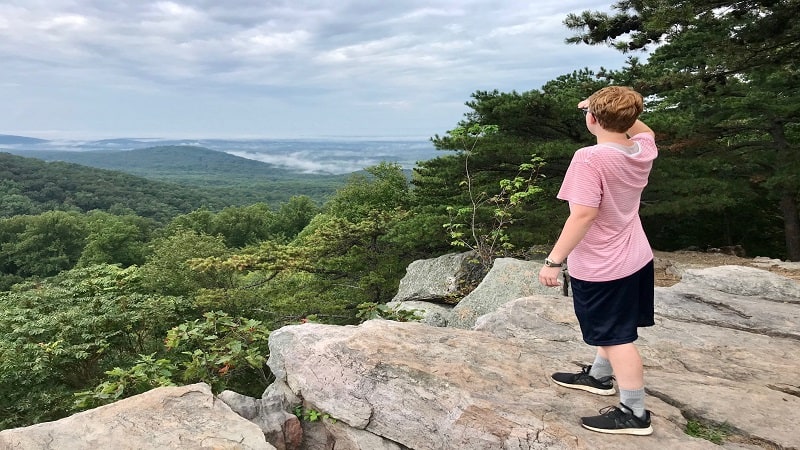 The views of the Blue Ridge Mountains and Shenandoah Valley are fantastic any time of year. There's no need to rush back down to the parking lot.
Thanks to east-facing views, Raven Rocks is a great sunrise hike. When you're ready, simply re-trace your steps back to your car. Well done.
Hike Options
For a longer hike, continue on the northbound Appalachian Trail past Raven Rocks for as long as you like. Re-trace your steps when you've gotten in enough steps.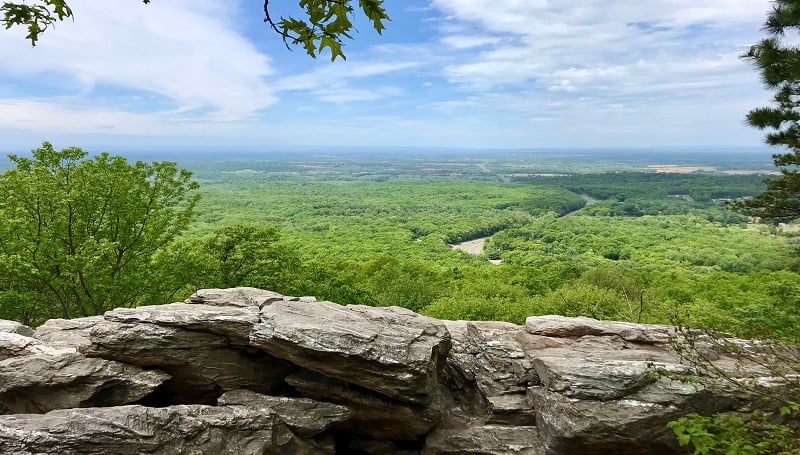 For a shorter adventure, opt for the 1.9-mile out-and-back Bears Den hike to a rocky overlook. The trailhead is just across bustling Route 7 from Raven Rocks.
As a bonus, the parking lot for this hike is much larger and can accommodate many more vehicles.
Wrap-Up Notes
From the parking area, it took my son and I nearly three hours to hike to the summit, savor the views and return to the car for the return drive home.
As a side note, the Raven Rocks hike has been open during the COVID pandemic, so there should be no worries that you will arrive to a closed trail.
For those eager for a sip or a snack post-hike, look to Bear Chase Brewery. This farm brewery is directly across Route 7 from the Raven Rocks parking area.
It's a fantastic place to relax after a hike while with views across the Shenandoah Valley. Look for a large grassy space and inviting Adirondack chairs.
Bear Chase Brewery has many craft beers on tap, as well as pizza, pretzels and cornhole. It's a real fan favorite in Loudoun County.
References