We all want the best for our furry friends, and picking the best cat litter is a biggie. Pretty Litter claims to be the smartest choice out there, but is it a good fit for your kitty?
Spoiler Alert: After testing this brand against others, we were amazed at the results.
In this Pretty Litter review, we explore the benefits of using this product, including the impact on your cat's health, everything you need to know about using the product, and what other cat owners have to say.
By the end, you and your feline friend can make an informed decision about whether or not Pretty Litter is the way to go.
We have included a link to the official site to get the latest promos on this top-rated cat litter delivery subscription.
Pretty Litter Subscription: A Brief Product Overview
Pretty Litter is a crystal litter with a difference. It fights odor, keeps cats happy, and helps owners check their pet's health through specially-formulated color-changing particles.
Made from silica gel crystals with a twist, this litter tracks chemicals in your cat's urine to detect early signs of infection or other health problems. One bag lasts one month, thanks to the highly-absorbent gel beads and odor-fighting properties.
It is comparable to other silica gel-based cat litters, including leading brands such as Fresh Steps or Frisco. Like other crystal litters, it is suitable for multiple cats and superior to regular litter for overall performance. However, this relatively new brand stands out for its colorful approach to health monitoring and is certainly getting noticed.
About the Brand
Created in 2015 by CEO Daniel Rotman, the Pretty Litter brand has gone from strength to strength, building a loyal consumer base and appearing on several notable TV shows and magazines.
The story behind its creation is something that any loving pet owner can relate to. Rotman set out to protect cats' health after his beloved Gingi died from an undiagnosed terminal illness. Now, he wants to make sure it doesn't happen to anyone else.
Pros
Soft and comfortable on sensitive kitty paws
Color-changing properties to help monitor your cat's health
Highly-efficient odor control
Less harmful dust than traditional clay litters
Monthly subscription option delivered to your door
Cons
More expensive than most other litter brands
Loses some of its absorbency if a cat goes repeatedly in the same spot
A few reviews claim the bag may not last the entire month as advertised, depending on the cat's habits (this was not the case in our test)
Things to Consider Before Buying Cat Litter
Buying the wrong cat litter can cause many problems for you and your pet. If they don't like it, they may refuse to use the litter box- something we can all agree is in nobody's best interest!
Before settling on a brand to try, consider what you most want to overcome. Is your current litter too messy, dusty, or clumpy? Are you noticing strong smells of a cat's urine? Does it irritate the cats' paws?
Cats are all unique and can be fussy little things when they want to be, so it is essential to get their litter box setup right. Choosing a silica gel such as Pretty Litter is perfect for a cat that prefers soft sand and a home that needs to combat unwanted odors. You can learn more about this trending cat litter on prettylitter.com.
Who Should Not Consider Pretty Litter?
Before we go into further details in our Pretty Litter review, we should point out that this is not the most budget-friendly option. If your mission is to cut costs and find a cat litter with the smallest price tag, this is probably not the way to go.
Instead, consider cheaper clay litters, but be careful to avoid ones with large clumps that could become a choking hazard.
Pretty Litter Features and Benefits
What is all the Pretty Litter hype about, and is it all worth it? We wanted to find out:
How does Pretty Litter work?
Is Pretty Litter worth the money?
Does it really beat other litters?
Can it genuinely benefit pet owners and their fluffy loved ones?
To answer these questions, we tested Pretty Litter on several cats over a few weeks to a few months. Here is what we found.
Try PrettyLitter Risk-Free for 30 Days
Monitor Your Cat's Health with Color-Changing Particles
The defining feature of Pretty Litter is the fact that it claims to help monitor your cat's health. It does so through pH-detecting particles woven into the silica gel crystals that change color when they come into contact with cat urine.
Everything from urinary tract infections to bladder inflammation can alter the chemical makeup of your cat's urine, and even a slight change can signify a health problem. Why is this beneficial? It gives you the chance to catch things early while they are still treatable.
Cats are notorious for concealing illnesses, which is why so many things go undetected for so long. By using Pretty Litter and monitoring the results, you are taking an active role in looking after your kitty and protecting against health woes.
What Each Pretty Litter Color Means
Olive Green or Dark Yellow
These colors represent healthy urine, meaning it falls within the expected pH range. As long as these are the only colors you see, you and your kitty can sit pretty and purry.
Excessive alkaline levels result in these colors. It could signal a urinary tract infection or the beginnings of kidney stones, so you know to contact your vet for advice.
Read more United Airlines' pet policy: Here's how to fly with your cat or dog on United
Too much acidity turns the urine orange. It could be a sign of many things, including metabolic acidosis or kidney tubular acidosis- a sign of kidney disease (something which is often missed in cats).
If the Pretty Litter turns red, you know to be on high alert. It shows the detection of blood in the urine, which can mean many things- from bladder stones to an internal injury. Rather than miss the subtle signs of a health issue until it is too late, pet owners can address any potentially dangerous abnormal symptoms immediately with their vet.
Overall, it seemed to work very well. The science behind it makes sense and has been approved by respected sources. Health monitoring is not the first thing most people think about when buying cat litter, but maybe now it should be.
In short, Pretty Litter makes it easier to care for your cat in the best possible way and do your bit to keep them healthy- and that is really the ultimate benefit. If this sounds like the perfect solution for your cat you can try it out here.
Please Note
Pretty Litter is not an alternative to veterinary care. You should still visit your vet for regular checkups. The point is to get ahead of a urinary tract infection, dietary problem, or something else that could go undetected otherwise.
Keep Your Home Smelling Fresh with Excellent Odor Control
As much as we love our cats, there is no denying that cat urine is one of the last things you want your home to smell like- and let's not get started on the poop. One of the biggest problems people face with cat litter and litter boxes is managing the odor.
We have tested a lot of products and found Pretty Litter to be amongst the best of the bunch for odor control. Even with multiple cats, the litter covered the unmistakable smells with ease.
Controlling the smell from your cat's litter box is beneficial for many reasons:
Cats don't want to use a stinky tray and may feel inclined to rebel in the least pleasant of ways.
Better odor control means less frequent litter changes- one less chore to worry about.
Cat's urine is high in ammonia, and the smell can trigger reactions in some people. Odor control is beneficial for your health.
You can be more flexible about where you keep the litter if you are not worrying about the smell all the time.
Super Absorbent
In general, Pretty Litter is extremely absorbent. With two cats sharing a box, the crystal litter easily absorbed what it was given to handle. Very quickly, it could dehydrate solid waste and keep the box dry without clumping litter.
Having this impressive effect benefits the cat and owner. A dry box means less litter sticking to paws, which in turn means less cleaning for cat moms and dads everywhere. Most cats avoid soggy sand because they don't like how it feels, which is why owners need to change it so often.
Because it does such a great job of soaking everything up, you shouldn't have to change Pretty Litter as frequently.
Please Note
Pretty Litter comes with a measure to show how much litter to use for optimal absorbency. It seemed to be perfect almost every time, but towards the end of the monthly supply, we found that where one cat liked to repeatedly do her business, the silica gel crystals became significantly less efficient.
Soft, Gentle Feeling that Most Cats Love
Regular litter can actually be a little rough on your cat's paws. Clay litter, for example, can bother a lot of kitties. Pretty Litter is made solely of ultra-fine silica gel crystals, which happen to feel like sand.
The cats we introduced to Pretty Litter took to it almost immediately and seemed happy with the way it feels. If your cat is happy with its litter, your life is going to be a whole lot easier.
Can You Mix It with Other Litter?
Are you the proud owner of a fussy feline? You are not alone. Changing to a new cat litter can be confusing for some pets, so it may be easier to switch it gradually. We also tested this by gradually mixing Pretty Litter into another litter.
Even when mixed, the absorbent and odor-fighting effects were evident, although the colors were not so clear. Luckily, it didn't take long to get the whole thing swapped and the cat feeling comfortable.
Maintain a Tidy Litter Box with Clay-Free Crystal Litter
Silica gel produces far less dust than clay litters. It is also far superior as a non-clumping litter, making litter box clean-up significantly easier.
If you ever had to scrape a mound of clumping litter from the bottom of a box, then we probably don't have to tell you how beneficial this is. The average time we spent cleaning the litter box when using Pretty Litter instead of regular litter was dramatically reduced- something we can all agree is a giant green tick for the brand!
Is Pretty Litter Dust Free?
When we first poured the Pretty Litter, there was a fair amount of dust, so we cannot call this a dust-free litter. However, it was much finer and non-harmful dust than the type that comes from clay.
It was not quite so messy, but it was definitely there. Keep that in mind if dust is a deal-breaker for you and your home.
Convenient Monthly Subscription Delivered Directly to You
You can have Pretty Litter delivered to your door every month. The Pretty Litter subscription is extremely helpful for busy cat owners who find themselves caught out sometimes because they forgot to stock up on litter!
The delivery options are flexible. Opt for a monthly drop of your chosen amount, or get a three-month supply in one go delivered every 12 weeks. We love this feature because it makes life easier and means you never have to worry about getting to the shop on time for the bag to run out.
Prices
One bag costs $22 and supposedly lasts one month for one cat. If you buy multiple bags for multiple cats, the rate is slightly reduced. By slightly, we mean $2. That makes two bags for two cats $40 each month, or a monthly supply for three cats, $60.
Pretty Litter offers a lot of discount codes and special promotions and can sometimes be found at lower prices in Target or other chain stores. Even so, it is more expensive than the average bag of cat litter.
It does, however, come with a 30-day money-back satisfaction guarantee. If you send it back within the first month, you can receive a full refund.
Try PrettyLitter Risk-Free for 30 Days
Managing Your Subscription
It was extremely easy to make changes to our Pretty Litter subscription. Adding extra bags, changing the delivery schedule, and canceling when we were finished were all possible at the click of a button, so you don't need to worry about being tied into something you later can't afford or don't want to be a part of.
Read more 6 Great Sources Of Fiber For Cats (& How Much They Need Daily)
Lightweight and Easy to Scoop
Hauling around heavy bags of cat litter is nobody's favorite task and can be really quite difficult for some. You don't need to worry about that with Pretty Litter. We were shocked to see how little the first bag weighed!
Because of the silica gel composition, there is almost no weight to the stuff. Older cat owners who struggle with scooping and changing litter are sure to feel the difference here.
Environmentally Friendly Hygiene
Although it is not as eco-friendly as recycled natural litter products, Pretty Litter is far less harmful to the environment than most standard brands. It does not release harmful chemicals or dangerous dust.
Is Pretty Litter Compostable?
Unfortunately not. The silica gel crystals are not quickly biodegradable, so they are not an optimal choice for composting.
You should not flush Pretty Litter! Scoop out solid waste and flush it if you want, but get rid of the used litter in the regular trash.
Vet-Approved for Your Cat's Wellbeing
You may be wondering, is Pretty Litter safe? According to licensed veterinarians, yes, it is. In fact, it was actually developed by vets and scientists to ensure that no harm comes to your kitty.
What Other Users Have to Say
Ours is only one opinion, so what about the rest? We scoured the internet for insight into what others really think about Pretty Litter and were happy to find that the response was overwhelmingly positive.
It ranks highly on popular cat care websites and forums and has a high trust rating from reputable sources. Of course, there are a few people with a different view, but the vast majority back our impression that Pretty Litter is a worthwhile product.
Positive User Reviews
Try PrettyLitter Risk-Free for 30 Days
Negative User Reviews
Possible Alternatives
Although we would say there is no exact alternative that matched Pretty Litter on all fronts, there are some products with certain similarities that could be more what you are looking for. Here are three other litters you may want to consider.
Alpha Paw Cat Litter: Cheaper Health Monitoring Option
If the health monitoring aspect is what grabs your attention but you are put off by the price of Pretty Litter, Alpha Paw is a possible solution. In many ways, it is a very similar product, with the same color-changing particles and ultra-fine feel.
The price difference is not significant, but you do get more in a bag, making it slightly better value month to month. Unfortunately, it does not have quite as much popular backing as Pretty Litter and some mixed reviews about how dusty it is, so it is worth reading more before making a decision. You can find the best pricing on Alpha Paw here.
Dr. Elsey's Respiratory Relief Crystals: Most Similar Look and Feel
This litter does not have the colors, but everything else is almost identical. Just like Pretty Litter, Dr. Elsey's Respiratory Relief Crystals have excellent odor control, a sandy-soft feel, and impressive adsorbent qualities.
It is significantly cheaper, offering a bag almost twice the size for roughly the same price (it is actually cheaper by a couple of dollars).
Fresh Step Crystals: Trusted Brand of Crystal Litter
Cat parents looking for a well-known brand of crystal litter with super absorbent, easy clean qualities should also consider Fresh Step. Again, it does not have a urine checker, and it is much bulkier than Pretty Litter, but it is one of the most popular cat litters around right now.
One thing this has going for it over Pretty Litter is the low-dust output- something users with asthma can definitely benefit from.
Pretty Litter Review: Our Conclusion
A healthy, happy cat is the goal for every kitty owner, and Pretty Litter can help make it possible. Overall, we love this product and rate it highly compared to the many other brands we have tried.
Finding a litter that your cat likes and is easy to maintain is not always easy, but Pretty Litter does a pretty good job all in.
It is easy to clean and does not require changing as often as many other litters.
The ultra soft, ultra absorbent crystals are a winner for cats and owners.
You can actually keep track of animal wellness based on the color of the crystals- a feature that has been verified by veterinarians.
You can set up an account online directly through the Pretty Litter website and test it out for yourself!
Try PrettyLitter Risk-Free for 30 Days
---
— Update: 01-05-2023 — cohaitungchi.com found an additional article The Benefits of Health Monitoring Litter from the website www.prettylitter.com for the keyword high alkaline cat urine pretty litter.
Health monitoring litter is a recent advancement in litter technology and helps cat parents monitor their cats' health to ensure everything is looking good. This is especially beneficial because cats have evolved to hide pain and illness. Using health monitoring types of cat litter can make you aware of a condition way before you might have known otherwise. 
As you can see, there are many benefits of health monitoring litter. Let's look at what this litter is, how it works, some of its benefits, and what it can monitor. 
What is Health Monitoring Litter? 
Health monitoring cat litter uses signals, such as colors, to determine if your cat has a potential health issue. Pretty Litter silica cat litter monitors your cat's health, so you know if something is wrong. 
Using Pretty Litter's health monitoring technology, you can watch your cat's litter change color. Different colors can mean different things. Here are a few:
Alkalinity – Alkaline urine can suggest certain types of urinary tract infections. Alkaline urine has a high urinary pH and can lead to bladder crystals and stone formation.
Acidity – Low pH can lead to calcium oxalate stone formation in the bladder. Causes for low urinary pH include diet, diseases such metabolic acidosis, and kidney tubular acidosis.
Blood – Pretty Litter can also alert you if there is blood in your cat's urine, which could indicate bladder inflammation, bladder stones, and urinary tract infections.
PrettyLitter reacts to certain urinary elements such as levels of acidity and alkalinity to make color changes visible to the naked eye or show blood. Here is what each color could mean:
Dark Yellow/Olive Green
Urine within a typical range
Dark Green or Blue
This means your cat's urine has a high urinary pH, which could indicate:
Increased risk of struvite stone formation in the bladder
A bacterial infection: Certain species of bacteria can break down urea causing an increased urine pH
Yellow to Orange
This means that your cat's urine is acidic (has a low urinary pH),  indicating possible:
Kidney disease or kidney tubular acidosis
Metabolic acidosis
UTI
Calcium oxalate crystal formation
Red
This shows the presence of blood, indicating possible:
Bladder inflammation
Bladder stones
UTI
Bladder cancer
Renal pathology (renal hematuria)
Read more How to Feed a Cat with Vestibular Disease
---
---
Benefits of Health Monitoring Litter
The most significant benefit of a health monitoring litter is that it could potentially save your cat's life by detecting a potential health issue early. This is what it's designed to do and its main benefits. 
Here are some other benefits of choosing a health monitoring litter:
Peace of Mind 
Rest easy knowing that you have your kitty's health under control. No surprises, just a health monitoring litter that indicates potential health issues. 
Early Detection
With a health monitoring litter that instantly changes color based on the pH levels of your cat's urine, you may be able to catch health concerns early, before they become a life-threatening condition. This early detection could make the difference between life and death because some of the conditions that Pretty Litter detects, like a urinary blockage, can become fatal in a matter of days or even hours. 
Save Money 
Another benefit of catching things early is that you might save money in the long-run. By knowing what's going on with your cat, you might be able to avoid expensive emergency vet visits. When going to the vet, you will be armed with some evidence of something going on, which might lead your vet to the tests they need to run quicker and more efficiently. 
Save Time 
Lastly, a health monitoring litter can help you save time because since you already have an idea of what's going on, you can communicate with your vet about the issues you suspect right away, rather than going into the appointment blind. 
In addition to the health benefits, Pretty Litter also has a ton of benefits just as a litter itself. It is dust-free, low-tracking, lightweight, and is delivered to your door every 30 days, right when you need it.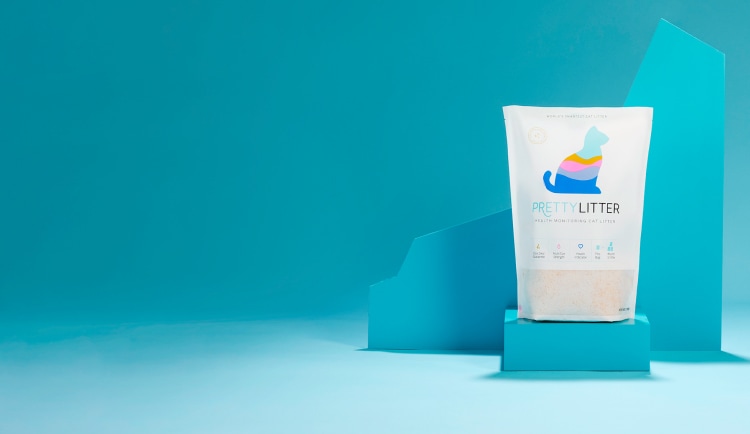 What Conditions Can Health Monitoring Litter Evaluate? 
We talked about how Pretty Litter changes colors based on potential health concerns, but let's look at some of the most common urinary issues that Pretty Litter can alert you of. 
Urinary Tract Infection (UTI) 
A urinary tract infection (UTI) in cats is an infection in the urinary tract caused by bacteria such as e.Coli. This bacteria can find its way up the urinary tract and make it hard or painful for your kitty to urinate because of inflammation. Some common signs of UTIs in cats include going in and out of the litter box often, straining to urinate, or urinating small amounts of pee more frequently. 
What Color Will Pretty Litter Change if My Cat Has a UTI?
 If your cat has a UTI, our health monitoring litter may change to yellow, indicating a low pH. It may also change to red as blood in the urine is a common symptom of a UTI in cats. 
Urinary Crystals
When the pH of a cat's urine is too high or too low, it can cause microscopic crystals to form in the urinary tract. These microscopic crystals can then build up and get stuck in a cat's urethra, making it difficult or impossible to urinate. 
Struvite crystals are the most common urinary crystals and are caused when a cat's urine is too alkaline (the pH is too high). These crystals irritate the urinary tract, making it painful and difficult for a cat to urinate. 
The other type of urinary crystals is calcium oxalate crystals, which can be caused when a cat's urine is too acidic (the pH is too low). 
What Color Will Pretty Litter Change if my Cat Has Urinary Crystals?
If your cat has struvite crystals (the most common kind), their urine may change to dark green/blue. If your cat has oxalate crystals, it may change to yellow/orange. In addition, either crystal type can result in blood in the urine because these crystals are irritating your cat's bladder and urethra. Because of this, the litter might also turn red, indicating blood in the urine. 
Bladder Stones 
Bladder stones in cats are caused by rock-like collections of minerals in a cat's bladder. The size of the stone(s) can range from a sand-life texture to the size of a granule of gravel. Sometimes, there is a mix of both large and small stones. The most common symptoms of bladder stones are straining to urinate and blood in the urine because the stones are rubbing against the bladder wall and irritating it. This then causes swelling and inflammation. 
What Color Will Pretty Litter Change if My Cat Has Bladder Stones?
If you use a health monitoring litter and you suspect that your cat has bladder stones, you will likely see the litter change either dark green/blue or red. Blood in the urine is a common symptom of bladder stones because the irritation caused by the stones rubbing against the bladder wall can cause blood in the urine. 

Feline Idiopathic Cystitis 
Another relatively common urinary tract disorder that our health monitoring litter might detect is feline idiopathic cystitis, or FIC. Unlike the other urinary health concerns on this list, FIC isn't caused by a physical irritation of the urinary tract, but it does cause similar inflammation and symptoms. These symptoms include struggling to urinate, urinate in other places besides the litter box, crying or meowing while urinating, or not being able to produce much urine. Vets aren't entirely sure what causes FIC, but some contributing factors can be stress, genetics, dehydration, and diet. 
What Color Will Pretty Litter Change if My Cat has FIC?
If you suspect that your cat has FIC, your Pretty Litter may turn blue/green or red. It might turn blue/green because the pH in your cat's urine might be higher than normal if they are unable to urinate properly. It may turn red because blood in the urine is a common symptom of FIC. 
Urinary Blockage
A urinary blockage is generally the result of these conditions above because it is caused by a cat's inability to pass urine properly. A cat can have a urinary blockage because the urethra is physically blocked by crystals or bladder stones, but it can also become blocked if the bladder becomes inflamed due to infection or muscle spasming. 
What Color Will Pretty Litter Change if my Cat has a Urinary Blockage?
Because a urinary blockage can be a result of any of the conditions listed here, the health monitoring litter may change to dark blue (high urinary pH), yellow/orange (low urinary pH), or red (blood in the urine). One important note about urinary blockages: Although the litter might change colors if your cat is able to urinate, sometimes with a complete blockage your cat won't be able to urinate at all. This is an extremely serious condition because it can cause elevated kidney levels and eventually death. If you notice that your cat is unable to urinate, take them to the vet right away. 
Health monitoring can be a life-saver (literally) by alerting you to potential health concerns early. That is the most significant benefit of a litter like Pretty Litter. Know exactly what's going on with your cat's health instantly. 
Sources:
https://www.petcoach.co/article/6-signs-of-urinary-tract-disease-in-cats/

https://www.pethealthnetwork.com/cat-health/cat-checkups-preventive-care/what%E2%80%99s-diagnostic-value-a-litter-box

https://www.freshstep.com/cat-tips/behavior-health/signs-your-cat-is-sick/