Girls Aloud reunited in memory of their late bandmate Sarah Harding who died last year after being diagnosed with breast cancer.
Nicola Roberts, Kimberley Walsh, Nadine Coyle and Cheryl Tweedy teamed up with Cancer Research to host a special charity event on Sunday called Race for Life for Sarah. In her book, Sarah revealed her experiences after she was diagnosed with the disease, including the first signs she spotted.
Here is what Sarah said about breast cancer and the other symptoms that are important to look out for. We have also given advice from the NHS.
Sarah Harding's first symptoms of breast cancer
After sharing the news in August 2020 that she had been diagnosed with breast cancer, Sarah Harding opened up about early symptoms that she initially dismissed, reports The Mirror. In her book Hear Me Out, the Girls Aloud singer revealed she had felt pain around her breast but wrote it off as a cyst because she was in "denial".
Sarah wrote: "At first I thought it was just a cyst. I'd been playing my guitar a lot, and I thought the strap had probably irritated an area around my breast. The trouble was, the pain was getting worse. It got so bad that I couldn't sleep in a bed any more. I slept on the sofa, popping painkillers like they were Smarties.
"I really overdid it, but the pain was overwhelming. Eventually, my skin started to bruise, and by now I was terrified." She continued: "One day I woke up realising that I'd been in denial.
"Yes, there was a lockdown, yes, there was a pandemic, but it was almost as if I'd been using that as an excuse not to face up to the fact that something was very wrong. All through the tests, I was, of course, praying that it wasn't cancer.
"I think the fact that what I had was so painful gave me some hope it might not be. I'd read that cancer lumps are often not painful, which is why I was hoping against hope that what I had was just a cyst of some kind."
Signs of breast cancer to look out for
Like Sarah, the first symptom of breast cancer that most women notice is a lump or an area of thickened tissue in their breast. Not all lumps are cancerous, but it's important to have them checked by a doctor. Don't forget men can also get breast cancer, so they also need to check themselves regularly.
According to the NHS, some other signs of breast cancer to look for include:
A change in the size or the shape of one or both breasts
Discharge of fluid from your nipple
A change in the look or feel of your skin, such as a rash, redness, puckering or dimpling
An eczma-like rash, crusting, scaly or itchy skin or redness on or around your nipple
A change in how your nipple looks, such as becoming sunken
A lump or swelling in either of your armpits
Breast pain in not usually a symptom of breast cancer, but it was for Sarah. If you think something could be wrong, or you are experiencing any of the symptoms listed above then you should see a GP.
Read Next:
Former TOWIE star Lauren Goodger gives suspected reason behind baby girl's sudden death

Declan Donnelly welcomes newborn son hailed as 'ray of light' following brother's death

Denise Welch opens up on how dad's death 'inspired her to carry on tradition' of living life to the full

Dame Deborah James' BBC podcast wins major award less than a month after Bowelbabe's death

Bittersweet reunion as long lost Newcastle siblings finally meet – months after their mum's death
Read more Article: Interview with Angelina Jolie's doctor promotes meatless diet and scientific inaccuracies
---
— Update: 12-02-2023 — cohaitungchi.com found an additional article Famous Pop Star, 39, Thought Her Painful Breast Lump Was 'A Cyst From Playing Too Much Guitar:' It Turned Out To Be Cancer from the website www.survivornet.com for the keyword breast cancer sarah harding.
The model and actress, who rose to fame with her Girls Aloud group on the reality competition Popstars: The Rivals, admitted she "really overdid it" when taking medicine to combat the pain, noting that grew "terrified" when she began seeing bruises on her body. The discoloration on her skin prompted her to realize she had been in denial.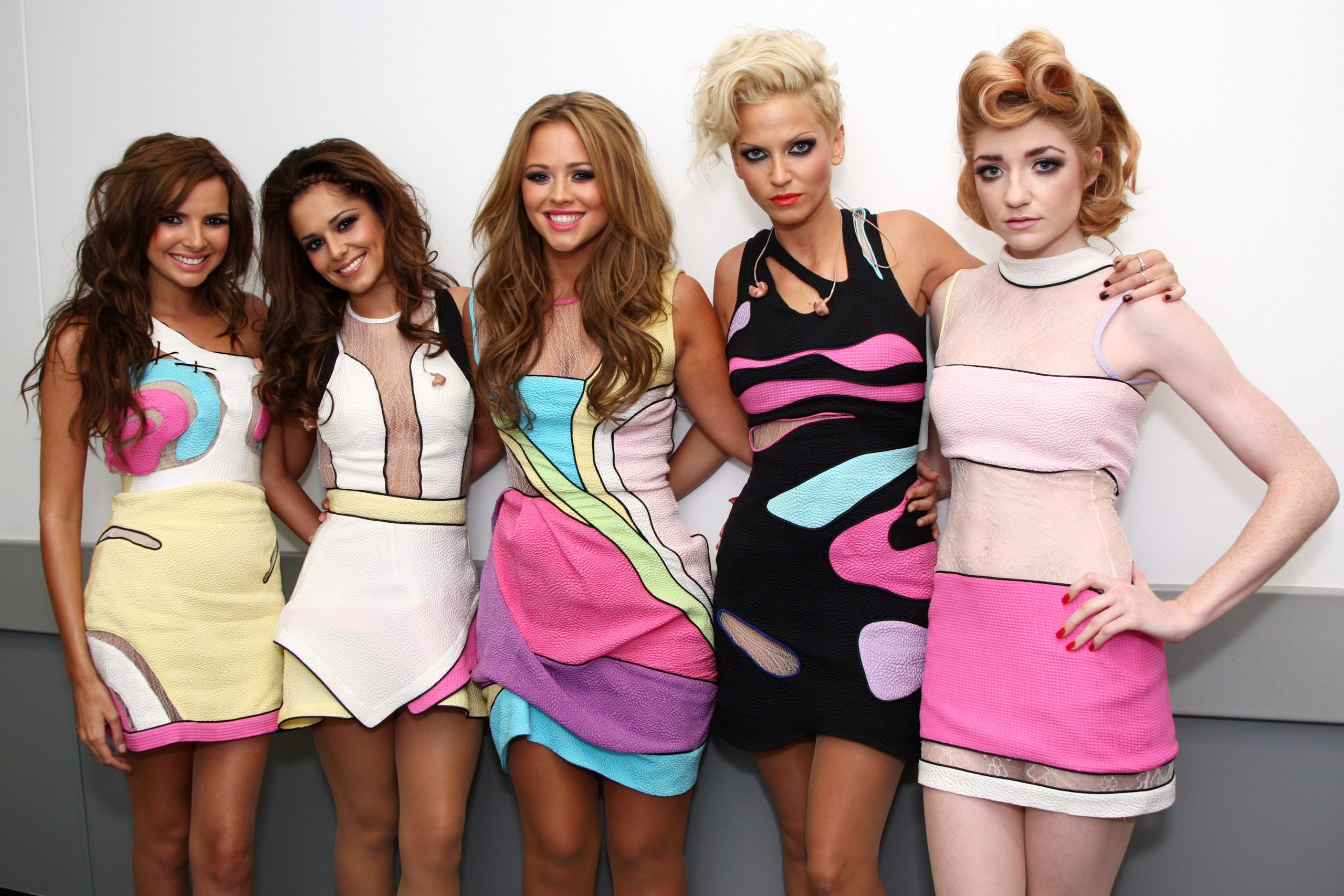 Related: Beloved FOX 5 Reporter Ayesha Khan, 40, Urges Viewers To Get Mammograms Amid Her Own Battle With Breast Cancer She explained further, "I think the fact that what I had was so painful gave me some hope it might not be. I'd read that cancer lumps are often not painful, which is why I was hoping against hope that what I had was just a cyst of some kind." At one point during her cancer treatment, Harding had sepsis in the hospital, and as a result, she was put into a coma and supported by a ventilator. "Even once I was off the ventilator, I couldn't speak properly," she wrote. "All I could do was make noises that sounded like a chimpanzee trying to communicate."
Staying Hopeful After Breast Cancer Diagnosis
Treatment options for metastatic breast cancer typically initially include chemotherapy and radiation. Immunotherapy and antibody-drug conjugates are also possibilities for some types of advanced breast cancer. Despite Harding having tragically lost her battle at the age of 39 on September 5, 2021, is important to know that more and more women are living and thriving every day with stage 4 cancer. Many experts urge that you are not a statistic. Everyone's battle is different, and it is possible to survive years past what is typically expected for a late-stage diagnosis. Related: A 'New' Type Of Breast Cancer? Practice-Changing Results? New Study Says Yes, And Provides Hope For Patients With HER2 'Low' Breast Cancer Kelly Shanahan, a doctor with metastatic breast cancer, pointed out in an interview with SurvivorNet that statistics apply to large populations, they don't apply to individuals. Shanahan is living beyond the average life expectancy for her cancer. "One thing that I am grateful for my original oncologist is when I walked into the room with him and I sat down, he looked me straight in the eyes and he said, 'Kelly, I know you know the statistics. You are not a statistic.' I might live two months, I might live 25 years. And I'm going for that 25 years," Shanahan told us. "Statistics apply to large populations, they don't apply to individuals," she said. "And it's important information, but the one thing that I take to heart is that these numbers, they're not me. I know what the data is. I know that this is a terminal disease, but somebody has to be the exceptional responder. Somebody has to be the person that exceeds those expectations, and I hope that that will be me."
Symptoms of Breast Cancer
Being aware of how your breasts normally look and feel is an important factor when it comes to breast cancer detection. Doing regular self-exams is one way to familiarize yourself with how your breasts normally feel, so that you will be able to identify anything out of the ordinary like a lump or hard mass. Below are some other symptoms to look out for.
New lump in the breast or underarm (armpit)
Any change in the size or the shape of the breast.
Swelling on all or part of the breast
Skin dimpling or peeling
Breast or nipple pain
Nipple turning inward
Redness or scaliness of breast or nipple skin
Nipple discharge (not associated with breast feeding)
Of course, these symptoms can be due to things other than cancer. For example, a lot of women experience breast tenderness during certain times in their menstrual cycles. If you're worried — talk to your doctor about it. They may want to perform an exam, or even schedule a mammogram just to be safe.
Contributing: SurvivorNet Staff
Learn more about SurvivorNet's rigorous medical review process.
---
---
— Update: 12-02-2023 — cohaitungchi.com found an additional article After Late-Stage Cancer Diagnosis, Singer Sarah Harding Says COVID-19 is Not an Excuse to Delay Important Screening from the website www.adventhealth.com for the keyword breast cancer sarah harding.
In August 2020, then 38-year-old Girls Aloud singer Sarah Harding announced she had been diagnosed with advanced breast cancer earlier in the year. She shared with her fans at that time that the cancer had spread to other areas of her body and she was undergoing a treatment plan. Harding is also known for being a reality television star, having appeared in the shows Celebrity Big Brother, Celebrity MasterChef, and others.
Read more Experts Take a Fresh Look at Strategies for Early-Stage HER2+ Breast Cancer
Now, Harding is opening up more about her battle with breast cancer and revealed she was told by her doctor that she would probably never enjoy another holiday season.
Her Journey With Advanced Stage Breast Cancer
Since her diagnosis last year, Harding has undergone both chemotherapy and a mastectomy to try to get the cancer under control. Despite her treatments and surgical procedures, her cancer was already too advanced, and the spreading continued. It has now spread throughout her body, including her brain.
To pass time at the hospital, Harding started writing about her illness and the journey she's been on, saying to the New York Times that she wanted to encourage more women to seek medical advice the moment they find something in their breasts and to not use COVID-19 as an excuse to avoid seeing a doctor.
At AdventHealth, we know that underlying medical conditions often go undetected for too long without regular preventive care. But even during a pandemic, and even with a busy schedule, your health should always be a priority.
The Key to Lifesaving Early Detection
"Breast cancer is the most common cancer and the second-leading cause of cancer death in women in the U.S. Annual mammograms are still the top recommended screening for women," says Wassim Mchayleh, MD, Medical Oncologist at AdventHealth Cancer Institute. Screenings allow the earliest possible detection of breast cancer — even before you experience symptoms.
A mammogram is such a powerful tool because of its ability to catch breast cancer early. In fact, it can detect breast cancer up to two years before a tumor can be felt by you or your doctor.

Catching cancer early means:
Therapies like breast conservation therapy will be most effective
Treatment can begin early, possibly before the cancer spreads to other parts of your body
You'll have the best possible chance for a cure
"Many women with breast cancer have no symptoms. According to the American Cancer Society, many decades of research show women who have regular mammograms are more likely to have breast cancer found early, are less likely to need aggressive treatment like surgery or chemotherapy and are more likely to be cured," explains Dr. Mchayleh.
"Breast cancer can affect women at any age, but the risk goes up with age. Mammograms are recommended starting at age 40 and even at a younger age in certain women who are at higher risk."
Know Your Risk for Breast Cancer
It's important to know your risk for breast cancer. Some risk factors you can control, like your weight and lifestyle. Others you can't, including:
Age
Density of breast tissue
Family history of breast cancer
First menstrual period before age 12
Genetic mutations BRCA1 and BRCA2
History of fibroids or other benign breast conditions
Race and ethnicity
When you understand the breast cancer risk factors you can control, you can manage them better with the guidance of physicians who have your whole health in mind.
We're Taking Extra Steps for Safety at Your Mammogram Appointment
Breast cancer screening at AdventHealth is focused on one thing: protecting your whole health. And with the current circumstances, that means taking extra safety measures for your protection and peace of mind.
Everyone who steps foot through our doors will have their temperature checked. This happens for the protection of all of our patients and staff, and our universal mask policy means everyone must wear a mask inside our facilities — team members, clinicians, patients and visitors. We provide both our employees and our patients with masks as they enter our facilities.
We've also redesigned our waiting areas and lines to accommodate at least 6 feet of social distancing space in between our patients.
Feel Empowered With Preventive Care
If you're between the ages of 20 and 40, you should have a clinical breast exam by your doctor at least every three years. If you're 40 or older, an annual screening mammogram may be recommended by your doctor.

Our breast cancer screenings are focused on one thing: protecting your whole health. Your long-term well-being is important to us — and taking the first step is up to you.  Make an appointment for your screening mammogram today by visiting ScheduleYourMammo.com .
Read more Breast cancer metastases to the thyroid gland – an uncommon sentinel for diffuse metastatic disease: a case report and review of the literature
---
— Update: 12-02-2023 — cohaitungchi.com found an additional article What the media has got so wrong about Sarah Harding from the website www.totalhealth.co.uk for the keyword breast cancer sarah harding.
Patients with advanced breast cancer  (also known as metastatic breast cancer or Stage 4) and their supporters have been talking about their concerns regarding the reporting of Girls Aloud singer Sarah Harding's recent diagnosis. 
In a statement on Twitter, Sarah wrote:
Sarah's breast cancer has spread beyond the breast and nearby lymph nodes to other parts of the body. When breast cancer is advanced, it usually means it has spread to the bones, lungs, liver or brain.  
Unhelpful reporting about advanced breast cancer
Well-wishers have flocked to social media to tell her she can 'beat this', but as well-meaning as their words are, it hides the truth about advanced cancer, for which there is no cure, only treatment which aims to ease symptoms and hopefully extend life.
Author Marion Keyes commented on Twitter: 
Other commentators have detected a judgemental tone to reporting. For example, the Mailonline appears to link her lifestyle to her diagnosis with this headline:
Who develops advanced breast cancer?
Up to 1 in 3 people (usually, but not always women), with breast cancer will at some point develop metastatic breast cancer.  This might be de novo, meaning metastatic disease is diagnosed at the same time as the original diagnosis.  Or most often, it is diagnosed months or many years after treatment for primary breast cancer has finished.
The median survival for people diagnosed with metastatic breast cancer is 2-3 years, although around 1 in 10 women will survive over ten years. 
One Twitter user Lydia Gard wrote:
Others took issue with the idea that metastatic breast cancer can be caught by early detection. The BBC website published an article about Sarah Harding that gave the impression that metastatic breast cancer can be avoided by early detection and that it can be cured. The BBC wrote:
One Facebook user commented on this article:
Advanced breast cancer treatment is rationed
Sarah has said she is having treatment on the NHS. Activists in the metastatic cancer community are keen to highlight the disparities between private and NHS treatment. Within the NHS, treatment is rationed for metastatic breast cancer. Often, but not always, private health insurers will fund more drug lines than the NHS and have more flexibility in their treatment plans, which is important for management of the disease.
Breast cancer advocacy group METUP UK, which campaigns for better treatment for everyone who has metastatic breast cancer, have noted a rise in private fundraisers for drugs, which may not be as easy to access on the NHS.
How can you spot advanced breast cancer?
The signs and symptoms of metastatic breast cancer can be non-specific and mimic other conditions.  According to Breast Cancer Now, the charity for patients with metastatic breast cancer, patients with a history of primary breast cancer should seek medical advice if they experience any of the following  persistent symptoms.  Oncologists define persistent as being for two weeks.
unexpected weight loss or loss of appetite
discomfort or swelling under the ribs or across the upper abdomen
severe or ongoing headaches
altered vision or speech
feeling sick most of the time
breathlessness or a dry cough
loss of balance or weakness or numbness of the limbs
any lumps or swellings under the arm, breastbone or collarbone
pain in the bones (e.g. back, hips and ribs)
Where can I get more help and information about metastatic breast cancer?
If you have just been given a metastatic breast cancer diagnosis and you want emotional and practical support, contact Breast Cancer Now and After Breast Cancer Diagnosis. If you want advice on getting access to and campaigning for the best treatment for metastatic breast cancer, contact the patient advocacy group metupuk.org.uk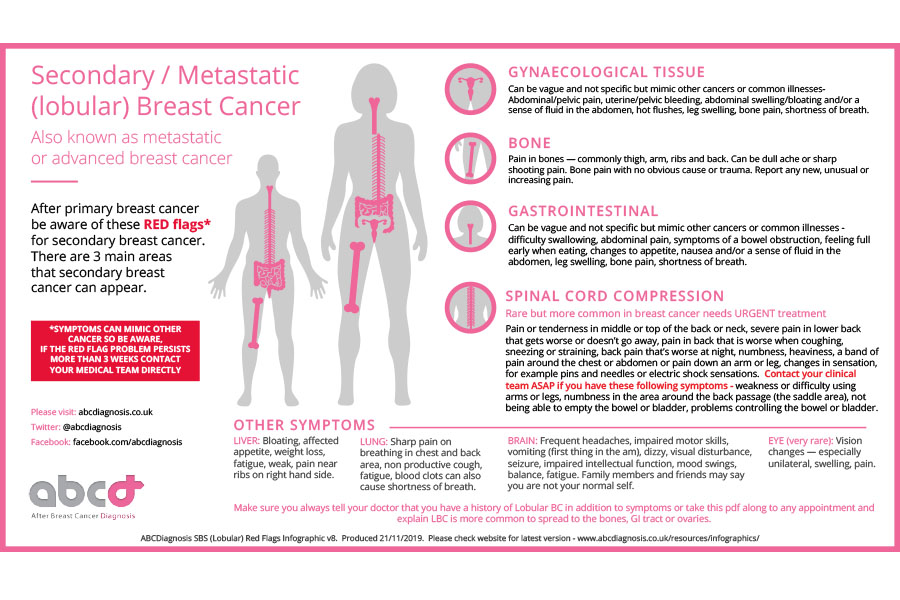 To find out more about how to advocate to get the best metastatic breast cancer treatment visit metupuk.org.uk 
See also …
When breast cancer is incurable
Are you at risk of getting breast cancer?
FAQ about breast cancer
References