Just an hour east of Houston, Texas is the small, friendly little town of Bellville. Bellville, Texas is a fun little town where you can spend a full day visiting and doing all sorts of fun activities. Many of the activities must be scheduled, so be sure to call ahead and make your reservations.
We drove the Trophy Nissan Kicks from Trophy Nissan to Bellville, Texas, and I was amazed at all of the safety features this fun small SUV has. It was perfect for our trip. A notification if you drift from your lane, and knowing when someone was in your blind spot, are just a few of the brilliant safety features. There was a lot of up-front storage, including plenty of space for sunglasses, cell phones and more. And while it is a smaller SUV, we were able to take two very large suitcases, and several other bags, backpacks, boxes, and jackets with the seats folded down. The gas mileage was impressive too! It was a fun vehicle, and we enjoyed taking the Kicks for our trip.
Explore Newman's Castle
You would never know this wasn't a castle from the past. Mr. Newman has built his castle in Bellville, Texas to look and feel like an authentic castle, and has invited visitors in for tours. You start at the Newman Bakery for a yummy breakfast where you'll purchase your tour tickets and get directions to the castle. Then you travel about 5 minutes to the castle, which is so picturesque! You're greeted by his guard dogs (don't worry, they're super friendly)! Mr. Newman gives you a history of the castle and has a "knighting" ceremony for any children in attendance. As you explore the castle and wander the grounds, you'll feel like a kid in a magical place. Make sure to read all about this amazing Bellville castle!
Shop the Downtown Square
The Bellville downtown square has several cute shops to browse through and maybe find a few treasures to take back with you. Coco and Duckie is a cute shop with a variety of fun and unique items. Treasure Crafts is another cute store with hand-made and home goods, a great place for finding gifts. You'll also find unique and fun fashions, furniture, and other beautiful items at Buck Ferguson's Originals. You'll meet the friendly locals as you explore the downtown shops.
Eat Items Made from Scratch
While you're on the downtown square, stop in at Farm to Market Produce Company just a block away. You can pick up fresh vegetables, a salad or cold items, or choose a take & bake option like the cauliflower pizza, piled high with toppings. They offer breakfast tacos, soups and baked goods. Every day there's a different special and it all looked delicious!
Learn from a Blacksmith
At Phenix Knives, a local blacksmith shop, you can make your own knife, or shop the items made by local and celebrity blacksmiths. Plus, you can meet one of the first contestants from the reality TV show, Forged in Fire, Cowboy Szymanski. It's a fun and unique activity that you wouldn't expect in a quiet little town like Bellville.
Grab a Coffee or Smoothie
Perks is a neighborly place to grab a coffee or smoothie and sit and relax. They have several options including small hand-held breakfast items. It's just a great small-town coffee shop that makes you feel like you're at home.
Tour a Horse Farm
Schedule a tour of the Bluebonnet Farm where you can see where they raise and train American Saddlebred horses right here in Bellville, Texas. You'll learn all about their farm, meet some of the beautiful horses, and get a better understanding of their daily lives. It's always fun to learn about animals, as well as exciting careers such as those at the farm. Riding lessons are also available.
Read more 16 Romantic Ideas for a Date Night in Atlanta
Learn About Some Austin County History
At the Austin County Jail Museum, you can learn a little about Bellville, the jail, and Austin County history. Tours are only on Saturdays, and you'll want to call ahead to book your tour. You'll see some artifacts on display, as well as walking the jail cells, just as they were when it was a jail.
Take BBQ To-go at Bellville Meat Market
There are some interesting and yummy places to eat while you're visiting Bellville, Texas. We had dinner to-go from Bellville Meat Market. It's a meat market, with to-go dinner options cooked for you, including some yummy baked potatoes topped with your choice of toppings – hope you're hungry, because they're big! You can also pick up some different cheese, sausages, jerky and baked goods to enjoy for yourself or as a gift for others.
Enjoy a Glass of Wine
For a fine wine experience, try Ruffus Pleasant Wine Bar. You can enjoy a relaxing evening at this upscale wine bar on the downtown square.
For a more relaxed vibe, Ubar Wines has a small country cabin with an outdoor patio where you can try a wine flight or have a glass. We got to meet the owners who were very welcoming. Be sure to grab an extra bottle or two for later.
Try Local Craft Beer
If beer is more your style, be sure to check out Huff Brewing Company. They offer some of their own craft beer and bring in local food vendors and often live music. It's a fan-favorite in the area with a good vibe. Check for days/times before you go as they are only open certain days.
Stay in a Cute Airbnb
Right on the Bellville square is a beautiful little Airbnb perfect for a getaway and close to all of the things to do in Bellville. We enjoyed how spacious it was with a large living and dining area, four beds, and the vintage design. It's perfect for large families and still affordable enough for couples who want something nice. You can even get a discount on your stay!
Things to Do in Bellville, Texas: Final Thoughts
For such a small and quiet town, there really are several things to do in Bellville, Texas. It is definitely worth a getaway for a day or two. Be sure to check out the schedules and remember some places require a reservation.
---
— Update: 05-01-2023 — cohaitungchi.com found an additional article Things To Do Near Bellville, Texas from the website www.istorage.com for the keyword things to do in bellville tx.
Looking for restaurants to eat at and things to do near Bellville, Texas? If there's one thing you'll find a lot of in Texas, it's small towns full of history and charm. Bellville, Texas, is one of those small towns, and the joy here is legendary. There are so many fun things to do, see and enjoy you'll forget all about big city life. The people here are friendly and welcoming, too, making Bellville a great place to live and raise a family.
Estimated reading time: 7 minutes
Bite into a Better Burger at The Hill Restaurant
There's nothing better than biting into a classic cheeseburger cooked to perfection, something they serve at The Hill every day. Established in 1952, this traditional 'dive' is an institution in Bellville with a passionate fan base. If perfect burgers that melt in your mouth are what you crave, The Hill is your destination! Be sure to try one of their malts while you're there, also. (They're almost too delicious!)
The Hill Restaurant
758 West Main St.
Bellville, TX 77418
Find Something Fanciful at Nothing Ordinary Antiques & Oddities
Looking for things to do with history, fun, and shopping all rolled into one? If antiquing is your passion, Nothing Ordinary Antiques and Oddities will be a delight! With nearly 8000 square feet of space in an old car dealership, it's utterly remarkable. You'll find thousands of antiques from both the US and Europe, plus local Texas antiques as well.
The owners of Nothing Ordinary travel often to Europe and, when they return, bring some awe-inspiring pieces with them. Antiquing fanatics can spend hours here and still not see everything (but it's well worth trying). Many antique collectors here rent Bellville storage units to store their artifacts and other items. It's an easy and affordable way to keep them safe and sound.
Nothing Ordinary Antiques & Oddities
123 East Main St.
Bellville, TX.
Satisfy Your Caffeine Cravings at The Bellville Perk
A classic coffee shop to fulfill your jones for all things java – this is one of the best restaurants in Bellville, Texas. The Bellville Perk is your place, modeled after the famous "Central Perk" of Friends fame. They offer the usual caffeine stylings along with a variety of southern specialties. (We recommend the Chocolate Chip Frappe!) Sit, relax, meet with friends or read a book online. The Bellville Perk will be your home away from home!
Read more The Ultimate List of Date Ideas: 1000 Date Ideas for Couples
The Bellville Perk
538 W. Main St.
Bellville, TX, 77418
Fill Your Belly at the Bellville Meat Market
It's rare to find a genuine traditional butcher in this day and age, no doubt. At the Bellville Meat Market, though, they can slice up any cut of meat you like in minutes. They also offer a fantastic barbecues counter featuring authentic, Texas-style barbecue – that should always be on your list of things to do near Bellville, Texas!
The Bellville Meat Market also serves a whopping 28 different flavors of hand-tied sausage! Order what you want to serve the family for dinner from their highly skilled butchers. Better still, eat-in and let the Bellville Mear Market treat you to the best meat you'll ever eat!
Bellville Meat Market
36 S Front St.
Bellville, TX 77418
See a Blacksmith in Action at Phenix Knives
Have you ever been to a blacksmith shop that's more than a century old? How about feeling the heat from a 3000-degree fire hot enough to melt steel? If either of those scenarios sends a shiver of excitement down your spine, you'll freak out for Phenix Knives. There you'll find the exciting and always excited Cowboy Szymanski, a bladesmith beyond compare.
Cowboy creates knives that can slice and dice practically anything, from an ordinary apple to tough buckskin and much more. He's also one of the most passionate people you'll meet in all of Bellville, and his passion is contagious. In other words, if you decide to visit Phenix Knives when you're looking for things to do near Bellville, Texas, expect to go home with a great new blade.
Phenix Knives
305 E. Main
Bellville, Texas 77418
Go Medieval at Newman's Castle
If you ask, "what is there to see in Texas?" the last answer you'd expect to hear is "a castle!" That's precisely what you'll find just outside of Bellville, however, at Newman's Castle! With a working drawbridge, five turrets, and an actual moat, Newman's Castle is an incredible sight to see!
Looking for a yummy restaurant in Bellville, Texas, after visiting the Castle? Newman's Castle was built by the owners of Newman's Bakery, one of the best bakeries in Bellville. He and a friend worked on the Castle for eight whole years and made many of the furnishings inside themselves! (You have to admit, that's mighty impressive.) They give tours six days a week but keep in mind that you need to make reservations. Not surprisingly, the meeting point for the tour is Newman's bakery. That way, you can get some delicious baked goods to take with you! It's a yummy and fun way to go medieval!
Newman's Castle Tour Meeting Place (aka Newman's Bakery)
504 E Main St.
Bellville, TX 77418
Rent a Self Storage Unit in Bellville, TX
Now that you've seen what lovely Bellville, TX has to offer, are you more excited to move here? We hope so because it truly is a friendly, welcoming, and appealing place to call home.There are plenty of things to do near here and tons of yummy restaurants to eat at in Bellville, Texas. At iStorage, we love the slower pace of life here. Our Bellville storage units help many folks save space, store their stuff, and do it affordably and conveniently.
If you have questions about renting a storage unit in Bellville, you can chat with us online whenever you like. Also, we recommend visiting our local Bellville storage location. The onsite manager will be pleased as punch to show you around and help you get the rental process started. Until then, have fun in your new hometown, Bellville! It's a fabulous place to live, enjoy life and make some beautiful memories!
---
More about Texas cities that iStorage serves:
---
— Update: 06-01-2023 — cohaitungchi.com found an additional article 5 Things to do in Bellville, Texas from the website solsalute.com for the keyword things to do in bellville tx.
Tiny Bellville, between Houston and Austin, offers quite the quirky day trip from either city.
Spend the morning catapulting rocks into the moat of a castle, then forge your very own knife before ending the day in jail.
Top it all off with a burger or baked potato the size of your head!
This post is all about the best things to do in tiny but mighty Bellville.
Read more Austin Date Ideas: 8 Romantic Things to Do in Austin
Things to do in Bellville
Here are the top five things to do in Bellville.
1. Newman's Castle (& Bakery)
Newman's Bakery is a Bellville staple, dishing up fresh kolaches and country breakfasts for over three decades.
Mike Newman, the town's baker, built his very own castle in the Texas countryside just a ten-minute drive from his bakery.
The bakery is open 7 days a week and the castle is open for tours 6 days a week. Call the bakery to reserve your tour ahead of time (required).
On the day of your tour, you'll pop by the bakery by 10:30 a.m. to get directions for the castle (and if you're me, a jalapeno cheddar sausage kolache or two).
Tours are fairly unstructured and extremely quirky. It includes lunch from, you guessed it, the bakery, and lasts 1.5-2 hours.
We showed up as Mr. Newman was knighting some fellow tour-goers with wooden swords. We had a brief welcome before catapulting stones into his moat as his Irish hound bounded after them into the water.
We were basically given free rein over the castle for the remainder of our tour.
We explored the chapel, dining hall, and bell tower (with impressive views as far as the eye can see).
It's a must-do experience if you're in the area!
I grew up just twenty miles down the road and didn't realize this was here until recently. It's fun for the kids and those of us big kids.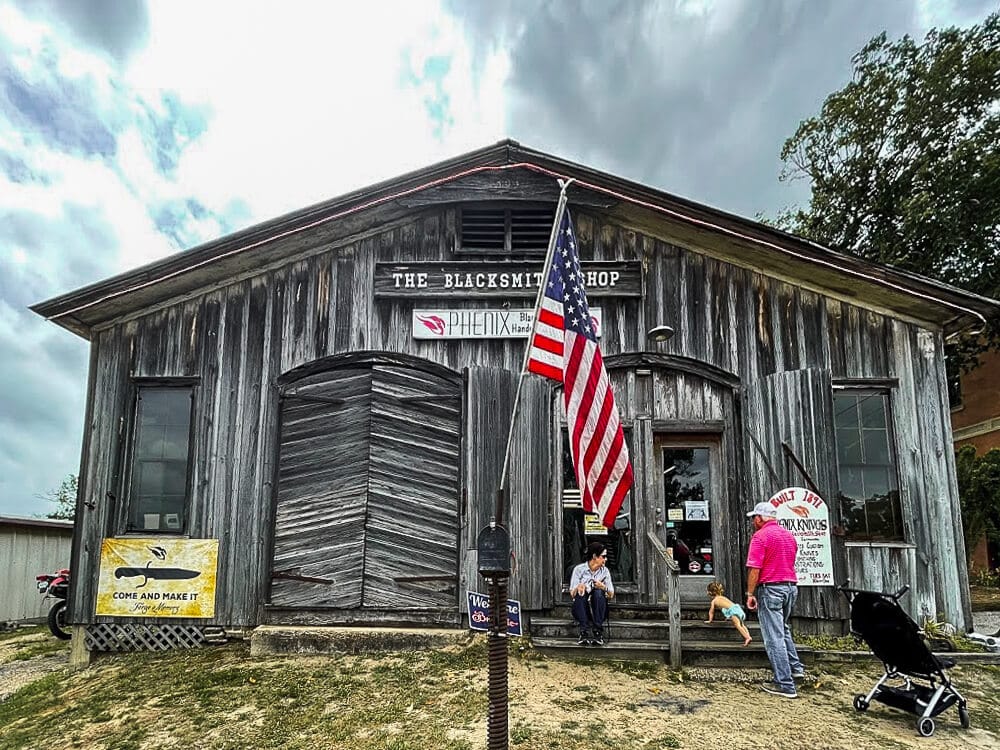 2. Forge Your Sword at Phenix Knives
"Cowboy" Szymanski's claim to fame was appearing on the History Channel's surprisingly addicting show, Forged in Fire.
His blades are made to last for generations and he forges them in a 3,000-degree fire in a building that has been a blacksmith's shop for over a hundred years.
I enjoyed talking to Cowboy when we wandered into his shop. After chatting a while he excused himself to forge a knife with a 10-year-old visitor (who had been at the castle with us earlier that morning. A castle and a blacksmith really do form the perfect itinerary).
You can purchase one of their knives (or have one made to your specifications). If you want to Forge Your Own, for just $30-50 you can beat your own knife out of a horseshoe.
They also have classes and tomahawk throwing in the shop.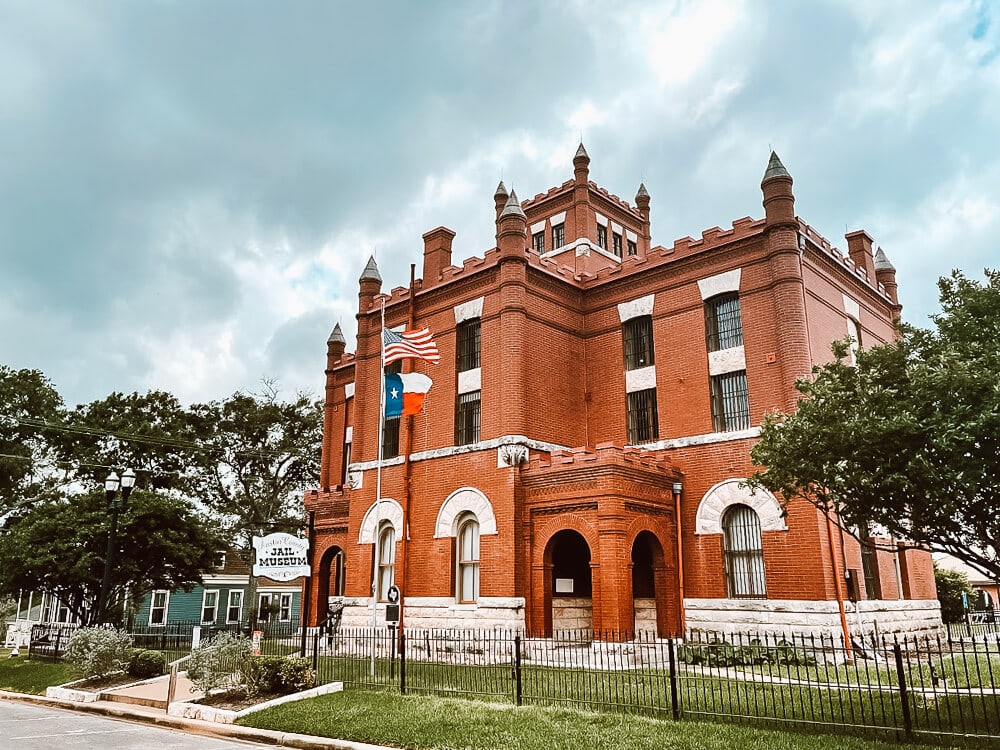 3. Austin County Jail Museum
Bellville chose the coolest of all locations for their history museum, the county jail.
The jail was built in 1986 and operated for nearly a hundred years. Learn Bellville's history (founded by two brothers who formed part of the Old 300! ) and get a fun shot of yourself behind the bars.
Their opening hours are very limited, only on Saturdays from 11 a.m. to 3 p.m.
I recommend calling to reserve your tour ahead of time, click here for more information. If you can't visit on Saturday, they may be able to schedule a tour on another day.
We went during the week and didn't realize we'd need to reserve the Jail Tour ahead of time, all the more reason to return! (Well, that and Mr. Newman's kolaches).
4. The Meat Market
When in Texas, eat BBQ or grill up your own.
Swing by the Bellville Meat Market, just across the traffic light from Newman's Bakery, to pick up one of their specialties like jerky, sausage links, or tamales.
If you'd rather not do the cooking you can pick up a prepared meal, like enormous baked potatoes made to your liking.
5. Shop Downtown
When in any small Texas town I recommend shopping. You never know what sort of treasure you'll find.
I read that in the late 1880's there were six saloons alone on Bellville's downtown square.
Unfortunately, they're long gone but the antique shops and boutiques that took their place are equally entertaining (even if in a completely different way!).
My favorite shop was Nothing Ordinary Antiques on 123 E Main Street.
It's the sort of antique shop I live for, with sellers operating independent booths you're guaranteed to find unique knick-knacks of all sorts.
I picked up a fun children's book from the 1960s and nearly grabbed a quilt and some hankies.
I could have spent the entire afternoon wandering in here had their AC not been on the fritz on a hot summer day (my wallet thanks the broken AC).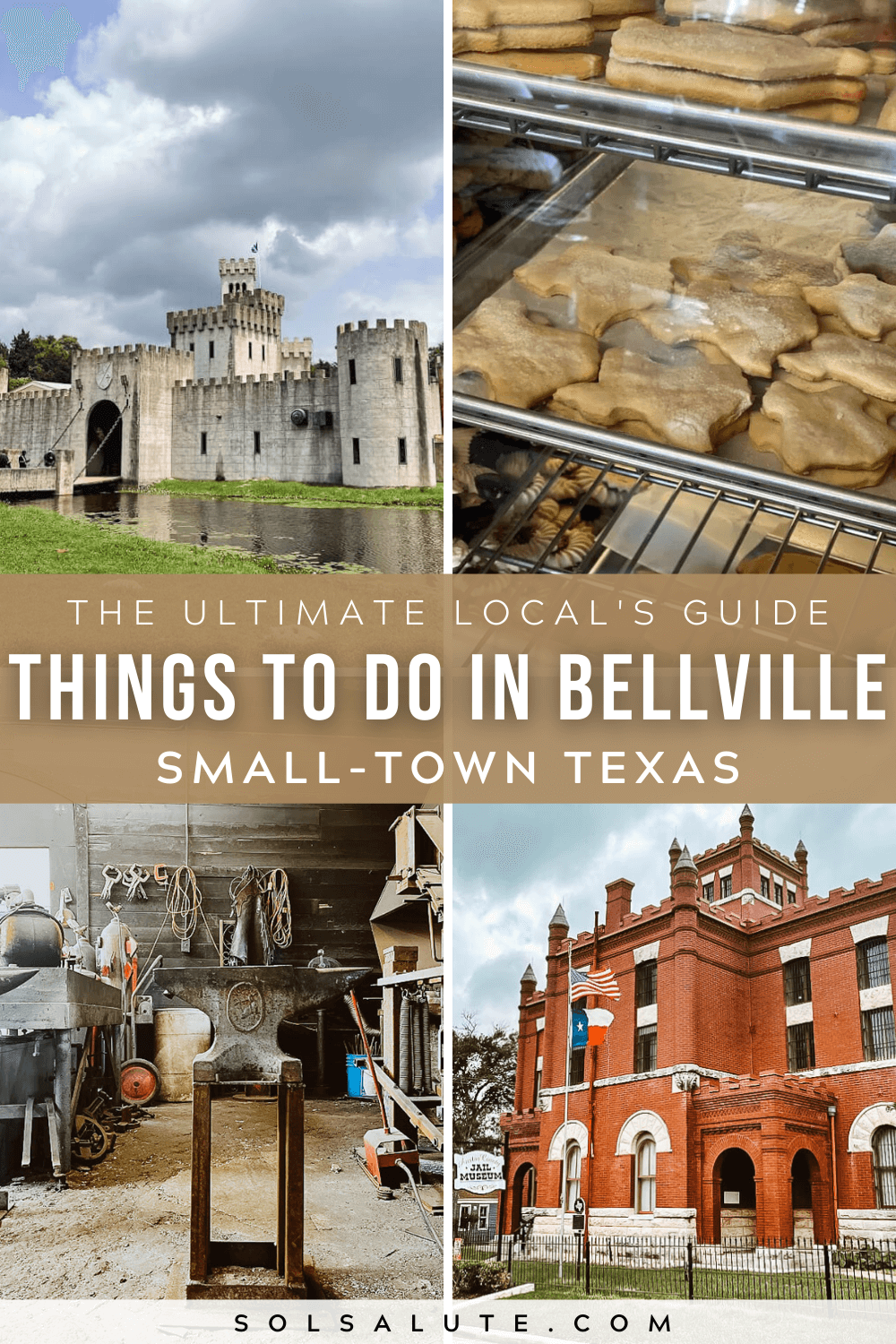 A Day in Bellville, Texas
With these great things to do in Bellville, it's easy to fill a day's itinerary.
I recommend starting with breakfast at the bakery before touring the castle, then head over to Phenix Knives and explore downtown.
You can grab dinner to go at The Bellville Meat Market to end the day!
References