There is no shortage of things to do in Bend Oregon for couples, with breweries galore for date nights, great parks for picnics, and outdoor activities in all directions it would take years to visit. But sometimes you just need a bit of a jump on ideas for where to go.. we're here for you!
We've been to Bend numerous times, and while we have our favorite things to do in Bend (those things we do no matter what when in Bend), we've also got fun date ideas that are great for special occasions.
Most of these things to do in Bend Oregon for Couples include alcohol. Obviously, if you do not drink, or aren't of age, omit the alcohol, but still go have a good time! 
Things To Do In Bend Oregon For Couples | Downtown
Head to JC's for Life-Size Games
JC's Bar & Grill in downtown Bend offers life-size games of Jenga and Connect Four, while also having pool tables, shuffleboard, and more. This par in downtown Bend is great for changing up just grabbing a beer for date night to enjoying a brew while connecting over games instead.
Tour the Bend Ale Trail
Head to the local visitor's center, or heck even just pay attention to the brochures in stores, and grab the Bend Ale Trail map. This is a great look at the different brewery to grab a sample at, and offers the easiest bike routes between each place! Talk about someone else doing all the hard work for you!
Visit McMenamins Old St. Francis School
McMenamins is a chain restaurant started by two brothers in Portland, Oregon who would purchase obscure old buildings and turn them into pubs. The Old St. Francis School dates back to 1936 when the school was originally a Catholic schoolhouse. The rooms have since been converted to hotel rooms, and they offer multiple bars, a soaking pool, and even a theatre.
Now, don't think we're pressuring you for an overnight stay for date night. They have weekday deals (at one point $16 for pizza, movie, and a beer), soaking hours for non-guests (10:30-6:30), and great food and beer to just pop in for a drink.
Each McMenamins offers a different unique twist on a normal pub and the Bend McMenamins is no different. If you're really into something great… check out the McMenamins passport club! That will give you date ideas to last a whole year.
**If you plan on booking a room at McMenamins, check here for best rates!
Picnic and Frisbee in Drake Park
Drake Park is a park right on the water in downtown Bend. It's a huge grassy area with a lot of tree coverage. The park is perfect for having a nice picnic along the waterfront, and or even bringing some outdoor gear like a frisbee, bocce ball, or volleyball would make a great day date!
Things To Do In Bend Oregon For Couples | Riverwest
Head to The Lot and Pick Out Each Others Food + Drink
The Lot is a food truck area on the west side of Bend. There's a beer garden with 4-5 food trucks lining the street sides of the seating area. Pick out each other's drinks or food, or if you're really feeling it, choose both food and drinks for your partner and then tell them why you thought they'd like what you picked!
The Lot is a great relaxed eating area that's perfect for last-minute dates without having to wait for hours in line at the popular restaurants around.
Share Nachos at 10 Barrel Brewing (our favorite of these things to do in Bend Oregon for couples!)
Remember at the beginning of the post when we said there are a few things we always do when we are in or near Bend? Well, this is one of them.. Sharing nachos at 10 Barrel is par to none!
10 Barrel nachos aren't just your average nachos. They are made with seasoned potato chips, steak, bacon, all the cheese, onions, and more. They literally make my mouth water just thinking about them, and one plate is enough food for two!
10 Barrel is also one of our favorite breweries in Bend, so grabbing a pint there isn't such a bad idea either!
Connect Over Cute Homes
Okay, this may sound weird, but it's actually a great way to get to know your date! Walking through a neighborhood and talking about what you like and don't like about the houses on the streets brings and understanding of what's important in a person's life.
The homes in the triangle between 14th street, Newport Ave, and the Deschutes River is a great neighborhood to start in! There are a lot of really cute homes to peak at! Park at Harmon Park and have a walk around! You'll be surprised how enjoyable this is!
Save these Bend date night ideas for later…
Things To Do In Bend Oregon For Couples | Old Mill District
Catch a Concert at the Les Schwab Amphitheater
The Les Schwab Amphitheater hosts a wide variety of artists, and has food trucks and local beer offered at all their events. With the sloped hillside, it's a great place to catch a concert!
Check for upcoming artists and shows here, keeping in mind much of the 2020 shows have been canceled due to COVID.
I'll never forget when we did a Bend river float (tip below), floating by the Schwab Amphitheater… Jack Johnson was warming up and doing sound checks! Seriously, one of the most epic timed floats we've ever done! 😉
Take a Class or Go on a Day Trip with REI
REI offers many different outdoor enthusiasts courses right in their building. They also have multiple day trips and classes that they do out in nature. Check out their current lists of events, and then schedule a day out with you and your partner to learn something new together!
**Wanderlust Tours is another great option for taking a day trip planned completely by someone else. We've never done a tour with them, however, the reviews of their company and the expertise of their team seem like a great option for those who are more comfortable on guided tours rather than creating their own adventure.
Read more 28 Best Things to Do in Miami (for First-Time Visitors!)
Tour the Deschutes Brewery
The Deschutes Brewery has a number of locations in Bend, but the Deschutes Brewery in Old Mill District has a tasting room and brewery tours. Swing in here and have a flight of beer, getting to know what your partner likes and doesn't like in a fresh brew!
Float the Deschutes River
Grab a tube or even an air mattress and enjoy a two-hour float down the Deschutes River. Riverbend Park is where people typically put in at and then float the two hours down to Drake Park in downtown Bend.
This float is extremely relaxed without any rapids, and can be done on paddleboards, kayaks, or any kind of floaty really! Just be sure to have your permit and life jacket if you decide to float with a paddleboard, boat, or kayak.
Day Trips For Couples In Bend, Oregon
Soak in the Paulina Lake Hot Springs
Just south of Bend, there's the Newberry National Volcanic Monument. It's a great place to go and spend time at (more ideas below), but our favorite bit of the entire national monument is the hot springs at Paulina Lake.
The hot springs are right on the water, and in fact, each pool is regulated by the cold lake water. Dig out the pebbles to allow more water in. Or, fill in the pebbles to keep cool water from exiting the pool.
With a $5 entry fee and a short, easy hike to the hot springs, Paulina Lake Hot Springs is the perfect cheap date!
Explore the Natural Waterslide and More at Newberry National Volcanic Monument
While the hot springs get a special mention, the rest of the attractions at Newberry National Volcanic Monument are great too! There are natural water slides right into the lake, a waterfall to hike to, multiple hikes throughout the park, and even downhill mountain biking from the top of Paulina Peak.
$5 gets you access to the National Monument, and an entire day can be spent exploring all the natural beauty in the area. Interested in camping? There are a couple of campgrounds within the area, some of which are right on the water. Little Crater Campground was our favorite one!
Chase the Waterfalls at Tumalo Falls
Just outside of Bend is Tumalo Falls, a 97-foot waterfall with hiking and biking trails in the surrounding Deschutes National Forest. There is a viewpoint of Tumalo Falls right off the parking area that is handicap accessible. Otherwise, you can hike around the falls and even visit a number of other waterfalls along the way.
Catch the Sunset at Pilot Butte Scenic Viewpoint
Pilot Butte State Parks offers sunset views of the mountains in the Cascade Mountain Range and the best views of Bend from above. You can drive up to the viewpoint in the summer months, or if you choose, hike up to one of the three trails all leading to the summit.
We've read that the drive-up access to the summit of Pilot Butte is closed due to COVID. Please let us know if you experience something different! 
Cycle Around Sunriver
Sunriver is a resort town just 20 minutes south of Bend and is the most bike-friendly area around. Head to Sunriver for a day exploring any of the paved bike trails.. most of which are pretty flat!
Sunriver Village has a great brewery, Sunriver Brewing, and even an ice cream & chocolate shop, both great ways to round out a date in Sunriver.
Visit Smith Rock State Park
Smith Rock State Park is about 40 minutes north of Bend. It's a state park that's well-known for it's climbing and rock formations. However, there's more than just climbing that this state park offers.
A river flows at the base of the rock formations, making a nice flat walk all the way around Smith Rock! There's even an epic walk-up campground at Smith Rock State Park, showcasing some of the best views of Smith Rock!
Lots of people come here for climbing and photography. So, maybe even plan for a photographer to meet you there and have a photoshoot with your loved one. Sure to give you at least one photo to cherish forever!
Drive Cascade Lakes National Scenic Byway
Cascade Lakes National Scenic Byway is a road going through the heart of the Deschutes National Forest. As you can guess from the name of the road, this byway is full of spectacular views. There are multiple lakes to stop and spend some time at and countless hikes through the national forest here.
Take Century Drive from Bend out towards Mt. Bachelor (or more specifically Elk Lake), and before you know it, you'll be in some of Central Oregon's most pristine nature. Fair warning, due to snowpack, this route is only open in the summer.
Recommended Gear When Going On A Date In Bend, Oregon
*ArboursAbroad is part of the Amazon Associates Program. When you purchase through the images below, we get a kickback, at no extra expense to you! 
Places To Stay in Bend, Oregon
AirBnB | AirBnB is a great option for finding a place to stay in Bend. With many people offering entire homes for rent on AirBnB, you could have a whole home to yourself. This is a great option for saving money on food by cooking at home and being able to spend more on adventures!
If you're hoping to stay with a local, don't worry, AirBnB offers local stays too! What a great way to find out even more about the local area and even other places you may be traveling to!
Hotel Stays | If staying in someone else's home doesn't tickle your fancy, search for hotels in Bend here. McMenamins is a great choice for a place to stay right in downtown Bend.
Camping | Camping is a great money saver and memory maker! Central Oregon isn't short of places to camp! There are free campsites, paid for campsites, and campgrounds run by the state, all offering a place to stay for under $20 USD.
Learn how to camp for free and where to find the best free campsites here.
Getting To And Around Central Oregon
Flying | There is an airport in Redmond, but flights don't really go there from many places outside of Oregon.  The "international" airport in Southern Oregon is Medford International Airport. Look for flights from your location to MFR(or Medford, Oregon), although fair warning prices for flying into Medford are a bit more than Portland.
Portland (PDX) is another option for flights, serving many international flights. Flying to PDX and renting a car will honestly probably be the cheapest option. This is the search engine we use when booking flights. You could also look into flights to Eugene, Oregon. There are sometimes random good deals into that airport!
Rental Cars | If you're not from the area or don't have your own car, you'll want to rent a car to get around Central Oregon. Public transportation in Oregon is a joke, so renting a car is certainly your best bet! While most of the places on this list can be accessed by a normal vehicle, you may want to rent a car with high clearance in case you want to travel off-road, or down dirt roads to find free camping.
Training | Klamath Falls, Oregon offers the only train stop in the area with the Amtrak trains. Train to Klamath Falls, then rent a car from there to explore Central Oregon. The drive from Klamath Falls to Central Oregon is really pretty, so it's not a bad place to train into!
More to Do In Central Oregon
Planning A Date? Save This Post For Later Here
**This post contains affiliate links. By using the links within the post you help keep ArboursAbroad up and running. And, in some cases, you even get a discount on your bookings too! Now, that's a win-win! Thanks for supporting the work behind this website! To learn more about our affiliate programs, head to our disclosure page here.
---
— Update: 18-03-2023 — cohaitungchi.com found an additional article 7 fab ways to do date night in Bend, Oregon from the website www.visitbend.com for the keyword romantic things to do in bend oregon.
Date nights are a rare and precious thing in my world. Between family time, my job at Visit Bend, and my not-so-secret life as a romantic comedy author, it's tough to find free time for a bathroom break, let alone a whole date night.
Read more Your Guide to a Romantic Island Getaway | Things to Do in Key West for Couples
But studies have shown regular date nights are crucial for any relationship, so I'm making the effort. Luckily, Bend is a great place to plan one. Or two. Or heck, a whole week of them.
The new Broom Closet Bar at McMenamins has a cozy, romantic vibe.
Photo by Kathleen Nyberg
Here are seven tried-and-tested date nights to try in Bend, Oregon.
Dinner and a movie with a Bend twist
Turn your boring "dinner and a movie" habit into something magical (not to mention convenient) when you park yourself at McMenamins Old St. Francis in Downtown Bend.
The property got its start as a 1930s Catholic schoolhouse, but was transformed into a hotel, movie house, brewery, and more in 2004. A brand new renovation completed in July 2016 added two new buildings, a bunch of guest rooms, and even a new "hidden" bar, all of which are worth checking out if you haven't been there for a while.
Start in the cozy Fireside Bar for an intimate pre-dinner drink, or head straight to the Old St. Francis Pub for dinner. You'll find standard pub fare like pasta, burgers, and pizza, or opt for something more exotic like the poke marinated ahi (my personal fave).
With your bellies full, head for the movie theater and snag a comfy loveseat for two so you can snuggle. Don't worry if you didn't grab dinner first. You can order food to enjoy in the theater, including full meals or just Cajun tots and a beer.
After the show, head for the soaking pool. You and your honey will luxuriate in soft, saline water while scoping out the artwork and shimmering turquoise tile. Don't forget to look up through the open ceiling for a glimpse of the stars.
Time for a post-soak drink? Park yourself by one of the fire pits at O'Kanes, or hunt for the elusive new Broom Closet Bar. Then retire to your room at McMenamins knowing you accomplished an entire date night without venturing more than a few hundred feet from your bed.
The Downtown get-around
Can't decide which Bend restaurant or watering hole you want to visit? There's no need to choose! Plan a route through Downtown Bend that lets you hit all the hot spots on your list.
Start with a happy hour drink at Dogwood Cocktail Cabin, which has some of the most unique concoctions you'll find anywhere in town. Happy hour is also a great time to hit 5 Fusion, which boasts a menu created by Chef Joe Kim, a three-time semifinalist for the James Beard Award (sorta like the Oscars for chefs). Order an array of tasty sushi, or satisfy any non-fishy fans in the party with their filet mignon lollipops.
The balsamic grilled artichoke is a new addition to the menu at 10Below and sooooo tasty!
With your appetite whetted, head someplace you can order smaller dishes with some fun variety. I'm partial to Joolz with its unique Mediterranean fare and specially-priced menu that's available anytime you opt to sit at the bar. The Camel Wings and the cauliflower are my personal faves.
Ready to get down? Head below street-level to The Capitol to soak up live music and a fun, funky vibe while you sip the Capitol Manhattan with blackberry and cocoa nib bourbon.
Want to keep going? There's a terrific late-night happy hour at 10Below Restaurant & Lounge that features great deals on drinks and apps. Keep it light with their sweet cardamom pretzel with three dipping sauces, or indulge your craving for savory with their mouthwatering balsamic grilled artichoke.
Wrap up your evening by calling a cab so you make it safely back to your Bend hotel or vacation rental.
Plan a picnic (even in the dead of winter!)
Date nights don't necessarily need to take place at night. Why not plan a romantic picnic so you can savor time with your sweetie in Bend's beautiful outdoor spaces?
A winter picnic makes a great date!
First things first: The food. Stock up on gourmet nibbles or grab-and-go eats at Newport Avenue Market. You'll also find a terrific selection of ready-made salads and wraps right across the street at Devore's Market.
Now you need to pick a place. If it's warm outside, peruse this list of local parks to find the right spot. With nearly 80 parks scattered around our fair city, you can pick among cozy pocket parks, scenic riverfront locales, or a snazzy covered pavilion near a playground so you can frolic like kids after your meal.
And don't think you have to skip the picnic just because there's snow on the ground. Take a romantic winter Nordic skiing adventure together with the picnic goods in your backpack. Once you've worked up a good sweat on the trails at Virginia Meissner Sno Park, stop at one of the romantic warming huts to enjoy your meal (along with the views!)
A night under the stars
Love the idea of an al fresco outing, but you don't feel like picking a place, rounding up gear, and driving to your destination?
One of many couples to get engaged during the Bonfire on the Snow outing with Wanderlust Tours.
Let Wanderlust Tours do the work for you! During the winter months, book their Bonfire on the Snow tour. You and a small group will join a knowledgeable naturalist guide as you hoof it through the starlit forest to an amphitheater carved in the snow. There, you'll nibble sweet treats and sip an adult beverage as you take in the stars together. Wanderlust has had dozens of couples get engaged on this outing over the years, so if you're thinking of popping the question, this is a fab time to do it.
In warmer months, Wanderlust Tours runs moonlight/starlight canoe tours on the High Cascade Lakes. What could be more romantic than canoodling in a canoe? Just like with the snowshoe tours, all your gear is included, along with transportation and treats.
The Old Mill stroll
One of Bend's most vibrant shopping districts spans a scenic section of the Deschutes River. That makes the Old Mill District a terrific spot for a mid-afternoon date that can continue as late as you like.
Grab a romantic river view table at Greg's Grill in the Old Mill District.
Seize the daylight before sunset and set out on a stroll along the Deschutes River. Make it a game to see who can spot otters, beavers, or countless birds shown in the free birding guide you can pick up in the Ticket Mill (along with free rental binoculars if you like).
Weave your way in and out of cute boutiques and cafes, stopping to grab a cup of coffee at Strictly Organic or a glass of wine at the tasting room for Naked Winery or Va Piano.
When your stomach starts growling, head to Greg's Grill or Anthony's  for a romantic riverfront dinner. If you've planned ahead, you can reserve a table with views of the water so you don't have to give up a single second of sightseeing.
After dinner, stroll over to Flatbread Community Oven for a scoop of gelato and an excuse to warm your ice cream chilled hands in someone else's back pocket. Um, preferably your loved one.
Get jazzy with your sweetheart
Full disclosure: I am not a fan of jazz music.
Blogger Tawna on a date night for Jazz at the Oxford.
But you know what? That's never stopped me from thoroughly enjoying Jazz at the Oxford events hosted October through March in the Oxford Hotel for the last seven years.
Maybe it's the terrific food and wine or the swanky setting, or maybe it's the thrill of doing something a little outside my normal comfort zone. Either way, I'm not surprised the shows sell out every single season.
Read more 100 Fun & Unusual Things to Do in Los Angeles
Which is one reason I was thrilled to learn the Riverhouse on the Deschutes just launched their own jazz series spanning October through April. This is a great chance to check out the $10-million renovation project they just completed, and to have a killer meal in the new Currents restaurant.
You can see the schedule (and learn more about their special Jazz + Ski + Stay packages) right here.
Come on baby, light my fire
I love fireplaces and fire pits so much that I once wrote an entire blog post about them.
Even if you don't share my fire fanaticism, you've gotta admit there's something magical and romantic about snuggling up beside crackling flames as you sip a craft beer or enjoy a romantic fireside meal.
Why not do a mini-tour of some of Bend's best fireside hot spots?
Start with brunch at Jackson's Corner Eastside, which boasts a cool patio fire feature in front of the restaurant. Cozy up together and enjoy matching bacon biscuit sandwiches and warm mugs of local tea.
After that, head for the Old Mill District to do a little shopping. You can make a fire pit pit stop (har!) at several locations including Pastini Pastaria (which boasts two vertical, standing outdoor fireplaces), Greg's Grill (which boasts a huge outdoor fire pit that seats 20) and Anthony's  (which has three fire pits that can hold about 12 people each).
Finished shopping? Time to check out Bend's craft beer scene with a stop or two on the Bend Ale Trail. The fire pit at Crux Fermentation Project is one of my favorites, and makes a great spot to share a taster tray. Make it a relationship-building exercise to choose your six sample beers together or try and guess what your loved one might pick.
10 Barrel has a killer fire pit as well, along with a tap list that always includes at least a couple sour beers (yum!) You can also cozy up together in the biergarten at GoodLife Brewing to share a snuggle by the fire, followed by a lively game of bocce ball.
---
— Update: 18-03-2023 — cohaitungchi.com found an additional article 7 Romantic Getaways in Bend and Central Oregon from the website bendmagazine.com for the keyword romantic things to do in bend oregon.
Central Oregon is a magical place that fills visitors with a sense of wonder, and sometimes, romance. There's just something about a getaway, an escape from the everyday humdrum of life, that fuels love. Maybe it's the sudden alleviation of stress upon leaving work responsibilities behind, or the free time to be attentive to the relationship and spend fulfilling one-on-one time with your partner. Or, it could be the chance to indulge in plenty of wine, chocolate and local craft beer. Whatever it might be, there are some amazing places across Central Oregon where couples can connect with one another in romantic getaways.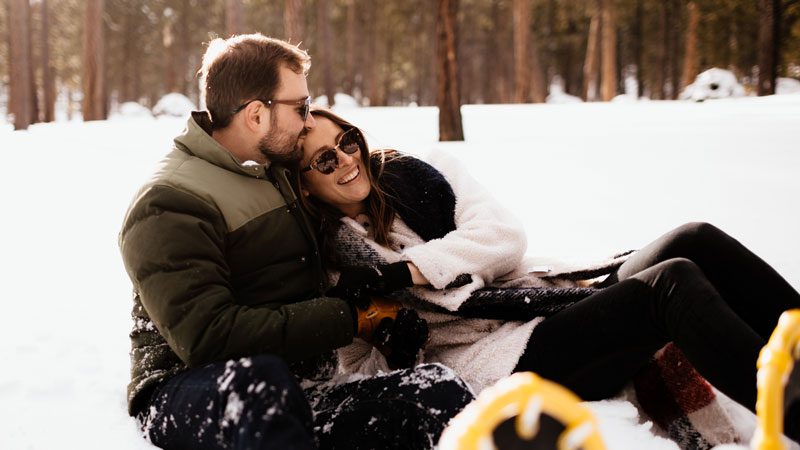 photo natalie puls,
courtesy of fivepine lodge & spa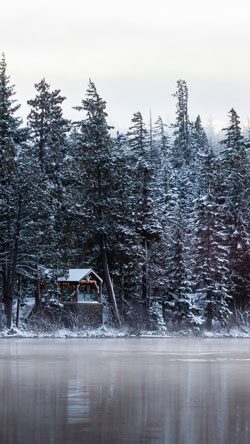 Suttle Lake, photo richard bacon
The Suttle Lodge
Located near the pristine waters of Suttle Lake about forty-five minutes from Bend, The Suttle Lodge embraces rustic Pacific Northwest style without skimping on quality, whatsoever. Nestled directly in the Deschutes National Forest, this getaway truly feels like an escape from all things urban. Outdoorsy couples will thrive with the opportunity to hike, snowshoe, stargaze, snowmobile, cross country ski and do pretty much any other activity one would do in a lakefront forest in the winter. From rustic, reasonably-priced cabins to the luxurious premium cabin, couples will find a lodging option that fits their taste and their budget. Don't forget to stop by SKIP, the cocktail lounge that features homemade, locally sourced drinks and meals. 
Tetherow
Tetherow is perfectly situated near the edge of the Deschutes National Forest, but still only minutes away from the heart of Bend. Seven minutes from the Old Mill and twenty from Mt. Bachelor, Tetherow becomes the perfect home away from home for couples who love the best of both worlds: urban amenities and natural adventure.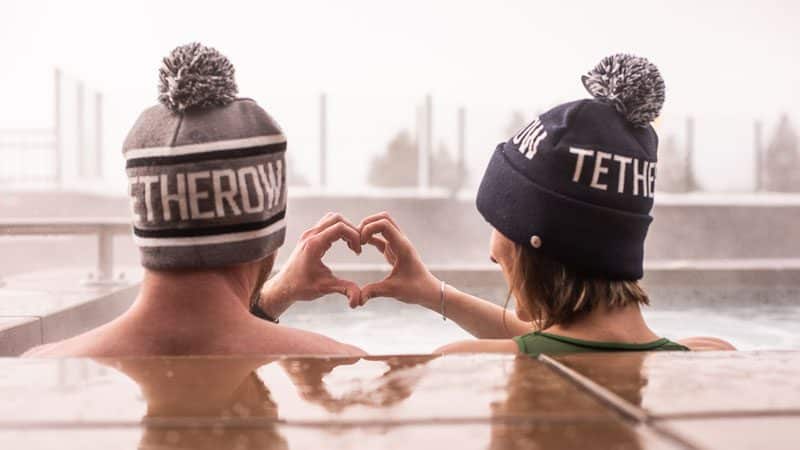 Tetherow, courtesy of
tetherow resort
Stay bundled up and lounge by the fireplace on the private decks and patios in the many rental options offered, or go for a nature walk on the miles of available trails. Couples who love to do it all will enjoy Tetherow's proximity to Bend and the Deschutes National Forest, where they can shop and dine minutes away from skiing, snowboarding, snowmobiling and snowshoeing opportunities.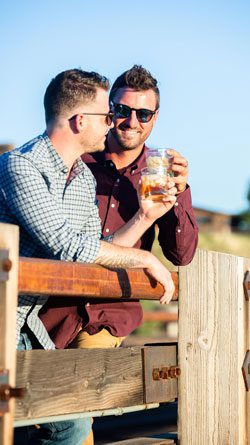 Brasada Ranch, courtesy of brasada ranch
Brasada Ranch
Nicknamed "The Ranch," Brasada Ranch is a quick thirty-minute drive northeast of Bend. Guests here are encouraged to connect with nature and "find your wild" as they pursue adventure while hitting pause on life. Lovebirds should check out the Romance at The Ranch package, which includes a two-night stay in one of The Ranch's luxury cabin accommodations featuring a private hot tub, wine with complimentary glasses to take home, locally made toffee and artisan bath bombs, all awaiting for guests prior to arrival. Brasada Ranch was named The Most Romantic Honeymoon Cabin in the US by in 2021.
McMenamins Old St. Francis School Hotel
What was once a Catholic school for Bendites in the 20th century has since been renovated into a movie theater, pub, restaurant and hotel featuring unique rooms filled with old-school style. Couples can often be spotted in white bathrobes making their way from private accommodations to the soaking pool, a semi-enclosed pool room covered in turquoise tiles that depict images of St. Francis in a style reminiscent of Catholic churches.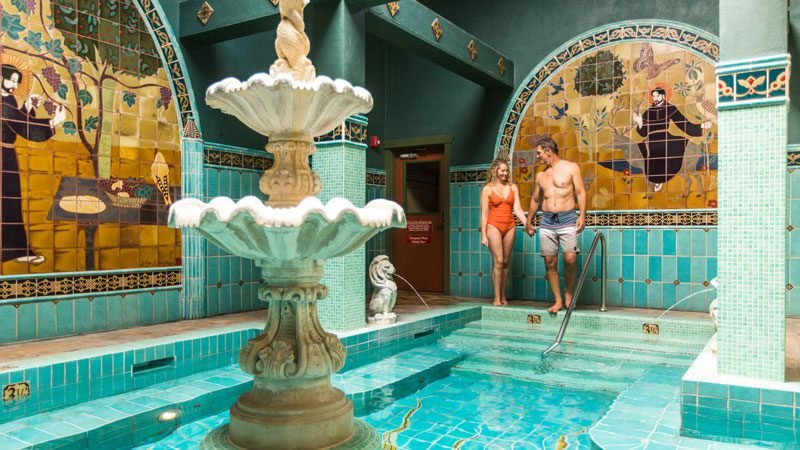 McMenamins Old St. Francis School Hotel, photo Steven Heinrichs, courtesy of visit central oregon
In fact, handmade tiles and stained glasswork are found across the entire property. Add some extra romance to any stay with the Add A Little Romance package, which adds sparkling wine, keepsake champagne flutes, chocolates and massage oil to any room.
The Oxford Hotel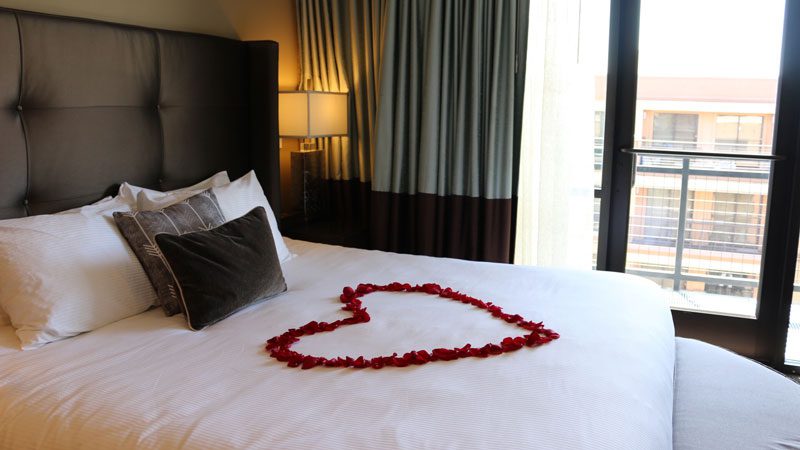 the oxford hotel, photo courtesy of oxford hotel
Perhaps the most urban stay on our list, the Oxford Hotel puts couples right in the middle of Bend, with seemingly endless options for entertainment. The rooms utilize a modern style that celebrates natural materials, neutral tones, clean lines and geometric features. From enjoying the plentiful shopping and restaurant scene downtown and in the Old Mill to wine tasting, brewery hopping and even play watching at the Tower Theater, the Oxford Hotel provides a high-end sanctuary and becomes a great basecamp for a romantic Bend adventure.
FivePine Lodge & Spa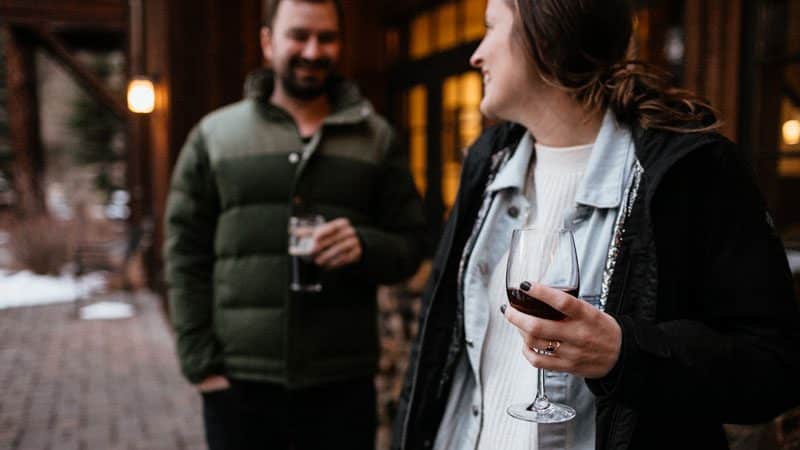 FivePine Lodge & Spa, natalie puls, courtesy of fivepine lodge & spa
With a claim to be the most romantic getaway in Central Oregon, couples can expect to be wowed while staying at the FivePine Lodge & Spa, located in Sisters, a small town with a cute Western-themed downtown strip, about thirty minutes away from Bend. Select either the Classic Romance package or the Ultimate Romance Package to cater the stay to personal tastes, and prepare for a two-night stay in a private, luxury cabin with wine, chocolate, bubble baths, couples massages, two tickets to the Sisters Movie House and much more. It'll be tough to leave FivePine without feeling giddy about romance.
Sunriver Resort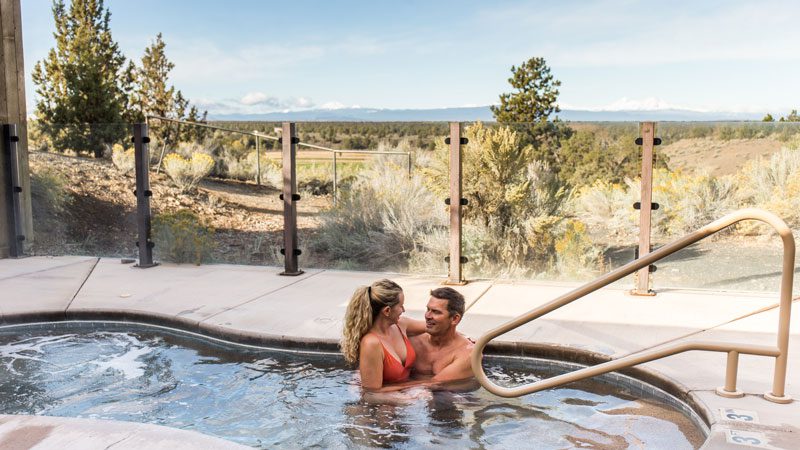 Sunriver Resort, Steven Heinrichs, courtesy of visit central oregon
An ever-popular destination for weddings in Central Oregon, Sunriver Resort rests in the shade of the Deschutes National Forest under towering ponderosa pines, and overlooks plenty of sunny glades near the Deschutes River. The resort features forty miles of paved trails through idyllic nature scenes, ready to be explored on foot or by bike, and couples should consider special deals offered in the relaxing resort spa, such as couples massages and more. For a romantic night out, stop by the Oregon Observatory, a huge telescope sponsored by NASA, perfect for stargazing on clear nights. With 245 guestrooms and suites, along with many more fully furnished condos and vacation rentals, the resort is able to provide couples with any lodging they need.
References