Winter in Canada. The phrase usually evokes thoughts of deep snow, thick blizzards and freezing temperatures. It can also last for up to six months in some areas of the country.
But the truth is that winter can also be pretty exhilarating, exciting and a whole lot of fun for those who embrace (and not hibernate from!) the season. 
Consider this list of 65 cool ideas (yep, pun intended) just a very small sample of things to do in Canada in winter. Join me in making the most out of exploring Canada this winter and every winter after that!
Canada is, of course, home to an incredible amount of places to do every kind of classic winter activity from skiing and snowboarding to skating and ice-fishing.
Rather than list EVERY single place you can ski in Canada (because there is A LOT), I've concentrated on featuring more unusual and unique things to do in Canada in winter alongside some well-loved favourites in each province and territory.
There are affiliate links in this post. If you make a qualifying purchase through one of these links, I may receive a small commission at no extra cost to you.
Things to do in British Columbia in Winter
Warm up in one of the many hot springs in the Kootenays region. My pick is Radium Hot Springs!
Take a hike! No, really. Many trails at sea level around Vancouver and on Vancouver Island are still accessible in winter
Storm watch or surf in Tofino on Vancouver Island's Pacific coast
Try out the fastest ice track in the world at the Whistler Sliding Centre
Ski, paddle and golf on the same day in the Comox Valley, Vancouver Island
Planning to book a winter stay in Tofino?
Middle Beach Lodge – Amazing oceanfront location
The Shoreline – Good value
Sienna's Tree House – Highly rated on Booking.com
Things to do in Yukon Territory in Winter
Take part in Takhini Hot Pools' annual hair freezing contest – the water is 40c and the air usually -30c!
Watch the start (or end, depending on the year) of the Yukon Quest dog mushing race in Whitehorse
See ice sculptures, can-can dancing and chainsaw competitions at the Sourdough Rendezvous Festival
Rent a fat bike from one of two locations in Whitehorse and hit the trails
Visit the Yukon Wildlife Preserve and spot 11 species of animals in their natural habitat (and weather!)
Things to do in North West Territories in Winter
Watch the Aurora Borealis (Northern Lights) in Yellowknife
Drive to the Arctic Ocean from Inuvik to Tuktoyaktuk (or explore one of the many ice roads around Yellowknife!)
Fly a kite or try kite skiing on Great Slave Lake
Visit the one-of-a-kind 'igloo-church' in Inuvik (Our Lady of Victory Church)
Celebrate the return of the sun in Inuvik at the Sunrise Festival in January
Things to do in Alberta in Winter
Discover frozen waterfalls in Johnstone Canyon, Banff National Park
Snowshoe Sunshine Meadows in Banff National Park
Skate on Lake Louise's iconic ice
Have a go at ice climbing! Tours leave from Canmore, Calgary, Banff and Jasper
See the frozen bubbles on Abraham Lake
Play ice golf at the annual Pigeon Lake tournament (costumes encouraged!)
Read Next: 42+ Amazing Things to Do in Banff in Winter
Things to do in Saskatchewan in Winter
Get immersed in history both above and below ground in the Moose Jaw Tunnels
Take a lesson in snowkiting in Regina, a winter version of kitesurfing/kiteboarding
Soak in Saskatchewan's very own hot springs at the Temple Gardens Spa in Moose Jaw
Have a go at snowskating or kicksledding on the streets of Saskatoon
Slide through the boreal forest with a dog sled team
Read more 12+ Fun Things to do with Your Baby in Greenville, SC
Things to do in Manitoba in Winter
Dine at 58° north latitude and watch the northern lights on  the edge of Hudson Bay
Check out the unusual and award-winning warming huts on the Red River Skating Trail in Winnipeg
Go on a self-guided grain elevator tour
Explore the ice castles in Winnipeg. On Friday and Saturday evenings, there's also a fire show
Get the European spa experience at Thermea in Winnipeg
Things to do in Ontario in Winter
Skate on the world's largest naturally frozen skating rink, the Rideau Canal in Ottawa
Wonder at the power of Niagara Falls and stunning winter ice formations
Visit Toronto's huge Christmas Market in the Distillery District
Stay in an igloo in Cochrane, Northern Ontario
Admire the views from Southern Ontario's longest suspension bridge near Collingwood. It's open all year!
Things to do in Quebec in Winter
Sleep in North America's only ice hotel at the Hôtel de Glace in Quebec City
Eat homemade maple taffy (maple syrup poured onto clean, white snow) at a maple sugar shack
Ride across the world's highest snowmobile bridge above the Manicouagan River
Walk the fairytale streets of old Quebec City
Highline, zip line and climb on Projet Vertical's via ferrata, the only one of it's kind to run all year round
Things to do in New Brunswick in Winter
Play pond hockey…or watch others do it at the World Pond Hockey Championships in Plaster Rock
Stay in one of Park Canada's more unusual accommodation offerings such as yurts, cabins and hybrid tents
Check out Atlantic Canada's largest winter festival in Fredericton – the aptly named, Frostival
Put a line in at one of the many ice fishing villages such as Renforth Wharf and Chaleur Bay
Go snowshoeing or cross-country skiing in Kouchibouguac National Park
Things to do on Prince Edward Island in Winter
Walk the beach – the sands of PEI are just as beautiful with a coating of snow
Eat, drink and dance during PEI Music Week and Winterdine, parallel events taking place in late February
Get cultured at the Confederation Centre of the Arts in Charlottetown
Explore almost 1,000 kilometres of snowmobile trails including the tip-to-tip Confederation Trail
Try snowshoeing in Victoria Park, Charlottetown
Planning a winter stay in Charlottetown?
Rodd Royalty – Great value
1 West Inn Waterfront – Awesome location
Sydney Boutique Inn & Suites – Highly rated on Booking.com
Things to do in Nova Scotia in Winter
Give winter surfing a try (don't forget a warm wetsuit!)
Pair food and wine at the Nova Scotia Ice Wine Festival
Explore the trails, learn how to make maple syrup and eat plenty of pancakes at Sugar Moon Farm
Snowshoe the Skyline Trail on Cape Breton Island
Watch wild eagles soar at Sheffield Mills in the Annapolis Valley
Things to do in Newfoundland and Labrador in Winter
Fly down Canada's highest zip-line at Marble Mountain – open all year round in all weather conditions!
Get screeched in! The wild winter weather doesn't stop this time honoured tradition
Check out frozen waterfalls at Middle Cove
Skate for free at Bannerman Park in St John's
Soak in the culture of The Rooms – Newfoundland's largest public cultural space combining Art Gallery, Museum and Provincial Archives
Planning a winter stay in St John's?
The Duckworth Inn – Good value
Courtyard By Marriott – Great location
Blue on Water – Highly rated on Booking.com
Things to do in Nunavut in Winter
Learn about local history, language, clothing and art at the Nunatta Sunakkutaangit Museum
Try traditional food such as arctic char, caribou, musk ox, seal or even polar bear
Visit Nunavut's Legislative Assembly building in Iqaluit and explore the igloo-like interior
Embrace the lack of light and go stargazing
Try and stay warm…!
Read these posts next:
8 Must See Places on a Winter Road Trip Across Canada
What to Wear in Canada in Winter: A Complete Guide
10 Winter Activities You Must Do in Canada
How to Buy the Best Snowshoes: A Complete Guide
Read more 25 cheap and free things to do in New Orleans
Snowshoeing 101: A Beginner's Guide
Check out these recently published posts:
---
— Update: 07-01-2023 — cohaitungchi.com found an additional article 10 essential winter activities to try in Canada from the website www.intrepidtravel.com for the keyword things to do in canada in december.
Ah, winter in Canada; it might be a cliche to chase the powder in one of the most glorious parts of the world, but it is SO worth it when you get there!
Whether you're a hardcore skier or boarder, or seeking out some of the ultimate snowy adventures you can't find anywhere else, Canada – specifically the Rocky Mountains – is the place to be. For me, Canadian winter spells big, puffy jackets, beanies, mugs of mulled wine, a roaring wood fireplace, and, of course, the kind of activities other resorts can only dream of.
As we inch closer to a sticky summer in the Southern Hemisphere, and bleak, rainy winters everywhere else in the north, I can just hear the Canadian Rockies calling my name. And by the end of this list, you'll probably hear it too.
EXPLORE OUR RANGE OF SMALL GROUP ADVENTURES IN CANADA NOW
1. Snow-shoeing
Photo by Noel Hendrickson
For something that started as an essential mode of transport thousands of years ago, snow-shoeing has evolved into something that's completely unique (and hysterical) at the same time. The activity is exactly what it says on the box; you strap on large tennis racket-looking "shoes" that are designed so your feet don't sink into the thick snow, and take a leisurely stroll through the stunning surrounds of one of the Rocky Mountain's national parks, continuing down to Invermere on the Lake Windermere, a quaint lakeside town in the glorious Columbia Valley.
That being said, I won't lie and say it's a piece of cake. There is a learning curve to the process, which often involves a few stumbles, face-plants in the snow, and lots of laughter from your mates – before they inevitably fall themselves. But before you know it, it feels completely normal, and you're free to soak in the serenity of the winter wonderland around you.
RUG UP AND GET ACTIVE ON OUR 10-DAY CANADIAN ROCKIES WINTER ADVENTURE
2. Ice Hiking
Photo by Paul Zizka Photography
If snow-shoeing doesn't quite give you the adrenalin-rush you're looking for, then maybe an ice-walk across a frozen creek bed floor might be more your style. Ice hiking involves strapping special hiking crampons to your boots, and exploring otherwise inaccessible areas like waterfalls, cliffs and rivers. In the case of this Canadian Rockies expedition, the final destination is Johnston Canyon, a cathedral of ice in Banff National Park, where you'll not only experience ice climbing yourself, but may even catch a glimpse of some serious daredevils scaling frozen waterfalls 30 metres overhead.
3. Dog Sledding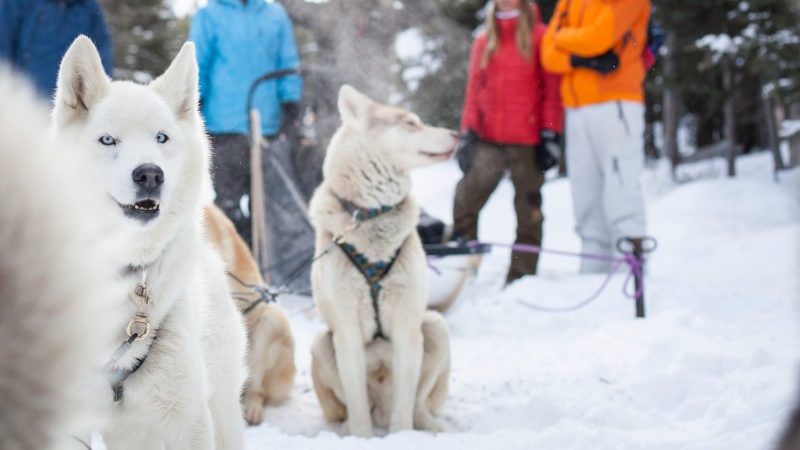 Photo by Noel Hendrickson
Is there anything more quintessentially winter than dog sledding through the snowy forest around Lake Louise? I didn't think so. For this adventure, make like an ancient explorer (or Cuba Gooding Jr. in ) and hop aboard a husky-led sled for a one-of-a-kind experience. And you can rest easy knowing when you travel with Intrepid, only companies who adhere to strict ethical and humane animal guidelines will be used.
RELATED: WHY WINTER IS THE PERFECT TIME TO TRAVEL IN CANADA
4. Sleigh Rides
Photo by Paul Zizka Photography
Ok, I lied when I said there was nothing that spelled 'winter' more than dog sledding; in fact I'm pretty sure it's a close second to sleigh rides. Rugged up in a thick, woolly coat, wearing beanies and mittens, with the feeling of snowflakes on your nose as you trot around in a gorgeous, old-fashioned sleigh; yep this, my friends, is what Canadian winter is all about. It doesn't hurt to have the sleigh ride take place around beautiful Lake Louise, either.
5. Fat Biking
For someone who's not much of a biker at home, I can absolutely vouch for how much fun fat biking through the snow is. These bad boys are tailor-made for the craziest of winter conditions, and have oversized tyres that keep you in control on snow-covered trails, and even come with hand warmers for added comfort. Spend a few hours traipsing across the slopes and you'll feel like a seasoned mountain biker in no time.
And if you're already a keen cyclist – or maybe want to sneak in a mid-holiday workout – there's more advanced tracks to try out all across the Canadian Rockies, with majestic mountains and snowy silence your only distractions.
Read more 15 Unmissable Things to Do in Kotor, Montenegro (plus 5 day trip ideas!)
RELATED: 15 PLACES IN CANADA THAT WILL GIVE YOU INSTANT WANDERLUST
6. Ice Hockey
Ever wanted to live out your fantasy, scoring the final goal and winning the championship? Well, a winter visit to Canada provides the perfect opportunity. Strap on the gear – from shin pads and helmet to gloves and skates – and hit the ice for a heart-pumping experience.
For lucky travellers on an Intrepid trip, they'll even hook you up with a few professional hockey players to get you in tip top shape for your ultimate game. It's an iconic Canadian tradition, after all.
7. Curling
Speaking of Canadian traditions, another wintery apres ski activity you have to try is curling. Whether you're an expert sweeper like Marge from or you've never heard of curling in your life, you're in for a treat with this distinct sport. An interesting combo of lawn bowls, shuffleboard, and your humble kitchen sweep (I'm only half kidding), curling involves players sliding stones on a sheet of ice towards a specific target area to score points, while also using broom-like objects to manipulate its path as the stone glides across the ice.
The end result of participating in this activity – quite different from the Olympics version – is usually plenty of mistakes, a few falls on the ice, and a healthy competitive spirit that gives new meaning to the broomstick. And it's something everyone needs to try once.
EMBRACE THE GREAT OUTDOORS ON THIS 15-DAY CANADIAN ROCKING CAMPING ADVENTURE
8. Ice Skating
Photo by Globe Guide Media Inc
As someone who idolises choreographed dance routines performed on rollerblades to Beyonce, skating of any form is A-OK in my books. So if there's ever an opportunity to indulge in rollerblading's romanticised cousin, ice skating, I'm all for it.
Far removed from the superficial rinks in shopping malls, ice skating across the snow-dusted Lake Windermere in Canada is the real deal; think enormous frozen lake, elegant skaters holding hands, streamlined winter coats, and ear muffs. The whole activity just screams winter wonderland, and once you get past the first couple of wobbles, it's like floating on air.
9. Skiing
To be perfectly honest, of all the places I've skied in the past, Canada has to be #1. It's got bucketloads of mountains, runs for all ages and levels, and powder for days. It doesn't matter if you're taking your very first shaky turns down the mountain, or if you've been in ski boots since you were two, the Canada Rockies is ready and waiting. There's truly nothing that compares to the feeling of a cold breeze on your face as you carve up the slopes, weaving in and out of snow-capped pines, and taking in the stunning vistas.
SUBSCRIBE TO INTREPID'S NEWSLETTER FOR TRAVEL TIPS, COMPETITIONS, GIVEAWAYS & MORE
10. Hot Springs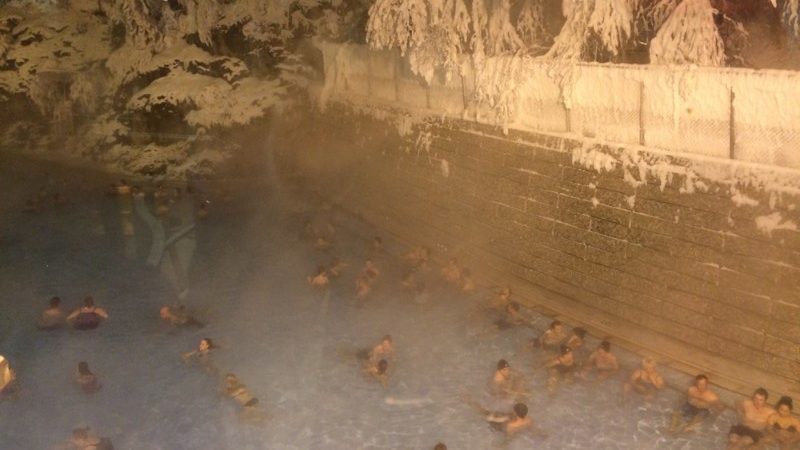 Photo by MagicVova
Canadian winters are brimming with delightful activities that epitomise what a snowy escape should look like. And this list wouldn't be complete without the pièce de résistance that is sinking into a steaming hot spring to soak your weary, worn-out bones.
Rich with minerals and enveloped by snow-covered forests of Kootenay National Park, you might be sleepy from the luxurious heat and all your fun adventures, but trust me when I say, you'll never feel more relaxed in your whole life.
Oh, Canada
It's a safe assumption that almost everyone has dreamt of a white, wintery adventure, where you finally have a reason to pull those mammoth coats and Pom-Pom beanies out of the closet. And in Canada, you won't just be graced with the perfect winter weather; you'll be invited into a magical, snowflake-filled environment, where there's plenty in store for you both on and off the slopes.
If picturesque mountains, icy forests and all the adventures a snowy winter can offer sound like something you might fall in love with, then the Canadian Rockies is the place for you.
Get your fix of wintery activities on our epic 10-day small group adventure in the Canadian Rockies. 
Feature image by Noel Hendrickson. 
References