The Going to the Sun Road – the reason you come to Glacier! This is the most stunning and scenic drive we have ever taken. The views are unbelievable and you could take all day pulling off at the pullouts to snap amazing pictures. The whole road is 50 miles but be prepared for it to take at least 2 hours, if not more, to drive it.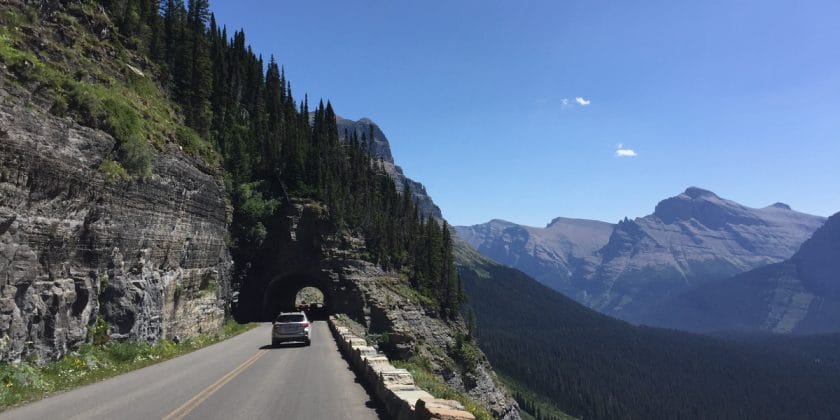 **Take note this road does not have a set open date. It is all based on the weather and remains open as long as the weather is cooperating. It usually is open in July (sometimes later July) – September.
***PLEASE NOTE – Glacier National Park has started requiring a reservation and a ticket to travel the Going To The Sun Road. This will impact your trip. You can check out more details here: https://www.nps.gov/glac/planyourvisit/gtsrticketedentry.htm
If you are planning a trip to Glacier be sure to check out our Glacier Guides.
---
Planning a trip to Glacier? We put together a series of digital guides that take the guesswork out of planning. Stop-by-stop itineraries for making the most of 1, 3 or 7 days in Glacier National Park including where to stay, where to eat, what hikes to take and the best driving routes.
We've even included links for you to book your stays and buy your park passes. Everything you need in one convenient digital guide. Just download and go!
---
The Road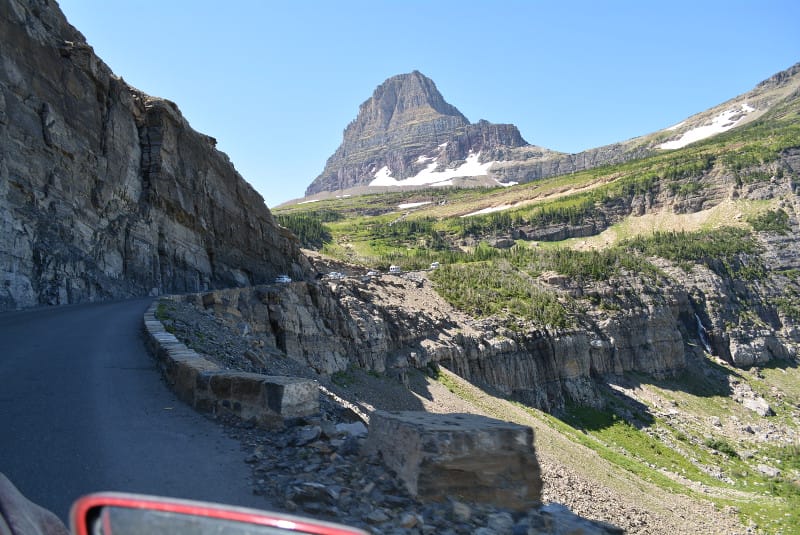 You can enter the road through the St. Mary or East entrance or the more popular west entrance by the Apgar visitor center (this is also a good place to stop to ask about the road status – to make sure it is open) where you drive by the Lake McDonald lodge before coming to the beginning of the Going to the Sun road.
Don't worry, you will know when you hit the road because you start to climb up the mountain. The views on the way up keep getting better and better! There are multiple pull offs on the side of the road if you want to jump out for a picture.
Driving this road is not for the faint of heart since this 2 lane road is barely 2 lanes and the edge of the road is RIGHT next to your car. Only vehicles under 21 feet length, 8 feet wide, and 10 feet tall are allowed on the Going to the Sun Road and for good reason.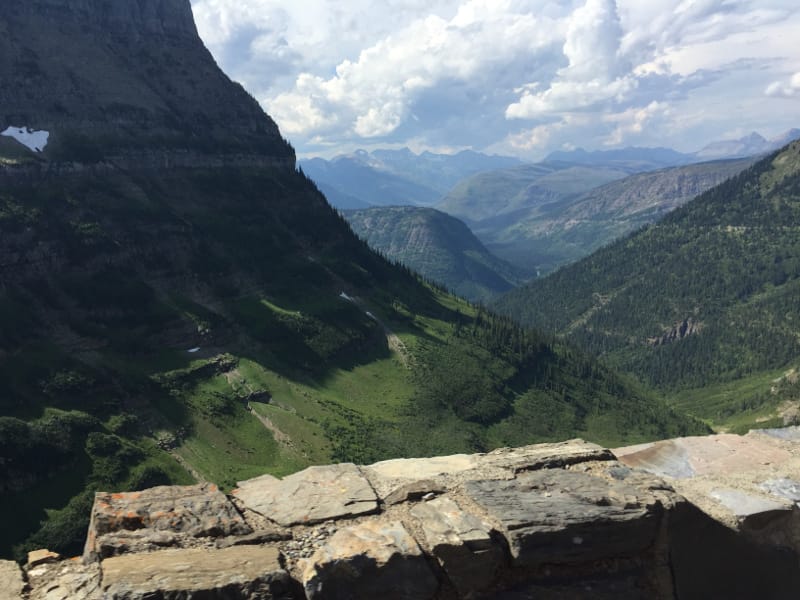 You will see waterfalls coming down from the mountain, drive by the Weeping Wall where, if your windows are open on this portion of the road, you could get splashed by the water and waterfalls! And yes, that is snow on the mountain in August.
Logans Pass Visitor Center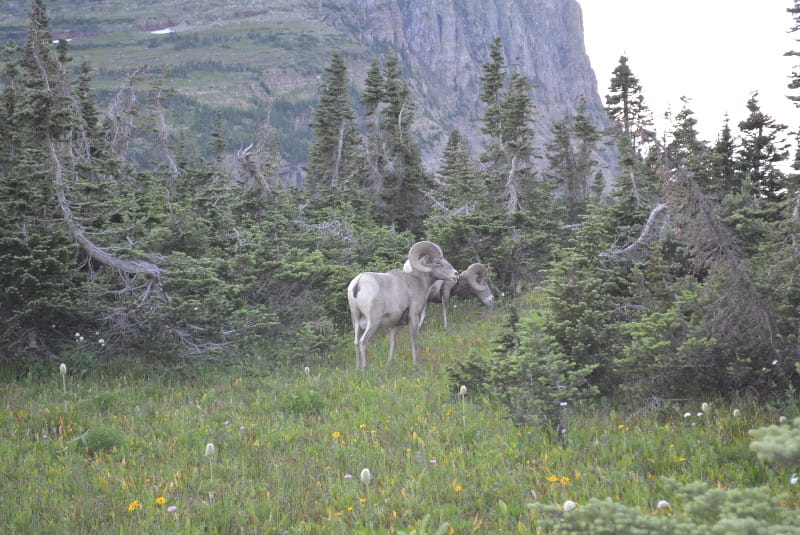 The Going to the Sun Road ends as it crosses the continental divide at Logan Pass which is the highest point on the Going To The Sun Road. We highly recommend stopping at the Logans Pass Visitor center. We saw Big Horn Sheep multiple times when we drove up. However, this is a very busy area and during the main season you can't always get parking.
Be prepared to drive around for a while waiting for someone to leave so you can get a spot in the parking lot at Logan Pass Visitor Center. It is worth it. Just be patient.
You can also see as people are leaving and follow them to their car. Most likely this is how they got their spot so they will understand.
There is a small visitor center area and gift shop. There are normally Rangers here to answer questions or show you a Big Horn Sheep skull and teach you more about the area.
They do have Ranger led talks here as well. They also have bathrooms. Since this is the highest point it can be cold here – like 20 degrees colder compared to the Lake McDonald area of Glacier. For this reason always have layers with you.
Hidden Lake Overlook Trail
From here you can hike the Hidden Lake Overlook trail. Take our advice and do it. This ranked #1 on our list of Best Hikes In Glacier National Park With Kids.
The trail takes you up a set of stairs, so it is a bit strenuous, but you can do it! The views on the way are beautiful, you walk by streams, waterfalls, and fields of wild flowers.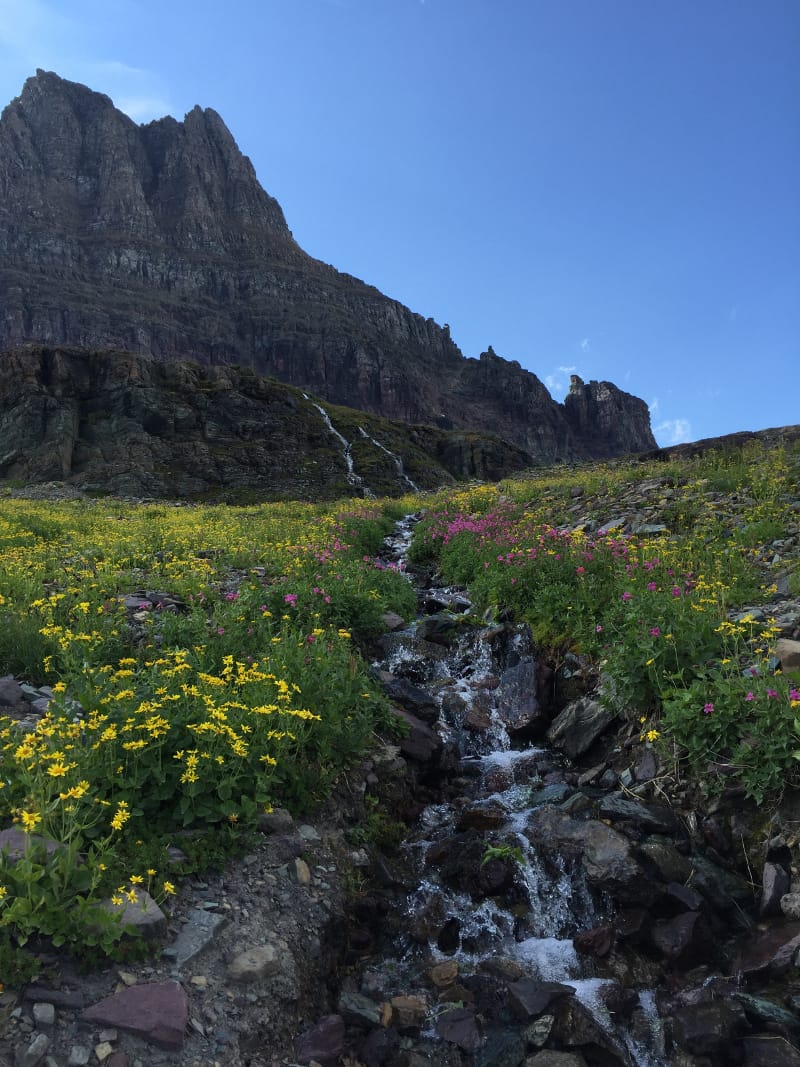 Once you reach the overlook you get an amazing view of Hidden Lake and the mountains behind it. The overlook is a perfect place to take out your beer or wine and snacks and sit down for a minute to take in the beauty of Glacier National Park. There is also a chance you will see the mountain goats!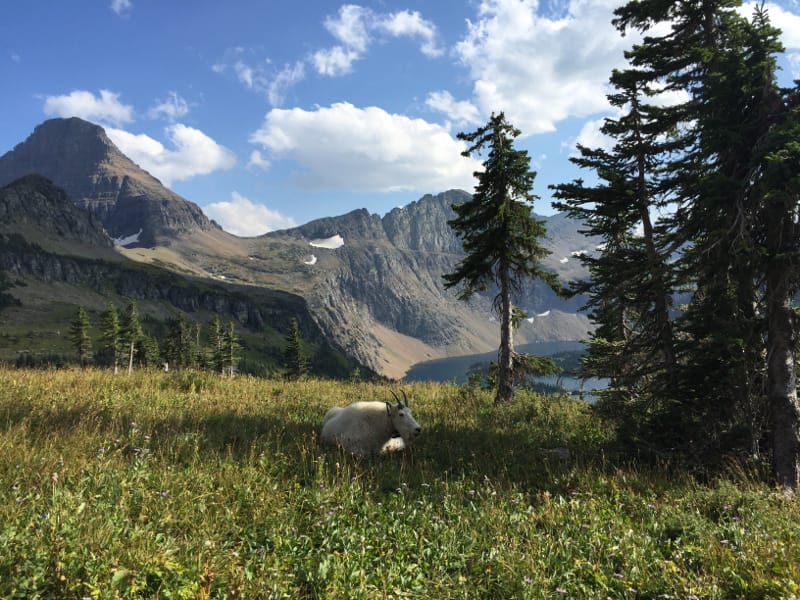 If you aren't a hiker this is the one hike we recommend doing anyways for two reasons. First, it is very populated and has defined stairs and a path. Second, the views are pure Glacier – big mountains, a glacial lake, and both times we were there we saw wildlife! It was mountain goats both times, so we kept our distance, but luckily it wasn't a bear!
If you are a hiker you can continue all the way down to the lake. This will add quite a bit more to your hike so if you plan to do this remember you do have to hike back too!
To get to the first overlook is about 1.5 miles (so 3 miles round trip). To get all the way down to the lake you are looking at more like 5.3 miles round trip. You can learn more about the Hidden Lake trail on AllTrails.
Want help planning your trip to Glacier National Park? Check out our post: The Best Glacier National Park Itinerary from 1 to 7 Days.
Highline Trail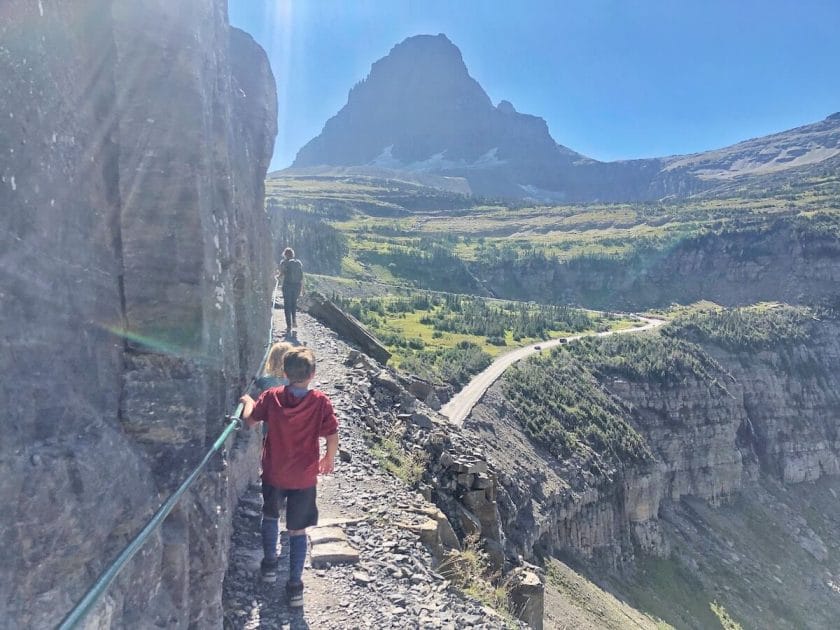 Another option is the Highline Trail. This is another one that isn't for the faint of heart as you are walking right along the ledge. But the views are amazing!
We didn't walk the whole thing but instead went about 1 mile in and turned around and came back. This is another trail you can do if you are parked in the Logan Pass Visitor center parking lot.
Learn more about the Highline Trail here.
---
Glacier National Park Guides
Planning a trip to Glacier? We put together a series of digital guides that take the guesswork out of planning. Stop-by-stop itineraries for making the most of 1, 3 or 7 days in Glacier National Park including where to stay, where to eat, what hikes to take and the best driving routes.
We've even included links for you to book your stays and buy your park passes. Everything you need in one convenient digital guide. Just download and go!
---
Driving back
From here you can turn around and head back towards the West Glacier area or you can continue going and make your way through the whole park (which we recommend). To drive from West Glacier to the East Glacier entrance is going to take you about 2 hours – assuming you don't stop to hike or take a ton of pictures.
If you don't want to drive back through the Going to the Sun Road (even though we recommend you do, the views look different when you are driving from the east to west) you can drive on the roads outside of the park for a much easier drive – but it may take you 30 minutes or so longer.
Wild Goose Island Lookout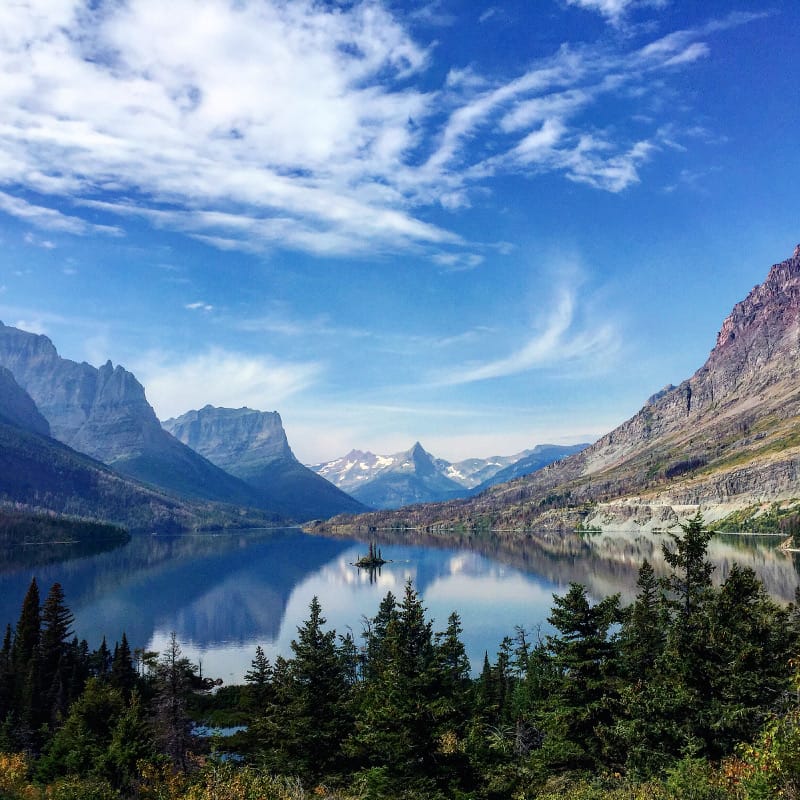 On your way to the East side of Glacier you will drive by Wild Goose Island lookout. If you want that amazing, iconic, Instagram worthy picture you are going to want to make a stop here when the sun is in the right place and there aren't many clouds. And seriously even an amazing picture doesn't do this place justice. It is simply beautiful!!
Read more 18 Socially Distanced Adult Birthday Parties You'd Actually Want to Throw (or Attend)
Jackson Glacier
You also drive by the Jackson Glacier lookout. There are less and less glaciers so we highly recommend taking a stop to see this one. It is quite a ways away but you can see it from the lookout. If you have binoculars, this would be a great time to use them.
Animal Sightings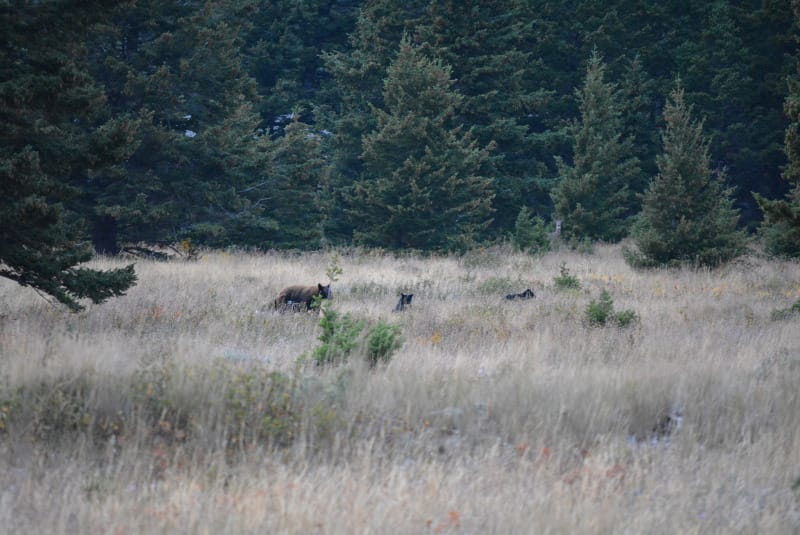 Once you get closer to the east entrance you will drive by a large field that is in front of the Rising Sun Motor Inn. We saw bears here twice. Both times it was about 6:30pm or later.
I think the closer to dusk you get the better your chances. One time it was a mama bear and her 2 cubs!
As you can see, taking a drive on the whole Going To The Sun Road is worth it! When visiting Glacier we recommend driving the road multiple times and at different times of day to have a different perspective. Each time you will be in awe of everything that you see!
If you continue out the St. Mary's entrance, be sure to check out these Things to do in Many Glacier with kids.
Driving The Road At Night
We have driven the road in the pitch black when we were making our way back from Many Glacier. I would not say I recommend it. It was scary since it was so dark. Plus you have to be on the lookout for wild animals so you can't drive too fast.
When we were driving at night we actually had a Mama Bear and her 2 cubs cross right in front of us. Luckily we noticed people slowing down and the oncoming traffic flashed their lights at us so we knew something was up.
If you do decide to drive at night know that you have to go very slow and be VERY cautious.
Red Bus Tour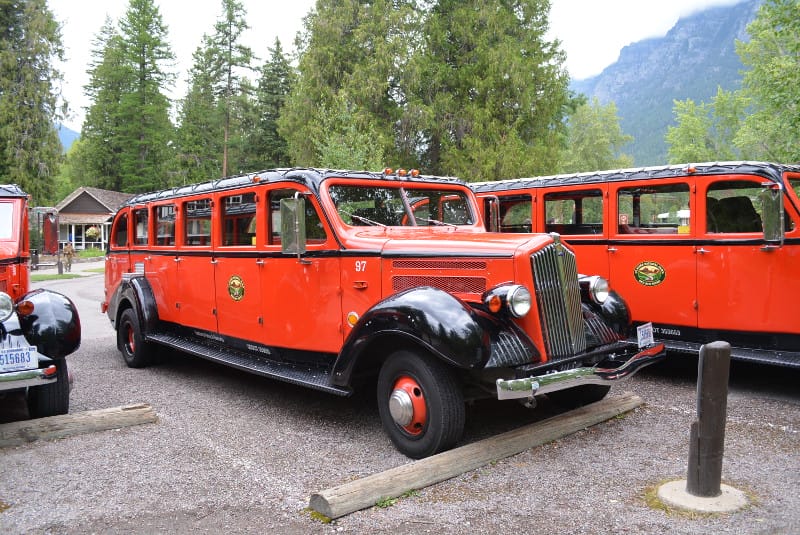 If driving the road just does not sound fun to you but you don't want to miss out you can take the Red Bus Tour! This leaves the driving to the professionals.
You can learn more about the Red Bus Tour here.
Things to know
There can be a big temperature change going from the west entrance up to Logans Pass. Even if you think it is a warm day, bring a jacket (maybe a winter one depending on the weather), pants, gloves, and a hat. If the sun is out and you decide to hike you will warm up quickly since the sun is so warm. But without sun you will be cold!
There is no internet service for most of the drive on the Going To The Sun Road. Seriously – trust me on this.
This is one scary, but amazing drive. You may want to take turns driving so each person can take in the views.
You will be tempted to stop at EVERY lookout to get a picture. If you have time, do it! If you are trying to make it to the other end or to do a hike just keep the time in mind. We highly recommend taking a day just to do the drive so you can take all of the time you want to stop and take in the scenery.
Visitor Centers – there are multiple visitor centers you can stop at on your way from one end of the park to the other. The national park service does a great job of offering guidance and some displays and facts about the area at the visitor centers so they are worth a stop. This is also where you can pick up t-shirts and stickers (we love collecting stickers of where we go!).
Picnic area – as you travel on the road you will also drive by a few picnic areas where you can pull off to enjoy a bite to eat. If you don't need a picnic table then we recommend you pull off at one of the many lookout areas on the Going To The Sun Road and get out to take in the views and have a bite to eat. If you want a table, keep an eye out for the picnic area signs along the road.
After checking out the Going To The Sun Road, don't miss Polebridge and Bowman Lake when visiting Glacier.
Did you know the Going To The Sun Road is part of the National Register Of Historic Places? Interesting! You can learn more about it on the National Park website.
Map of the Going To The Sun Road area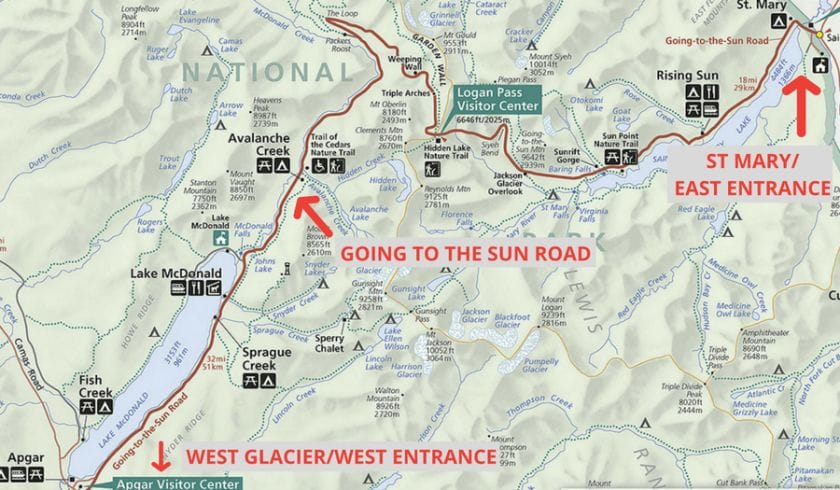 There are a lot of great things to do around Glacier like rafting and visiting the Whitefish Resort!
Don't forget to get your Glacier Guide!
---
Planning a trip to Glacier? We put together a series of digital guides that take the guesswork out of planning. Stop-by-stop itineraries for making the most of 1, 3 or 7 days in Glacier National Park including where to stay, where to eat, what hikes to take and the best driving routes.
We've even included links for you to book your stays and buy your park passes. Everything you need in one convenient digital guide. Just download and go!
DISCLOSURE: This post may contain affiliate links, meaning I get a commission if you decide to make a purchase through my links, at no cost to you. Please read my disclosure for more info.
---
— Update: 21-03-2023 — cohaitungchi.com found an additional article 10 Tips for Driving the Going-to-the-Sun Road in Glacier National Park from the website uprootedtraveler.com for the keyword glacier national park going to the sun.
Planning a trip to the gorgeous Glacier National Park? Then you're surely planning to cruise along the Going-to-the-Sun Road, an iconic 50-mile path, carved into the park's mountainsides that takes drivers up and through the Rockies, with absolutely spectacular views around every bend. This epic scenic drive is on the bucket list of pretty much every traveler at Glacier, so planning ahead will make your visit that much better.
Here are some tips on how to have the best experience driving on the Going-to-the-Sun Road.
This post may contain affiliate links. If you make a purchase through them, we may receive a small commission, for which we are extremely grateful, at no extra cost to you.
---
Table of Contents:
What is the Going-to-the-Sun-Road?
Why is it called the Going-to-the-Sun Road?
How do I get to Glacier National Park to visit the Going-to-the-Sun Road? 
Tips for Driving the Going-to-the-Sun Road
First, a few frequently asked questions about the Going-to-the-Sun Road:
What is the Going-to-the-Sun-Road?
The road is famous for a few reasons- its status as both a historical and engineering landmark, the fact that it traverses the Continental Divide, and its breathtaking views. The road was built between 1921 and 1932, as one of the first attractions in the U.S. National Park System to accommodate automobile-borne tourists.
With 12 miles of the road literally carved into the side of a mountain and thoughtfully designed to seamlessly integrate into Glacier's gorgeous landscape, it has received countless accolades and was the first road to be designated as each a National Historic Place, National Historic Landmark, and Historic Civil Engineering Landmark.
When I was planning my trip to Glacier, I was a bit puzzled by the sheer volume of blog posts that sung this road's praises- while I like a lovely drive through the mountains as much as the next person, I didn't really quite get all the fuss.
Well, friends, the fuss is 100% worth it- the views are absolutely spectacular, with the drive taking you across sparkling lakefronts, up and over the grandest mountains I've ever seen, and through glacial meadows.
It's so beautiful, in fact, it's been included in multiple movies, like The Shining and Forest Gump. In sum, you should consider this the mother-of-all scenic drives and plan accordingly.
Why is it called the Going-to-the-Sun Road?
Not-so-fun backstory time- Glacier, like most other U.S. National Parks, was originally home to Native people, specifically the Blackfoot nation. The Blackfoot tribe's land, at one time, spanned more than 28 million acres, but when the United States government became interested in mining the land that is now Glacier National Park in 1895, the Blackfoot nation and the U.S. government struck a deal for the land, which was characterized by the tribe as a lease and permitted its people to hunt and gather on the land.
Read more The Goodness of Garlic for Baby
The U.S. government did not hold up its end of the bargain- the agreement was not treated as a lease, with Glacier being established as a national park in 1910 and tribal members being arrested for hunting in the park as early as 1912. Since the U.S. government took possession of the land, many important names and cultural landmarks from the Blackfeet tribe have been erased by the masses through time, and now, the Blackfeet reservation, which remains on the east side of the park, has shrunk to only 1.5 million acres.
I say all this to provide a perspective that, while Glacier is a beautiful and beloved national park, its history and its relationship with Native people is problematic, to say the least.
With that context in mind, the National Park Service named the road in 1933 after the Going-to-the-Sun Mountain, which dominates the eastbound view of the road beyond Logan's Pass. Apparently, a white settler named James Schulz concocted a story, allegedly told by the Blackfoot people, that a deity named Napi (or Sour Spirit) came down from the sun to teach the Blackfoot tribe how to hunt. While he was returning to the sun, Napi imprinted his face at the top of the mountain to inspire the Blackfeet people.
Some believe that Schulz may have been confused or blending Blackfeet legend- a separate mountain, Matahpi Peak (or "Face Mountain" in Blackfoot) gets its name from a snowfield near its peak that resembles a chief's face. 
I'd encourage you to learn more about the Blackfeet people and their culture, which are very much still alive and well, when you're visiting Glacier- for example, Sun Tours is a company that provides tours of Glacier, which are inclusive of Blackfeet history and culture and provided by tribal members. It's a great way to support a local business and hear an important perspective of the land. 
How do I get to Glacier National Park to visit the Going-to-the-Sun Road? 
There are no major airports close to Glacier National Park, which is located in the Northwestern part of the Montana state. While there is the tiny Glacier Park International Airport 30 miles away in Kalispell, Montana, you'll probably be able to get to Glacier much cheaper by either flying into Spokane, Washington (about a 4 hour and 45 minute drive from the west entrance of the park) or Bozeman, Montana (about a 5 hour drive from the east entrance of the park).
Flights into these smaller airports aren't usually cheap- to score the best fares, I swear by SkyScanner to set flight alerts and compare fares. If you fly in, you'll also need a rental car to get to and around the park. 
Alternatively, you can go the route that my husband and I did- road trip! We drove from our home in Seattle, through the hot springs of Idaho, through Grand Teton and Yellowstone, and finally ended in Glacier. This area of the United States was seriously built for road trips- there's so much epic scenery and endless outdoor adventures to be had, so if you can swing it from your home state, I'd highly recommend!
Tips for Driving the Going-to-the-Sun Road
From May 26 through September 10 of 2023, you'll need a ticket to get into the Going-to-the-Sun Road (and other areas of Glacier National Park) between 6 AM and 5 PM.
When we visited the park in summer of 2021, we saw LOTS of people get turned away at the gate for not having tickets, regardless of whether the drivers cried hysterically and told stories about how they'd just driven for over 20 hours to reach the park or screamed obscenities at the rangers (yup, I saw both of these actually occur!).
You can either try to snag a ticket to the park during this period (see this page for more information) or come enter the park either before 6 AM or after 5 PM (which is how Justin and I entered the park in 2021!).
Without further adieu, here are some tips on how to make the most of your Going-to-the-Sun Road excursion:
1. When to Visit the Going-to-the-Sun Road.
While portions of the road stay open year round, the majority of it is closed for most of the year, due to the heavy Montana snowfall and the long winters. Historically, the road has opened around late June or early July and closed late September to early October. When I visited during the summer of 2020, it was the second latest opening in the history of the park, opening on July 13th (I was biting my fingernails- this was just 2 days before we arrived!), due to resource shortages related to COVID. So, to be on the safe side, I'd recommend planning your visit in mid to late July through early September. 
2. Make sure your car is allowed to drive on the road!
Given the amount of sharp turns and overhangs, your car (or your vehicle combination if you have an RV) must be less than 21 feet long, 8 feet wide (including mirrors), and 10 feet high. Therefore, a lot of campervans and other RVers that are too long to drive along the road will need to figure out a different solution to cruise along the road.
Thankfully, for those of us loving that #trailerlife, there's plenty of spots to drop an oversized vehicle at either the entrance of the park, including the Apgar or Saint Mary Visitor Centers. From there, you can take the park's free shuttle, which runs the entire length of the Going-to-the-Sun Road.
3. Be like a Girl Scout and be prepared.
There are no gas stations inside of Glacier National Park and cell phone coverage is spotty, at best. So make sure your gas tank is full, you're good on snacks, and you've downloaded offline maps for the park and the surrounding area on Google Maps.
4. Budget enough time.
You'll have to drive slowly on the road- 45 mph through lower elevations and 25 mph in the alpine sections. Plan for plenty of time to pull over, gawk at the scenery, and take photos. If you're literally just driving through the whole thing, budget for at least two hours. However, if you plan on stopping along the way to stretch your legs or better yet, hike (more on that below!), this could easily turn into an all day activity.
5. Drive from the west to the east.
The road stretches for 50 miles from the west side of the park, at Lake McDonald, to the east side, at St. Mary. Therefore, you can generally drive the road either way- west to east or east to west.
While either direction will provide fantastic views, I'd recommend driving the road from west to east, as you'll be on the outer edge of the road driving through the portions that are carved into the side of the mountains, making the views even more spectacular and with easier access to pull-offs. 
If you're in Glacier for a short period of time, I'd also use this tip to pick your base of where to stay when visiting the park. If you're driving from west to east, it makes the most sense to stay near the west entrance (given that St. Mary and other towns around the east entrance can be a two hour plus drive from the west entrance) in the quaint town of Whitefish or the funky Columbia Falls.
Some places I'd recommend staying at near the west entrance are Hampton Inn and Suites Whitefish, Grouse Mountain Lodge, and The Farmhouse Inn in Whitefish or, alternatively, Meadow Lake View Bed and Breakfast, North Forty Resort, and Meadow Lake Resorts in Columbia Falls. 
If you're a nervous nelly driver and would prefer, perhaps, a less dare-devil-y route (i.e., driving on the side closest to the actual mountainside), it might make sense to go from the east to the west. If you want to go this route, I'd recommend checking out accommodations in East Glacier Park Village (which are notably more limited than the west side), such as Glacier Park Lodge.
Fair warning- Glacier is extremely popular (with good reason), which means that accommodations are EXPENSIVE and, in the summer months, can book up well in advance. As such, I'd highly recommend making reservations several months before your trip!
6. Start early!
Not only is the road itself a huge attraction, but many of the park's most popular hikes have trailheads along the route. Given that the road is pretty packed between 9 am and 5 pm, I'd strongly recommend getting a head start and hitting it early.
Read more 9 Must-Visit Quaint Coastal Towns In Northern California
Other benefits of that early morning wake-up call? Watching the sunrise along the road is nothing short of spectacular and you have a better chance of catching wildlife in the park, like bear, moose and mountain goats. The park is usually pretty chilly in the morning, though, so I'd recommend packing layers- I like to bring along a cozy fleece like this one (and here's an option for men).
7. Pack some binoculars.
Dovetailing on my point above, spotting wildlife in the park isn't quite as easy as some other national parks, like Yellowstone. So if you are committed to finding some new furry friends, I'd recommend packing a pair of binoculars to help you spot them. Try to plan your visit either first thing in the morning or at dusk, as animals are most active at these times to avoid the heat of mid-day.
Finally, most rangers will be able to provide you tips on up-to-date wildlife spottings and where you'll have the best chance of viewing the animals from a safe distance. While most wildlife at Glacier tend to be a bit more on the elusive side, a reminder in case they're feeling particularly friendly during your visit-  you should always view bears from at least 100 yards away and all other animals from at least 25 yards away. 
8. Plan your route.
As mentioned above, while driving along the road is an activity in and of itself, there are so many stops along the way for you to get out of your car, hike around, and explore. Some favorites are (going west to east):
Lake McDonald: If you're starting the drive from the west entrance, this will be the first significant landmark you'll hit in the park. With plenty of spots to jump in the water or, if you're less brave, kayak around and enjoy the beautiful scenery, this would be a wonderful place to take a coffee or early morning dip.

If you're planning on stopping at the lake for a while, there's plenty of cute little beaches for you to chill 'til your heart's content. If this sounds up your alley, I'd suggest packing a swimsuit (here's an option for men), a travel towel, and a beach blanket– my husband, Justin, and I thought Lake McDonald was so pretty, we stopped here during our second day in the park to have a relaxing lunch while drinking in the views. Highly recommend! 
Avalanche Lake: Want a good bang-for-your-buck hike? Stop at this four-mile out-and-back trail, with moderate elevation gain, multiple stunning waterfalls and a heart-droppingly beautiful alpine lake. This is a super popular hike, so if you want to stop here, I'd encourage you to start early.

Justin and I arrived here by 9 AM and the closest parking spot we could find was about a mile away. It was worth it, though- in fact, I love this hike so much, I wrote a whole post on how to hike to Avalanche Lake.
The Loop: The Loop is a hairpin turn where the road starts slowly climbing up through the mountains (and is one of the main reasons why vehicles longer than 21" would be dangerous to drive on the road). You can either make a quick stop here to take in the beautiful mountain views or alternatively, take several longer hikes (which were my personal favorites in the park!), like the Granite Park Trail, to a rustic chalet perched on top of a mountain with 360 degree views of the Rockies or adding on the offshoot to the Grinnell Glacier Overlook once you're at the chalet, for breathtaking views of a glacier-fed electric blue lake.
Weeping Wall: There's a craggy 100-foot rock face alongside the road where snowmelt run-off rushes down the cliffside and creates a chilly torrent that splashes into the roadway. You can either jump out of your car to run through its waters to cool off after a long hike or drive your car right through it. But unless you want a very wet (and very cold) car- be sure to close that sunroof!
Logan Pass Visitors Center: Both the highest point along the Going-to-the-Sun-Road, at 6,647 feet in elevation and the crossing point of the Continental Divide, the Logan Pass Visitor Center is a great pitstop for a bathroom break and fantastic views (and one of the best spots in the park to spot mountain goats!).

It also happens the be the starting point of two of the most popular hikes in the park, the 11.8-mile one-way Highline Trail, which is frequently called the most beautiful trail in the United States, and Hidden Lake Lookout, a 2.9 mile out-and-back trail with excellent wildflower- and wildlife-viewing opportunities.
Sun Point Nature Trail: This is an easy 1.7 mile hike to an enormous rock that provides magnificent views of St. Mary Lake and the surrounding mountains.
If you are planning to make stops to hike some trails along the road (which you absolutely should!), here are some additional tips to consider:
Glacier is home to both grizzly and black bears. Both kinds of bears will generally try to move away from a human if they hear, see, or smell you approaching, but certain factors, such as the noise from a stream or the wind, can make it harder for them to know you're hiking near them. 

Bears are generally not aggressive, but may act aggressively if their young is near or if you have startled them. Because of this risk, you should always have bear spray (which acts like pepper spray to deter a bear without causing permanent harm) on you any time you go hiking in bear country.

Although we thankfully have never had to use it, we have this one. Note that you cannot fly with bear spray, so if you didn't happen to road trip to Glacier, you can rent some for affordable rates at Glacier Outfitters, right at the southern tip of Lake McDonald.
Related to the above point, various trails are frequently closed, on a day-to-day basis, due to high bear activity. Be flexible with your plans and have some back-ups in mind if something doesn't pan out.
Since it rarely gets super hot in Glacier, it can be easy to forget to have sun protection and stay hydrated. That being said, if you're hiking all day in Glacier's mountains in the midst of the summer sun, be sure to pack your sunscreen and a Nalgene bottle full of water.
9. Drive safely.
The Going-to-the-Sun Road is truly breathtaking and it's going to be hard to keep your eyes on the road- but please do! If the driver wants to take a longer look at any of the spectacular scenery, by all means, they most certainly should- please just pull over!
Between the roads being busy, hugging literal mountain sides, and tourists and animals running every which way, it would be extremely easy to get in an accident. Drive slowly and carefully- this is definitely an activity to be enjoyed at a leisurely pace!
10. Pack a cooler.
There are limited places to grab breakfast or lunch along the road and most of the available options are pretty pricey for what you get and can be packed during the busy summer months. If you're roadtripping to Glacier like we did, I'd highly recommend bringing along a cooler (we picked up one very similar to this for our road trips and have been using it ever since ALL the time!) and packing some sandwiches or wraps to eat on the road instead.
One of my favorite memories during my time in Glacier was drinking a huckleberry beer (did you know that Montana LOVES all things huckleberry, which are endemic to Montana?) with Justin after one of our long hikes, sitting along an overlook along the Going-to-the-Sun Road and enjoying the epic views. By bringing along your own food, you'll not only be saving money, but you'll also get to enjoy your meal with world class views!
---
I hope all of my Going-to-the-Sun Road tips help you have a spectacular time in Glacier. What are you most looking forward to seeing in the park? Any suggestions of your own? Let me know in the comments below!
Thank you for reading our post! Check out our latest stories here and follow us on Instagram (@UprootedTraveler), YouTube, or on Facebook to see what we're up to next!
References